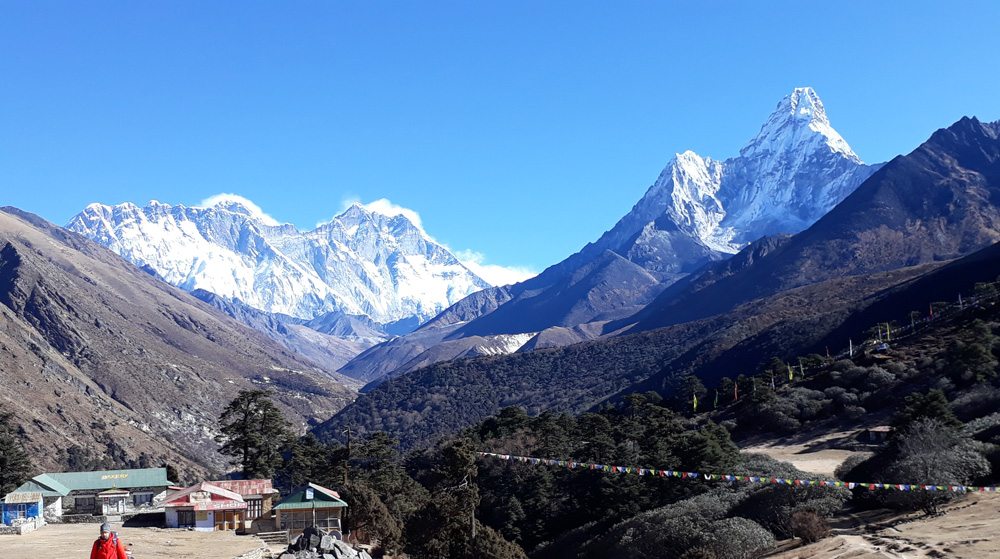 Trekking in the Nepal Himalayas. Nepal has the very best tourist destination with eight of the top ten highest summits in the world and some most beautiful landscapes which are only reachable on foot, trekking in Nepal is a unique experience.
Nepal Trekking or Trek in Nepal is the most popular activity in Nepal, The huge variety of options allows people of many ages and capabilities to attempt a trek in Nepal. Despite what many may perceive, Nepal trekking packages are not necessarily wandering alone through an uncharted wilderness.
In those ancient times, the trekking paths are not well marked. Colonel Jimmy Roberts presents trekking tours in 1965, which is a history of the trekking industry in Nepal. He accomplished acclaim as "The Father of Trekking" in Nepal.
The regularly-spaced villages and tea houses allow trekkers good opportunities to rest and recover, either for a few minutes or the night. The strong culture and unreserved friendliness of Nepalese people can also be witnessed as one traverses the hill tracks.
The youngest Himalayas that we have is extending from Assam in eastern India west to Afghanistan. It is a chain of the highest mountains on earth and it encompasses a region of deep religious and cultural traditions and an amazing diversity of people.
Trekking in Nepal is a special and rewarding mountain holiday offered by Gokyo trek. If you have the time to trek, don't miss the opportunity to leave Kathmandu and see the spectacular beauty and the unique culture of Nepal. Fortunately for the visitor, there are still only a few roads extending deeply into the hills, so the only way to truly visit the remote regions walking.
When can you trek in Nepal?
In case you're after warm temperatures, blooming vegetation, and calm days, Spring is the best season to travel in Nepal. Late winter will in general be a bit cold, with gentle temperatures in the low-rise areas up to 6,560 feet, making journeying in districts, for example, lower Annapurna extremely wonderful.
Likewise, Autumn is another popular time to trek in the Himalayas after post-monsoon. Temperature is just cooling down to around + 18-22 degrees in a day hike, Tourists can see wildflowers and beautiful fountains en route.
In addition, before leaving for hiking in the Himalayas check out the trekking gear list because the right hiking gears are very important for your trek safely succession.
How much is Nepal trekking price?
Nepal trekking price depends upon the trek route you are hiking. We at Gokyo Treks agency charged USD 70 per day per person roughly for a lodge base trek in Nepal Himalayas. Likewise, USD 125 per day per person will be for normal area tent camping treks in Nepal.
This price includes guide service, porter, accommodation & Food plan. Furthermore, the TIMS permit costs USD 10, and transportation for the trek (excluding the flight from Kathmandu to Pokhara).
Price for a trek in Nepal is depended on what trek you are choosing and your requirement. In General Annapurna sanctuary, Trekking, and Langtang Trek are slightly cheaper than Chola pass mount Everest trek because of the short channel of transportation.
While trekking in the Everest Region most has to fly from Kathmandu to Lukla Kathmandu domestic flights cost US$ 195 for each foreigner [each way] for 35 minutes each way flight. Dolpo is a remote trek its fewer flights.
The rest of the things depend on your requirement. But usually, if you want to take a well-organized trip, we recommend you prepare roughly 80 American Dollars just for the lodge trek. 
Furthermore, if you have any questions about a special deal or travel itinerary, do feel free to send an email. Besides that, there are more trek packages such as Annapurna base camp trekking, Kaligandaki valley trek, Muktinath trek, Muktinath tour, Nar Phu village trek,  lower Mustang trek, Annapurna circuit trek ….etc are most demanding in terms of visitors.  The best time to visit Annapurna trek is either in Spring (March to May) or Autumn (October to December) at this time the weather is very clear. You can see the pristine Himalayas and beautiful landscapes on your visit. Our expert traveled the Himalayas to bring you the cheapest places to travel in 2023-2024.
What sort of Toilets are available while trekking in Nepal?
There are as yet various sit-down toilets along the trip yet when you are above 3,500 meters these do turn out to be scant and long drops or squat toilets are the choices available.
One suggestion is to keep a roll of toilet paper in your daypack for good measure and some moist disposable clothes helpful like wet wipes handy. The guest houses even the ones with a flush don't ordinarily furnish this so unquestionably convey some with you. The higher you go the more costly the tissue roll turns out to be so load up lower down. It's additionally a smart thought to have some hand sanitizer in your day pack as there isn't generally cleaner accessible in the hotels by the same token.
Sit-downs versus Squat Toilets
When you're on Base Camp Hike following a couple of long stretches of being without a sit-down toilet, you will have dominated the squat position. Believe it or not, a great many people discover these sorts of toilets clean as your body won't touch the toilet seat like on Western toilets. I would suggest perusing this for additional directions on the most proficient method to utilize a squat toilet.
Trekking in Nepal is a Seasonal fact during the whole year.
December / January / February (winter months in Nepal)
Colder time but generally clear skies. But still, a beautiful time to discover some soft adventure trekking to Nepal. Trekkers along the trek routes are fewer, nice Himalayan view, weather is cool in the winter season but the days are beautiful.
Winter storms sometimes in high passes through January and February but changing weather patterns.
March / April / May (spring season hiking in Nepal)
Excellent weather overall in Nepal Himalayas. Best time to explore.
Wonderful weather to trek, blooming colorful Rhododendron (Rhododendrons are the national blossom in Nepal) and there are more than 30 species of rhododendron in Nepal) flowers in trek routes. Likewise, the skies are blue and clear, and all views of Himalayan peaks can be seen clearly.
June / July / August (rainy months in Nepal)
Above month is monsoon season in Nepal. Annapurna mountain hiking in the monsoon season is not good. It has a lot of grassy landscapes and there might be leeches. But no worry, there are some trekking routes such as the upper Mustang and Dolpo which are located behind the Himalayas and are very less rain. Those areas are in the trans-Himalayan region of Nepal and have dry-desert landscapes.
There is very very less rain and it's safe to visit. Not only this but also, Nepal is a safe country to travel to. Have in mind that trekking in Nepal is overall a very safe activity. More than 150,000 trekkers head for the trails in the Nepal Himalayas yearly and only a few people have any problems on their trek.
September / October / November (autumn months in Nepal)
Monsoon is over around early September, but some soft rain is often possible. A lot of new blossoms along the trek, beautiful waterfalls, and nice landscapes make your trip wonderful.