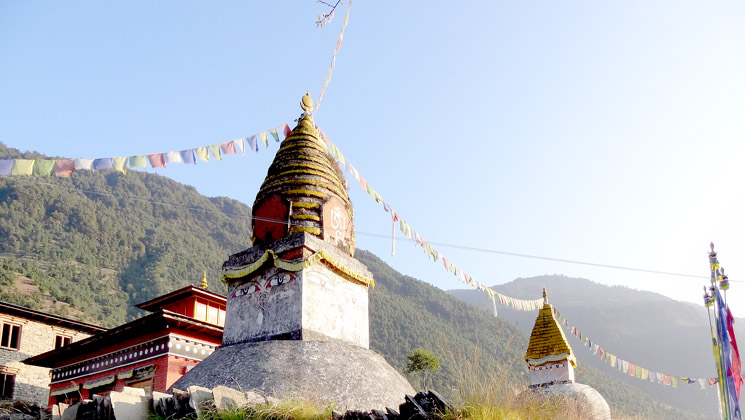 Numbur Circuit Trek Summary
Numbur Trek Duration: 13 Days
Numbur Trek Difficulty: Easy to moderate grade
High Altitude: 4,880m /16,011 feet
Trekking Hour: 6 Hours daily
Hiking Group-Size: 1 – 14 People
Trip Mode: Tent camping
Best Time to Visit Number Trail: March, April, May, October, November and December
Meals on Trekking: Breakfast, Lunch, and Dinner
Transportation: Jeep / Bus
Overview
The Numbur circuit trek is situated in the Ramechap district and is a very less demanding, camping trekking route in Nepal. Numbur himal is a frozen mountain located in the Rolwaling Himal mountain range of Nepal. The 6,958 meters high Numbur is located 43 km southwest of Mount Everest, on the border of Janakpur and Sagarmatha zone.
Hike the Numbur cheese circuit trail passes across the most beautiful deep stream gorges and glacial ponds. Furthermore, beautiful terraced rice fields, subtropical forests, and Sherpa villages to the Likhu Khola glacier are watched over by the towering peaks of Pathibarra and Numburchuli.
Numbur circuit trekking offers you excellent views of Numburchuli (6,959m), Sarmoche (5,255m), Paniyo Tipspa (6,696m), Paniyo Shar (6,549m), Ramdung (5,930m), Chukyima Go (6,959m), Parchamo (6,273m), Bigphrea Go Nup (6,666m), Everest range, Annapurna South, Langtang, Jugal Himal, and Gaurishankar.
Another interesting fact that you can see here is the first Yak cheese factory was established in 1957 AD. Along the trek at Numburchuli, you can hike at your own pace, with an abundance of stops for rest. Hike at Numbur trail has beautiful sceneries and great sherpa hospitality. Some travelers hike Numbur trail as full camping to see real Nepal. In addition, the Numbur circuit trek is possible to visit at any time (except winter) throughout the year.
How much does Numbur Circuit Trek Package Cost?
The cost of Numbur circuit trek package with a Gokyo Treks Agency (local trek operator agency) ranges between US$ 880 to US$ 1175. But of course, the Numbur trek cost will vary according to the group size you are traveling to. However, the given package price includes transportation, a guide, porters, hotels and food accommodation and hiking permits, facilities.
However, we often arrange Numbur circuit private trips in order to avoid group tours with strangers. A private tour gives you a better experience on your hikes. If you value personalization, flexibility, and in-depth experiences, a private trip customized to your personal needs will be the best option.
It is the standard trip package price for 12 days trek. If you are 2 people hiking the Numbur circuit trail cost US$ 999 for 12 days trek according to the given trekking plan. We can modify the trek route and the prices according to your wishes also. Here is the price list for numbur treks.
Price Per Person for 12 days hike in Numbur wilderness route.
| Number of Tourist | Price Per Person |
| --- | --- |
| 1 Person | US$ 1175 |
| 2 Person | US$ 999 |
| 3 Person | US$ 998 |
| 4 to 6 person | US$ 970 |
| 7 to 9 Person | US$ 925 |
| 10 and more than 10 Person | US$ 880 |
If you're wondering to know about what is included and what is excluded from this trip price, kindly check on the cost given on a tab button.
Itinerary
Numbur Circuit Trek itinerary details
The Numbur trek itinerary compared to most walks in this region leading up to the hill station up to Numbur base camp. The particular route is designed for world travelers who wish to hike the spectacular mountain but are restricted time-wise. For travelers who wish to trek in a remote isolated area with Tent trekking in a more relaxed manner then send us an inquiry for a custom itinerary.
1 Day
Arrival at Kathmandu valley
Upon arrival in Kathmandu, Tribhuwan International Airport, we will receive you in a private vehicle and drop you off at your hotel in Thamel, Kathmandu Nepal. Talk with a guide and arrange your private hiking gear. You can buy or rent those gear from Thamel gear shops. Our representative will brief you on the Numbur circuit trek plan information.
2 Day
Scenic adventure overland drive with jeep/Bus to Shivalaya (1,791m/5,876 feet), 8-9 hours.
Meet the entire hiking crew in the morning and drive to shivalaya. Along the drive, you can relish the beautiful view of colorful green hills, tiny typical villages, and snow-covered mountains. Shivalaya is a gateway to discovering the Numbur Cheese Circuit, which is located alongside the Khimti River. Overnight in tent camp/lodge.
3 Day
Shivalaya to Panipakha trek (3,105m/10,187 feet), 6-7 hours
During the trek today, you can experience the view of terraced pastures and falls to go over the river, and then turns sharply up the cliff on the other part. Khahare is a tiny typical village populated only in winter, by residents of higher altitudes, who move up with their cattle in the summer season. After lunch, we continue our walking journey to Panipakakha. It is a plain camping area in the scattered Chauri sheds with sublime alpines. Travelers can enjoy a dazzling sunset over the mountains just before the evening. Overnight at tent camp.
4 Day
Panipakha to Maanedanda Trek (3,940m/12,927 feet), 5-6 hours
Today the track go with a guide through tiny Sherpa inhabitants called Phokte village. The path mounts through the majestic rhododendron forests to the summertime fields of Maanedanda. It has a rudimentary cookery shelter and space for shelter tents. On a clear day, the view from here is stunning. Overnight at tent camp.
5 Day
Maanedanda to Panch Pokhari Trek (4,515m/14,814 feet), 5-6 hours
Today, we hike to panch Pokhari which is represented for five holy lakes at an altitude of 4,200m with Lord Shiva temple. We ascent to Jata Pokhari. Along with the high altitude, we walk across the high pasture forest of Sunpati, with rare herbal plants. Right before we reach Jata Pokhari, we come across a beautiful cascade where we can play with the fresh water. Located in the lap of Mount Numbur chuli, Jata Pokhari is a famous pilgrimage lake in the Ramechhap district. In June and July months within full moon days, hundreds of Hindu believers come to worship Lord Shiva and take a ritual bath. As we reach Panch Pokhari, our camping crew will set up tents where we stay overnight.
6 Day
Panchpokhari to Tare hikes (4,140m/13,583 feet), 6-7 hours
We cross about 4,600m pass and trek downhill to reach Tare. On our way, we walk Khola Kharka and hike further downward to the Nupche River passing over dense bamboo woods. You can have some fresh cheese here and observe the cheese-making process in this cheese factory. We can rest in the green pasture on the bank of the Nupche River before heading to our campsite.
7 Day
Trek from Tare to Ngeju (3,690m/12,107 feet), 5-6 hours
We hike from Linkhu Khola valley is challenging but extremely rewarding. You can enjoy the view of the beautiful hills and mountains, and dwindling rivers. The mountain's view is stunning from the north into Tibet as Gyajo La Pass is 4,880 meters. High pass Gyajo la also popular as Thulo Lapcha at 4,880m, is a path normally used by local Sherpas to get yaks through the peaks to Rakhidanda & Ngeju.
8 Day
Ngeju to Lhachhewar hiking (2,665m/8,744 feet), 4-5 hours,
Today, we continue our travel from Ngeju to Lahaksewar (also known as Seward), one of the most remarkable Sherpa community of the upper Ramechap area. local Sherpa hospitality is impressive and they welcome you warmly. The Locals here still live in harmony with age-old culture and tradition which adds more fun to your trips.
9 Day
Lahaksewar to Gumdel hiking (2,256m/7,402 feet), 5-6 hours.
We ascend from Lahaksewar to Kyama passing dense forest. The journey offers a majestic view of Numbur chuli and Pathibhara. Leaving the shiny Numburchuli in the back, we now bid goodbye to the mountains as we depart from Kyama to reach Gumdel. Gumdel has a nice homestay where we stay overnight.
10 Day
Gumdel to Serving hikes(3,360m/11,024 feet), 4-5 hours
From Gumdel, we continue our walk crossing the dense but beautiful forest to arrive at Serving. One can enjoy the beautiful scenery of sub-alpine and temperate forests with the Gauri Shankar and Numburchuli in the background. We can relish some yak cheese here as well and go through the process of making it.
11 Day
Serding to Lapchane trekking (3,150m/10,335 feet), 6-7 hours
Today we visit Thodung Monastery on our way back. Trek further goes downhill to Deurali from where we can see the breathtaking view of the Gauri Shankar Mountain. On reaching Lapchane, We will Homestay at a local Newari house where you will be able to be a part of the renowned Newari culture. We can go for a brisk hike to Tam danda, famous as the tallest hill in Ramechhap to observe the great view of Dhaulagiri, Gauri Shankar, Annapurna, Numbur, Kanchenjunga, and more.
12 Day
Lapchane to Jiri treks (1,905m/6,250 feet), 7-8 hours
The journey from Lapchane to Those at 1,756 meters elevation is amazing. Those are nice towns with limited lodge and restaurants. That village is popular for Zinc mines. We take lunch and proceed to hike further to Jiri Bazaar.
About 45 minutes ascending after crossing the bridge, we reach the hill from where the trail is very easy and flat until Jiri Town. Jiri is a big town that offers several fine lodges, restaurants, shops..etc. Yak cheese and churpi are the most famous products of Jiri town.
Jiri is popularly known as the Switzerland of Nepal as it is a small town located in the Dolakha district. Known as the classic route to Mount Everest almost all the Everest Expeditionsin the past led by famous climbers John Hunt, Edmund Hillary, and others passed through Jiri.
This relationship between Jiri and Switzerland which goes back to the 1930s has led to Jiri being called "The Switzerland of Nepal" Thanks to the road built by the Swiss, Jiri was the only Gateway to the Everest base camp route for many years. We spend the entire time exploring Jiri town. Our guide will book a microbus for a long drive back to Thamel, Kathmandu for the next morning.
13 Day
Drive out from Jiri to Kathmandu, 7-8.
Drive back to Kathmandu with Bus again, takes roughly around eight or nine hours via Charikot highway. Once again, you'll be able to enjoy the beautiful view of villages, hills and mountains, and dwindling rivers on your way back. Trip ends.
Not satisfied with above plan?
Interested on planning a custom trip? this might take 2 to 3 minutes.
Cost
How much does Numbur circuit trek package price?
Hike at Numbur circuit is a recently promoted hiking trail located in the Everest foothills. The number circuit trek package price US$ 999 per person is the standard trek price on double occupancy basis.
For the deluxe and luxury trekking tour plan, we add a 3-5 star category hotel deluxe air-conditioned room in Kathmandu. AND WE ARE OPEN TO CUSTOMIZING YOUR TOUR AND PACKAGES PRICE AS PER YOUR REQUIREMENTS.
Numbur circuit trek package price includes:-
Kathmandu international airport pick up on your arrival with a private vehicle.
2 nights double bedroom accommodation on a tourist standard hotel in Kathmandu.
12 Breakfast serve with a cup of tea/coffee, 12 Lunch and 12 Dinner during the Numbur trekking days
12 nights homestay accommodation during the Numbur circuit hiking routes.
Kathmandu – Shivalaya and from Jiri to Kathmandu journey with Bus/jeep service [shared basis].
Gauri Shankar conservation entrance permit fee.
TIMS permit for Numbur trek in Nepal.
Government license holder – Expert license holder Mountain Trekking Guide
Required number of porters during the trek.(one porter = two guest basis) because our porter can carry a maximum of 24 kg of your bag pack.
Well-paid salary, food, accommodation, and insurance of Nepalese staff.
Agency's duffel bag (50 liters capacity), and hiking poles if Necessary – return after the trek.
First aid medical kit including Oximeter to check your Oxygen level, Pulse rate to monitor every day to prepare for high altitude risk.
In a worst case, help with all Helicopter Rescue and evacuation arrangements (but not the rescue bills).
Latest updated Numbur circuit trek map and trek certificate – keep them as a souvenir.
Nepal Government Tax, VAT, and as well as Company service charge.
Numbur trek package price excludes:-
Lunch and Dinner during your staying in Kathmandu city.
Any kinds of battery charges, laundry service, phone calls, and hot showers during the trekking.
Sightseeing in Kathmandu by Private vehicle according to programs.
Tourist personal trekking equipment including warm clothes
Personal nature expenses, all types of drinks and bar bills.
Travel Insurance which covers emergency rescue, evacuation, personal loss, or damage.
Any donation and monument entrance fees.
Gratuities for guide and porters [Tip is a culture, so they expect highly].
Group join
We can organize your private Numbur cheese circuit trekking starting on any date that works for you. Please contact us for more information.
FAQ
Question: Is pick-up service available on my arrival day in Kathmandu?
Answer: Yes sure. Provide us with your flight details and request us to pick you up at the airport. Our representative will come to pick up you at Kathmandu international airport.
Question: Do I need experience in Numbur cheese circuit trekking?
Answer: It is suitable for all-age trekkers who are able to walk around 4 or 5 hours a day, with a lightweight daypack.
Question: What kind of accommodation can I expect on Numbur trek?
Answer: We provide you with tourist standard accommodation in Kathmandu. And during the trekking routes sometimes, you stay overnight in a local homestay, and sometimes you can stay in a Tent. However we recommend you take your own sleeping bags if you have one with you otherwise, you may rent them while you are in Kathmandu.
Question: What kind of food can I expect in the express Jiri to Numbur trek?
Answer: All the small guesthouses along the trek route have attached restaurants and they cook a tasty range of mostly vegetarian such as Pasta, tuna bakes, noodles, potatoes, eggs, rice, bread, soups, and fresh vegetables. Dinner and breakfast are provided in the same lodge you spend the night every day and Lunch will be provided on the way to the next place where you are going.
Question: What opportunities will I have for a shower along with the Numbur trekking?
Answer: Guest house trekking all the lodges have a shower which you often get paying an extra cost. However, if you are camping trekking – we provide you hot water bucket then you will take a bucket shower.
Question: How do I get drinking water on the express Numbur cheese circuit trek?
Answer: Only sometimes you can buy mineral water but we advise against buying mineral water in plastic bottles, as currently there are no provisions for disposing of these. Instead, we provide you with boiled water or bring chlorine tablets to purify the normal water as the normal water is available at the campsite.
Question: Can I charge my digital camera or other batteries on my trip?
Answer: During the Tea house trekking there will be more chances to charge the battery. We recommend you bring an extra pair in case. Remember to bring your own adapters!
Question: Are there any communication facilities on Numbur lodge trek?
Answer: In this trekking route you can get telephone services as well as internet services as well.
Question: Can I use credit cards in Numbur trekking?.
Answer: No. You need to have cash Nepali rupees because credit cards work only in the bigger city tours/city areas.
Question: When should I book my trip and what are the payment terms?.
Answer: Because our trips book up months in advance, we recommend booking early to avoid any kind of misunderstanding. We will, of course, make every effort to accommodate last-minute bookings.
And regarding the deposit, we prefer a 20% advance deposit of the total price of the trip in order to confirm your reservation before you arrive in Nepal. And the rest of the payment can be made after your arrival in Kathmandu.
Question: Who will carry my luggage on Jiri to Numbur circuit trek route?
Answer: We provide porters to transfer your luggage. As we are a responsible trekking tour operator agency, every porter carries a maximum of 24 kilos of your backpack which means 2 guests (12 kg luggage of each guest): 1 porter basis.
Question: How much distance do I walk each day?
Answer: When walking/trekking in the mountains, the distance you cover each day can vary greatly due to gradient, terrain, and altitude. As such it is very hard to give specific distances on each day, however, you have to be prepared to walk roughly about 5 hours each day.
Question: Do I need walking poles for Numbur peak trekking?
Answer: It is better to hike with walking poles. Learn how to use trekking poles for balance and stability, whether on the sidewalk or on trails. Walking poles can help prevent slips and falls. They are just recommended but not compulsory.
Question: How much additional money do I need per day?
Answer: You can allocate US$ 08 – 10 for a lunch/dinner in Kathmandu and it depends on your spending habits. US$ 7 to 10 US$ each day will be enough to buy bottles of water, chocolates, tea coffee, and some drinks while you are on your trek.
Numbur cheese circuit trek highlights
Great view of Number chuli Mountain, Everest range, Gaurisankar, Jugal, and Langtang range.
New opened trek route, less demanding and still isolated, Tent trekking.
Sherpa Buddhism, holiest monastery, Local Sherpa lifestyles.
Notes for Numbur cheese circuit trekkers!
The Numbur trek information stated above is just a guide and standard template that we provide. However, the numbur hiking plan is possible to redesign at your request to accommodate your specific requirements. Local politics, landslides, cancellation of local flights, weather, transport, or a multitude of other factors that are beyond our control can result in a change of timetable during on trip.
It is, however, very unlikely that the itinerary would be substantially altered. If amendments are necessary the leader will decide the best alternative option, taking into attention the best interests of the whole group. Where a change does occur, we do everything we can to minimize its effect, but we are not liable for the results of changes or delays.
What makes Numbur cheese circuit trek special?
Opportunities for challenging trekking or hiking and pleasant strolls are scattered all over this planet. You need to know where to find them. We at Gokyo Treks and Expedition believe in quality services. First safety and success is our prime concern.
We are a team of professional, experienced, and licensed local guides who know the destination much better than others. Not only this but also we give benefits to the local communities and help to conserve natural resources which reduced costs and consumption.
Numbur Circuit Trek Review
There are no reviews yet. Be the first one to write one.
From US$ 1019
2% Off
US$ 999
| | |
| --- | --- |
| No. of people | Price Per Person |
| 1 | USD 1175 |
| 2 | USD 999 |
| 3 | USD 998 |
| 4 - 6 | USD 970 |
| 7 - 9 | USD 925 |
| 10 + | USD 880 |
Book Now
Customize Trip
Cost & Departures
Your Trip Your Style!
ITINERARY, COST, DEPARTURES, will adjusted according to your GROUP SIZE NEED TIME
Book with Confidence
Local Guides Company.
18 Years in Business.
Lowest Price Guaranteed.
100% Customizable Trips
Excellent Customer Service
Hassle Free Booking.
90 % Repeated customers
Highly Recommended agency
Private/group tour options