Helicopter Rescue in Nepal
We can arrange helicopter rescue evacuation in an emergency due to altitude sickness or suffering an injury during expedition/trekking and/or health conditions requiring urgent medical attention and care. We have a very good working relationship with local helicopter companies, thus we can arrange rescue service swiftly.
As part of our social responsibility we are making this service arrangement free of cost for all tourists/trekkers. The rescue helicopter bill will be paid by your travel insurance or by the guest on the spot. We will even provide you with a free airport-to-hospital taxi or ambulance service if necessary. Rescue Chopper service is available to anyone at any time in case of emergency. You need not sign up for treks or other tour packages with us.
If you would like us to coordinate rescue in case of emergency then please send us your Insurance policy details (eg policy number, contact phone, coverage, etc), and your trekking or tour details (trek area, departure date, etc). And we will send you our local contact details to call in case of emergency rescue and evacuation.
One might face lots of difficulties, especially while trekking in the Nepal Himalayas or hiking/expedition in the Himalayas. One needs to prepare earlier if your upcoming destination is this mountainous land. You may suffer from various health problems, injuries, and even altitude sickness and need prompt medical attention.
Why Are Rescue Helicopters Require?
In instances of catastrophe, helicopters are utilized for functional order. Salvage/rescue, transport staff, and gear to unpleasant landscape or block off areas, fly out endangered people, and carry out rescue operations.
We arrange Mountain Helicopter rescue and evacuation service anywhere in the Himalayas for Tourists and all people including expedition team or trekkers who fall sick or suffer an injury during expedition/trekking and/or health condition requiring urgent medical attention and care.
As we are a responsible trekking tour operator agency- have enough experience with the geography and types of accidents that might occur during your trekking tours. During the span of time, leading the travelers for more than decades, we handled more than 15 operations already nicely. Find the rescue story of one of them.
Search – Rescue operation from Mt. Manaslu in November – 2015
The operation was conducted for Pasche Favrod Madeleine Rose from Switzerland had suffered from ACUTE MOUNTAIN SICKNESS and was possibly affected by Phynomnia diseases during her group trekking with very basic safety equipment.
The situation was very critical as she was almost near death. In spite of the bad weather condition, Gokyo Treks and Expedition conducted the operation swiftly and didn't panic for a second to come up with a proper operation.
To date we have handled more than 6 rescue missions of various kinds including search operations, Helicopter rescue, transportation, sightseeing, and medical evacuation.

If you/ your family members and any other are missing or trapped or suffering from high altitude sickness in the Himalayas or anywhere during your trip, We at Gokyo Treks and Expedition Pvt Ltd is ready to handle your search mission. We are always on our toes to conduct rescue operations for those in need and assure you that we operate 24/7 and use Sherpa's with technical rescue skills always ready to go even at a higher altitude of 8000 m and above.

Moreover, Helicopter salvage is the quickest and most ideal way for the clinical departure in the remote piece of Nepal. Since we are committed to rescuing lives, medevac or salvage flights are the most continuous activities we do.

Be that as it may, there is not a helicopter rescue on Everest. The air is simply excessively meager for most helicopters to create sufficient lift to stay airborne. Assuming the helicopter is prepared to arrive at that tallness, making the arrival is as yet an unimaginably fragile undertaking.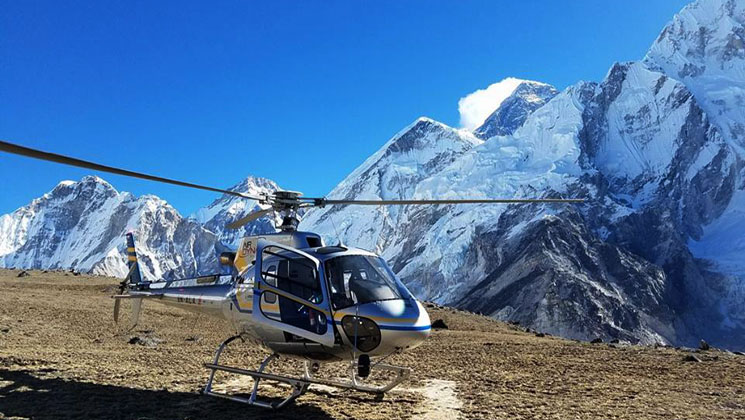 How much is the charter a helicopter price in Nepal per hour?
Charter a helicopter or charter a private helicopter in Nepal is depending upon the mountain places you go. Basically, the helicopter price is charged on an hourly basis. Get a list of helicopter rental prices in Nepal for most of the tourist parts of the Himalayas.
| | | |
| --- | --- | --- |
| Destination or packages types | Number of passengers (1 helicopter) | Price in USD/per flight |
| Helicopter rental service or hire cost | 1 – 5 pax | $1,800 per hrs |
| Kathmandu to Everest View Hotel | 1 – 5 pax | $2,960 |
| Everest base camp helicopter private tour | 1 – 4 pax | $3,850 |
| Pick up/drop (Everest base camp-Ktm) | 1 – 3 pax | $4,000 |
| Pick up/drop (Ktm-Everest base camp) | 4 – 5 pax | $5,000 |
| Kathmandu to Namche Bazar | 1 – 5 Pax | $3,000 |
| Kathmandu to Lukla/Lukla to KTM | 1 – 5 pax | $2,500 |
| Kathmandu to Muktinath temple | 1 – 5 pax | $4,200 |
| Kathmandu to Annapurna base camp | 1 – 5 pax | $3,800 |
| Pokhara to Muktinath temple | 1 – 5 pax | $2,000 |
| Pickup from Pisang to Pokhara | 1 – 5 pax | $1,700 |
| Kathmandu to Langtang valley | 1 – 5 pax | $1,700 |
| Pokhara to Annapurna base camp | 1 -5 pax | $1,300 |
| Gorekshep to Kathmandu | 1 – 5 pax | $3,500 |
| Kathmandu to Gosaikunda (Langtang) | 1 – 5 pax | $1,750 |
| Kathmandu to Chitwan National Park | 1 – 5 pax | $2,000 |
| Kathmandu to Lumbini | 1 – 5 pax | $3,500 |
| Kathmandu to Rara Lake | 1 – 5 Pax | $8,500 |
| Kathmandu – Lukla – Kathmandu | 1 – 5 Pax | $2,800 |
| Kathmandu – Everest base camp / Gorakshep- Kathmandu | 1 – 5 Pax | $3,775 |
| Kathmandu – Gokyo Lakes – Kathmandu | 1 – 5 Pax | $3,790 |
| Lukla – Everest base camp / Gorakshep – Lukla [both way] | 1 – 5 Pax | $1,925 |
| Lobuche – Lukla airport | 1 – 5 Pax | $1,625 |
| Everest camp – Lukla helicopter return | 1 – 5 Pax | $2,000 |
| Lukla to Everest base camp helicopter price | 1 – 5 Pax | $2,000 |
| Kathmandu – Khare – Kathmandu helicopter rescue | 1 – 5 Pax | $3,800 |
| Lukla – Khare – Lukla helicopter rescue | 1 – 5 Pax | $1,800 |
Highlights of Gokyo Treks & Expedition Helicopter services:-
– Anytime Anywhere in the Nepal Himalayas
– Emergency evacuation and field rescue
– Evacuation to the best Travel hospital of the country
– We bring you home safely
– 24 hours update, response and corporation on call/WhatsApp [+977 984 1249 988]
– We guarantee lowest rate for any RESCUE flight in Nepal
---