Ganja La Pass Trip Summary
Ganja La Pass Hiking Duration: 12 Days
Ganja La Trek difficulty: Moderate Grade
Ganja La Pass Altitude: 5,110m/16,766 feet
Trekking Hour: 6 Hours daily
Group-Size: 1 – 10 People
Best Time: March, April, May, October, November and December
Trip Mode: Guest House +Tent Camping
Foods: Breakfast, Lunch, and Dinner
Transportation: Car/Plane/bus
Overview
The Ganja la pass trek is very famous to explore Red Panda an endangered animal of Nepal located north of Kathmandu. Adventure high Ganja la pass trekking lies at an elevation of 5,160 meters on the lap of Langtang Lirung. Incredible Journey to mysterious Ganja la pass trek route takes you over the wilderness part of Langtang valley.
Langtang National Park is home to several wild animals such as Musk deer, Himalayan black bear, snow leopard, Himalayan wild goat, and particularly birds and wildflowers. Furthermore, Langtang valley is covered with varieties of flowers and the forests are multi-colored with colorful rhododendron, orchids, magnolia, and many other floral species.
Trek to Ganja la pass is an adventure grade trekking so you must have some basic mountaineering course cause the pass is sometimes very dangerous because of blue ice. The maximum Langtang valley altitude is about 12,520 feet above sea level. From Kyanjin Gompa, you can hike further to Langsisa pastures located at an altitude of 4,084 meters giving you a great perspective of various glaciers.
For safe crossing, you should be well equipped, climb food and Tents to Helambu. Helambu village excludes a Tibetan feel and you will see fields enclosed by stone walls as well herds of yaks, the most important animal for the people here.
From Tarke Gyang, tourists can either hike downhill to Talmarag or Melamchi pul bazaar as it collapsed by the heavy monsoon 2021. Afterward, you can drive back to Kathmandu as you wish.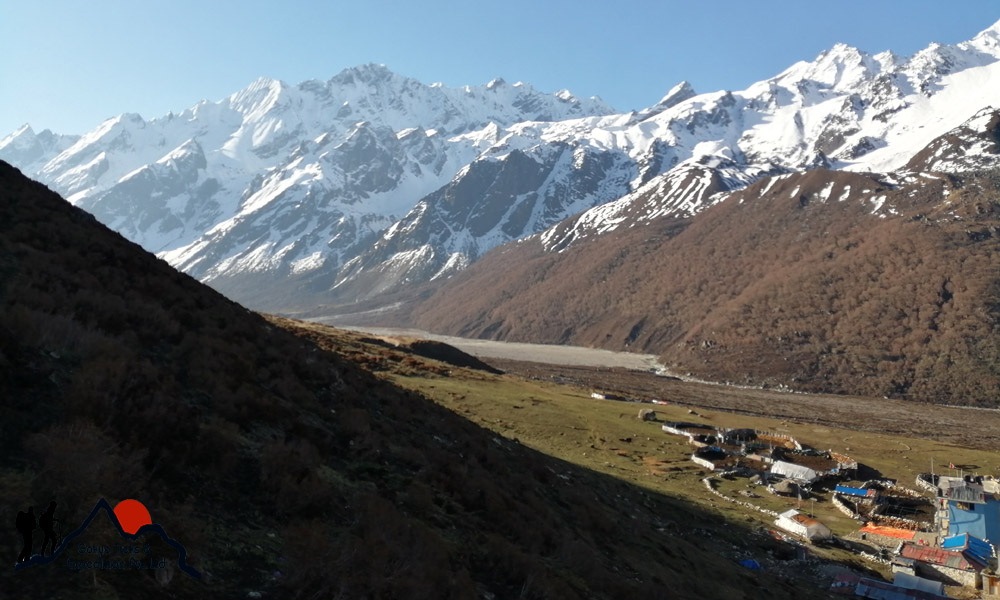 The best times to trek the Langtang ganja la pass trekking are pre – and post-monsoon: March to April and September to November. If you want to catch the rhododendrons in full bloom, book your trek for mid-April to mid-May. Earlier in April stays too much snowfall and the trail makes dangerous. In addition, Mid September until early November stays a good time to explore the trek route.
Moreover, you will have the best sights of Mt. Ganesh Himal family, Mt.Langtang lirung (7,246m), Langtang-ri, Langsisa peak, Langtang Himal, and Ganjala chuli from Ganja la pass. Visit Ganja la pass treks possible at any time except winter throughout the year.
How much does for Ganja La Pass Trek Package Cost?
The cost of Ganja La Pass trek package with a Gokyo Treks Agency (a local trek agency in Nepal) ranges between US$ 1275 to US$ 1750. Of course, Ganja La Pass trek cost will vary according to group size you are travelling with and the month you travel.
However, we basically arranges a private trips in order avoid group tours with strangers. A private tours gives you better experience on your hikes. If you value personalization, flexibility, and in-depth experiences, a private trip customized to your personal needs will be the best option.
It is the standard trip package price for two weeks trek. If you are 2 person and want to hike with us, it costs US$ 1450 for 13 days trek according to the given trekking plan. We can modify the trek route and the prices according to your wishes also. Here is the price list for Ganja La hikes.
Price Per Person for 13 days hikes in Ganja la teritory.
| Number of Tourist | Price Per Person |
| --- | --- |
| 1 Person | US$ 1750 |
| 2 Person | US$ 1450 |
| 3 Person | US$ 1430 |
| 4 to 6 person | US$ 1390 |
| 7 to 9 Person | US$ 1325 |
| 10 and more than 10 Person | US$ 1275 |
If you're wondering to know about what is included and what is excluded on this trip price, kindly check on cost given on a tab button.
Itinerary
Ganja la pass trek itinerary detail
Amazing ganja la pass classical trek route itinerary carry through to langshisa valley. The particular hiking route is designed for expert trekkers who wish to get a challenging trek in Langtang glacier but are walking in a more relaxed manner than take a look at this itinerary.
1 Day
Arrival at Kathmandu valley. Transfer to hotel
Upon arrival in Kathmandu, Tribhuwan International Airport, we will receive you with private vehicle and transfer to hotel in Kathmandu. Our representative will brief you Ganja la pass hiking route information and booking plan.
2 Day
Adventure drive to Syabrubesi Bazaar (1,460m/4,788 feet), 7 hours
Have a breakfast at the hotel, drive few minutes to catch up coach for Syabrubeshi with your mountain trekking guide and porters. Enjoy seven of our scenic drive through Trishuli bazaar with beautiful small settlements, river valley, and mountains. The bus stops roughly about 30 minutes on highway restaurants for lunch in Trisuli. You reach at Syabrubeshi bazaar around 2 or 3 o'clock midday. Stay overnight at Syaprubeshi lodge.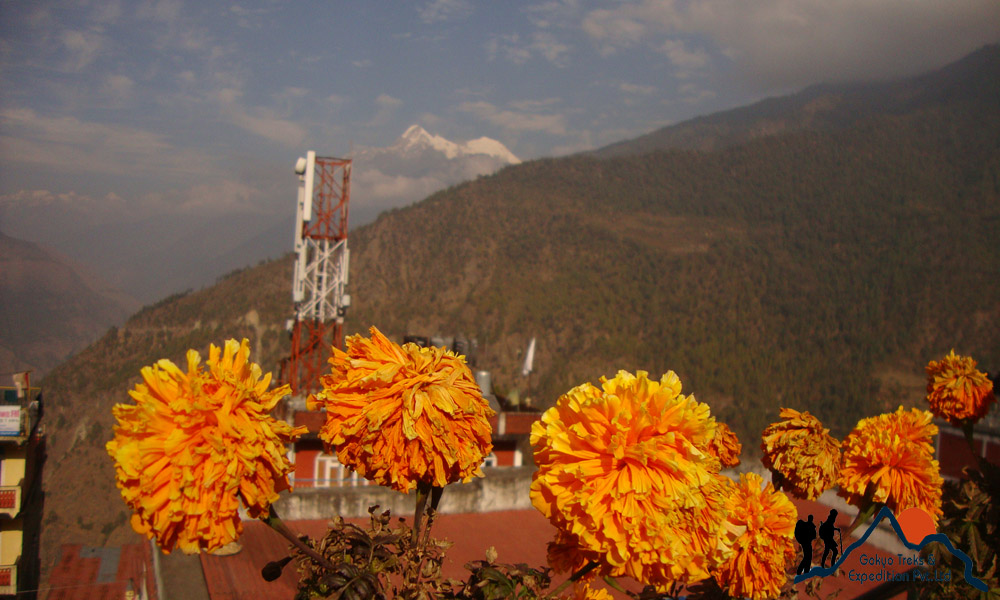 3 Day
Lama Hotel trekking (2,560m/8,396 feet), 6 hours
You start your walking at your own pace and the backpacking travel ascends for around 2 hours through the forest. Hike through Langtang river for about an hour to reach Bamboo lodge where you'll stop for lunch. The hiking and backpacking trail is nice, follow the upstream and possible to see birds life around the bushes. Beehives hanging on a cliff are another top attraction for the langtang visitors. From here you will again steeply climb through the bamboo forest to reach at Lama Hotel camp.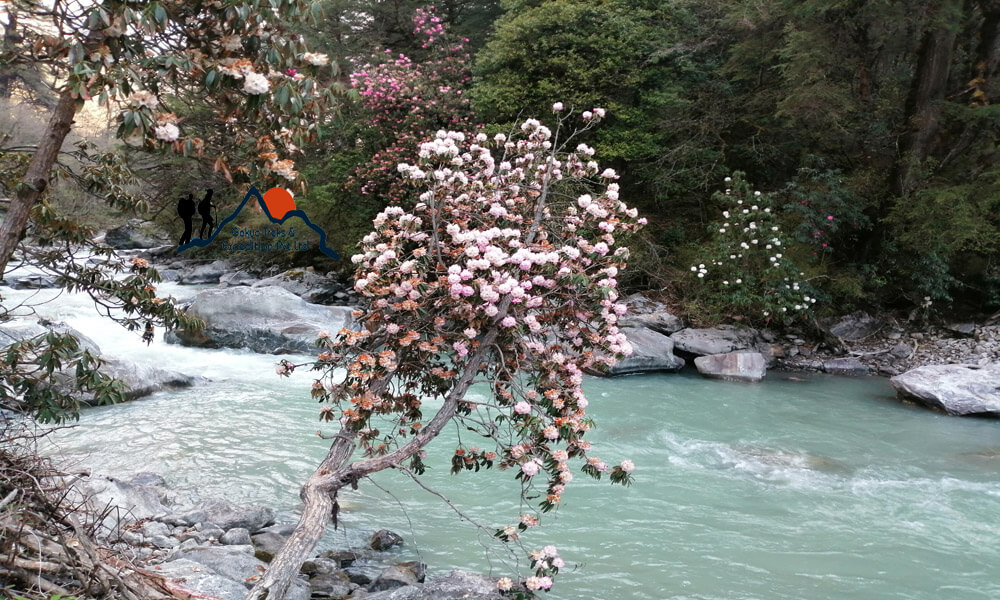 4 Day
Langtang village trek (3,455m/11,332 feet), 6 Hours
Today you will have a pleasant walk and follow the trail through rhododendron and pine forest for around three hours to reach Ghoda Tabela military check post. Ghoda tabla area is cover with a tons of herbal plants including wild animals. Later lunch, the scenic hiking trail takes you to Langtang village, which collapsed in a massive Earthquake disaster in April 2015. Because of easy busy hiking trails, locals rebuild the guest houses with modern facilities already.
5 Day
Kyanjin Gompa Trekking (3,817m/12,519 feet). Sightseeing day, 4 hours
Kyanjin Gompa is the last human settlements before you ascend Ganjala pass. Reaching Kyanjin Gompa, you have a chance to see the Langtang glacier and glacial river source. Likewise, Langtang lirung foothill hike or hikes at the lirung glacier dom, Wayfarers can catch a glimpse of Mt Ganchempo and Mt. Langtang Lirung. In the afternoon, excursionists can visit the yak cheese Factory, Kyanjin Monastery, and local houses. Overnight at Guesthouse.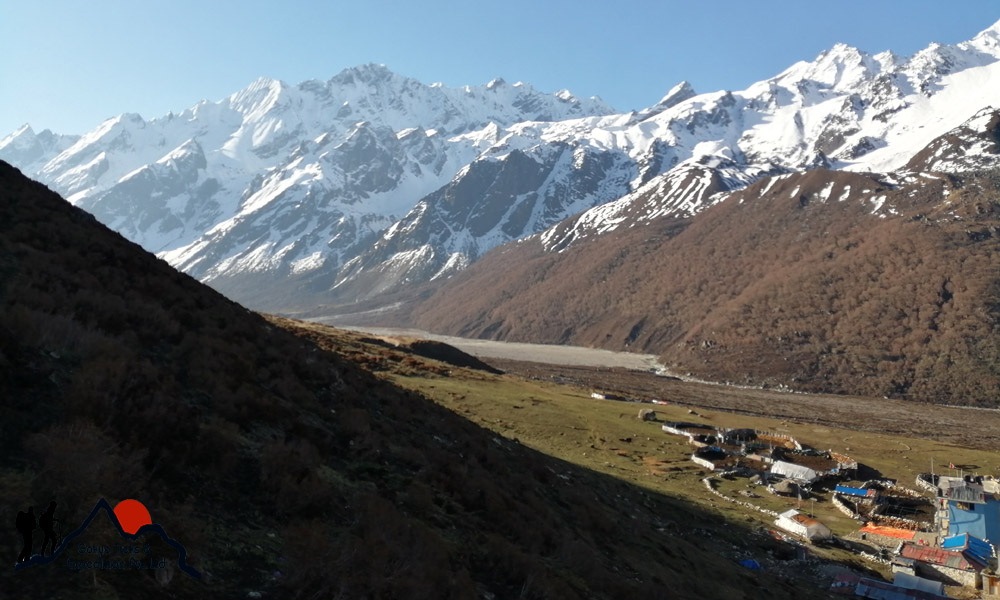 6 Day
Kyanjin ridge day hikes. An optional to climb Tsherko Ri, 6 hours
In the morning, Kyanjin ridge hiking to get a Langtang Himalayan range super view. Tourists get langtag lirung, Langtag ri, Langsisa pass, Langtang Himal, Ganja la peak, Yala peak best views on a clear day. In addition, visitors can see impressive snowy mountains that are located on the Tibet border.
However, interested voyagers can hike with a tour guide to Tsherko Ri peak climb at 5,150m. Tserkuri is a hill station to watch almost the complete Langtang massive. As the day hike to tserkuri is tough, we suggest only professional walkers use it for an optional day tour. Otherwise, visit the Lirung glacier and Langshisha Kharka where the beautiful yak pasture land is still worthy to see. Furthermore, prepare some arrangements before you adventure trailhead to Ganjala basecamp on the next day.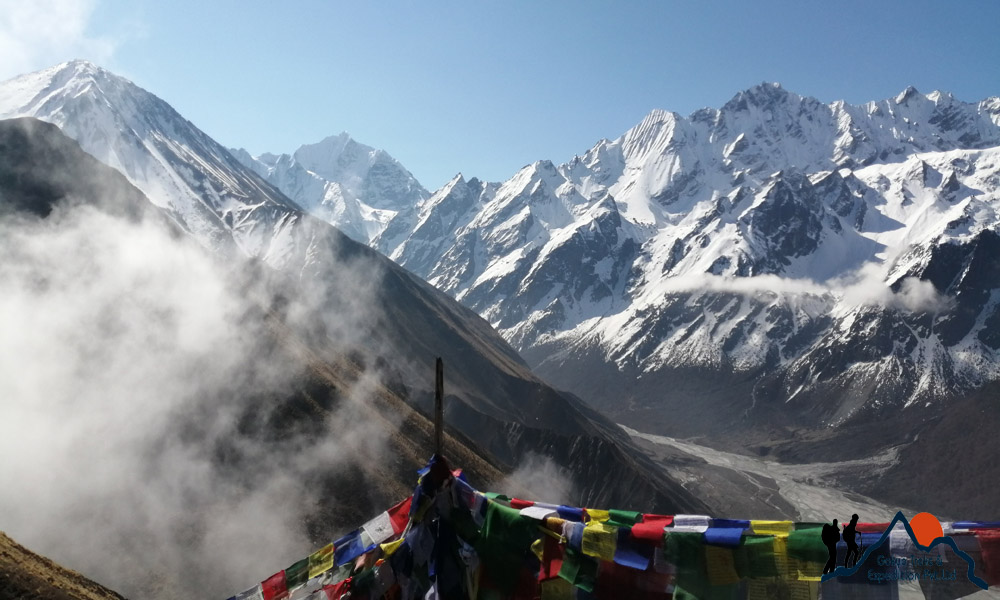 7 Day
Ngegang trekking (4,100m/13,448 feet), 6 hours
Cross ice-cold Langtang river, the adventure trail makes a steeper climb through the rhododendron and juniper forest. Tourists can see Himalayan YAKS that are grazing on grasslands peacefully. The moraine rocky trail reaches the Ngegang yak pasture where we set our tent in a rugged landscape. In the evening, our professional hiking crew will prepare a delicious dinner. Later dinner, the entire trekking team can sing popular Nepali songs, especially the most popular trekking songs that are sung on mountain trek routes. Overnight at Ngegang Kharka.
8 Day
Ganja la Pass trek (5,1100m/16,766 feet). Trek further to Keldang, 8 hours
Hike at ganja la pass is marked as one of the most adventure high pass treks in the Langtang territory in Nepal. The rugged trail that leads to the Nayakanga pass is quite difficult and challenging. Follow the streams and continue over rocky mountains trail, we climb the last 100 meters on a snowy steep. The Ganja la summit provides a splendid view of almost the entire Langtang mountain range including some of the unseen peaks.
9 Day
Keldang to Dukpu trekking (4,080m/13,342 feet), 6 hours
This adventure hiking trail is primarily used for hiking, camping, and backpacking and is best used from April until October. Right after the ganja la pass, the hiking trails near me are very thin and marked as a challenging part of the entire journey. However, all trails descend with a long ridge with many ups and downs to reach Dukpu Yak land. Overnight camp at Dukpu.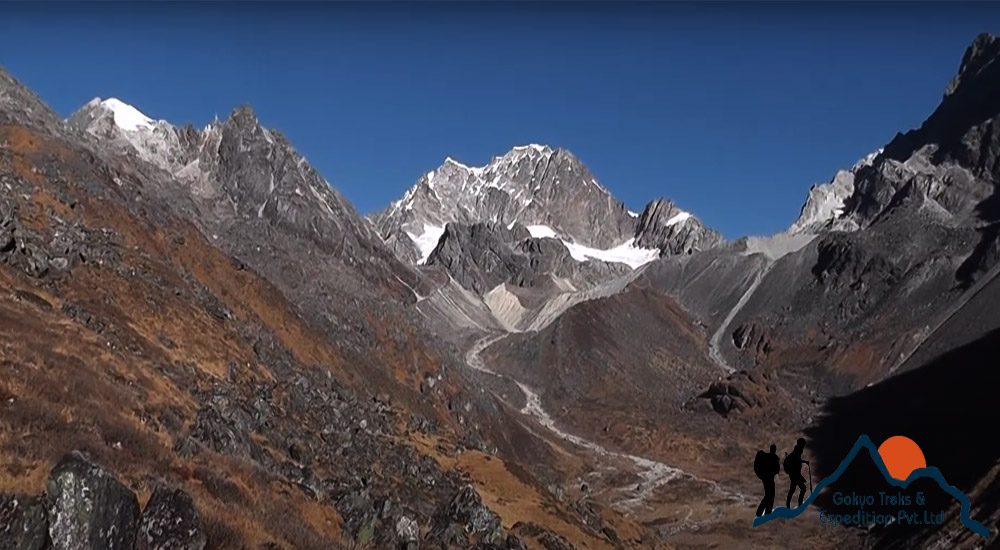 10 Day
Dukpu to Tarke Gyang hikes (2,590m/8,469 feet), 7 hours
From, Dukpu the trail descends, and short climb to a pass. The pass offers a stunning mountain view around the Himalayas. The trails descend through pine and rhododendron forest, then drop steeply to Gekye Gompa. Finally, the camping trail leads its steep descent to Tarke Gyang, a large Sherpa village in the Helambu section. Overnight stay at Tarke Gyang.
11 Day
Tarkegyang to Sermathang hiking (2,610m/8,535 feet), 5 hours
The trail leaves Tarke Gyang and heads off to meet the pretty Sherpa village, Gangyul (2,520m). The Nature trail leads through the green forests, crossing a number of streams, before reach at Chumik. Making a gentle climb you come to the large Shermathang village. Overnight stay at Shermathang Guest house camping ground.
12 Day
Trek descend downhill to Malemchipul Bazaar (880m), 5 hours
Making a drop, the track reaches in the settlements of Nigale and Gyalsha and further to Raithani Gyang (2,290m). Descending through the chir pine forest the trek gets to the large fascinating village of Dubha Chaur and finally descending you will reach Melamchi Pul Bazaar. Overnightat Malemchi Pul Bazaar.
13 Day
Drive from Malemchi pul Bazaar to Kathmandu city. Trip Finish.
Early morning, having breakfast, we drive back to Kathmandu via Araniko highway. Arrive Kathmandu and transfer to your Hotel. Trip finish so we wish your wonderful journey fiurther or add some extra activity with us paying an extra cost.
Not satisfied with above plan?
Are you interested on planning custom trip? this might take 2 to 3 minute.
Cost
How much does Ganja la pass trek cost?
Hike to Ganjala pass or backpacking trip at Ganja la pass camping trek price is US$ 1450 per person is a standard trek on double occupancy basis. For the deluxe and luxury trekking tour plan, we add 3-stars category hotel deluxe air-conditioned room in Kathmandu (BB PLAN) with an attached bathroom while trekking to possible places. AND WE ARE OPEN TO CUSTOMIZE YOUR TOUR AND PACKAGE PRICE AS PER YOUR REQUIREMENTS. International tour leaders are highly encouraged to get discounts and attractive complimentary.
Adventure Ganja la pass trek package price Includes:-
Kathmandu international airport transfer with a private vehicle [car/van/jeep/bus].
Single night twin sharing tourist standard accommodation in Kathmandu.
12 Breakfast, 12 lunch, and 12 Dinner during the trek routes.
Guest house accommodation while you are on trekking days (except kyanjin gompa until Tarke Ghyang)
Tent Accommodation and alpine food from Kyanjin gompa to Tarkeghyang while on Galja la crossing.
Langtang National Park entrance permits and their fees
Trekkers Information Management System (TIMS) permits and fees
Bus Transfer (Kathmandu – Syabrubensi & from Melamchi Pul Bazaar – Kathmandu) as per as per camping trek itinerary.
English speaking license holder professional mountain trekking guide cum cook.
An assistant guide will provide for 7 plus group tourist.
Experienced porters (1 guest : 1 porter basis) because each porter carry maximum 24 kilogram.
Salary, food, accommodation and their travel insurances for all Nepali crew.
Seasonal fruits like apple and pomograntes as a deserts for Ganja la trekking.
Duffel bag and Sleeping bag – if Necessary (return after the trek).
Oximeter to check pulse and heart rate, First aid medical kit, and oxygen saturation at higher altitude (need to refund after trek).
A First Aid medical kit bag.
Updated Ganja la pass trek map 1 piece for each guest.
Agency's Certificate of appreciations after the successful trekking
Nepal Government Tax, VAT and as well as Company service charge.
Ganja la pass trekking package excludes :
Nepal entry visa fees US$ 40.
Lunch and Dinner during the staying in Kathmandu
Any kinds of battery charges, laundry service, phone calls and hot shower during the trekking.
Tourist personal trek equipments
Personal nature expenses, any drinks and bar bills.
Tourist's travel insurance to cover helicopter rescue evacuation in case of an emergency.
Any donation and monuments entrance fees.
Kathmandu city world heritage sites entrance fees, Guide and transfer (if need).
Tips for the crew (Note : TIPS is not compulsory but highly expected)
Other things which are not mentioned above
Group join
According to our past experience says ganja la pass is not backpacking trips for beginners. Although it is backpacking tips, we need some hiking experience to complete this hikes. Hikes at Ganjala pass recognizes as a high pass trek in Langtang zone in Nepal. Be that as it may, we can create and organize private Ganjala pass trekking starting at any date if that works for you. So, please contact us for more information.
FAQ
Question: Do I need the experience to do Ganja la pass trek group?.
Answer: Yes. You need a trekking and basic mountaineering course to do this trekking with a lightweight daypack. For safe crossing above Ganja la, the mountain trail is often blue ice. So it would be better to have some equipment with you on the trek.
Question: Is pick up service available on my arrival day in Kathmandu?
Answer: Yes sure. Provide us with your flight details. Our representative will come to pick up you at Kathmandu international airport.
Question: Can I store my luggage/stuff in Kathmandu?
Answer: Yes, you can leave your luggage at your hotel or at our office. Store your stuff in the Gokyo Treks agency office is for free.
Question: Is this Ganja la trekking Safe for the Solo Female Trekkers?
Answer: Absolutely. Nepal is a safe country to travel to for solo travelers; Ganja la trek is perfectly safe for solo female trekkers. We have been organizing the trek even for solo female travelers since its establishment.
Question: What kind of accommodation can I expect on the express Ganja la pass trek solo?.
Answer: We provide you tourist standard accommodation in Kathmandu and during the trekking routes in a possible place. The rooms along the routes are clean with a cozy bed with a nice mattress and blankets. But from Kyanjin to Tarke ghyang in between, you will have Tent accommodation, you need to take your own sleeping bags if you have one with you otherwise, you may rent them while you are in Kathmandu.
Question: What kind of food can I expect on hiking Ganja la?.
Answer: The lodges en route, have attached restaurants. They cook a delicious range of mostly vegetarian such as Pasta, tuna bakes, noodles, potatoes, eggs, curry rice, bread, soups, fresh vegetables, etc. The fresh vegetables depend upon the season that you are visiting.
Question: What opportunities will I have for a shower along with Ganja la pass trekking?.
Answer: As you stay in the guest houses, they have a shower which you can get on request. As you are on a camping outdoor days, we provide you hot water in a bucket, so you will take a bucket shower.
Question: How do I get drinking water on the express Ganja la pass trek?.
Answer: Often you can buy a bottle of mineral water to drink. But we advise against buying mineral water in plastic bottles, as currently there are no provisions for disposing of that plastic fabric. Instead, we provide you Aqua tablets to purify the normal water as the normal water is available at the campsite.
Question: Can I charge my digital camera or other batteries on my trip?.
Answer: During Ganja la pass trek, there will be more chances to charge the battery except for camping days. We suggest you bring an extra pair in case. Remember to bring your own adapters!
Question: Are there any communication amenities on Ganja la pass trek?.
Answer: Except for camping trek days, you can get telephone services as well as internet service. Buying a local SIM CRAD is a great plan for a quick connection with your family.
Question: Can I use credit cards in Trekking?.
Answer: No. You should have some cash Nepali rupees to maintain your daily extra expenses.
Question: When should I book my trip and what are the payment terms?.
Answer: Because our trips book up months in advance, we recommend booking early to avoid any kind of misunderstanding. We will, of course, make every effort to accommodate last-minute bookings.
And regarding the deposit, we prefer a 20% advance deposit of the total price of the trip in order to confirm your reservation before you arrive in Nepal. And the rest of the payment can be made after your arrival in Nepal.
Question: Who will carry my luggage on Ganja la pass trekking?.
Answer: We provide porters to transfer your luggage. As we are a responsible trekking tour operator agency, each of our porters carry a maximum of 24 kilos of your backpack which means 1 guest: 1 porter basis. However, the Ganja la pass trek is a challenging trek so each of our porters can carry a maximum of 22 kg of your belongings.
Question: How much distance do I walk each day?.
Answer: When walking in the mountains, the distance you cover each day can vary greatly due to a gradient, terrain, and altitude. As such it is very hard to give specific distances on each day, however, you have to be prepared to walk roughly about 5 hours each day.
Question: Do I need walking poles?
Answer: It is better to hike with walking poles. Learn how to use trekking poles for balance and stability, whether on the sidewalk or on trails. Walking poles can help prevent slips and falls. They are just recommended but not compulsory.
Question: How much additional money do I need per day?
Answer: You can allocate US$ 08 – 10 for a lunch/dinner in Kathmandu and it depends on your spending habits. US$ 7 to 10 US$ each day will be enough to buy bottles of water, chocolates, tea coffee, and some drinks while you are on your trek.
Ganja La Trek Review
Challenging to cross Ganja la pass but better off the beaten path trek
With my wife, I enjoyed trekking with guys from Gokyo Treks and Expedition in Langtang ganja la pass trekking Langtang region. Found agency on the internet and decided to trust them based on good recommendations. Everything was organised as agreed from trekking permits to accommodation in Kathmandu and airport taxi…etc.
The guide knows well all about Ganja la trekking routes and their recent state as it is common that some trails are already collapsed due to common landslides! This can save a significant amount of time.
I can not recommend enough Goyko Treks and Expeditions. Trip of the lifetime !!Thank you very much, Ammar and our Sherpa guide for the amazing experience!

Response from Gokyo Treks Nepal
Thank you Biren Thomson for your experience for trek the Ganja la pass with our team.
Adventure Ganja la pass trek highlights
Discover langtang Himalayas within 360 deg angle from Tserkuri and Ganja la summit.
Walking through cultivated potatoes fields, colorful Rhododendron, conifers and oak trees.
Best view of Mt.Langtag lirung, Langtag-ri, Langsisa, Langtang Himal, Ganjala peak itself
Experience the Sherpa and other ethnic groups and their life styles.
Ganja la pass trek notes
The information stated above is just a guide and standard template that we provide you. However, the trip is possible to customize at your request to accommodate your specific requirements. Local politics, landslides, cancellation of local flights, weather, transport, or a multitude of other factors that are beyond our control can result in a change of itinerary during on trip.
It is, however, very unbelievable that the itinerary would be extensively altered. If alterations are necessary the leader will decide the best alternative option, taking into consideration the best interests of the whole group. When a change does occur, we do everything we can to minimize its effect, but we cannot be responsible for the results of changes or delays.
What makes Ganja la pass trek special?
Opportunities for challenging trekking trails and pleasant strolls are scattered all over the world. You just need to know where to find them. We at Gokyo Treks and Expedition believe in quality services. Your safety and satisfaction is our prime concern.
We are a team of professional, and trained licensed local guides who know the destination much better than others. Not only this but also we give benefits to the local communities and help to conserve natural resources which reduced costs and consumption.
From US$ 1526
5% Off
US$ 1450
| | |
| --- | --- |
| No. of people | Price Per Person |
| 1 | USD 1750 |
| 2 | USD 1450 |
| 3 | USD 1430 |
| 4 - 6 | USD 1390 |
| 7 - 9 | USD 1325 |
| 10 + | USD 1275 |
Book Now
Customize Trip
Cost & Departures
Your Trip Your Style!
ITINERARY, COST, DEPARTURES, will adjusted according to your GROUP SIZE NEED TIME
Book with Confidence
Lowest Price Guaranteed.
100% Customizable Trips
Excellent Customer Service
Hassle Free Booking.
90 % Repeated customers
Highly Recommended agency
Private/group tour options
Local Guides Company.