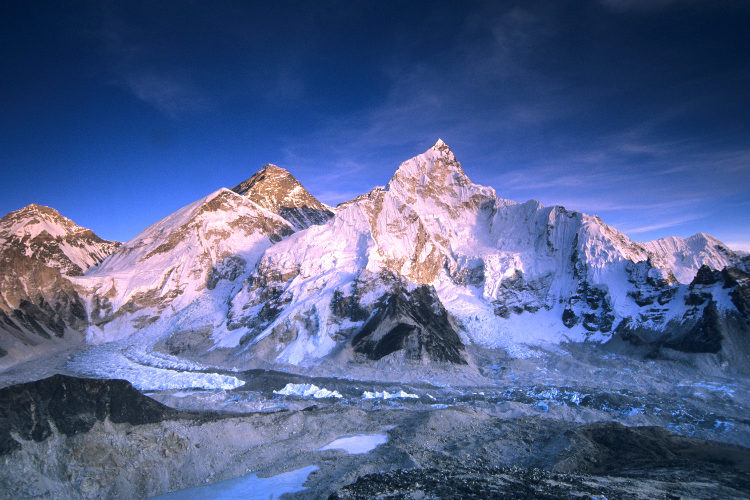 Everest Base Camp Trek Summary
Base Camp Trekking duration: 10 Nights 11 Days
Group-Size: 1 – 14 People
Base Camp Height: 5,550m/18,210 feet
Trip Mode: Guest house basis
Trek difficulty: Easy to moderate difficulty
Trek Hours: 6 Hours daily
Best Time: March, April, May, October, November and December.
Meals on Trek: Breakfast, Lunch, and Dinner
Transportation: Car/Plane/Van
Overview
The Everest Base Camp Trek is one of the most popular trekking routes in Nepal and is a journey to the base of the world's highest mountain, Mount Everest. The trek takes you through the stunning landscapes of the Solu-Khumbu region, including the Sagarmatha National Park, and offers breathtaking views of some of the world's highest peaks.
The trek usually starts and ends in Lukla, a town located in the Solu-Khumbu region of Nepal, and takes around 11-14 days to complete. Along the way, you'll pass through traditional Sherpa villages, cross high-suspension bridges, and hike through lush forests and alpine meadows. You'll also have the opportunity to visit the famous Tengboche Monastery and the village of Namche Bazaar, the largest town in the Solu-Khumbu territory.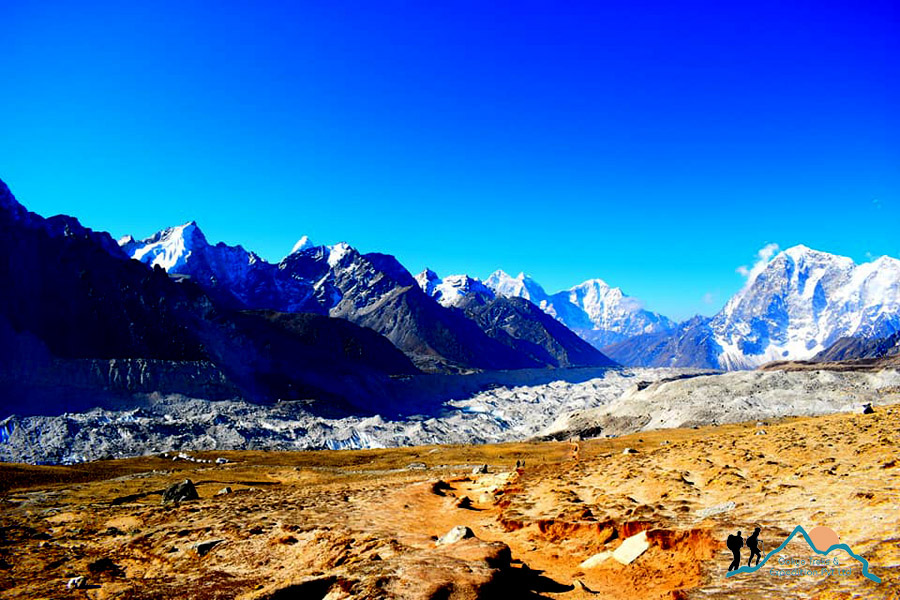 The trek to Everest Base Camp is considered a moderate to challenging trek, as you'll be hiking at high altitudes, with some days requiring several hours of continuous ascent. It's important to be adequately prepared for the trek, both physically and mentally, and to have proper gear and equipment. However, the rewards are worth it, as you'll be rewarded with stunning views of Mount Everest, Cho Oyu, Nuptse, Amadablam, Cholatse, Tabuche, and Makalu summits with many other towering mountains of Khumbu region.
Nepal is a small country but it has diversity in culture and natural geography including flat ground to the high Rocky Mountains. Additionally, the route to base camp follows the footsteps of Edmund Hillary and Tenzing Sherpa situated in the central east part of Kathmandu, the capital of Nepal. Mount Everest trekking route is encircled by some of the most iconic Khumbu glaciers and the tallest peaks on Earth.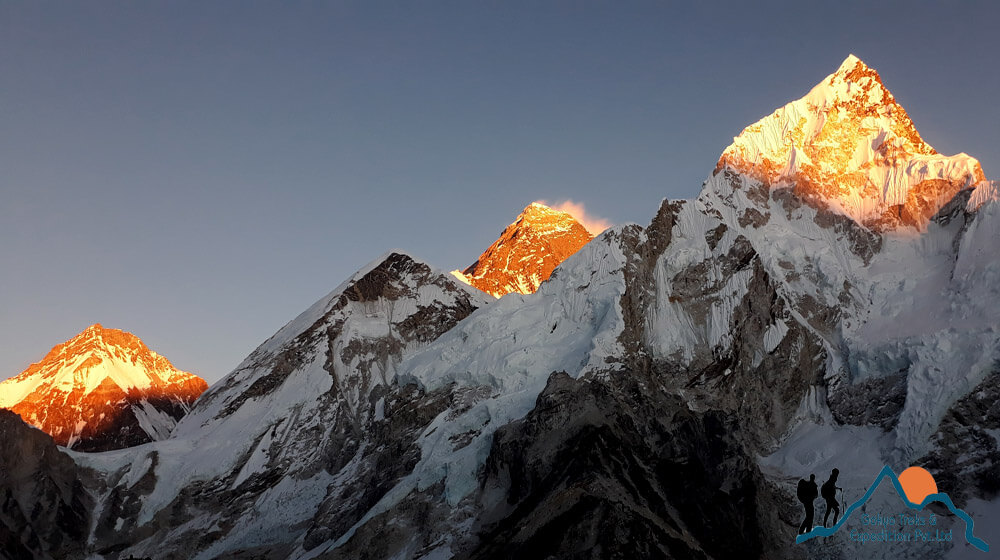 How much is the Everest Base Camp Trek Package Cost?
Mount Everest base camp trek package cost depends upon the group size you are traveling to and the service you choose. The cost of the Everest base camp hike package plan with a Gokyo Treks local agency ranges between US$ 995 to US$ 1275. The price typically includes transportation, a guide/porters, hotels, food and accommodation, and hiking permit facilities.
We also have a discount deal for international group leaders. For example, if you could bring 10+ travelers (except you) on your trip, you are treated as a group leader. So you can hike to Everest base camp free of cost.
The given Base camp hike is the standard trip package price for 11 days and 10 nights. However, we basically arrange private trips in order to give a better-personalized travel experience. If you are 2 trekkers for Everest Base Camp Trek Package cost US$ 1125 for 11 day private trek. We can modify the trek route and price as per your wish. Get the best price list for the base camp package trek as given below.
Price Per Person for 11 days hikes in mount Everest territory.
| Number of Tourist | Price Per Person |
| --- | --- |
| 1 Person | US$ 1275 |
| 2 Person | US$ 1125 |
| 3 Person | US$ 1125 |
| 4 to 6 person | US$ 1098 |
| 7 to 9 Person | US$ 1050 |
| 10 and more than 10 Person | US$ 995 |
If you're wondering to know about what is included and what is excluded from this trip price, kindly check on the cost given on a tab button.
Itinerary
Everest Base Camp Trek itinerary 11 days details
Hike to Everest Base Camp or hike the base camp is conceivable to finish within 11 days 10 nights as an ordinary plan. Previously mentioned Everest Base Camp climbing is contrasting with most hikes in the Khumbu locale paving the way to the base camp.
The specific course is intended for world explorers who wish the base camp to climb the tremendous mountain but are limited time-wise. Backpackers, who wish to achieve the Everest base camp in a progressively loosened way can attempt this trek nevertheless if this schedule isn't fit you. request us for a customized itinerary.
01 Day
Early morning fly to Lukla airport (2,840m/9,318 feet). Bengkar Trek (2,630m/8,629 feet), 4/5 hours
We do take care of the Lukla flight tickets for early departure from Kathmandu to Lukla, Tenzing– Hillary Airport. Later breakfast, conducts the Base camp Everest treks. One of the most beautiful highlights of the base camp trek is a scenic mountain flight from Kathmandu – Lukla – the Kathmandu sector.
Roughly thirty-five minutes short flight journey to Lukla or return is exciting and adventurous. Meet the entire hiking team and walk along with the Dudh Koshi valley passing Sherpa villages to Phakding and Bengkar Lodges.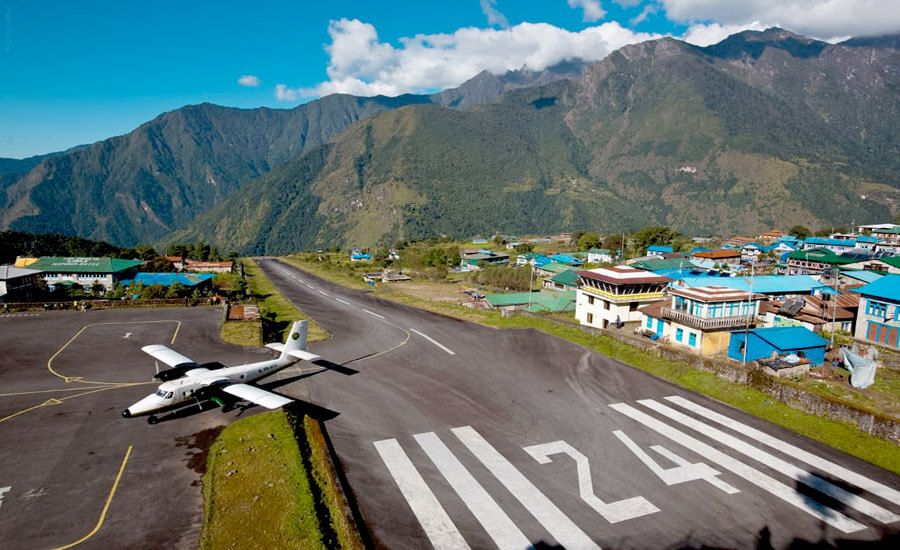 02 Day
Namche Bazaar trek (3,440m/11,286 feet), Explore Namche Bazaar, 4/5 hours
The trail moves from the riverbed on the left bank into the mountainside to proceed with the trail with many high and low points; cross a stream. Walk to the Sagarmatha National Park entrance office where every tourist including the Nepali guide – porters have to pay the entrance fees. Sagarmatha National Park [SNP] is a UNESCO world heritage site in Nepal.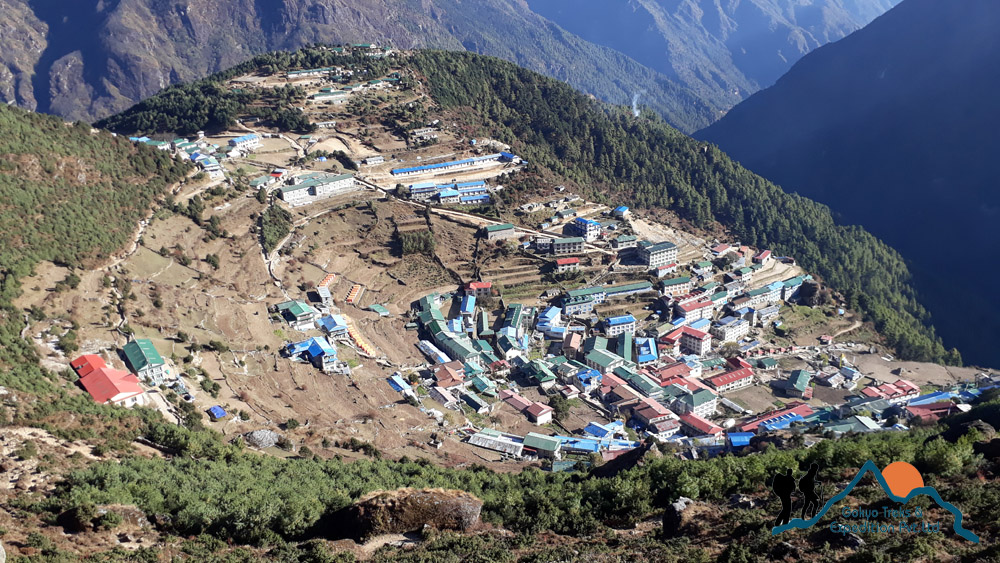 Furthermore, we pursue short hikes along the riverbed of this valley where the significant waterway meets other. Traverse the Hillary bridge, the trek begins to soak rising to Namche Bazar, the Sherpa settlement of Solu Khumbu.
In between, we have a great view of Mount Everest (8,848m), Lhotse (8,516m.), and Kwangde. Encompassed on three sides with mountain ranges, Namche Bazar is a focal center point of the territory for nourishment, trekking gear, and other essential goods.
03 Day
Hike to Syangeboche hill station for 360 deg angle view.
It's an extra day in Namche Bazaar for acclimatization. Thus, we hike to Sengboche hill station, a perfect spot for a jaw-dropping view of the Mount Everest range. It's a good idea to get this height before heading to base camp.
We go up to Khumjung Monestry (one of the greatest sherpa inhabitants) disregarding the Syangeboche hill station. While you are climbing through the Syangeboche airport, you will have an astounding perspective of Mount Everest and many other highest mountains in the world.
They are Mount Ama Dablam, Mount Thamserku, Mount Nuptse, Mount Lhotse, Mount Tawche, Mount Kwangde, etc. On return, Tripper can visit the park museum simply over the town that displays Sherpa civilization.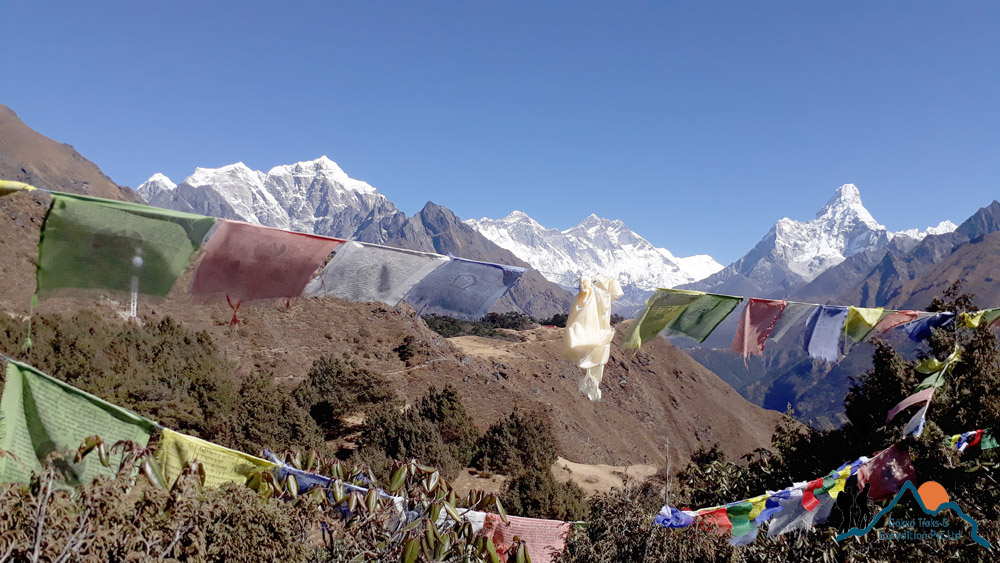 04 Day
Tengboche Monastery trekking (3,860m/12,665 feet), 5/6 hours
The journey to Tengboche Monastery trail goes ahead leaving a steep cliff dropping down the Dudh Kosi river banks. Continue to see a comprehensive view of Ama Dablam (6,812m), Everest, Lhotse, Nuptse (7855m), and Tawoche (6,501m) mountain.
In addition, you can visit Trashinga, Phunki Tenga, and reach finally Tengboche pass. Tengboche hill station is situated above the Rhododendron forest and is best popular to get Mount Everest sunrise.
From the Tengboche viewpoint, tourists can see Tengboche Monastery where lama monks are praying. Moreover, Tengboche hill offers a clear view of sunrise and sunset at Everest combined with Ama Dablam at right.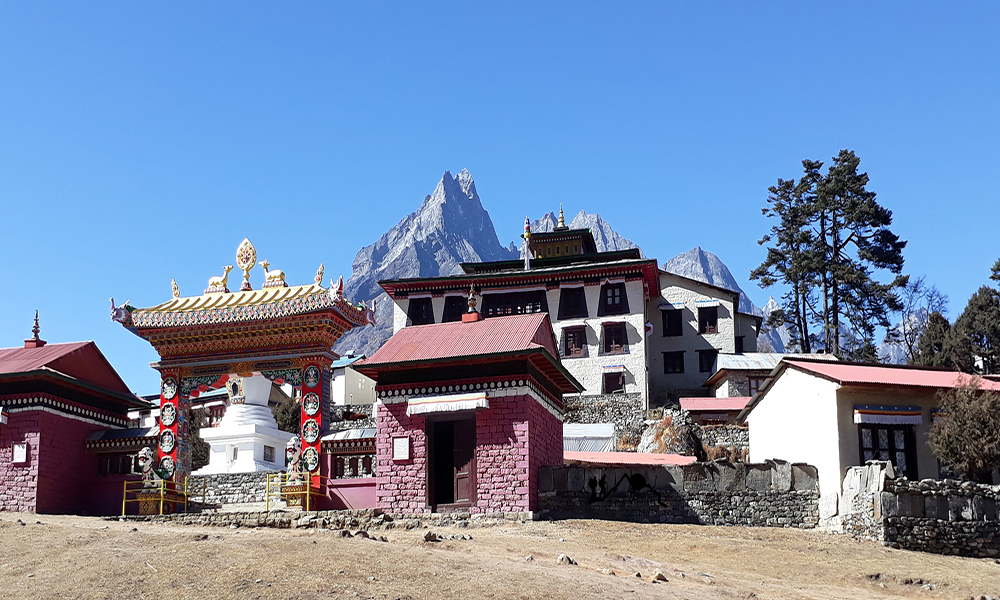 05 Day
Dingboche village trek (4,410m/14,469 feet), 5/6 hours
Leaving Tengboche hill at the backdrop, we descend through a rhododendron forest and enter Deboche. Deboche is a tiny village stays about four guesthouses. Cross a suspension bridge at Imja River and head towards Minlinggo and enter Imjatse valley beneath the majestic Ama Dablam, Nuptse, and Lhotse peaks.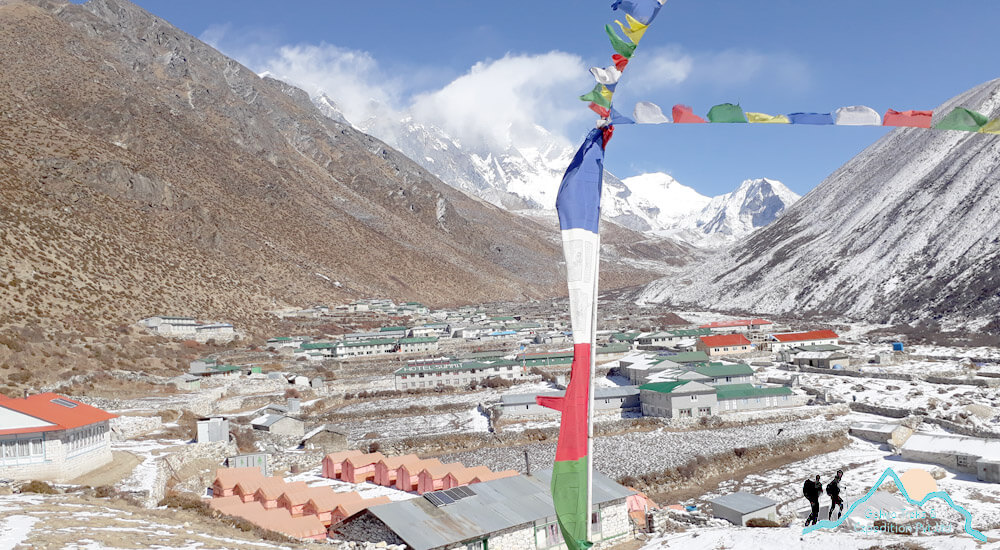 Continue to ascend to reach Dingboche village where we stay overnight in a nice guest house. Hike the Nagarjuna peak is amazing to get a glimpse of towering mountains close by in clear weather. It helps better acclimatize to be familiar with the local climate.
Nagarjuna hill station offers outstanding sights of almost the complete Khumbu mountains including mount Makalu. It's an easy hike but as the trail is gently up. Chukung ridge provides a majestic view of Tawoche peak, Island peak, Ama Dablam, Makalu..etc.
06 Day
Lobuche trek (4,910m/16,110 feet), 4/5 hours
It is our turn to head towards Lobuche from Dingboche which is situated at four or five hours of walking distance. Another best-view trail to get a grand view of Mount Tawache, Mount Ama Dablam, Mount Pokalde (5741m), Mount Kongma-tse (5820m), and the Nuptse great wall.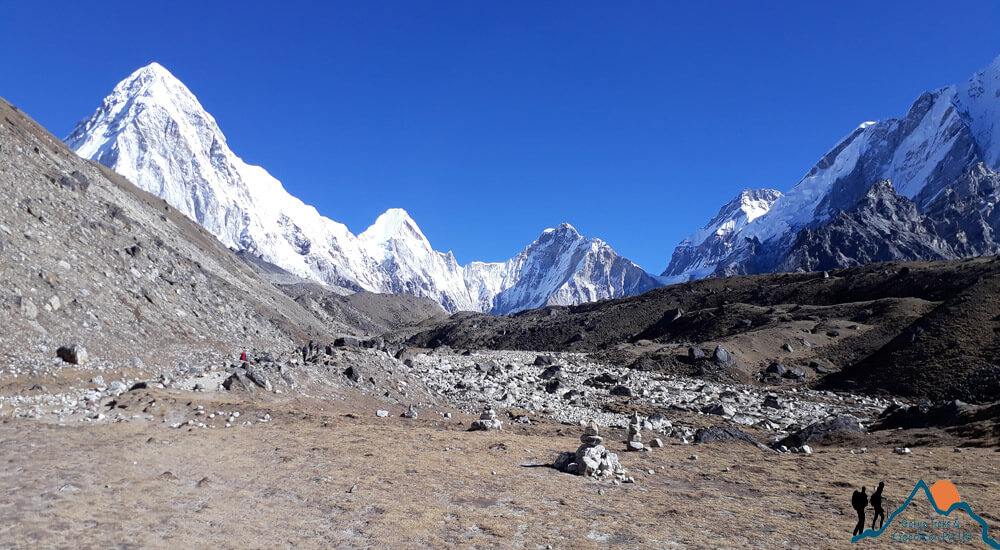 07 Day
Everest Base Camp trek (5,364m/17,599 feet). Return to Gorak Shep Lodge (5,140m/16,808 feet), 7 hours
We reach Everest Base Camp, our final trek destination today. Mount Everest base camp is located at an altitude of 17,599 feet above sea level. The height of the Everest base camp is on glacier moraine, the distance from the Everest base camp to the summit is 20.5 km only.
Likewise, Lobuche to base camp and back at Gorakshep hikes takes about 7 hours. The Gorgeous Everest Base Camp tour today is the most rewarding section of the complete journey. Our Everest base camp trail winds up through the rocky moraine path until Gorakshep lodges.
Furthermore, the trekkers should walk over the Everest Glacier moraine nearby Khumbu icefall. The extremely surprising view of Nuptse, Lho-La, and Khumbutse appear just next to you while walking on the Everest foothills. After visiting Everest Base Camp, we return to Gorakshep loge to stay overnight.
Optional: EBC HIKES is an epic journey of the Everest trail. Therefore, some trekkers have their personal wishes to stay at least 1-night experience at the basecamp, Everest. In this case, the Gokyo Treks agency guides you to arrange the necessary things to rent in Gorak Shep (food, mattress, tents..etc) at an extra cost.
Have in mind that the basecamp glacier of the Himalayas moves every year. Thus, the original structure of the campsite places are drowned, sometimes dry moraine and sometimes campsite next to the river. Upon your request, we set up a tent but experience the toilet in the open sky Tourists should either rent a toilet tent while on their overnight stay.
Base camp hikes in a busy spring have crowded because of Everest climbers, so we need to check the campsite before to fix. Indeed, the trekkers should arrange special personal hiking gear and Mount Everest base camp hikes at their own risk.
08 Day
Gorakshep to Kala Patthar hike (5,550m/18,210 feet). Return to Pheriche (4,243m/13,917 feet), 9 hours
We trek from Gorakshep lodge to Kala Patthar hilltop, a Black stone mountain located at an altitude of 18,205 feet and is one of the best famous hill stations to watch Mountains on a sunrise. The black mountain rock Kala Patthar is also a popular place to watch the sunset on the Everest Himalayan range.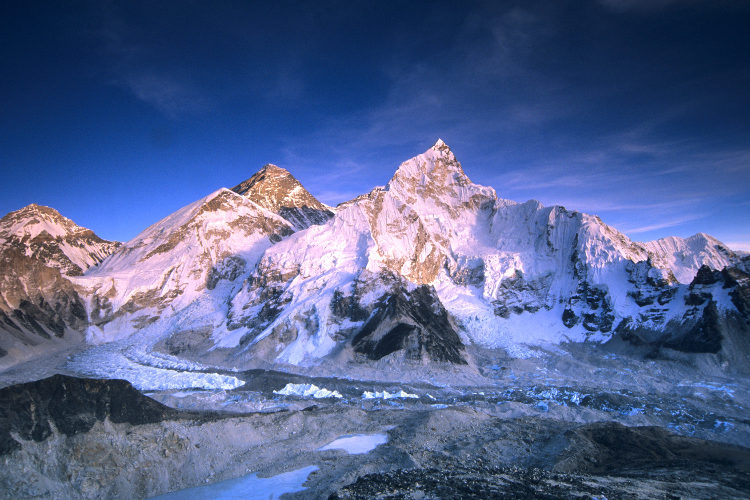 Amazing views of Mount Everest, Mt. Pumori, mt Lingtren, mt Khumbetse, mount Nuptse, mount Lhotse, Mt. Ama Dablam, Mt. Thamserku…etc are visible from Kala Patthar. Taking photographs, we descend downhill walking to Gorak Shep, a sandy ground where we meet the entire crew members to descend to Pheriche village. Himalayan Rescue Association Aid Post (HRA Aid post) is available at Pheriche health post where foreign volunteer doctors are providing medical treatment.
09 Day
Pheriche to Namche Bazaar trekking (3,440m/11,286 feet), 7/8 hours
Walk to Tengboche hill, located above rhododendron forest, famous for the oldest monastery of Everest. From the monastery, one can enjoy the splendid view of Ama Dablam, green hills, and pristine rivers.
Trek descends from Tyangboche to Namche Bazaar passing several tiny villages. Sanasa and Lagusasa are the most typical tiny village. You will catch the way descends from Gokyo valley. Finally, we come to Namche Bazaar in the late afternoon.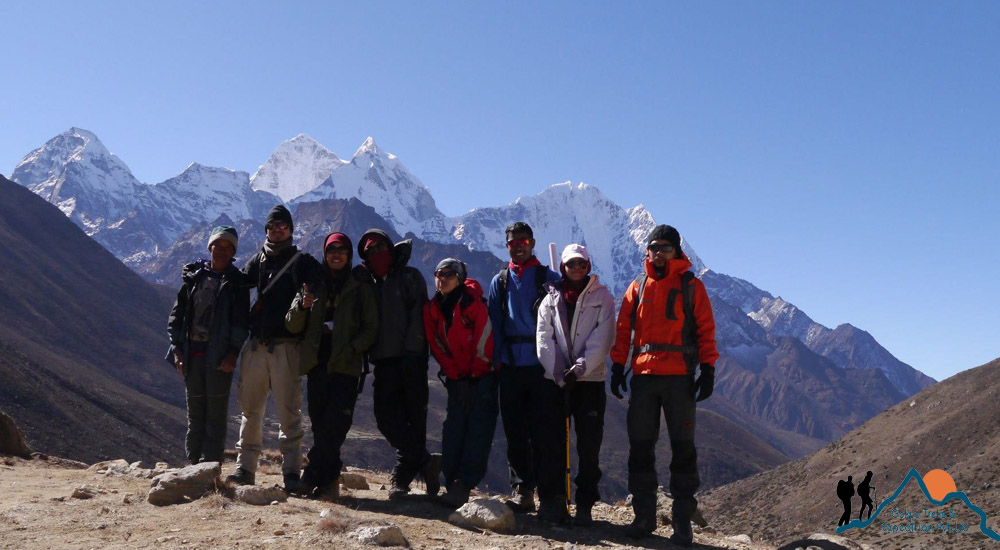 10 Day
Namche Bazaar to Lukla (2,840m/9,318 feet), 7/8 hours
It is not the tough day hikes but truly long day. Get your guide for the last-minute Everest view while on Everest hikes. We trek downhill walking to Lukla airport with the same trail we use on our ascend.
It is the last day of our epic tour. Upon arrival at Lukla, Your guide will go to the airline ticket counter to reconfirm your return flight to Kathmandu.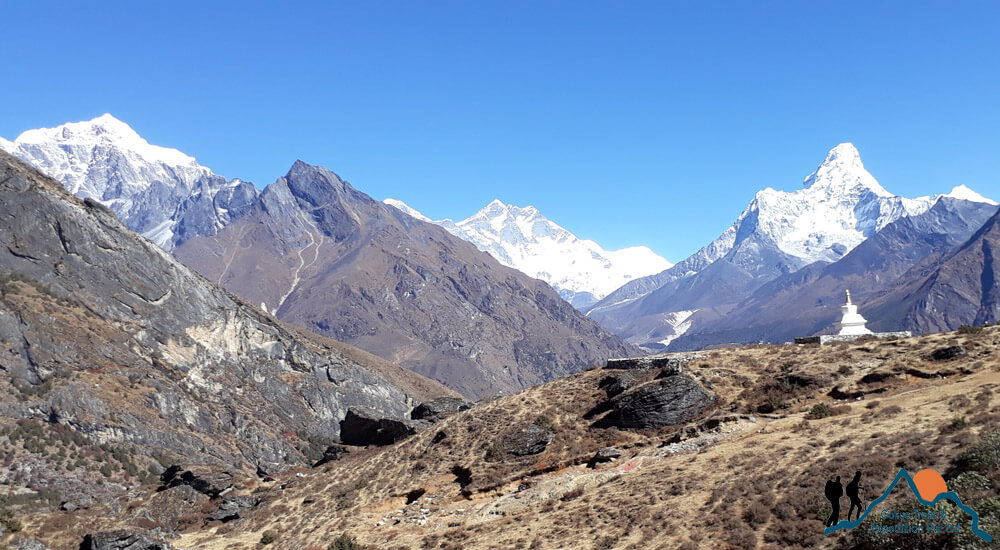 11 Day
Scenic flight back to Kathmandu. Bye-bye Kathmandu in the Evening
Early morning, we take breakfast sitting on the rooftop lodge which gives you a better view of the aircraft landing and taking off. Our guide will check the flight status with the weather. We board our early plane to Kathmandu.
Upon arrival at Tribhuwan International Airport (TIA), our guide will arrange a private vehicle to transfer to your hotel, Thamel. In the afternoon, go shopping or request your trek guide to discover Kathmandu as his whole day's salary is paid at the package price. Additionally, if you wish to visit the Kathmandu World Heritage Sites with an expert tourist guide at an additional cost?.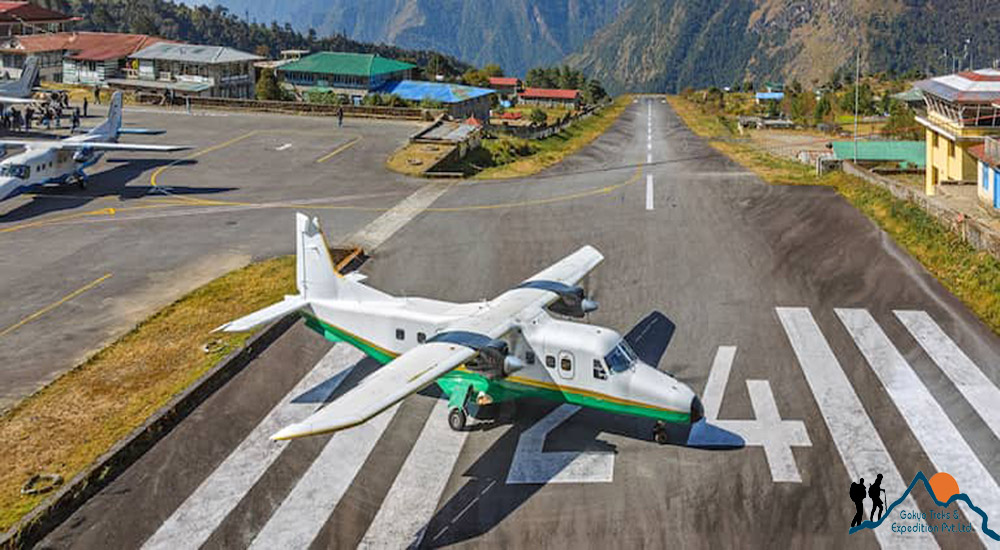 Now, the above hiking route from Kathmandu to Everest base camp trip finish. We wish you a wonderful journey.
Not satisfied with above plan?
Interested in planning a custom trip? this might take 2 to 3 minutes.
Cost
How much is the Everest Base Camp Trek Package Price?
Hike to Mount Everest base camp 11 days package price US$ 1125 per person is a standard trek price on double occupancy basis. For the deluxe and luxury trekking tour plan, we add a 3-5 star category hotel deluxe air-conditioned room in Kathmandu with a breakfast plan. Likewise, a guest house accommodation room with an attached toilet/bathroom en route. AND WE ARE OPEN TO CUSTOMIZING YOUR TOUR AND PACKAGES PRICE AS PER YOUR REQUIREMENTS.
Mount Everest base camp trek package price includes:-
Kathmandu domestic airport transfer as per itinerray.
Lukla Domestic flight both way air fare with applicable airport taxes.
11 Breakfast, 10 Lunch, and 10 Dinner during the Everest base camp trekking tours.
10 Nights double bedroom accommodation with a common toilet/bathroom en route.
License holder professional Mountain Trekking Guide for a base camp hike.
An assistant guide will provide for 7 plus group tourists.
Professional porters during the trekking (1 porter = 2 guest basis) because the porter carries a maximum of 24 kilograms of your backpack.
Well-paid salary, food, accommodation, and insurance of Nepalese guide/porter.
Everest base camp trek permit (Sagarmatha National Park permits and Khumbu Pasang Lamu municipality entrance permit fees).
First aid medical kit bag including Oximeter to monitor heart rate and oxygen level every day to save from higher risk.
Agency's Duffle bag (50 liters capacity) & a trekking pole if necessary – need to return after the trek.
Trek completion certificate and Everest base camp trek map – keep them as souvenirs.
Nepal Government Tax, VAT, and as well as Company service charge.
Everest base camp hiking package price excludes:-
Nepal entry visa fees
Lunch and Dinner during the staying in Kathmandu city.
Any kinds of battery charges, laundry service, phone calls, and hot showers during the trekking.
Visitor Personal trekking gears and clothes.
-10 comfort fresh Sleeping bag rental cost per piece US$ 2 per day.
Personal nature expenses, all types of drinks, and bar bills.
Travel Insurance which covers emergency Rescue and Evacuation.
Kathmandu international airport transfer with a private taxi/car.
Hotel accommodation in Kathmandu city.
Any donation and monument entrance fees.
Gratuities for guide and porters [Tip is a culture, so they expect highly].
Any other things which are not mentioned above.
Group join
We at Gokyo trek agency are conscious of your travel health seriously so our Everest base camp trek packages include 1 extra day and reaching camp you can also hike about 50 meters above the hill just for acclimatization better in order to avoid altitude sickness. However, We can organize a private Trek starting at any date if that works for you. Please contact us for more information about your own travel plan.
| Departure Date | Availbility | Price | Book |
| --- | --- | --- | --- |
| 10 Mar, 2023 – 20 Mar, 2023 | Avaiable | 1125 | |
| 20 Mar, 2023 – 30 Mar, 2023 | Avaiable | 1125 | |
| 25 Mar, 2023 – 04 Apr, 2023 | Avaiable | 1125 | |
| 05 Apr, 2023 – 15 Apr, 2023 | Avaiable | 1125 | |
| 10 Apr, 2023 – 20 Apr, 2023 | Avaiable | 1125 | |
| 20 Apr, 2023 – 30 Apr, 2023 | Avaiable | 1125 | |
| 25 Apr, 2023 – 05 May, 2023 | Avaiable | 1125 | |
| 10 May, 2023 – 20 May, 2023 | Avaiable | 1125 | |
| 20 May, 2023 – 30 May, 2023 | Avaiable | 1125 | |
| 10 Sept, 2023 – 20 Sept, 2023 | Avaiable | 1125 | |
| 20 Sept, 2023 – 30 Sept, 2023 | Avaiable | 1125 | |
| 05 Oct, 2023 – 15 Oct, 2023 | Avaiable | 1125 | |
| 10 Oct, 2023 – 20 Oct, 2023 | Avaiable | 1125 | |
| 20 Oct, 2023 – 30 Oct, 2023 | Avaiable | 1125 | |
| 25 Oct, 2023 – 04 Nov, 2023 | Avaiable | 1125 | |
| 05 Nov, 2023 – 15 Nov, 2023 | Avaiable | 1125 | |
| 10 Nov, 2023 – 20 Nov, 2023 | Avaiable | 1125 | |
| 20 Nov, 2023 – 30 Nov, 2023 | Avaiable | 1125 | |
| 05 Dec, 2023 – 15 Dec, 2023 | Avaiable | 1125 | |
| 15 Dec, 2023 – 25 Dec, 2023 | Avaiable | 1125 | |
| 10 Feb, 2024 – 20 Feb, 2024 | Avaiable | 1125 | |
| 20 Feb, 2024 – 02 Mar, 2024 | Avaiable | 1125 | |
Guaranteed – Trip is Guaranteed to run.
Available – Trip is available to run if minimum group size is filled
Limited – Only few space available
FAQ
Question: What is Mount Everest and where is Mount Everest located?.
Answer: Mount Everest is a big rock of granite. It is the top first tallest mountain on Earth.
Mt. Everest is located in the Mahalangur extent range of the Great Himalayas. Mount Everest rises up exactly on the borderline of Nepal and Tibet (27°59′ North latitude, 86°55′ East longitudes) in the southern part of Asia. Mount Everest is commonly known as Sagarmatha in Nepali.
Question: Is pick up service for my Everest trek available on my arrival day in Kathmandu?.
Answer: Yes sure. You need to write to us with your arrival flight details including landing time. Our representative will come to pick up you at Kathmandu international airport to transfer you to your hotel.
Question: How high is the Mount Everest base camp?
Answer: Base camp Everest height is settled on the Khumbu Glacier at the foot of Everest rock at an altitude of 5,364 meters (17,598 feet) which is reached over a period of eight days including a rest day en route. The Everest base camp elevation is moving every year because of falling avalanches and big landslides into the Khumbu glacier. Because of huge falling avalanches, climate change, and other factors, the base camp is stirring. Thus every year on tour season the locals will set up the place for basecamp and fix some prayer flags. There are some crevasses and tiny lakes in its surroundings, so everyone can guess easily that the base camp changed into a glacier lake in a few years.
Question: Do I need experience for the Everest Base Camp lodge trek?.
Answer: Actually, not required. Traveling solo is often a bit complicated finding the lodges en route. That's why we suggest you join our trip at least with two travelers. Traveling with 2 people is much easier finding rooms and also sharing the price of a guide and porters is always a great thing to save on the journey. Indeed, if you are traveling solo, we suggest you practice carrying your lightweight day pack for about 2/3 hours every day.
Question: What kind of accommodation can I expect on the mt Everest base camp hike?.
Answer: We provide you with tourist standard accommodation in Kathmandu and in base camp trek routes. The rooms are clean with a cozy bed with a nice mattress. Guesthouses will not provide a blanket, so we suggest you rent four-season sleeping bags for yourself while you are in Kathmandu.
Question: What kind of foods can I expect in the express Everest base camp trails?.
Answer: Every lodge they have an attached restaurant. They cook a yummy – delicious range of vegetarian meals such as noodles, Pasta, tuna bakes, potatoes, eggs, bread, soups, rice curry, and fresh vegetables. Non-vegetarian meals are not healthy as the meat carried from Saleri with an open bamboo basket spends several days. We don't recommend you eat meats en route as they are dirty and unsafe.
Question: How long to get to Everest base camp?
Answer: All things considered, it takes somewhere in the range of 11 and 14 days to travel full circle to Everest Base Camp. The vast majority of travelers will do it in 11 days: 8 days to climb from Lukla airport to Everest Base Camp and afterward 4 days to travel back to Lukla.
Question: What opportunities will I have for a shower along with the Everest base camp hike?.
Answer: On-base camp lodge trek, they can provide shower on pay.
Question: How do I get drinking water?.
Answer: Hiking mount Everest base camp places stays hotels and shops where you can able to buy mineral water and you can buy it for drinking. But however, we advise against buying mineral water in plastic bottles, as currently there are no provisions for disposing of these. Instead, please bring AQUA Tablets to purify water taken from the Normal tap. Normal water is available at the campsite along the hiking trail.
Question: Can I charge Mobile – digital camera or other battery en route?.
Answer: During the lodge Everest Base Camp Tour, there are often changing stations. So, you can recharge, your mobile devices and camera battery. However, we recommend you bring an extra pair in case. Remember to bring your charging adapters.
Question: Is it possible to stay overnight at the base camp? What would be the options?.
Answer: Yes, it is possible to stay overnight at Everest Base Camp on your journey at your own cost renting gear at Gorekshep lodge. Actually, we do have another itinerary to make this happen to stay overnight at Everest Base Camp. Staying overnight at base camp is recommended during May and June months. You will get a chance to meet world-class Everest climbers and the base camp is colorful and crowded at night.
Question: What should my insurance policy cover during Everest Base Camp Treks?.
Answer: Travel insurance is mandatory before joining any trip booking with us. And you need to get your travel insurance policy before joining your trips to Nepal. Your basecamp travel insurance must cover the helicopter rescue up to 5,500 meters altitude. It comes in handy during medical emergencies and contingency situations. It is recommended to get it from your home country. In case you haven't bought travel insurance? we can help you to purchase the right one on your arrival in Nepal.
Question: What about guesthouses occupancy and crowd during peak season?.
Answer: Oh yes, you will see many travelers from all around the world. Especially in the popular Everest region during the best high season like spring and autumn. However, recently, there are many guest houses along the routes. So, everyone can get a good place to stay overnight.
Question: How to trek to Everest base camp
Answer: Our ebc hike takes about 14 days from Kathmandu to EBC and returns. If you fly into and out of the mountain airstrip of Lukla and take the normal route to base camp. You should allow 2 or 3 days on top of this for travel days to reach Kathmandu and get over jet lag and explore the city. It also helps you to reschedule the Lukla flights in case of bad weather.
Question: How to prevent altitude sickness during cheap Everest Base Camp Treks?.
Answer: Many tourists have similar thoughts – about how to hike to mt Everest base camp safely. You should never walk too quickly or too high to neglect your body's symptoms. Proper altitude acclimatization is the best way to prevent high-altitude sickness. Listen to your body, trek gradually enjoying the best of culture and nature while giving enough time for your body to adapt to the changing atmosphere.
Drink a lot of fluid & keep your body hydrated. If symptoms like a headache, difficulty in breathing, and others occur, descend to a lower altitude. And taken to the hospital if there is any chance. Otherwise, if the condition goes critical you will be airlifted to the hospital in Kathmandu. Of course, the guest must pay the bills, that's why we suggest you to hikes with travel insurance.
Question: What will happen if my scheduled flight in the Ktm-Lukla-Ktm route gets delayed or canceled?.
Answer: Everest Base Camp weather is uncertain which we cannot predict. Therefore, the rate of fight delay and cancellation is high at Lukla. If this happens, you will be boarded on the flight tomorrow and you have to spend an extra night at Lukla (if you are returning to Ktm) at Ktm (if you are going to Lukla). Helicopter rescue can also be used, which depends on the situation. We recommend you allocate a couple of extra days after your Everest trek. So, you will not miss your international flight back.
Question: What are alternates to flying from Kathmandu to Lukla airport?.
Answer: The best-recommended way to go for any Everest trek is to board a Kathmandu-Lukla 35 minutes scenic mountain flight. Another available option is to drive from Kathmandu to Phaplu (12 hours full-day drive) and trek for 2 days more just to reach Chaurikharka. In the present day, there is a local regular jeep service from Kathmandu to Salleri – Kathmandu. Some trekkers go Phaplu to Everest base camp trek avoiding flying from Kathmandu to Lukla because of air traffic hold problem.
Question: Is there any possibility to explore the Everest base camp by helicopter tour?.
Answer: Yes. If you wish to fly to get higher to the Everest base camp by helicopter , we have a special mountain flight tour by helicopter that fleets every morning. It departs from Kathmandu airport in the morning time.
Question: Are there any communication facilities on Journey to Everest Base Camp?
Answer: Everest Link is an internet service provider founded in 2014 that provides high-speed internet and Wi-Fi in the Everest Region. It is the only internet provider at the Base Camp trail, making it the world's tallest internet service.
If you wish to stay connected with better WIFI to your family, friends, or business, we suggest you buy Everest Link internet. It's better than other NETWORK connections and you can buy an Everest link card easily in the shops, hotels, or any small lodges in the Everest zone.
Question: Can I use credit cards in Everest base camp tours?.
Answer: No. Actually, for the trek route, you need to have only cash Nepali rupees.
Question: When should I book my trip and what are the payments terms?.
Answer: Because our trips book up months in advance, we advise booking early to avoid any confusion with the Lukla flight timing schedule. But of course, we try our best to make every effort to accommodate last-minute bookings.
And regarding the deposit, we prefer a 15% advance trip deposit in order to confirm your booking before your arrival in Nepal. Remaining part of the payment, you can pay us at the office on your arrival in Kathmandu.
Question: Is base camp hike Safe for Solo Female Trekkers?
Answer: Yes, it is. Nepal is a safe nation to travel to for solo travelers; base camp trekking is perfectly safe for solo female trekkers. We have been organizing the trek even for solo female travelers since its establishment.
Question: Can I store my luggage/stuff in Kathmandu?
Answer: Yes, you can leave your luggage at your hotel or at our office. Store your stuff in the Gokyo Treks agency office is for free.
Question: Who will carry my luggage on my Everest trip?.
Answer: We provide porters to transfer your luggage. As we are a responsible trekking tour operator agency, every porter carries a maximum of 24 kilos of your backpack. It means 2 guests (12 kilos luggage of each guest): 1 porter basis. If you wish to go hire a private porter, that's welcome but then you need to pay an extra price for porter hire.
Question: How much distance do I walk every day on trekking to base camp Everest or can I go to Everest base camp?.
Answer: The distance you cover each day can vary greatly due to sloping terrain, and higher altitude. It is very difficult to give specific distances for each day, however, you should prepare to hike for about 5 hours daily. There are two prime seasons for traveling to Everest Base Camp pre and post-storm, which are March-May and October to November. It's additionally possible to hike outside of these months however they would be the most well-known occasions because of the climate. So there we have it, that is how hard – or simple – it is to trip to Everest Base Camp.
Question: Do I need walking poles? Are they necessary on my Everest trip?
Answer: It is better to hike with walking poles. Learn how to use trekking poles for balance and stability, whether on the sidewalk or on trails. Walking poles can help prevent slips and falls. They are just recommended but not compulsory.
Question: Is there any chance to hire a mountain trekking guide and porters at Lukla Airport?.
Answer: Yes, it is possible. We recommended hiring a local guide or joining a trekking group, as the trail can be difficult to navigate in some sections, and a local guide can provide valuable information and support. If you don't like to book our full board package trip, you can book a partial service. Hire a guide and porters for your hike to Everest base camp as our expert sherpa guides will make your supreme holiday unforgettable.
Question: How much additional money do I need per day?
Answer: You can allocate US$ 08 – 10 for a lunch/dinner in Kathmandu and it depends on your spending habits. US$ 7 to 10 US$ each day will be enough to buy bottles of water, chocolates, tea coffee, and some drinks while you are on your trek.
Incredible Everest Base Camp Trek highlights and MUST-DO side trips
Although the Khumbu valley trek goes all the way up to the foothills of the Mountain Everest, there are several things to see located nearby the main classical trail. Some of them are very popular sight trips for tourists to go.
Lukla to Everest foothills trek takes 8 days for easy ascending. In addition, trekking at the Everest base camp takes you to the well-known Sherpa localities. It incorporates Namche Bazaar, Pangboche, and Dingboche villages. Therefore, you will experience the local culture and flora, and fauna in Sagarmatha National Park.
Furthermore, the visit to the Everest View Hotel is like a dream for travelers. You can visit also Khumjung village during your Sengboche hike. Sengboche hill station offers also tremendous mountain views such as Mount Everest (8,848.86m), and Lhotse (8,516m.) Tawoche, Amadablam, Island peak, Cholatse, and many other tallest mountains in 360 degrees. And Khumjung village is at 12,434 feet, making it one of the highest Human settlements in Nepal and in the world.
In addition, Visit Tengboche Monastery is another top attraction for Everest visitors. Tengboche Monastery is the oldest monastery in Khumbu Territory. Also popular as a land of Stupas. When people are traveling to base camp, they also like to visit the monastery for a blessing for trip succession.
Nagarjuna hill, is the most popular day trip in Dingboche valley to achieve incredible sights of the Makalu Mountains and more peaks with Amadablam. Dughla pass is a memorable park of death legendary climbers in the Everest zone.
Similarly, the Everest Base Camp Trek additionally incorporates the ultimate viewpoint of Kalapatthar. Kalapatthar peak is an outstanding viewpoint to catch the glimpse of the highest majestic mountains in a single line within a few kilometers of distance. As you stand at the mountain's black rock hilltop, you will have the best panorama display of all the mountains including Mount Everest massif. Essentially, The Khumbu Glacier and the Icefall are likewise a few places that are strikingly acclaimed around there. Get to know about the Himalayan glacier trail, Morraine, Landslides, and crevasses to reach the base camp. In the end, you will appreciate visiting the world's tallest mountain base camp.
Mount Everest base camp hiking permits and fees
For trekking to Everest Base Camp in Nepal, there are two main permits that are required. Sagarmatha National Park is the protected area that encompasses the Everest region and the permit is required to enter the park. This permit can be obtained in Kathmandu or in Monjo, which is the park's entrance gate.
Likewise, secondly is a Trek Card which will issue by Khumbu Pasang Lamu municipality. It is mandatory for all trekkers in Nepal. The TREK CARD helps to manage the flow of trekkers in the popular trekking areas in the Everest zone.
| | |
| --- | --- |
| Base Camp Trek Permits | Each international tourist |
| Sagarmatha National Park | Nrs 3,000 per tourist |
| SNP (Sagarmatha National Park) | Nrs 1,600 per Tourist for a SAARC Tourist |
| Sagarmatha National Park | Nrs 1,500 per Guide (valid for 1 year). |
| Pasang Lamu Municipality entrance fee | Nrs 2,000 per tourist |
| Trekkers TIMS Permit (implement as a Trek Card) | Nrs 1,000 per tourist |
Is the Everest base camp trek difficult?.
The Everest Base Camp Trek in Nepal can be considered a moderate to challenging trek, as it involves hiking for several hours each day at high altitudes. The trek covers a distance of approximately 120 km and can take anywhere from 11 to 14 days to complete, depending on the pace of the trekker.
The trail can be physically demanding, with steep ascents and descents, and some days require several hours of continuous hiking. High altitude and thin air can also pose challenges, as they can cause symptoms such as altitude sickness, headaches, fatigue, and shortness of breath.
However, the difficulty level of the trek can vary greatly depending on the individual's level of fitness and hiking experience. Some people find the trek to be relatively easy, while others may struggle with the physical demands of the trail.It's important to be adequately prepared for the trek, both mentally and physically, and to have proper equipment.
How to go back to base camp Everest?
Runway at Lukla is a gateway point to begin your journey to Mount Everest. Your journey will conduct from Lukla airport and ends after flying out to Kathmandu from Lukla airstrips. In addition, you can also drive to Okhaldhunga Bazaar and to the Salleri/Phaplu Bazaar of the Everest region and return by flying from Lukla. Overland drive from Kathmandu valley to Phaplu, Salleri takes about 9/10 hours with a local jeep drive.
Nepal's number-first and most popular Mount Everest base camp tour is the most exciting trek route in the Himalayas. Tourists can hike the base camp either by crossing the Chola pass – the adventure pass or from the Chhukung valley crossing after the Kongmala pass. Both two routes are often adventures in the winter months. Thus, travelers use to follow the classical easy route via the Dughla pass.
New explorers especially the luxurious client choose an easy method to visit Everest Base Camp with a helicopter landing charter flight. But to the lack of oxygen and the absence of proper acclimation, the proportion of Everest base camp trek deaths is getting higher for a couple of years. However, if you wish to trek all the way to Everest Base Camp Trek with Helicopter Return from Gorak Shep to Lukla.
Therefore, our program dependably incorporates rest days and develops inch by inch, so tourists can adapt to the Mount Everest base camp height properly. Along with base camp climbing, you can hike at your very own pace, with a lot of stops for rest.
Why base camp trek 11 days?
The base camp of Everest is the most demanding and everyone's dream trip to visit. My Everest base camp trekking ascends the Khumbu valley on well-formed trails that provide foot access across the Sherpa villages. It is the most popular epic trek in Nepal. We have several other treks that also visit together with the Base Camp.
Our program always includes the rest days and builds up gradually, to acclimatize to the altitude. Along the trek route, you can walk at your own pace, with plenty of stops for rest. It helps your body and soul to acclimatize properly and is possible in all months of the year.
Lukla Domestic Flights
This is the most helpful approach to travel, but the most costly about $185 for a local domestic flight is quite standard. Nepal has a considerable amount of air terminals all throughout the nation, so it's not very hard to get around if you need to fly.
Likewise, flying to Lukla airport for the Everest trek in the high season is very difficult to get air tickets as they sold out months in advance. Moreover, every tour agencies and the airline office have a big pressure to add more flights every day.
Most likely, we use Summit Air and Sita Air tickets for our guests as we have a very good business relationship with managers. Guests can choose to fly with Tara/yeti Airlines or Nepal Airlines if they want.
If you have loads of money to toss around, you can fly using a private helicopter. They are commonly used in Nepal to convey supplies to mountains and transport well-off individuals. Be that as it may, at that point you're taking a gander at a large number of dollars for an outing.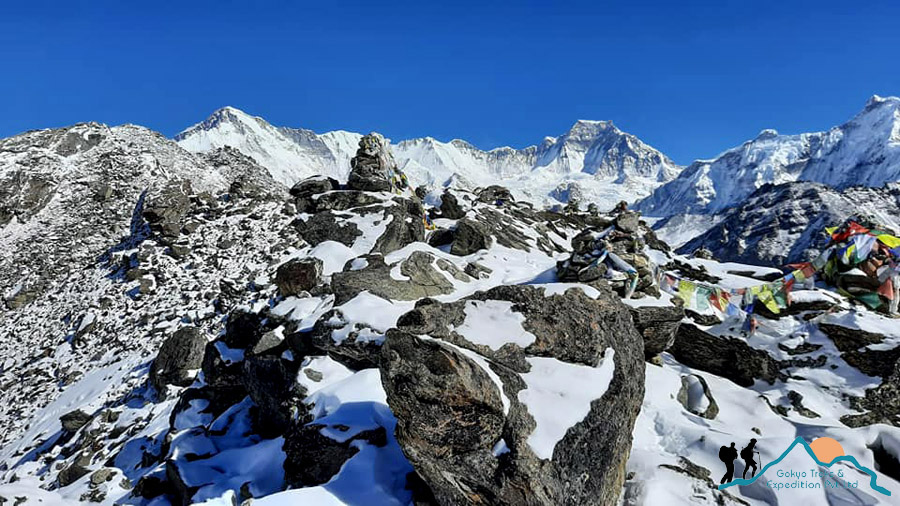 Go with a trained Guide and professional porters
Our staff is committed to making sure your journey to basecamp is safe and memorable. Every two guests is a one porter ratio or each Tourist has a 12-kilogram maximum luggage basis to ensure a comfortable trek.
All of our trek leader guides are responsible and receive medical and mountaineering training to make sure your experience is pleasant. We do provide safety equipment and bring necessary medical supplies on each trip for them.
Everest base camp trek map
Having a trekking map is very important to make your trip knowledgeable and unforgetable. It helps each and every village, multiple trekking trails, river gorges, peaks, and their correct heights. Thus, book your trip now with us and get a free Everest base camp trek map. It's a 1:125,000 series comprehensive trekking map published by Himalayan Map House, Kathmandu.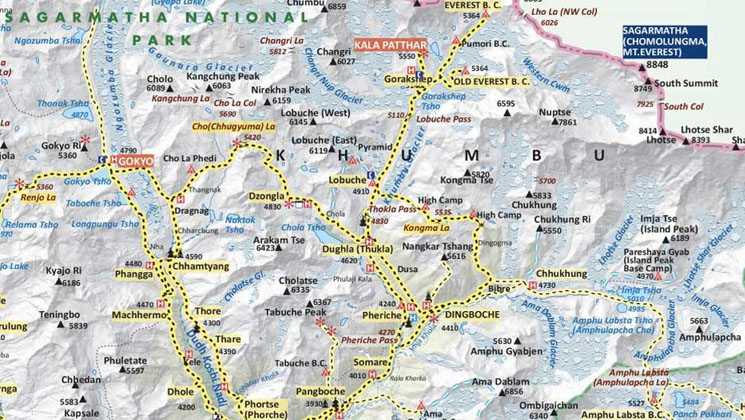 Notice for exceptional Everest base camp trekking in the Himalayas.
The Everest basecamp trek information is just a standard template guideline. As the base camp sits at 5,364 meters, it's still high enough for you to feel the effects of altitude mountain sickness. Thus, you should prepare very well before setting out on your base camp adventure in Nepal.
Have in mind that Everest base camp trek cost for Indians is cheaper because of Lukla airfare and SAARC citizens Trek permits. Be that as it may, the basecamp Everest tour itinerary plan is possible to modify as per your requirements. Local politics, landslides, cancellation of local flights, weather, transport, or a multitude of other factors that are not in our control can result in a change of itinerary during travel.
It is an incredible itinerary. If alterations are necessary the leader will decide the best alternative option, taking into consideration the best interests of the whole group. When a change does occur, we do everything we can to minimize its effect, but we cannot be responsible for the results of changes or delays.
"What makes Everest Base Camp Trek special?"
The Everest Base Camp Trek is a truly unique and special experience that combines physical challenge, cultural immersion, and breathtaking scenery to create an iconic journey that is truly unforgettable. It's not just a physical challenge, but also a mental and emotional one. Additionally, it will help you develop a deeper appreciation for the natural world and will provide you with a sense of personal growth and accomplishment.
We at Gokyo Treks and Expedition believe in quality services. First safety and success satisfaction is our prime concern. Gokyo agency is a team of professional, experienced, well-trained, and licensed local guides who know where to go and how to stay safe. Not only this but also we give benefits to the local society and help to conserve natural resources which reduce costs and usage.
Everest Base Camp Trek Review
Everest Base Camp Trek with Bishnu Guide
We have booked Everest base camp trek with a Gokyo Treks and Expedition, a local agency in Nepal. Like other trekking, we choose a guide Bishnu Panday for our Everest holiday. Although it is a peak season there were very less trekkers in the region because of covid-19 travel restrictions.
Ammar, owner of the agency was friendly and answered all of my questions, and offered a cheaper deal to us. Luckily we had good weather, a perfect Lukla flight, and also from base camp, we achieved the most amazing view of Khumbu Icefall and little stone stupas, an open memorial park of death climbers.
Besides of trekking, Ammar took us to the world heritage sites of Kathmandu. Thanks, Ammar for arranging a great trip for us. We are hoping to be back for next adventure in the coming spring season in Nepal. – Martha Kipar, Garmisch, Germany

Response from Gokyo Treks Nepal
Thank you Martha Kipar for Everest base camp trekking with Gokyo Treks & Expedition agency.
Base Camp Trek was great
I and my husband really enjoyed this ebc tour as a first-timer to base camp. I liked that it wasn't hard and we got to see some animals and enjoy some gorgeous mountains view.
Response from Gokyo Treks Nepal
Thank you
EBC TREK with best guide Kamal
Ammar was very friendly to help and answer questions. With the help of Ammar, we made a great trip to EBC TREK with Guide and a porter. They were friendly and happy to customize our trek plan at low price. Great company and highly recommend. – Peter Boch, New Jersey, USA
Response from Gokyo Treks Nepal
Thank you Peter Boch for your time to review Everest base camp trekking with Gokyo Treks Agency.
Highly recommended agency
We have done 2 treks with Ammar and his crew. Our guide, Som, was fantastic and the porters happy and reliable. Ammar is great to deal with. We are coming again next year and will use Gokyo Treks. Dr Rob H Australia
Response from Gokyo Treks Nepal
Thank you dear Robert Hilton for your tme to post a review. Hoping to serve you again.
From US$ 1342
5% Off
US$ 1125
| | |
| --- | --- |
| No. of people | Price Per Person |
| 1 | USD 1275 |
| 2 | USD 1125 |
| 3 | USD 1125 |
| 4 - 6 | USD 1098 |
| 7 - 9 | USD 1050 |
| 10 + | USD 995 |
Book Now
Customize Trip
Cost & Departures
Your Trip Your Style!
ITINERARY, COST, DEPARTURES, will adjusted according to your GROUP SIZE NEED TIME
Book with Confidence
Lowest Price Guaranteed.
100% Customizable Trips
Excellent Customer Service
Hassle Free Booking.
90 % Repeated customers
Highly Recommended agency
Private/group tour options
Local Guides Company.