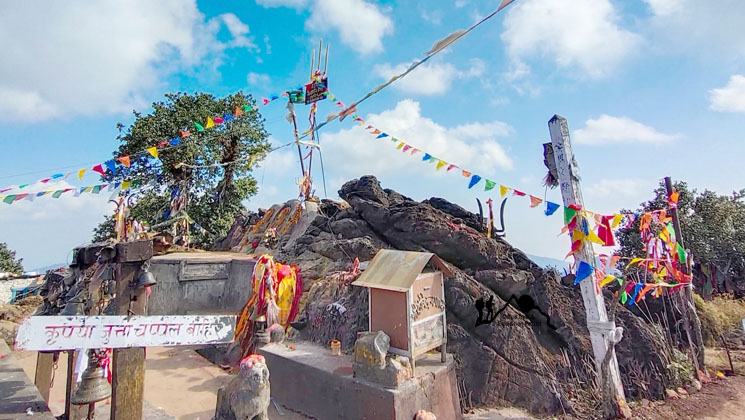 Phulchowki Hike Summary
Hike duration: 6-7 Hours [Single day tour]
Hiking Difficulty: Easy Walk
Phulchowki Hill Altitude: 2,791 meters / 9,157 feet
Group Size: 1 – 15 People
Best time to hike: All months (except July and August)
Transportation: Car / Van
The Phulchowki Hike is one of the most demanding day tours located at 2,700m is a top viewpoint to see the splendid Himalayan views, green Jungle, wild animals, and birds. Phulchowki literally translates to 'hill of flowers is one of the highest points in Kathmandu valley located in the southeast part of Kathmandu. Travelers can reach Phulchowki hill top at the height to 8,859 feet about 3 hours of Hike from Godavari.
As you walk into pure nature, it is one of the most beautiful hiking trails in terms of vegetation and a variety of birds to look at. The territory of Phulchowki is also one of the last surviving 'cloud forests' in Central Nepal and covers an area of 50 square kilometers. This mountain is famous for the snowfall which sometimes occurs in January or February, which is quite rare in Kathmandu Valley. Phulchowki is the highest of the mountains which encircle the Kathmandu Valley.
Hikers can see the high Himalayan peaks Mount Manaslu (8,165m), Ganesh Himal (7,446m), and Ganesh Himal towards the west with Lantang lirung (7,245m). The view includes the central Himalayan peaks of Jugal Himal, Gauri Shankar 7,134m, and Mt. Everest (8,848m) on the far eastern horizon.
Godawari is another attraction of this journey, it is famous for its botanical garden. It is well-known as a center of plant conservation, education, research, display, and recreation. It covers an area of 82 hectares with variable topography, 40 hectares of which have been transformed into various garden units.
The green park forest is home to 300 species of birds therefore bird-watching tour is very popular here. Mainly Egrets, Herons, Kingfishers, Ibisbill, Wood Sandpipers, and Plovers birds can be seen on your hikes. Moreover, wild animals such as leopards, wild cats, deer, and monkeys are also possibly found in this forest hideaway.
Phulchowki Hike Itinerary.
Meet and greets you at your hotel and our private vehicle will drop you at the Godawari which is the starting point for hiking. Here at the Naudhara entry point, you will register your name, and contact details. The hiking is around 6-7 hours, depending on the walking pace.
A professional hiking guide will be accompanying your hike as well as a packed lunch will be served. Make sure rubbish disposal is at the proper place and does not hurt animals and always hike within the group as possible because of an isolated forest trail.
Reaching the highest point of Phulchowki at 2,791m, Travelers can observe the panoramic mountain views as well as the entire Kathmandu valley. A religious attraction at the hilltop called Phulchowki Mai temple where you can visit and worship.
Open the packed Lunch as you have been taken from your hotel, have lunch, make photoshoots, and have fun. We will hike and descend from Phulchowki before 1:00 pm roughly. Depends upon the month you travel because, in the wintertime, the trail gets frozen and takes longer than usual. If we have extra time, we can explore the Godawari Botanical garden. NPR 200 is an entrance fee that travelers have to pay themselves. Drive back to Kathmandu and drop off at your hotel or requested site. The tour ends.
Phulchowki Hill Station Fact
Hiking Duration: 6 to 8 hours Maximum Height: 2,700m / 8,859 feet Hiking Type: Private Day Tour. Grade: Easy to Moderate Difficulty. Phulchowki Location: located in Godawari Botanical Park. The best season for hiking: is February to May and from early October to December. Best Mountain View: Manaslu (8,165m), Ganesh Himal (7,446m), Langtang Lirung (7,245m), and Phulchowki Temple.
Phulchowki Hike Day Tour Cost Includes:-
AC private car transfer both ways (from your hotel in Thamel to the Godavari and return).
A professional license-holder Tourist guide while on your private day tour.
Government of NEPAL Tax, VAT, and as well as Company service charge.
Hiking completion certificate, you keep as a souvenir.
What's not included on Phulchowki Hiking package tour price:-
Nepal entry visa fee.
All meals, drinks, and travel insurance.
Gratuities for guide and driver [Tip is a culture, so they expect highly]
Any other things which are not mentioned above
Phulchowki Hike day tour highlights
Discover the high mountains such as Ganesh Himal, Manaslu, and Langtang Range.
The total length of the hike from the Godavari to Phulchowki and back to the Godavari is 18 to 20 km.
Impressive views of Kathmandu city, Godavari park, and Lalitpur Town.
Pure Nature walk through the mixed forest
Things to know before your Phulchowki Hike:
Although the distance from Tourist town Thamel to Phulchoki is about 29.1 km and takes roughly 1 hour and 20 minutes to drive by private car. And hiking hours are estimated at 6/7 hours with a normal pace. Likewise, there are some important this to know before your hikes.
Stay always together within a group so, the slowest hiker near the front keeps your group together.
Keep Track of Your Time and Distance.
Be courteous and cautious of others out on the trails.
Know your limits and pay attention to how you are feeling when on the trail.
Use long trousers to save from sharp grasses and thorns.
Hiking can drain your energy quickly, so eat snacks, and fruits and drink water.
Be careful with time and watch where you are walking, especially in slippery areas or near cliffs.
Departure & Return Departure Point:
Have in mind that we pick up all the travelers from inside the ring road. They are at your location such as in Thamel, Lazimpat, Darbar Marg, Patan…etc.
What To expect on Phulchowki Hill day hiking?
This is all about hiking into the hill station and purely nature walks into the Godavari forest. Recorded wildlife in this park includes 270 bird species with 17 listed as endangered. Forest the Godavari has 100 species including tigers and leopards also. Godawari is also famous for its botanical garden and Godawari temple (Kunda and navadhara). Mt. Phulchowki is located in Godawari which is the highest peak in Kathmandu valley.
Additional Information (TIPS AND TRICKS)
Confirmation will be received at the time of booking
a wheelchair is not accessible entire the tours.
A maximum of 25 people per booking
Travelers with back pain are okay but not recommended for pregnant, and very old travelers.
It's a private tour/activity.
Cancellation Policy
You can cancel up to 24 hours in advance of the experience for a full refund. For a full refund, you must cancel a minimum of 24 hours before the experience's start time. If you cancel less than 24 hours before the experience's start time, the amount you paid will not be refunded.
Any changes made less than 24 hours before the experience's start time will not be accepted. Cut-off times are based on the experience's local time.
Phulchowki Hiking Traveler's Review
Best Hike to Fulchowki But Long Day
I and two other friends hiked to Fulchowki forest hill and I really enjoyed my stay at Hilltop and Godavari Garden. Ammar the agency owner arranged everything like private transportation go and back, a packed lunch, and a hiking Guide from Kathmandu.
They are nice, friendly and really service-oriented people. The place is an escape from the usual city life as I was able to enjoy nature. The steps kept me on track with my fitness goals! Early April was also a perfect time because it's not too hot and not too cold. I hope to come back again in the future 🙂

Response from Gokyo Treks Nepal
Thank you Lea for your time to review us for your hike at Phulchowki hill.
A full day hiking to Phulchowki Hill
The staff at this place was incredibly friendly and always responsive, ensuring we were well taken care of throughout our visit. Though the transportation was non-AC, it didn't pose any issue as we traveled in early March 2022 when the weather was pleasant. Our guide, Ram, was not only super friendly but also shared captivating stories, including one about a ghost that intrigued us.
To top it off, we managed to squeeze in a visit to the beautiful Godavari Botanical Park, despite having limited time. The overall experience was truly fantastic, making the Phulchoki day tour a definite must-try if you find yourself with some free time during your stay in the Kathmandu valley.
Response from Gokyo Treks Nepal
Thank you Melanie for your amazing experience
Book a Phulchowki Day hike with us including a Guide and transportation. Our guides are local and know the destination better than anyone else.
From US$ 117
2% Off
US$ 70
| | |
| --- | --- |
| No. of people | Price Per Person |
| 1 | USD 115 |
| 2 | USD 70 |
| 3 | USD 62 |
| 4 - 6 | USD 55 |
| 7 - 9 | USD 50 |
| 10 + | USD 38 |
Book Now
Customize Trip
Cost & Departures
Your Trip Your Style!
ITINERARY, COST, DEPARTURES, will adjusted according to your GROUP SIZE NEED TIME
Book with Confidence
Local Guides Company.
18 Years in Business.
Lowest Price Guaranteed.
100% Customizable Trips
Excellent Customer Service
Hassle Free Booking.
90 % Repeated customers
Highly Recommended agency
Private/group tour options