Langtang Gosaikunda Helambu Trek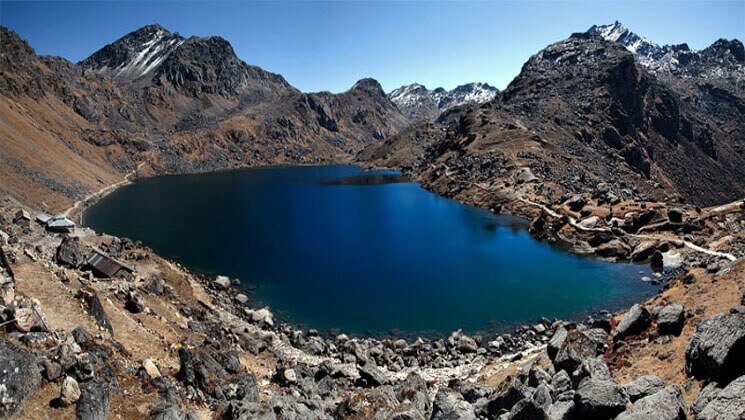 Langtang Gosaikunda Helambu Trek Summary
Hike duration: 13 Days
Trek Difficulty: Easy to Moderate Grade
High Altitude: 4,630 meters / 15,191 feet.
Daily Trek Hours: 6 Hours
Trekking Group-Size: 1 – 14 People
Trip Mode: Lodge
Best Time to Visit: March, April, May, October, November, and December
Trekking Foods: Breakfast, Lunch, and Dinner
Transportation: Jeep/Bus
Overview
The Langtang Gosaikunda Helambu trek is famous to explore the high mountains and cultural stuff located north of Kathmandu, the capital of Nepal. Likewise, Langtang village combined with the Gosaikunda pass and Helambu trek presents very good value with excellent lodge accommodation and food, also the lower altitude enables us to trek in winter.
The Langtang-Gosaikunda-Helambu Trek is less crowded compared with other most demanding trek routes in Nepal. Best suited to travel with family with kids. Beautiful Langtang National Park is home to several wild animals such as Musk deer, Himalayan black bear, snow leopard, Himalayan wild goat, and particularly birds and wildflowers. Additionally, Red Panda is an endangered animal of Nepal possible to find in this area.
During the springtime, Langtang valley is covered with varieties of alpine wildflowers and the forests are multi-colored with colorful rhododendron, orchids, magnolia, and many other floral species. Furthermore, along with the Langtang Gosainkunda trek itinerary, you will have the most beautiful sight of the mount Ganesh Himal family, mt.Langtang lirung (7,246m), Langtang-Ri, Langsisa peak, Langtang Himal, Ganjala peak.
You can reach Gosaikunda lakes in the Rasuwa district in your journey but it is more challenging to ascend. Check the Gosainkunda weather before you plan to cross-pass. However, Gosainkunda trek costs for Nepali and foreigners are almost similar except for trekking permits.
Sacred Gosaikunda is a holy lake, an important pilgrimage destination for Hindus and Buddhists both. You can then add on the diversion up through more forests to the famous Gosaikund Lake 4,380m, set among high grey rocks, either returning by the same route or going over the Lauribina pass 4,620m/15,107 feet to Helambu.
Special Kyanjin Gompa trail includes the Kyanjin ridge combined with the Gosainkunda trek is very famous for its natural beauty and wonderful climate with superb views of magnificent snow-covered mountains and as well as Tibetan Buddhism culture. The Gosaikunda trek is an easy trail with a surprising amount of steep climbs and stiff descents, through deep forests or across glacial moraines.
As you descend from Thadepati pass, Hyolmo people are mainly inhabitants of the territory thus, this area is called Helambu. Hiking in these areas, you will see the ancient cave where Guru Rinpoche meditation secretly and also some of the precious Buddhist Gompas and monasteries. An easy to moderate difficulty trek route that is possible to explore all months throughout the year.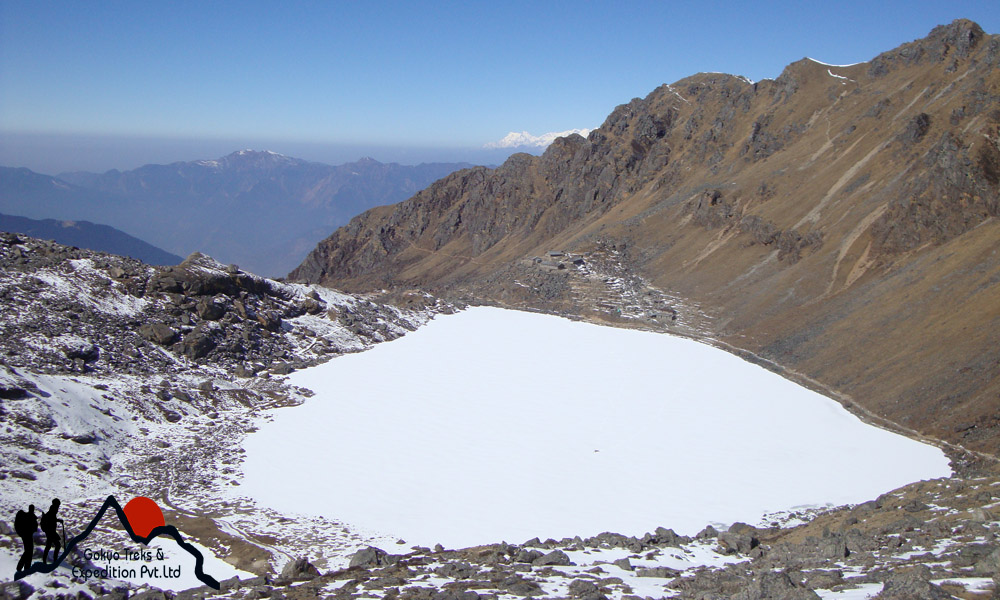 How much does Langtang Gosaikunda Helambu Trek Package Cost?
The cost of the Langtang Gosaikunda and Helambu trek package with a Gokyo Trek Agency in Kathmandu Nepal ranges from US$ 655 to US$ 898. Of course, the Langtang valley Gosaikunda and Helambu Trek costs will vary according to the group size you are traveling to and the service you choose. However, the given package price includes transportation, a guide, porters, hotels and food accommodation and hiking permits, facilities.
There are also discount deals for hiking leaders. For example, if you could bring 10+ travelers (except you) on your trip, you are treated as a group leader. So you can hike Langtang valley Gosaikunda lakes and Helambu Trek for free of cost.
However, we often arrange private trips in order to avoid group tours with strangers. A private tour gives you a better experience on your hikes. If you value personalization, flexibility, and in-depth experiences, a private trip customized to your personal needs will be the best option.
It is the standard trip package price for 12 days trek. If you are 2 people Langtang Gosaikunda and Helambu Trek cost US$ 770 for 12 days trek according to the given trekking plan. We can modify the trek route and the prices according to your wishes also. Here is the price list for Langtang Gosaikunda Helambu treks.
Price Per Person for 12 days hikes in Langtang territory.
| Number of Tourist | Price Per Person |
| --- | --- |
| 1 Person | US$ 898 |
| 2 Person | US$ 770 |
| 3 Person | US$ 770 |
| 4 to 6 person | US$ 725 |
| 7 to 9 Person | US$ 698 |
| 10 and more than 10 Person | US$ 655 |
If you're wondering to know about what is included and what is excluded from this trip price, kindly check on the cost given on a tab button.
Itinerary
langtang Gosaikunda Helambu trek itinerary details
Mountain wilderness Langtang Gosainkunda hikes include pristine Gosainkunda lakes crossing over Surya Kunda to Helambu trek is a classic itinerary compared to most walks in this region leading up to the glacier. This particular route is designed for world travelers who wish to hike to the rocky moraine and glacial lakes and walk in a more relaxed manner.
1 Day
Arrival day at Kathmandu valley. Transfer to hotel
Upon arrival in Kathmandu, Tribhuwan International Airport, we will receive you in a private vehicle and transfer you to the hotel in Thamel, Kathmandu. Our representative will brief you about Langtang Gosainkunda hiking.
2 Day
Overland drive to Shyapru Besi Bazaar (1,500m/4,921 feet), 5/6 hours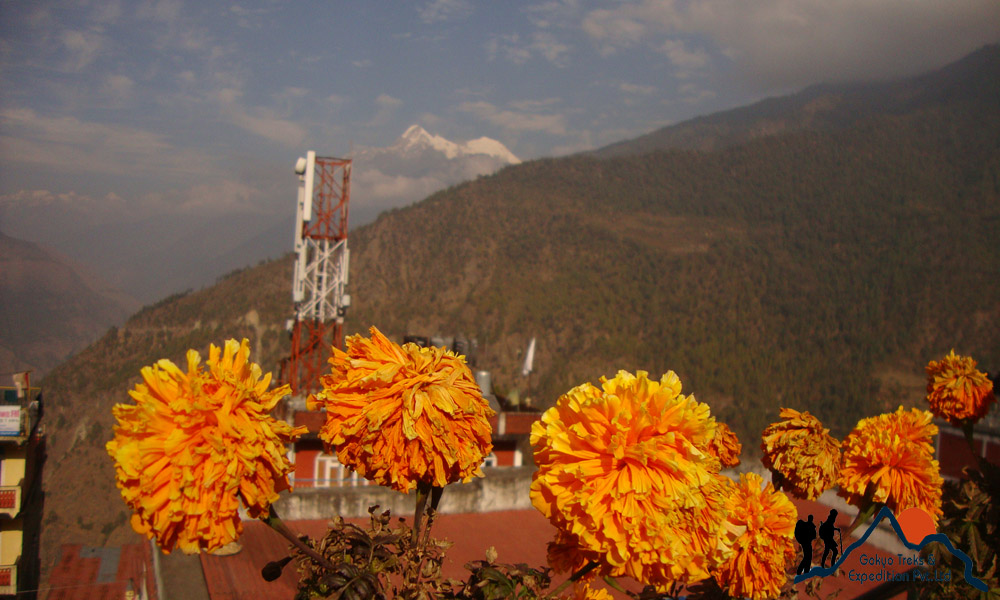 Get a Kathmandu central bus park and catch a Shyabrubesi Bus with your mountain trek guide and porters. Bus to Langtang takes roughly seven hours of a scenic drive through Trishuli bazaar with gorgeous small villages, river valleys, and mountains. The bus stops roughly about 30 minutes at Thakali highway restaurants for lunch in Trisuli Bazaar or at Rimche.
3 Day
Shyapru Besi to Lama hotel trekking (2,480m/8,137 feet), 5/6 hours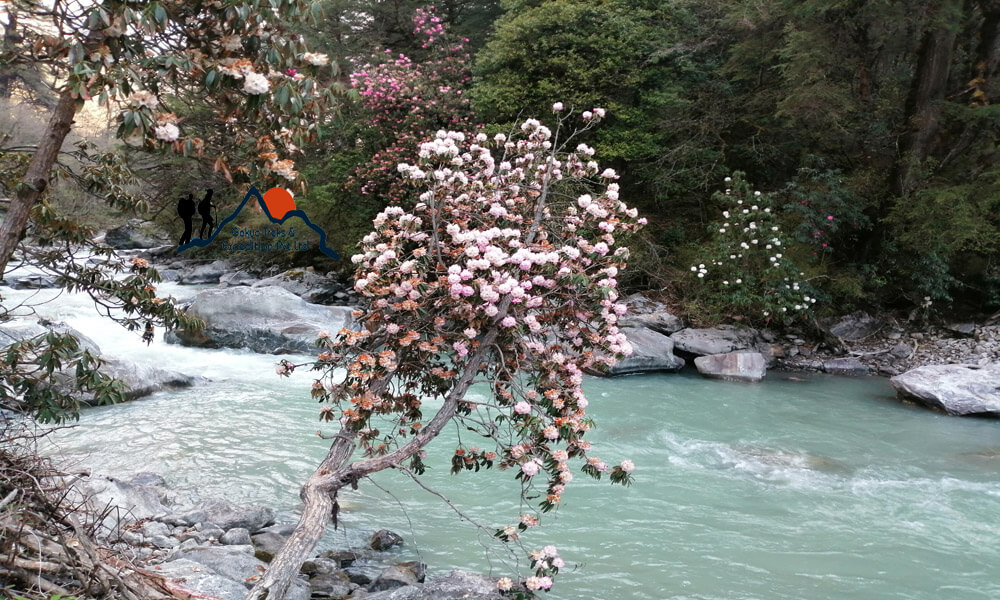 You start your walking at your own pace and the track ascends for around two hours through the forest followed by a climb of about an hour to reach Bamboo village where you'll stop for lunch. The path is nice and you follow the upstream and can be seen birds living around the bushes.
Beehives hanging on a cliff are another attraction for visitors on walking. From here you will again steeply climb through the bamboo forest to reach the Lama Hotel.
4 Day
Langtang village trek (3,430m/11,254 feet), 5/6 hours
Today, you will have a pleasant hike along the Langtang route just superb. Follow across rhododendron and pine forest for around three hours to reach Ghoda Tabela where you will stop for lunch.
This surrounding area dense wild habitat area and many small babblers with a lot of herbals can be found here. After lunch, you walk along a scenic trail that takes you to Langtang village. Have in mind, that Langtang's whole valley was destroyed by a massive Earthquake disaster last April 2015 and rebuilt again.
5 Day
Langtang to Kyanjin Gompa trek (3,830m/12,566 feet), 3/4 hours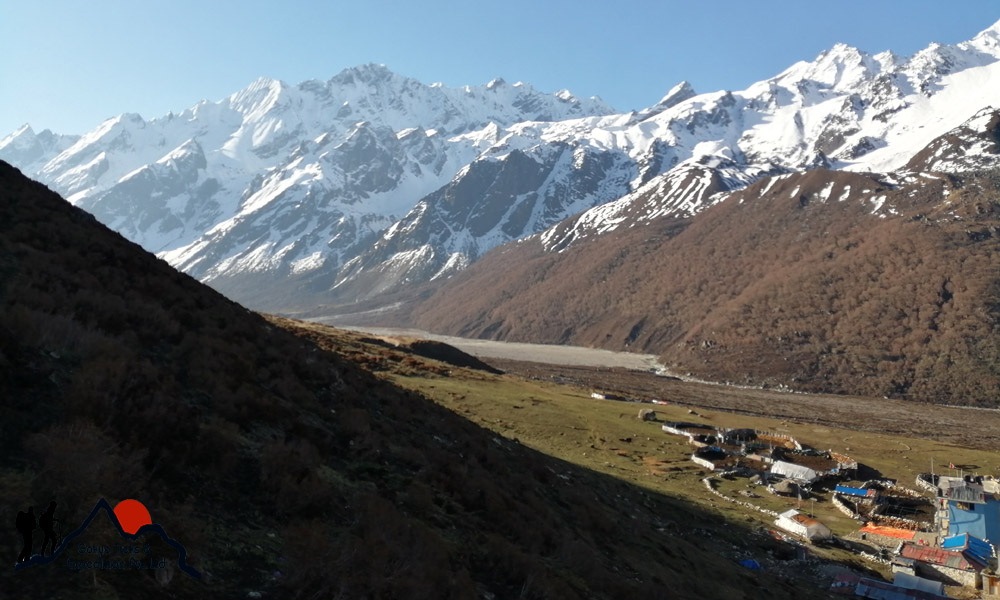 Kyanjin Gompa is the last destination of human settlements that situated at an altitude of 3,817 meters above sea level. And the trek route offers beautiful views of Mt Ganchempo and Mt. Langtang Lirung. Visit Yak cheese Factory, Kyanjin Monastery, and local houses on your tour.
6 Day
Hike to Kyanjin Ri. An optional at Tsherko ri hiking, 6/7 hours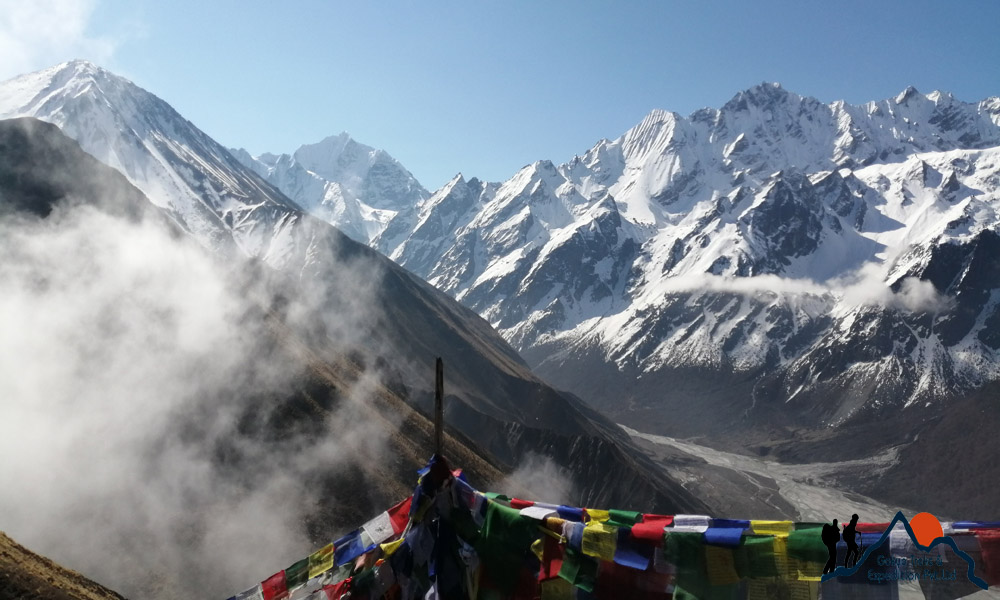 Hike to Kyanjin ridge to get a super view of the Langtang Himalayan range includes Mt.Langtang living, Langtang Ri, Langsisa pass, Langtang Himal, Ganjala peak, Yala peak, and many other border peaks.
However, if you are interested to add more adventure, request your guide to climb Tsherko Ri peak together to experience even better views of the Himalayas [optional hiking]. Visit Langtang glacier, glacial rivers, and Langshisha Kharka (the beautiful yak pasture land). Return to the same mountain lodge at Kyanjin for a rest.
7 Day
Trek descend down to Ghoda Tabala (3,030m/9,941 feet), 6/7 hours
Trek back from Kyanjin Gompa to Ghoda Tabela. This morning you retrace your steps to Ghoda Tabela. The walking will be pleasant and scenic.
8 Day
Ghoda Tabala to Forpang Danda trekking (3,200m/10,499 feet), 5/6 hours
Today shortly ascend to Upper Rimche village, descend to Langtang Khola and cross the bridge then easy walk to Bamboo then gently descend to Landslide lodge. A few minutes of walking ascend then cross the river and ascend to Thulo Syabru for a Lunch stop. Continue to walk about 1 hour, you will reach Forpang danda where you will have a great view of the landscapes.
9 Day
Forpang Danda to Gosainkunda lakes (4,380m/14,370 feet), 6/7 hours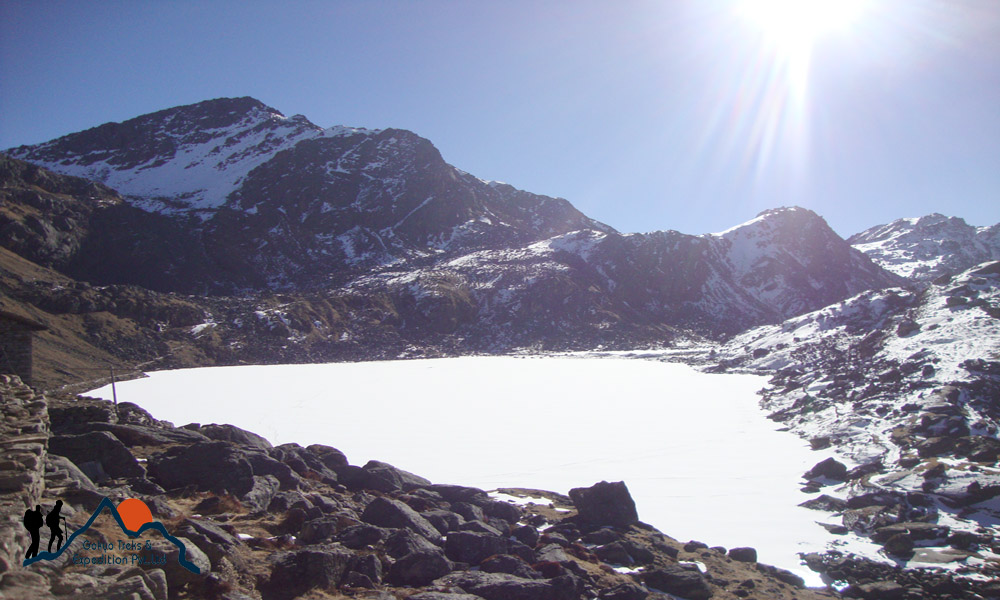 Our trail ascends with a majestic view of Langtang Himal, Ganesh Himal, Tibetan Mountain, and forests of Oak, Hemlock, and Firs forest. After a while, we reach Cholang pati where we take lunch. Cotinue to ascend the Gosaikunda (4,460m) via Lauribinayak La (3,920m/12,858 feet), a rugged trail with dramatic views of Himal Chuli (7,893m), Mount Manaslu (8,156m,) and Ganesh Himal (7,406m).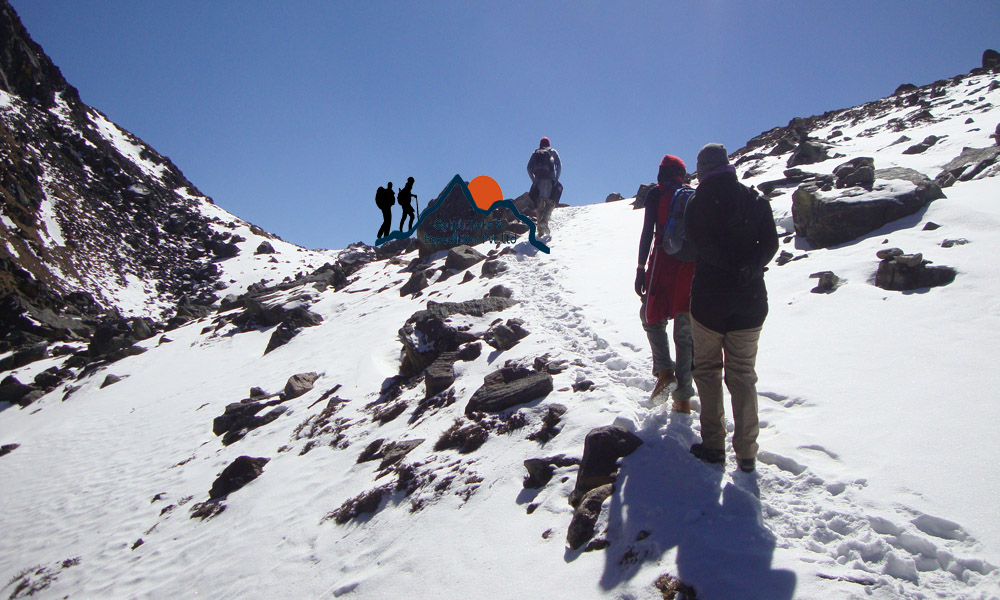 Furthermore, on a clear day, even the Annapurna range can be seen rising up gently behind. To the north, you can see Langtang Lirung. At Gosainkunda, tourists can see a dozen sacred lakes.
Among them, the major three are Saraswati Kund, Bharab Kunda, and Gosainkunda. According to a legend, Gosainkunda was created by Shiva when he pierced a glacier with his trident to obtain water to quench his thirst after having swallowed poison.
10 Day
Suryakunda pass trek and further to Ghopte Lodge (3,530m/11,582 feet), 8/9 hours
The hike leads to the northern side of Gosaikunda Lake, crosses a moraine, passing three more beautiful lakes; you will reach Suryakunda. Surya kunda is also popular as a Laurebina La pass located at 4,630 meters above sea level.
The hike descends to a National Park Post at Bhedi Goth (4,240m) and to Phedi (3,740m). From Phedi, the route drops and climbs through scrub bamboo to Dupichaur (3,630m) and descends finally to Ghopte Lodge.
11 Day
Trek to Thadepati hill (3,690m/12,107 feet) and further to Tarkeghyang (2,600m/8,530 feet), 6/7 hours,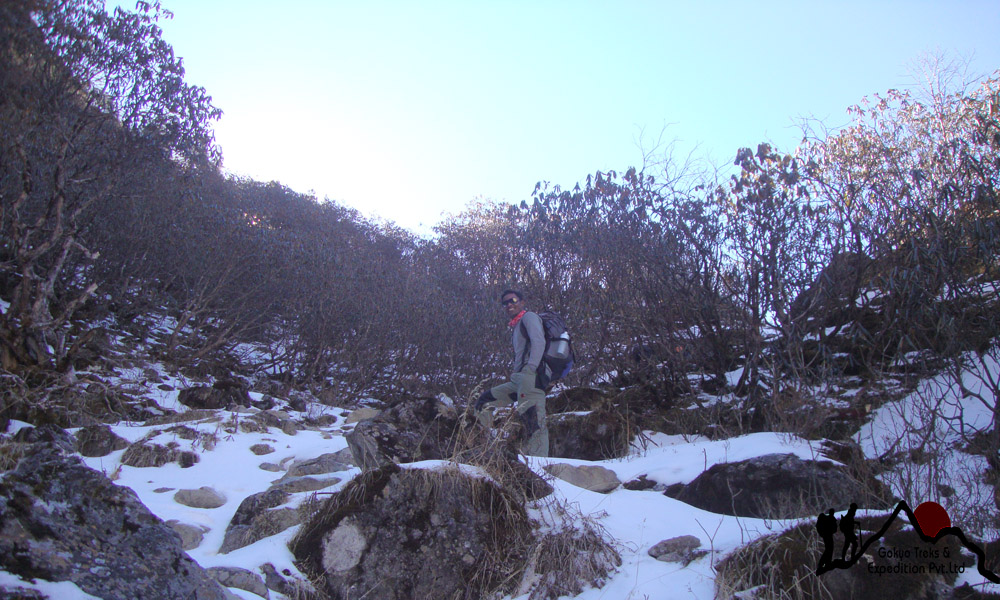 Descending from Ghopte, the journey makes several ascends and descends across moraines, then makes a final ascent to Thadepati pass observing the fine scenery along the path. Walk with the viewpoint hill exploring the whole Helambu village as well as the famous border Himalayas including Gosainthan (Xishapangma).
The top attraction of today is watching the scenic view of Mount Shishapangma (8,027m), the 14th-highest mountain in the world. Likewise, the Apple garden's landscape on the Helambu hiking trail is another impressive part of the journey.
The appealing rush and experience of the hiking path incorporating navigating along the characteristic plushness of the trek area basically make this outdoor a valuable journey.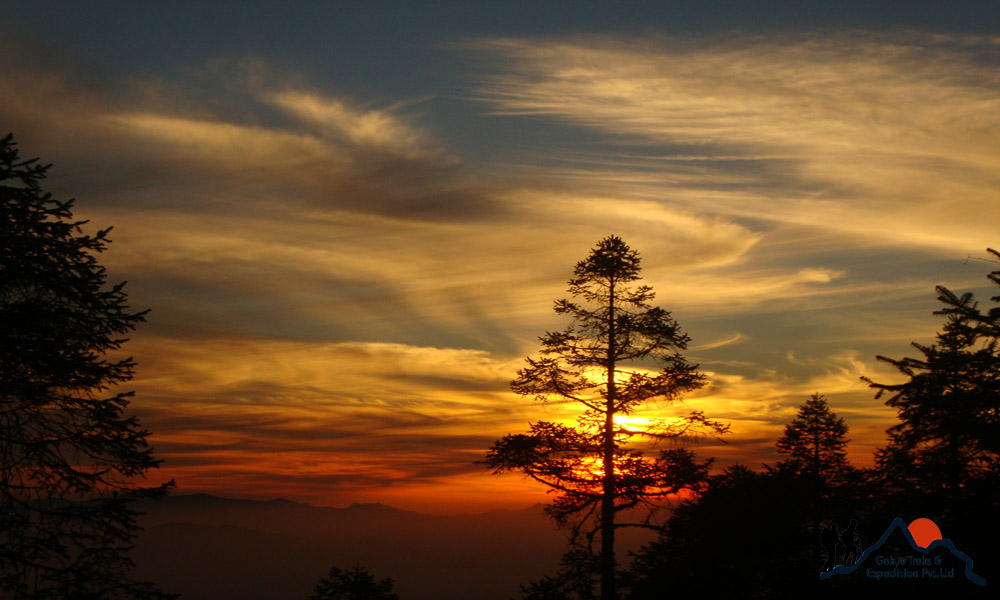 Melamchi Gaon is situated at an altitude on 2,530 meters and famous for Milarepa's Cave. Guru Rinpoche meditated secretly in the cave in this province. There is a symbol inside the cave-like pinnacle sun and moon together. This is the reason that Melamchi Gaun is also spoken as a Melamchi Gyang village. Hyolmo people are mainly inhabitants in that area thus, this area is called Helambu.
From Melamchigaon, the trail continues to descend to the Melamchi river. Once across the suspension bridge, the trail begins climbing up the other side of the valley towards Tarkeghyang. It is a long rise to this picturesque village at 2,600m, situated on a shelf high above the river.
Tarke Ghyang is the largest village in Helambu, popular as the trekker's paradise in terms of cultural and natural aspects. It is a good area to rest and meditate in an old monastery (Gekye Gompa). Ama Yangri is another hill station where we can achieve eye-catching mountains views in a row.
12 Day
Trek to Sermathang and down to Kakani lodges (1,996m/6,549 feet) 5/6 hours
Trek continue across the forested area, you'll pass through streams and waterfalls to Gangyul. Gangyul is a Sherpa village that offers a few lodges with delicious meals. An easy walk today that loses altitude with downhill slopes encounters some small chortens or stupas. Furthermore, we follow the long path through the beautiful green hills and natural vegetation to reach Sermathang village at (2,590m/8,498 feet).
Sermathang is another pleasant settlement of the Hyolmo people, the local tribe of the Helambu region. You can visit old and beautiful monasteries and learn about the Hyolmo culture and its traditions. You can spend some quality time interacting with locals and be familiar with their way of life. Later Lunch, walk all the way down to Kakani guest houses to stay overnight.
13 Day
Trek to Melamchi Bazaar and drive by Bus to Kathmandu, 7/8 hours.
Today is the final day of the entire trekking downhill to Melamchi Pul Bazar. You will also notice that you will head to the subtropical region as you encounter some rice paddy fields at Melamchi Pul (840 meters), a busy marketplace.
Taking a local bus (private vehicle cost an extra) back to Kathmandu city for some of your last minute shopping in Thamel for buying souvenirs for your family and relatives. Trip ends and we wish you a wonderful journey back home.
Not satisfied with above plan?
Are you interested on planning a custom trip? this might take 2 to 3 minutes.
Cost
How much does langtang Gosaikunda Helambu trek package price?
The best Langtang, Gosaikunda and Helambu hike US$ 770 per person is a standard package on a double occupancy basis. For the deluxe and luxury trekking tour plan, we add a 3-5 star category hotel deluxe air-conditioned room in Kathmandu with breakfast. Likewise, lodge accommodation with an attached toilet/bathroom in possible places en route. AND WE ARE OPEN TO CUSTOMIZING YOUR TOUR AND PACKAGES PRICE AS PER YOUR REQUIREMENTS.
Langtang Gosaikunda and Helambu trek package include:-
Kathmandu international airport transfer with a private car/van on your arrival.
Single night double bedroom tourist standard accommodation in Thamel Kathmandu.
12 Breakfast, 12 Lunch, and 12 Dinner during the trekking days in the mountains.
Clean Guest house accommodation along the journey.
Langtang National Park entrance permits and their fees
Kathmandu to Syaprubesi & from Melamchi to Kathmandu by bus transfer as per travel itinerary.
Professional English-speaking license holder mountain trekking guide.
Experienced porter (2 guests: 1 porter basis) because each porter carries a maximum of 24 kilograms of tourist backpacks en route.
Salary, food, accommodation, and travel insurance for all Nepali crew.
Seasonal fruits like apples and pomegranates as a dessert after dinner for Langtang circuit trekking.
Agency's duffel bag (50 liters capacity), and trek poles if Necessary – return after the trek.
First aid medical kit including Oximeter to check your Oxygen level, Pulse rate to monitor every day to prepare for high altitude risk.
In a worst case, help with all Helicopter Rescue and evacuation arrangements (but not the rescue bills).
Trek completion certificate – Keep as a souvenier.
Nepal Government Tax, VAT, and as well as Company service charge.
Langtang Gosaikunda Helambu trek package not includes:-
Nepal entry visa fees are US$ 40.
Lunch and Dinner during the staying in Kathmandu
Any kinds of battery charges, laundry service, phone calls, and hot showers during the trekking.
Tourist personal trekking equipments .
-10 comfort fresh Sleeping bag rental cost per piece US$ 2 per day.
-10 comfort fresh Sleeping bag rental cost per piece US$ 2 per day.
Personal nature expenses, any types of drinks, and bar bills.
Travel Insurance which covers emergency rescue, evacuation, personal loss, or damage.
Donation and monuments entrance fees.
Sightseeing with a Tour Guide in Kathmandu valley and private car/taxi van transfer.
Gratuities for guide and porters [Tip is a culture, so they expect highly].
Any other things which are not mentioned above
Group join
We can organize an exclusive private trip Langtang Gosaikunda Helambu Trek starting on any date that works for you. Please contact us for more information.
FAQ
Question: Do I need the experience to hike Langtang valley with a Gosaikunda pass to Helambu?
Answer: The journey at Langtang mountain trail is suitable for keen trekkers/walkers who can walk around five hours a day, with a lightweight daypack. Beginners can also join this trip as the terrain is not very difficult to walk.
Question: Is pick-up service available on my arrival day in Kathmandu?
Answer: Yes, sure. Provide us with your flight details and request us to pick you up. Our representative will come to pick up you at Kathmandu international airport.
Question: What kind of accommodation can I expect on trekking routes?
Answer: We provide you with tourist standard accommodation in Kathmandu and on trekking routes. The rooms are clean with a cozy bed with a nice mattress and blankets. Despite that, we recommend you take your own sleeping bags and other hiking equipment. If you have one with you otherwise, you may rent them in the adventure peaks shop, Thamel while you are in Kathmandu. Get a hiking gear list for beginners.
Question: What kind of food can I expect on this trek?
Answer: All the lodges in Langtang trekking have attached restaurants and they cook a delicious range of mostly vegetarian such as Pasta, tuna bakes, noodles, potatoes, eggs, rice, bread, soups, fresh vegetables (variety depends on the season)
The dinner and breakfast are provided in the same lodge you spend the night every day and Lunch will be provided on the way to the next place where you are going.
Question: What opportunities will I have for a shower en route?
Answer: Tourists can get hot and cold showers at the Guesthouses en route but often need to pay. If lucky, some places get free showers .
Question: How do I get drinking water on Langtang Gosaikunda Helambu treks?
Answer: During the Langtang and Gosaikunda combine with the Helambu Trek route there are all places hotels and shops where you can able to buy mineral water and you can buy it for drinking but however, but we advise against buying mineral water in plastic bottles, as currently there are no provisions for disposing of these.
Instead, we advise you to purchase boiled water or bring aqua tablets to purify the normal water. And the normal water is available at the campsite or almost everywhere on a stream/river.
Question: Can I charge my digital camera or other batteries on my trip?
Answer: During the lodge trekking there will be more chances to charge the battery. We recommend you bring an extra pair in case. Remember to bring your own adapters! .
Question: Are there any communication facilities?
Answer: We advise you to buy a local Sim card to get 3G internet calls and text messages almost every day.
Question: Can I use credit cards in Trekking?
Answer: No! So, for the trek route, you need to have cash Nepali rupees because credit cards work only in the bigger city areas.
Question: When should I book my trip and what are the payment terms?
Answer: Because our trips book up months in advance, we recommend booking early to avoid any kind of misunderstanding. We will, of course, make every effort to accommodate last-call bookings.
And regarding the deposit, we prefer a 15% advance deposit of the total price of the trip in order to confirm your reservation before you arrive in Nepal. And the rest of the payment can be made after your arrival in Nepal.
Question: Is it possible to hire a guide? how to hire a local female trek guide for the Langtang Gosainkunda pass trek?
Answer: Yes of course. If you are not happy to go with the complete full board package trip, still you can use our service to hire expert guides and porters to make your trek holiday safer. However, visit a guide and porter hire or email us for your detailed travel inquiry.
Question: Who will carry my luggage on the Langtang Gosaikunda pass and Helambu Trek?
Answer: We provide porters to transfer your luggage. As we are a responsible trekking tour operator agency, each of our porters carries a maximum of 24 kilos of your backpack which means 2 guests (12 kg luggage of each guest): 1 porter basis. If you wish to have a private porter, you need to pay an extra cost.
Question: How much distance do I walk each day?
Answer: When walking in the mountains, the distance you cover each day can vary greatly due to gradient, terrain, and altitude. As such it is very hard to give specific distances for each day, however, you have to be prepared to walk for roughly about 5 hours each day.
Question: Do I need trekking poles?
Answer: Better to hike with walking poles, no matter which type of hiking poles you are using. Learn how to use trekking poles for balance and stability, whether on the sidewalk or on trails. Trekking poles can help prevent slips and falls. They are just recommended but not compulsory.
Question: How much additional money do I need per day?
Answer: You can allocate US$ 08 – 10 for lunch/dinner in Kathmandu and it depends on your spending habits. US$ 7 to 10 US$ each day will be enough to buy bottles of water, chocolates, tea coffee, and some drinks while you are on your trek.
Langtang Gosaikunda Helambu trek highlights
Discover Langtang Himalayas within 360 deg angles from Kyanjin Ri / Tserkuri and from Ama Yangri hill.
Hike through cultivated potato fields, colorful Rhododendron, conifers, and oak trees.
Best view of Mt.Langtang lirung, Langtang-RI, Langsisa, Langtang Himal, Ganjala peak
Gosaikunda a pilgrimage destination of Hindu devotees, located at 4,460m above sea level.
Visit a holy place the Guru Rinpoche meditation secret places Milerapa cave, Monastery..etc.
Gekye Gompa is an ancient and largest monastery of the entire Helambu region.
Hike off the beaten path and less crowded cultural trail for Milerapa Meditation territory.
Experience the Sherpa and other ethnic groups and their life patterns.
Notes for Majestic Langtang Gosaikunda Helambu trekkers!
The information stated above is just a guide and standard template. However, the trip is possible to customize at your request to accommodate your specific requirements. Local politics, landslides, cancellation of local flights, weather, transport, or a multitude of other factors that are beyond our control can result in a change of itinerary during the trip.
It is, however, very incredible that the schedule would be extensively altered. If alterations are necessary the leader will decide the best alternative option, taking into consideration the best interests of the whole group. When a change does occur, we do everything we can to minimize its effect, but we cannot be responsible for the results of changes or delays.
What makes Langtang Gosaikunda Helambu trek very special?
The trekking routes pass through several ethnic villages where you can experience the local culture and traditions of the Tamang and Sherpa people. You can visit ancient monasteries, learn about traditional farming practices, and taste local cuisine.
We at Gokyo Treks and Expedition believe in quality services. First safety and success satisfaction is our concern. We are a team of professional, experienced, and licensed local guides who know the destination much better than others. Not only this but also we give benefits to the local communities and help to conserve natural resources which reduced costs and consumption.
Langtang Gosaikunda Helambu Trek Review
Langtang Gosaikunda and Helambu Exceptional Trip.
My husband and I (in our 60's) did the Langtang Valley trek with our daughter (age 28) in early November. We could not have been happier with the trip, particularly our expert guide Kamal who became a friend by the trip's end.
He is patient, kind, knowledgeable, and experienced. Couldn't ask for anyone better! We also loved our porters Santosh and Sanjaya (on their way to becoming a guide).
Both are super friendly and helpful people with a great sense of humor and a consistently positive attitude. Pretty sure the tone for the whole organization is set by Ammar Guni, the team leader in Kathmandu, who promptly and patiently sent detailed answers to all our many emailed questions before our trip.
Go Gokyo! We would not consider trekking with anyone else — and despite our age, we are seriously thinking about a repeat trip with this fine local organization sometime in the next few years! Thank you to all of you!

Response from Gokyo Treks Nepal
Thank you dear Linda Dallin for your time to review your trek to Langtang Gosakunda pass and to Helambu. We will be very much looking forward to serve you again for another adventure trip in Nepal.
Helambu trek
Ein grosser Dank an Ammar und sein Team. Gokyo trekks and expedition ist ein kleines , gut organisiertes Unternehmen , mit professionellen Guides. Ammar und sein Team organisieren perfekt nach persönlichen Wünschen das Trekking und stehen einem mit gutem Rat bei .
Es wird von Anfang bis am Schluss geholfen, Geld wechseln, Trekking permits einholen, die perfekte , auf die eigene Möglichkeiten zugeschnittene Trekking auswählen. Sie haben auch für kleinere Gruppen Übernachtungsmöglichkeiten. Man fühlt sich sofort nicht nur wie ein Kunde sondern in die Familie aufgenommen. Sushila, Ammars Frau und Ammars Schwester verwöhnten uns mit leckerem dahl bath.
Wir haben dieses Jahr den Helambu trekk machen dürfen von Kamal als Guide begleitet. Er ist ein sehr ruhiger und kompetenter Guide, immer auf unser Wohl bedacht… Grosser Dank auch an ihm. Wir können Gokyo trekks and expedition nur empfehlen und würden jede Zeit widr mit ihnen unsere Reise in Nepal organisieren. Danke euch allen :))

Response from Gokyo Treks Nepal
Thank you Marta for your amazing experience about
The best Langtang Gosaikunda Lake trek with gokyotreks
Its our third trip with Gokyo trekking agency in Nepal. We visited Langtang Gosainkunda lakes trek in January 2019. Ammar was very helpful in communication with fast respond in a friendlier way. We are confident totally to complete this trip. The guide and porters were great and the private jeep transfer Kathmandu to syabrubensi and from Dunche to Kathmandu was safe. We spend our one of the best moment in Langtang mountains for 10 days Langtang Gosainkunda lakes trek. Thanks a lot for making my trip just awesome.
Response from Gokyo Treks Nepal
Dear Guest Wienna, Innsbruck town, Austria
Greetings from Gokyo Treks & Expedition Pvt Ltd, Nepal. Thanks a lot for your excellent review about Langtang Gosaikunda lakes trek 15,745 ft above the sea level in Nepal with our guide and porters. So, we are very much pleased that you are highly satisfied and writing us an excellent experience exploring Nepal. Be in touch as we are looking forward to serve you again for your other holidays in Nepal Himalayas!
With best regards,
Ammar Raj Guni
Team of excellent Guides company, Local trek operator agency
We found Gokyo Treks & Expedition from some of their past guest who were very happy. They recommended us to use this company on Nepal travel. Finally, we met the owner of the company Ammar Raj Guni and we booked our first trip to Nepal in 2012. In last May, we visited Nepal and we booked our trip with Ammar easily, did a great trip then we concluded that we would never consider another company.
May 2018, we made a decision to return to Langtang valley combine with the Gosaikunda pass trek with our travel mates to find the latest changes after the Huge Earthquake disaster. Ammar was very helpful in friendly communication with a fast response. We trek about 13 days altogether with our Guide Shreeram and smiling porters Dependra, Basu, and Mundre. Our guide booked a room in advance by phone and took us over the Kanjinri, the view was almost outstanding. It proves that good company management and services are always with the professional trekking guides and porters. The whole entire team members are good caring, experienced and attentive to trekker's individual demands. They also organized 2 nights 3 days trip to Chitwan for wildlife safari tour and world heritage sites and amazing Mountain flight tickets. Have in mind that the company is owned by the team of the local expert guide so their price was cheaper comparing with other companies. They are superb companions of exploration in Nepal! Looking forward to enjoying another beautiful journey with you guys again with our friends!
Response from Gokyo Treks Nepal
Thank you Uwe for your amazing time reviewing Langtang valley with Gosaikunda Lakes combo package service. We are very much looking forward to serve you again.
From US$ 796
2% Off
US$ 770
| | |
| --- | --- |
| No. of people | Price Per Person |
| 1 | USD 898 |
| 2 | USD 770 |
| 3 | USD 770 |
| 4 - 6 | USD 725 |
| 7 - 9 | USD 698 |
| 10 + | USD 655 |
Book Now
Customize Trip
Cost & Departures
Your Trip Your Style!
ITINERARY, COST, DEPARTURES, will adjusted according to your GROUP SIZE NEED TIME
Book with Confidence
Lowest Price Guaranteed.
100% Customizable Trips
Excellent Customer Service
Hassle Free Booking.
90 % Repeated customers
Highly Recommended agency
Private/group tour options
Local Guides Company.