Jiri To Everest Base Camp Trek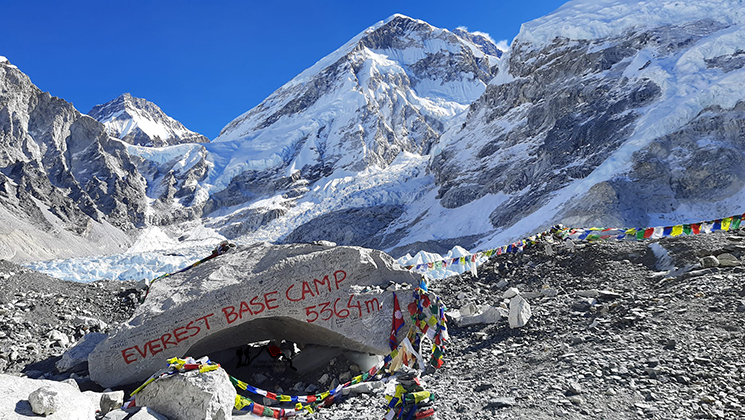 Jiri to Everest Base Camp Trek Summary
Jiri to EBC Hike Duration: 18 Days
Jiri to Everest Base Camp Trek Grade: Moderate
Highest Elevation: 5,545m/18,132 feet
Daily Walk Hour: 6 Hours
Base Camp Hike Group Size: 1 – 14 People
Trip Mode: Guest House Basis
Best Time to Visit: March, April, May, October, November and December
Trekking Foods: Breakfast, Lunch, and Dinner
Transportation: Car/Plane/bus
Overview
The Jiri to Everest Base Camp trek is a classic route that takes you through picturesque villages, dense forests, and stunning mountain vistas before reaching the base camp of the world's highest peak, Mount Everest. It's a great option for those who want to experience the trekking culture and the traditional lifestyle of the local Sherpa people.
Hike from Jiri to Everest base camp is just a paradise that ascends through Sagarmatha national park from 2,845m at Monjo to the top of the world at 8,848m, listed in the UNESCO world heritage sites. You can view the highest mountain summits in the world, Everest at 8,848m, and many of the world's 8,000m peaks such as Lhotse, Cho Oyu, and Makalu.
Everest Icefall glacier with huge ice pinnacles soaring to unbelievable heights before reaching the Everest Basecamp. This route is best suitable for all-age walkers looking for something a little challenging to test their bodies.
Our program includes rest days and builds up gradually, in order to acclimatize altitude. Along the trek routes, you can walk at your own pace, taking plenty of stops for rest. An enchanting Jiri to Everest base camp drive-in and fly-out trek plan is the best suitable for travelers who want to get well acclimatized during the hike instead of direct landing at Lukla airport.
Jiri to Lukla trek distance is 49.5 km likewise, Jiri to Everest base camp distance is 170 kilometers straight away. Moreover, it's beautiful in terms of mystical landscapes, astonishing villages, and great Sherpa generosity. Very few travelers make a plan from Jiri to Lukla trek to feel real Nepal and the trek route is possible at any time throughout the year.
How much is the Jiri to Everest Base Camp Trek Package Price?
The cost of the Jiri to Everest base camp trek package with a local agency Gokyo Treks in Kathmandu Nepal ranges between US$ 1125 to US$ 1398. Of course, the Jiri to Everest Basecamp trekking cost depends upon the service you choose.
In addition, we also have a discount deal for group leaders. For example, if you could bring 10+ travelers (except you) on your trip, you are treated as a group leader. So you can hike from Jiri to EBC at a 50% discount.
However, we often arrange private trips in order to avoid group tours with strangers. A private tour gives you a better experience on your hikes. If you value personalization, flexibility, and in-depth experiences, a private trip customized to your personal needs will be the best option.
Jiri to base camp is the standard trip package price for 17 days trek. If you are 2 visitors hike from Jiri to base camp starting costs US$ 1299 for 17 days trek plan. We can modify the trek route and the prices as you wish. Here is the price list for Jiri – Everest base camp treks.
Price Per Person for 17 days hikes in the Everest territory.
| Number of Tourist | Price Per Person |
| --- | --- |
| 1 Person | US$ 1398 |
| 2 Person | US$ 1299 |
| 3 Person | US$ 1299 |
| 4 to 6 person | US$ 1250 |
| 7 to 9 Person | US$ 1199 |
| 10 and more than 10 Person | US$ 1125 |
If you're wondering to know about what is included and what is excluded from this trip price, kindly check on the cost given on a tab button.
Itinerary
Jiri to Everest Base Camp trek itinerary detail
This trekking itinerary from Jiri to Everest Base Camp stands out among many trails in the Solu Khumbu region that lead up to the base camp. This specific route is crafted for global explorers seeking to reach the base camp of this remarkable mountain but are constrained by time limitations.
For travelers preferring a more leisurely journey to Everest Base Camp, this itinerary provides an alternative option. Should the Jiri to EBC tour itinerary not align with your preferences, feel free to send us an inquiry for a personalized itinerary that suits your needs.
01 Day
Scenic drive to Jiri Bazaar (1,995m/6,546 feet), roughly 6-7 hours drive.
Today marks the final arrangements regarding finances, and any remaining queries have been addressed in prior days. Our journey takes us to Jiri Bazaar, a scenic route passing through picturesque villages and mountainous terrain. Situated at an elevation of 6,546 feet, Jiri serves as a gateway for the 3 Passes Trek.
For an early start, Kathmandu offers regular bus services to Jiri Bazaar. Alternatively, tourists can opt for a more comfortable ride via a private car or jeep, available at an additional cost. Upon arrival, we'll explore the vicinity of Jiri and spend the night at the Sherpa Hotel.
02 Day
Jiri to Deurali Village Trek (2,705m/8,875 feet), 6-7 hours.
Initially, our hike leads us through the stunningly picturesque villages and lush green landscapes of Shivalaya. The Jiri to Shivalaya trek is relatively gentle and spans approximately 3 hours.
Upon reaching Shivalaya, you'll encounter the Gauri Shankar Conservation Area checkpoint. Subsequently, the journey becomes more challenging with a strenuous and steep ascent to Deurali Hill, where we'll spend the night.
03 Day
Deurali to Sete Trek (2,520m/8,268 feet), 6-7 hours.
We descend a steep trail leading downhill to Bhandar, a well-known location in the Everest region adorned with numerous shops and guest houses. Continuing onwards, we hike further to Kinja, where travelers are required to register at the police checkpoint. Kinja boasts pleasant restaurants and lodges, ideal for a lunch break before embarking on a challenging ascent of about 1000 meters uphill to Sete.
04 Day
Sete to Junbesi trekking (2,700m/8,859 feet) 6-7 hours.
The day commences with a steady and extended ascent to reach the Lamjura La pass standing at 3,530m/11,543 feet. This summit rewards trekkers with frost and often snow-covered trails in the winter, while in the spring, the path is adorned with blooming rhododendrons.
Lamjura Bhanjyang, situated at 3,530m, serves as a pivotal point between Jiri and Namche Bazaar and provides an excellent spot for a satisfying lunch break. After reaching the pass, the descent leads to Tragdobuk at 2,860m, eventually guiding trekkers to the picturesque Sherpa village of Junbesi.
05 Day
Trek to Nuntala (2,194m/7,198 feet) 7-8 hours.
Today we climb to a ridge at 10,102 feet, from where Everest slowly begins to appear in front of your eyes, walk to Salung (2,650m). From Junbesi the trail leads to the hospital and airstrip at Phaplu and the district headquarters and bazaar at Salleri.
Leaving Salung, we make our way descending to the Ringmo Khola. We make a short climb from Ringmo Khola that takes us to the Trakshindo pass (10,073 feet) and to the Trakshindo Monastery en route before reaching Nuntala.
06 Day
Khari khola treks (1,985m/6,513 feet), 6-7 hours.
From the hill of Taksindo, the picturesque scenarios of Salleri can be explored. The monasteries of the village represent the mystical touch of Tibetan Buddhism. From another ridge, the views of Lukla, and Nunthala valley astound us.
Walk through the alpine forest, pass the Nunthala village, and continue trek downhill to cross the Dudhkoshi River to hike Jubing and ascend about 2 hours we reach Kharikhola.
07 Day
Paiya trekking (2,730m/8,957 feet). 6-7 hours.
From the hill of Taksindo, the picturesque scenarios of Salleri can be explored. The monasteries of the village represent the magical touch of Tibetan Buddhism. From another ridge, the views of Lukla, and Nunthala valley astound us.
We descend through the alpine forest, pass the Nunthala village and continue to trek down, cross the Dudhkoshi River, and get up to Jubing. After about 2 hours of ascending, we reach Kharikhola.
08 Day
Trek to Bengkar village (2,630m/8,629 feet), 6-7 hours.
The trail climbs for about an hour after Puiyan to a ridge at 9,185 feet, up to another ridge. Pass through Lukla Airport, and follow a gentle climb up the mountainside on the left bank of the Dudh Koshi River.
Along the way, you will have a superior view of Mount Nupla (5885m), Kusum Kanguru (6,367m), and Mount Kwongde Range. Take an easy walk for about five hours to reach Bengkar village to stay overnight.
09 Day
Namche Bazaar trek (3,440m/11,286 feet), 4 hours
We persist along the trail, navigating various inclines and declines, crossing streams, and passing through small villages en route to Monjo. Our trek extends to the Sagarmatha National Park office, where entry fees for the nature park are required.
Continuing onward, a brief walk along the valley's riverbed unveils the convergence of major rivers. Crossing the Hillary Bridge, we embark on a steep ascent towards the lodges in Namche. The Jiri to Namche Bazaar trek offers a classic experience, providing vistas of the remarkable Everest summit (8,848m) towering above Lhotse Sar (8,516m).
Namche Bazaar stands as a central hub, offering provisions, trekking gear, and essential commodities amidst the surrounding hills and mountain ranges. For some luxury travelers, a helicopter flight from Kathmandu to Namche Bazaar becomes an enticing option to bypass the Khumbu hills and Dudhkoshi Valley.
10 Day
Acclimatization day in Namche Bazaar
The Namche Marketplace serves as a perfect spot for acclimatization to the higher altitudes before progressing towards Tengboche. Ascending to the Khumjung monastery, a quaint Sherpa settlement, we are greeted by the Sherpa community.
From this vantage point, a spectacular panorama of Mt. Everest, Ama Dablam, Thamserku, Nuptse, Lhotse, Tawche, Kwangde, and other peaks unfolds before us. On the return journey to Namche, visitors have the opportunity to explore the National Park Museum situated just above the town, offering insights into Sherpa culture and heritage.
11 Day
Namche Bazaar to Tengboche trek (3,860m/12,665 feet), 6 hours
Having breakfast trek heading towards Tengboche Monastery. The trail goes ahead leaving a steep cliff that drops down to the Dudh Kosi.
Get the Himalayan vista such as Ama Dablam (6,812m), Everest, Lhotse, Nuptse (7,855m), and Tawoche (6,501m). Tengboche offers a good view of sunrise and sunset at Everest and Ama Dablam.
12 Day
Tengboche hill to Dingboche village trek (4,410m/14,469 feet), 6 hours
The trail condition from Tengboche Monastery to Dingboche village is generally well-maintained and moderately challenging. It presents a mix of gradual ascents and descents with scenic landscapes along the way. Trekkers traverse through diverse terrain, including rocky paths, meadows, and occasional forested sections.
This hike provides stunning views of the surrounding Himalayan peaks. However, caution is advised as the trail can be steep in certain segments, requiring careful navigation, especially during inclement weather or icy conditions. Overall, it's a captivating trek marked by varying landscapes and panoramic vistas of Island Peak, Ama Dablam, Makalu, Tawoche Peak..etc.
13 Day
Trek from Dingboche to Lobuche (4,910m/16,110 feet), 5 hours
The trail from Dingboche to Lobuche Lodges, passing through Dughla Pass, offers a challenging yet rewarding trek. Initially, the path presents a gradual ascent with scenic views of the surrounding valleys and mountains. As trekkers approach Dughla Pass, the terrain becomes steeper, marked by rocky and uneven sections, demanding careful navigation.
The ascent to Dughla Pass is notably steep and challenging, involving a strenuous climb over rocky terrain. Trekkers need to tread cautiously due to the rugged nature of the trail and the higher altitude. Once past the pass, the descent toward Lobuche Lodges involves a mix of rocky and sometimes icy pathways, requiring careful footing.
The views of the surrounding Himalayan peaks are breathtaking, offering a picturesque backdrop to the trek. However, it's essential for hikers to be adequately prepared, both physically and with proper gear, as this segment of the trail demands moderate to high fitness levels due to the steep inclines and the altitude gain.
14 Day
Trek to Gorak Shep (5,110m/16,766 feet), 2 hours. Hike to Everest Base Camp (5,364m/17,599 feet), 6 hours
From Lobuche to Gorak Shep Lodge involves a challenging yet fascinating trek through the Khumbu region. Initially, the path features a relatively flat and gradually ascending terrain with rocky sections. As trekkers advance, the trail becomes more rugged, with rocky, uneven pathways that demand careful footing.
Trail to Gorak Shep includes a mix of rocky and sandy terrain, making the trek physically demanding, particularly as hikers ascend toward higher altitudes. However, it has well-marked but can be strenuous due to its steepness in some areas, requiring a moderate to high level of physical fitness and proper acclimatization to the altitude.
Along the way, trekkers will encounter awe-inspiring views of the surrounding Himalayan landscapes, including glimpses of majestic peaks like Everest, providing a stunning backdrop to the journey. It's important for hikers need to prepare adequately and equipped with suitable gear for varying trail conditions and possible weather changes.
Trekkers will encounter a mix of rocky, gravelly, and occasionally icy sections as they progress. It becomes steeper and more demanding as it approaches Everest Base Camp, with some rocky and uneven pathways that require careful navigation. Hikers need to traverse glacial moraines and rocky ridges, which might be physically taxing, especially due to the high altitude and varying trail conditions.
15 Day
Kala Patthar trekking (5,550m/18,209 feet) 3 hours. Hike to Pheriche (4,240m), 4 hours
We embark on a morning trek from Gorak Shep towards Kala Patthar hill to catch the sunrise. This vantage point offers breathtaking views of Mount Everest, along with other majestic peaks like Mt. Pumori, Mt. Lingtren, Mt. Khumbetse, Mt. Nuptse, Mt. Lhotse, Mt. Ama Dablam, Mount Thamserku, and more, especially on clear weather days.
After descending from Kala Patthar to Gorak Shep, we regroup with our entire crew and then proceed on a downhill hike towards Pheriche village. Pheriche hosts the Himalayan Rescue Association Aid Post, where dedicated foreign volunteer doctors provide essential medical assistance and support to trekkers and locals in need.
16 Day
Trek to Namche Bazaar (3,440m/11,286 feet), 8 hours
Today's trek involves a downhill journey from Pheriche to Tengboche, known for its Buddhist research center. The trail continues from Tengboche to Namche, offering an easier route but a long day of hiking.
Descending through the vibrant rhododendron forest, you'll encounter the revered Tengboche oldest monastery and pass by quaint villages. Lunch at Tengboche Hill provides a splendid view of Ama Dablam, lush green hills, and pristine rivers.
Later Lunch, descends from Tengboche to Phungki Tangka, crosses the river, and passes several tiny villages to reach Namche. Sanasa and Lagusasa are the most famous for locals as they are selling foods for locals. Catch the way descending from Gokyo Valley and continue to Khumjung village where one can visit traditional villages landscapes. You might also visit Hillary Hospital located in Khunde. And in the meantime, we follow the trail to the Monastery which offers Yeti Scalp [Optional tour] otherwise, continue to Namche Bazaar.
17 Day
Namche Bazaar to Lukla (2,840m/9,318 feet), 8 hours
We'll trek back to Lukla airport following the same trail used during the ascent. This marks the final day of our journey. Once we arrive in Lukla, we'll check into a Buddha Lodge, a comfortable hotel where you can enjoy hot showers and take some well-deserved rest.
18 Day
Scenic Mountain flight from Lukla to Kathmandu, 35 minutes. Goodbye Kathmandu
We catch an early flight from Lukla to Kathmandu and upon arrival at Tribhuvan International Airport, our representative will assist in arranging your transfer to the hotel. The afternoon is free for shopping or you can opt for a guided tour of Kathmandu at an extra cost. This marks the end of the trip, bidding farewell to Kathmandu. Wishing you a fantastic journey ahead!
Not satisfied with above plan?
Are you interested in planning a custom trip? this might take 2 to 3 minutes.
Cost
How much is a Jiri to Everest base camp trek package price?
Usually, the standard price for the Jiri to EBC classical trek package is US$ 1299 per person based on double occupancy. For a deluxe or luxury trekking tour, we include deluxe air-conditioned rooms in 3-5 star hotels in Kathmandu with breakfast. Additionally, lodge accommodations with attached toilet/bathroom facilities are arranged at feasible locations throughout the journey. We are flexible and open to customizing your tour and adjusting the package price according to your specific requirements.
From Jiri to Everest base camp trekking package price includes:-
From Lukla to Kathmandu domestic flight ticket with applicable domestic airport taxes.
Kathmandu domestic airport to Thamel transfer by a private taxi/car on your return.
18 Breakfast serve with a cup of tea/coffee, 17 Lunch and 17 Dinner [main course] from Jiri to base camp trekking route.
17 Nights Guest House accommodation (share toilet) during the trekking days in the Everest mountain.
Sagarmatha National Park entrance permits and Khumbu Pasang Lamu Municipality entrance permit fees.
Gauri Shankar conservation entrance permit and their fees.
Kathmandu to Jiri Bazaar of Solu-Khumbu district with a local Bus transfer (sharing basis).
Professional and license holder Mountain Trekking Guide.
An assistant guide will provide for 7 plus group tourists.
Required number of porters during the trek (one porter = two guest basis) because our porter can carry a maximum of 24 kg of your bag pack.
Well-paid salary, food, accommodation, and insurance of trekking Guides and porters.
Agency's duffel bag (50 liters capacity) and hike poles if Necessary – return after the trek.
Updated Jiri to Everest base camp trekking map and trek completion certificate – keep as a souvenir.
First aid medical kit including Oximeter to check oxygen level and Pulse rate every day to save you from higher risk. In a worst case, help with all Rescue and evacuation arrangements (but not the rescue bills).
Nepal Government Tax, VAT, and as well as Company service charge.
From Jiri to Everest Base Camp Trek Package price excludes-
Lunch and Dinner during the staying in Kathmandu city.
Accommodation in Kathmandu city
Any kinds of battery charges, laundry service, phone calls, and hot showers during the trekking.
Sightseeing in Kathmandu by Private vehicle according to programs.
Tourist personal trekking equipment and Clothing.
Personal nature expenses, all types of beverage drink bills.
Travel Insurance which covers emergency Rescue, evacuation, loss, or damage.
Donation and monuments entrance fees.
Gratuities for guide and porters [Tip is a culture, so they expect highly].
Group join
Join a group trek or a private trek with us and get your Jiri to Everest base camp trek map before you trailhead. It helps you to understand better of Khumbu Mountain's height and location. We can organize your private trek from Jiri to the base camp trek starting on any date that works for you. Please contact us for more information.
| Departure Date | Availability | Price | Book |
| --- | --- | --- | --- |
| 28 Feb, 2024 – 17 Mar, 2024 | Available | 1299 | |
| 10 Mar, 2024 – 27 Mar, 2024 | Available | 1299 | |
| 25 Mar, 2024 – 12 Apr, 2024 | Available | 1299 | |
| 10 Apr, 2024 – 27 Apr, 2024 | Available | 1299 | |
| 20 Apr, 2024 – 07 May, 2024 | Available | 1299 | |
| 10 May, 2024 – 27 May, 2024 | Available | 1299 | |
| 15 Sept, 2024 – 02 Oct, 2024 | Available | 1299 | |
| 05 Oct, 2024 – 22 Oct, 2024 | Available | 1299 | |
| 25 Oct, 2024 – 12 Nov, 2024 | Available | 1299 | |
| 05 Nov, 2024 – 22 Nov, 2024 | Available | 1299 | |
Guaranteed – Trip is Guaranteed to run.
Available – Trip is available to run if minimum group size is filled
Limited – Only few space available
FAQ
Question: Do I need experience for the Everest base camp trek via Jiri?.
Answer: For Jiri to base camp trek route, you need basic experience to walk around 3/4 hours every day with a light backpack.
Question: Is pick up service available on my arrival day in Kathmandu?
Answer: Yes sure. Provide us with your flight details. Our representative will come to pick up you at Kathmandu international airport.
Question: Can I store my luggage/stuff in Kathmandu?
Answer: Yes, you can leave your luggage at your hotel or at our office. Store your stuff in the Gokyo Treks agency office for free.
Question: Is trekking from Jiri to Everest base camp Safe for Solo Female Trekkers?
Answer: Absolutely. Nepal is a safe country to travel to for solo travelers; this trek is perfectly safe for solo female trekkers. We have been organizing the trek even for solo female travelers since its establishment.
Question: What kind of accommodation can I expect on the Jiri base camp Everest trek?
Answer: We provide you tourist standard accommodation in Kathmandu and along the trek. the rooms along the routes are clean with cozy beds with nice mattresses and blankets. However we recommend you take your own sleeping bags if you have one with you otherwise, you may rent them while you are in Kathmandu.
Question: What kind of food can I expect on Jiri to Everest trek?
Answer: All the guest houses/lodges in the trekking have attached restaurants. They cook a delicious range of vegetarian meals such as Pasta, noodles, potatoes, eggs, curry rice, tuna bakes, bread, soups, and fresh vegetables.
Question: Is it possible to stay overnight at EBC? What would be the options?
Answer: Yes, it is possible to stay overnight at Everest Base Camp on your journey. Indeed, we do have another itinerary to make this happen to stay overnight at Everest Base Camp (ebc). Staying overnight at base camp is recommended during the spring season in the months of April and May as you get the chance to see and meet Everest climbers (mountaineers) and the base camp is colorful during this time.
Question: What should my insurance policy cover?
Answer: Travel insurance for each trek is mandatory before joining any trips with us. You need to get your travel insurance policy before joining your trip. Your travel insurance must cover the helicopter rescue up to 6000m altitude. It comes in handy during medical emergencies and contingency situations. It is recommended to get it from your home country. In case you haven't bought travel insurance after arriving in Kathmandu; we can help you get one.
Question: How to prevent altitude sickness during the trek?
Answer: You should never walk too quickly or too high ignoring your body's symptoms. Proper altitude acclimatization is the best way to prevent high-altitude sickness. Listen to your body, trek gradually enjoying the best of culture and nature while giving enough time for your body to adapt to the changing atmosphere. Drink a lot of fluid & keep your body hydrated. If symptoms like a headache, difficulty in breathing, and others occur, descend to a lower altitude and take them to the hospital. If the condition worsened you will be airlifted to the hospital in Kathmandu.
Question: What will happen if my scheduled flight from Lukla to the Kathmandu route gets delayed or canceled?
Answer: Weather in the Himalayas is uncertain which we cannot predict. Therefore, flight delays and cancellations are high at Lukla. If this happens, you will be boarded on the flight tomorrow and you have to spend an extra night at Lukla (if you are returning to Kathmandu). Helicopter rescue can also be used, which depends on the situation. So, we recommend you allocate a couple of extra days after your Jiri to Everest base camp trek, so that you will not miss your international flight back.
Question: What opportunities will I have for a shower en route?
Answer: Guest house trekking all the lodges they have a shower which you can get somewhere you need to pay and some places not.
Question: How do I get drinking water on the Jiri to Everest base camp lodge trek?
Answer: There are almost all places stands hotels and shops where you can have water to drink. But we advise against buying mineral water in plastic bottles, as currently there are no provisions for disposing of these. Instead, we provide you with boiled water or bring AQUA tablets to purify the normal water as the normal water is available at the campsite.
Question: Are there any internet facilities on the trek route?
Answer: Everest Link is an internet service provider founded in 2014 that provides high-speed internet and Wi-Fi in the Everest Region. It is the only internet provider at the Jiri to Base Camp trail, making it the world's tallest internet service.
If you wish to stay connected with better WIFI to your family, friends, or business, we suggest you buy Everest Link Internet. It's better than other NETWORK connections and you can buy an Everest link card easily in the shops, hotels, or any small lodges en route.
Question: Can I use credit cards in Jiri to be hiking?
Answer: No. You need to have cash Nepali rupees because credit cards work only in the bigger city tours/city areas.
Question: When should I book my trip and what are the payment terms?
Answer: Because our trips book up months in advance, we recommend booking early to avoid any kind of misunderstanding. We will, of course, make every effort to accommodate last-minute bookings.
And regarding the deposit, we prefer a 10% advance deposit of the total price of the trip in order to confirm your reservation before you arrive in Nepal. And the rest of the payment can be made after your arrival in Kathmandu.
Question: Who will carry my luggage?
Answer: We provide porters to transfer your luggage. As we are a responsible trekking tour operator agency, every porter carry a maximum of 25 kilos of your backpack which means 2 guests (12.5 kg luggage of each guest): 1 porter basis.
Question: How much distance do I walk each day?
Answer: When walking/trekking in the mountains, the distance you cover each day can vary greatly due to gradient, terrain, and altitude. As such it is very hard to give specific distances on each day, however, you have to be prepared to walk roughly about 5 hours each day.
Question: Do I need walking poles for the Jiri to Everest basecamp rapid trek?
Answer: It is better to hike with walking poles. Learn how to use trekking poles for balance and stability, whether on the sidewalk or on trails. Walking poles can help prevent slips and falls. They are just recommended but not compulsory.
Question: Is it possible to hire a local trekking guide in Jiri for your Jiri to Everest base camp hiking?
Answer: Yes of course. If you are travelling in a tight budget for Jiri to Everest hiring and have no wish to book the complete full board package trek, you can hire our expert local guide to make your holiday tour safer. Email to us to get a cost quotation for a local guide hiring in details.
Question: How much additional money do I need per day?
Answer: You can allocate US$ 08 – 10 for a lunch/dinner in Kathmandu and it depends on your spending habits. US$ 7 to 10 US$ each day will be enough to buy bottles of water, chocolates, tea coffee, and some drinks while you are on your trek.
From Jiri to Everest base camp trek highlights
Discover the best mountain view at 360 deg angle from Syangeboche and from Kalapatthar peak.
Amazing view of Mountain Lhotse, Everest, Nuptse, Amadablam, Makalu, Thamserku, and many others.
Sherpa Buddhism, tallest monastery, Local Sherpa and their lifestyles.
Notes for Jiri to Everest base camp trekkers !
The Jiri to Everest base camp tour information stated above is just a standard template guideline. However, the trip is possible to modify at your request to accommodate your specific requirements. Local politics, landslides, cancellation of local flights, weather, transport, or a multitude of other factors that are beyond our control can result in a change of itinerary during on trip.
It is, however, very incredible that the itinerary would be extensively altered. If alterations are necessary the leader will decide the best alternative option, taking into consideration the best interests of the whole group. When a change does occur, we do everything we can to minimize its effect, but we cannot be responsible for the results of changes or delays.
"What makes Jiri to Everest base camp trekking special?"
This Jiri to Everest Base Camp trek holds a special allure for every visitor due to its blend of historical significance, stunning landscapes, and cultural immersion. Retracing the footsteps of Sir Edmund Hillary and Tenzing Norgay Sherpa's pioneering ascent of Everest in 1953, this route offers a more gradual ascent, allowing trekkers to soak in diverse terrains, encounter local communities, and savor breathtaking vistas.
It's unique blend of history, scenery, and a quieter, less crowded trail makes it an unforgettable and personally enriching journey for all who embark on it.
We at Gokyo Treks and Expedition believe in quality services. Your safety and satisfaction is our concern. We are a team of professional, experienced, well-trained, and licensed local guides who know the destination better than others. Not only this but also we give benefits to the local communities and help to conserve natural resources which reduced costs and consumption.
Jiri to Everest Base Camp Traveler's Review
EBC TREK with best guide Kamal
Ammar's friendly demeanor and willingness to assist made all the difference in planning our trip. Thanks to his help, we had a wonderful EBC TREK experience with a knowledgeable guide and a helpful porter. They were both friendly and open to customizing our trek to suit our preferences, all at an affordable price. We couldn't have asked for a better company to journey with, and we highly recommend their services.
Response from Gokyo Treks Nepal
Dear Peter Boch,
Your review has filled us with absolute delight! We emphasize that client satisfaction is our utmost priority and express our sincere gratitude for the kind words and appreciation.
Your appreciation motivates us to continually strive for excellence in delivering exceptional mountain adventures. We eagerly look forward to welcome you on another remarkable trip in the near future.
Your return will be a true pleasure for us. And we say thank you choosing our services and assure you that we are always available to assist with any questions or assistance needed.
Warm regards, Ammar Guni
Everest base camp with gokyo trek
Gokyo Trek took care of every aspect of our Everest Base Camp trip, from organizing the flights to arranging the guesthouse, guide, and porter. The entire experience was flawless, and we were consistently accommodated in the best guesthouses throughout the journey. It was a perfect and seamless adventure, thanks to Gokyo Trek's meticulous planning and attention to detail.
Response from Gokyo Treks Nepal
Dear Gwen Schott,
Your review has filled us with absolute delight! We emphasize that customer satisfaction is our utmost priority and express our sincere gratitude for the kind words and appreciation.
Your appreciation motivates us to continually strive for excellence in delivering exceptional mountain adventures. We eagerly look forward to welcome you on another remarkable trip in the near future.
Your return will be a true pleasure for us. And we say thank you choosing our services and assure you that we are always available to assist with any questions or assistance needed.
Warm regards, Ammar
Everest Base Camp Trek with Bishnu Guide
We have booked an Everest base camp trek with a Gokyo Treks and Expedition, a local agency in Nepal. Like other trekking, we choose a guide Bishnu Panday for our Everest holiday. Although it is a peak season there were very less trekkers in the region because of covid-19 travel restrictions.
Ammar, the owner of the agency was friendly and answered all of my questions, and offered a cheaper deal to us. Luckily we had good weather, a perfect Lukla flight, and also from base camp, we achieved the most amazing view of Khumbu Icefall and little stone stupas, an open memorial park of death climbers.
Besides trekking, Ammar took us to a world heritage site of Kathmandu. Thanks, Ammar for arranging a great trip for us. We are hoping to be back for the next adventure in the coming spring season in Nepal.

Response from Gokyo Treks Nepal
Thank you Martha for your time to review our service.
Jiri + Three Passes Trek
For our trek, we were searching for a trekking agency to connect with a guide and organize the necessary permits and so on. We found Gokyotreks! it's a company led by Ammar who responded very fast to every question and helped us were ever out was necessary.
On our Trek, we had our guide very nice guy. He did everything to make the trek as easy for us as possible. We had a very great time trekking and can fully recommend the service of Gokyotreks. At the end of our holiday, we had a few spare days and Ammar organized a trip to Chitwan National Park.
Response from Gokyo Treks Nepal
Thank you dear Hannes for the time to write us the review.
From US$ 1426
2% Off
US$ 1299
| | |
| --- | --- |
| No. of people | Price Per Person |
| 1 | USD 1398 |
| 2 | USD 1299 |
| 3 | USD 1299 |
| 4 - 6 | USD 1250 |
| 7 - 9 | USD 1199 |
| 10 + | USD 1125 |
Book Now
Customize Trip
Cost & Departures
Your Trip Your Style!
ITINERARY, COST, DEPARTURES, will adjusted according to your GROUP SIZE NEED TIME
Book with Confidence
Local Guides Company.
18 Years in Business.
Lowest Price Guaranteed.
100% Customizable Trips
Excellent Customer Service
Hassle Free Booking.
90 % Repeated customers
Highly Recommended agency
Private/group tour options