Kakani and Gurje hike Summary
Hike duration: 6/7 Hours
Trek Dificulty: Easy Trekking
Top Altitude: 2030 meters / 6,660 feet
Group Size: 1 – 30 People
Best time to hike: February, March, April, May, September, October, November, and December
Transportation: Car/Jeep [Private Trip]
The Kakani and Gurje hike is one of the most demanding day hiking routes located nearby Kathmandu. Situated 26 kilometers North-west and possible to reach in 90 minutes with a private car to get to Kaule Bhanjyang. Kaule is a gateway point to exploring Kakani hikes.
Kakani hill station is also popular to get heart touching view of glittering mountains. Namely, Annapurna (8,091m), Manaslu (8,165m), Ganesh Himal (7,446m), Lantang lirung (7,245m), and many other snow-covered mountains are possible to see from Kakani hiking route.
The view that you can see from here is stirring because it unravels the beauties of nature like any other viewpoint and stands head to head with them and has become the most popular viewpoint. Because it is perfect for swallowing the extensive blessing of nature.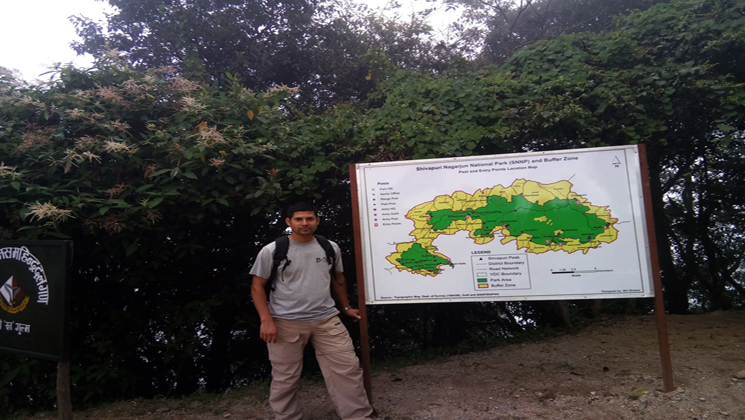 Furthermore, tourists can also view Nuwakot Likhu valley and as well as Kathmandu from a height of 6,658 feet. This Kakani and Gurje single-day hike is a very special day tour that goes across the oak, rhododendron, and pine forest. In the spring season, this nature trail is even more fascinating because of the colorful Rhododendron flowers.
Thai Airways Memorial Park and the century-old villa used by the British Embassy are the remaining spots to visit at Kakani hiking. Thai airways memorial park is built in memory of the 113 passengers who died in an airplane crash in Ghopte Vir in 1992.
Starting hiking from Kakani to Gurje Bhanjyang is a day hike throughout the Shivapuri National Park including the Boudeshwor Cave is a full-day hike out of Kathmandu city. Kakani to Gurje day hiking is also famous for watching birds and mountains. Being a combination of leisure and culture, this tour guarantees its visitors for full of fun.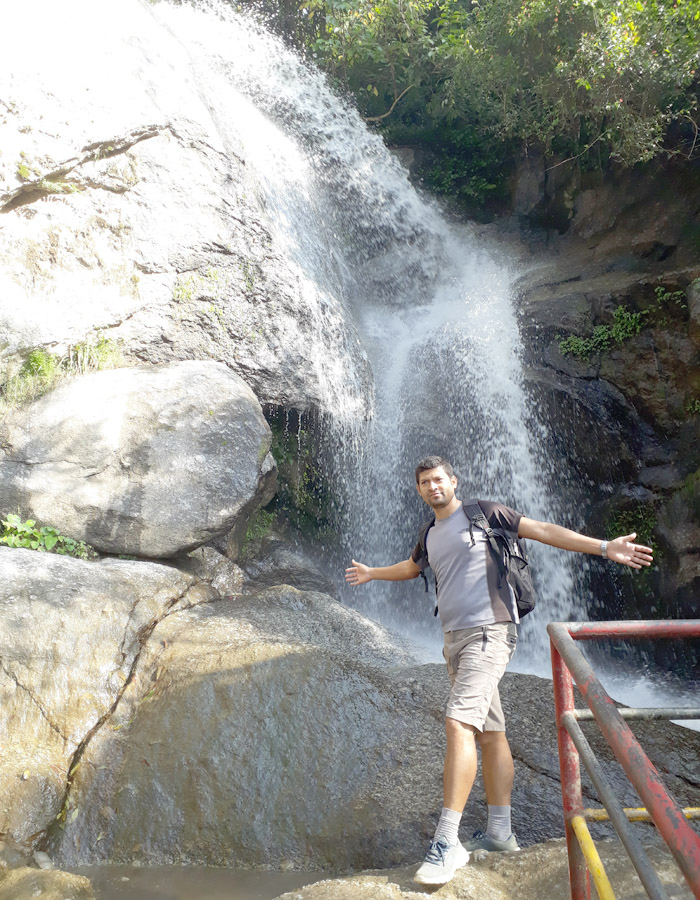 Boudeshwor Cave hiking to enjoy with waterfall
Visiting Jhor Mahankal or Boudeshwor Cave is one of the most religious sites in Kathmandu. The Boudeshwor is one of the names of Lord Shiva and offers majestic waterfalls nearby an ancient cave. In addition, the waterfall is the most beautiful located in Kathmandu town.
Jhor Mahankal temple is also the border village between Kathmandu & Nuwakot district. However, Mahankal temple, Jhor is located next to the beautiful waterfall on the lap of Shivapuri National Park. Especially during monsoon time, the spot is busy with local tourists.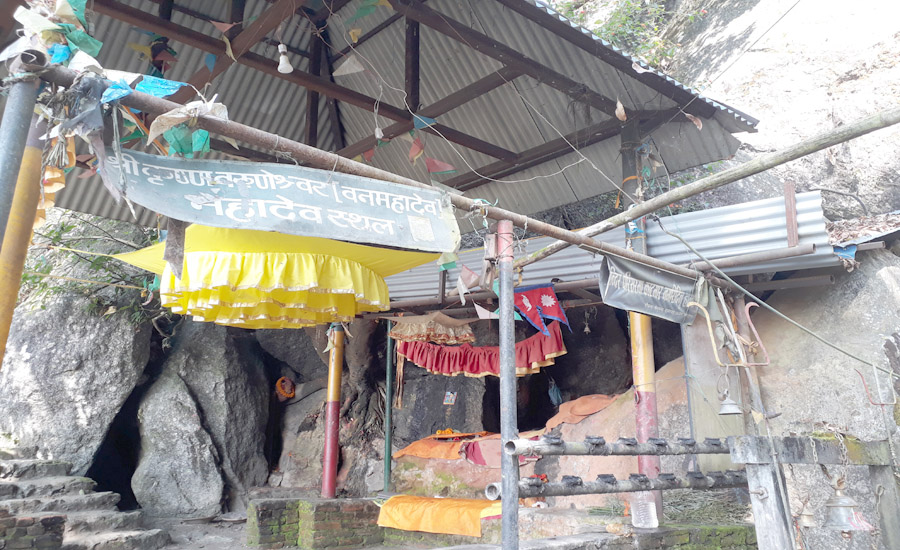 Climb to Surya chaur is another fascination to watch the nearest Langtang Himalayan range including the Ganesh Himal family. A few voyagers said that the view from here is a far better view contrasting with the Nagarkot slope. Furthermore, obviously, as you are voyaging through the public park, you can see a lot of wild creatures and winged animal species along the way.
Kakani and Gurje hike itinerary details
---
Day 01
Kakani to Gurje Bhanjyang Day Tour. Or Kakani and Gurje hiking itinerary.
After the pre-trip meeting, your day tour will start at around 8:00 am. You will have a private vehicle and a professional tour guide along to Kakani Bhyanjyang. Your day tour begins reaching Kaule hill and you can hike at the Kakani hill station to Suryachaur. Kakani to Surya Chaur Hike is one of the best short hikes for all-age travelers.
It is also popular for picnic spots, day hiking, cycling, Bird watching, and couples for relaxation. Walk about two hours further to Surya chaur to get a beautiful better view of Likhu valley landscapes and pristine mountains. Travelers can hike at Suryachaur directly without a long drive to Kakani too. Surya Chour is a paragliding hub nearby Kathmandu town within a distance of 18 kilometers.
Besides the hikes, the Kakani hilltop is well known for cycling and mountain biking. It is also one of the hot spots for picnics for the valley's large crowd. Famous for trout and strawberry farming, Kakani greets the visitors to International Mountaineers Memorial Park on its southern side too.
Gurje hill is also popular to watch majestic mountains. The amazing Kakani to Gurje nature walk offers a similar view as you see from the Kakani hill. Descend to Boudeshwor cave, waterfall, Jhor Mahankal, and return to Kathmandu. While on your day hiking, you walk through the beautiful rhododendron forests & rice fields below Boudeshwor. The journey takes about 5 hours of walking the rest of the part, you can drive. If you are interested to walk even longer then you can hike to Tokha Chandeswori temple with a lower route. Return to hotel, trip finish.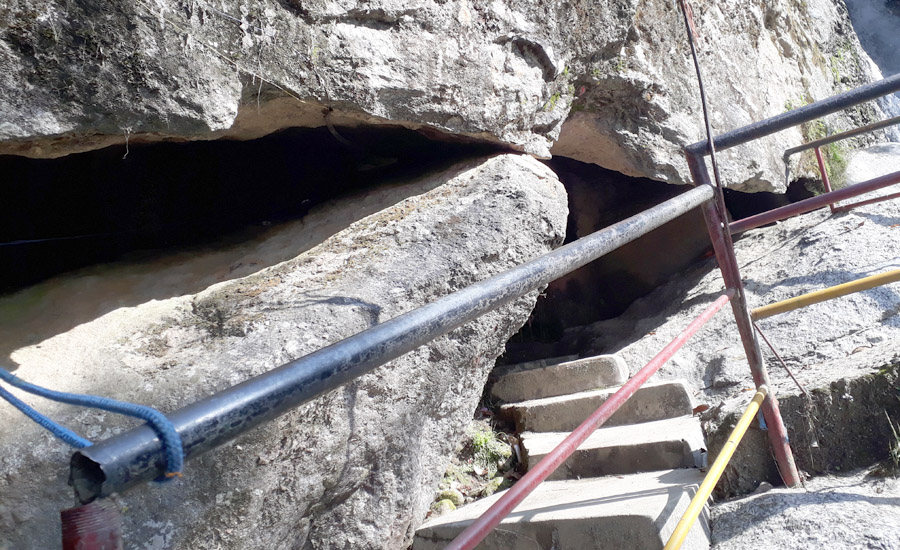 Boudeshwor cave located near Boudeshwor waterfall @Gokyo Treks Agency.
Mystical Kakani and Gurje hiking highlights
Discover the tallest mountains such as the Ganesh Himal, Manaslu, and Langtang Range of Earth.
Total length of this hike is around 10 to 15 kilometers (depending on where you want to finish).
Majestic views of Kathmandu city, Likhu valley, and some of its heritage sites.
Kakani to Gurje hike goes across the pure nature walk through the mixed forest.
Optional visit to Jhor Mahankal, Baundeshwor cave, and the beautiful waterfall.
Optional Visit to Suryachaur big ground to get an amazing view.
What does the Kakani to Gurje Day hiking tour cost?
The Kakani and Gurje tour package cost for a guide hire is USD 35 per day. The total package tour cost will be depending upon the group size you are traveling to and the means of transportation you choose. The fixed departure cost is shared on the basis of your travel group size. However, traveling solo tour costs a little bit more expensive rather group travel in terms of private guide and transportation. Have in mind that the tour guide cost and the vehicle cost are going to share by the number of a person you are traveling together with.
To complete and cover all spots, you need a minimum of 5/6 hours including drive. The transportation by private car/jeep cost depends upon the place you go for drop and pick up and the air conditioning you choose for.
What's Included in the Price
Air-conditioned vehicle with fuel and driver as per above plan.
Pickup from your hotel and drive to Kakani village.
Available transfer from Johr to Thamel at your hotel.
Shivapuri National Park entrance permit fees for Guests and guides.
Boudeshwor cave and Boudeshwor Waterfall entrance fees.
Experienced English-speaking tour guide
All government Taxes/VAT & Gokyo Treks Agency service charge.
What's not-includes in the Price
A private car transfer from Kathmandu to Kakani village.
Gratuities for hiking guide [Tip is a culture, so it's highly expected].
Your Lunch cost about US$ 5 to US$ 7 per meal depending upon what and where you prefer to eat).
Departure & Return Departure Point:
Have in mind that we pick up all the travelers from inside the ring road such as your location in Thamel, Lazimpat, Darbar Marg, etc.
What To expect on the day of hiking?
This is all about hiking into the hill station and purely nature walking and seeing some villages. See the Hindu pilgrimage place at Boudeshwor Temple. Recorded wildlife in the park includes mammalian species such as Himalayan Black bears, leopards, jungle cats, and rhesus monkeys. This Shivpuri park is also home to 177 species of birds, including at least 9 threatened species, 102 species of butterflies with a number of rare and endangered species, and 129 species of mushrooms. Additionally, there are about 125 Tigers recorded in the Shivapuri National Park.
Additional Information (TIPS AND TRICKS)
Confirmation will be received at the time of booking
a wheelchair is not accessible entire the tours
A maximum of 25 people per booking
Travelers with back pain are okay but not recommended for pregnant, and very old travelers.
It's a private tour/activity.
Cancellation Policy
You can cancel up to 24 hours in advance of the experience for a full refund. For a full refund, you must cancel at least 24 hours before the experience's start time. If you cancel less than 24 hours before the experience's start time, the amount you paid will not be refunded.
Any changes made less than 24 hours before the experience's start time will not be accepted. Cut-off times are based on the experience's local time.
Kakani Gurje Bhanjyang Day Tour Notes:
The above hiking itinerary is subject to change due to a condition and the months you travel to. Likewise, taking a comfortable private vehicle transfer to Kaule and returning after Boudeshwor Temple to your hotel in Thamel cost rapidly changes on the package. Hike from Kakani to Suryachaur Gurje hill is a Guideline showing a tentative hiking plan that we offer. A physical, technical, and natural condition may change the above itinerary hours. or Covid-19 travel protocol might affect your travel plan, so please let us know on time if there are any changes that might occur.
"What makes Kakani to Gurje Bhanjyang day hiking trip special?"
Opportunities for challenging trekking or hiking and pleasant strolls are scattered all over this planet. You just need to know the right one that suits you. We at Gokyo Treks and Expedition believe in quality services. Your safety and satisfaction is our concern. We are a team of professional, experienced, and licensed local guides who know the destination much better than others.
Kakani to Gurje Hike Traveller's Review
Kakani to Gurje Bhanjyang Day Tour
We are a team of 4 people and have booked Kakani to Gurje Bhanjyang Day Tour for my college friends with Gokyo Treks and Expedition. From the initial inquiry to the end of the trip the company was very impressive.
Ammar – the founder of the company was extremely efficient. He answers all of our emails and messages in return. We were extremely fortunate to have Ammar Guni as our local Tour Guide. They were both extremely kind and always wanted to ensure we were safe and happy. Kakani to Gurje hill day hiking was just amazing. Their customer service is excellent, so I would definitely recommend and use this company again.

Response from Gokyo Treks Nepal
Thank you Sarah for your feedback.
Fantastic day hike in Shivapuri from Kathmandu
We had a wonderful trek with our guide Shreeram. He went above and beyond to provide a beautiful one-day hike from Kakani to Gurje Bhanjyang, a short drive from Kathmandu. The walk itself was stunning – with regular, clear views of the Himalayas – and Shreeram was so helpful and friendly. It was also very easy to arrange the trek. Ammar, our point of contact, was clear and responsive. I would highly recommend Gokyo Treks & Expedition –
Response from Gokyo Treks Nepal
Thank you for your time to send us the best review.
Book a Guide for Kakani to Gurje Day hike in the Shivapuri National Park.
From US$ 148
2% Off
US$ 85
| | |
| --- | --- |
| No. of people | Price Per Person |
| 1 | USD 145 |
| 2 | USD 85 |
| 3 | USD 80 |
| 4 - 6 | USD 70 |
| 7 - 9 | USD 65 |
| 10 + | USD 58 |
Book Now
Customize Trip
Cost & Departures
Your Trip Your Style!
ITINERARY, COST, DEPARTURES, will adjusted according to your GROUP SIZE NEED TIME
Book with Confidence
Lowest Price Guaranteed.
100% Customizable Trips
Excellent Customer Service
Hassle Free Booking.
90 % Repeated customers
Highly Recommended agency
Private/group tour options
Local Guides Company.