Shivapuri Hike Summary
Hike duration: 6/7 Hours [18.62 kilo meters]
Top Altitude: 2,732 meters/8,964 feet
Trek Dificulty: Easy hiking trail
Best time to hike: All months (except Monsoon time July – August)
Group Size: 1 – 15 People
Transportation: Car / Jeep / Bus [Private tour]
The Shivapuri Hike is one of the most demanding day hiking routes located in Kathmandu. Shivapuri 2,732 meters is the second-highest mountain that surrounds the Kathmandu Valley and one of the finest day hiking destinations near Thamel.
The Shivapuri Nagarjun National Park (SNNP) is the nearest park covering an area of 159 km2 (61 sq mi). Nature conservation Shivapuri is the ninth national park in Nepal. It is named after Shivapuri Peak's 2,732m (8,964 feet) altitude.
The history of Shivapuri was established as a wildlife reserve in 1985 but measures for its protection were initiated as early as 1975 under the Shivapuri Watershed Development Board. It was designated a national park in 2003.
Recorded wildlife in the parkland includes mammalian species such as Himalayan Black bears, leopards, jungle cats, and rhesus monkeys. Also, home to 177 species of birds, including at least 9 endangered species, 102 species of butterflies with a number of rare and endangered species, and 129 species of mushroom. Additionally, it is an enjoyable journey passing through oak, rhododendron, and pine forest.
As you reach the Shivapuri peak, you can see the glowing view of Mount Manaslu (8,165m), Ganesh Himal (7,446m), Lantang lirung (7,245m), etc. Moreover, you can see the green valley that you wouldn't have elsewhere.
The new breeze and the tweeting of the birds will ensure that you also are important to nature. Besides that, the day tour also provides a growing Rhododendrons forest that begins to bloom in February and stays in bloom for several months.
Exploring the mountains, landscapes, and as well as wildlife is a major attraction of Shivapuri National Park Hiking. In addition, the Shivapuri Hike station day hike is also popular for cycling trips and for Bird watching. The full distance to reach Shivapuri Peak and return to the National Park gates is 18.62 km (11.57 miles).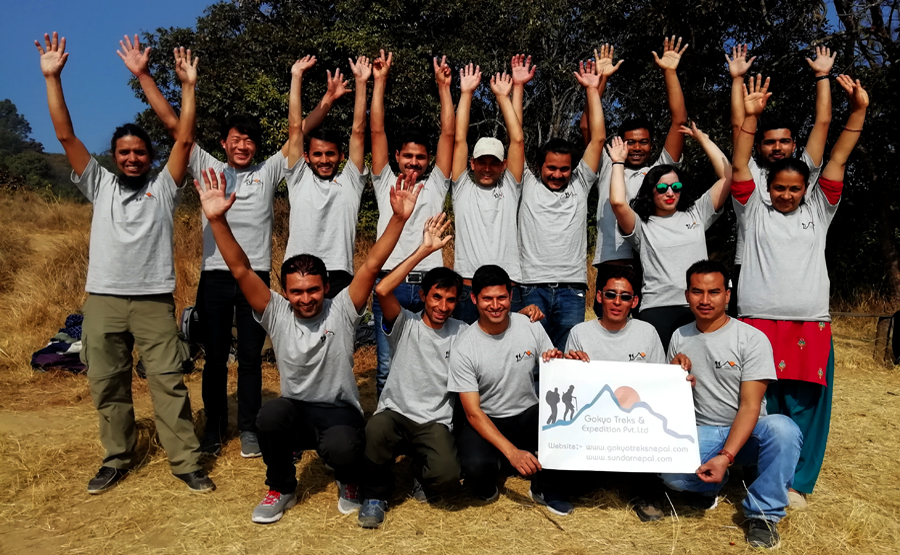 Budhanil Kantha – The Lord Vishnu Temple
Nobody knows where this fantastic five-meter stone came from. It didn't begin in the Kathmandu Valley. It was conveyed from some distant area and formed into the tranquil picture of Lord Visnu lying on the Cosmic Sea once on the site. You blend with the Hindu admirer and ministers as they play out their holy Pujas over the waters that the inconceivable icon lays upon.
It is here you travel with your private aide who clarifies the entirety of the imagery and which means of this astounding spot. Most guests to the Kathmandu Valley will, unfortunately, miss this spot although it is the most popular Hindu pilgrimage site.
Things to do around Budhanilkantha Temple
Apart from Budhanilkantha's main shrine, there are some other important things to do. Cycling to Shivapuri nature park is another top attraction on your day tour. Climb up to Baghdwar or Baghdwar is the place where the Bagmati River starts. There is a little lake encompassing a Shiva sculpture in its middle. The spot additionally comprises other Hindu and Buddhist landmarks and stone carvings. It is a decent spot that makes a pause and partakes in the wood's vegetation.
Budhanilkantha School often referred to as BNKS, is a competitive public boarding school in Nepal. It is located in Narayanan, 8 kilometers north of Kathmandu on the foothills of Shivapuri mountain. It is named after the Budhanilkantha Temple which is located nearby.
Visit Nagi Gompa is also a top spot for visitors takes about 3/4 hours roughly after Budhanil Kantha checkpost at Pani Muhan. A dusty path, encased by the rich green woods drives you up a course that continues to get more extreme and smaller until at least you end up in Nagi Gomba.
Adorned with beautiful supplication signals and possessed and kept up with by the nuns who live there. It's likewise an optimal spot to partake in the valley view without the contamination or the structures hindering it.
Shivapuri Hike – Shivapuri National Park day Hiking tour Itinerary.
Hiking Shivapuri peak is the second-highest hill after Phulchoki and is absolutely a paradise for bird-watching lovers. The best Shivapuri hike offers various trek routes and you can select the best suits as per your demands. They are the most demanding hikes in Shivapuri National Park, near Kathmandu town.
I Option: See the Budanilkantha sights – Bagdwar – Shivapuri Peak – Nagi Gompa – Budhanilkantha Tour, 7/8 hours.
Visiting Bagdwar, the source of river Bagmati which you can see at Pashupatinath temple. Furthermore, Shivapuri peak is the highest hill station about 2,732 meters and Nagi Gompa located at an altitude of 2340m is another attraction besides Bagdwar.
Likewise, at the high point a statue for Shivapuri Baba, a holy man who lived in the mountains for years and visited the summit daily, regardless of the weather. Descending off the summit to the east, you'll pass the ruins of the old home of the holy man, followed shortly thereafter by a more modern Buddhist monastery. Both places are famous for tourists who want to practice Buddhism and meditation.
II Option: Budanilkantha sightseeing – Bagdwar – Nagi Gompa – Kopan Monastery Tour, 5/6 hours.
Go with a tourist guide to Budhanil Kantha to see its sights. Get to know the heritage site and walk to the Military check post to enter the nature park. Todke Baba is a sage who meditated in a tree trunk. On the way, we ran over an empty tree trunk. It was colossal. On its top, from where the tree was cleaved down, not many Zinc strips filled in as a rooftop. The aide let us know that the spot was utilized by a sage from Haryana, India. As he thought inside the tree trunk, individuals referred to him as "Todke Baba".
In Nepali, an empty space inside a tree trunk is designated "Todka". The tree trunk has now been abandoned and an ashram for reflection has been by the Baba. The spot has offices for remaining, thinking, and performing yagna (blessed proposing to the fire). Continue to hike in the depth of the park and choose the direction to Tare Vir to exit for Kopan Monastery. Look at the Monastery, see around, and take a private transfer back to your hotel in Town.
Shivapuri National Park Fact
Hiking Duration: 3 to 6 hours Maximum Height: 2,730m/8,957 feet Hiking Type: Private Hiking Tour. Grade: Easy to Moderate Difficult. Shivapuri National Park Location: In between Kathmandu and Nuwakot. Best season for hiking: February to May and from September to December. Best Mountain View: Manaslu (8,165m), Ganesh Himal (7,446m), Lantang Lirung (7,245m) & Shivapuri Peak itself.
Additional Information (TIPS AND TRICKS)
Confirmation will be received at the time of booking
a wheelchair is not accessible entire the tours
A maximum of 15 people per booking
Travelers with back pain are okay but not recommended for pregnant, and very old travelers.
It's a private/group tour/activity.
Cancellation Policy
You can cancel up to 24 hours in advance of the experience for a full refund. For a full refund, you must cancel at least 24 hours before the experience's start time. If you cancel less than 24 hours before the trip starts time, the amount you paid will not be refunded.
Any changes made less than 24 hours before the experience's start time will not be accepted. Limitations of time are based on the experience's local time.
Shivapuri Hike day tour Cost Includes
AC private car transfer (from your hotel in Thamel to Budhanil Kantha Temple and return).
Shivapuri National Park entrance fee.
A professional certified license holder Tourist guide while on Tour.
Nepal Government Tax, VAT, and as well as Company service charge.
Hiking completion certificate, you keep as a souvenir.
What's not included on Shivapuri Hiking tour price:-
Nepal entry visa fee.
All meals and drinks, and your travel insurance.
Tip for the Guide and Driver
Any other things which are not mentioned above
Shivapuri Hike day tour highlights
Discover the high mountains such as the Ganesh Himal, Manaslu, and Langtang Range of Earth.
The total length of this hike is around 18.62 kilometers.
Impressive views of Kathmandu city, Nang-Kyi Gompa, and Budhanilkantha temple heritage sites.
Pure Nature walk through the mixed Rohodondron forest mixed with some helbal plants.
Things to know before your Shivapuri Hike:
The hiking hours are depending upon the route you choose while you are in the National Park. There are local guides at the checkpoint who force you to pay if you enter from Budhanilkantha. Local guides who stay at the park are not educated like Government-certified Guides but they know the basic names of Birds. So, pay attention to it.
Likewise, there are some important this to know before your hikes.
Stay always together so, the slowest hiker near the front keeps your group together.
Keep Track of Your Time and Distance.
Be courteous and cautious of others out on the trails.
Know your limits and pay attention to how you are feeling when on the trail.
Use long trousers to save from sharp grasses and thorns.
Hiking can drain your energy quickly, so eat snacks, and fruits and drink water.
Be careful with time and watch where you are walking, especially on slippery areas or near cliffs.
Shivapuri Hiking Traveller's Review
Shivapuri Day Tour Near Kathmandu
Wow, the nature park hike was awesome. The landscape looks untouched and beautiful. Spending an hour at Suryachour was worthy. Take a coffee break and watch the mountains.
Response from Gokyo Treks Nepal
Thank you Rainer for your time to submit your review
Shivapuri Hiking a full day in Kathmandu
Great place to visit. Ammar picked up us for the Budhanil Kantha and shipauri tour. I suggest taking a professional and licensed guide, it's always worthy rather than a local one. A guide will take you to the peak point to see the best mountains and the valley. The Boudeshwor with Suryachour hike is the best. best!

Response from Gokyo Treks Nepal
Thank you
Best hike in Shivapuri Park.
Wonderful park for a day hike, have spent about 4/5 hours. There are a lot of crowds during peak season especially leading up to Nagi Gompa and Bagdwar. If you visit, make sure to see more than just Bagdwar and Shvapuri peak if u have time. There is so much more to this park than you would think!

Response from Gokyo Treks Nepal
Thank you
Best Hiking Experience with Guide Som Shrestha.
Shivapuri National park is a once in a lifetime place to go see, it is a place of wonder. Several small trails are connected, so hire a guide not to miss nature.

Response from Gokyo Treks Nepal
Thank you for the review.
Book a Nature tour guide for the Shivapuri Day hike into the Shivapuri National Park.
From US$ 94
2% Off
US$ 55
| | |
| --- | --- |
| No. of people | Price Per Person |
| 1 | USD 92 |
| 2 | USD 55 |
| 3 | USD 55 |
| 4 - 6 | USD 35 |
| 7 - 9 | USD 30 |
| 10 + | USD 25 |
Book Now
Customize Trip
Cost & Departures
Your Trip Your Style!
ITINERARY, COST, DEPARTURES, will adjusted according to your GROUP SIZE NEED TIME
Book with Confidence
Lowest Price Guaranteed.
100% Customizable Trips
Excellent Customer Service
Hassle Free Booking.
90 % Repeated customers
Highly Recommended agency
Private/group tour options
Local Guides Company.