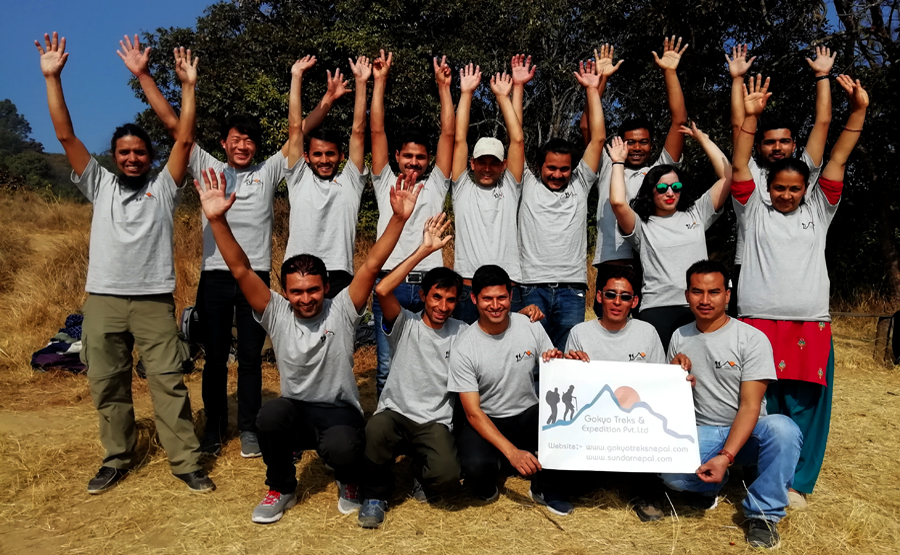 Hire a local guide and porters in Nepal
If you're looking to hire a local guide and porter for your trekking adventure in Nepal, there are several options available to you. Hiring a guide and porter can greatly enhance your trekking experience by providing local knowledge, assistance with navigation, and carrying your belongings.
We at Gokyo Treks & Expedition agency have a very good network of professional/licensed holder Guides, Sherpa, Sardar, and Porters. They are friendly, honest and have done the trip to the Himalayas for over 12 years.
Our guide serve you the best quality in trekking, tours, and eco-tourism. They assist you with information on lifestyles, religion, geography, local culture, festivals, vegetation, climates, medicinal herbs, wildlife, rocks, birds, livestock, local agriculture, and flora–fauna.
Trek Guides participated for 35 days special training course organized by Government of Nepal, Ministry of Civil Aviation and Tourism to obtain for trekking guide license.
This type of guide is a person who cares 24 hours a day, even during the night without troubling your peace and privacy. The guide should be the one who doesn't drink alcohol since local alcohol is one of the free drinks which is offered to guides and guides misuse the drink forgetting their duty in the evening times.
If you need a special language guide, speaking your local language other than English, those guides with the above-mentioned qualities will cost you around US$ 80 a day. It's called a special tourist Guide in Nepal.
However, hiring a trekking guide is a cheaper way for your trekking in Nepal. A professional trekking guide speaks normally to standard English and never drinks alcohol on duty. He/she has a simple knowledge of religion, lifestyles, geography, festivals, vegetation, climates, medicinal herbs, wildlife, rocks, birds, livestock, and local agriculture.
Why hiring a license trekking guide is MUST for trekking?
As per the new law of Nepal government, hiring a license trekking guide is MUST for trekking in the Himalayas for several reasons: –
Client's Safety:
Hike into the Himalayas present challenging terrains and unpredictable weather conditions. A licensed trekking guide possesses the necessary knowledge and experience to navigate these challenges and ensure the safety of trekkers. Especially if you trek into a remote area there is a high chance of altitude of mountain sickness.
To avoid unnecessary risks when in case you feel sick or need any kind of help, our professional guide will help you to arrange necessary rescue like a horse riding or helicopter. Because they are trained in first aid and can handle emergency situations effectively.
Local Expertise:
Licensed trekking guides are well-versed in the local area, including the trails, landmarks, and potential risks. Provides the valuable information about the region, its culture, and natural history, enhancing your trekking experience. Their expertise enables them to plan itineraries, manage logistics, and make informed decisions during the trek.
Navigation:
Wilderness the Himalayan trails are complex, with multiple intersecting paths and limited signage. A licensed guide is skilled in route finding, minimizing the risk of getting lost. They can also adapt the route based on weather conditions or any unforeseen circumstances.
Cultural Understanding:
The Himalayan region is rich in cultural diversity, with various ethnic communities residing in the area. A licensed guide can serve as a bridge between trekkers and the local communities, facilitating meaningful interactions and helping you understand and respect local customs and traditions. In addition, Guide even help you to update some Nepali phrases if you want.
Support and Motivation:
A license guide provides constant support, encouragement, and motivation throughout the journey. Could help pace the trek according to your abilities, provide tips for acclimatization, and ensure you have an enjoyable and rewarding experience.
They are helpful not only to showing trails or sharing local cultures and sites or carrying your Luggage but also helpful wherever and whenever you need help. Even at night, your guide runs downhill for the fastest support if you are in an emergency to organize the quickest rescue and take care of you in the high mountains.
Environmental Stewardship:
Licensed guides are typically trained in responsible trekking practices that prioritize the preservation of the fragile Himalayan ecosystem. They can educate trekkers on Leave No Trace principles, minimizing their impact on the environment and promoting sustainable tourism.
Overall, hiring a licensed trekking guide enhances safety, provides valuable expertise, ensures proper navigation, facilitates cultural exchange, offers support, and promotes responsible trekking practices, making it a necessary choice for trek in the Himalayas.
Do you highly recommend to hire a Guide?
Yes, hiring a guide for your base camp trekking in the Himalayas is highly recommended. A knowledgeable guide provides invaluable expertise, ensures safety, offers cultural insights, and enhances your overall trekking experience. They navigate the trails, assist in acclimatization, and facilitate interactions with locals, making your journey more enriching and enjoyable.
Hiring a trekking guide in Nepal with our agency is easy. About 15 professional trekking guides, 5+ porterguides and 25+ porters are currently getting jobs in Nepal with our agency. Our guides are professional and the porters are strong enough with friendly. Attention! to hire an independent trekking guide in Nepal because some private guides get guide training course but have never been on the trail before and also doesn't have insurance.
Therefore, choose our agency to hire a guide and porters in Nepal as we are an honest trek operator agency and our guides know the trail better than others.
Every year, there are some tourist missing and died in the Himalayas because of using YAK trail. YAK trails are often incorrect because of dense forest trail with muddy and snowy. Therefore, to allow for your safe journey Nepal Government banned the independent trekkers from 1st of April 2023. In this way, trekkers must hike taking a licensed Guide from an agency.
Benefit for a local Sherpa Trekking guide and porters hire in the Himalayas
There are several types of Guides in Nepal to Hire and their daily cost depends upon their quality of guidance. Or salary of the guide depends upon the quality of the Guiding skills. It starts from basic English speaking to professional English-speaking guides. Sherpa Trekking Guides hire for Everest trekking routes are the most popular.
Sherpa is a cast born and grew up in local environments in the high mountains of Nepal and has worked as a porter and guides tourists in history. Some of them are working in Tourism jobs since the 1950s. Being living between 4,900 feet to 15,745 feet above sea level, they never feel Altitude Mountain sickness. Sherpas are brave and Sherpa climbing guides are famous around the world. Nowadays, they become climbers and are involved in the mountaineering profession in the Himalayas. They are strong enough with high altitudes, so hire a Mountain Sherpa Guide in Nepal is the best decision if you plan to climb a high peak in the Himalayas.
Trekking in the Everest region means the home of Legendary Sherpa. So Hiring Sherpa or Sherpa Guide for your trek is extra beneficial to know Sherpa's history. Gokyo Treks agency has some climbing Sherpa guides who are working over 12 years of experience in the trek and climbing profession.
Outstanding professional Guide verses normal trekking Guide
An outstanding professional guide brings exceptional expertise, in-depth knowledge of the terrain, safety protocols, and cultural insights. Enhance the trek with valuable information, personalized attention, and seamless logistics, ensuring a memorable and safe journey.
Every day hire cost for an outstanding professional guide tends to be higher due to their extensive experience, advanced skills, and in-depth knowledge. This investment often translates into a more enriching and secure trekking experience.
In difference, a normal trekking guide offers basic guidance, may have limited English language skills, and might not provide the same level of expertise or enriching experience. Opting for an outstanding professional guide can significantly elevate your trekking adventure.
Likewise, the daily hire cost for a normal trekking guide is generally lower, but they may offer fewer specialized insights and services. While the cost may differ, the choice between the two depends on your preferences and the level of support you seek for your trek.
COST TO HIRE A LOCAL TREK GUIDE FOR TREK IN THE HIMALAYAS?
When planning your trek, it's important to note that the cost of hiring a Trekking Guide varies depends you choose to embark on your adventure. Opting for the expertise of a professional trek guide offers advantages, as their adept communication skills.
Likewise, the ability to elucidate the nuances of high-altitude mountain sickness can greatly enhance your experience. However, the comprehensive cost covers all meals, lodging and insurance for a single guide hire per day.
We emphasize our status as a local expert trek agency based in Kathmandu, Nepal. It is therefore advisable to opt for a local trek operator over a larger international counterpart. Choosing a local trek operator not only results in a more cost-effective pricing structure, but also contributes to the welfare of the local economy.
Hikes in the high season such as September to early December and March to May months notably crowded. Consequently, the cost associated with hiring a private Trek tour guide is higher during this period in comparison to the low season.
As per given below, you will find trekking guide rates and the presented costs encompass travel and accidental insurance for each Nepali guide or porter.
Trekking Guide and Porter hire cost in a peak season trek in Nepal
| Private Trekking Guide Hire Cost (daily) | Normal Guide | Outstanding Guide |
| --- | --- | --- |
| Langtang trek guide hire cost: | US$ 20 | US$ 28 |
| Annapurna trek guide hire cost: | US$ 20 | US$ 30 |
| Everest trek guide hire cost: | US$ 20 | US$ 30 |
| Manaslu – Tsum Valley trek guide hire cost: | US$ 20 | US$ 33 |
| Professional Porter Hire Cost (daily) | Solo Tourist | Couple |
| --- | --- | --- |
| Langtang trek porter hire cost: | US$ 17 | US$ 18 |
| Annapurna trek porter hire cost: | US$ 17 | US$ 18 |
| Everest trek porter hire cost: | US$ 18 | US$ 20 |
| Other area porter hire cost: | US$ 20 | US$ 22 |
Hiring a Guide and porter salary/ cost includes:-
– Their daily wages – salary of guide – porter
– All meals & Accommodation guide – porter. 
– Insurance & equipment of trek Guide – porters. 
– Applicable Government TAXES and Value Added Tax (VAT 13%)
Have in mind that if you are planning hike into the Restricted area of Nepal then we need special documentation to get permits so in that case Gokyo Treks agency service charge is excluded in the above price.
All our staff members are fully insured, providing coverage for medical and accidental incidents. We prioritize to offer competitive salaries, ensuring for well equipped for trekking. Additionally, provides them with comprehensive medical and rescue/evacuation services in case of emergencies.
Moreover, we take the safety of our clients seriously, especially in the context of the ongoing COVID-19 pandemic. Therefore, we can assure you that all our hiking guides and expedition guides have been vaccinated against COVID-19. Additionally, they possess extensive experience and expertise, enabling them to provide in-depth knowledge about the surrounding mountains and landscapes, setting them apart from less seasoned guides.
We believe in maintaining transparency and updating our rates regularly. As of August 1, 2023, the rates mentioned above are in effect, providing our clients with the most accurate and up-to-date information