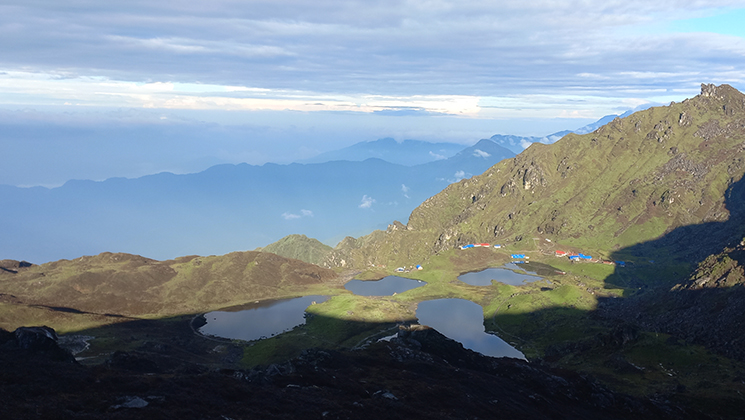 Panch Pokhari Trek Summary
Panch Pokhari Trek Duration: 7 Days
Panch Pokhari Trek Difficulty: Easy Hikes
Panch Pokhari Height: 4,283m/14,052 feet
Trek Hour: 6 Hours daily
Group-Size: 1 – 15 People
Best Time: April to November
Trip Mode: Lodge Basis Trek
Foods: Breakfast, Lunch, and Dinner
Transportation: Bus/Jeep [sharing basis]
Overview
The Panch Pokhari trek is commonly known as five small sacred lakes & each lake has a different name and they are derived from Lord Shiva. It's a pure pilgrimage trek that offers an astonishing view of snow-topped mountains such as Dorje Lakpa (6,966m), Phurbi Chhyachu (6,637m), Madiya (6,257m), Rolwaling and Langtang range, Jugal Himal…etc.
Pokhari are called little lakes which are holy and divine that has charming biological diversities contribute to deserving the trip. Furthermore, the trip consists of the base of the Jugal Himal range in the initial and concludes in the lower part.
Trek to Panch pokhari ascend through the several Sherpa and Tamang settlements and cultural factors of their lifestyles and incredible hospitality. Moreover, the five sacred lakes trek passes through some beautiful and interesting localities and you might see some of the wild animals such as Musk deer, Himalayan black bear, Monkeys, Himalayan wild goats, and particularly birds and wildflowers along the routes.
Hike to Panch pokhari is a religious and spiritual tour where the excursionists view five sacred ponds of its surrounding. Besides that, the five lakes of Sindhupalchowk are a tranquil eternity and are dotted by the colorful rhododendron forest, which is extremely spectacular in the spring season. However it's not very difficult, so you can trek at any time throughout the year except winters.
As Panch Pokhari is a new open hiking routes in Nepal, local tourists especially college/university students and bankers are discovering the sacred panch pokhari lakes frequently. Therefore sometimes the local guest houses on the hiking route have full of Nepali tourists.
How much does Panch Pokhari Trek Package Cost/Price?
The cost of the Panch Pokhari trek package with a Gokyo Treks Agency (local trekking agency) ranges between US$ 499 to US$ 750. And certainly, the trip price will vary according to the group size and mode of transportation that you use. However, the given package price includes transportation, a guide, porters, hotels and food accommodation and hiking permits, facilities.
Likewise, we also have seasonal discount deals. For example, if you could bring 10+ travelers (except you) on your trip, you are treated as a group leader. So you can hike to Panch Pokhari on 50% discounts.
However, we often arrange private trips in order to avoid group tours with strangers. A private tour gives you a better experience on your hikes. If you value personalization, flexibility, and in-depth experiences, a private trip customized to your personal needs will be the best option.
It is the standard trip package price for 7 days trek. If you are 2 people Panch Pokhari Trek cost US$ 590 for 7 days trek according to the given alpine hiking plan. We can modify the trek route and the prices according to your wishes also. Here is the price list for the Sacred lakes tours.
Price Per Person for 7 days hike in Panch Pokhari route.
| Number of Tourist | Price Per Person |
| --- | --- |
| 1 Person | US$ 750 |
| 2 Person | US$ 590 |
| 3 Person | US$ 580 |
| 4 to 6 person | US$ 550 |
| 7 to 9 Person | US$ 525 |
| 10 and more than 10 Person | US$ 499 |
If you're wondering to know about what is included and what is excluded from this trip price, kindly check on the cost given on a tab button.
Itinerary
Panch Pokhari trek itinerary details
The Journey to Panch Pokhari Sindhupalchok is a classical short trek itinerary compared to most walks in this region leading up to the sacred lakes and the hill station. The particular holy lakes trek route is designed for the world traveler who wishes to trek rapidly in a more comfortable, take a look at this itinerary.
1 Day
Arrival in Kathmandu valley. World Heritage sites of Kathmandu Sightseeing, 5-6 hours.
Arrival in Kathmandu, Tribhuwan International Airport and pick you up and drop you at your hotel in Thamel, Kathmandu. After some refreshments, we start to visit world heritage sites located in Kathmandu city. The day tour includes Boudhanath Stupa and Pashupati temple (holy shrine of Hindus) where the cremation takes place at a holy river Bagmati. Later on, we visit Kathmandu Durbar Square to see glorious temples and the divine Kumari Temple, and Syambhunath Stupa. In the evening, Ammar Guni will brief you about the Panch Pokhari Trek trail information.
2 Day
Kathmandu to Chhimti village (1,800m/5,906 feet), 6-7 hours drive
Meet the trekking group at your hotel in a breakfast time and proceed to drive to Melamchi Bazaar. Melamchi Bazaar's fame can be attributed to its role as a gateway to the Melamchi Valley, the significant water supply project, cultural diversity, trekking opportunities, and the bustling local market.
All these factors contribute to its appeal and make it a renowned destination for travelers seeking a unique and multifaceted experience in Nepal. We follow the Melamchi highway road through Sankhu and Jarshing Pauwa hills. The overland drive from Kathmandu to Melamchi and to Chhimti homestay takes about seven hours.
3 Day
Chhimti to Nyasim Pati trek (3,631m/11,913 feet), 7-8 hours
We commence the journey after breakfast from Chhimti viewing the great landscapes including an artificial waterfall across the river. We enjoy the gradual ascend through rocky hills, tiny hamlet like Deurali and Tuppi danda through the rhododendron rain forest camp at Nyasim Pati. Some homestay are available on every stations where we could stay overnight and purchase foods. Many pilgrims on their way to the Panch Pokhari holy site, use to stay into the local home stays and enjoy with the great mountains view.
4 Day
Panch Pokhari Trek (4,060m/13,320 feet), 4-5 hours
Today we ascent through the rocky hills to reach our destination of Panch Pokhari (panch means 'five' and pokhari means 'lake'). This stunning setting is a secluded pilgrimage site where the Janai Purnima festival is held in August. Many Hindu and Buddhist pilgrims visit this site each year and we can see two pilgrim houses and the temple dedicated to Lord Shiva.
5 Day
Hike to Panch Pokhari viewpoint (4,283m/14,052 feet). Descend to Tupi Danda (2,320m/7,612 feet), 7-8 hours
An early morning, we start to hike to viewpoint a ridgeline to catch a stunning sunrise over the mountains. Viewpoint is situated at an altitude on 4,283 meters that takes about an hour to hike from lake side lodges. Travelers can catch the glimpse of the high mountains such as Mt.Dorje Lakpa, Jugal Himal Range, Rolwaling Range, and Langtang Range including 5 sacred lakes.
Additionally, you might also walk around the lakes to watch the colorful view when the sun comes. Likewise, you can also visit the Shiva Temple. Return the hotel for breakfast and after all incredible views, we descend gradually to Tupi Danda passing via Nyasim Pati and Taph Kharka. Tupi Danda (danda means 'ridge') is situated in the hilltop, heart of rhododendron rainforest that stays with some lodges.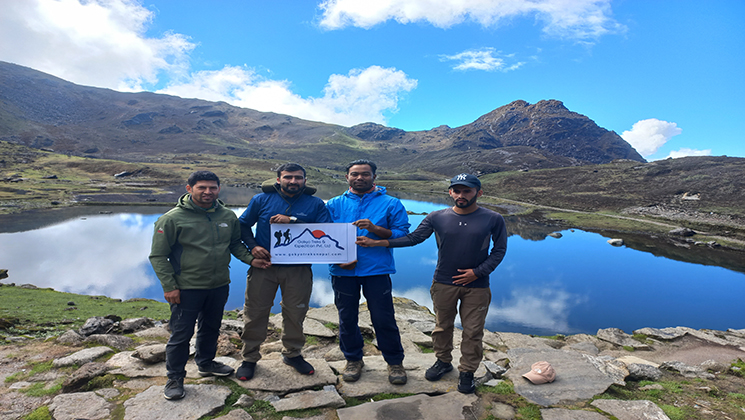 6 Day
Tupi Danda to Chhimti Homestay (1,200m/3,937 feet), 5-6 hours
Today, we walk through terraced fields such as a fertile land of Brongdo Gang, Deurali and to the beautiful Chumti village where we started our hikes. Chumti is home to Tamang families where traveler's get a chance to gain some insight into the lives, culture, and traditional architecture of Tamang villages.
7 Day
Overland drive from Chhimti to Kathmandu, 6-7 hours. Trip finish!
We descend through terraced fields along the Indrawati River, admiring the scenic villages scattered throughout the Melamchi trail. Melamchi Pul Bazaar is on the banks of the Melamchi Khola (River) and the Indrawati River, relatively large town compared to other village of our journey.
In addition, there are some basic to comfort hotels in a Melamchi Bazaar for trekkers who plan to stay there. Small tea shops, government offices, schools, colleges, a post office, and an army camp are also available in Melamchi Bazaar. If you're feeling brave, take a cold bath or swim in the river and get back on four wheels and enjoy the scenic drive back to Kathmandu. After a long road drive, we will have a super delicious farewell dinner in the evening. Overnight in a hotel.
In this way, the Panch Pokhari trip ends. And we wish you a wonderful journey back home.
Not satisfied with above plan?
Interested on planning a custom trip? this might take 2 to 3 minutes.
Cost
How much does Panch pokhari trek package price?
Today, Panch Pokhari trek package price US$ 590 per person is the standard trek price on double occupancy basis. At this price, we offer you Tourist Standard accommodation in Thamel, Kathmandu.
For the deluxe and luxury trekking tour plan, we add a 3-5 star category hotel deluxe air-conditioned room in Kathmandu with breakfast. Likewise, the comfortable room with an attached toilet/bathroom is in the possible places along the trail. AND WE ARE OPEN TO CUSTOMIZING YOUR TOUR AND PACKAGES PRICE AS PER YOUR REQUIREMENTS.
Hike Panch pokhari trek package price includes:-
Kathmandu international airport pick up on your arrival time with a private car.
Single night double bedroom accommodation in a tourist standard hotel in Kathmandu.
Guided sightseeing by a Certified Tour Guide in Kathmandu valley with private vehicle.
7 Breakfast, 6 lunch, and 6 Dinner on Panch pokhari trekking route.
5 Nights Lodge accommodation on Panch Pokhari trekking route.
Langtang National Park entrance permit fee.
Trekkers Information Management System (TIMS) permit fee.
Bus transfer from Kathmandu to Chhimti village & return Kathmandu (sharing basis).
Professional English-speaking license holder mountain trekking guide.
Experienced porters (2 guests: 1 porter basis) because each porter carries a maximum of 22 kilos.
Salary, food, accommodation, and travel insurance for all Nepali hiking crew.
Seasonal fruits like apples and pomegranates as a dessert after dinner for holy panch Pokhari trekking.
Agency's duffel bag (50 liters capacity), and hiking poles if Necessary – return after the trek.
First aid medical kit including Oximeter to check your Oxygen level, Pulse rate to monitor every day to prepare for high altitude risk.
In a worst case, help with all Helicopter Rescue and evacuation arrangements (but not the rescue bills).
Trek completion certificate and the latest Panch Pokhari trek map – keep them as a souvenir.
Nepal Government Tax, VAT, and as well as Company service charge.
The holy Panch Pokhari package trek price excludes:-
Lunch and Dinner during the staying in Kathmandu
Any kinds of battery charges, laundry service, phone calls…etc.
Tourist personal trekking types of equipment .
Personal nature expenses, all types of drinks, and bar bills.
Travel Insurance which covers emergency rescue, evacuation, personal loss, or damage.
Monuments entrance fees and donation
Gratuities for guide and porters [Tip is a culture, so they expect highly].
Other things which are not mentioned above
Group join
We can organize private Panch pokhari trekking starting on any date that works for you. Book your trip with us and get a Panch pokhari trek map from us to know the places, homestays along the journey. However, please contact us for more information.
FAQ
Question: Is pick-up service available on my arrival day in Kathmandu?.
Answer: Yes sure! provide us with your flight details. Our representative will come to pick up you at Kathmandu international airport.
Question: Do I need the experience to do the Panch pokhari lodge trek?.
Answer: No! But if you can walk about 3 hours each day with a lightweight day pack would be easier.
Question: Can I store my luggage/stuff in Kathmandu?
Answer: Yes, you can leave your luggage at your hotel or at our office. Store your stuff in the Gokyo Treks agency office for free.
Question: Is the five Sacred Ponds trekking Safe for Solo Female Trekkers?
Answer: Absolutely. Nepal is a safe country to travel to for solo travelers; this trek is perfectly safe for solo female trekkers. We have been organizing the trek even for solo female travelers since its establishment.
Question: What kind of accommodation can I expect? on a tent camping trek?.
Answer: We provide you tourist standard accommodation in Kathmandu and you will have a lodge accommodation along the routes. But you need to take your own sleeping bags if you have one with you otherwise, you may rent them while you are in Kathmandu.
Question: What kind of food can I expect on the 5 sacred lakes trek?
Answer: Because of lodges developments, 5 Sacred lakes at Panchpokhari is a fully lodge base trek in Nepal. However, backpackers can also hike by just hiring a guide and porters. Available lodges are just simple but you will get good foods and rooms. However, if you choose the outdoor camping adventures its also possible paying an extra cost. Our professional cook will cook a delicious range of mostly vegetarian such as Pasta, tuna bakes, noodles, potatoes, eggs, bread, soups, rice, and fresh vegetables.
Question: What opportunities will I have for a shower along with the Panch Pokhari trek?.
Answer: As we are on a lodge trekking, you can often get hot showers on perhaps on extra cost.
Question: How do I get drinking water on express Panch Pokhari trekking?
Answer: In some places, you can buy bottled mineral water to drink but we advise against buying mineral water in plastic bottles, as currently there are no provisions for disposing of these. Instead, we advise you to bring Aqua tablets to purify the normal water as the normal water is available at the campsite.
Question: Can I charge my digital camera or other batteries on my Panch pokhari treks?.
Answer: At lodges, its possible to find charging points. However, on the Tent camping trekking there is very very little chance to charge the battery. We recommend you bring an extra pair in case. Remember to bring your own adapters!
Question: Are there any communication facilities?.
Answer: Yes! Sometimes you can get telephone services as well as the internet, so buy a local SIM card.
Question: Can I use credit cards?.
Answer: No! To maintain your daily expenses on a trek you need to bring all in cash Nepali rupees because credit cards work only in the bigger cities.
Question: When should I book my trip and what are the payment terms?
Answer: Because our trips book up months in advance, we recommend booking early to avoid any kind of misunderstanding. We will, of course, make every effort to accommodate last-minute bookings.
And regarding the deposit, we prefer a 15% advance deposit of the total price of the trip in order to confirm your reservation before you arrive in Nepal. And the rest of the payment can be made after your arrival in Nepal.
Question: Who will carry my luggage on Panch pokhari trekking?
Answer: We provide porters to transfer your luggage. As we are a responsible trek operator agency, each of our porters carries a maximum of 24 kilos of Traveler's backpack which means 2 guests (12 kg luggage of each guest): 1 porter basis. If you wish to have a private porter, you can get it at an extra price.
Question: How much distance do I walk each day?
Answer: When walking in the mountains, the distance you cover each day can vary greatly due to gradient, terrain, and altitude. As such it is very hard to give specific distances for each day, however, you have to be prepared to walk for roughly about 5 hours each day.
Question: Do I need walking poles?.
Answer: It is better to hike with walking poles. Learn how to use trekking poles for balance and stability, whether on the sidewalk or on trails. Walking poles can help prevent slips and falls. They are just recommended but not compulsory.
Question: How much additional money do I need per day?
Answer: You can allocate US$ 08 – 10 for a lunch/dinner in Kathmandu and it depends on your spending habits. US$ 7 to 10 US$ each day will be enough to buy bottles of water, chocolates, tea coffee, and some drinks while you are on your trek.
Panch pokhari trek tour highlights
Experience the spiritual journey to Panch Pokhari divine lakes.
View some of the tallest Mountains and colorful rhododendron forests (Spring).
Walk through cultivated fields, multicolored Rhododendron, conifers, and oak forest.
Best view of Himalayan scenery including Dorje Lakpa (6966m), Phurbi Chhyachu (6637m), and Madiya (6257m)
Experience the Sherpa and Tamang villages and their lifestyles.
How difficult is to go Panch Pokhari Trek?
Panch Pokhari's journey is a fairly difficult trip in the Helambu locality. This region is still an isolated wilderness route thus there are very few hikers to visit. Along these lines, visiting this district is compensating as far as the experience you get. There are a few homestay lodges, so it is surely difficult as far as appropriate accommodation facilities. There are a couple of teahouses in the lower parts. Nonetheless, you may need to camp in the higher rises. The most wonderful piece of traveling is you can encounter the extremely remote and rustic climate in the stunning scenes of Nepal.
journey to this sacred lakes at 4,100 meters above the sea are a chance of getting a height altitude if you ascend quickly. The appropriate prescription and different insurances can assist with alleviating the danger of extreme Acute Mountain Sickness. Accordingly, prior to travel, tourists need to check and get updates about Altitude mountain sickness features and its significance.
The colder time of year and late spring are not prescribed to travel around the lakes. Hiking in the monsoon of rainstorm and summer opens you to geological danger. During the rainstorm season, the mountain landscapes are inclined to torrential slides and avalanches. In this way, it is best kept away from. Likewise, you will not positively like the leeches and earthworms along the trails. The uncertain weather and climatic conditions in summer make it unfavorable to visit mountain areas.
Winter is an awesome opportunity to investigate new spots. However, the snowfall and chilly cold in the higher rises and not really open sky make it very horrible. Likewise, there are chances of losing the traveling trail as the climate may be gloomy and snowy. This can be unforgiving. Along these lines, we never suggest you visit holy lakes during rainstorms and winter.
Notes for Panch pokhari trekkers!
Pilgrimage route at Panch pokhari distance from Kathmandu is 107.6 kilometers via Melamchi – Bhotang Road. However Kathmandu to Bhotang road distance is 81.6 km and for the remaining part of the Journey, you need hikes. Interested trvellers can also add 3 more days to cover the most highlights of Helambu Ama Yangri hilltop.
Trek to Panch Pokhari itinerary is subject to modification due to a condition out of our control. This is a Guideline showing tentative camp night stops. Physical, technical, and natural conditions may change the above itineraries.
What makes Panch Pokhari trek special?
Hike to Panch Pokhari route has the combination of stunning natural beauty, cultural significance, and ecological diversity makes the Panch Pokhari hike an unforgettable and cherished experience for visitors seeking a truly special adventure in the heart of the Himalayas.
We at Gokyo Treks and Expedition believe in quality services. Your safety and satisfaction is our concern. We are a team of professional, experienced, and licensed local guides who know the destination better.
Panch Pokhari Trek Review
Panch Pokharai 7 Days camping tour just awesome
Panch Pokhari is a great hike to everyone. It's a beautiful cultural and off-the-beaten trek in the Himalayas but not the best route if you searching for a 8,000 meters higher mountain view.
We spend 7 days in nature with the Gokyo Treks agency. They arranged everything like all camping gear, tent, food, guide, cook and 4 other strong porters for our trip. Everything went very well so we are very happy to recommend their agency for the Panch Pokhari trek in Nepal. – Toni Kosche, Traun, Austria
Response from Gokyo Treks Nepal
Dear Toni Kosche, thank you for your time to send us Panch Pokhara review for our website. We hope to hear from you for your next camping trip in the Himalayas in a near future.
Beautiful and cultural trek at Panch Pokhari
The trek route was the most amazing significance of nature but was a bit difficult for us as we were not professional hikers, especially in those off the beaten. Gokyo Treks and expedition agency made everything easier.
Our guide plus cook was Kamal with two other porters Mundre and Dipendra were simply amazing. Had a very good food served in the Tent, highly recommend this agency to everyone. – Fabian Chinaglia, Rattenberg

Response from Gokyo Treks Nepal
Thank you Fabian for sending us the Panch Pokhari trekking review. We hope to serve you again for your next camping trip in Nepal.
From US$ 789
5% Off
US$ 590
| | |
| --- | --- |
| No. of people | Price Per Person |
| 1 | USD 750 |
| 2 | USD 590 |
| 3 | USD 580 |
| 4 - 6 | USD 550 |
| 7 - 9 | USD 525 |
| 10 + | USD 499 |
Book Now
Customize Trip
Cost & Departures
Your Trip Your Style!
ITINERARY, COST, DEPARTURES, will adjusted according to your GROUP SIZE NEED TIME
Book with Confidence
Local Guides Company.
18 Years in Business.
Lowest Price Guaranteed.
100% Customizable Trips
Excellent Customer Service
Hassle Free Booking.
90 % Repeated customers
Highly Recommended agency
Private/group tour options