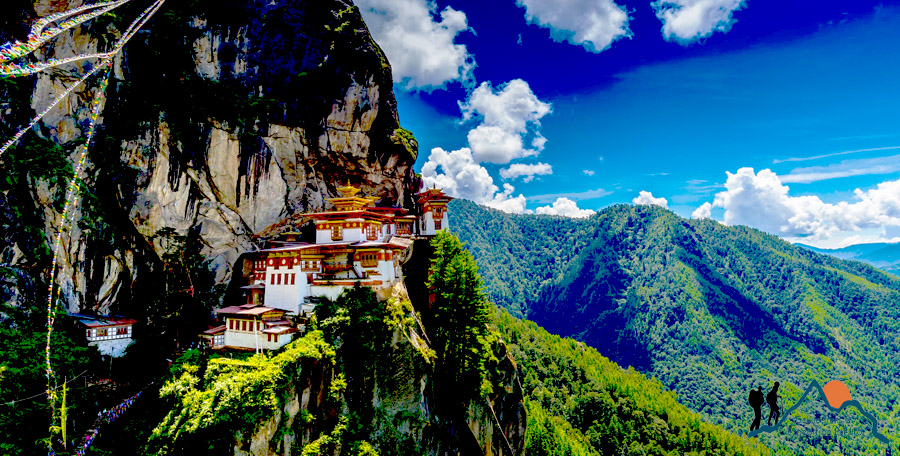 BHUTAN – The land of Thunder Dragon
Bhutan is a small country mark as a land of the Thunder Dragon. Set in between Tibet (China) in the north and India in the south, east, and west. The land area of this country covers 38,394 square kilometers rich in tourism and hospitality.
Although small in magnitude, Bhutan is rich in terms of culture and bio-diversity. It has often been termed the "world's last Shangri-La" because of its remoteness. Beautiful mountain landscape, unique birds, mammals and plants, Buddhist temples, shrines, dzongs, and traditional Bhutanese homes are among the rarest monuments in the world.
As travel to Bhutan, you will meet the friendly Bhutanese people and experience their hospitality. Their traditions of hard job and honesty are passing over the one generation to another. Furthermore, Education and health care are free in this egalitarian society.
Bhutan is a tiny country and has enough luck to get travelers. The country is leading under a rule of a Divine Monarch, King Jigme Singe Wangchuck for 32 years. The King has carefully seen to the needs of the country by saving cultural traditions and delicate ecosystems from outside exploitation while at one time improving the lives of citizens.
Map of Bhutan
The map shows Bhutan, officially the Kingdom of Bhutan, also known as Druk Yul – the Land of Thunder Dragon. The map shows Bhutan and surrounding countries with international borders, the national capital Thimphu, dzongkhag capitals, major cities, and towns.
Historical background – History of Bhutan
According to Gokyo Treks Nepal, the written Bhutanese history begins in the 1600s. All other history is a fable and myth passed down through generations. Many of the stories are dramatized through dance in "tsechus," religious festivals. The usually told story is how the Guru Rinpoche, who took Buddhism to Bhutan, flew in on the back of a flaming tigress.
He landed in Paro (fittingly where the only airport is today) and founded the Taktshang Monastery (called Tigers Nest) perched on a cliff, surveying the valley. It is now the most popular tourist attractions in the country.
Unification from groups of distributed families or clans into a generally establish country occurred in the 12th Century, and the Divine Monarchy took source in 1907 when the first genetic King, Ugyen Wangchuck, was crowned.
In the 1960s, the 2nd King, Jigme Dorji Wangchuck introduced the National Assembly and shared authority with 150 elected representatives who serve three-year terms. Now the fourth King is an officer, walking the tightrope between tradition and modernity. The King educated at Oxford University, has four wives, all sisters, and resides in the outskirts of the capital, Thimphu. It was at his coronation in 1974 that the country was first opened to tourism.
Tourist Policy
Bhutan's tourist policy is different than other countries. Their slogan is "low volume, high quality," and shows the country's commitment to preventing the negative effects of tourism on culture and environment that have affected other developing countries.
Tourists must plan their visit through state-accredited private travel agencies, apply for visas through the trek travel agency, and pre-pay approximately $200/day for their stay. While travel is limited in some remote parts of the country, visitors may openly walk through most cities and villages and blend with local people. In 2019 almost 19,000 tourists entered the country, a number that is increasing slowly over time.
How to get Bhutan?
There are various ways to reach Bhutan. However, if you are from Nepal? the easiest way to get to Bhutan is by plane/air. The only international airport in Bhutan is in Paro, and it is named Paro International Airport. It is around 7 km from the city center.
Travelling on Air – flights
Bhutan's national carrier called Druk Air (+ 975 8271 856) flies into Paro from Kathmandu, Dhaka, and Bangkok, and from Bodh Gaya, Delhi and Kolkata in India directly on a regular basis. Visitors flying from London usually use British Airways to Delhi, Qatar Airways to Kathmandu or Thai Airways to Bangkok.
Overland Bus – jeep to Bhutan
You may also drive into Bhutan from India, via the south-western town of Phuntsholing. If you are not Indians, you need to go with tour operator.
Visa & fees for Bhutan travel
All travel planning must arrange through an authorized travel agent or hotel. Bhutan's government charges daily tourist fees, applicable to all foreigners, except Indian nationals. For group travel, a flat fee of US$ 200 per person per day (US$ 165 in July and August) covers basic all-inclusive accommodation, meals, transport, and a guide.
Independent tourists pay US$ 30 per head per day (based on two traveling together, for solo travelers the charge is US$ 40) as well as US$ 65 'royalties' per person per day (US$ 55 in July and August). In addition, tourists other than Indian nationals pay a one-off visa charge of US$ 20 and a tourism development fee (to aid infrastructure) of US$ 10. All these charges often arise as part of an overall package to Bhutan by tour operators or hotels.
Get a list of Top Popular Trekking in Bhutan
Trekking in Bhutan provides an opportunity to endure its well-conserved and pristine natural environment. The hiking trail ramble twist through the green meadows, mountains, yak grazing lands, and valleys adorned with tall rhododendron trees bursting with pink and red flowers. Therefore, trekking is popular in Bhutan. Likewise, hiking in Bhutan is mainly of three types.
1. Soft/easy trekking routes:
An easy type of hiking is similar to a soft adventure trek. Has an easy difficulty type of activity for beginners and basically involves the view of colorful horizons or sight of beautiful nature. The Druk Path Trek route is one of Bhutan's classic treks and follows an ancient, high-level trade route from Paro to Thimpu in a country visited by only a lucky few tourists.
2. Moderate Trekking:
Moderate trekking is more challenging compared to soft /easy trekking. It is performed on medium to slightly higher altitudes/elevations. A short Dagala Thousand Lakes trek with a medium level of difficulty in the southeast of Thimphu. The trail brings you to a large number of high-altitude lakes. Dagala Thousand Lakes Trek has also a medium-level trek in terms of difficulty, the trek is one that is somewhat strenuous, and while not really recommended for the novice trekker, with an average level of physical fitness, it is possible for even a beginner to complete the trek. Likewise, The Bumthang Valley Trek is synonymous with day hikes in Bhutan and it's easy to tag one trail to the next for longer distances. It is a moderate trek difficulty route in Bhutan.
3. Adventure Trekking
Adventure treks are more challenging compared to moderate and easy grades trekking in Bhutan. Jomolhari Trek in Bhutan is a pilgrimage trekking route. With two different versions, it's one of the most beaten routes in the country, and almost 40% of all trekkers who come to Bhutan end up following one of the Jhomolhari routes. Furthermore, Merak to Miksa Teng [merak-sakteng] trek is long and the difficulty level is an adventure. It will pass through the beautiful Nagchungla pass (approx 4,100m / 13,451 feet). Likewise, the Snowman Trek is also one of the famous hikes in Bhutan as it crosses via various mountain passes.
When to Go?
Bhutan's hoteliers are anxious to dispel a misconception that October is the optimum time to explore. The country, they stress, is an all-year destination – although July and August are wet because of rain. Go in November and December (early winter) for clear skies and lofty quality of light, in March to May for spring flowers, and in September or October for rice harvest experiences.
Time your trip for one of the country's colorful festival holidays, whose exact dates are calculated according to the Bhutanese lunar calendar. Punakha's festival is in February/March; Paro's in March/April; and Thimphu's in September/October.
Flora and Fauna in Bhutan
Many foreign travelers come to Bhutan to experience nature, watch birds or look for exotic animals. The well-cared-for environment of Bhutan supports more than 5,000 plant species, including some 300 medicinal plants and 600 types of orchids.
Accordingly, the country allows only sustainable development and sustainable tourism. For this reason, the land is still near 75% forested (it takes a permit to cut down any tree), rivers and lakes are all pure, and endangered species are safe.
An abundance of birdlife fills the forests and fields. Six hundred and seventy-five diverse have been identified (more than anywhere else on earth) and that list is growing as more and more birders visit Bhutan. While the most announced birds are black-necked cranes that winter in Bhutan. Other recording sightings include the White-bellied heron, Blyth's tragopan, and many Hoopoes, Warblers, Cuckoos, Horn-bills, and sun-birds.
There are 165 species in the Bhutanese animal kingdom. The strange-looking Taking (somewhat like an American moose) is the national animal. Other animals you may find are Tigers, Rhinos, Monkeys, Elephants, and Himalayan brown bears, Wild pigs, Red pandas, Blue sheep, Antelope, Golden langurs, Mountain goats, wild buffalo, and Himalayan Martins. If you are lucky, you may even see a snow leopard!.
Besides that, we commit to arranging services for the range of the trekkers in a cordial way, culturally enhance within a secure environment. We have a team of trend professional trek guides for handling your request trips. We understand the value of time and efficiency needs for our agents while they are communicating. Thus, Mr. Ammar's travel expert can respond to our agent's needs 24/7.