Annapurna Luxury Trek Summary
Luxury Annapurna Hike duration: 8 Days
Trek Difficulty: Easy grade
Highest Elevation: 3,210 meters
Average Trek Hours: 3 to 5 hours daily
Group-Size: 1 – 12 People
Best Time: October, November, December, March, April & May
Trip Mode: Comfort Lodges
Meals on Trekking: Breakfast, Lunch, and Dinner everyday serve with Tea/coffee
Transportation: Car/Flight/Bus
Overview
The Annapurna luxury trek is a high-end trekking experience in the Annapurna region of Nepal. This trek is designed for those who want to experience the beauty of the Himalayas while enjoying the comforts of luxury accommodations and premium services.
The trek starts from Pokhara city and passes through lush forests, terraced fields, and traditional villages, offering stunning views of the Annapurna range. During the trek, you'll stay at luxury lodges and hotels that offer comfortable rooms, hot showers, gourmet meals, and other amenities such as spa treatments and yoga classes.
One of the highlights of the Annapurna luxury trek is the opportunity to visit the Annapurna Sanctuary, a natural amphitheater surrounded by some of the highest peaks in the world. The trek also takes you to the Poon Hill viewpoint, which offers panoramic views of the Himalayas, including Dhaulagiri, Annapurna, and Machhapuchhre (Fishtail).
The best time to do the Annapurna luxury trek is during the spring (March to May) and autumn (September to November) when the weather is clear and the skies are blue. However, it is possible to do the trek in other months as well, depending on your preferences and the weather conditions.
Overall, the Annapurna luxury trek is an excellent choice for those who want to experience the beauty of the Himalayas while enjoying high-end services and accommodations. It's a great option for those who want to trek in Nepal without sacrificing comfort and luxury.
Why choose luxury travel for your holiday in Nepal?
Nepal Luxury travel is the best way to experience intimate, personalized service, and delicious meals. It gives you the highest level of happiness with the lowest stress. Perhaps the best restaurant, a king-size bed, and a marble-lined bathroom or a butler to pack and unpack your baggage. It's clear that more stars mean more luxury—and five-star holidays promise the most. A five-star rating is a shorthand for excellence in luxury travel.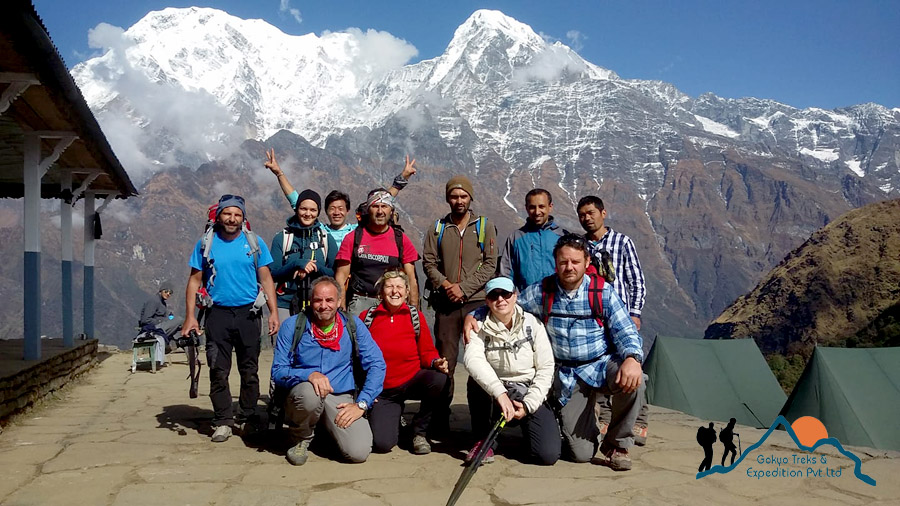 How much does for Annapurna Luxury Package Trek Cost?
The cost of the Annapurna Luxury Trip Package with a local trek Agency in Nepal ranges between US$ 1399 to US$ 2498. Annapurna Luxury trek cost depends upon the group size you are traveling to and the mode of transportation you use en route. The price includes transportation, a guide, porters, hotels, food and accommodation, and hiking permit facilities.
Likewise, the trip package for 2 Trekkers Annapurna luxury trek cost US$ 1799 for 8 days as below the given plan. We can modify the trek route and the price as per your wishes also. Given here is the price list for the luxury treks in the Annapurna zone.
Price Per Person for 8 days for luxury trekking in the Annapurna.
| Number of Tourist | Price Per Person |
| --- | --- |
| 1 Person | US$ 2498 |
| 2 Person | US$ 1799 |
| 3 Person | US$ 1750 |
| 4 to 6 person | US$ 1695 |
| 7 to 9 Person | US$ 1625 |
| 10 and more than 10 Person | US$ 1399 |
If you're wondering to know about what is included and what is excluded from this trip price, kindly check on the cost given on a tab button.
Itinerary
Best of Annapurna luxury trek itinerary details
Massive Annapurna luxury is a classical version trek with a 6-day itinerary compared to most walks in this region. The particular route is designed for luxury travelers to explore the Annapurna high mountains and green valley with staying in Luxury lodges. However for travelers who wish to hike Annapurna comfortably in a cheaper trek package, ask us for a tailor-made itinerary.
01 Day
Arrival at Kathmandu valley
Upon arrival in Kathmandu, Tribhuwan International Airport, we will receive you in a private vehicle and transfer you to Radisson Hotel Lazimpat or a similar standard hotel in Kathmandu with a breakfast plan. Ammar Raj Guni, owner of the agency will provide you with the details about your Annapurna Luxury hiking information.
02 Day
Domestic fly to Pokhara city (900m/2,943 feet), Transfer to hotel Fewa lakeside, 30 minutes
In the morning after breakfast, fly to Pokhara airport. The journey by flight to Pokhara takes about 22-25 minutes. As you fleet from Kathmandu to Pokhara, you can see an excellent view of Annapurna Himalayan ranges from an aircraft window. Transfer to a hotel Barahi on Phewa lakeside in Pokhara town. Go boating on Phewa Lake, and visit an island to explore Tal Barahi temple. Travelers get a better view of Mount Annapurna range and drive to Devi's fall, Gupteswor Mahadev cave, and the Tibetan refugee camp for Pokhara sightseeing.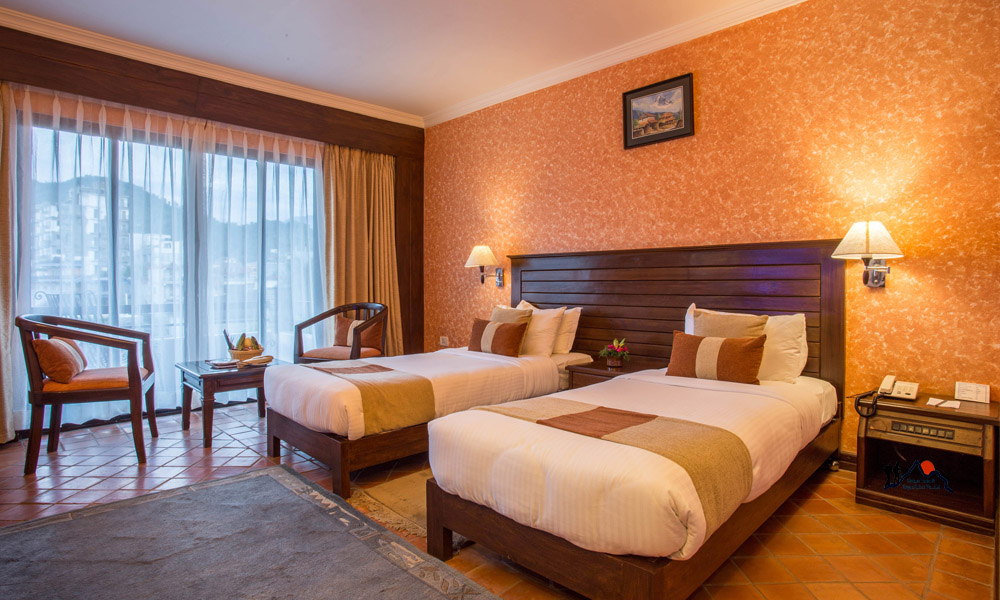 03 Day
Overland drive with taxi to Siwai (1,350m/4,429 feet), 3 hours drive. Trek to Ghandruk village (1,940m/6,344 feet), 1 hour
We drive to Nayapool in a comfortable car which takes approximately 90 minutes. Conducts our journey to Siwai passing Syuali Bazaar spots. The distance between Birethanti and Ghandruk is 8 km however the road distance is 15.2 km. Birethanti to Ghandruk takes approximately 30 to 35 minutes to drive to cover 15.2 km from Birethanti to Ghandruk. Ghandruk is a scenic village that offers multiple nice lodges with attached bathrooms. Walk for an hour's hike to Himalaya Lodge comfort lodge accommodation made by Ker and Downey.
04 Day
Landruk Trekking (1,940m/6,344 feet), 3/4 hours
Enjoy the last moments of your higher elevation views with breakfast in Ghandruk. If time permits, talk with a guide and make the best plan to explore the Old Gurung Museum. It is one of the MUST-SEE attractions in Ghandruk and still preserves the antique culture of Gurungs. The museum is designed with a typical old Gurung house.
In addition, Tourists can visit the Annapurna Mountain Conservation Area Project (ACAP). The ACAP is the first conservation area and the largest protected area in the Himalayas of Nepal. Rich in biodiversity, the area offers over 1,000 species of flowering plants, amphibians, mammals, and birds.
Tourists can see the best view of mountain Annapurna south (7,219m.), Annapurna III (7,855m.), Machhapuchhare (6,993m.), Hiunchuli (6,441m). Then, the trail begins with a steep descent towards the Modi Khola for about an hour, followed by a steep ascent of 2 hours through scattered villages to Landruk, with great views of the Himalayan Landscapes. Walk to La Bee Lodge (a comfort lodge by Ker and Downey) for rest and stay overnight.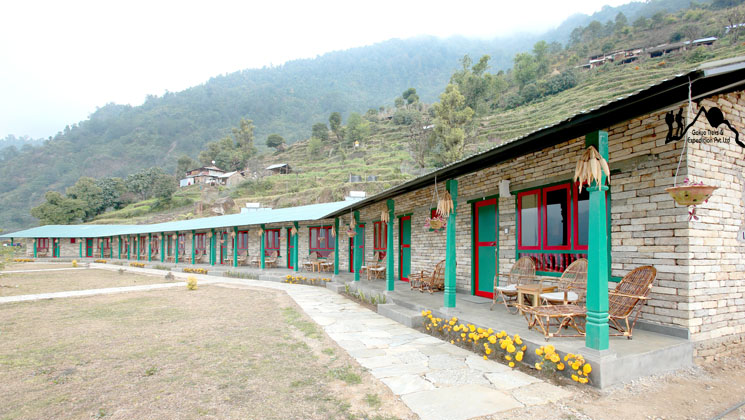 05 Day
Trek to MajGaun (1,400m/4,593 feet), 3/4 hours
Early wake up to get almost the towering view of Annapurna South and Machhapuchhre rising magnificently. Get a super delicious breakfast and begin to follow the side of the hill, with small ups and downs passing across the tiny hamlets and countryside. You will reach the Gurung Lodge (Ker and Downey build this luxury lodge ) for lunch. The lodge consists of tribal-style buildings and a beautiful orchard garden on the edge of the village of Majgaun. After Lunch, take short hikes to explore the local village. You can enjoy the majestic Annapurna mountains from your room itself, relax after the trek, or spend your time in the garden reading or relaxing.
06 Day
Descend downhill to Dhampus Phedi. Drive out to Phewa Lake, 4/5 hours
After breakfast, start the day hike through the oak, rhododendron, and silver birch forest with incredible landscapes. Explore the typical culture and lifestyle of ethnic Gurung people. As you reach Dhampus village, you can see a luxury lodge "Basanta Lodge" similar to Gurung Lodge. From its garden, there are excellent views of Fishtail Peak and the Annapurna range.
Enjoy the delicious lunch at Basanta Lodge (Ker and Downey Luxury Lodge) and take a decent trail to Dhampus Phedi. Now, you can pass the terrific landscape, local houses, and rice terraced fields. The last stone steps to reach Phedi are a bit boring however upon reaching Dhampus Phedi, we can take a private taxi to the Hotel Barahi in Pokhara.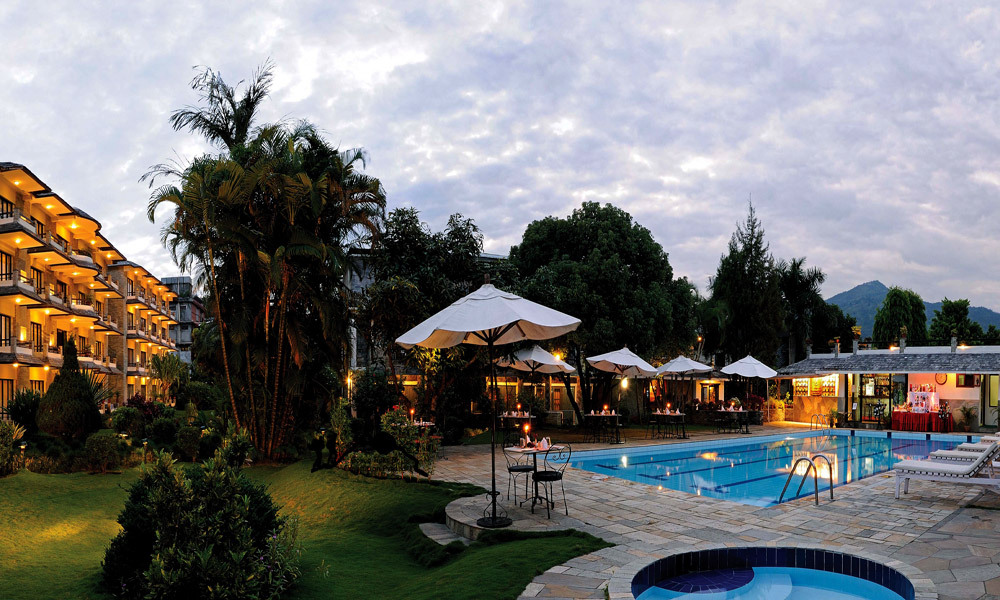 After check-in at the hotel, spend your afternoon either shopping or boating at Phewa Lake. In clear weather, you will have an impressive view of the Annapurna range in a single line. If you are a Bird lover, take a private boat and get closer to the forest for bird watching. Visit the Barahi temple situated on an island is a prime attraction of the tour.
07 Day
After Breakfast, Fly out to Kathmandu city.
Morning, we fly out to Kathmandu by plane, which takes around 25 minutes. Transfer to the hotel Radisson Hotel Lazimpat or a similar standard hotel in Kathmandu. There are numerous things to do in Thamel and Lazimpat. Tourists can visit Thamel Street and get to know the top souvenir things to buy for the family. Buying singing bowls, Pashmina shawls, or garment clothes are the top best things to buy in Thamel. In the evening, get a super delicious dinner with Nepali folk songs and live music at "Nepali Chulo".
08 Day
Final departure day
Drop you at Kathmandu International Airport for your onward flights. Trips end, and we wish you a wonderful journey.
Not satisfied with above travel Itinerary?
Are you interested on planning custom trip? It takes only 2 to 3 minutes.
Cost
How much does the comfort Annapurna luxury trek package price?
Travel to Annapurna using the best comfort lodge price US$ 1799 is a luxury trek price on double occupancy basis. The rooms are very clean, and cozy with comfortable beds with running hot water in the toilet bathroom. Tourists can get free beverage drinks during the happy hour in Ker and Downey Lodges on the Majestic Annapurna mountain trails.
Nepal Annapurna luxury trek package price includes:
Kathmandu international and domestic airport transfer by private vehicle Car.
2 nights double bedroom in a Hotel Radisson or similar standard with breakfast.
2 nights double bedroom accommodation in a 3-star Hotel Barahi with breakfast in Pokhara.
3 Nights at Ker & Downey's Lodges on full board food Plan while on Annapurna's best lodges trekking route.
Domestic flight: Kathmandu – Pokhara – Kathmandu round trip with applicable domestic airport tax.
Tourist Bus transfer Kathmandu – Pokhara – Kathmandu round trip for porters.
English speaking license holder trekking guide and every 2 guests 1 Porter basis.
An assistant guide will provide for 7 plus group tourists.
Annapurna Conservation Area permits and TIMS permits for Trekking tours.
Pokhara Fewa lake side – Sewai (near Ghandruk) and from Phedi to Fewa lake side transfer by private taxi.
Guide and for porter hiking equipment, foods, and Insurance.
Agency's duffel bag, trekking poles if Necessary – return after the trek.
Agency's Certificate of Appreciation after the successful trek in Annapurna.
First aid medical kit including Oximeter to check your Oxygen level, Pulse rate to monitor every day to prepare for high risk.
In a worst case, help with all Helicopter Rescue and evacuation arrangements (but not the rescue bills).
Nepal Government Tax, VAT, and as well as Company service charge.
Mystical Annapurna luxury trek package price excludes:
Dinner and lunch on your stay in Kathmandu and Pokhara city.
laundry service, phone calls, and Tourist Personal trekking gears including clothes.
Personal nature expenses, and bar bills.
Travel Insurance which covers emergency Rescue and Evacuation.
Any donation and monument entrance fees.
Gratuities for guide and porters [Tip is a culture, so they expect highly].
Any other things which are not mentioned above
Group join
We can organize a private or a group for comfort Annapurna trekking starts on any date that works for you. Please contact us for more information.
FAQ
Question: I am a beginner hiker, do I need the experience to do private comfort Annapurna trekking?
Answer: No! But if you can walk around 4 hours roughly every day with a lightweight daypack, you can complete it.
Question: Is pick up service available on my arrival day in Kathmandu?
Answer: Yes sure. Provide us with your flight details, we come to pick you up at TIA, Kathmandu international airport.
Question: Can I store my luggage/stuff in Kathmandu/Pokhara?
Answer: Yes, you can leave your luggage at your hotel or at our office. Store your stuff in the Gokyo Treks agency office for free.
Question: Is the Annapurna comfort trekking Safe for Solo Female Trekkers?
Answer: Absolutely. Nepal is a safe country to travel to for solo travelers, and luxury trek Annapurna is perfectly safe for solo female trekkers. We have been organizing the Annapurna comfort treks even for solo female travelers since its establishment.
Question: What kind of accommodation can I expect on the trek?
Answer: We do provide you best luxury lodges available in Annapurna territory that are built by Ker & Downey's. The rooms are superior and comfortable and can see the mountain view from the window.
Question: What kind of food can I expect in this luxury Annapurna trekking?.
Answer: You will have super delicious food in the Ker & Downey's Lodges on the Annapurna tour.
Question: How do I get drinking water?.
Answer: Many local guesthouses and local tea shops sell drinking water. Tourists can buy mineral water to drink but we advise against buying mineral water in plastic bottles, as currently there are no provisions for disposing of these. Instead, we recommend you bring Aqua tablets to purify the normal water as the normal water is available on the hiking route.
Question: Are there any communication facilities on the luxury Annapurna trek?
Answer: Yes. Many places offer Telephone services as well as 4G internet facilities.
Question: Can I use credit cards in Trekking?.
Answer: Yes. But to maintain your extra expenses, you need to take some Nepali local currency along with you.
Question: When should I book my trip and what are the payment terms?.
Answer: Because our trips book up months in advance, we recommend booking early to avoid any kind of trouble finding the lodges en route. We will, of course, make every effort to accommodate last-minute bookings. And regarding the deposit, we prefer 50% of the trip price (25% advance deposit not refundable) in order to confirm your reservation before you arrive in Nepal. And rest of the payment can be made on your arrival in Nepal.
Question: Who will carry my pack on the comfort trek?
Answer: We do serve you a porter to carry your backpacks. As we are a responsible tour trek operator agency, each of our porters carries a maximum of 24 kilo backpacks which means 2 guests (12 kg luggage of each guest): 1 porter basis.
Question: How much distance do I walk each day?
Answer: Roughly, you need to prepare to walk about 3/4 hours every day.
Question: Do I need poles for hiking?
Answer: It is better to hike with walking poles. Learn how to use trekking poles for balance and stability, whether on the sidewalk or on trails. Walking poles can help prevent slips and falls. They are just recommended for comfort hikers tourists but not compulsory.
Question: How much additional money do I need per day?
Answer: Answer: You can allocate US$ 12 – 15 for a lunch/dinner in Kathmandu and as well as in Pokhara town but it depends on your spending habits. US$ 6 to 8 US$ each day is roughly enough to buy bottles of water, chocolates, tea coffee, and some drinks (except beer) while you are on your trek.
Make a luxury journey for your Annapurna holiday in Nepal?
Normally, luxury travel represents luxury accommodations, luxury meals, luxury adventures, luxury transport…etc. Besides that, the Nepal tour operator agency makes your luxury travel vacation pleasant and enjoyable. We arrange small to large groups as per your travel proposal. Furthermore, we also arrange adventurous hiking into the Himalayas, soft-to-adventure treks, jungle safari or jeep safari activities, peak climbing, wilderness expeditions, family tour adventures, and group holidays within professional service.
Moreover, Gokyo Treks & Expedition is a local tour agency owned by professional guides and registered in 2005 under the Nepal Government Law. It is a travellife certified agency in Nepal, offers all types of tours, travel, and holiday for all age travelers. In addition, Travelers says that it is now possible within luxury Himalayan treks in the Annapurna region. Comfort Annapurna Trek is possible to do at any time across the year.
Top Annapurna luxury trek highlights
See the Annapurna mountains at an almost 160 deg angle from Ghandruk and Dhampus village.
Hike through cultivated fields, the best view of Annapurna South, tiny summit of Annapurna first, Hiunchuli.
Get to know the Fish Tail commonly known as Machhapuchhere, a virgin holy mountain in the Annapurna massive.
View the top highest mountains within a few kilometer distances by staying in superior-luxury lodges.
Walk across the fertile land and explore the local's agricultural life.
Experience the Gurung and other ethnic groups and their local lives.
Notice for the Annapurna luxury trekkers:
The luxury Annapurna trek information detail as stated above is just a sample guideline that we provide you. However, the trip is customizable at your request to accommodate your specific requirements. Local politics, landslides, cancellation of local flights, weather, transport, or a multitude of other factors that are out of our control can result in a change of itinerary during on trip.
It is, however, very incredible that the itinerary would be extensively altered. If alterations are necessary the leader will decide the best alternative option, taking into consideration the best interests of the whole group. When a change does occur, we do everything we can to minimize its effect, but we cannot be responsible for the results of changes or delays.
What makes the Annapurna luxury trek special?
The Annapurna Luxury Trek is a unique and memorable experience that combines stunning scenery, luxury accommodation, cultural immersion, and flexibility to suit the needs and preferences of individual trekkers. We are a team of professional, expert, and license local guides who know the destination better. Moreover, we give benefits to the local community and help to conserve natural resources which reduces costs and consumption.
Luxury Annapurna Trek Review
Best Annapurna view trekking using comfort lodges
Our guide, Ram and porter Bude waiwa were the best. We were a couple from rocky trails. Picked us up at the airport and arranged everything like permits, Pokhara flight tickets, transfer, and booking comfort lodges in Annapurna trekking and as well as responsive to all of our needs.
They were very knowledgeable and provided a wealth of information about the trail, tradition, and their country.

Response from Gokyo Treks Nepal
Thank you Melanie for your excellent review. We hope to serve you again for your trip to the Himalayas in a near future.
Comfort lodges and the Brilliant Mountain View
Ammar arranged almost everything for our trip to Nepal. He arranged comfort lodges, a guide, a porter, and all permits for our Annapurna trail. First-rate service from start to finish. Hands down one of the best vacations of my life made possible by Gokyo Treks & Expedition Agency.
I and my husband were very happy with Ammar's service. Thanks, Ammar and his agency for making our journey amazing. We definitely use his guidance if we return for other treks in the Himalayas

From US$ 2549
2% Off
US$ 1799
| | |
| --- | --- |
| No. of people | Price Per Person |
| 1 | USD 2498 |
| 2 | USD 1799 |
| 3 | USD 1750 |
| 4 - 6 | USD 1695 |
| 7 - 9 | USD 1625 |
| 10 + | USD 1399 |
Book Now
Customize Trip
Cost & Departures
Your Trip Your Style!
ITINERARY, COST, DEPARTURES, will adjusted according to your GROUP SIZE NEED TIME
Book with Confidence
Local Guides Company.
18 Years in Business.
Lowest Price Guaranteed.
100% Customizable Trips
Excellent Customer Service
Hassle Free Booking.
90 % Repeated customers
Highly Recommended agency
Private/group tour options