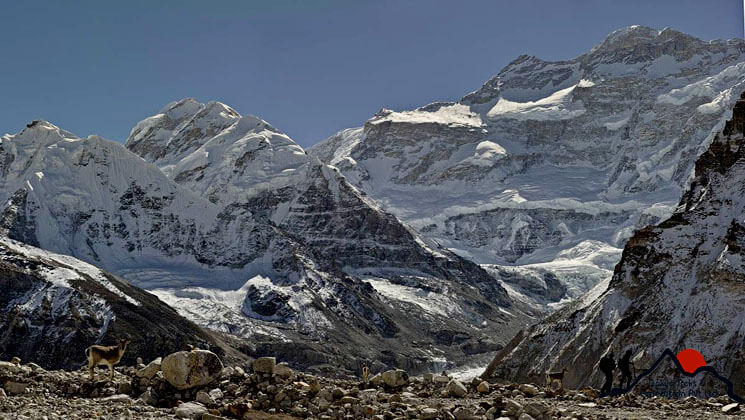 Kangchenjunga Base Camp Hike Summary
KBC Trek Duration: 22 Days
Kanchenjunga Trek Difficulty: Adventure – very strenuous
Maximum Altitude: 5,243m/17,202 feet
KBC Trek Hours: 6 Hours daily
Hiking Group – Size: 2 – 20 People
Best Time to hike: March, April, May, October, and November
Trip Mode: Lodge Basis + Tent Camping
Foods on Trek Route: Breakfast, Lunch, and Dinner
Transport: Car/Plane/bus
Overview
The Kanchenjunga Trek is the world's 3rd tallest mountain (28,169 feet/8,586m), which means "The Five Treasures of Snows". Kanchenjunga base camp trek is one of the least explored regions because of its remoteness. Another interesting fact is that four of the five peaks reach or go over 8,450 meters.
Kanchenjunga Circuit is a trek to the North and South Base Camp of Mount Kanchenjunga in Nepal. The Kanchenjunga trek is one of the finest in Nepal Himalaya. Magnificent Kangbachen is the lowest peak reaching a height of 7,903 meters, next is Kanchenjunga South at 8,494 meters. There are Kanchenjunga Central 8,482m, Kanchenjunga West 8,505 meters, and the highest Kanchenjunga main at 8,586 meters above sea level. The kbc hike route follows Nepal's mountainous border with India and Tibet.
Ramche to Yalung Glacier hiking is a way to get an excellent view of the Kanchenjunga South face. Likewise, Pang Pema Base Camp to Drohmo Ri hill hiking is a northern trail to get Kanchenjunga north base camp and both of them are located above 17,000 feet.
To run the World Wildlife Fund, protecting Kanchenjunga territory declared as a conservation area. You can see an endangered Red panda animal in the parkside. It is encircled with dozens of peaks, each of them competing with its queen. The Kanchenjunga base camp trek has mainly two best seasons which are Spring and autumn season. An express Kanchenjunga Nepal trek is possible as a lodge trek with basic facilities. The travel plan presented here is possible only with tent trek as Mirgin la, Sinon la, and Sele la pass don't stay guesthouses.
Kanchenjunga Trek Difficulty | How Hard it is? How to Prepare?
Trek to Kanchenjunga is not easy hiking. Before you plan to visit the Kanchenjunga base camp, we recommend you to go at least one smaller – short trek route in Nepal to experience the high altitude. Although the Kanchenjunga view trek is moderately difficult, you can minimize the challenges following some basic techniques. Ascending slowly is the best way to acclimatize quickly. Acute Mountain Sickness and weather are the two major key factors that make Kanchenjunga Trek difficult for trekkers. Do not walk fast and drinking enough makes your blood thin which protects from dehydration and helps for proper acclimatization.
How can I get the permits If I am a solo trekker?
The most adventure Kanchenjunga circuit trek is equally popular as a Kanchenjunga base camp trekking. However, the Kanchenjunga base camp trek solo is not possible as the route is located in the protected region of Nepal. But if you are a solo trekker or an individual guest who wishes to explore this route? ask us to join either in our fixed departure group trip or we can issue the ghost permit.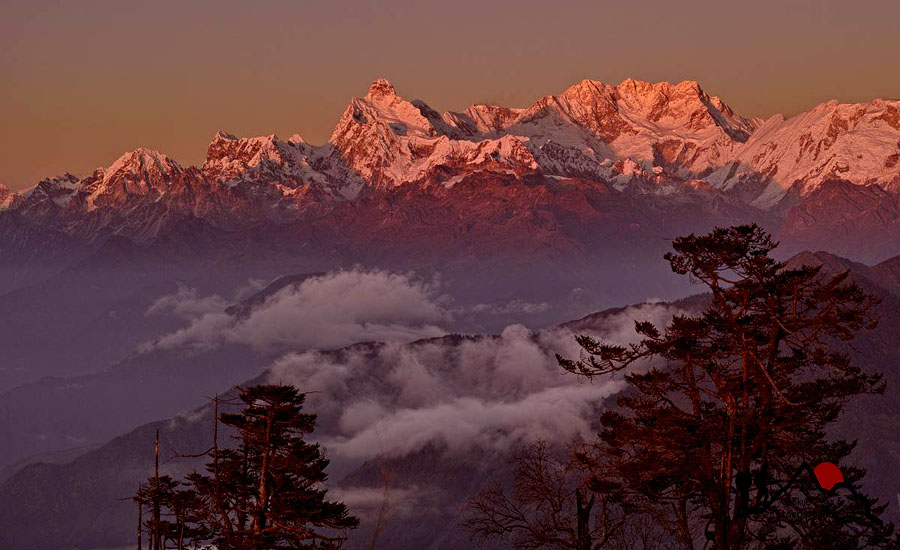 According to Gokyo Treks Nepal agency, a ghost permit means, there will be two permits (2 members), and you will only go on the trek. As soon as you have double permits, there is not a problem. Many travelers tell lie on the checkpoint that their travel companion got sick and return but make sure the check post officer is more clever.
The express and best Kanchenjunga trek possible to go with lodge style trek but you may also do it as a Tent style trekking as there are not sufficient nice lodges along the routes. However, if the team is interested, to cross two passes, the Lapsang La (16,760 feet) and Sinon / Mirgin La (15,300 feet), you must go tent camping depending on the conditions. Adventure Kanchenjunga base camp trek is possible to visit at any time (except winter) during the year.
How much does for Kanchenjunga Trek Package Cost/Price?
The cost of the Kanchenjunga trek package with a Gokyo Trek Agency (Guide's owned a local agency in Kathmandu Nepal) ranges between US$ 2150 to US$ 2690. Of course, the Kanchenjunga Trek cost will vary according to the group size you are traveling with. For example, if you could bring 10+ travelers (except you) to your trek, you are treated as a group leader. So you can hike the Kanchenjunga base camp for free of cost.
However, we often arrange private trips in order to avoid group tours with strangers. A private tour gives you a better experience on your hikes. If you value personalization, flexibility, and in-depth experiences, a private trip customized to your personal needs will be the best option.
It is the standard trip package price for 22 days trek. If you are 2 people and want to hike with us, it costs US$ 2250 for 22 days trek according to the given trekking plan. We can modify the trek route and the prices according to your wishes also. Here is the price list for the Kanchenjunga treks.
Price Per Person for 22 days hikes in the Kanchenjunga mountain teritory.
| Number of Tourist | Price Per Person |
| --- | --- |
| 1 Person | US$ 2690 |
| 2 Person | US$ 2250 |
| 3 Person | US$ 2380 |
| 4 to 6 person | US$ 2225 |
| 7 to 9 Person | US$ 2190 |
| 10 and more than 10 Person | US$ 2150 |
If you're wondering to know about what is included and what is excluded on this trip cost, kindly check on cost given on a tab button.
Itinerary
Kanchenjunga trek itinerary details
Our Kanchenjunga base camp (KBC) trek is a classical trek with 17 days itinerary compared to most walks in the region. The particular Kanchenjunga base camp trek route is designed for world travelers to get a detailed travel plan for base camp hiking. However, the travelers who wish to explore the Kanchenjunga circuit trek route quickly but are walking with limited time wise then ask us for a tailor-made itinerary.
1 Day
Arrival at Kathmandu valley
Upon arrival in Kathmandu, Tribhuwan International Airport, we will receive you with private vehicle and transfer to hotel in Kathmandu with breakfast plan. Our representative will brief you Kanchenjunga base camp trek information about further programs.
2 Day
Kathmandu city – World Heritage sites (1,348m) sightseeing, 7 hours.
All aspects of gear and conditions are discussed to make sure you're fully prepared for the trip, and any last-minute questions answered. After lunch, we explore this medieval capital city Kathmandu with professional guide Ammar Raj Guni. We visit Boudhanath, also known as Little Tibet. We visit Pashupatinath, a holy temple of Hindu where the cremation takes place by the holy river Bagmati. Later we visit Kathmandu Durbar Square and Syambhunath Stupa. And transfer to the hotel.
3 Day
Kathmandu to Bhadrapur airport fly (91m), 40 minutes. Drive to Illam, 5 hours
You begin your flight to the eastern Terai at Bhadrapur airport. Bhadrapur city is a bustling place in Terai, the flatlands of Nepal. Bhadrapur Airport, also known as Chandragadhi Airport. The airport in Bhadrapur is located at (91m/300 feet) above sea level. It has one runway designated 10/28 with an asphalt surface measuring 1,209 by 29 meters (3,967 feet × 95 feet). All commercial airlines operate through one small terminal of Bhadrapur Airport.
After landing at Bhadrapur, we take a jeep ride to go to Illam. The jeep ride takes about 5 hours to reach Illam, is a famous locale renowned for its tea garden, likewise the tea state of Nepal.
4 Day
Drive to Suketar. Lali Kharka trek (2,220m/7,260 feet), 4 hours
Suketar is a gateway to Kanchenjungha base camp trekking. There was a regular flight from Kathmandu to Suketar airport every day. For a couple of months, the airlines stopped direct flying to Suketar. Our excursion proceeds with 4 hours rough road jeep ride to reach Suketar which is located 7,937 feet above the sea.
Reaching here, your actual hikes will begin. As you have a long off-road drive, you might hike about 3 to 4 hours journey today to reach Lali Kharka. Furthermore, you can intrigue yourself with the staggering perspective on Mt Kanchenjunga (8,586 m) and mount Jannu (7,110m).
Follow steeply ascent until you reach Suketar passing through farming terraces, local markets, and jungles of Rhododendron and other natural vegetation. Now you climb up gradually to the Lali Kharka. It is a small village located around the green hills.
5 Day
Trek from Lali Kharka to Khesewa (2,120m/6,954 feet), 7 hours
This morning, from your camp, you can see the entire day's walk in front of you. After traversing the hillside for a short distance, you descend to the village Phawa Khola and cross a suspension bridge before beginning the steep climb towards Kunjari. Your lunch stop will be somewhere below Kangaroo.
The afternoon's walk over the crest of the ridge to your campsite at Khesewa village. From here, you get your first views of Mount Kanchenjunga and you can clearly make out the south and main summits, along with mount Yalung Kang.
6 Day
Trek from Keswa to Mamankhe (1,785m/5,855 feet), 7 hours
From Khesewa, we walk over the pleasant fields and traverse a steep mountainside high above the Kabeli Khola. We cross several minor tributaries flowing into the river as the path winds its way around the hillside. We pass villages and continue along a shady path to Anpan. These are beautiful villages with exquisitely maintained houses, whitewashed walls, and thatch roofs with colorful gardens of marigolds.
Now, you get our first distant views of mount Kumbakarna (Jannu) (7,710m), one of the most impressive peaks in the region.
The fermented millet drink of Tungba, which you may have sampled in Suketar, is produced in abundance in Mamankhe. So those who developed a taste for this brew earlier on the trekking may be able to re-acquaint themselves with it.
7 Day
Yamphudin trekking (2,080m/6,823 feet), 6hours
Beginning with an easy hikes, the walk to Yamphudin is along a trail, which contours the hillside above the Kabeli River. You cross the ridges and stream beds that make up the valley sides and the trail eventually becomes level with the river a couple of hours before Yamphudin. Along the way, you can stop to bathe in one of the many clear pools in this beautiful river. Yamphudin is the most remote settlement in this area and the last habitation you will see until you reach Gunsa is a charming place tucked away beneath the ridge of the Deurali Danda.
8 Day
Tortong trekking (3,000m/9,840 feet.), 7 hours
Beyond Yamphudin, the trail ascends a steep spur before dropping again to cross the Amje Khola. Walking through the beautiful and dense forest, you stop for lunch in a meadow atop this spur, which commands fine views of the valley beyond Yamphudin to the south and of the Amje river valley and Deurali hill station to the north.
A steep descent to the river brings you to the forest. Now you ascend steeply for 3 hours through dense forest to the crest of the Deorali Danda. From the top, Mt Kumbakarna (Jannu) is clearly visible. After crossing the pass, you descend across some fairly steep and exposed scree slopes before re-entering the forest. Descent down into the valley of the Simbua Khola and after crossing the 'interesting' wooden bridge, you arrive at Tortong.
9 Day
Tseram Trek or Cheram Hike (3,870m/12,694 feet), 6 hours
The excursion today begins you with the rising to Cheram. The path generally goes close by the Simbuwa Khola. Further in transit, we will be experiencing Lalung Valley, some lovely thick rhododendron timberlands and the Yalung icy mass. We will be given organization by the delightful Tuplung top right to Cheram.
10 Day
Tseram acclimatization day (Cheram day hikes around)
You can use today to visit some hikes to spend some hours with nature walk. As you hike a little up to the hill, you will have a super view of Cheram village. In the meantime, you will have an increasingly clear view of Kabaru and Rathong tops. Likewise, we can visit Yalung ice sheets, keep ourselves occupied with some short steered climbing.
11 Day
Tseram to Ramche hikes (4,580m/15,022 feet), 4 hours
Hike to Ramche takes around 4 hours, a short day hikes comparing other days. The scenery is magnificent as you ascend past the snout of the Yalung Glacier and into a series of ablation valleys. A frozen lake, crystal clear streams and views of Kokthan, Rathong, and Kabru are the highlights of this walk into Ramche which is situated on a broad, flat ablation zone.
12 Day
Discovering day – Explore around
Leaving your camp set up at Ramche, you take a packed lunch and set off very early for your first amazing view with Kanchenjunga. Following the valley around its sweeping curve, you are suddenly confronted with the vast southern wall of the mountain. The ridge forms a cirque, which is over 15 km long and never less than 7500 meters high.
Along this ridge lies the three main mount Kanchenjunga summits (8420m, 8586m, and 8474m). The Kanchenjunga pinnacles view is truly breathtaking. Proceeding further on towards Oktang [4630m], you may descend onto the glacier and cross it to a point below Talu from where you can see all the mountains of the area in the panorama. Especially impressive is the east part of the Khumbakarna glacier flowing from the east face of Jannu Himal (Kumbhakarna is a local name). You return to your camp at Ramche village.
13 Day
Sele La pass trek (4,290m/14,071 feet) including 2 other passes, 9 hours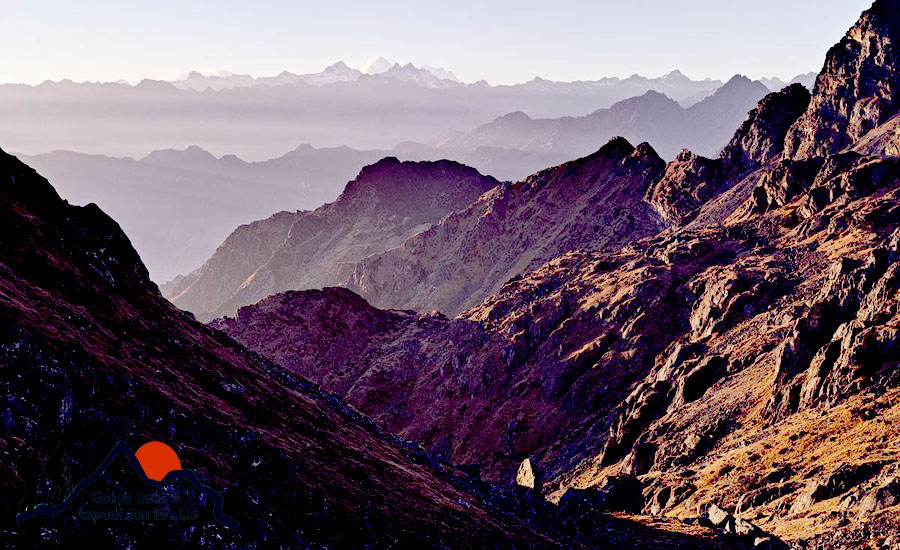 Crosing Sele La is a tough adventure hiking in Kanchenjungha as go over glacier mountain trail. Also, in transit, we need to go through four distinct passes. The primary pass we will cross is Sinelapche Bhanjyang. Besides, second, we need to go through glacier Himalayan Mirgin La Pass (4,583m/14,986 feet). Heading moreover, Sinon La pass (4,440m/14,563 feet) will be the third on our rundown. Lastly, Sele La Pass (4,290m/14,071 feet) hikes and walks downhill to get a campsite.
14 Day
Gunsa trekking (3,595m/11,792 feet), 6 hours
A steep descent from your campsite brings you to Lumba Sumba Kharka where there are more splendid views of the awesome southwest face of Jannu. From here, the hiking trail is excellent and much easier to descend to reach Gunsa. Gunsa village has mainly Tibetan inhabitants with a tiny Gompa and prayer flags fluttering from the wooden houses. Tongba is famous for alcohol, made with millet. Interested hikers can hike up to Yamatari Khola via Lapsang La trail and reach the terminal moraine of the Yamatari glacier lake. You will also get the opportunity to explore the waterfalls and streams.
15 Day
Khambachen trekking (4,050m/13,284 feet), 6 hours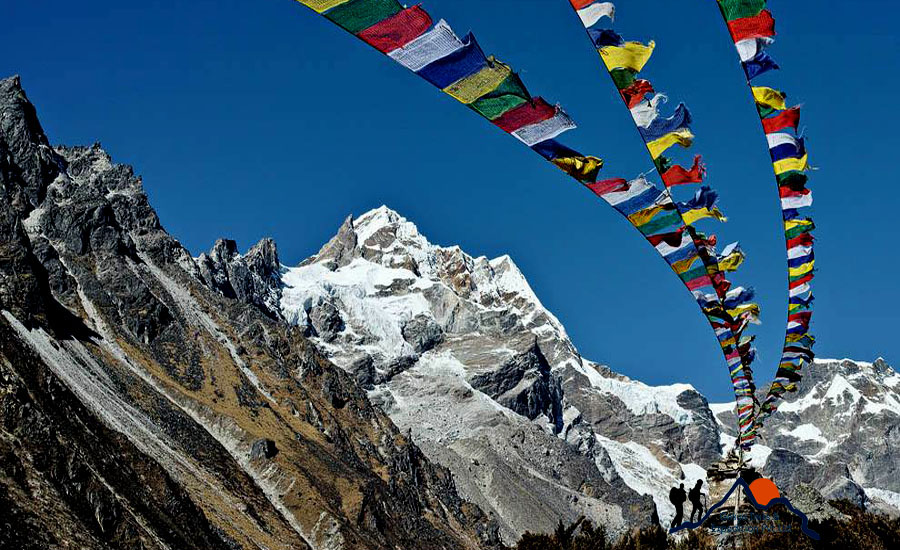 Hike further to Kambachen is another goal. We should stroll toward the northern side nearby the waterway bank. The preliminary experiences fields of various wild blossoms and afterward rhododendron and pine backwoods. Proceeding with our preliminary, we need to cross a waterway by suspension connect at Rampuk Kharkha. And afterward, we can see a cascade and an avalanche segment. In transit, we have Mt Jannu viewpoint on mountain tops. Walk further to reach Kambachen, where you can enjoy the view of magnificent mount Jannu (7,710 meters/ 25,295 feet.). Besides the glorious summit, you can also see eagles, falcons, Lammergeyers, and coughs which are common in this territory.
16 Day
Lhonak village hikes (4,790m/15,715 feet), 6 hours
We begin our climbing uphill through rocky fields, we reach at glacial lake. We continue our hike on the high plateau, cross moraines at the northeast of the Kanchenjunga Glacier, pass the intersecting Lhonak glacier, and eventually reach the high, flat campsite of Lhonak. Because of the high-altitude location, the temperature out here is low making this place a cold campsite. However, surrounds the campsite, you are in the middle of the world's highest summits on the planet. Lying at the great sacred Himalayan foothills, make sure that you feel joy and happiness. Mera Peak (6,344 m), Nepal Peak (6,910 m), Wedge Peak (6,750 m), Twins (7,351 m) are also clearly visible.
17 Day
Pang Pema Base Camp Hiking (5160m/16,930 feet), 2:30 hours
Pang Pema Base Camp hiking is a final destination of entire journey. Walk east following the Kanchenjunga Glacier and rise to its extensive head on the northern slope of Kanchenjunga. The impressive stunning Mountain journey makes us realize how small and insignificant we are in this world of snow and rock. A glorious mountain Kanchenjunga is standing so close to you.
Likewise in the afternoon, hike to Kanchenjunga north base camp at 5,243m to visit the glacier. Very few trekkers reach Pang Pema Base Camp because of altitude risk and lack of trekking equipment . In order to have a better Mountain View and its surrounding, hike the Drohmo Ridge (5,500m/18,045 feet) lower part. If you have enough time, see the interesting Lampo Glacier also.
18 Day
Descend to Gunsa village trek (3,595m/11,792 feet), 9 hours
Descend to the same village like we hike on our ascending. So we will be dropping back to Ghunsa through Kambache and a rocky mountain trail. Not expected to specify, you can appreciate the nature all route back to Ghunsa. Its also a tough day because of longer hikes.
19 Day
Amjilosa trekking (2,308m/7,570 feet), 6 hours
We drive down from Ghunsa to Phale viewing several tiny religious communities. The path interested in those religious communities, yet additionally with some Jupiter woods till we reach Phale. The route from Phale goes fairly relentlessly downwards. In transit, we need to cross Chhundatangka Khola through the scaffold and afterward, we will be at Gyabla. The path ahead offers you the perspective on the delightful cascade and again a stream named Sumbung Khola to cross through suspension connect. Also, in the long run, we will be at Amjilosa. .
20 Day
Trek to Chirwa (1,180m/3,859 feet), 5:30 hours
Today is an easy day and just beyond Sakathum, you come to the confluence of 2 rivers. Flowing in from your left is the Simbua Khola [which you followed up to Ramche] and from your right, the Gunsa Khola which issues from the still closed Walunchung Gola area.
The 2 rivers combine to form the Tamur Kosi which you now follow. There are plenty of spots for bathing in the numerous small tributary streams, which you cross before reaching the village of Chirwa.
21 Day
Phurumbu Trekking (1,550m/5,084 feet), 7 hours
Hike further to Phurumbu with the green forest and vegetation. Go through some more towns ahead we will reach Sinwa. From Sinwa, we need to drop downwards and afterward cross Sisne Khola suspension bridge. The path despite everything experiences another town and again a waterway to be crossed through the suspension scaffold to reach Phurumbu in the late afternoon.
22 Day
Trek to Suketar airport (1,180m/3,859 feet), 6 hours
Passing several villages, we reach at Suketar. Taplejung Airport, equally recognized as Suketar Airport is an airport serving Taplejung, in the Taplejung district of the Mechi Zone in Eastern Nepal. In a Tourist high season, Yeti Airlines and Shree Airlines add daily flights from Suketar airport, Taplejung to Kathmandu airport, and return. The flight takes around 35 minutes. It is the gateway for tourists heading to the Kangchenjunga mountainous area and Pathibhara Devi Temple cultural trail. After we reach Suketar, we can reconfirm the return flight to Kathmandu.
Optional drive and flight from Bhadrapur airport
In any situation, if there is not a regular flight from Suketar to Kathmandu, Guide will arrange a private transfer to reach out to the Bhadrapur airport terminal. The overland drive takes around 6:30 hours with a private jeep to Bhadrapur passing Illam tea state landscapes. Reaching Bhadrapur, we reconfirm our following day flight from Bhadrapur to Kathmandu.
23 Day
At morning flight from Bhadrapur to Kathmandu airport. Final departure day.
Early in the morning, we take a non-stop flight from Bhadrapur to Kathmandu town with scenic short mountain views. It takes about 40 minutes to reach in Kathmandu. At evening transfer to Kathmandu International Airport for return flight. I wish you your wonderful journey.
Not satisfied with above plan?
Are you interested on planning custom trip? this might take 2 to 3 minute.
Cost
How much does the Kanchenjunga trek cost?
An adventure Kanchenjunga trek Nepal cost US$ 2250 is standard trek price on double occupancy basis. For the deluxe and luxury trekking tour plan, we add 3 to 5-star category hotel deluxe air-conditioned rooms in Kathmandu city with a breakfast plan. AND WE ARE OPEN TO CUSTOMIZE YOUR TOUR AND PACKAGES PRICE AS PER YOUR REQUIREMENTS. International tour leaders are highly encouraged to get discounts and attractive complimentary.
The Kanchenjunga trekking cost includes
Kathmandu International airport transfer
2 Nights hotel accommodation in Kathmandu valley with breakfast Plan basis.
Domestic Flights (Kathmandu – Bhadrapur and from Suketar – Kathmandu) as a round fares with required airport tax.
Bhadrapur airport – Suketar – Bhadrapur airport transfer by private jeep as per given itinerary
Kanchenjunga Controlled region permits of Nepal.
Kanchenjunga Conservation entrance permits fees
Lodge trekking with full board meals during the trekking days.
Gunsa – Khambachen – Lhonak – Gunsa 2 nights camping trekking.
Full board meals: (Breakfast, Lunch and Dinner) each day while on trek.
Fully escorted trek with English speaking license holder local tour Trek Guide and each 2 guest 1 Porter basis.
Trekking equipment and other facilities to Nepali trekking staffs.
Insurances for all trekking crew
Medical Kit for Kanchenjunga base camp trip.
Updated Kanchenjunga base camp trek map 1 piece for each guest.
Nepal Government Tax, VAT and as well as Company service charge.
Scenic Kanchenjunga circuit trek cost Excludes :
Nepal entry visa fees US$ 40.
Lunch and Dinner during the staying in Kathmandu and Biratnagar city.
Any kinds of battery charges, laundry service, phone calls and hot shower during the trekking.
Personal trekking equipment and Clothing.
Personal nature expenses, any drinks and bar bills.
Travel Insurance which covers emergency rescue, evacuation, personal loss or damage.
Any donation and monuments entrance fees.
Tips for the crew (Note : TIPS is not compulsory but highly expected)
Any other things which are not mentioned above
Group join
Cross lapsang La (16,760 feet) and Sinon / Mirgin La (15,300 feet) are also popular as a Kanchenjunga circuit trekking. We can organize private Kanchenjunga base camp trek or Kanchenjunga base camp Trek (kbc treks) starting at any date that works for you. Please contact us for more information on email.
FAQ
Question: Is pick up service available on my arrival day in Kathmandu?
Answer: Yes sure. Provide us your flight details. Our delegate will come to pick you up at Kathmandu international airport.
Question: Do I need the experience to do Kanchenjunga base camp trek?
Answer: Actually Kanchenjunga Trekking is suitable for keen trekkers/walkers who are able to walk around 4 or 5 hours in a day, with a lightweight daypack. For this trekking, if you have about a little experience would be better.
Question: What kind of accommodation can I expect on the Kanchenjunga summit view trek?
Answer: We provide you tourist standard accommodation in Kathmandu and available local guest house accommodation during the trekking route. We do also provide tented accommodation while above Gunsa to base camp section. However we recommend you take your own sleeping bags if you have one with you otherwise, you may rent them while you are in Kathmandu.
Question: What kind of food can I expect in Kanchenjunga Trekking?
Answer: At Kanchenjunga Base Camp hike, cook at guest houses prepare a delicious range of mostly vegetarian such as Pasta, tuna bakes, noodles, curry rice, potatoes, eggs, bread, soups, fresh vegetables.
Question: What opportunities will I have for a shower along with the Kanchenjunga base camp short trek?
Answer: You can get a shower at a hotel most probably on pay. If you are going on a full board camping trek, we do provide you hot water bucket, you will take a bucket shower.
Question: How do I get drinking water on Kanchenjunga Base Camp lodge Treks?
Answer: Most of the hotels and shops of the place where you can able to buy mineral water and you can buy it for drinking but however we advise against buying mineral water in plastic bottles, as currently there are no provisions for disposing of these. Instead, we provide you with boiled water or bring aqua tablets to purify the normal water as the normal water is available at the campsite.
Question: Can I charge my digital camera or other batteries on my trip?
Answer: During the local lodges there will be more chances to charge the battery. We recommend you bring an extra pair in case. Remember to bring your adapters! An extra battery will be recommended.
Question: Is there any communication facilities on short Kanchenjunga base camp Trek?
Answer: In this KBC trekking route you can get telephone services as well as internet services as well.
Question: Can I use credit cards in Kanchenjunga Trek?
Answer: No! You need to have cash Nepali rupees because credit cards work only in the bigger city areas.
Question: What necessary documents do I need to submit to obtain the Kanchenjunga Trek permit?
Answer: Hike to Kanchenjungha is listed under the restricted area trek in Nepal, so you won't get the permit yourself directly. You need a local trek operator agency like Gokyo Treks & Expedition Pvt Ltd. We are a registered travel trek agency under the law of the Nepal Government and pay all back taxes regularly. Moreover, the following documents are required to obtain the Kanchenjunga Trek permit.
Guest must be in Nepal, original passport with a valid visa of Nepal.
Obligatory a group of at least 2 people in a team as a minimum.
Clearly written daily travel itinerary along with documents.
Minimum of 3 weeks of valid visa
Latest photos (only required for online submission) – You can email them to your trekking agency.
Question: When should I book my trip and what are the payment terms?
Answer: Because our trips book up months in advance, we recommend booking early to avoid any kind of misunderstanding. We will, of course, make every effort to accommodate last-minute bookings.
And concerning the deposit, we prefer 25% advance deposit of the total price of the trip in order to confirm your reservation before you arrive in Nepal. And the rest of the payment can be made after your arrival in Nepal.
Question: Who will carry my luggage on express Kanchenjunga Base Camp hiking?
Answer: We provide porters to transfer your luggage. As we are a responsible trekking tour operator agency, each of our porters carries a maximum of 24 kilos of your backpack which means 2 guests (12.5 kg luggage of each guest): 1 porter basis.
Question: Is there direct flight Kathmandu – Taplejung – Kathmandu?
Answer: Considering the pressure of mass tourists to visit Nepal, nowadays Sita Air launched a direct flight from Kathmandu to Taplejung twice a week. It's good news for Kanchenjunga base camp trekkers to get closer to the conservation area (kca). Not only does exploring Taplejung provide the chance to make some enchanting memories for visitors, and tour the local landmarks. There was also operating a direct flight from Kathmandu to Suketar Airport – Taplejung some months before. But it was mainly focused on the tourist flow season. Other than that you need to fly Bhadrapur from Kathmandu and travel to Taplejung by bus or private jeep.
Question: Can I issue the permit in advance, before arriving in Nepal?
Answer: Only a few agencies can do it. An original passport with a valid visa of Nepal is required to issue the permit. We can issue your permit in advance if you can send us your flight details. We can request an immigration officer to give you a valid visa after your arrival which has been working so far.
Question: How long does it take to issue the permit?
Answer: Normally it takes about 1 to 2 hours to issue the permit during the peak season.
Question: How much distance do I walk each day?
Answer: When walking in the mountains, the distance you cover each day can vary greatly due to a gradient, terrain, and altitude. As such it is very hard to give specific distances on each day, however, you need to prepare roughly about 5 hours to walk each day.
Question: Do I need walking poles?
Answer: It is better to hike with walking poles. Learn how to use trekking poles for balance and stability, whether on the sidewalk or on trails. Walking poles can help prevent slips and falls. They are just recommended but not compulsory.
Question: Is it possible to rent a guide? how to hire a local trek guide?
Answer: Sorry ! We don't sell guides and porters only for these trek routes.
Question: How much additional money do I need per day?
Answer: You can allocate US$ 08 to 10 for a lunch/dinner in Kathmandu and it depends on your spending habits. US$ 7 to 10 US$ each day will be enough to buy bottles of water, chocolates, tea coffee, and some drinks while you are on trek.

The best of Kanchenjunga circuit Trek in 2018
100%
5
star based on –
209
Based on TripAdvisor Reviews
We were 4 friends from Netherlands found Gokyo Treks Nepal over internet forum. Its our second time visit in Nepal for trekking. We read a lot of good reviews so we wanted to book for Kanchenjunga base camp trek with Gokyo Treks.
Basically, Kanchenjunga trek is off the beaten path trek route in Nepal. Less travelers and lodges were just basic. You get an opportunity to explore the true reality of local culture and green vegetation as well as the white snowcapped mountain. The passes are difficult as were not experienced hikers however we made this trip in three weeks. Thanks, gokyo treks Nepal for your great help to arranging all of our restricted area permits, booking flights and necessary crew. – Wolfgang and Lucia, Germany
Kanchenjunga Base Camp Trekking highlights
Discover Kanchenjunga, world's 3rd tallest Mountains with Mt. Everest and Makalu.
Step through cultivated fields, terraces and excellent Himalayan views.
Diverse in flora and fauna and rich in local cultural heritages.
Experience the mixed ethnic groups Sherpa, Limbu, Rai and Gurung and their local lives.
Kanchenjunga Trek Note:
The above itinerary is subject to change due to a condition beyond our control. This is a Guideline showing tentative camp night stops. Physical, technical and natural condition may change this above itineraries.
What makes Kanchenjunga Trek special?
Opportunities for challenging trekking trails and pleasant strolls are scattered all over this planet. You just need to know where to find them. We at Gokyo Treks and Expedition believe in quality services. Your safety and satisfaction is our concern. We are a team of professional, experienced and skilled, and licensed local guides who know the destination much better than others.
From US$ 2368
5% Off
US$ 2250
| | |
| --- | --- |
| No. of people | Price Per Person |
| 1 | USD 2690 |
| 2 | USD 2250 |
| 3 | USD 2380 |
| 4 - 6 | USD 2225 |
| 7 - 9 | USD 2190 |
| 10 + | USD 2150 |
Book Now
Customize Trip
Cost & Departures
Your Trip Your Style!
ITINERARY, COST, DEPARTURES, will adjusted according to your GROUP SIZE NEED TIME
Book with Confidence
Lowest Price Guaranteed.
100% Customizable Trips
No extra booking fees
Excellent Customer Service
Hassle Free Booking.
90 % Repeated customers
Highly Recommended agency
Private/group tour options
Local Guides Company.