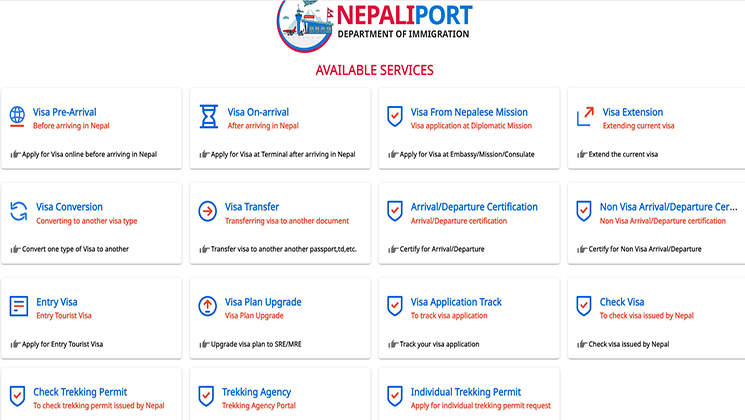 Nepal visa information.
Exclusive news about Nepal visa information – a passport and visa is required to enter Nepal. The Travelers may obtain visas prior to travel or purchase fifteen-day multiple-entry visas, one-month multiple-entry visas, or three-month multiple-entry visas, upon arrival at Tribhuvan International Airport in Kathmandu.
Additionally, for those who still wish to obtain a visa prior to travel, visas and information on entry/exit requirements can be obtained from the Embassy of Nepal then visit the Nepalese Diplomatic Mission in your country or from the Immigration Counter at Entry Points. Have in mind that, if you are going to obtain a visa upon your arrival in Nepal, you should submit your travel details via online. It is not necessary to obtain a visa in advance—the process upon arrival is straightforward and this is how the majority of travelers do it.
Guideline for Nepal Visa Photo
When applying for a Nepal visa, it is essential to provide photographs of yourself that adhere to the visa photo guidelines set by the Nepalese government. The general requirements for a Nepal visa photo are as follows:
Recent Photo:
The photo must have been taken within the last six months.
Size:
Your photo should be either 2×2 inches or 1.5×1.5 inches.
Background:
Background must be white or gray in color.
High Quality and True Appearance:
Photo should be of high quality and accurately reflect your true appearance.
Head Measurement:
Measurement from the top of the hair to the bottom of the chin should be 1.29 inches or 72 units.
Eye Level Measurement:
Measurement from the bottom of the photo to the applicant's eye level should be 1.18 inches.
Please note that If photographs doesn't meet these specific size requirements than NEPAL embassy will rejects your application.
Background Color:
The photo should be taken against a white or gray background and there should be no patterns or objects behind you.
Hardcopy Photos:
It is necessary to carry two hardcopy photos that are sharp and free from visible pixels or printer dots.
Clarity:
Photo should be clear and in color. It must accurately represent your skin tone without any shadows, color casts, or distortions.
Print Quality:
If you are printing the photo, use a high-quality printer ink, paper, or print setting. Alternatively, you can increase the printer's resolution (dots per inch setting).
Facial Expression and Posture:
Maintain a normal facial expression and posture in the photo.
Overall, the photo should be of high quality and accurately represent your appearance. Submitting a low-quality or poorly-lit photo can result in delays or denials of the visa application. Therefore, it is crucial to take the time to ensure that the photo meets all the necessary requirements and is of good quality.
Immigration offices in Nepal
If you are traveling from India to Nepal or China to Nepal using road transfer then follow the below immigration office location in Nepal. Get the detailed list of the immigration offices in Nepal.
Tribhuvan International Airport, Kathmandu
Kakarvitta, Jhapa (Eastern Nepal)
Birganj, Parsa (Central Nepal)
Kodari, Sindhupalchowk (Northern Border)
Belhiya, Bhairahawa (Rupandehi, Western Nepal)
Jamuna, Nepalgunj (Banke, Mid Western Nepal)
Mohana, Dhangadhi (Kailali, Far Western Nepal)
Gaddachauki, Mahendranagar (Kanchanpur, Far Western Nepal)
Nepal Visa on Arrival
Nepal offers the convenience of obtaining a visa upon arrival at its main gateway airport, Tribhuvan International Airport (TIA). The immigration Office at TIA, which operates under the Department of Immigration, facilitates the process for tourists arriving by providing Visa on Arrival. Similarly, other specify entry and exit points at the border regions also grant 'On Arrival Visas' to foreign nationals entering Nepal by land.
The 'On Arrival' visa procedure is straightforward and efficient, although during peak tourist seasons, there may be some queues. If you prefer to skip these queues, you can alternatively obtain a visa from Nepalese Diplomatic Missions located abroad before your arrival. The choice is yours.
If you have obtained a visa from a Nepalese Diplomatic Mission, it is important to note that you must enter Nepal within six months from the date of visa issuance. The duration of your stay in Nepal will start to count from the day of your entry.
ON Arrival Visas are 'Tourist Visas'. They bear multiple Re entry facility. Tourist Visa 'On Arrival' is the only entry visa to Nepal. However, if you are visiting Nepal for purposes other than tourism, such as sightseeing, tours, travel, mountaineering, trekking, or visiting friends and family, you must still obtain a 'Tourist Visa' to enter the country. Subsequently, you may change the visa category as per your purpose and duration of stay in Nepal by following the procedures set by the Department of Immigration and providing the necessary documents.
Nationals of specific countries are advise to acquire a visa prior to their arrival from the nearby Diplomatic Missions (Embassies/Consulates) of the Nepalese Government. Please refer to the given link to verify your eligibility for the 'On Arrival Visa.'
Upon arrival at the airport, kindly follow these simple steps for obtaining a Tourist Visa on Arrival in the Airport:
1): Fill your details on 'Arrival Card.'.
2): Fill in the Online 'Tourist Visa' form (you may complete it before your arrival by visiting the official website of the Department of Immigration or fill it out using the Kiosk machines available at the airport). If you choose to fill it out online, you will receive a submission receipt with a barcode. Please print it out and carry it with you for visa acquisition. This receipt is valid for fifteen days and becomes invalid afterward. If necessary, you will have to fill out the form again.
3): Make the necessary visa payment at the bank, depending on your visa requirement (15/30/90 days) to obtain the payment receipt.
While various payment methods are available at the visa fees collection counter, it is advisable to carry some cash to ensure a smooth process.
Nationals of the given countries need to get visa in advance from their nearest diplomatic missions!
Nationals of the following 12 countries are advise to obtain a visa in advance from their nearest diplomatic missions (embassies/consulates) of the Government of Nepal. In other words, these nationals will have not grantee an on-arrival visa unless they possess an official letter issued by the Ministry of Home Affairs of Nepal.
However, process to the Immigration Desk with your online form, payment receipts and your passport on hand to immigration officer for visa processing. He/she issues visa to you upon his/her satisfaction.
Likewise, If you are a citizen of one of the following country, you need to submit your photograph (should be 2×2 in or 1.5×1.5 in in order to accept by the Nepalese embassy) for Nepal visa application. You must print in high-quality paper, which clearly shows your features.
List the Countries:
1). Nigeria
2): Ghana
3): Zimbabwe
4): Swaziland
5): Cameroon
6): Somalia
7): Liberia
8): Ethiopia
9): Iraq
10): Palestine
11): Afghanistan
12): Syria
Additionally, refugees holding a travel document are also require to obtain a visa prior to their arrival in Nepal.
Visa requirements for Young Children and Babies
When applying for a Nepal visa for young children and babies, the following requirements should be taken into consideration:
Photo Requirements:
Children, including infants, are also requires to submit a recent photograph for the visa application. The photo should follow the guidelines specific for adults, such as being of high quality, having a white or gray background, and accurately representing the child's appearance.
Passport for the Child:
Each child, regardless of age, should have their own passport for international travel. The passport must be valid for at least six months beyond the intended duration of stay in Nepal.
Parental Consent:
For children traveling with only one parent or with someone other than their legal guardians, it is advisable to carry a notarized letter of consent from the absent parent(s) or legal guardian(s). This letter should state permission for the child to travel to Nepal.
Birth Certificate:
It is recommended to carry the child's original birth certificate or a certified copy as proof of the child's age and relation to the accompanying adult(s).
Additional Documentation:
Depending on the circumstances, additional documents may be required, such as adoption papers, custody documents, or proof of guardianship. It is recommended to check with the Nepalese diplomatic mission or embassy in advance to ensure you have all the necessary documentation.
It's important to note that visa requirements for young children and babies may vary and are subject to change. It is advisable to consult the official website of the Nepalese Department of Immigration or contact the nearest Nepalese diplomatic mission for the most up-to-date and accurate information regarding visa requirements for young children and babies.
Nepal tourist visa fee and visa extension fees
Multiple entry: 15 Days US$ 30 or equivalent convertible foreign currency
Frequently entries: 30 Days US$ 50 or equivalent convertible foreign currency
Several time like multiple entry: 90 Days US$ 125 or equivalent convertible foreign currency
Thus, have in mind that nepal visa for Indians is totally free of cost.
If you want to have nepal visa on arrival form, get the latest visa form and go to submit your personal details on Department of Immigration online
How to extent travelers Tourist Visa in Nepal?
Furthermore, the visa extension fee for 15 days or less is US$ 30 or equivalent convertible foreign currency, and the visa expansion fee for more than 15 days is 2 USD per day. Foreigner tourist visas are possible to extend for a maximum period of 150 days in a single visa year (January – December).
Note that- No visa fee shall be applicable to the passport holder of member states of the South Asian Association for Regional Cooperation (SAARC) for 30 days.
Tourist Police
Tourist Police is a unique unit of Nepal Police, which works under the Department of Tourism. The fundamental office is situated at Tourist Service Center, Bhrikutimandap, Kathmandu (in the NTB building). There are likewise objection counters at the Airport and Basantapur Durbar Square. Special Tourist Police unit works solely to guarantee a wonderful remain for sightseers, and moderate and settle any health and security related issues that travelers could experience. They likewise assist and advise tourists on safety matters during hiking, trekking, traveling, boating and inn remain in any piece of Nepal.
Besides that, visiting foreign tourists shall grants the tourist visa obtain easily from Nepal Embassy & Consulate or Mission offices at your home country. Contact them to get Nepal visa details information without any hassle and apply to get a visa online.