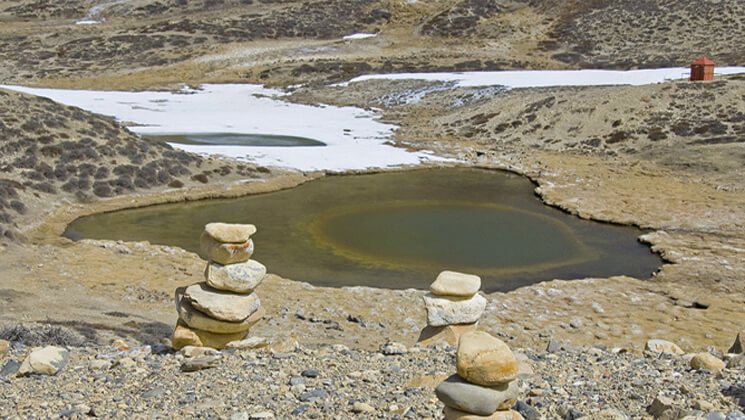 Damodar Kunda Trip Summary
Damodhar Lake Hike Duration: 20 Days
Damodhar Trek Difficulty: Moderate
Highest Elevation: 4,890m/15,990 feet
Trekking Hour: 7 Hours daily
Group-Size: 2-10 People
Best Time: March, April, May, October, November and December
Trip Mode: Lodge + Tent trek
Meals on Trek: Breakfast, Lunch, and Dinner
Transportation: Car/Plane/bus
Overview
The Damodar Kunda trek of Mustang region is an isolated trekking trail, is a perfect destination to visit Buddhist Monasteries. Damodhar Kunda is located at an altitude of 4,890 meters above the sea and is famous for Hindu and Buddhist pilgrimage destinations.
Hike to Damodhar Kund is located in Rainshadow areas north of the Annapurna region of Nepal. The Center of the Mystical Damodar lake is set up northeast of the main Mustang trek route & very close to the Tibetan border. In ancient days, sacred damodhar kund lake is mainly visited by the holy sages and saints to fulfill their meditation purpose and pay attention to Lord Shiva.
As you are trekking in rain shadow areas you experience a unique barren landscape having low vegetation. Muktinath Himal (6,706m), Bhrikuti Peak (6,364m) including several snow-capped mountains are the most visible from Damodar lake.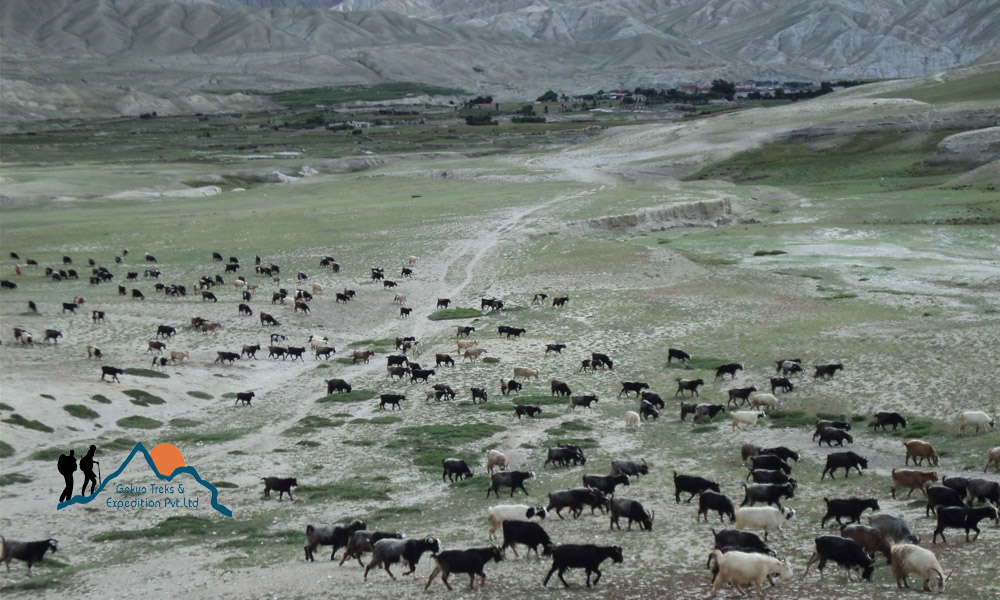 The best time to discover this damodar kunda trekking tour is in August while on a full moon. There are many pilgrimage people traveling into this place at that time so we recommend you make your trip to Damodhar Kunda in August. However, the trek is possible at any time from April until September throughout the year.
How much does for Damodar Kunda Trek Package Cost/Price?
The cost of Damodar kunda trek package with a Gokyo Treks Agency (a local trek operator agency in Nepal) ranges between US$ 2490 to 2990. Certainly, the Damodar kunda trek cost will vary according to group size you are coming with.
However, we basically arranges a private trips in order avoid group tours with strangers. A private hiking tour gives you better experience on your hikes. If you value personalization, flexibility, and in-depth experiences, a private trip customized to your personal needs will be the best option.
It is the standard trip package price for 3 weeks trek in the Mustang teritory. If you are 2 person and want to hike? it costs US$ 2,550 for 21 days trek according to the given trekking plan. We can modify the trek route and the prices according to your wishes also. Here is the price list for the Damodar Kunda hike.
Price Per Person for 20 days hikes in Mustang
| Number of Tourist | Price Per Person |
| --- | --- |
| 1 Person | US$ 2990 |
| 2 Person | US$ 2550 |
| 3 Person | US$ 2690 |
| 4 to 6 person | US$ 2550 |
| 7 to 9 Person | US$ 2525 |
| 10 and more than 10 Person | US$ 2490 |
If you're wondering to know about what is included and what is excluded on this trip price, kindly check on cost given on a tab buttun.
Itinerary
The Damodar kunda trek itinerary detail
Hiking at Damodhar kunda is a short and express itinerary compared to most walks in the upper Mustang zone. The trans-Himalayan trek route is designed for world explorers who wish to hike to upper mustang but are restricted time-wise. For travelers who wish to reach the upper mustang in a more comfortable manner can try this appropriate choice. However, email us if you need a customized itinerary.
1 Day
Arrival at Kathmandu valley
Upon arrival in Kathmandu, Tribhuwan International Airport, we will receive you with private vehicle and drive to hotel in Kathmandu bed with breakfast plan. Our representative Ammar will brief you about Damodhar kunda hikes.
2 Day
Drive to Pokhara city (900m/2,943 feet), 6 hours.
Drive to Pokhara by tourist bus. Between on the way we will see the natural beauty like Trisuli river which is most popular in Nepal for rafting and we will follow the way almost bank of the Trisuli and Marsyangdi River when we arrive in Pokhara transfer to hotel.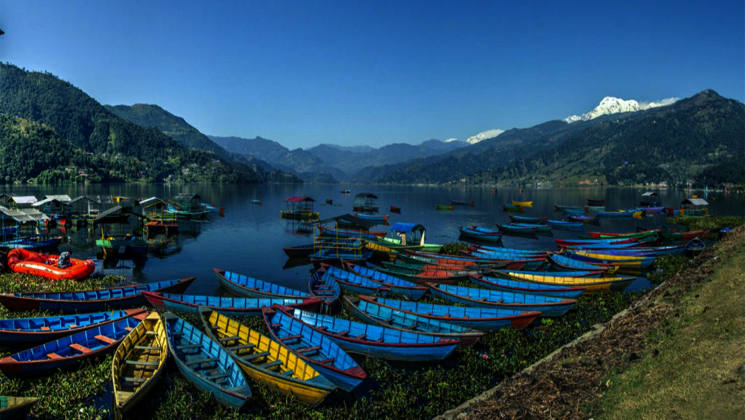 3 Day
Fly to Jomsom airport. Kagbeni trekking (2,800m/9,156 feet), 4 hours
Early flight to Jomsom located an an altitude of 2720m / 8,894 feet. You will be land on the District headquarters of Mustang and will start trek to Kagbeni, the starting point of the Upper Mustang, where you can make your eyes busy for The spectacular views of Nilgiri, Dhaulagiri, Tukuche peak, and Dhampus. Kagbeni is the most interesting typical Tibetan village and the entry point of the upper Mustang for an overnight stop. Overnight camping at Kagbeni.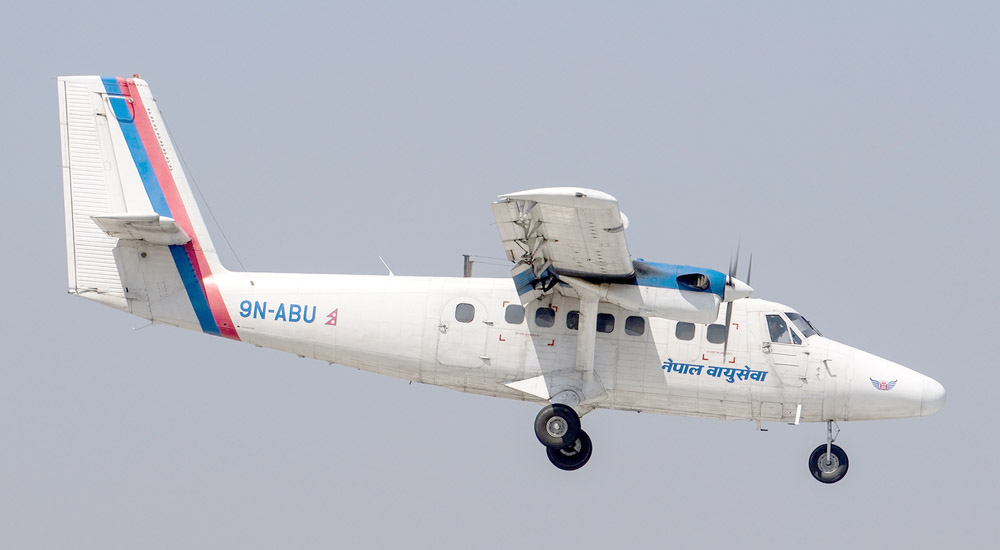 4 Day
Kagbeni to Chele trekking (3,100m/10,137 feet), 6 hours
The trail leads up toward the east bank of the Kaligandaki that climbs over many ridges as it heads north and reaches Tangbe Village. The town is a labyrinth of narrow alleys amongst whitewash houses, fields of buckwheat, barley, wheat, and apple orchards. The Nilgiri peaks, which dominate the southern skyline of Kagbeni. Continue to loom massively at the foot of the valley. Beyond Tangbe we reach Chhusang Village and cross the river, continue climbing north up the trail to tunnel through where the Kaligandaki follows. The trek now leaves the Kaligandaki valley and climbs steeply up a rocky gully to Chele at 3030m.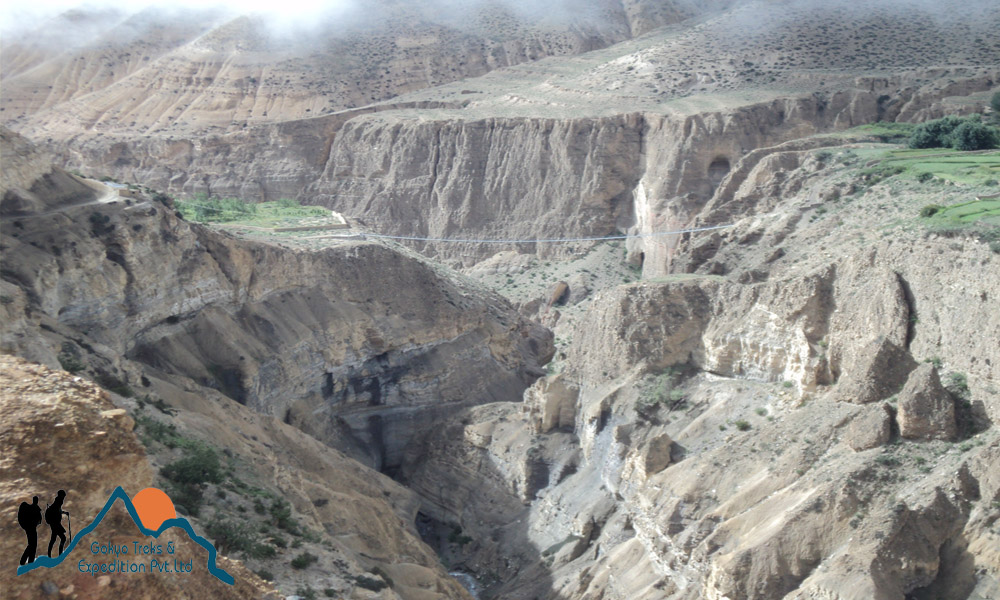 5 Day
Chele to Gheling trekking (3,570m/11,674 feet), 8 hours
The climb continues along steep, treeless, waterless terrain, along the side of the spectacular steep canyon to pass and cairn of rock at 3540m. The trail makes a long gradual descent to some chortens on a ridge, and the trail descends further on a pleasant trail to Samar. Impressive Annapurna and Nilgiri peaks are visible far to the south. Climb above Samar to a ridge, descend into a large gorge and the trail goes into another valley field, crosses a stream, and climbs up to a ridge at 3800 meters. Climb sharply up and down over a series of high passes, before the final descent to Geiling.
6 Day
Trek from Gelling to Tsarang (3560m/11,641 feet), 7 hours
From Gelling, the trail climbs gently to the interesting pass on our trek NYLA and descends below the blue, gray and red cliffs. After crossing a steel bridge of the Tangmar chu (river), we will arrive at a MANI (Prayer WALL) perhaps the longest and most spectacular stretch and main wall in Nepal. Climbing over another pass at 3600m the route makes a long gentle descent to Charang. The huge five-story white Dzong and red Gompa is an interesting visit to follow collections of statues and Thanks as well as many large paintings of seated Buddha.
7 Day
Tsarang to Lo Manthang hiking (3,840m/12,557 feet), 5 hours
The trail descends about 100 meters down from Charang, crosses the Charang – Chu and climbs steeply up a rocky trail to a cairn on a ridge and continues to climb. Finally, from a ridge at 3850m. There is a view of the walled city of Lo. After a short descent, cross a stream climb up into the plateau of Lo- Manthang.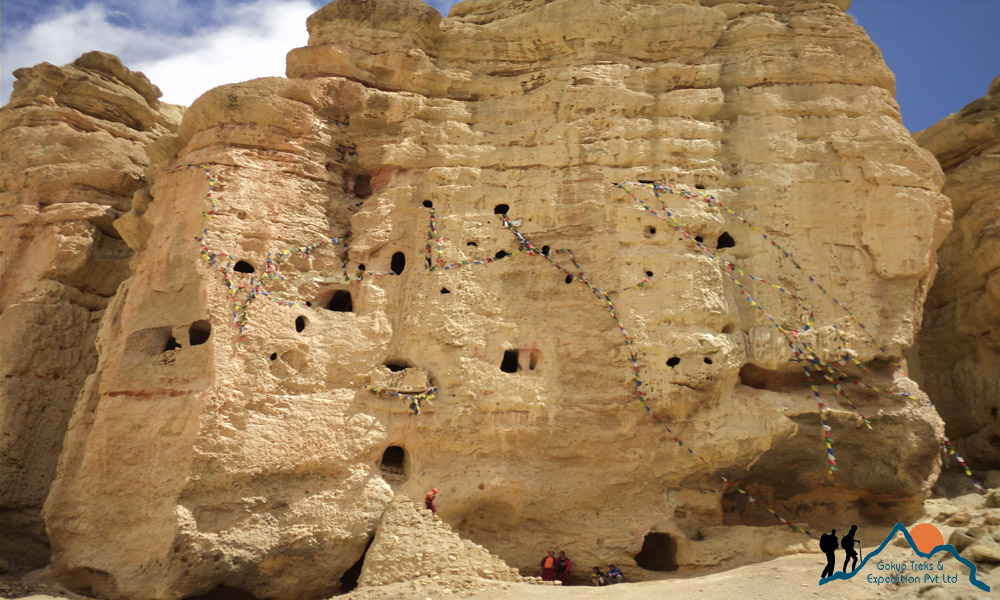 8 Day
Lo-Manthang, day hiking exploring around
Another day in Lo – Manthang gives you the chance to explore its many sights; the Tall Champa Lakhang (God house,) the red Thugchen Gompa, Chyodi Gompa and the Raja's Palace; as well as to gaze at the surrounding panoramic views of the Tibetan Plateau and the Himalaya. Besides Lo-Manthang there are two other interesting valleys worth visiting. The western valley Tingkhar, the sight of Raja's summer palace, Kimling and Phuwa as well as the Gompa of Namgyal (The Monastery of Victory) is the newest and most active Gompa in Lo. In the eastern valley lies the village of Chosar, also rich in gompas and the valley is the main trading route to Lhasa.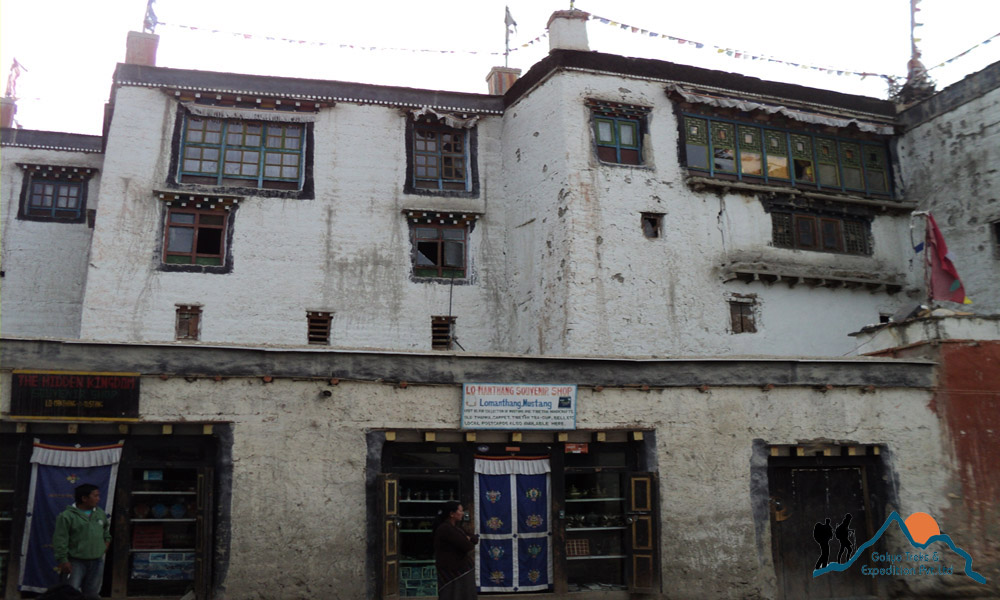 9 Day
Yara trek (3,900m/12,753 feet), 6 hours
Keep gently ascending until we reach Day-La with a dusty trail from where the last view of the Lo-Manthang is visible. Choose to use the left trail after skipping the trail to reach Tsarang then we arrive in a small pass.  Furthermore, we climb down a steep and dusty descent in the narrow path. We again come to a wide plateau and descend rocky gully and knee crunching trail until reaching Dhi village. lunch will be served here. Cross a suspension bridge over the Kaligandaki River and make a short steep climb, follow along with the upstream of Puyung Khola viewing the unbelievable landscapes and innumerable caves at the stone walls until reaching Yara Village.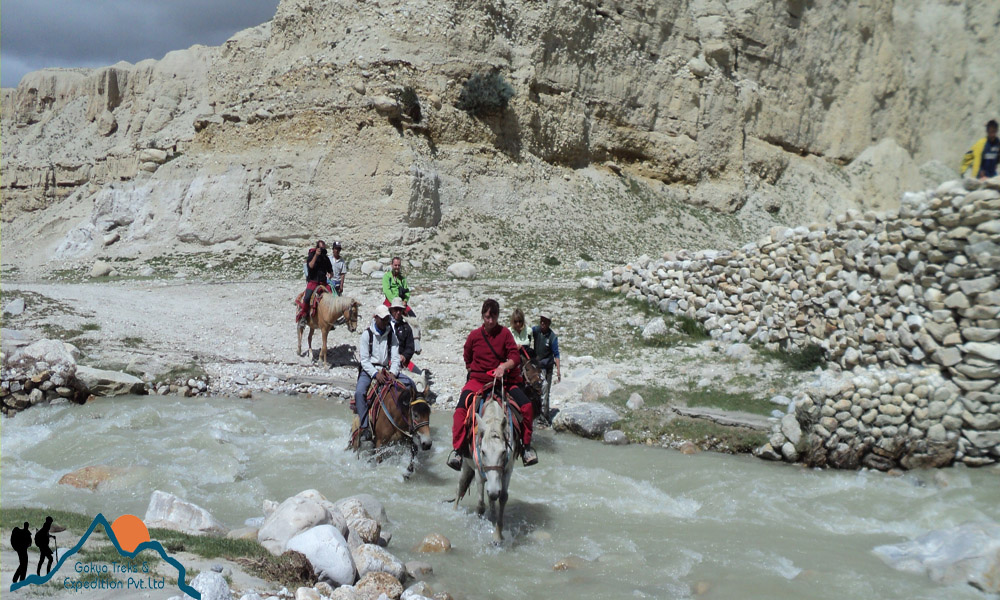 10 Day
Ghuma Thanti hiking (4,800m/15,696 feet) via Luri cave, 7 hours
Today, we climb up to reach Luri Cave Monastery and visit that interesting Cave Monastery. After, follow the barren valley after crossing 5100m pass; today we prepare pack lunch due to no appropriate cooking possibilities on the trek.
11 Day
Damodar Kunda Trek (4,890m/15,990 feet), 10 hours
start our day tour after breakfast, the hiking path continues along with ups and downs. Cross another pass at 18,374 feet to reach Damodar Kunda highest elevation. As you leave the campsite, there are neither lodges nor local tea shops for cooking possibilities on the trail. Therefore, Gokyo agency cook will prepare a special pack lunch for every tourist before your hiking starts. We need to make lunch pack due to no appropriate
12 Day
Discovery the day around Damodar lake
Explore the divine trail and feel against the high altitude adventure. Determine the three other prime lakes which are situated around the main kunda. They are Brahma Kunda, Rudra Kunda, and Ananta Kunda. In Hindu culture bathing in Damodar Kunda take out all the sins done in previous and current lives. That's the main reason that many pilgrimages visit Damodar lake and collect shaligram fossils on their way back. Shaligram, typically fossils of ammonite shells from the Devonian-Cretaceous period of 400 to 66 million years ago. Overnight stay in a tent camp.
13 Day
Trek from Damodar Kunda to Ghuma Thanti (4,800m/15,696 feet), 8 hours
Today, we return back all the same way passing over the 5600m high pass. Trekkers should walk across the windy trail again ups and down same like before. We will make our lunch in some small stream in the naked trail.
14 Day
Hike to Yara (3,900m/12,753 feet), 7 hours
In this also we come back all the same route which before we climb up. The sandy muddy trail continues downhill until reaching Yara Village. We serve lunch on the half a way from home. Our camping crew will search a best camping ground to setup a campsite to stay for overnight.
15 Day
Hike from Yara to Tangye (3,240m/10,595 feet), 8 hours
Not the Longest day comparing others so we first have a short steep ascent and a Long flat hiking trail. The trail continues steeply down to Dechhyang Khola which origin is from Damodar Kunda. We find everywhere Saligrames (the black fossils of marine animals). The trans-Himalayan trail steeply ascents and leads us to the top of the pass where we have our packed lunch break. Up and down and we are on a huge plateau and cross it for reaching Tangya village. We can see several big Chhortens.
16 Day
Tetang hikes (3040m/9,941 feet), 10 hours
Long day hikes therefore we start early in the morning. We leave the village, cross the suspension bridge, and follow the short river route. Crossing the river, we steeply climb up to reach a small pass. The trail goes straight to Paha (shelter house stays with drinking water tap). Continue to cross many small passes until we reach the hill station. Hike over the barren trail steeply descends and we encounter strong winds until we reach Tetang village. We have a superb view of Nilgiri Himal, Dhaulagiri I, Tukuche Peak, and other snowy peaks en route.
17 Day
Muktinath Trekking (3,700m/12,099 feet), 7 hours
We keep ascending until reaching small pass from where we can see the high mountains and picturesque view of Muktinath. Walk down to the small stream and cross by a suspension bridge, we arrive on Chhyongar. In the evening, we explore a secret place for Hindus and Tibetan Buddhists in about 30 minutes in its compound. We can visit the 108 brass waterspouts, Muktinath temple stands to enshrine Vishnu, a Hindu God. When we visit Muktinath Temple at once, we are the free/salvation of escape from the cycle of birth and rebirth. Below the temple, there is another Buddhist monastery where the combination of earth-water-fire gives Muktinath great religious significance. Nilgiri Himal and Dhaulagiri Ist can be seen from here.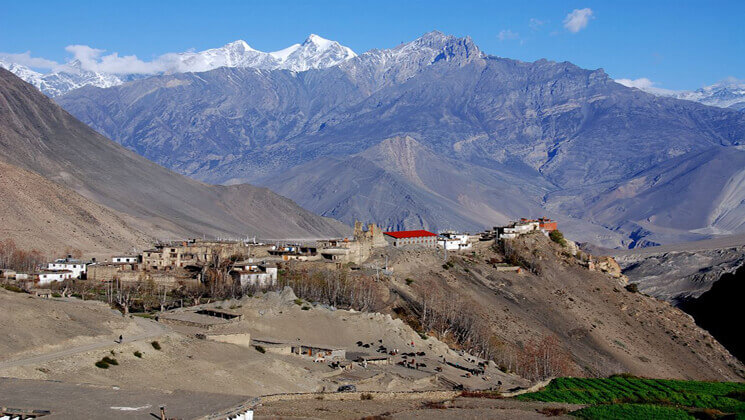 18 Day
Jomsom Bazaar trekking (2,720m/8,894 feet), 5 hours
We trek to Jomsom with the valley of Kaligandaki River valley, mark as the most windy valley where every day big wind blowing and overnight in Jomsom. If you have time enough, you can hike to visit Eco Museum. Our guide will reconfirm the flights for tomorrow early morning to pokhara town.
19 Day
Fly out from Jomsom to Pokhara, 25 minutes. Pokhara Sightseeing
Early morning we fly to Pokhara with thrilling spectacular Mountain View including Dhaulagiri, Nilgiri, Annapurna South, Annapurna I, and Machhapuchre during the flight. Transfer to the hotel to check-in for a hot shower and relax. In the afternoon, the guide will assist you with your sightseeing visiting Devis falls, Gupteswor cave, and Boating in Fewa Lake to visit Tal Barahi Temple. Walk back to the hotel.
20 Day
Pokhara to Kathmandu drive out
Morning we'll drive back through the scenic countryside and during the route will stop for breakfast & lunch. It takes 7 hours back to Kathmandu. On arrival at Kathmandu guide will transfer to the hotel and rest of the day relax or explore the surrounding areas and overnight at hotel. Trip finish!
Not satisfied with above plan?
Are you interested on planning custom trip? this might take 2 to 3 minute.
Cost
How much does Damodar kunda trek cost?
Lo Manthang merge with Damodar kunda trek cost USD 2550 per person on standard trek price on a double occupancy basis. Likewise, Pokhara – Jomsom – Pokhara round-trip flight is included in the price, however, taking flights from Kathmandu – Pokhara – Kathmandu saves your time, and riding the bus reduces the trip expenses.
For the deluxe and luxury trekking tour plan, we add Kathmandu – Pokhara – Kathmandu round trip airfare, 3-star category hotel deluxe air-conditioned room in Kathmandu (BB PLAN) and 2-star hotel standard accommodation in Pokhara (BB plan) with attached bathroom while on trekking on possible places. AND WE ARE OPEN TO CUSTOMIZE YOUR TOUR AND PACKAGES PRICE AS PER YOUR REQUIREMENTS. International tour leaders are highly encouraged to get discount and attractive complimentary.
Cultural Damodar kunda trek package price includes
Kathmandu international airport transfer by private vehicles.
2 nights twin sharing on tourist standard accommodation in Kathmandu with breakfast.
2 night Tourist standard accommodation in Pokhara within Bed with Breakfast Plan
Meals on full board: Breakfast, Lunch and Dinner serve with Tea/coffee each day during the trek
Domestic flight: Pokhara – Jomsom – Pokhara as a round trip airfare with airport tax.
Tourist Bus transfer from Kathmandu – Pokhara – Kathmandu as a round trip.
Fully escorted trek with English speaking license holder local trekking guide.
1 professional cook, and required number of Porters. Each 2 guest (12.5 kg + 12.5 kg) = 1 Porter basis.
Required camping gears for camping accommodation and kitchen utensil for damodhar kunda camping trek.
Annapurna Conservation Area permits and their fees
Upper Mustang restricted area permits cost USD 500 for each guest for each 10 days.
Pokhara city sightseeing (Devi's fall and Gupteswor Mahadev cave) transfer by private vehicle.
Required land transportation as per written on above itinerary.
Food and accommodation and salary of Nepali trekking staffs.
Travel and medical Insurance of guide and porters.
Updated Damodar kunda trek map 1 piece for each guest.
Nepal Government Tax, VAT and as well as Company service charge.
Damodar kunda trek package exclude :
Nepal entry visa fees.
Lunch and Dinner during the staying in Kathmandu and Pokhara city.
Any kinds of battery charges, laundry service, phone calls and hot shower during the trek.
Travelers Personal trekking gear and Clothing.
Personal nature expenses, any bar bills.
Travel Insurance which covers emergency Rescue and Evacuation.
Donation and monuments entrance fees.
Tips for the crew (Note : TIPS is not compulsory but expected)
Other things which are not mentioned above
Group join
We can organize either a group join or a private Damodar kunda trek starting at any date. We can also run this private trip if that works for you at your favorrable departure date. Please contact us for more information.
FAQ
Question: Is pick up service available on my arrival day in Kathmandu?.
Answer: Yes sure !! If you provide us with your flight details. You should do a request to us, our representative will come to pick up you at Kathmandu international airport.
Question: Do I need experience for Damodar kunda trek?.
Answer: It is suitable for keen trekkers/walkers who are able to walk around 4 or 5 hours in a day, with a lightweight daypack. For this trekking – yes, you need to have experience in high altitude – somehow about 3000 meters above sea level.
Question: What kind of accommodation can I expect on Damodar kunda tent trek?.
Answer: We provide you tourist standard accommodation in Kathmandu. Along the trekking routes, we offer you lodge accommodation with food in possible places. Rooms along the routes are clean with a cozy bed with a nice mattress and blankets. We give you Tent camping accommodation with food from Yara – Damodhar Kunda – Yara village only for 4 days. However, we recommend you take your own sleeping bags if you have one with you otherwise, you may rent them while you are in Kathmandu.
Question: What kind of food can I expect in Damodar kunda trek?.
Answer: Mustang lodge trekking days, guest houses will prepare a delicious range of mostly vegetarian foods. They are Pasta, tuna bakes, noodles, potatoes, eggs, dhal, rice, bread, soups, fresh vegetables every day on a choice menu system. The dinner and breakfast are provided in the same place you spend the night every day and Lunch will be provided on the way to the next place where you go.
Question: What opportunities will I have for a shower along Damodar kunda trek?.
Answer: Mustang lodge trek, every lodge they have a hot/cold shower which you can get it somewhere paying and somewhere for free. However, while you are on camping trekking days – we provide you hot water bucket then you will take a bucket shower.
Question: How do I get drinking water on Mustang Damodar kunda trek?.
Answer: In some places en route, you can buy mineral water to drink. But we advise against buying mineral water in plastic bottles, as currently there are no provisions for disposing of plastic waste. Instead, we do provide you with purified water along with camping outdoors.
Question: Can I charge my digital camera or other batteries on my trip?.
Answer: In a lodge trekking there will be more chances to charge the battery. We recommend you bring an extra pair in case. Remember to bring your adapters! .
Question: Are there any communication facilities on express Damodhar Kunda Trek?.
Answer: At Damodar Kunda nature trail, buy a local SIM CARD to get a telephone call. And also buy a data pack to use 3G internet service.
Question: Can we use credit cards in Trekking?
Answer: No. You need to have cash Nepali rupees to maintain your daily indirect expenses as the direct meals are included in the plan.
Question: When should I book my trip and what is the payments terms?.
Answer: Because our trips book up months in advance, we recommend booking early to avoid any kind of misunderstanding. We will, of course, make every effort to accommodate last-minute bookings. And regarding the deposit, we prefer 20% advance deposit of the total price of the trip in order to confirm your reservation before you arrive in Nepal. And the rest of the payment can be made after your arrival in Kathmandu.
Question: Who will carry my luggage on Damodar kunda trek?.
Answer: We provide porters to transfer your luggage. As we are a responsible trekking tour operator agency, our every porter carry a maximum of 25 kilos of your backpack which means 2 guests (12.5 kg luggage of each guest): 1 porter basis.
Question: How much distance do I walk each day?.
Answer: When walking/trekking in the mountains, the distance you cover each day can vary greatly due to a gradient, terrain, and altitude. As such it is very hard to give specific distances on each day, however, you have to be prepared to walk roughly about 5 hours each day.
Question: Do I need walking poles for Damodar kunda trek group?.
Answer: It is better to hike with walking poles. Learn how to use trekking poles for balance and stability, whether on the sidewalk or on trails. Walking poles can help prevent slips and falls. They are just recommended but not compulsory.
Question: How much additional money do I need per day?
Answer: You can allocate US$ 08 – 10 for a lunch/dinner in Kathmandu and it depends on your spending habits. US$ 7 to 10 US$ each day will be enough to buy bottles of water, chocolates, tea coffee, and some drinks while you are on trek.

Mystical Damodhar kunda with great company
100%
5
star based on –
203
Based on TripAdvisor Reviews
Big thanks to Ammar and Ram, who helped to organize one of the best trip in my lifetime!
I was traveling with a group of friends. We have spent in Nepal more than two weeks being under the 24h care of our beloved Gokyo Treks company.
Needless to say about the beauty of the Himalayas and the hospitality of Nepalese people. We were warmly met and hosted in every camp we have stayed.
But the organization and safety of our trip were fully supported by Ram and team of strong porters:). Me personally and other members of our group are thankful for the smart organization and interesting knowledge we got about that unforgettable country.
I wish good luck to Gokyo Treks organization in all charity projects they organizing for kids in Nepal.
For sure, that is the first but not the last time of my trekking in Nepal! – Peter Iris Viktor, Mosco w, Russia
Damodar kunda trek Highlights
Discover Annapurna and Dhaulagiri family and some of the boarder mountains.
Walking through dry cultivated fields, Excellent views of Dhaulagiri and Blue Mountain.
Hidden kingdom with World's deepest gorge Kali Gandaki valley
Meet the mixed communities with shakye pa Buddhism and their lives..
Damodar kunda trek Note:
Visit Damodar Kunda – lake information stated above is just a guide and standard template that we provide you. However, the trip is possible to modify at your request to accommodate your specific needs. Local politics, landslides, cancellation of local flights, weather, transport, or a multitude of other factors that are beyond our control can result in a change of itinerary during on trip.
It is, however, very incredible that the daily travel plan would be extensively altered. If alterations are necessary the leader will decide the best alternative option, taking into consideration the best interests of the whole party. Where a change does occur, we do everything we can to minimize its effect, but we cannot be responsible for the results of changes or delays.
What makes Damodar Kunda trek special?
Opportunities for challenging camping outdoor and pleasant hikes are scattered all over this planet. You just need to know where to find them. We at Gokyo Treks and Expedition believe in quality services. Your safety and satisfaction is our concern.
We are a team of professional, experienced, and licensed local guides who know the destination much better than others. Not only this but also we give benefits to the local communities and helps to conserve natural resources which reduced costs and consumption.
From US$ 2684
5% Off
US$ 2550
| | |
| --- | --- |
| No. of people | Price Per Person |
| 1 | USD 2990 |
| 2 | USD 2550 |
| 3 | USD 2690 |
| 4 - 6 | USD 2550 |
| 7 - 9 | USD 2525 |
| 10 + | USD 2490 |
Book Now
Customize Trip
Cost & Departures
Your Trip Your Style!
ITINERARY, COST, DEPARTURES, will adjusted according to your GROUP SIZE NEED TIME
Book with Confidence
Lowest Price Guaranteed.
100% Customizable Trips
No extra booking fees
Excellent Customer Service
Hassle Free Booking.
90 % Repeated customers
Highly Recommended agency
Private/group tour options
Local Guides Company.