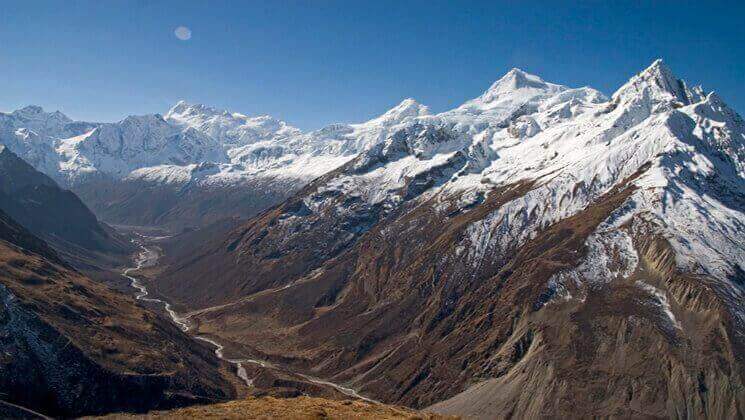 Tsum Valley Trek Summary
Trek Duration: 12 Days
Trek Difficulty: Easy to Moderate
High Altitude: 4,460m / 14,633 feet
Trek Hours: 6 hours daily
Group-Size: 1 – 12 People
Best Time: March, April, May, October, and November
Trip Mode: Guest House
Meals on Trek Routes: Breakfast, Lunch, and Dinner
Transportation: Jeep / Bus
Overview
Tsum valley trek is 100 Km northwest of Kathmandu in the lap of Manaslu Himal, a revered pilgrimage destination, especially for Buddhists. Since the Ganesh Himal, Sringi Himal, and Boudha Ranges are the backdrop beauties of this serene valley, Tsum valley creates the world one of the few untouched and isolated natural beauties.
Moreover, the Tsum valley trek offers an opportunity to explore beautiful mountains such as Shringi (7,187m), Ngadi Chuli (7,871m), Buddha Himal, Himal Chuli (7,893m), Annapurna range, Ganesh Himal, rich in biodiversity and flora and fauna as well as ancient art – culture. During the journey, mu Gomba, Gumba lungdang are the top famous places for side trips.
Furthermore, the hike to Tsum traverses through Manaslu Region has rock-strewn trails with artistic chortens and a long line of Buddhist mani walls carved with paintings of deities and inscribed with prayers in their myriads of stone slabs. As a Tsum valley trek has tough geographical conditions, it is under development. Thus, vacationers can still explore the unique cultures centuries old. Hike at Tsum territory is possible to visit at any time throughout the year but the best months are except monsoons.
How much does tsum valley Trek Package Cost/Price?
The cost of the Tsum valley trek package with a Gokyo Treks Agency (local trekking agency) ranges between US$ 599 to US$ 899. And obviously, the Tsum valley trek cost will vary according to the group size you are traveling to and the service you choose. However, the given package price includes transportation, a guide, porters, hotels and food accommodation and hiking permits, facilities.
However, we often arrange private trips in order to avoid group tours with strangers, especially after the coronavirus. A private tour gives you a better experience on your hikes. If you value personalization, flexibility, and in-depth experiences, a private trip customized to your personal needs will be the best option.
It is the standard trip package price for 12 days trek. If you are 2 tourists hiking in Tsum valley costs US$ 725 for 12 days trek according to the given trekking plan. We can modify the trek route and the prices according to your wishes also. Here is the price list for the Tsum valley treks.
Price Per Person for 12 day hike in the Tsum valley route.
| Number of Tourist | Price Per Person |
| --- | --- |
| 1 Person | US$ 899 |
| 2 Person | US$ 725 |
| 3 Person | US$ 725 |
| 4 to 6 person | US$ 698 |
| 7 to 9 Person | US$ 650 |
| 10 and more than 10 Person | US$ 599 |
If you're wondering to know about what is included and what is excluded from this trip price, kindly check on the cost given on a tab button.
Itinerary
Tsum valley trek itinerary detail
Hike to Tsum valley is a classical trek with 11 nights and 12 days itinerary compared to most walks in this region. The particular route is designed for world travelers who wish to tsum village hike in a comfortable manner? try this itinerary. However, if you are planning without limited time-wise then take a look at this special itinerary on Manaslu Tsum valley trek – 18 Days together with tsum valley.
1 Day
Arrival at Kathmandu valley. Kathmandu city tour – World heritage sightseeing, 4 hours.
Upon arrival in Kathmandu, Tribhuwan International Airport, we will receive you with a private vehicle and drop you at your hotel in Thamel. All aspects of gear and conditions are discussed to make sure you're fully prepared for the trip.
After lunch, we explore this medieval capital such a s Boudhanath stupa (known as Little Tibet) and Pashupati, a holy temple of Hindus where the cremation takes place by the holy river Bagmati. Later we visit Kathmandu Durbar Square and return to the hotel to get a briefing about your Tsum valley trek package.
2 Day
Bus drive from Kathmandu to Machha Khola (900m/2,953 feet), 9-10 hours
Your trek staff will come to your hotel at early in the morning at 6 am to pick you up. From Kathmandu to Machha Khola driving, we pass the popular town called Dhading Besi, Arughat, Arket Bazaar, to Soti Khola and subsequently to the origin of the Budi Gandaki river through the dirt road. It's a full day an adventure bus drive to Machha Khola however, book a private jeep from Kathmandu to Macha Khola drop [extra cost] if you wish to drive comfortably. A private jeep drive from your hotel in Kathmandu to Machha Khola drop off extra cost is US$ 150 for a group of 6 people capacity jeep.
3 Day
Machha Khola to Jagat trekking (1,340m/4,396 feet), 6 hours.
After crossing the Machha River and Khrola best, there is a hot spring called "Tatopani" situated on the bank of Budhi Gandaki river. The pure nature trail follows a forested area after this toward Dovan, although there is a huge rapid at Budhi Gandaki in between the journey. As the elevation increases, the rapids and the scenery goes a complete transformation. At Jagat, there is a police check post where Tsum valley restricted trekking permit will check.
4 Day
Jagat to Lokpa village (Lakuwa) trek (2,240m/7,349 feet), 6-7 hours
From Jagat, after descending a long series of stone steps back down to the river, we then climb on wonderful stone steps along a terraced hillside to the small hamlet of Saguleri and Sirdibas, from where we can see the impressive Sringi Himal (7187m). Continue to pass through the charming villages during the day to upstream, and again a steep climb to reach Philim village. Philim is a nice place to take lunch as there are two trails where one crosses a bridge and heads for the Manaslu classical trail and for Tsum valley heads right and then ascends for a couple of hours to Lakuwa Lodge.
5 Day
Lokpa/Lakuwa to Chumling and Dumje/Tumje (2,440m/8,005 feet), 6 hours
Today, the trek is easy. We take the right trail and head down for half an hour before it then ascends steeply up. Hike for 30 minutes with a descent to the riverside and cross the beautiful wooden bridge, before the final ascent of up to an hour to Chumling. Chumling is located at an altitude of 2,363 meters. They have a primary-level school, and a small clinic, with great views of the Ganesh Himal range. We are in the area where they import goods from Tibet.
Hike further about two more hours roughly to get to Dumje village to stay overnight. Interested tourists can hike the Ganesh Himal base camp side trip. ask us for a better travel plan.
6 Day
Lama Gaon or Rachen Gomba treks (3,240m/10,630 feet), 6-7 hours.
This is a tough and long day of walking but the scenic views of the valley amply compensate for the long walk. Chhokangparo is located at an altitude of 9873 feet above sea level is situated on flat land and consists of 2 settlements, Chhokang and Paro. From here you can get superb views of the Ganesh Himal range. Some households practice polyandry down here. This area is prominent for its Tibetan Buddhist heritage.
7 Day
Rachen Gomba to Mu Gompa trek (3,700m/12,140 feet), 6 hours
Nile located at an altitude of 3361m above sea level is the last village heading north in the upper Tsum valley. This village is situated on the banks of the Soti river and it consists of a large number of households. Mu Gompa is home to a very old monastery and there are no village establishments here. It is located at the highest and farthest point in the Tsum valley. This trail is used to import and export things to and from Tibet. You may come across several yak trains supplying goods to local villages. Stay overnight in the guest house in Mu. Gumpa. Sometimes Mu Gomba is full and doesn't offer tourists food and accommodation that's why tourists need to stay overnight at the Nile (3,360 meters).
8 Day
Trek to Chhokung Paro (3,030m/9,941 feet), 6-7 hours.
On an entirely descending path. On this day you can enjoy glimpses of the Punchen Himal which is unique in shape. Continue your descent path to Rainjam (Dumje) to stay overnight.
9 Day
Return to Lakuwa/Lokpa (2,240m/7,349 feet), 5-6 hours.
Trail heads all the way down to Chumling village then onto Lokpa. Lokpa is a small place where there is just one lodge, but they also have nice camping places.
10 Day
Lokpa to Jagat / Yaru Khola trekking (1,070m/3,510 feet), 6-7 hours.
After a short walk from Lokpa, we meet the Manaslu circuit trekking path and continue down to Ekle Bhatti and hike along the bank of the Budhi Gandaki River. Beside the track, you can see green fields and subtropical vegetation. After checking out from the MCAP counter, you reach Philim, then Sridibas, and Salleri. Reach at Jagat to checkout the restricted area permit (RAP) and stay there as Jagat has nice lodges with good foods.
11 Day
Descend to Macha Khola (700m/2,297 feet), 4-5 hours.
Right at the beginning, we cross the suspension bridge to reach Yaruphant and follow the rocky ravine. An interesting fact, today is a natural hot spring called TATOPANI (Natural Hot spring), as it's a great cure for various skin diseases. Continue down to Khorlabesi and Machha Khola from where Tourists can see the northeast view of the Ganesh Himal mountain. The greenery fields and forests beside the Budhi Gandaki River are just outstanding. It's a final day hikes for our tsum valley so we have a short walk to reach the Macha Khola.
12 Day
Drive out to Kathmandu, 8-9 hours.
It's a long day drive to reach Kathmandu like our first day dive. During the Bus drive, you can pass Dhading Bensi (District headquarters of Dhading) where the road was completely blacktopped, joining the Prithvi Highway. View numerous mountains and beautiful villages en route to Kathmandu. From the final Bus stop station, our guide will arrange a taxi transfer to drop you at your hotel in Thamel. Trip finish.
Not satisfied with above plan?
Are you interested on planning a custom trip? this might take 2 to 3 minutes.
Cost
How much does the Tsum valley trek package price?
This tsum valley trek package price US$ 725 per person is a standard trek price on double occupancy basis. For the deluxe and luxury Tent style trekking tour plan, a 3-5 star category hotel deluxe air-conditioned room in Kathmandu with breakfast plan. Likewise, guest house accommodation with an attached toilet/bathroom in possible places en route. AND WE ARE OPEN TO CUSTOMIZING YOUR TOUR AND PACKAGE PRICE AS PER YOUR REQUIREMENTS.
Exploring Tsum valley trek package includes:-
Kathmandu international airport transfer on your arrival with a private car.
Single night in double bedroom accommodation in a Tourist standard accommodation in Kathmandu.
11 Breakfast set, 11 Lunch, and 10 Dinner [main course] serve with coffee/tea during the Tsum valley hiking.
11 nights Guest house basis accommodation in the tsum valley trekking days
Around Tsum valley special trekking permit US$ 40 per person per week.
Manaslu conservation permits fees.
TIMS permit for Tsum valley trekking.
Ammar Guni as a Tour guide and the World Heritage sites transfer with a private car on day 1st.
Bus transfer from Kathmandu to Macha Khola and return from Macha Khola to Kathmandu.
Fully escorted trek with English-speaking license holder local guide and every 2 guests 1 Porter basis.
Insurance, Food and accommodation, and salary of Nepali trekking staff.
Seasonal fruits like apples and pomegranates as a desert for Tsum valley trekking.
Tsum valley trek map and trek completion certificate – keep them as a souvenir.
Agency's printed duffel bag (50 liters) and hiking poles if Necessary – return after the trek.
First aid medical kit, Oximeter to monitor oxygen level and pulse rate every day to prepare for high mountain altitude risk.
In a worst case, help with all Helicopter Rescue and evacuation arrangements (but not the rescue bills).
Nepal Government Tax, VAT, and as well as Company service charge.
Remote Tsum valley trekking package excludes:-
Lunch and Dinner in Kathmandu city.
Any kinds of battery charges, laundry service, phone calls, and hot showers during the trek.
Tourist personal trekking equipment and Clothing.
-10 comfort fresh Sleeping bag rental cost per piece US$ 2 per day.
Personal nature expenses, all types of drinks, and bar bills.
Travel Insurance which covers emergency rescue, evacuation, personal loss, or damage.
All types of Donation and world heritage sites monuments entrance fees.
Gratuities for guide and porters [Tip is a culture, so they expect highly].
Group join
We can organize private Tsum valley trek or tsum valley trekking – hiking starting at any date that works for you. Please contact us for more information.
FAQ
Question: Is pick-up service available on my arrival day in Kathmandu?.
Answer: Yes sure. Provide us with your Kathmandu airport landing flight details. We come to pick you up at TIA international airport.
Question: Do I need the experience to do the Tsum valley trek?.
Answer: Tsum valley hiking is an easier trekking route in the Himalayas. The trail route to Tsum valley is not difficult so better for families with kids and also for beginner trekkers.
Question: What kind of accommodation can I expect on the Tsum valley trek?.
Answer: We provide you with tourist standard accommodation in Kathmandu. But the rooms in Tsum valley are very basic. In each room, they fix the bed with a pillow, mattress, and blankets. However, we recommend you, take your own sleeping bags if you have one with you otherwise, you may rent them in Kathmandu.
Question: What kind of food can I expect on this trek?.
Answer: All the guest houses/lodges in the Tsum valley trekking route, have attached restaurants. They cook a delicious range of mostly vegetarian such as Pasta, tuna bakes, noodles, potatoes, eggs, bread, soups, and fresh vegetable rice.
Dinner and breakfast are provided in the same lodge you spend the night every day and Lunch will be provided on the way to the next place where you are going.
Question: What opportunities will I have for a shower along Tsum valley trek?.
Answer: On Tea house base trekking all the lodges, have a shower which you can get it on pay often. Despite that, if you have chosen camping trekking – we do provide you with a hot water bucket, so you will take a bucket shower.
Question: How do I get drinking water on the lodge Tsum valley trek?.
Answer: You can buy bottled mineral water to drink but we advise against buying mineral water in plastic bottles, as currently there are no provisions for disposing of these. Instead, buy boiled water or bring Aqua tablets to purify the normal water as the normal water is available at the campsite en route.
Question: Can I recharge my mobile phone/camera or other battery on my trip?
Answer: During the lodge base trekking, Tourists can recharge their mobile phones – camera or other digital devices. Obviously, the battery recharge cost is extra. We recommend you bring an extra pair in case. Remember to bring your own adapters!
Question: Are there any communication facilities on the express Tsum valley trek?
Answer: Tourists can get telephone and as well as internet services often.
Question: Can I use credit cards in Trekking?.
Answer: No! So, for the trek route, you need to have cash Nepali rupees because credit cards work only in the bigger city areas.
Question: When should I book my trip and what are the payment terms?.
Answer: Because our trips book up months in advance, we recommend booking early to avoid any kind of misunderstanding. We will, of course, make every effort to accommodate last-minute bookings.
And regarding the deposit, we prefer a 20% advance deposit of the total price of the trip in order to confirm your reservation before you arrive in Nepal. And the rest of the payment can be made after your arrival in Nepal.
Question: Who will carry my luggage on the Tsum valley trek?.
Answer: We provide porters to transfer your luggage. As we are a responsible trekking tour operator agency, each of our porters carries a maximum of 24 kilos of your backpack which means 2 guests (12 kg luggage of each guest)= 1 porter basis.
Question: How much distance do I walk each day?
Answer: When walking in the mountains, the distance you cover each day can vary greatly due to gradient, terrain, and altitude. As such it is very hard to give specific distances for each day, however, you have to be prepared to walk roughly about 5 hours each day
Question: Do I need trekking poles?.
Answer: It is better to hike with walking poles. Learn how to use trekking poles for balance and stability, whether on the sidewalk or on trails. Walking poles can help prevent slips and falls. They are just recommended but not compulsory.
Question: How much additional money do I need per day?
Answer: You can allocate US$ 08 – 10 for a lunch/dinner in Kathmandu and it depends on your spending habits. US$ 7 to 10 US$ each day will be enough to buy bottles of water, chocolates, tea coffee, and some drinks while you are on your trek.
Tsum valley trek Highlights
Manaslu Tsum valley offers picturesque villages, turbulent river gorges with nice waterfalls.
This valley has a unique cultural blend of Tibetan, less tourist, Nepali people, and their lifestyles.
Tibetan Buddhism culture, Diversified unspoiled Eco systems
Fantastic views of Mt. Manasalu, Mt. Himchuli, Mt. Ganesh and others, Larkya la pass (5153m).
Best months for Tsum valley trekking in Nepal
The best time for Tsum Valley trekking in Nepal is during the spring (March to May) and autumn (September to November) seasons. These seasons offer the most favorable weather conditions and pleasant temperatures for hiking in the region.
March month to May are called spring season for hiking in Nepal is a fantastic time to trek in the Tsum Valley. The weather is generally clear, with mild temperatures and blooming rhododendron forests along the trail. The views of the surrounding mountains are stunning during this season. However, be aware that the Tsum Valley can get quite dry as the season progresses, so it's advisable to trek earlier in spring to experience the best.
Likewise, September to November are marked as Autumn, is another excellent season for Tsum Valley trekking in Nepal. Weather is usually stable, with clear skies and moderate temperatures. The visibility is excellent, providing magnificent views of the surrounding Himalayan peaks. Autumn is also considered the peak trekking season in Nepal, so expect some level of crowding on popular trails.
Both spring and autumn offer optimal weather conditions for trekking, allowing you to enjoy the scenic beauty and cultural exploration of the Tsum Valley. However, it's important to stay updated with weather forecasts and be prepared for occasional changes in mountain weather, such as rainfall or temperature fluctuations.
Trekking in the Tsum Valley during winter months (December to February) is generally not recommended due to extremely cold temperatures, heavy snowfall, and challenging trail conditions. It is best to avoid trekking in the Tsum Valley during this time.
Similarly, the monsoon season (June to August) is also not ideal for Tsum Valley trekking. The region receives heavy rainfall during this period, leading to slippery trails, increased chances of landslides, and reduced visibility. The monsoon rains can make trekking challenging and may hinder your overall experience.
It's worth noting that the Tsum Valley is situated at higher elevations, reaching up to around 4,000 meters (13,000 feet). Therefore, proper acclimatization and physical fitness are essential to ensure a safe and enjoyable trekking experience.
Notes for Tsum valley visitors!
The Tsum valley hike information stated above is just a standard template guideline. A side trip at Tsum valley is to go from Dumje to Gumba Lungdang full-day trip as it is a viewpoint to explore Ganesh Himal Mountains. Interested hikers can spend a night at Gumba Lungdang and return to the normal trek route.
Despite that, the Tsum valley hiking itinerary is possible to modify at your request to accommodate your specific requirements. Local politics, landslides, cancellation of local flights, weather, transport, or a multitude of other factors that are beyond our control can result in a change of itinerary during on trip.
It is, however, very incredible that the itinerary would be broadly altered. If alterations are necessary the leader will decide the best alternative option, taking into consideration the best interests of the whole group. When a change does occur, we do everything we can to minimize its effect, but we cannot be responsible for the results of changes or delays.
What makes Tsum valley trek special?
Tsum Valley trek offers a rare opportunity to delve into the ancient Tibetan Buddhist culture, engage with the local communities, and witness their time-honored traditions. It is a trek that combines natural beauty with profound cultural immersion, making it a truly special and enriching experience for those seeking a unique cultural trekking adventure in Nepal.
We at Gokyo Treks and Expedition believe in quality services. First safety and Success satisfaction is our prime concern. We at GTEPL is a team of professional, expert, and licensed local guides who know the destination much better than others. Not only this but also we give benefits to the local communities and help to conserve natural resources which reduced costs and consumption.
Tsum valley Trek Review
Tsum Valley Plus Larkya La Manaslu Circuit Trekking
This time we made the Manaslu with Tsum valley, we have booked the necessary guide and porters at Gokyo Treks and Expedition. From the beginning, there was excellent communication with Ammar, the director, and everything was set up within a few days.
Arriving in Nepal we stayed two days at Ammar`s homestay. Then we were introduced to our guide Kamal, who is a very reliable and funny person, he made our trip to one of our best experiences and we did complete Tsum valley without any problems. The whole trek is fantastic, the scenery and nature couldn`t be more beautiful. I can recommend Gokyo Treks and Expeditions without any doubt and I am sure we would like to have Kamal as our guide the next time we trek in Nepal !!! – Markus Gangeurwurger, Germany
Response from Gokyo Treks Nepal
Thank you Markus for your time to review Tsum valley and Manaslu circuit with Gokyo Treks & Expedition agency. We hope to welcome you again for your next trip to the Himalayas. Stay connected.
From US$ 815
2% Off
US$ 725
| | |
| --- | --- |
| No. of people | Price Per Person |
| 1 | USD 899 |
| 2 | USD 725 |
| 3 | USD 725 |
| 4 - 6 | USD 698 |
| 7 - 9 | USD 650 |
| 10 + | USD 599 |
Book Now
Customize Trip
Cost & Departures
Your Trip Your Style!
ITINERARY, COST, DEPARTURES, will adjusted according to your GROUP SIZE NEED TIME
Book with Confidence
Local Guides Company.
18 Years in Business.
Lowest Price Guaranteed.
100% Customizable Trips
Excellent Customer Service
Hassle Free Booking.
90 % Repeated customers
Highly Recommended agency
Private/group tour options