Tamang Heritage Trail Trek Summary
Trip Duration: 6 Days
Trek Difficulty: Easy grade
Highest Elevation: 3,165 meters
Trekking Hour: 6 hours daily
Travellers Group-Size: 1 – 14 People
Best Time: March, April, May, October, November and December
Trip Mode: Guest House
Meal on Trek: Breakfast, Lunch, and Dinner
Transportation: Car/Plane/bus
Overview
Tamang Heritage Trail Trek is a popular trekking route in Nepal that takes you through the cultural heartland of the Tamang people, who are an indigenous ethnic group in Nepal. The trail passes through stunning landscapes and offers an opportunity to learn about the traditional lifestyle and customs of the Tamang people.
The trail is located north of Kathmandu city situated around 30 kilometers north of Kathmandu, the capital of Nepal. Hike to Tamang heritage walk along the Langtang National Park, home of a few wild creatures, for example, Musk deer, mountain bear, snow panther, Himalayan wild goat, and especially fowls and wildflowers.
Moreover, you can appreciate the emotional perspectives of mount Langtang Lirung (7,245m.), Langtang Kerung, Ganja La Pass (5,122m.), Dorje Lakpa (6,989m.), Jugal Himal, Ganesh Himal, Paldor top, Shringi Himal, Manaslu, and Sanjen Himal ranges.
The Tamang Heritage Trail Trek is a less-difficult trek that suits novice trekkers and typically takes 5 to 7 days. It is a great trek for those who are looking for a cultural experience and an opportunity to see the breathtaking natural beauty of Nepal.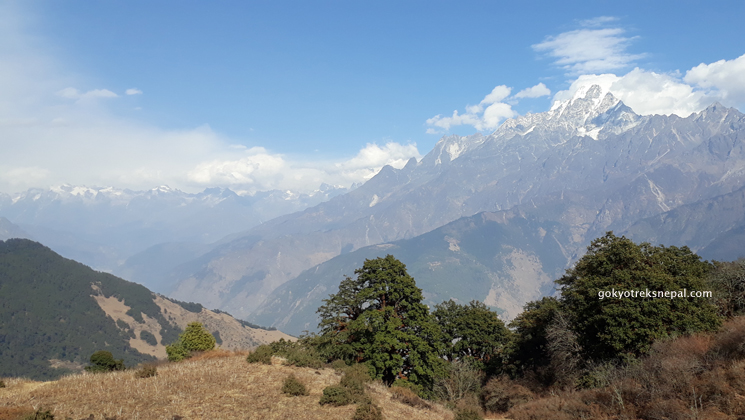 How much is the Tamang Heritage Trail Package Cost?
The cost of the Tamang heritage trail trek package with a Gokyo Treks Agency (local trekking agency) ranges between US$ 320 to US$ 499. But of course, the Tamang heritage trail price will vary as per the service you choose. However, the given package price includes transportation, a guide, porters, hiking permits, hotels, and food accommodation facilities.
However, we often arrange private trips in order to avoid group tours with strangers. A private tour gives you a better experience on your hikes. If you value personalization, flexibility, and in-depth experiences, a private trip customized to your personal needs will be the best option.
It is the standard trip package price for 8 days trek. If you are 2 people Tamang Heritage Trail trek cost US$ 425 for 10 days trek according to the given trekking plan. We can modify the trek route and the prices according to your wishes also. Here is the price list for the Tamang heritage trail treks.
Price Per Person for 8 days hike in the Tamang heritage trail route.
| Number of Tourist | Price Per Person |
| --- | --- |
| 1 Person | US$ 499 |
| 2 Person | US$ 425 |
| 3 Person | US$ 425 |
| 4 to 6 person | US$ 399 |
| 7 to 9 Person | US$ 365 |
| 10 and more than 10 Person | US$ 320 |
If you're wondering to know about what is included and what is excluded from this trip price, kindly check on the cost given on a tab button.
Itinerary
Tamang heritage trail itinerary detail
Our trek to Tamang heritage is a classical trek itinerary compared to most walks in this region leading up to the glacier. The particular route is designed for world nomads who wish to hike in the Tamang heritage trail but are walking in a more relaxed manner than take a look at this itinerary.
1 Day
Drive to Syapru Besi bazaar (1,460m/4790 feet), 6-7 hours
After a morning meal at your hotel, drive a couple of minutes to get a coach to Syapru Besi at Macha Pokhari Bus station near Gongabhu Bus station with a guide. Drive with a coach to Syaprubesi takes about seven hours roughly across the picturesque Trishuli bazaar with lovely little towns, waterway valleys, and mountains.
Besides the tiny stops, they generally have 30 to 45-minute stops for a lunch either at Trishuli Bazaar or Kalikastan. Likewise, the drive continues to the Dunche Army checkpost where visitors pay the LNP [Langtang National Park] entrance fee and continue to Syapru Besi. Syapru Besi is a marketplace and a gateway to China and as well as a gateway exploring Langtang trekking routes. Stay overnight in a hotel at Syapru Beshi.
2 Day
Syapru Besi to Gatlang Village trekking (2,238m/7,343 feet), 5-6 hours
At the start of the day after breakfast, you continue with splash moves until Rongga Bhanjyang. The trail plunges to Goljung village, stopping for Lunch at the traveler's home. Continue again fragile up until accomplishing Traditional Tamang town in Gatlang. Tourists can visit Parbati Kund, which offers rich biodiversity for nature sweethearts. You can in like manner visit the old-fashioned old religious network.
3 Day
Gatlang to Tatopani trekking (2,607m/8,553 feet), 5-6 hours
Just begin your trek delicate plunge passing the numerous Chhortens and Mani divider and through the profound woods until coming to Chilime. At that point, you cross by a suspension extension and ascend passing the patio until coming to Gonggang town (1:30 hours) and stop for Lunch. Besides, the trail's delicate climbs until coming to Tatopani (2 hours) stop to scrub down in a hot spring. It is trusted that cleaning up in a normal Hot Spring, washes away every one of the Pains and throbs. Medium-term in Lodge.
4 Day
Tatopani to Nagthali Gyang (3,165m/10,384 feet) and Thuman trekking (2,338m/7,670 feet), 6-7 hours
Toward the beginning of the day after breakfast, you proceed through the woodlands to reach in Nagthali viewpoint. The track is here and there till Brimdang where one cloister is arranged on the slope. Furthermore, follow delicate climbs until coming to the Nagthali perspective. You have an incredible Langtang Lirung, Shishapangma, Ganesh Himal mountains view, and as well as some other cold pinnacles. Further two hours of hike, we reach Thuman. The Thuman village offers some nice lodges for trekkers where we stay overnight.
5 Day
Briddim Trekking (2,230m/7,316 feet), 4-5 hours
In the first part of the day after breakfast, you proceed with the pursuit upstream of Bhote Koshi until coming to Lingling. You have a meal break here and later lunch, the nature path delicately rises till Briddhim town. This is a little lovely Tamang town. It offers a social affair of the Himalayas as Home-Stay. You can visit an antiquated old religious community. Medium-term in a visitor's house. You can extend your Langtang valley trek from here if you wish to spend more days in the mountains.
6 Day
Briddhim to Syapru Besi trekking (1,460m/4,790 feet), 2-3 hours,
After breakfast at Bridhim, we simply strolling downhill to Syabrubesi bazaar. There are nice restaurants where you can take Lunch and proceed to return by Bus back to Kathmandu.
After reaching the New Bus Park in Kathmandu, your guide will arrange private transportation to get to your hotel in Thamel. In the evening, you can stroll around Thamel, the major tourist destination of Kathmandu. You can do some last-minute shopping for souvenirs for your family and relatives.
Not satisfied with above plan?
Interested in planning a custom trip? this might take 2 to 3 minutes.
Cost
How much is the Tamang heritage trail package price?
Hike to Tamang Heritage trail package price US$ 425 per person is a standard trip on a double occupancy basis.
For the deluxe and luxury trekking tour plan, we add a 3-5 star category hotel deluxe air-conditioned room in Kathmandu with breakfast. Likewise, a standard room with an attached Toilet/bathroom is possible places en route. AND WE ARE OPEN TO CUSTOMIZING YOUR TOUR AND PACKAGES PRICE AS PER YOUR REQUIREMENTS.
Hike to Tamang heritage trek package price includes:-
Private taxi/car transfer from your hotel in Thamel to Macha Pokhri, Balaju bus park and return.
Kathmandu to Syapru Besi & from Syapru Besi to Kathmandu round trip Bus transfer [shared].
6 Breakfast serve with a cup of Tea/coffee, 6 lunch and 6 Dinner [main course] at Tamang Heritage Trek
6 Nights Guest house accommodation while you are on Tamang heritage trails.
Langtang National Park entrance permit fee
Trekkers Information Management System (TIMS) permit fee
Professional with the certified mountain trekking guide.
Professional porters (2 guests = 1 porter basis) as each porter carries a maximum of 24 kilograms.
Salary, food, accommodation, and travel insurance for all Nepali crew.
Seasonal fruits like apples and pomegranates as a desert for Tamang heritage trekking.
Agency's duffel bag (50 liters capacity), and trek poles if Necessary – return after the trek.
First aid medical kit including Oximeter to check your Oxygen level, Pulse rate to monitor every day to prepare for high altitude risk.
In a worst case, help with all Helicopter Rescue and evacuation arrangements (but not the rescue bills).
Tamang heritage trail trekking latest map and trip certificate – keep them as a souvenir.
Nepal Government Tax, VAT, and as well as Company service charge.
Tamang heritage hiking package excludes:
Accommodation and all types of Foods for your staying in Kathmandu
Any kinds of battery charges, laundry service, phone calls, and hot showers during the trekking.
Hiker's personal trekking equipment .
Personal nature expenses, all types of beverage drinks.
Travel Insurance which covers emergency rescue, evacuation, personal loss, or damage.
Any donation and monument entrance fees.
Gratuities for guide and porters [Tip is a culture, so they expect highly]
Group join
We can organize private express Tamang heritage Trekking starting on any date that works for you. Please contact us for more information.
FAQ
Question: Is get benefit accessible on my landing day in Kathmandu?
Answer: Yes sure. Provide us the light details with time and request us to pick it up. Our representative will come to get you to Kathmandu global airplane terminal.
Question: Do I require the experience to do Tamang heritage trail solo?.
Answer: Tamang Heritage Trekking is reasonable for sharp trekkers/walkers who can stroll for around 4 or 5 hours on the multi-day tour, with a lightweight daypack. For this trekking, in the event that you have about a little experience would be better.
Question: Can I store my luggage/stuff in Kathmandu?
Answer: Yes, you can leave your luggage at your hotel or at our office. Store your stuff in the Gokyo Treks agency office for free.
Question: Is the hike Tamang heritage route Safe for Solo Female Trekkers?
Answer: Yes Please. Nepal is a safe country to travel to for solo travelers; the Tamang heritage trek is perfectly safe for solo female trekkers. We have been organizing the trek even for solo female travelers since its establishment.
Question: What sort of accommodation is to expect in express Tamang heritage Trekking?.
Answer: Visitors' standard accommodation will be provided in Kathmandu and amid the trek route. the rooms along the courses are spotless with a comfortable bed with a pleasant sleeping pad and covers. Anyway, we prescribe you take your own portable beds whether you have one with you else, you may lease it while you are in Kathmandu.
Question: What sort of meals would I be able to expect in the Tamang heritage trek?
Answer: All the lodges along Tamang Legacy trail trek, have joined eateries and they cook a heavenly scope of generally vegan, for example, Pasta, fish prepares, noodles, potatoes, eggs, curry rice, bread, soups, new vegetables (assortment relies upon the season)
The breakfast is given in a similar lodge you go through the night consistently and Lunch will serve while in transit to the following spot where you are going.
Question: What openings will I have for a shower along with Tamang heritage trekking?.
Answer: Along the Tea house trek, every hotel they have a shower which you get at an extra cost.
Question: How would I get drinking water on the Tamang heritage trail short trek?.
Answer: During the trekking, you can buy plastic bottled mineral water en route to drink. But, we prompt against purchasing mineral water in plastic containers, as of now there are no arrangements for discarding these. Rather, buy boiled water en route or bring aqua tablets to decontaminate the ordinary water as the typical water is accessible in a campground/along the way.
Question: Can I charge my advanced camera or different batteries on my trek?.
Answer: During the cabin trekking there will be more opportunities to charge the battery. We prescribe you bring an additional match on the off chance that. Make sure to bring your connectors! An additional battery will be recommended.
Question: Are there any correspondence offices on Tamang heritage trail solo?.
Answer: In the Tamang Heritage Treks, you can get telephone utilities just as web benefits as well.
Question: Can I use charge cards in trekking?
Answer: No! Along these lines, for the trekking courses, you need money Nepali rupees since Master card work just in the greater city areas.
Question: When should I book my trip and what are the payment terms?
Answer: Because our trips book up months in advance, we recommend booking early to avoid any kind of misunderstanding. We will, of course, make every effort to accommodate last-minute bookings.
And regarding the deposit, we prefer 15% advance deposit of the total price of the trip in order to confirm your reservation before traveling to Nepal. And the rest of the payment, you can owe us on arrival in Kathmandu city.
Question: Who will carry my luggage on express Tamang heritage treks?
Answer: We provide porters to transfer your luggage. As we are a responsible trekking tour operator agency, each of our porters carries a maximum of 24 kilos of your backpack which means 2 guests (12 kg luggage of each guest): 1 porter basis. If you wish to have a private porter, you can get one for paying an extra price.
Question: How much distance do I walk each day?
Answer: When walking in the mountains, the distance you cover each day can vary greatly due to gradient, terrain, and altitude. As such it is very hard to give specific distances on each day, however, you have to be prepared to walk roughly about 5 hours each day.
Question: Is it possible to rent a guide for Langtang? how to hire a local trek guide?
Answer: Yes of course. If you do not have a wish to book the complete full board package trip, still you can hire our expert guide to make your holiday safer and unforgettable.
Question: Do I need walking poles ?
Answer: It is better to hike with walking poles. Learn how to use trekking poles for balance and stability, whether on the sidewalk or on nature trails. Walking poles can help prevent slips and falls. They are just recommended but not compulsory.
Question: How much additional money do I need per day?
Answer: You can allocate US$ 08 – 10 for a lunch/dinner in Kathmandu and it depends on your spending habits. US$ 7 to 10 US$ each day will be enough to buy bottles of water, chocolates, tea coffee, and some drinks while you are on your trek.
Tamang heritage trail highlights
Trek offers the breathtaking view of Mt.Langtag lirung, Langtang-ri, Langsisa, Langtang Himal.
Healing bath and spa in the water of the natural hot spring at Tatopani.
Dukchu Gomba / monastery chosen as a sacred site by the great Tibetan Lama
Experience the Sherpa and other ethnic groups and their lifestyles.
Hike to Tamang Heritage Trek difficulty
Tamang heritage journey in the Langtang region is an easy hike. However, if you are a beginner hiker in Nepal, you can complete this trip without any difficulty. Hike to the Tamang heritage route is a soft adventure trek at lower heights and there is no chance of having altitude sickness, despite the body's need to stay hydrated. So drink a lot of liquids like water, and gradually walk taking enough rest.
As the trek difficulty is easy, the tourist doesn't require special guidance. A simple – basic exercise such as cycling or short climbs before you go on this trip, a sound body and spirit are better useful.
Notice for Tamang heritage trail visitors
The Tamang heritage trail information is just a standard template guideline that we supply you with. However, the trip can be customized at your request to accommodate your specific requirements. Local politics, landslides, cancellation of local flights, weather, transport, or a multitude of other factors that are beyond our control can result in a change of itinerary during on trip.
It is, however, very incredible that the itinerary would be extensively altered. If alterations are necessary the leader will decide the best alternative option, taking into consideration the best interests of the whole group. When a change does occur, we do everything we can to minimize its effect, but we cannot be responsible for the results of changes in delays.
"What makes Tamang heritage trail special?"
Tamang is an ethnic group and a major indigenous people in Nepal. During the 8th century, the Tibetan King employed Tamangs as border patrol to protect the lands and the people. And they live in the southern Himalayan regions. In Tibetan, the word Tamang means: 'Horse Warriors'. Therefore, it's a special trek route that is possible to visit at all times expect rainy months in Nepal.
We at Gokyo Treks and Expedition believe in quality services. First safety and satisfaction is our prime concern. We are a team of professional, experienced, and licensed local guides who know the destination better. Moreover, we give benefits to the local communities and help to conserve natural resources which reduced costs and consumption.
Tamang Heritage Trail Review
Best to Explore Tamanag Heritage Route
During my trek along the Tamang Heritage Trail, I had the pleasure of being guided by Gokyo Treks once again. This marked my third time using their services, and as expected, they didn't disappoint. Bishnu, my ever-reliable guide, made sure I had a safe and comfortable trekking experience, just like in the past.
To my delight, Bishnu went above and beyond by also introducing me to the world of yoga during the trek. It added a wonderful dimension to the journey, making it even more enriching.
With Gokyo Treks and Bishnu by my side, I truly couldn't have asked for more. Their seamless combination of adventure and mindfulness made the experience truly unforgettable.
Response from Gokyo Treks Nepal
Thanks Roman for your time to review Tamang Heritage Trail routes in Nepal. We hope to serve you again,
Fabulous Tamang Heritage trek!
My adult son and I did this trek with our wonderful guide Ram and a porter (Mangol) for our bags. We ended up being the only ones in the group which proved lucky as we were able to tailor the days to our interests and needs.
The trek was spectacularly gorgeous, and guest houses were chosen for us comfortable and well-run, and best of all, our guide was a delight. He took such good care of us and was so thoughtful and proactive that we felt comfortable and safe in all situations. Including an exciting and rickety suspension bridge crossing! His English meant interesting conversations and a willingness to engage with us to the extent that we wanted.
I would use this service, and Ram, again in a heartbeat.
Additionally, Ammar was extremely responsive right from the beginning, and patient with my many questions before the trek.
Response from Gokyo Treks Nepal
Dear Guest Gail Schumann,
Thanks a lot for your excellent review about the Tamang heritage trek 3,200 meters above the sea level in Nepal with our guide and porters. So, we are very much pleased that you are highly satisfied and writing us an excellent experience exploring Nepal. Be in touch as we are looking forward to serving you again for your other holidays in Nepal Himalayas!
With best regards, Ammar Raj Guni
Tamang Heritage Trail - a most cultural hiking
With Gokyo treks guide I was trekking Tamang Heritage Trail. This was my third time I was using this agency. As always I had the perfect guide Bishnu,which provided safe and comfortable trek experience. In addition the guide taught me yoga. You cannot ask for more.
Response from Gokyo Treks Nepal
Thank you so much.
Lauribana la is simply stunning and Gokyo Treks is a Great Company
I highly recommend using Gokyo Treks and Expedition if you're looking for a cost-effective, all-inclusive, ethical trek in Nepal. Ammar's attention to detail in ensuring our every comfort, from our airport pick-up in Kathmandu to our last meal in his family home after the trek, left us unwilling to go home.
On the trek, our guide Som was not only knowledgeable and professional but also an excellent companion in the remoteness and beauty of the Gokyo track. We have continued to remain in touch some months after our journey.
Aside from his excellent staff and service, Ammar's work in the community is the main reason to use his company.
Gokyo Treks and Expeditions is run entirely to benefit the people of Nepal, with the majority of profits being channeled into school building projects and disaster relief in remote areas. His guides and porters are well paid and their welfare is the foremost concern. As we were concerned about the ethicality of our trip, Ammar's deep passion for the empowerment of the Nepalese people put our minds at ease.
Thanks, Gokyo Treks and Expeditions for an experience we will never forget. – Reahahn Alley, Melbourne, Australia.
Response from Gokyo Treks Nepal
Thanks, Rehan for your time to reiew your trek and also our service. Have a good day there.
From US$ 509
2% Off
US$ 425
| | |
| --- | --- |
| No. of people | Price Per Person |
| 1 | USD 499 |
| 2 | USD 425 |
| 3 | USD 425 |
| 4 - 6 | USD 399 |
| 7 - 9 | USD 365 |
| 10 + | USD 320 |
Book Now
Customize Trip
Cost & Departures
Your Trip Your Style!
ITINERARY, COST, DEPARTURES, will adjusted according to your GROUP SIZE NEED TIME
Book with Confidence
Local Guides Company.
18 Years in Business.
Lowest Price Guaranteed.
100% Customizable Trips
Excellent Customer Service
Hassle Free Booking.
90 % Repeated customers
Highly Recommended agency
Private/group tour options