Helicopter Ride to Everest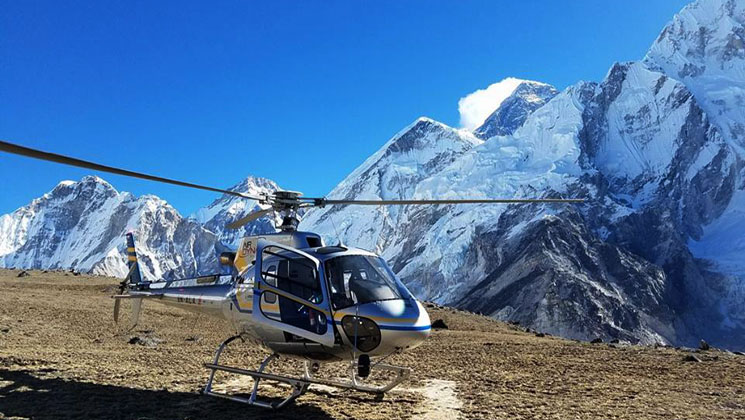 Helicopter Ride to Everest Tour Summary
Flight duration: 2/3 hours
Difficulty: Easy Grades
Helicopter Landing Altitude: 5,545 meters / 18,193 feet
Group Size: 1 – 5 Tourist
Best time to Fly: Every Morning (except monsoon days)
Transportation: Helicopter Ride
The Helicopter Ride to Everest tour is a very popular touristic activity in Nepal Himalayas. The walk to reach the Everest base camp in Nepal takes more than a week but on this convenient helicopter tour, you can cut out all the hard work hikes and fly straight there. As well as seeing the incredibly rocky and icy landscape, glacial moraine, and icy rivers surrounding Everest, you will enjoy the views of remote Sherpa villages and lush farmland along the way.
Not only this but also tourists can see the beautiful monastery at Tengboche, Pangboche, and Khumjung Monastery are also major attractions in the Everest region of Nepal. In addition, on your helicopter flight, you can feel and see the stunning beauty of nature. Mt. Everest (8,848m), Nuptse (7,879 M), Lhotse (8,501 M), Cho Oyu (8,188 M), Makalu (8,475 M), and many other popular summits can be seen from the helicopter window. It's a short tour of life experience but very worthy to explore within some hours touching the Everest foothills.
The easiest way to visit Everest base camp is by Helicopter is an impressive journey to enjoy the thrill of a helicopter ride through the highest mountains. After a relaxing stay, the helicopter takes off Tengboche to Everest Base Camp or Kala Patthar hill depending on the weather. After landing, the mighty Everest unveils itself along with the panoramic experience of the Himalayan range.
Why choose Everest base camp and Kala Patthar landing helicopter tour?.
Landing Kala Patthar – Everest base camp by helicopter is a day tour, ideal for those who don't have multi days times to trek for hours and hours. Similarly, physically disabled people who have a hunger for exploring the tallest peak of the world can do this tour within a few hours of time. Flying with a chopper takes only a few hours to reach the base camp with a superior view, avoiding the crowded base camp trails.
Choosig this tour makes your dream to touch the Everest foothills possible in reality. Moreover, individuals with physical disabilities and, surprisingly, older people can take 3/4 hours of a helicopter ride to the Everest Base Camp in Nepal. During the outdoors, tourists can see superb mountains summits, glaciers, lakes, sherpa settlements, pristine rivers..etc.
Helicopter Ride to Everest in Nepal highlights ;-
The best panorama of Everest 8,848m, Lhotse (8,501 M), Cho Oyu (8,188 M), Makalu (8,475 M).
Best view of other popular mountains like Gauri Shankar 7,134m, Menlungtse 7,023m, Numbur 6956 m, Gyachungkang 7952m, Pumori 7,161m, Nuptse 7855m…etc.
Almost cover the most scenic places of Khumbu Mountains and human settlements.
Everest Helicopter Tour with Landing in Kala Patthar is a 3/4 hours of a singe day plan.
About ten minutes stop at Kala patthar ground for the best photography.
What are the Helicopter Ride to Everest base camp from Kathmandu schedule?.
If you are in Kathmandu valley, do not miss this opportunity to experience touch the Everest foothills. It takes a few hours across the majestic 8k peaks. Get an amazing Helicopter Ride to Everest tour in the morning time departing from Kathmandu airport around 7 am.
How much is a Helicopter Ride to Everest cost?.
Experience scenic and dramatic landscapes only viewed by air. Mountain Everest Base Camp Helicopter tour cost US$ 1000 per person if you take the group package. In a group, there will be a maximum of 5 people. Likewise, if you want to take the Everest Base Camp helicopter private tour; it would cost US$ 3980 per person. Want an even better deal? email us for a helicopter tour of Mt Everest, we have open the booking for 24 hours, every day.
Transportation from your hotel [inside Ringroad in kathmandu] to Kathmandu domestic terminal and back to your hotel, we arrange a private car on your request. Kindly check Vehicle Rental service to Tribhuwan International – a domestic airport transfer on the given link and let us know.
Booking a travel package with Gokyo Treks & Expedition agency, you will get discounted prices which you don't get from others. In the meantime, we also do very good customer care to make your trip unforgettable and hassle-free.
Mount Everest Base Camp Helicopter Tour Itinerary
The helicopter flight starts from TIA airport in Kathmandu (domestic terminal) and flies over Bhaktapur, Nagarkot, Dolkha, and land at Lukla. Lukla is a gateway to exploring Everest and more highest mountains on Earth. After that, we will again fly over Namche Bazaar, Tengboche hill, Dingboche, Lobuche, Gorakshep, Everest Base Camp trek, and finally land at Kalapatthar ground.
You will fly over the same Sherpa settlement and land at Everest View Hotel for a hot breakfast during the return trip. Later breakfast and photoshoots, you will fly over Namche Bazaar, Lukla airport, and finally, land at Kathmandu domestic airport.
What's Include in the package price:-
Pickup from your hotel and drop you at Tribhuwan International Airport [domestic terminal] hall and return.
Charted helicopter service as per the travel plan.
Sightseeing the places by helicopter as per given plan
Passenger insurance as per the rules of the Helicopter companies in Nepal.
All government Taxes/VAT and Gokyo Treks Agency service charge.
What's not-include in the package Price:-
sagarmatha National Park entrance permit fee (Rs: 3,200 per person).
Domestic airport departure tax (Rs: 200 per person)
Hot Breakfast in a Everest View Hotel as per the gven travel plan.
What to Pack – Packing List
Everest Base Camp Helicopter Tour requires an appropriate dress depending on the climate. A down jacket, warm boots, Inner and outer layer gloves, Water bottle, and warm trousers are also necessary while you are traveling during the warm season to keep yourself warm at the high altitude.
Likewise, you also need 100% UV rays protected sunglasses, snacks, a Camera with a memory card, and spare batteries. Because most of the time, the temperature is below the freezing level. Although, this helicopter tour won't need many packing things. You just need some good quality clothes to keep you warm at a high altitude.
Departure & Return Departure Point:
Have in mind that we pick up the travelers from inside the ring road such as your location in Thamel, Lazimpat, Darbar Marg, Boudha, etc.
What To expect?
Once you're in the air, helicopter flights feel a lot like an airplane. Even if you experience a bit of turbulence, these aircraft aren't at any greater risk and the turbulence should pass quickly for a smooth flight. Basically, the air is just too thin for most helicopters to generate enough lift to remain airborne. If the helicopter is equipped to reach that height, making the landing is still an incredibly delicate affair.
To be honest, some agencies are selling a similar package for helicopter landing on EBC but it's wrong. Helicopters can't land at the base camp because of the side of Khumbu Glacier. So that there will be not any chance to land the Helicopter due to a lack of space for Landing helicopters. Therefore, in terms of safety reasons, the helicopter company will land only 7-10 minutes in Kala Patthar and around 15 minutes at Everest view hotel on Sengboche Hill top for a breakfast stop.
Additional Information (TIPS AND TRICKS)
Confirmation will be received at the time of booking
a wheelchair is also accessible entire the tours
A maximum of 25 people per booking
Old travelers with back pain are okay but not recommended for pregnant women.
It's a private/group tour activity [shared basis].
Cancellation Policy
You can cancel up to 48 hours in advance of the experience for a full refund. For a full refund, you must cancel at least 48 hours before the helicopter tour starts time. If you cancel less than 48 hours before the experience's start time, the amount you paid will not be refunded.
Any changes made less than 48 hours before the experience's start time will not be accepted. Cut-off times are based on the experience's local time.
Everest base camp Helicopter day tour notes:
Landing the mountain helicopter in Kala Patthar or at the Everest basecamp depends upon the wind and other types of weather factors therefore, the Pilot will check the weather while on landing and will do his best. And, the Covid-19 travel protocol might affect your travel plan, so please let us know on time if there are any changes that might occur.
"What makes Helicopter Landing on EBC day tour from Katmandu special?"
We at Gokyo Treks and Expedition believe in quality services. We are a team of professional, experienced, and licensed local guides who know the destination much better than others.
Landing Everest base camp by Helicopter day tour from Katmandu Review
There are no reviews yet. Be the first one to write one.
Mount Everest base camp helicopter tour is a luxury way of travel. Book a helicopter ride to Everest base camp with us and save your special discounts.
From US$ 1079
5% Off
US$ 998
| | |
| --- | --- |
| No. of people | Price Per Person |
| 1 | USD 1025 |
| 2 | USD 998 |
| 3 | USD 980 |
| 4 - 6 | USD 960 |
| 7 - 9 | USD 935 |
| 10 + | USD 925 |
Book Now
Customize Trip
Cost & Departures
Your Trip Your Style!
ITINERARY, COST, DEPARTURES, will adjusted according to your GROUP SIZE NEED TIME
Book with Confidence
Lowest Price Guaranteed.
100% Customizable Trips
Excellent Customer Service
Hassle Free Booking.
90 % Repeated customers
Highly Recommended agency
Private/group tour options
Local Guides Company.