Chisapani Nagarkot Trek Summary
Hiking days: 3 Days
Hiking difficulty: Easy
Highest Elevation: 2,195m / 7,178 feet
Walking Hour: 6 Hours
Group-Size: 1 – 14 People
Best Time: January to December (except rainy maonths)
Trip Mode: Guest House
Trekking foods: Breakfast, Lunch, and Dinner
Overview
Chisapani Nagarkot Trek is an easy hiking destination located north of Kathmandu Valley. Hike to Chisapani village and Nagarkot tower station walk, we need to pass through Shivapuri National Park. Sundarijal to Chisapani distance is a roughly 6.2 kilometers hike. From Sundarijal – Chisapani – Nagarkot journey is one of the most scenic and uncrowded trails situated near Kathmandu Valley. 
Sundarijal waterfall is a famous tourist spot located near Sundarijal hydropower, a gateway for the Chisa Pani hiking route. Chisapani Nagarkot hiking route is equally prevailing as a Kathmandu valley rim trek. Although it is a short trek near Kathmandu, a very less demanding nature trail visits fewer hikers. Either Kathmandu – Chisapani hiking or further to Nagarkot – Changu Narayan Temple is just miraculous.
The views from the trail are superb passing along the tiny Tamang localities and mixed forest hideaway. It's short hikes near Kathmandu but truly a delightful trek during your short stay in Nepal. Moreover, chisapani near Kathmandu or Chisapani hill station to Nagarkot Hilltop trek is very lonely, and a good trek to research Red Panda an endangered animal in Nepal.
Sundarijal to Chisapani trek, you might see some of the wild creatures such as Musk deer, Himalayan black bears, Monkeys, and particularly birds and wildflowers. Hike this route is a glorious journey and the best to travel with family and kids. Likewise, it's a pure nature walk which is a soft adventure trek possible within 2-3 days.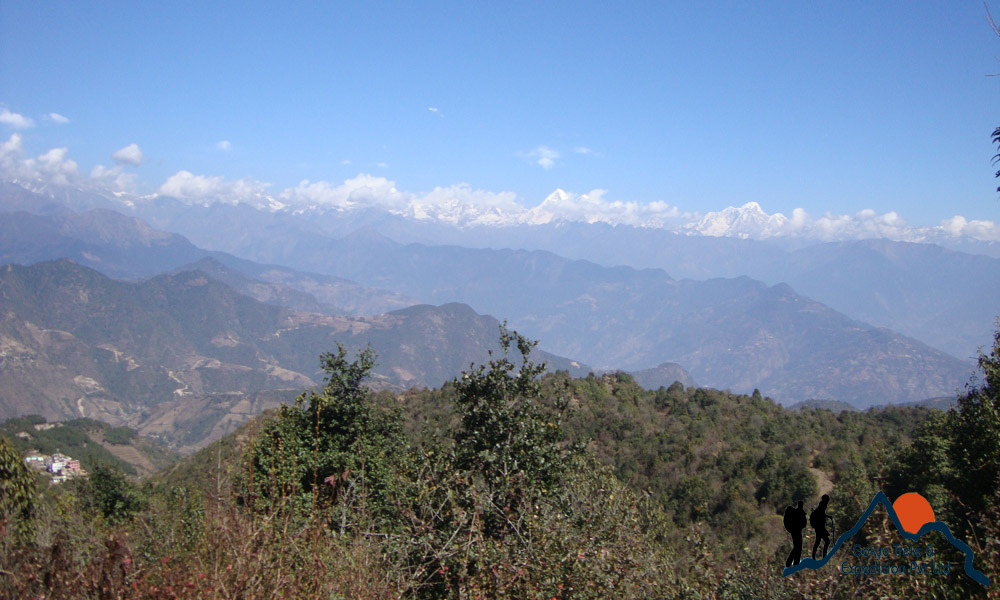 From the hilltop, you might extend your trip and continue your journey Nagarkot Dhulikhel trek. The distance from Nagarkot to Dhulikhel day tour is 27.2 kilometers and takes about 6 hours. Furthermore, the trek passes through fascinating communities. The best beginner Chisapani to Nagarkot hikes is possible at any time of the year except monsoon (Jun/July/August) the year.
How much does for Chisapani and Nagarkot Trek Package Cost?
The cost of the Chisapani and Nagarkot trek package with a Gokyo Treks Agency (a local trek operator in Nepal) ranges between US$ 135 to 290. Typically, the Chisapani and Nagarkot trek cost will vary as per group size and month you are traveling to. It is the standard trip package price for 2 night 3 days hike.
Have in mind that, we also have a discount offer for tour leaders, if you could bring 10+ travelers (except you) on your trip, you are treated as a group leader. So you can hike Chisapani/ Nagarkot free of cost.
However, we basically arrange private trips in order to avoid group tours with strangers. A private hiking tour gives you a better experience on your hikes. If you value personalization, flexibility, and in-depth experiences, a private trip customized to your personal needs will be the best option.
It is the standard trip package price for 3 days trek. If you are 2 people Chisapani Nagarkot trek costs US$ 220 for 3 days as per the given trekking plan. We can modify the trek route and price as per your demand. Here is the price list for the Chisapani and Nagarkot hikes.
Price Per Person for 3 Days Trekking
| Number of Tourist | Price Per Person |
| --- | --- |
| 1 Person | US$ 290 |
| 2 Person | US$ 220 |
| 3 Person | US$ 215 |
| 4 to 6 person | US$ 195 |
| 7 to 9 Person | US$ 170 |
| 10 and more than 10 Person | US$ 135 |
If you're wondering to know about what is included and what is excluded from this trip price, kindly check on the cost given on a tab button.
Itinerary
Soft adventure Chisapani & Nagarkot Trek itinerary details
Chisapani Sundari Jal trekking from Kathmandu tour itinerary to discover the scenic Himalayan view from both hill stations. Traveler's destination Chisapani Nepal route is a purpose for non-professional travelers who wish to see Kathmandu's best view walking on nature.
01 Day
Arrival at Kathmandu valley. Kathmandu to Chisapani hiking (2,215m/7,265 feet), 5 hours walking
Upon arrival in Kathmandu, Tribhuwan International Airport, we will receive you in a private vehicle and transfer you at the bus station. From the Bus station, we take a Bus to Sundarijal (shared). A private transfer to Sundarijal is also possible paying an extra additional cost.
We walk from Sundarijal Bazaar, passing a small hydroelectricity station and a dam to the northeast corner of Kathmandu Valley. The walk leads to a climb through the wet, subtropical forest to an oak forest, a scattered Tamang village to a Burlung Bhanjyang pass. The walk continues on the trail, descending to Chisapani Height for an overnight stop.
Hilltop Chisapani offers fabulous panoramic views of the Jugal mountain range including Langtang Himal, Ganesh in the far east, and Manaslu, Annapurna towards the far west. Local people installed Chisapani homestay at the center point of Chisapani ground after the massive earthquake in 2015 in Nepal.
02 Day
Chisapani to Nagarkot trek (2,195m/7,201 feet), 6 hours
From Chosopani to Nagarkot trail continues to drop from Chisapani on a good, sometimes level trail that crosses meadows and fields. The trekking goes between the village and the jungle with great views of the countryside and mountains. A famous Nagarkot hill station proposed breathtaking Himalayan views, quality accommodation, and high standards of service.
Nagarkot hill station is much more away from the hustle and bustle of urban life, and the best place to see a sunset and sunrise over the great Himalayan ranges and Kathmandu itself.
03 Day
Nagarkot Sunrise Tour view over the Himalayas. Return!
Wake up very early in the morning to get a sunrise view over the tallest Himalayas. If you wish to walk around 4 kilometers in the morning then hike to Nagarkot View Tower. Tourists can see the breathtaking views of the major mountains like Mt.Manaslu, Mt.Ganesh family, Langtang living, Dorje Lakpa, Shishapangma, Cho-Oyu, Gauri Shankar, etc. On a clear crystal day, one can even see Mount Everest at 8,848m not bigger than a dot in the same range.
Likewise, on your way back, you will pass Changunarayan temple, the oldest temple in Nepal, listed in the world heritage site UNESCO. It is said that the Changu Narayan temple has been built by King Hari Dutta in 323 AD. You will observe the culture and history of the Changu Narayan temple. After visiting this temple, we have lunch and an overland drive out to Thamel Kathmandu. This trip consists of about 7 hours altogether. Trip finish !
Not satisfied with above plan?
Are you interested in planning a custom trip? this might take 2 to 3 minutes.
Cost
How much does Chisapani and Nagarkot Trek Price?
Your footsteps at Chisapani and Nagarkot trip package price US$ 220 per person is a standard trek price on double occupancy basis.
For the deluxe and luxury trekking tour plan, we add a 3-5 star hotel deluxe air-conditioned room in Kathmandu as well as the deluxe hotel in Chisapani and super deluxe Nagarkot hill with breakfast. AND WE ARE OPEN TO CUSTOMIZING YOUR TOUR AND PACKAGE PRICE AS PER YOUR REQUIREMENTS.
Chisapani and Nagarkot Trek Package Includes
Single Night double bedroom accommodation in a tourist standard hotel in Chisapani with breakfast.
One Night double bedroom accommodation in a tourist standard hotel in Nagarkot Hill with breakfast.
Shivapuri National Park entrance permits and their fees
Changu Narayan temple monuments entrance fees.
Ratnapark to Sundarijal Bazaar drive with a Bus (shared).
Likewise, Changu Narayan Temple to Old Bus Park (Ratnapark) transfer with a Bus (Shared).
An English-speaking license holder mountain trekking guide [Salary, food, accommodation, insurance].
Agency's duffle bag (50 liters capacity) and trekking poles if Necessary – return after the trek.
A First Aid medical kit bag.
Agency's Certificate of Appreciation after the successful Chisapani and Nagarkot hiking
Nepal Government Tax, VAT, and as well as Company service charge.
Chisapani Nagarkot Trek Package Price Excludes:
All types of Meals and drinks during the trek
Battery charges, laundry service, phone calls..etc.
Personal trek equipment's and Clothing.
Hiking porters cost USD 18 per day. Each professional porter carries a maximum of 22 kilos of your luggage.
Nature of Personal expenses.
Gratuities for guide and porters [Tip is a culture, so they expect highly].
Travel insurance to cover medical and helicopter rescue evacuation in case of an emergency.
Other things which are not mentioned above.
Group join
Nature walks are a fun and easy way to bring your university and college students outdoors, whether it's out of the school grounds, at a national park, or at another local place of interest. Every nature hike offers something different for students to explore – even if you hike the same trails from one day to the next. We can organize a private Chisapani Nagarkot Trek starting on any date that works for you. Please contact us for more information.
FAQ
Question: Do I need experience for Chisapani and Nagarkot Trek?
Answer: Not really. But it is suitable for keen trekkers/walkers who are able to walk around 4 or 5 hours in a day, with a trivial daypack.
Question: Is pick up service available on my arrival day in Kathmandu?
Answer: Sure. Provide us with your flight details, our representative will come to pick up you at Kathmandu international airport.
Question: Can I store my luggage/stuff in Kathmandu?
Answer: Yes, you can leave your luggage at your hotel or at our office. Store your stuff in the Gokyo Treks agency office for free.
Question: Is this trekking Safe for Solo Female Trekkers?
Answer: Absolutely. Nepal is a safe country to travel to for solo travelers; the Chisopani hike is perfectly safe for solo female trekkers. We have been organizing the trek even for solo female travelers since its foundation.
Question: What kind of accommodation can I expect on Chisapani to Nagarkot Trek?.
Answer: Chisapani lodges are simple but in Nagarkot lodges are luxuries. And you can get a hot shower.
Question: What kind of food can I expect on this trek?.
Answer: You can find Chinese, Indian, western food, continental, and as well as Nepali food choices as you wish.
Question: How do I get drinking water on Trek?.
Answer: Most of all places stays with hotels and shops where you can buy mineral water but however we advise against buying mineral water in plastic bottles, as currently there are no provisions for disposing of these. Instead, we offer you boiled water or bring AQUA tablets to purify the normal water as the normal water is available at the campsite.
Question: Are there any communication facilities on Chisapani to Nagarkot Trekking?.
Answer: Yes, you can get telephone services as well as internet services as well.
Question: Can I use credit cards in Trekking?
Answer: Not possible in Chisapani but perhaps you can pay by credit card during your stay in Nagarkot.
Question: When should I book my trip and what are the payment terms?.
Answer: Because our trips book up months in advance, we recommend booking early to avoid any misunderstanding. We will, of course, make every effort to accommodate last-minute bookings.
And regarding the deposit, we prefer a 10% advance deposit of the total price of the trip in order to confirm your reservation before you arrive in Nepal. And the rest of the payment can be made after your arrival in Nepal.
Question: Who will carry my luggage on the Chisapani Nagarkot hike?
Answer: We do provide porters to transfer your luggage on request. As we are a responsible trekking tour operator agency, each of our porters carries a maximum of 22 kilos of your backpack which means 2 guests (11 kg luggage of each guest): 1 porter basis.
Question: How much distance do I walk each day?
Answer: The distance you cover each day can vary greatly due to the slope of hills, and high altitude. As such it is very hard to give specific distances for each day, however, you can prepare to walk roughly 4-5 hours every day.
Question: Does the trekking pole helps on my Himalayan hikes?
Answer: It is better to hike with walking poles. Learn how to use trekking poles for balance and stability, whether on the sidewalk or on trails. Walking poles can help prevent slips and falls. They are just recommended but not compulsory.
Question: Is it possible to hire an experienced private guide for Chisapani – Nagarkot hiking?.
Answer: Yes of course! If you are not happy to go with the complete full board package trip, still you can hire our expert private trek tour guide to make your holiday tour safer.
Question: How much additional money do I need per day?
Answer: You can allocate US$ 12 – 20 for a lunch/dinner in Kathmandu and it depends on your spending habits. US$ 8 to 12 US$ each day is enough to buy bottles of water, chocolates, tea coffee, and some drinks while you are on your trek.
Chisapani Nagarkot Trek highlights
See some of the tallest mountains from Chisapani and Nagarkot hill station.
Hike through cultivated fields, mixed forest of Rhododendrons, conifers, and oak trees.
Best view of Ganesh Himal family, Langtang range, Annapurna range …etc.
Experience mixed cultures, traditions, and lifestyles.
Notes for Chisapani and Nagarkot Trekkers
The Chisapani and Nagarkot is the best nature walk in Nepal. The above information stated above is a standard template guideline for guests. However, hiking on the nature trail is possible to customize at your request to accommodate your specific requirements. Local politics, landslides, cancellation of local flights, weather, transport, or a multitude of other factors that are out of our control can result in a change of daily plan during on trip.
It is, however, very unlikely that the itinerary would be substantially altered. If alterations are necessary the leader will decide the best alternative option, taking into consideration the best interests of the whole group. When a change does occur, we do everything we can to minimize its effect, but we cannot be responsible for the results of changes or delays.
"What makes Chisapani Nagarkot Trek special?"
Opportunities for challenging Chisapani Nagarkot hike located in Shivapuri National Park. You just need to know where to find the best viewpoint. We at Gokyo Treks and Expedition believe in quality services. Your safety and satisfaction is our concern.
We are a team of professional, experienced, trained, and licensed local guides who know the destination much better than others. Not only this but also we give benefits to the local communities and help to conserve natural resources which reduced costs and consumption.
Chisapani and Nagarkot Trek Review
Nagarkot hiking Tour was great
Ammar Guni (my guide) and Manoj (driver) were great and punctual. Although it was, unfortunately, cloudy morning and during the sunrise, I could see some mountains for a few minutes. Because the clouds came very quickly over the mountains.
Likewise, it was a lovely hike down the mountain with great views. Definitely, an easy and quick hike took 1.5 hours and all downhill but it was so nice to pass through the village and see how the locals live. I felt very comfortable and safe the whole time. Thanks Gokyo treks arranging our great trip 😊

Response from Gokyo Treks Nepal
Dear Sophie Russell,
Your review has filled us with absolute pleasure! Your satisfaction is our top priority, and we are excited to learn that you had a wonderful experience with our services. Your kind words mean the world to us, and we are sincerely grateful for your understanding.
Your words of encouragement serve as a powerful motivation for us to continue delivering exceptional Himalayan adventures. We eagerly await the opportunity to serve you further outstanding trip in the near future. Your return will be a true pleasure for our team.
Thank you once again for choosing us and for sharing such positive feedback. Should you have any further questions or require any assistance, please do not hesitate to reach out to us.
Warm regards, Ammar
The best Hikes Near Kathmandu
Had a great experience hiking and getting the fresh energy from nature through Sundarijal waterfalls. Chisapani near Kathmandu and Nagarkot near Bhaktapur are the best hill stations to watch sunrise and sunset.
Great place to go on a hike with friends and family with kids. And enjoying nature and wildlife.

Response from Gokyo Treks Nepal
Thank you Christopher for your time to submit a review on our website. stay connected.
The best treks in Chisopani and Nagarkot via National Park
Me and my 3 other friends – backpacker girls spent 2 nights 3 days of Chisapani hiking in Nepal in late December. We couldn't be happier with our choice!.
The owner, Ammar, really took good care of everything, and our nature guide, Kamal, is terrific and proficient and super caring throughout the travel. He really made sure that we feel well and adjust the itinerary accordingly. I highly recommend this company!

Nagarkot and Chisapani Hike 3 days
We met Ammar searching for a professional tour guide for our chisapani hikes. Luckily, he was happy and free for guiding us as we go on off-season in Nepal. He made our chisapani Nagarkot journey a very memorable and great experience, although it was our first time hiking in Asia.
He looked nice, clean, and cozy in places that we like and the view of the high mountains was just incredible. Experienced with the red panda and wild boar footprint fresh and some monkeys on the way to Nagarkot.
Nagarkot sunrise and our way down to Changu Narayan were another interesting part of the hikes. Highly recommended Ammar and his agency to anyone who wants to go for Shivpuri hikes.
Response from Gokyo Treks Nepal
Thank you
From US$ 232
2% Off
US$ 220
| | |
| --- | --- |
| No. of people | Price Per Person |
| 1 | USD 290 |
| 2 | USD 220 |
| 3 | USD 215 |
| 4 - 6 | USD 195 |
| 7 - 9 | USD 170 |
| 10 + | USD 135 |
Book Now
Customize Trip
Cost & Departures
Your Trip Your Style!
ITINERARY, COST, DEPARTURES, will adjusted according to your GROUP SIZE NEED TIME
Book with Confidence
Local Guides Company.
18 Years in Business.
Lowest Price Guaranteed.
100% Customizable Trips
Excellent Customer Service
Hassle Free Booking.
90 % Repeated customers
Highly Recommended agency
Private/group tour options