Sarangkot Dhampus Trek Summary
Trip Duration: 3 Days
Trek Difficulty: Easy Grade
High Altitude: 2,100 meters
Hiking Hour: 5 Hours daily
Group-Size: 1 – 30 People
Best Time: All months except July and August.
Trip Mode: Guest House
Meals on Trek: Breakfast, Lunch, and Dinner
Transport: Car/Plane/bus
Overview
The Sarangkot Dhampus Trek is an easy trekking trail located in the Kaski district of Pokhara city. Sarangkot hill, Dhampus village, and as well as Australian camp are recognized as famous hill stations in the Annapurna region.
The Australian camp just above Dhampus hill station offers an excellent view of the Annapurna Himalayan ranges. It includes the three tallest mountains which are Manaslu, Dhaulagiri, and Annapurna first. Moreover, the visitors can observe the other popular mountains such as Hiunchuli (6,441m), Annapurna family (2, 3 & 4), Gangapurna (7,455m), Machapuchare (equally popular as a Fish Tail 6,998m), Lamjung Himal (6,983m)…etc.
Magical village Dhampus is a famous Gurung settlement, tourists can stay either at local homestay or lodges. Thus, Tourists will have a chance to interact with locals to know their mountain lifestyles, culture, and tradition. An easy hike around Pokhara is an absolutely Australian camp and Dhampus Nepal. The mystical Dhampus and Sarangkot trek project is possible to complete in 1 night 2 days or in 2 nights 3 days.
Top viewpoint Australian camp is another attractive hilltop to achieve a glimpse of the Annapurna massif. Tourists can see an amazing view of Annapurna 3, and Annapurna II including Hiunchuli, Annapurna south, fishtail, and more in a single row. There are superb lodges with all the facilities and hotels in the Australian camp. Likewise, the Annapurna guest houses en route are clean and cozy but not luxurious.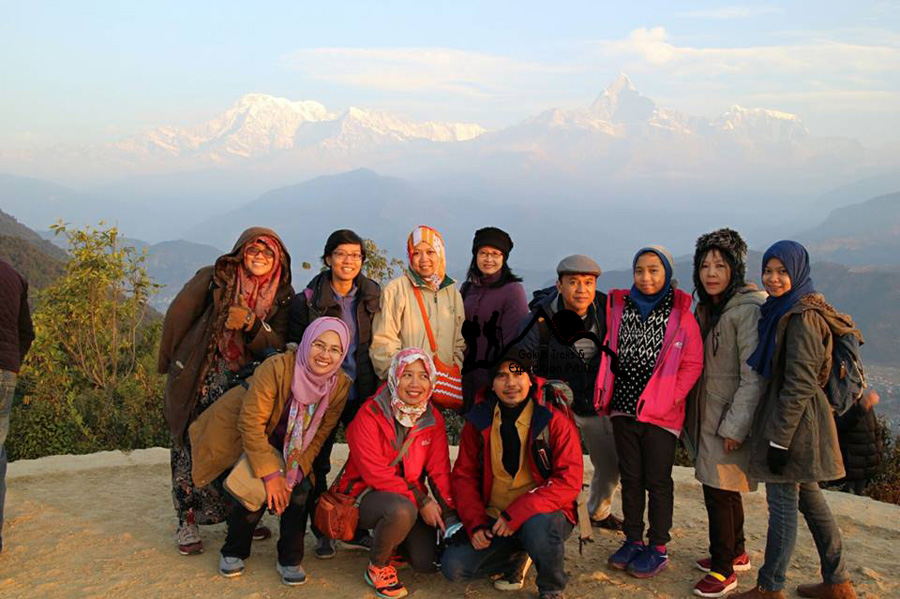 Hiking Dhampus Australian Camp and Sarangkot does not need Annapurna permits although it is the best short hike in Annapurna Nepal. When you're traveling for one or two weeks it's worth paying Annapurna conservation fees, but when you only enter for a day or two but must still pay the same price, it's a bit expensive.
In The Last couple of years, hiking Australian camp is very popular. It's more popular rather than Dhampus hilltop hikes. Often, you can see Annapurna films shot in an Australian camp and Sarangkot hill station on your hikes.
Sarangkot is the closest hill station standing next to Phewa lakeside of Pokhara in the Kaski District Gandaki Zone. The total population of Sarangkot village is roughly about 5,060 with 1,010 individual households. The village is located on Sarangkot mountain at an altitude of 1600m. It is renowned for its panoramic Himalayan views of Dhaulagiri, Annapurna, and Manaslu as well as down on the Phewa lake of Pokhara town. Recently, Sarangkot has become a hotspot for paragliding.
Furthermore is also called mini Annapurna panorama or Annapurna view trekking. Moreover, it is a good option to extend your trips from Kathmandu and Pokhara Tours or Chitwan Jungle/Wildlife Safari. Even the trail is easy to follow and lasts only for a few days and the trek will surely leave you with unforgettable moments in your lifetime.
Sarangkot hill with Dhampus Trek combines with Australian camp even more beautiful in spring as the whole forest turns to red, pink, and white with rhododendron flowers. And of course, Sarangkot and Dhampus village hiking is possible to do at any time throughout the year.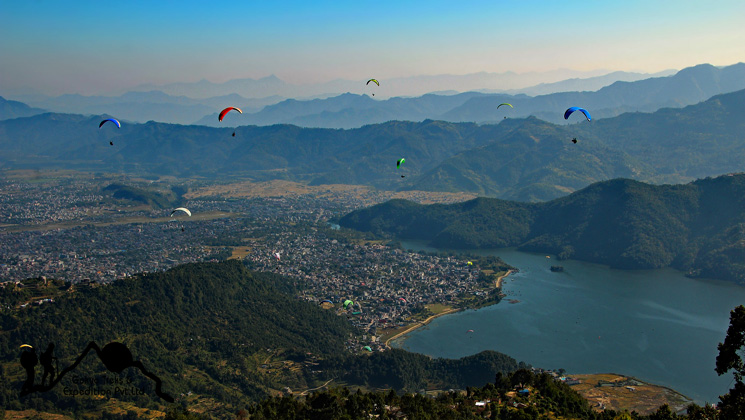 How much does Sarangkot and Dhampus Trek Package Cost?
The cost of the Sarangkot and Dhampus trek package with a local agency Gokyo Treks Nepal ranges between US$ 198 to US$ 375. But of course, the Sarangkot and Dhampus trip price will vary according to the group size you are traveling to and the category of hotel you choose. Additionally, we also have seasonal discount deals for international leaders. For example, if you could bring 10+ travelers (except you) to your hikes, you are treated as a group leader. So you can hike the Sarangkot-Dhampus for free of cost.
Getting flights from Kathmandu to Pokhara and from Pokhara to Kathmandu saves your time and riding the tourist bus reduces the trip expenses.
Be that as it may, we often arrange private trips in order to avoid group tours with strangers. A private tour near Pokhara town gives you a better experience on your hikes. If you value personalization, flexibility, and in-depth experiences, a private trip customized to your personal needs is the best option.
It is the standard trip package price for 3 days trek. If you are 2 tourist Sarangkot Dhampus trek cost US$ 298 for 3 days trek as per the trekking plan. We can modify the trek route and the prices according to your wishes also. Here is the price list for Dhampus and Sarangkot treks.
Price Per Person for 3 days hike in Dhampus-Sarangkot tours.
| Number of Tourist | Price Per Person |
| --- | --- |
| 1 Person | US$ 375 |
| 2 Person | US$ 298 |
| 3 Person | US$ 290 |
| 4 to 6 person | US$ 250 |
| 7 to 9 Person | US$ 225 |
| 10 and more than 10 Person | US$ 198 |
If you're wondering to know about what is included and what is excluded on this trip price, kindly check on package cost given on a tab button.
Itinerary
Sarangkot Dhampus Trek itinerary details
Amazing Sarangkot hill station combined with Dhampus village and Australian hiking is a focus to get three famous hill stations in a single plan itinerary. The particular route is designed for world travelers who wish to hike in a more relaxed manner, take a look at this itinerary. However, for travelers who wish to do this route quickly but are walking with limited time-wise, ask us for a tailor-made itinerary.
1 Day
Drive to Pokhara city (6 hours). Transfer to Fewa lakeside at the hotel.
Meet the guest at early morning. Our professional guide comes to pick you up to get to Tourist Bus park, Sorekhutte near Thamel. Bus leave from Kathmandu to Pokhara at about 6:45 am. You follow Prithvi Highway roughly to get to a tourist paradise Pokhara city. During the overland drive, you can see Manokamana – Manakamana cable car at Kurintar and rafting on the Trishuli River, and some nice villages. Pokhara is the second largest tourist town in Nepal and offers an excellent view of the Annapurna Himalayan ranges.
2 Day
Sarangkot hill station trek (1,600m/5,250 feet), 4 hours
We begin our journey walking on the bank of Fewa lake side to get Khapaudi which is a foothill of Sarangkot tower. Sarangkot tower offers an evening sunset view and evening lights at pristine Fewa lake. And as well as sunrise over the Annapurna Himalayan ranges including mount Dhaulagiri, Annapurna, and Fishtail. Breathtaking sunset and sunrise over the Annapurna massif.
3 Day
Australian Camp trek (2,100m/6,890 feet), 6 hours
Today very early in the morning, hike Hilltop tower to enjoy the sunrise view over Mt. Dhaulagiri (8,167m.), Tukuche Peak (6,920m.), Nilgiri (6,940m.), Varaha Shikhar (7,847m.), Mt. Annapurna I (8,091m.), Annapurna South (7,219m.), Annapurna III (7,855m.), Machhapuchhare (6,993m.), Annapurna IV (7,525m.), Annapurna II (7,937m.), Lamjung Himal (6,931m.) and Manaslu (8,163 m) are other numerous snowcapped mountains in the morning.
Return to the hotel for breakfast before continuing our Naudanda hike. Naudanda is nine hills that offer great views of Phewa Lake and its surrounding hills and the Pokhara Valley. We will lower down from Naudanda to Ghatte Khola and choose the escalating path to the Australian camp passing over the pretty little village of Gurung ethnics situated at the top of Dhampus hill.
4 Day
Descend trail to Phedi, 2 hours. Drive to Pokhara, 1 hour.
After breakfast with great sunrise over mount Annapurna and fist tail, we walk downhill to get to Dhampus village. Mount Fishtail is called Machhapuchhre in Nepali. We will explore Dhampus village and get to know its unique culture and ways of living. The trail descends through the forest to Dhampus Phedi from where we take a Bus ride back to Bus Park. And from here, we take a taxi to get to your hotel in Phewa lakeside in Pokhara. Tourists can extend tours to visit the Pokhara tourist places paying an extra cost. Trip finish.
Not satisfied with above plan?
Are you interested in planning a custom trip? this might take 2 to 3 minutes.
Cost
How much does Sarangkot Dhampus Trek combine with the Australian camp hike cost?
Hike to Sarangkot and Dhampus price US$ 298 per person is a standard trek price on double occupancy basis. For the deluxe and luxury hiking tour plan, we add Kathmandu – Pokhara – Kathmandu round trip airfare. Additionally, 3 to 5-star category hotel deluxe air-conditioned rooms in Kathmandu and in Pokhara Town with breakfast. Likewise, we also offer a clean guest house with an attached bathroom while hiking in the Annapurna hills. AND WE ARE OPEN TO CUSTOMIZING YOUR TOUR AND PACKAGES PRICE AS PER YOUR REQUIREMENTS. International tour leaders are highly encouraged to get discounts and attractive complimentary.
Dhampus Australian Camp and Sarangkot Trek Package Price Include:-
1-night Tourist standard accommodation on Phewa lakeside in Pokhara.
3 Breakfast, 4 Lunch, and 3 Dinner at Dhampus and sarangkot tour treks.
Tourist standard hotel accommodation while on trekking days in the Sarangkot and Dhampus hilltops.
Tourist Bus transfer from Kathmandu to Pokhara Tourist Bus Park.
Fully escorted trek with an English-speaking license holder local Tour guide for this trip.
Sarangkot Tower entrance permit and fees for Trekking tours
Return transfer from Dhampus Phedi to Fewa lake side with an available bus/jeep (passenger collection basis).
Insurance, Food, and accommodation and salary of trekking Guide for Annapurna.
Seasonal fruits like apples and pomegranates as a desert for Dhampus/Australian camp trekking.
Agency's Certificate of appreciation after the successful trip
Nepal Government Tax, VAT, and as well as Company service charge.
Sarangkot Australian camp Dhampus Trek Package Excludes:-
Nepal entry visa fees.
All foods during your staying in Pokhara city.
Any kinds of battery charges, laundry service, phone calls, and hot showers during the trekking.
Visitor personal hike equipments including clothes.
Personal nature expenses, Porter to carry your luggage en route, all types of drinks, and bar bills.
Travel Insurance which covers emergency rescue, personal loss, or damage.
Any donation and monuments entrance fees.
Gratuities for guide [Tip is a culture, so they expect highly].
Any other things which are not mentioned above
Group join
We can organize private Sarangkot Dhampus Trekking including an Australian camp trek starting on any date that works for you. If the above travel plan does not suit you? contact us for more customization tour plans.
FAQ
Question: Is pick-up service available on my arrival day in Kathmandu?
Answer: Yes sure. Provide us with your flight details and request us for pickup. Our representative will come to pick up you at Kathmandu international airport.
Question: Do I need the experience to do the Sarangkot trek?.
Answer: Best hike for beginners so previous experience is not required. All ages people can hike Australian camp and Sarangkot hill without any difficulties.
Question: Can I store my luggage/stuff in Kathmandu?
Answer: Yes, you can leave your luggage at your hotel or at our office. Store your stuff in the Gokyo Treks agency office is for free.
Question: Is the Australian camp hiking in Annapurna Safe for Solo Female Trekkers?
Answer: Absolutely yes. Nepal is a safe country to travel to for solo travelers; the Australian camp route is perfectly safe for solo female trekkers. We have been organizing the trek even for solo female travelers since its establishment.
Question: What kind of accommodation can I expect on Australian camp hiking?
Answer: We provide you with tourist standard accommodation in Kathmandu and on the trekking routes. the rooms along the routes are clean with a cozy bed with a nice mattress and blankets. However, we advise you to take your own sleeping bags if you have one with you otherwise, you may rent them while you are in Kathmandu.
Question: What kind of food can I expect in this Sarangkot-Dhampus Trek package?.
Answer: The lodges in Annapurna trekking, have attached restaurants. They cook a delicious range of mostly vegetarian such as Pasta, tuna bakes, noodles, potatoes, eggs, rice, bread, soups, and fresh vegetables.
dinner and breakfast are provided in the same lodge you spend the night every day and Lunch will be provided on the way to the next place where you are going.
Question: What opportunities will I have for shower Dhampus and Sarangkot Trekking?.
Answer: Guest house trekking all the lodges have a shower which you can get somewhere paying and somewhere without paying however if you are in camping trekking – we provide you hot water bucket then you will take a bucket shower.
Question: How do I get drinking water on Sarangkot Dhampus Trek?.
Answer: There are enough lodges and shops to buy mineral water on your hikes. But we advise against buying mineral water in plastic bottles, as currently there are no provisions for disposing of those plastic waste. Instead, buy safe drinking water from the water stations or bring aqua tablets to purify the normal water. And the normal tap water is available everywhere in the village and in the guest houses. Local tap water is also safe to drink without purifying as it came from the high mountains directly.
Question: Can I charge my digital camera or other batteries on my trip?
Answer: Yes, you can recharge the battery. We recommend you bring an extra pair in case. Remember to bring your adapters!
Question: Are there any communication facilities on the express Sarangkot and Dhampus Trek route?
Answer: As Sarangkot and Dhampus are located near Pokhara, you can get telephone services as well as 3G internet facilities. So, buy a local Sim Card while you are either in Kathmandu or in Pokhara town on tours.
Question: Can I use credit cards in Sarangkot-Dhampus Trek?.
Answer: No! So, for the divine route, you need to have cash Nepali rupees because credit cards work only in the bigger city areas.
Question: When should I book my trip and what are the payment terms?.
Answer: Because our trips book up months in advance, we recommend booking early to avoid any kind of misunderstanding. We will, of course, make every effort to accommodate last-minute bookings.
And regarding the deposit, we prefer a 20% advance deposit of the total tour price in order to confirm your reservation before you arrive in Nepal. And for the remaining payment, pay us after your arrival in Nepal.
Question: Who will carry my luggage on Sarangkot Dhampus Trekking?
Answer: We provide porters to transfer your luggage. As we are a responsible trekking tour operator agency, each of our porters carries a maximum of 25 kilos of your backpack which means 2 guests (12.5 kg luggage of each guest): 1 porter basis.
Question: How much distance do I walk each day?
Answer: When walking in the mountains, the distance you cover each day can vary greatly due to gradient, terrain, and altitude. As such it is very hard to give specific distances for each day, however, you have to be prepared to walk for roughly about 5 hours each day.
Question: Do I need walking poles?
Answer: Better to hike with walking poles, no matter which type of hiking poles you are using. Learn how to use trekking poles for balance and stability, whether on the sidewalk or on trails. Trekking poles can help prevent slips and falls. They are just recommended but not compulsory.
Question: Is it possible to rent a guide? how to hire a local trek guide?
Answer: Yes of course. If you are not happy to go with the complete full board package trip, still you can hire our expert guide to make your holiday tour safer. However, visit a guide and porter hire or email us for your detailed travel inquiry.
Question: How much additional money do I need per day?.
Answer: You can allocate US$ 08 – 10 for a lunch/dinner in Kathmandu and it depends on your spending habits. US$ 7 to 10 US$ each day will be enough to buy bottles of water, chocolates, tea coffee, and some drinks while you are on your trek.
Sarangkot Dhampus Trek highlights
Discover Annapurna Himalayas within 160 deg angle from all hill stations
Walk through farming fields, excellent views of Dhaulagiri, Nilgiri, Annapurna South, Fishtail, etc.
Natural hot spring and nice waterfalls along the trek routes
Famous hill stations of Kaski district are Sarangkot, Australian camp, and Dhampus
Experience the Gurung and other ethnic groups and their local lives.
Sarangkot Dhampus Trek Notes
Hike the Sarangkot and Dhampus villages itinerary is subject to change due to climate condition which is out of our control. This is a simple Guide line showing tentative camp night stops. The physical, technical, and natural conditions may change the above itineraries.
What makes Sarangkot Dhampus Trek special?
Opportunities for challenging trekking or hiking and pleasant strolls are scattered all over this planet. You need to know where to find them. We at Gokyo Treks and Expedition believe in quality services. Your safety and satisfaction are our prime concerns. We are a team of professional, expert, and licensed local guides who know the destination much better than others.
Traveller's Review
Best and easy short hike near Pokhara
Best for an overnight trip, the place is accessible and gifts visitors with the best 360-degree panoramic view of the Annapurna Himalayas. Also, those who plan for a long trek can plan for a visit to this place. Our guide was Som who knows every mountains and their heights, very professional and easy going. Highly recommend Som and his company Gokyo Treks &: Expedition. – Krissy Yssirk, Beijing, China
Response from Gokyo Treks Nepal
Dear Yssirk, thank you for your time to review Dhampus and Sarangkot trekking recently. We hope to serve you again on your next trip to Nepal.
Australian camp hike is the best and easy
I and 2 of my other friends Clairon N. Attipoe booked Sarangkot and dhampus hiking with Gokyo Treks agency. It was not the difficult hike but very rewarding view. Everything were perfectly organized. Our guide was Ammar Guni, who know where to go to catch the best shoot. Very professional, highly recommend. – Aki Korhonen, from Hong Kong.
Response from Gokyo Treks Nepal
Dear Aki, we thank you for your time in sending us a Dhampus and Sarangkot trekking review. Yes, it was a great time and we are hoping to welcome you again for your next journey to Nepal.
Amazing place to see Annapurna view
Best hike near Pokhara with Gokyo treks company and Ammar was a guide. It was a beautiful hike on Annapurna.
Perfect trip. If anyone got a chance to hike Sarangkot tower, go in the morning before sunrise. The view is absolutely awesome. – Xi Chen from Beijing, China.
Response from Gokyo Treks Nepal
Thank you Xi for your time sending us a Dhampus and Sarangkot trek review and we hope to serve you again on your trip to Nepal.
The best viewpoint trek nearby Pokhara City
I and my friend, 2 person book this short treks near Pokhara with a local agency. Ammar, helped everything for planning and arranging necessary things like booking hotels. Guide Nabraj, was our guide speaks basic Chinese which was great for us to talk.
Sarangkot is just outstanding place to get clear Annapurna Mountains view especially in Sunrise/sunset. We enjoyed our trips very much and we highly recommends Gokyo Treks agency to everyone. – Kwok Chung and SinYi Lim, China.
Response from Gokyo Treks Nepal
Thank you Kwok Chung for your time sending us a Dhampus and Sarangkot trekking in Nepal review. We hope to serve you again on your another trip to Nepal.
From US$ 314
5% Off
US$ 298
| | |
| --- | --- |
| No. of people | Price Per Person |
| 1 | USD 375 |
| 2 | USD 298 |
| 3 | USD 290 |
| 4 - 6 | USD 250 |
| 7 - 9 | USD 225 |
| 10 + | USD 198 |
Book Now
Customize Trip
Cost & Departures
Your Trip Your Style!
ITINERARY, COST, DEPARTURES, will adjusted according to your GROUP SIZE NEED TIME
Book with Confidence
Lowest Price Guaranteed.
100% Customizable Trips
Excellent Customer Service
Hassle Free Booking.
90 % Repeated customers
Highly Recommended agency
Private/group tour options
Local Guides Company.