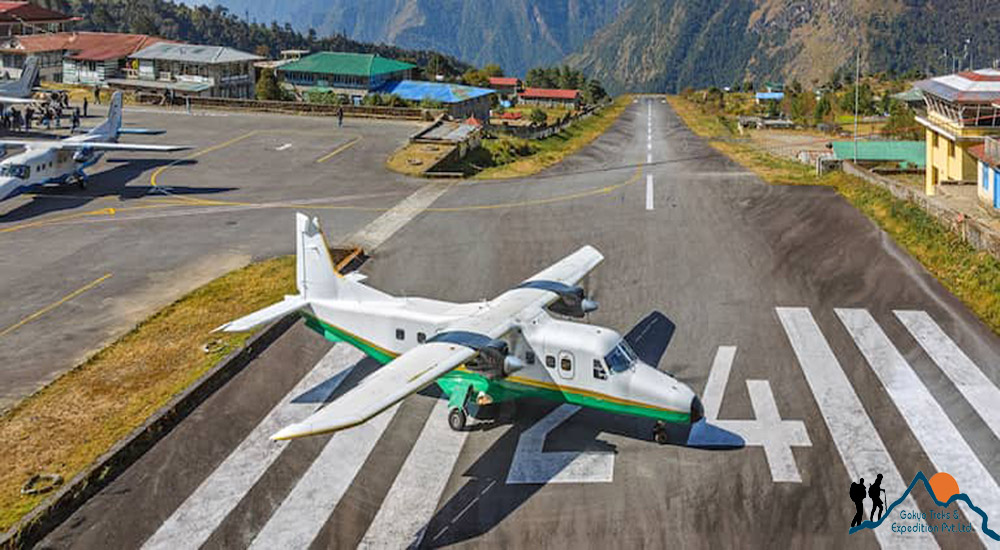 I apologize, flight cancellations can occur for various reasons in the Himalayas as the country "NEPAL" has a lot of towering summits and often the airports are situated at the lap of high mountains. Therefore, It's always recommended to check with the airlines or the airport authorities for the most up-to-date and accurate information regarding flight cancellations in Nepal.
Take a look some reasons that there are often delays and cancellations the flights in the Nepalese Himalayas: –
Weather Conditions:
Nepal's geographical location and mountainous terrain make it prone to weather-related challenges. During certain seasons, such as the monsoon season (June to September), heavy rainfall, low visibility, and turbulent weather can lead to flight disruptions. Generally, the months of October to December and February to April have more favorable weather conditions for domestic flights.
Air Traffic and Infrastructure:
Nepal has a limited number of airports, and some of them are situated in challenging terrains. At the airports may have limited infrastructure and capacity, leading to congestion and delays, especially during peak travel periods.
Flight Operations:
Flight operations can be affected by various factors, including technical issues with aircraft, maintenance requirements, crew availability, and scheduling conflicts. These operational challenges can result in flight delays or cancellations.
Political and Social Factors:
Occasionally, political unrest, strikes, or protests in Nepal can disrupt transportation services, including flights. These events can lead to cancellations or disruptions in the aviation sector.
Safety Considerations:
Safety is paramount in aviation. If there are safety concerns identified by the airline or aviation authorities, such as runway conditions or air traffic control issues, flights may be delayed or canceled to ensure passenger safety.
It's important to note that flight delays and cancellations can occur in any part of the world, and Nepal is no exception. However, airlines and airport authorities continually work to minimize these disruptions and improve the overall travel experience.
Best months to take for domestic flights in Nepal
Best time to take a domestic flight in Nepal can vary depending on various factors such as weather conditions, peak tourist seasons, and personal preferences. Generally during spring (March to May) and autumn (September to November) the weather is pleasant, and many travelers visit Nepal for trekking and mountaineering activities. Flights may be in higher demand during these times, so it's advisable to book in advance.
Likewise, morning flights in Nepal are often considered more reliable and have a better chance of departing on time, as weather conditions are usually calmer earlier in the day. Additionally, early flights may offer better views of the Himalayan mountain ranges.
Autumn (September to November):
It is considered the best time to visit Nepal for both domestic and international travelers. The weather is generally clear, with mild temperatures and stable atmospheric conditions. It's a popular season for trekking, mountaineering, and wildlife exploration.
Spring (March to May):
Another excellent time for domestic flights, spring in Nepal brings mild temperatures and blooming flora. The skies are usually clear, offering breathtaking views of the mountains. This season is ideal for outdoor activities and exploring Nepal's natural beauty. Consequently, flight operations are typically smoother during these times, with fewer delays or cancellations due to weather-related issues.
These months tend to have more stable weather patterns and are less affected by the monsoon season or extreme winter conditions. Monsoon season (June- August) is highly prone to flight delays and cancellations. The strong winds, rain, and patchy clouds make the view unclear. Also, in winter, flights may get canceled due to thick fog.
However, it's essential to note that weather conditions can still vary, and flight disruptions can occur even during these recommended months. It's advisable to check with the airlines for real-time information and updates regarding flight schedules and potential disruptions before making travel arrangements.
What happens if my domestic flight ticket gets cancel in Nepal, what are the alternate options?
Jomsom Airport of Annapurna and Lukla Airport, located in the Everest region, are known for frequent flight delays and cancellations due to its challenging terrain and unpredictable weather conditions. In the event of domestic flight cancellation in Nepal, there are several alternate options you can consider:
Rebooking your flight tickets:
Contact us with your original schedule and inquire about the possibility of rebooking your flight ticket for a later time or date. Airlines may offer you an alternative flight on the same day or a different day, depending on availability.
Get refund your airfare:
If rebooking is not a viable option for you, you can ask us to get refund (no need to go to the airline office). We provide you a refund for the canceled flight, allowing you to make alternative arrangements.
Alternative Airlines:
Check with other domestic airlines operating in Nepal if they have available flights to your intended destination. You can book a new ticket with an alternative airline if they have flights that meet your travel requirements.
Ground Transportation:
If your destination is accessible by road, you may consider traveling by bus or private car. Nepal has an extensive network of roads, and there are bus services available to various destinations within the country.
Reschedule your Plans:
If none of the above options are feasible, you may need to adjust your travel plans accordingly. This could involve rescheduling activities or accommodations at your destination.
Remember to stay in touch with the airline and monitor their updates regarding the cancellation and available options. It's also advisable to have travel insurance that covers trip interruptions or cancellations, as it can provide you with additional assistance and compensation in such situations.