Kongma La Pass Trek Summary
Kongma La Pass Hike Duration: 13 Days
Kongma La Pass Trek difficulty: Moderate adventure
Altitude at Kongma La Pass: 5,535m / 18,160 feet
Trek Hours: 6 Hours daily
Group-Size: 1 – 12 People
Trip Mode: Guest House
Best Time to Explore: April and May, October and November
Foods on Trek route: Breakfast, Lunch, and Dinner
Transportation: Car/Plane/Bus
Overview
The Kongma La Pass trek is a challenging and exhilarating journey in the Everest region of Nepal. This high mountain pass sits at an altitude of around 5,535 meters (18,159 feet) and is part of the classic Everest Three Passes trekking.
Due to its high altitude and challenging terrain, proper acclimatization and physical fitness are crucial for trekkers attempting this route. Hike to Kongma La Pass offers a thrilling and rewarding experience for adventurers seeking a more strenuous and remote Himalayan trekking adventure.
To successfully complete this challenging high pass trek in a counterclockwise direction, a strong spirit and excellent fitness are essential. Being comfortable walking for 7-8 hours each day, with an ascent of 1,000 meters daily for a two-week duration, indicates a suitable fitness level for conquering this trek.
Trekking through Kongma La Pass involves steep ascents, rocky terrain, and a demanding climb, offering breathtaking panoramic views of the surrounding Himalayan peaks, including Everest, Lhotse, Makalu, and more. Likewise, this route typically starts from Lukla, passing through iconic Sherpa villages like Namche Bazaar, Dingboche, and Chhukung before ascending towards the pass.
How much does Kongma La Pass Trek Package Cost?
The cost of Kongma La Pass trek package with a Gokyo Treks local agency ranges between US$ 1050 to US$ 1498. Obviously, this adventure Kongma La pass trek cost will vary as per the group size you are traveling to and the service/accommodation type you choose for. Basically, it covers your transportation, Lukla flight cost, permit, Guide/porter, accommodation…etc.
We have also discount deals for hiking group leaders. For example, if you could bring 10+ travelers (except you) on your trip, you are treated as a group leader. So you can hike to Kongma La pass on 50% discounts.
However, we basically arrange private trips in order to avoid group tours with strangers. A private hiking tour gives you a better experience on your hikes. If you value personalization, flexibility, and in-depth experiences, a private trip customized to your personal needs will be the best option.
It is the standard trip package price for 13 days trek. If you are 2 people Kongma La pass trek cost US$ 1225 for 13 days trek as per the above plan. We can modify the trek route and the price as per your wish. Here is the price list for the Gokyo Kongma La Pass hike.
Price Per Person for 13 days hike in the Kongma La Pass in the Everest!
| Number of Tourist | Price Per Person |
| --- | --- |
| 1 Person | US$ 1498 |
| 2 Person | US$ 1225 |
| 3 Person | US$ 1210 |
| 4 to 6 person | US$ 1175 |
| 7 to 9 Person | US$ 1125 |
| 10 and more than 10 Person | US$ 1050 |
If you're wondering to know about what is included and what is excluded from this trip price, kindly check on the cost given on a tab button.
Itinerary
Kongma La pass trek itinerary details
Trekking through Kongma La Pass leads across stunning valleys surrounded by the towering peaks of the Everest mountain range. This adventurous high pass trek can be completed in a counterclockwise direction, allowing passage over the pass and onward to Khumbu Icefall.
Due to the higher altitudes, glacial rivers, and shifting terrain, this route is often closed during the winter months. Feel free to share your preferred travel plan. If this itinerary doesn't suit your needs, reach out to us for a customized itinerary tailored to your preferences.
01 Day
Arrival at Kathmandu valley
Upon arrival in Kathmandu, Tribhuvan International Airport, we will receive you in a private vehicle and transfer you to a hotel in Kathmandu. Preparation for hiking gear and a short brief about the trek plan before heading to Lukla airport.
02 Day
Fly to Lukla airport & Trek to Bengkar (2630m/8,629 feet), 5 hours
Catch an early morning flight from Kathmandu to Lukla at 2,840m, ensuring a seat on the north side for stunning mountain vistas. Upon arrival in Lukla bazaar, meet our dedicated team, enjoy breakfast, and set off.
The initial hike from Lukla to Phakding (2,610m) offers a relatively gentle terrain as the landscapes gradually ascend. Following the Dudh Koshi's left shore, the path involves a mild ascent up the mountainside, with the neighboring Nupla summit visible across the river. Pass through Sherpa communities like Ghat, Phakding, Tok Tok, and finally arrive at the picturesque Bengkar village.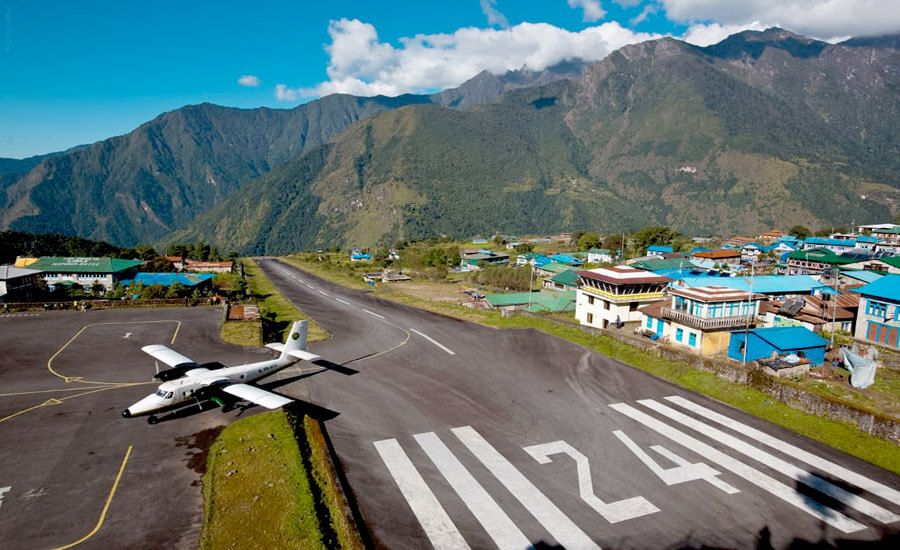 03 Day
Trek to Namche Bazaar (3,440m/11,286 feet), 4 hours
The path leads upwards from the Koshi riverbank towards Monjo. Along the way, we traverse the Sagarmatha National Park and visit the post office to cover the entrance fees. Following the riverbed, we arrive at the iconic Hillary Bridge.
Crossing this bridge offers tourists the initial breathtaking view of Mount Everest (8,848m) and Lhotse (8,516m). Namche Bazaar serves as the bustling heart of the region, offering a range of amenities including food, hiking and climbing equipment, and various essential goods.
04 Day
Explore the Khumjung village (3,780m/12,402 feet) via Sengboche hilltop, 3 hours
Today we hike to Khumjung village, aiming for better acclimatization. We'll explore the area and then ascend Sengboche hilltop for an incredible panoramic view. From here, witness Mount Everest, Ama Dablam, Thamserku, Nuptse, Lhotse, Tawche, Kwangde, and numerous other snow-capped peaks spanning a 360-degree vista.
Likewise, our itinerary also includes visits to HEV (Hotel Everest View) and the National Park Museum. These activities are focused on aiding acclimatization while allowing us to immerse ourselves in the natural beauty and cultural essence of the Everest region.
05 Day
Tengboche trek (3,860m/12,665 feet), 6 hours
Continue skirting a steep cliff that descends towards the Dudh Kosi river. Along the way, revel in the stunning panorama featuring Ama Dablam (6,812m), Everest, Lhotse, Nuptse (7,855m), and Tawoche (6,501m). Our trek leads us to Tengboche hill, passing through Trashinga, Phunki Tenga, and vibrant Rhododendron forests.
At Tengboche Pass, marked by the inscription 'Om Mane Padme Hum', experience captivating sunrise and sunset vistas of Mount Everest and the silhouette of Ama Dablam.
06 Day
Trek to Dingboche (4,410m/14,469 feet), 6 hours
Leaving Tengboche, the backdrop fading as we descend through the rhododendron forest, reaching the welcoming village of Deboche. Crossing the suspension bridge over the Imja River, our journey continues towards Minlinggo, leading us into the awe-inspiring Imjatse Valley nestled beneath the majestic peaks of Ama Dablam, Nuptse, and Lhotse.
The trail from Pangboche village to Dingboche lodges offers mix of gradual ascents and descents, providing trekkers with panoramic views of the surrounding Himalayan landscapes. Passing through ancient Pangboche monastery, the trail leads to Dingboche, revealing picturesque views of Ama Dablam and neighboring peaks. The terrain is well-defined and mostly consists of well-maintained paths, making the trek enjoyable and accessible for adventurers.
07 Day
Acclimatization day in Dingboche!
Trekker's trek to nearby vantage points like Nangkartshang Peak or Chukhung Ri to aid in acclimatization while enjoying panoramic mountain views. Enjoy leisurely walks around Dingboche, relishing the stunning landscapes and serene. Take the opportunity to rest and recharge, allowing your body to acclimatize to the altitude before further trekking.
Re check your health and fitness, review equipment, and prepare for the upcoming challenging sections of the trek, such as Kongma La Pass. Dingboche offers breathtaking views of Ama Dablam, Lhotse, and other neighboring peaks. Spend time soaking in these incredible vistas.
08 Day
Kongma La Pass (5,535m/18,160 feet) & to Lobuche (4,410m/14,469 feet), 7 hours
The trek from Dingboche to Kongma La Pass is considered challenging due to steep ascents, high altitude and rocky terrain. It demands good physical fitness and acclimatization. However, with that difficulty also comes its beauty as views that you will take in from the top of Kongma La are truly some of the best you will come across in the region.
Additionally, crossing Kongma La Pass allows trekkers to access lesser-explored areas and witness panoramic vistas of some of the world's highest peaks, making it a standout experience for those exploring the Everest region. They are Mt.Tawache, Ama Dablam, Pokalde (5,741m), Kongma-Tse (5,820m), Nuptse… etc.
After crossing Kongma La Pass, the trail to Lobuche lodge involves varying conditions, including rocky paths and some gradual ascents and descents. It's essential to navigate cautiously due to the terrain, especially considering possible loose rocks and uneven surfaces.
09 Day
Trek to Gorak Shep and hike to Kala Patthar (5,550m/18,210 feet), 7 hours.
As we depart from Lobuche, we're greeted by the picturesque sight of Mount Pumori and Cholatse, with Lobuche and Ama Dablam standing prominently in the landscape. Continuing the hike towards the rocky moraine glaciers, we eventually arrive at the sandy grounds of Gorak Shep Lodges.
For those seeking an optional adventure, a climb of approximately 365 meters above Gorak Shep leads to the summit of Kala Patthar. Here, one can witness an awe-inspiring sunrise showcasing the Khumbu icefall, the summit of Everest, Pumori, the base camp, and more, all in a breathtaking panoramic view. Moreover, Kala Patthar's vantage point offers the most splendid view of Mount Everest from Nepal. Descend to Gorak Shep guest house to stay overnight.
10 Day
Visit the Everest Base camp (5,364m/17,598 feet). Descend to Pangboche (3,985m/13,075 feet), 7 hours
Enjoy breakfast before embarking on a morning hike to Mount Everest Base Camp accompanied by your trekking guide. Traverse the moraine, glacial trails, and navigate tiny crevasses over the Khumbu Icefall, adding to the thrill of your journey.
Along the way, capture the breathtaking beauty of iconic landscapes and towering summits as you make your way to Everest Base Camp, renowned as one of the world's most popular multi-day treks.
While descending, trek along the moraine and glacial trail leading back to the guesthouses in Lobuche. Whether you have intentions to cross the Chola and Renjo La pass Trek post exploring the base camp is entirely up to your decision and plans.
On the 10th day, you have the option to return to Lukla, which typically takes around 3 days. Alternatively, you can choose to extend your trek further into Chola Pass and the Gokyo Lakes region and tackle the additional two passes available in that area.
Otherwise, we descend with stone-walled potato fields, down alpine pastures through the kharkas of Tsura, Orsho, and Shomare to the Pangboche. Pangboche village has the highest year-round settlement in the valley. The Pangboche Gompa (monastery) is the oldest in the Khumbu and once used to boast the skull and hand of a Yeti.
11 Day
Descend to Monjo village (2,835m/9,302 feet), 8 hours
Two hours of downhill walk, we reach at the holy site of Monastery. Tengboche Monastery holds renown as one of the most significant and revered monasteries in the Everest region of Nepal. Situated at an elevation of approximately 3,867 meters (12,687 feet), it boasts stunning views of Mount Everest and neighboring peaks.
This monastery is renowned for its spiritual significance, hosting religious ceremonies and festivals like the Mani Rimdu festival, drawing pilgrims and trekkers alike. Additionally, it stands as a pivotal cultural and religious hub, offering serene surroundings for reflection and captivating vistas of the Himalayas.
The trail from Tengboche hill to Namche Bazaar offers a varied and picturesque journey. Hiking through this section presents diverse landscapes, including lush forests adorned with rhododendron and juniper trees. The path meanders through charming villages, providing glimpses of local culture and traditional dwellings.
As you descend, the trail reveals stunning vistas of the Dudh Koshi River Valley, accompanied by panoramic views of the Himalayan peaks. This section of the trek offers a mix of descents, ascents, and flat stretches, making it an engaging and rewarding segment with its blend of natural beauty and cultural richness.
Your footsteps goes further through diverse landscapes and enchanting forests. Descending from Namche, the path winds along the Dudh Koshi River, offering scenic backdrop of soaring peaks. The trail passes through lush forests adorned with rhododendron and pine trees, creating a serene ambiance.
Walk through this section provides glimpses of local culture and traditional architecture, offering a captivating blend of natural beauty and cultural immersion. Terrain consists of well-maintained paths, occasional ascents, and descents, providing trekkers with a pleasant and rewarding journey to Monjo.
12 Day
Descend downhill walk to Lukla airport (2,840m/9,318 feet), 7 hours
We trek to Lukla with the same trail as we use on ascend. It is the final day of our trekking. Upon arrival at Lukla, the airport gets refreshed and visits Lukla markets.
In the evening, the climbing team will invite their porters for a delicious meal together because from the next day, their duty is off and guests will take a flight to return.
13 Day
Scenic Mountain flight from Lukla to Kathmandu Tribhuvan international airport.
We board our early flight from Lukla to Kathmandu airport. Upon arrival at Kathmandu Tribhuvan international airport, we arrange a return transfer back to your hotel. In the afternoon, your can take your time for shopping or request us to discover Kathmandu as a guided trip at an additional cost.
Not satisfied with above plan?
Are you interested in planning a custom trip? this might take 2 to 3 minutes.
Cost
How much does the Kongma La pass trek Package Price?
Hike to Gokyo Kongma La pass package price US$ 1225 per person is the standard trek price on double occupancy basis. For the deluxe trek plan, we add a 3-5 star category hotel deluxe air-conditioned room in Kathmandu (BB PLAN). Likewise, Tourist standard lodge accommodation with an attached bathroom in the possible places along the route. AND WE ARE OPEN TO CUSTOMIZING YOUR TOUR AND PACKAGES PRICE AS PER YOUR REQUIREMENTS.
Kongma La pass trek package price includes:-
Kathmandu international airport pick up on your arrival with a private Car.
Single night double bedroom accommodation in a tourist standard hotel in Kathmandu.
Domestic flight tickets Kathmandu – Lukla – Kathmandu round trip with applicable domestic airport taxes.
12 Breakfast serve with a cup of tea/coffee, 11 Lunch, 11 Dinner [main course] in the Kongma La pass trekking.
Guest House accommodation during the trek routes.
Certified – Professional Mountain Trekking Guide for Kongma La pass trek.
An assistant guide will provide for 7 plus group tourists.
Required number of porters during the trek (one porter = two guest basis) because our porter can carry a maximum of 24 kilos of your bag pack.
Kathmandu domestic airport transfer as per written in the above plan.
Well-paid salary, food, accommodation, and insurance of Nepalese guide and porter.
Sagarmatha National Park entrance permits and Khumbu Pasang Lamu municipality entrance permit fees.
Trek certificate and Kongma La pass trek map, keep it as souvenirs.
Agency's duffel bag (50 liters capacity) and hiking poles if Necessary – return after the trek.
First Aid including Fingertip Pulse Oximeter (we use every day) to check your oxygen level and pulse rate to save you from higher AMS risk.
In a worst case, help with all Rescue and evacuation arrangements (but not the rescue bills).
Nepal Government Tax, VAT, and as well as Company service charge.
Kongma La pass trek package price not includes:-
Dinner and Lunch while your staying in Kathmandu town.
Any kinds of battery charges, laundry service, phone calls, and hot showers during the trek.
Personal trek gears and clothing.
Personal nature expenses, water, and bar bills.
Travel insurance is mandatory in case of an emergency case to cover rescue and medical.
Donation and monument entrance fees.
Gratuities for guide and porter [Tip is a culture, so they expect highly].
Group join
Crossing Kongma La pass in the Everest foothills is difficult often because of strange weather. We can organize a private trek to the Kongma La Pass trek with Kala Patthar and Everest base camp starting on any date that works for you.
| Departure Date | Availability | Price | Book |
| --- | --- | --- | --- |
| 20 Mar, 2024 – 02 Apr, 2024 | Available | 1225 | |
| 25 Mar, 2024 – 06 Apr, 2024 | Available | 1225 | |
| 10 Apr, 2024 – 22 Apr, 2024 | Available | 1225 | |
| 20 Apr, 2024 – 01 May, 2024 | Available | 1225 | |
| 25 Apr, 2024 – 07 May, 2024 | Available | 1225 | |
| 01 May, 2024 – 12 May, 2024 | Available | 1225 | |
| 10 May, 2024 – 22 May, 2024 | Available | 1225 | |
| 20 May, 2024 – 01 Jun, 2024 | Available | 1225 | |
| 10 Sept, 2024 – 22 Sept, 2024 | Available | 1225 | |
| 20 Sept, 2024 – 01 Oct, 2024 | Available | 1225 | |
| 05 Oct, 2024 – 17 Oct, 2024 | Available | 1225 | |
| 20 Oct, 2024 – 01 Nov, 2024 | Available | 1225 | |
| 25 Oct, 2024 – 07 Nov, 2024 | Available | 1225 | |
| 10 Nov, 2024 – 22 Nov, 2024 | Available | 1225 | |
| 20 Nov, 2024 – 02 Dec, 2024 | Available | 1225 | |
Guaranteed – Trip is Guaranteed to run.
Available – Trip is available to run if minimum group size is filled
Limited – Only few space available
FAQ
Question: Do I need experience in Kongma La pass trekking?
Answer: This trek is well-suited for enthusiastic trekkers who can comfortably walk approximately 4 to 5 hours each day carrying a lightweight daypack. Prior experience at high altitudes, roughly around 9,850 feet above sea level, is recommended for this trek.
Question: Is pick up service available on my arrival day in Kathmandu?
Answer: Yes please. Provide us with your flight details. Our delegate will come to pick up you at Kathmandu international airport.
Question: Can I store my luggage/stuff in Kathmandu?
Answer: Yes, you can store your luggage at your hotel or at our agency. Storing your stuff in the Gokyo Treks agency office is for free.
Question: Is Kongma La pass trekking Safe for the Solo Female Trekkers?
Answer: Absolutely. Nepal is a safe country to travel to for solo travelers; the Kongma La trek is perfectly safe for solo female trekkers. We have been organizing the trek even for solo female travelers since its establishment.
Question: What kind of accommodation can I expect on Kongma La pass trek?
Answer: We provide you with tourist standard lodge accommodation in the trek routes. Rooms along the routes are clean with cozy beds with nice mattresses and blankets. However we suggest you to take your own sleeping bags if you have one with you otherwise, you may rent them while you are in Kathmandu.
Question: What kind of food can I expect in Kongma La pass trek?
Answer: The guest houses at Kongma La pass trekking have attached the restaurants. They cook a delicious range of vegetarian meals such as Pasta, tuna bakes, noodles, potatoes, eggs, curry with rice, bread, and soups. Dinner and breakfast are provided in the same lodge you spend the night every day and Lunch will be provided on the way to the next place where you are going.
Question: What should my insurance policy cover during Kongma La pass trek?
Answer: Nepal Travel insurance is mandatory before joining Kongma La pass trips with us as its truly adventurous. And you need to get your Trekking Insurance policy before joining your trips to Nepal. Your travel insurance must cover the helicopter rescue up to 6000 meters altitude. It comes in handy during medical emergencies and contingency situations. It is recommended to get it from your home country.
Question: How to prevent altitude sickness at Kongma La pass lodge trek?
Answer: Take caution and avoid walking too rapidly or ascending too swiftly without heeding your body's signals. Acclimatizing properly to altitude is crucial to prevent high-altitude sickness. Pay attention to your body's cues, trek gradually to relish the rich culture and natural beauty, allowing ample time for your body to adjust to changing altitudes. Stay well-hydrated by drinking plenty of fluids. Should symptoms such as headaches or breathing difficulties arise, descend to lower altitudes and seek medical attention. In severe cases, emergency airlifting to a hospital in Kathmandu may be necessary.
Question: What happens if my scheduled flight Ktm-Lukla-Ktm route gets delayed or canceled?
Answer: Weather in the Himalayas is uncertain which we cannot predict. Therefore, the rate of fight delay and cancellation is high at Lukla. If this happens then you will be boarded on the flight tomorrow and you have to spend an extra night at Lukla (if you are returning to Ktm) at Kathmandu (if you are going to Lukla). Helicopter rescue can also be used, which depends on the situation. We advise you to allocate a couple of extra days after your Everest trek so that you will not miss your international flight back.
Question: What are the alternatives to flying from Kathmandu to Lukla?
Answer: The best-recommended way to go for the Kongma La pass trek is to board a Kathmandu-Lukla 33 minutes scenic mountain flight. Another available option is to drive from Kathmandu to Phaplu (a 12-hour drive) and trek for 2 days to reach Lukla. In the present day, there are also regular jeep services from Kathmandu to Salleri.
Question: What opportunities will I have for a shower along with the Kongma La pass trek?
Answer: All the lodges along the trek route, have hot/cold showers on pay.
Question: How do I get drinking water on Kongma La pass trekking?
Answer: Almost all places stay in hotels and shops where you buy mineral water. But however, we advise against buying mineral water in plastic bottles, as currently there are no provisions for disposing of plastic waste. Instead, either buy boiled water or bring Aqua tablets to purify the normal water as the normal water is available at the campsite everywhere.
Question: Can I charge my digital camera battery?
Answer: You can recharge the battery but we recommend you bring an extra pair in case. Remember to bring your adapters! And we recommend you take extra batteries along with you.
Question: Are there any communication facilities on the express Kongma La pass trek?.
Answer: Everest Link is an internet service provider founded in 2014 that provides high-speed internet and Wi-Fi in the Everest Region. It is the only internet provider at the Cho la trail, making it the world's tallest internet service.
If you wish to stay connected with better WIFI to your family, friends, or business, we suggest you buy Everest Link Internet. It's better than other NETWORK connections and you can buy an Everest link card easily in the shops, hotels, or any small lodges in the Everest zone.
Question: When should I book my trip and what are the payment terms?.
Answer: Because our trips book up months in advance, we recommend booking early to avoid any kind of misunderstanding. We will, of course, make every effort to adjust last-minute bookings.
And regarding the deposit, we prefer a 12% advance deposit of the total price of the trip in order to confirm your reservation before you arrive in Nepal. And the rest of the payment can be made after your arrival in Kathmandu.
Question: Who will carry my luggage on the Kongma La Pass trek?
Answer: We provide porters to transfer your luggage. As we are a responsible trekking tour operator agency, every porter carries a maximum of 24 kilos of your backpack which means 2 guests (12 kg luggage of each guest): 1 porter basis.
Question: How much distance do I walk each day?
Answer: When walking/trekking in the mountains, the distance you cover each day can vary greatly due to gradient, terrain, and altitude. As such it is very hard to give specific distances on each day, however, you have to be prepared to walk roughly about 5 hours each day.
Question: Is it possible to rent a guide? how to hire a local trek guide?
Answer: Yes of course. If you are not happy to go with the complete full board package trip, still you can hire our expert guide to make your holiday tour safer. However, visit a guide and porter hire or email us for your detailed travel inquiry.
Question: Do I need trekking poles?
Answer: It is better to hike Kongma La Pass with walking poles. Learn how to use trekking poles for balance and stability, whether on the sidewalk or on trails. Walking poles can help prevent slips and falls. They are just recommended but not compulsory.
Question: How much additional money do I need per day?
Answer: You can allocate US$ 08 – 10 for a lunch/dinner in Kathmandu and it depends on your spending habits. US$ 7 to 10 US$ each day will be enough to buy bottles of water, chocolates, tea coffee, and some drinks while you are on your trek.
Kongma La pass trek highlights
See the super mountain range of mountains at 360 deg angle from Syangeboche hill and from Kongma La ridge.
Kongma La Pass is consider the challenging adventure beyond the imagination.
Incredible view of Mount Everest, Lhotse, Nuptse, Amadablam, Thamserku, and many other mountains.
Incredible and amazing landscape of epic Everest base camp.
Sherpa Buddhism, tallest monastery, Local Sherpa, and their way of living.
Note for Kongma La pass trekkers!
This Kongma La pass trekking plan as given above is a standard template plan that we provide you. However, the trip is possible to customize at your request to accommodate your specific requirements. Local politics, landslides, cancellation of local flights, weather, transport, or a multitude of other factors that are beyond our control can result in a change of itinerary during on trip.
It is, however, very incredible that the itinerary would be extensively altered. If changes are necessary the leader will decide the best alternative option, taking into consideration the best interests of the whole group. When a change does occur, we do everything we can to minimize its effect, but we cannot be responsible for the results of changes or delays.
"What makes Kongma La pass trek special?"
The Kongma La Pass trek holds a challenging and rewarding route, providing breathtaking views of the Everest region's stunning landscapes and iconic peaks. It encompasses a diverse terrain, showcasing glaciers, valleys, and high mountain passes, providing an exhilarating adventure.
We at Gokyo Treks and Expedition believe in quality service and safety, is our concern. We are a team of professional, experienced, trained, and licensed local guides who know the destination better than other guides. Not only this but also we give benefits to the local communities and help to conserve natural resources which reduced costs and consumption.
Kongma La Pass Trek Review
Kongma La Pass - Just Amazing
On the 18th of November 2023, we successfully completed our memorable journey through the three passes in a counterclockwise direction, guided by the exceptional expertise of Hira Bahadur and Dinesh Rai from Gokyo Treks & Expedition agency.
We were incredibly fortunate with the weather throughout our adventure, and thanks to their diligent care, my belongings consistently arrived in pristine condition at each lodge. Hira's decision-making was consistently spot on, instilling complete trust in us. His patience during our numerous photo stops added a delightful touch to our journey, allowing us to have fun and moments of introspection. Together, we ceremoniously hung prayer flags on Kongma La, making it a special memory.
The entire trek was flawlessly organized, right from the airport pickups to our departure flights. Ammar's assistance in arranging accommodation at the Aloft Hotel after our return from Lukla was immensely appreciated. Our three days in Kathmandu, exploring the world heritage sites with Ammar as our guide, were truly delightful and enjoyable.
Our heartfelt gratitude goes to Ammar for orchestrating our unforgettable three-passes trip, and to the entire team for their exceptional care, which gifted us with incredible memories. Overall, we are ecstatic with our experience and undoubtedly plan to engage your services again for our future Himalayan adventures. Cheers!
Response from Gokyo Treks Nepal
Dear Mario Steventon,
We enjoyed reading your review! Customer satisfaction is our top priority, and your kind words mean the world to us.
Your appreciation fuels our commitment to always provide top-notch high passes in the Everest adventures. We can't wait to have you join us again soon for another incredible 6k Mountain trip. Thank you for choosing our services, and remember, we're here for any questions or assistance you may need.
Warm regards, Ammar Guni
Kongma La Pass Trekking - Best Journey in the Everest
During our two-week trekking in Solu Khumbu, we initiated on a journey to conquer the Kongmala Pass, all superbly arranged by Gokyo Agency.
We were fortunate to experience several splendid days with clear blue skies and abundant sunshine, allowing us the opportunity to venture into Chukung village. This side exploration offered us breathtaking landscapes beyond the primary Kongma La trail, enhancing our overall experience.
We extend our gratitude to Gokyo Treks Agency for facilitating our direct flight to Lukla, providing the excellent guidance of Pasang, and securing warm lodges along the route. We now eagerly anticipate the possibility of scaling 6,000-meter mountains on our next Khumbu trip with your esteemed team.

Response from Gokyo Treks Nepal
Dear Anton Volkert,
Thank you for sharing your incredible experience in Solu Khumbu! It's wonderful to hear about your successful journey through the Kongmala Pass, and I'm thrilled that Gokyo Agency's arrangements added such value to your adventure. The exploration of Chukung village sounds breathtaking—I can only imagine the stunning landscapes you encountered.
Your gratitude towards Gokyo Treks Agency speaks volumes about their exceptional service, from the smooth flight arrangements to the warm lodges and expert guidance by Fura Pasang. Scaling 6,000-meter mountains on your next Khumbu trip sounds like an exciting prospect indeed!
Wishing you many more thrilling adventures ahead!
Best regards, Ammar Raj Guni
From US$ 1529
2% Off
US$ 1225
| | |
| --- | --- |
| No. of people | Price Per Person |
| 1 | USD 1498 |
| 2 | USD 1225 |
| 3 | USD 1210 |
| 4 - 6 | USD 1175 |
| 7 - 9 | USD 1125 |
| 10 + | USD 1050 |
Book Now
Customize Trip
Cost & Departures
Your Trip Your Style!
ITINERARY, COST, DEPARTURES, will adjusted according to your GROUP SIZE NEED TIME
Book with Confidence
Local Guides Company.
18 Years in Business.
Lowest Price Guaranteed.
100% Customizable Trips
Excellent Customer Service
Hassle Free Booking.
90 % Repeated customers
Highly Recommended agency
Private/group tour options