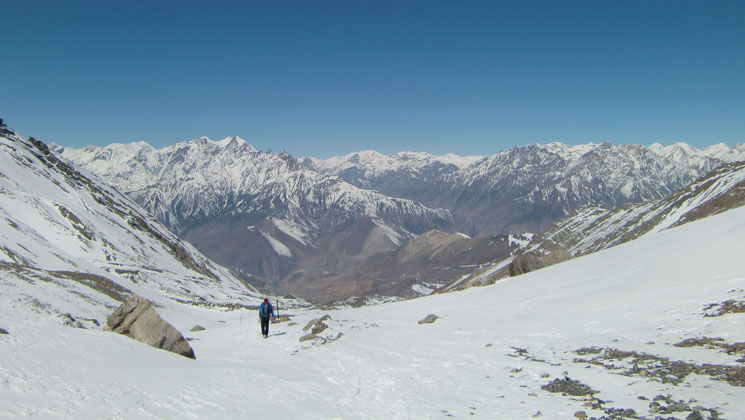 The Best Winter Treks in Nepal are mainly done in Annapurna and Langtang routes. Winter trek in Nepal is also very popular in terms of weather. Visit the most demanding trek rote and get an awesome experience.
In addition, Nepal has a lot of hills and valleys, the tallest Mountains, colorful landscapes, beautiful rivers..etc. Furthermore, it is the home of brilliant outdoor trekking routes with several wild animals and mystical flowers. There are several best trek areas in Nepal, possibly to visit all the time throughout the year. As a result, there are the top 15 best winter treks in Nepal.
People are usually afraid to travel in winter but there is the best winter hiking walking & trek routes in Nepal. Make a plan for winter hiking walking & Treks in time in the winter months, prepare properly, and be ready to hit the cold, storms, and snow in the Himalayas.
Moreover, walking a peaceful trek route with amazing mountain views on your side that you will find a different experience than most tourists ever get. The trail perhaps empties because of the offseason. Nature is quiet and the lodges are warm and welcoming.
Many tourists don't know that there are the best winter hiking and walking trails in Nepal. Likewise, busy seasons in Nepal for hikes are from March-May and September-November, as this is when the weather tends to be best for outdoor activities. However, winter trekking shouldn't be overlooked. Similarly, the temperatures may be colder, but the views are often at their best. Plus, you won't be competing for space along the trails as trekking in the wintertime.
Why are the best winter treks in Nepal very popular?
Winter begins in Nepal from early December through February doesn't exactly attract hordes of trekkers to Nepal. Likewise, many trekkers consider a trek in low temperatures that are covered with snow over the trek routes and bridges and frequent transportation delays.
Thus, let us put your hand together to help you to make your holiday the best winter trek in Nepal. Moreover, there is only one international airport in Kathmandu where perhaps 90% of travelers get to Nepal via air access to Tribhuvan International Airport (TIA) in Kathmandu. It is in Kathmandu trekkers need to acquire their permits and other documentation from government-registered trekking agencies like us Gokyo Treks and Expedition . Amazing winter treks and winter tour permits check along the trek routes.
Probably, only some lodges along the routes are open because of the low season however you can get food and accommodation into your guest houses easily. Thus, you just pack your gear, hire guides and porters, and began your journey.
The best winter Hiking Walking & Treks in Nepal Himalayas?
Nepal is an amazing country in terms of natural beauty. There are a lot of tallest mountains, beautiful rivers, green valleys, waterfalls, turquoise lakes… etc. all year round. You can make a plan to visit Nepal in any season. The variations in land topography, climatic condition, and ethnic diversity make Nepal a paradise for travelers. Generally, in February, the temperature is cold but the sky is blue, and very clear weather.
Autumn and Spring mark the best trekking seasons in the Himalayas. But winter is also an important trek season in Nepal for travelers to experience the Himalayas. The best part of trekking in February is you can get an excellent view of mountains, hills, and valleys under the clear sky. You can walk over the grassy landscapes up to the moraine and glacial landscapes.
Exploring the Mardi Himal and Khopra ridge trails are the most spectacular trek routes in Nepal Himalayas and are possible to visit in the winter months. They are easy and shorter treks than other high-altitude trek routes in Nepal.
The Base Camp trekking is a fusion of easy walking tours in the Himalayas and cultural input, and a great trail to explore. It's an ideal trek destination and will take you to an altitude of 3,500 meters with an excellent sunrise and mountain view from Poonhill. Go around distinctive Gurung villages and get insights into their daily lifestyle and dip into the Natural hot spring at Jhinudanda.
There are the best winter hiking walking and treks in Nepal Himalayas where you can visit. No matter whether you plan to visit Annapurna or Langtang, Everest, or Manaslu region, you will have the best view under the clear skies. Moreover, Annapurna hiking incorporates diverse terrain, tradition, and wildlife. Along with the most spectacular and close-up view of the Annapurna mountain range including Annapurna first, Fish Tail, and Dhaulagiri.
The trek into the Annapurna region is from the south as you make your way up into the world-famous Annapurna Sanctuary. This is one of the great treks in the world. Fabulous view from a low altitude, but you are coming to the land of thousands of steps. Most of your trek is spent below 3,200m/10,500 feet but the terrain is challenging with thousands and thousands of stairs.
Trekking in the Langtang region and hiking to the Himalayas with the best viewpoint is one of the most favorite things to do. I have trekked almost everywhere in Manaslu, Annapurna, Everest, and Langtang areas over 30 times taking the foreigner group. I always prefer when there are going to be fewer people on the trail.
Besides that, trek in Langtang or Everest, sheer beauty, dramatic massive mountains, friendly people, adventure trails, and an experience that will stay with you forever. The exciting expansive views will leave you mesmerized. Standing at the base camp of the world's tallest mountain and trekking up to the famous and classic top views, is truly breathtaking.
Weather and Climate en route.
Trekking in the Himalayas during the winter months can be a challenging but rewarding experience. Here is some weather and climate information that can be useful for planning your trek:
Temperature:
In the winter months (December to February), the temperature in the Himalayas can drop below freezing, especially at higher altitudes. In the daytime, temperatures can range from 5°C to 15°C (41°F to 59°F) at lower elevations, and from -10°C to 5°C (14°F to 41°F) at higher elevations. At night, the temperature can drop from -15°C to -20°C (-5°F to -4°F) at higher altitudes.
Precipitation:
The winter months in the Himalayas are generally dry and sunny, with very little rainfall. However, snowfall is common at higher elevations and can be heavy in some areas.
Altitude:
The weather conditions in the Himalayas can vary significantly depending on the altitude of the trekking route. At higher altitudes, the temperature can be much colder and snowfall can be more frequent.
Winds:
During the winter months, the Himalayas can be quite windy, especially at higher altitudes. Wind chill can make the temperature feel much colder than it actually is, so it's important to be prepared with warm clothing and gear.
Weather patterns:
The weather in the Himalayas can be unpredictable, so it's important to be prepared for sudden changes in weather conditions. It's a good idea to check the weather forecast regularly and to be flexible with your trekking plans.
In general, trekking in the Himalayas during the winter months requires careful planning and preparation, including appropriate clothing, gear, and a reliable guide. It's important to be aware of the weather and climate conditions and to plan your trek accordingly.
The Best Winter Treks in Nepal season fact (mid-December / January / February)
Winter is still the best time to travel to the Himalayas as it has a lot of beautiful landscapes. The average temperature is around 32 degrees Fahrenheit (10 degrees Celsius), and it keeps going down as you start gaining altitude. Besides that, there might be light snow usually occurs while you are hiking over 11,500 ft. Trek into the lower altitudes, the days are sunny and the sky is blue. Finally, you can walk about 5 to 6 hours on average per day depending upon the location you are hiking.