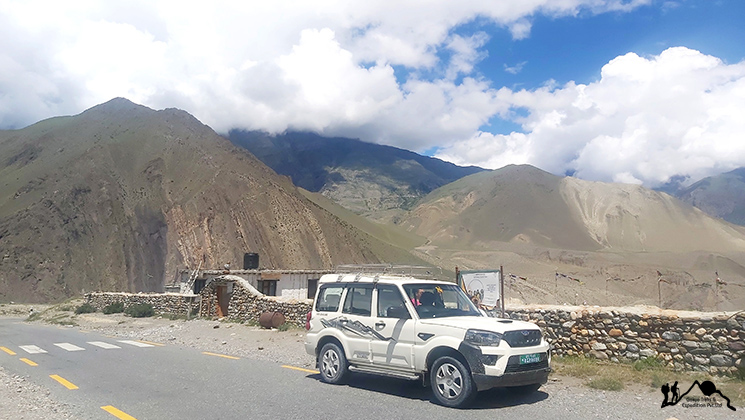 Upper Mustang Jeep Tour Summary
Upper Mustang Jeep Tour Duration: 10 Days
Tour Difficulty: Easy to Moderate
Highest Elevation: 4,190 meters
Trek Hour: 1 hour
Group-Size: 2 – 12 People
Best time to visit: May, June, September & October
Trip Mode: Guest House
Meals/Foods: Breakfast, Lunch, and Dinner
Transportation: 4WD Jeep [Private]
Overview
An Upper Mustang Jeep Tour is a type of adventure tour that takes you to the Upper Mustang region of Nepal in a Jeep. Mustang Lo Manthang is a remote and culturally rich area located in the Himalayas, bordering Tibet, known for its stunning landscapes, unique Tibetan culture, and ancient monasteries.
Upper Mustang is situated in the northern part of Nepal, and it used to be a restricted area, only opened for foreign tourists in 1992. It's in a rain shadow of the Annapurna and Dhaulagiri ranges, resulting in a desert-like landscape.
A journey with a 4WD private jeep to Lo Manthang tour offers breathtaking views of barren landscapes, deep canyons, colorful rock formations, and towering mountains. Terrains are quite unique compared to other parts of the Himalaya. Likewise, Upper Mustang is heavily influenced by Tibetan culture due to its proximity to Tibet.
The culture, architecture, and way of life look like of Tibet. You'll have the chance to interact with locals, visit ancient monasteries, and experience traditional Tibetan festivals.
Lo Manthang is the capital of Upper Mustang and is known for its walled city with narrow alleyways. It has a Jigme P Bista – king's palace, ancient monasteries, and the overall architecture are major attractions here.
In terms of road, they are rugged and challenging therefore it's an adventure trip especially in the monsoon and winters. Usually takes around 8 to 10 days to complete the round trip from Kathmandu to Upper Mustang and back. This includes travel time, sightseeing, and acclimatization. 4 WD Jeep tours are a popular choice to exploring Mustang because of a more comfortable and convenient way to navigate the rough terrain.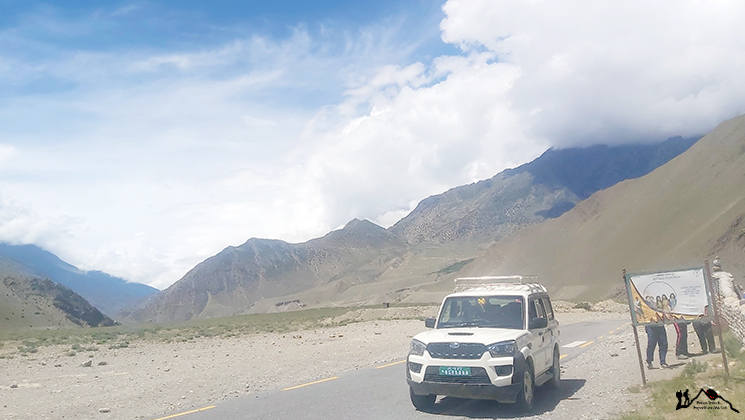 How much does upper Mustang Jeep Tour Package Cost/Price?
The cost of Upper Mustang Jeep Tour package with a Gokyo Treks Agency in Nepal ranges between US$ 1425 to US$ 2498. Naturally, the Jeep Tour cost will vary according to the group size you are traveling to and nd the days that you spend in the mountains. However, the given package price includes 4WD transportation, a guide, hotels and food accommodation and permit facilities.
It is the standard trip package price for 10 days trek. If you are 2 explores Upper Mustang Jeep Tour trek cost US$ 1650 for 10 days trek according to the given trekking plan. We can modify the trek route and the prices according to your wishes also. Here is the price list for the Upper Mustang Jeep Tours.
Price Per Person for 10 days hike in upper mustang territory.
| Number of Tourist | Price Per Person |
| --- | --- |
| 1 Person | US$ 2498 |
| 2 Person | US$ 1650 |
| 3 Person | US$ 1650 |
| 4 to 6 person | US$ 1575 |
| 7 to 9 Person | US$ 1525 |
| 10 and more than 10 Person | US$ 1425 |
If you're wondering to know about what is included and what is excluded from this trip price, kindly check on the cost given on a tab button.
Itinerary
Upper Mustang jeep tour itinerary details
A jeep safari trip to Mustang is a short itinerary compared to most walks in this region. Due to its sensitive location, a special permit is required to visit Upper Mustang. This permit helps in controlling the number of tourists and preserving the region's unique culture and environment. Travelers who wish to reach Lo-Manthang and return with a comfortable journey can try this trip plan. However, request us if you need a customized itinerary.
1 Day
Landing in the Kathmandu valley. Trip preparation.
Upon arrival in Kathmandu, Tribhuvan International Airport, we will receive you in a private vehicle and drive to the hotel in Kathmandu. As You arriving before 10AM in Kathmandu, we collect the passports physically and proceed to make the Restricted Area Permit (RAP).
Likewise, interested tourist can see the sights around Kathmandu valley to visit UNESCO world heritage sites. Specially visit Boudhanath Stupa, Pashupathinath Temple or Swayambhunath and Kathmandu Durbar Square. If you wish to explore the places with a tourist guide and transportation for those places cost will be extra.
With guide you will visit the places and have better understanding about the cultural heritages. In the evening, our representative will brief you about your 4WD private journey to upper mustang trip information.
2 Day
Drive to Pokhara city (900m/2,953 feet), 6 hours.
Your Guide will come to pick you up at yoru hotel then you drive to Tourist Bus station to catch a coach for Pokhara Phewa lakeside. During the journey, tourists can see the villages, colorful landscapes, and Trishuli and Marshyangdi river. Both rivers are most popular for rafting in Nepal. Moreover, you will cross one of the longest bridges over the Madi river, which is also popular for river rafting adventure lovers. Continue to drive along the valley, rivers, and nice fertile fertile fields en route takes you to reach the Majestic Pokhara town.
Pokhara offers magnificent views of Dhaulagiri, Manaslu, Machhapuchhare, Annapurna summits. It's majestic town of lakes, temples are caves. Phewa Lake situated nearby our hotel where you go and boat at the afternoon to visit Tal Barahi temple at an island. However, the road distance that we cover today is about 210 kilometers in a 6 hours roughly.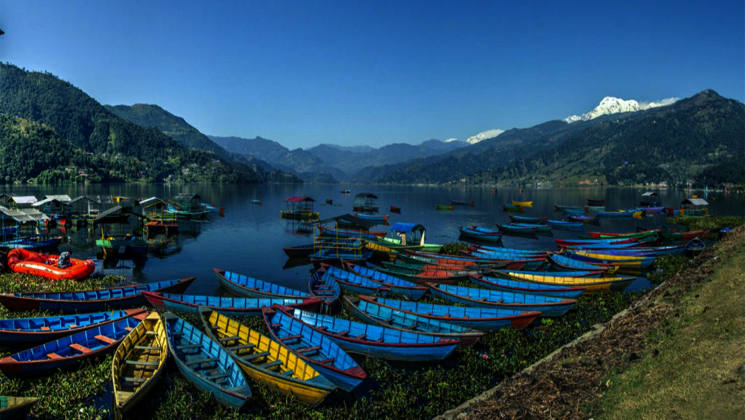 3 Day
Drive with a private jeep from Pokhara to Tatopani (1,190m/3,904 feet), 4 hours
You can drive from Pokhara to Beni and then continue to Tatopani's natural hot springs by taking a private 4WD jeep. The route follows Siddhartha Highway to Beni, and from there, you'll head towards Tatopani through smaller roads. Enjoy the scenic drive and the relaxing hot springs in Tatopani. Total drive today is roughly 110 kilo meters form Pokhara.
4 Day
Tatopani to Kagbeni Village drive (2,800m/9,186 feet), 5 hours
Drive further to Rupse waterfall where you stop for tea and capture the best photographs of Rupse. Rupse Waterfall is a popular natural attraction located in the Dana area of Myagdi District, Nepal. The waterfall is a remarkable stop for travelers making their way through this scenic route.
Rupse Waterfall is known for its impressive drop and the surrounding picturesque landscape. It cascades down from a considerable height, creating a mesmerizing display of water against the backdrop of lush greenery and rocky cliffs. Many travelers and tourists stop at this point to admire the waterfall's beauty and capture photographs.
Aside from its natural charm, Rupse Waterfall is often a rest area for those traveling between Pokhara and Jomsom. There are small shops and stalls near the waterfall where you can enjoy local snacks, tea, and refreshments. The sound of the falling water and the serene environment make it a peaceful spot to take a break during the drive.
Certainly, the route passes through Kalo Pani, Marpha. Jomsom and Ekale Bhatti to Kagbeni. These charming Himalayan towns are part of the Annapurna region in Nepal. The journey offers breathtaking landscapes, including the picturesque villages and stunning mountain views, before arriving at the ancient village of Kagbeni.
In addition, Kagbeni village is a gateway to explore Lo Manthang as well as to go Corolla border of Upper Mustang. It's a most interesting typical Tibetan village and the entry point of the upper Mustang trekking routes. If you stop somewhere at Jomsom for a while, travelers will admire the remarkable view of Nilgiri, Dhaulagiri, Tukuche peak, and Dhampus peak.
5 Day
Kagbeni to Ghami Village (3520m/11,549 feet) via Syngboche Pass (4,200m), 5 hours
In the morning, drive to Muktinath temple and visit holy temple complex of Muktinath and 108 taps dedicated to lord Vishnu. Continue to visit Jal Devi where you can see the fire lighting itself by natural gas, the local town of Muktinath, Buddhist monastery in Jharkot with incredible views of Dhaulagiri, Nilgiri and Tukuche Peak.
Tourist can kicks off with a visit to Kagbeni Monastery and Buddhist School after a scenic drive to Muktinath. Before departing Kagbeni checkpost, we check and register your restricted area permit (RAP) of Mustang & commence the journey to Upper Mustang, beginning with a Jeep ride that spans the Kaligandaki River near Chhusang village. The route includes ascending through Chele Village, Samar Village, Syangboche Village, Bhina, Ghiling, culminating in your arrival at Ghami village.
Throughout the day, the landscape promises to captivate, especially as you traverse through Syangboche and various other locales. Given the personalized nature of your trip, you have the freedom to halt the Jeep at any point. It allow you to immerse yourself in capturing pictures and relishing the scenery. Watch the glimpses of local farming abodes accompanied by Yak and caravan houses. As you journey, the tapestry of Tibetan culture and indigenous activities paints a vivid backdrop to your day. Likewise, the distance that we cover today is approximately 40 kilo meters including Muktinath drive.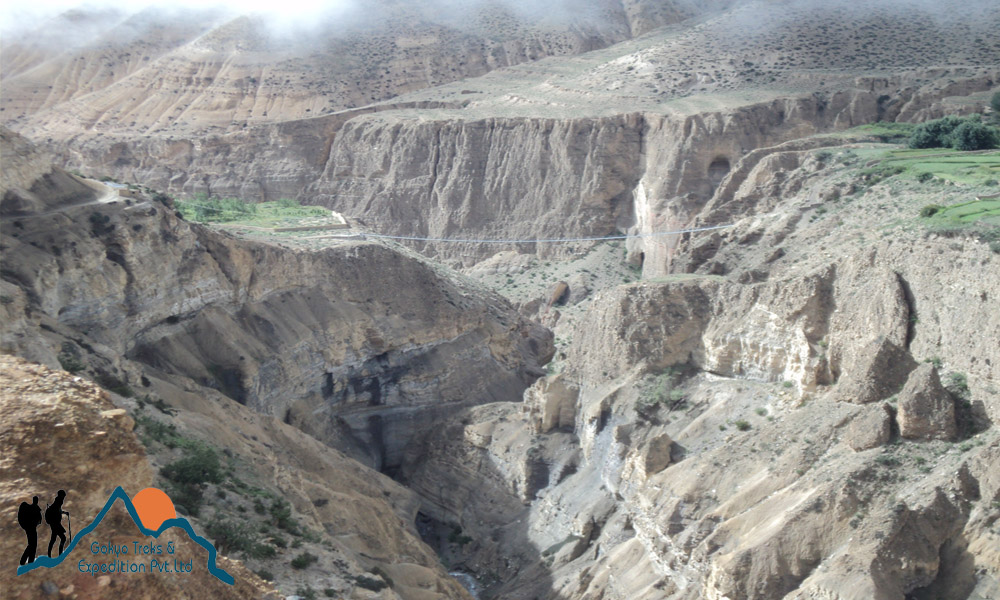 6 Day
Ghami Lo Manthang drive (3,840m/12,599 feet), 3 hours. Explore around.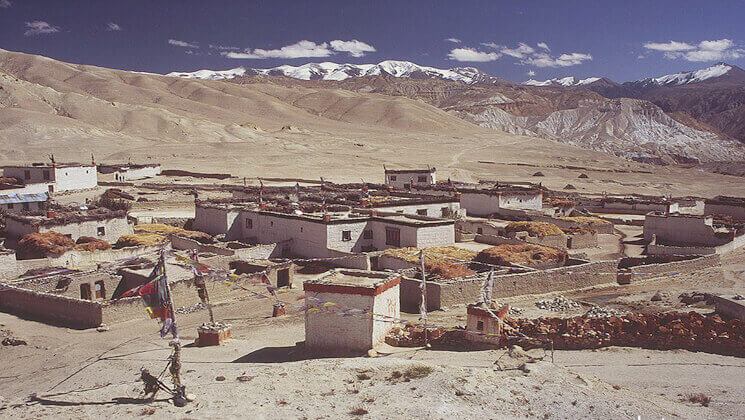 Today's itinerary is rich with cultural and scenic wonders. Your first destination is the Mustang Lo Gager Ghar Gompa, a pivotal monastery in the Mustang region. Moving on, you'll explore the Charang Monastery, followed by a visit to the captivating city of Lo-mangthang. Here, you'll encounter the venerable "Jampa Gompa," the oldest monastery dating back to the early 15th century, renowned as the "God House."
The grandeur continues with the remarkable "Thubchen Gompa," a colossal red assembly hall and monastery constructed in the late 15th century. Your exploration extends to "Chodey Gompa," which now stands as the main city monastery, and the intriguing Monastic Museum.
As you traverse this unique landscape, you'll have the opportunity to observe domestic Yaks and cattle caravans meandering through. The passes offer spectacular mountain vistas, adding to the allure of the journey. Ghami to Lomanthang drive is about 17 kilo meters that we cover it within 3 hours.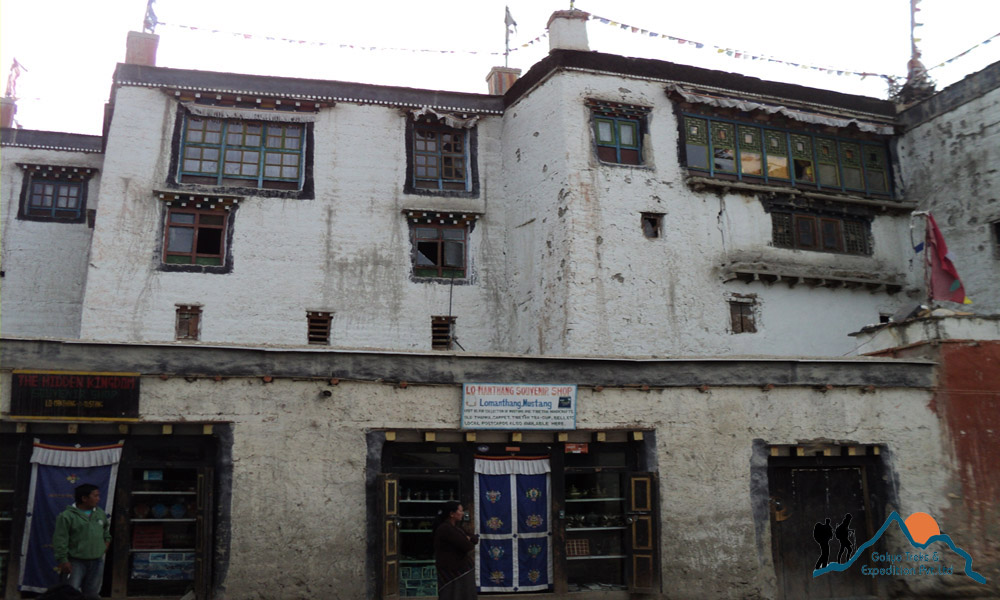 7 Day
Exploration Lo-Manthang and Chosar Cave.
Start your day with breakfast and an exploration of Namgyal Gompa. Delve into the mystique of Chhoser's sky caves, ancient remnants that have attracted global archaeologists for over 3,000 years. Nearby, various caves have served as spaces for burial, meditation, and habitation. Notably, the tradition of sky burial endures in Chhoser and its neighboring villages. Having absorbed the local sights, return to your guesthouse by jeep to conclude your day's journey.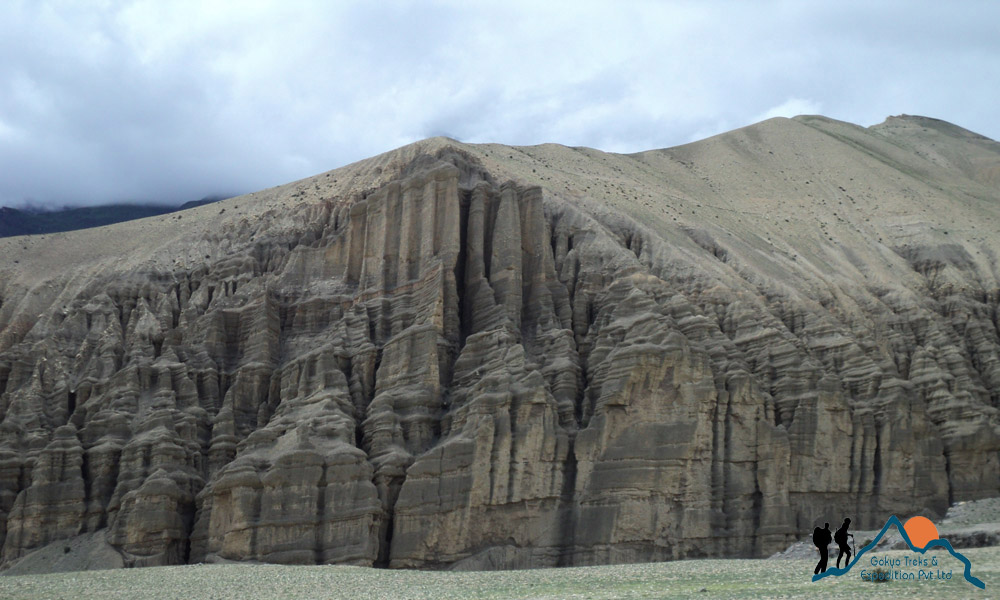 8 Day
Return to Jomsom Bazaar (2,720m/8,894 feet), 6 hours
Today's adventure entails a scenic drive to Jomsom, a route adorned with charming local villages, the meandering Kaligandaki River, and the serenity of Buddhist stupas and monasteries. Take a short stop at the Kali Gandaki riverbanks, offering a chance to search for ammonite fossils called Shaligram.
These fossils emerge from the revered Damodhar Kunda lake. Additionally, discover the significance of Shaligram – fossilized shells embraced as an emblem of the Universal Principle of God Vishnu. As the day draws to a close, take the opportunity to soak yourself in the local atmosphere by exploring the vibrant market of Jomsom. Likewise, the total length of the journey today that we have to cover is about 50 kilo meters to complete in six-seven hours.
9 Day
Drive out from Jomsom to Pokhara, 7 hours.
Retrace your steps along the highway route as you journey back to the lakeside of Pokhara Phewa. En route, you'll traverse the enchanting villages, rivers, and valleys that once adorned your path. The entirety of this jeep expedition from Jomsom to Pokhara spans a distance of 158.5 kilometers, a travel that can be accomplished comfortably within a span of seven hours.
10 Day
Overland drive out to Kathmandu.
In the morning, we'll drive back through the scenic countryside, and during the route will stop for breakfast and lunch. It takes 7 hours back to Kathmandu with a Tourist Bus. On arrival at Kathmandu, the guide will arrange a transfer to the hotel.
Alternatively, guest can fly from Pokhara to Kathmandu cost US$ 105 (extra charge) for each foreign passenger. Buddha Air and Yeti Airlines are operating several flights daily starting from 8 am until 3:50 pm from Pokhra to Kathmndu. Drop you at the Kathmandu international terminal building for your further flight back to home. Trip Finish.
Not satisfied with above plan?
Are you interested in planning a custom trip? this might take 2 to 3 minutes.
Cost
How much does the Upper Mustang Jeep Tour trek package price?
Lo manthang with Upper Mustang Jeep Tour trek package price US$ 1650 per person is a standard package on double occupancy basis.
For the deluxe and luxury trekking tour plan, we add Kathmandu – Pokhara – Kathmandu round trip airfare. Additionally, we add 3-5 star category hotel deluxe air-conditioned rooms in Kathmandu and Pokhara with breakfast. Likewise, we add standard guest houses with attached bathrooms on possible places on mustang trek. AND WE ARE OPEN TO CUSTOMIZING YOUR TOUR AND PACKAGES PRICE AS PER YOUR REQUIREMENTS.
Upper Mustang Jeep Tour Package Includes:-
Kathmandu international airport transfer with a private car on your arrival day.
2 night 3 star Jampa hotel deluxe double bedroom accommodation in Kathmandu.
2 Nights Tourist standard hotel deluxe double bedroom accommodation in Pokhara.
9 Breakfast set, 8 Lunch, and 8 Dinner [main course] serve with coffee/tea as per the given travel plan.
6 nights Guest house accommodation without attached toilet/bathroom along the Mustang jeep safari tours.
Pokhara to Lo Manthang and return to Pokhara round trip with a comfortable 4WD jeep (private).
Tourist Bus transfer from Kathmandu – Pokhara – Kathmandu as a round trip.
Annapurna Conservation Area permit and TIMS permit fee
Upper Mustang (RAP) Restricted Area Permit cost US$ 500 for each guest.
Fully escorted trek with English-speaking license holder local guide.
Insurance, Food, accommodation, and salary of Nepali trekking guide.
Agency's duffel bag (50 liters capacity) if Necessary – need to return after the trek.
First aid medical kit including Oximeter to check your Oxygen level, Pulse rate to monitor every day to prepare for altitude mountain sickness.
In a worst case, help with all Helicopter Rescue and evacuation arrangements (but not the rescue bills).
Trek completion certificate and Mustang trek map – keep as a souvenir.
Nepal Government Tax, VAT, and as well as Company service charge.
Upper Mustang Jeep Tour trek upper Mustang package excludes:-
Lunch and Dinner in Kathmandu and Pokhara city.
Any kinds of battery charges, laundry service, phone calls, and hot showers during the trekking.
Tourist personal trekking equipment's including warm clothes.
Personal nature expenses, all types of beverage drinks.
Travel Insurance which covers emergency rescue, evacuation, personal loss, or damage.
Any donation and monument entrance fees.
Gratuities for guide and drivers [Tip is a culture, so they expect highly].
Group join
Mustang has a typically barren landscape and it's dry and with few plants growing. But many ancient caves still exist there to visit in a combo trek. Therefore, we can organize a group tour to Upper Mustang by a comfortable jeep starting on any date but we need minimum 2 tourist with valid passport to run this trip privately if that works for you. Please email us for more information.
| Departure Date | Availability | Price | Book |
| --- | --- | --- | --- |
| 05 Oct, 2023 – 14 Oct, 2023 | Available | 1650 | |
| 10 Oct, 2023 – 19 Oct, 2023 | Available | 1650 | |
| 01 May, 2024 – 09 May, 2024 | Available | 1650 | |
| 10 May, 2024 – 19 May, 2024 | Available | 1650 | |
| 20 May, 2024 – 29 May, 2024 | Available | 1650 | |
| 01 June, 2024 – 09 June, 2024 | Available | 1650 | |
| 15 June, 2024 – 24 June, 2024 | Available | 1650 | |
| 30 June, 2024 – 04 July, 2024 | Available | 1650 | |
| 10 July, 2024 – 19 July, 2024 | Available | 1650 | |
| 20 Aug, 2024 – 29 Aug, 2024 | Available | 1650 | |
| 05 Sept, 2024 – 14 Sept, 2024 | Available | 1650 | |
| 20 Sept, 2024 – 29 Sept, 2024 | Available | 1650 | |
Guaranteed – Trip is Guaranteed to run.
Available – Trip is available to run if minimum group size is filled
Limited – Only few space available
FAQ
Question: Is pick-up service available on my arrival day in Kathmandu?.
Answer: Yes sure ! provide to us your arrival flight details for landing in Kathmandu and request us to pick you up. Our representative will come to pick up you at Kathmandu international airport.
Question: Do I need experience for this Mustang jeep safari tour?
Answer: It is suitable if you need to have experience in high altitude trekking above 2500 meters as it helps you to acclimatize.
Question: What kind of accommodation can I expect on the Mustang tour?
Answer: We provide you with tourist standard accommodation in Kathmandu and at the trek routes. The rooms at the routes are clean with a cozy bed with a nice mattress and blankets. However we recommend you take your own sleeping bags if you have one with you otherwise, you may rent them while you are in Kathmandu.
Question: What kind of food can I expect?.
Answer: All the lodges have attached restaurants and they cook a delicious range of mostly vegetarian such as Pasta, tuna bakes, noodles, potatoes, eggs, bread, soups, and rice with vegetable curry.
Question: How about buying drinking water?.
Answer: You can buy bottled mineral water to drink along the journey. We advise you to buy boiled water or bring aqua tablets to purify the normal water as normal water is available at the guest houses.
Question: Are there any communication facilities?.
Answer: Yes! If you buy a local SIM card, you will have telephone services as well as the internet.
Question: What kind of Jeep will i be using for this overland Tour?
Answer: We use 4X4 Toyota Land Cruiser or 4X4 Mahindra Scorpio for our Upper mustang jeep tour. The drivers are highly experienced driving for off roads. Until now they have 100% safety records.
Question: When should I book my trip and what are the payment terms?.
Answer: Because our trips book up months in advance, we recommend booking early to avoid any kind of misunderstanding. We will, of course, make every effort to accommodate last-minute bookings.
And regarding the deposit, we prefer a 20% advance deposit of the total price of the trip in order to confirm your reservation before you arrive in Nepal. And rest of the payment can be made after your arrival in Kathmandu.
Question: How much additional money do I need per day?
Answer: You can allocate US$ 08 – 10 for a lunch/dinner in Kathmandu and it depends on your spending habits. US$ 7 to 10 US$ each day will be enough to buy bottles of water, chocolates, tea coffee, and some drinks while you are on your trek.
Upper Mustang Jeep Tour highlights
Discover Annapurna and Dhaulagiri family and some of the border mountains.
Drive through the dry cultivated fields, Excellent views of Dhaulagiri and Blue Mountain.
Lo Manthang is a windy town and focal point of corolla border Mustang to Tibet.
Hidden kingdom with World's deepest gorge Kali Gandaki valley
Meet the mixed communities with shakye muni Buddhism and their lives.
Notes for Upper Mustang travelers!
The information stated above is just a sample guideline that we provides to you. However, the trip is possible to customize at your request to accommodate your specific requirements. Local politics, landslides, cancellation of local flights, weather, transport, or a multitude of other factors that are beyond our control can result in a change of itinerary en route.
It is, however, very incredible that the itinerary would be extensively altered. If alterations are necessary the leader will decide the best alternative option, taking into consideration the best interests of the whole group. When a change does occur, we do everything we can to minimize its effect, but we cannot be responsible for the results of changes or delays.
"What makes this Upper Mustang Jeep Tour special?"
The Upper Mustang 4WD Jeep private trip is a comfort tour stands out for its unique blend of adventure, culture, and exploration. With the power of a 4WD Jeep, you can traverse the rugged terrain of Upper Mustang, reaching remote and untouched landscapes that are otherwise difficult to access.
This private tour offers exclusivity, allowing you to customize your itinerary and pace, ensuring an intimate experience with your chosen companions. Immerse yourself in the rich Tibetan-influenced culture, visiting ancient monasteries, caves, and traditional villages frozen in time. The combination of off-road excitement and cultural discovery makes the Upper Mustang 4WD Jeep private tour an exceptional and memorable journey.
We at Gokyo Treks and Expedition believe in quality services. First safety and success satisfaction is our prime concern. We are a team of professional, experienced, trained, and licensed local guides who know the destination much better than others. Moreover, we give benefits to the local communities and help to conserve natural resources which reduced costs and consumption.
Upper Mustang Jeep Tour trek Review
There are no reviews yet. Be the first one to write one.
From US$ 2549
2% Off
US$ 1650
| | |
| --- | --- |
| No. of people | Price Per Person |
| 1 | USD 2498 |
| 2 | USD 1650 |
| 3 | USD 1650 |
| 4 - 6 | USD 1575 |
| 7 - 9 | USD 1525 |
| 10 + | USD 1425 |
Book Now
Customize Trip
Cost & Departures
Your Trip Your Style!
ITINERARY, COST, DEPARTURES, will adjusted according to your GROUP SIZE NEED TIME
Book with Confidence
Local Guides Company.
18 Years in Business.
Lowest Price Guaranteed.
100% Customizable Trips
Excellent Customer Service
Hassle Free Booking.
90 % Repeated customers
Highly Recommended agency
Private/group tour options