Kajin Sara Lake Trek Summary
Kajin Sara Lake Trek Duration: 6 Days
Trek Difficulty: Moderate adventure
Thorong La height: 5,220 meters / 17,126 feet
Trekking Hour: 6 hours daily
Group-Size: 1 – 15 People
Trip Mode: Guest House
Best Time: March, April, May, October, November and December.
Meals on Trek Route: Breakfast, Lunch, and Dinner
Transportation: Micro Bus / Jeep Ride Bus
Overview
The Kajin Sara Lake Trek is a relatively new and less-visited trekking route located in the Manang region of Nepal. Manang is a beautiful area in the Annapurna Conservation Area, known for its stunning landscapes, rich culture, and unique trekking experiences. Hike to Kajin Sara Lake is a fresh destination of Annapurna territory also popular as a Singar Lake, situated at the elevation of 5202m in Manang District in Nepal.
Furthermore, It is relatively close to the famous Annapurna Circuit Trek and typically takes around 6 to 8 days, depending on your starting and ending points and the pace of your trek. Tourist can walk through diverse landscapes, including forests, high alpine meadows, and rocky terrain. You'll witness spectacular mountain views along the way.
Like many treks in Nepal, the Kajin Sara Lake Trek involves hiking in high altitudes, which can be physically demanding. Proper acclimatization is essential to prevent altitude sickness. The trail can be rugged and less developed, so be prepared for some challenging sections.
In addition, It's always best time for a trek to Kajin Sara Lake during the spring (March to May) and autumn (September to November) when the weather is generally stable, and the views are the clearest. Mount Manaslu, Damodar, Lamjung, and Annapurna mountains are possible to view from route. You'll have the opportunity to immerse yourself in Tibetans unique culture and traditions.
How much does for Kajin Sara Lake Trek Package Cost?
The cost of the Kajin Sara Lake Trek Package with a Gokyo Treks local Agency ranges between US$ 598 to US$ 995. The price includes transportation, a guide, porters, hotels, food and accommodation, and hiking permit facilities. It's the standard trip package price that totally depends upon the group size you are traveling to and the category of accommodation you choose along the journey.
The Kajin Sara Lake trek cost for SAARC Tourist is relatively cheaper because of trekking permits price. Additionally, we also have a discount offer for group tour leaders. For example, if you could bring 10+ travelers (except you) on your trip, you are treated as a group leader. So you can hike the Kajin Sara Lake on 50% discounts.
If you are 2 people the Kajin Sara Lake trek cost US$ 699 for 6 days trek as per the given plan. We can able modify the trek route and the price as per your wish. Here is the price list for camping adventure to kajin sara base camp.
Price Per Person for 6 days kajin sara lake trekking in Nepal
| Number of Tourist | Price Per Person |
| --- | --- |
| 1 Person | US$ 995 |
| 2 Person | US$ 699 |
| 3 Person | US$ 699 |
| 4 to 6 person | US$ 660 |
| 7 to 9 Person | US$ 625 |
| 10 and more than 10 Person | US$ 598 |
If you're wondering to know about what is included and what is excluded from this trip price, kindly check on cost here on a tab button.
Itinerary
Kajin Sara Lake Trek itinerary details
Our trek in the Kajin Sara Lake is a week of a classical journey itinerary. This particular route is a fresh trvel destination in Nepal who wish to hike with a relaxing manner. Please let us know if you wish to customize this travel plan as per your own demand.
01 Day
Micro Bus drive to Besisahar (760m/2,494 feet), 7 hours. Drive further to Chame (2,630m/8,629 feet), 4 hours
In the early hours of the morning, we'll gather to introduce you Guide and porters. At approximately 8 am, your dedicated guide will arrive at your hotel for your convenience. From there, we'll begin the journey to Gongabhu New Bus Park station, where we'll catch a bus for Besisahar. The distance between Kathmandu and Besisahar covers 110 kilometers, with the road spanning a total of 174.5 kilometers.
As we traverse this scenic route, you'll be treated to breathtaking views of majestic snow-capped mountains. Upon reaching Besisahar, we'll transfer to a local bus or share a jeep for the onward journey to Nagdi village via Bulbule Lodges. This leg of the trip will take approximately 8 hours, promising an adventure-filled bus ride through the captivating landscape. You'll spend the night at a local guest house, immersing yourself in the heart of this unique trekking experience.
As you drive from Besisahar to Chame, the trail presents a series of undulating terrain, impressive villages that are stands as a village influenced by Tibetan culture. Here, local Tibetans have crafted distinctive residence surrounded by apple orchards and maize fields, creating a unique and picturesque setting.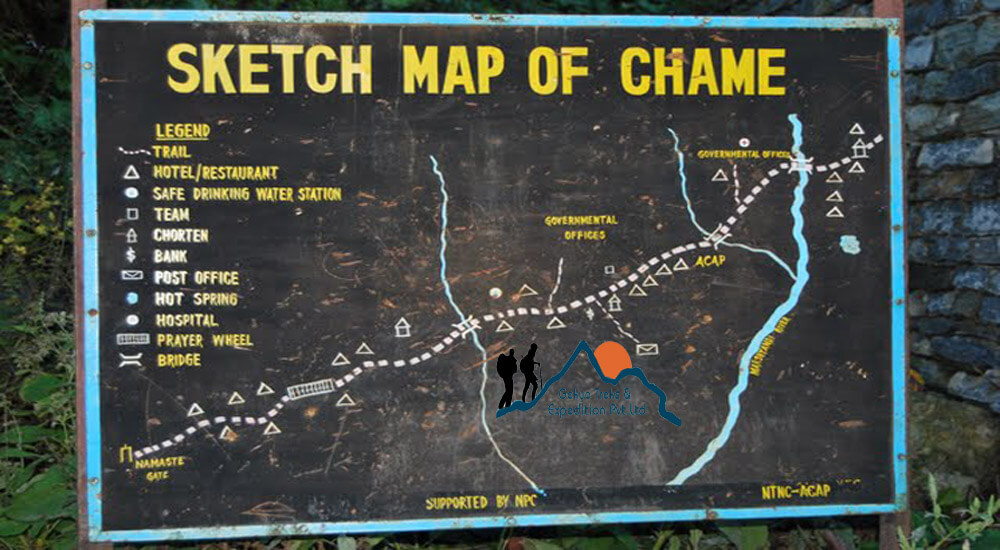 Explore the local market in Chame, where you can find shops and stalls selling a variety of goods, including trekking equipment, handicrafts, and supplies. It's a good place to stock up on any essentials you may need for your trek.
A short walk from Chame Guest houses, there are natural hot springs where you can relax and soak in the healing, warm waters. It's a great way to rejuvenate your body after a long day of trekking.
Chame offers a serene and picturesque setting, making it an ideal place to acclimate to the higher altitudes before continuing your trek. Enjoy the natural beauty, local culture, and the serene atmosphere that Chame has to offer.
02 Day
Chame to Lamjung Himal Base Camp (4,155m/13,632 feet), 7 hours.
On the second day of the Kajin Sara Lake trek, you'll traverse a picturesque forest trail adorned with tall pine trees. Begins with a straight path that gradually transforms into an uphill ascent leading to the Lamjung Himal Base Camp. Within this segment of the trek, you'll encounter two distinct paths: the new route and the old one, both converging at the same destination.
The majority of the old trail has been replaced due to its challenging nature, with some sections lost to landslides and others fading away from infrequent use. In contrast, the new paths are designed to be more manageable, but it's crucial to have a knowledgeable guide to avoid losing your way in this part of the trek.
Furthermore, it's important to note that there are no water sources, lodges, or hotels available along this section of the journey, so you must carry your own water supply. Stay overnight in a tent camping.
03 Day
Lamjung Himal Base Camp to Love Lake Trekking (4,560m/14,961 feet), 6 hours.
The trail proceeds through a rugged terrain, featuring rocky landscapes, moraine, and imposing cliffs. This part of the hike can be quite challenging, as the trails are often indistinct, leading many hikers to become disoriented and retrace their steps. To ensure a safe and successful journey from Chame to Kajin Sara, we provide an experienced local guide to accompany you throughout this part.
As we make our way upwards, we are rewarded with breathtaking 360-degree views that are truly enchanting. The Lamjung and Koto Peaks seem to play hide and seek with the clouds, offering an up-close spectacle. Continue our trek along the rocky path until we reach Love Lake at Dharmasala, aptly named for its heart-shaped appearance. After exploring the lake, we head towards a nearby shelter for a well-deserved rest.
04 Day
Kajin Sara Lake Trekking (5,220m/17,127 feet).
Following a hearty breakfast, we embark on an all-inclusive camping adventure, navigating newly uncovered trekking paths leading to a pristine lake. Check your outdoor gears again to tranquil Kajin Sara Lake through an unspoiled wilderness route where human habitation is a rarity. Here, you'll be enveloped by awe-inspiring natural wonders, featuring snow-capped peaks and crystalline lakes.
Accommodation are based on a comfortable tent camp, ensuring a seamless blend with the untouched wilderness. It's a trek sought after by countless enthusiasts, as it ascends to the loftiest elevations. Revel in the unspoiled beauty of nature, embracing the fresh, untamed landscapes that unfold around the glistening Lake.
05 Day
Descend to Chame village (2,630m/8,629 feet), 7 hours.
Rise with the early morning light to behold the breathtaking sunrise casting its golden hues over the majestic Himalayas. Following a hearty breakfast, take your time to wander and discover the enchanting surroundings of the lake. Afterwards, we commence our return trek towards Chame. While today requires a bit more walking than previous days, the majority of the trails gently descend, making the trek manageable and not overly strenuous.
06 Day
Chame – Besisahar – Kathmandu transfer, 8 hours
Follow with a delicious breakfast, we will commence our journey back to Kathmandu with a available sharing bus basis. Along the way, savor the splendid vistas of the Himalayas, meandering through lush forests, alongside pristine rivers, past fertile farmlands, over rolling hills, and amidst charming villages.
Once we reach Kathmandu, we'll ensure your drop-off at your hotel. Later in the evening, relish a farewell dinner as a delightful conclusion to our adventure. Right on arrival at Sorekhutte Tourist Bus park, your guide will arrange a transfer to the hotel. Trip finish.
Not satisfied with above travel Itinerary?
Are you interested on planning custom trip? It takes only 2 to 3 minutes.
Cost
How much does Kajin Sara Lake Trek Package Price?
Hike to Kajin Sara Lake package price is US$ 699 is the standard trek price on double occupancy basis. For the comfort or a luxury camping trip option, we add Kathmandu to Chame and return with a private 4WD jeep, 4-5 star category hotel deluxe air-conditioned room in Kathmandu with breakfast plan. Likewise, a comfort private tent to sleep while you are on teh camping days above Chame. AND WE ARE OPEN TO CUSTOMIZING YOUR TOUR AND PACKAGE PRICE AS PER YOUR REQUIREMENTS.
Adventure Kajin Sara Lake Trekking Package Price includes:
A private taxi transfer from your hotel in Thamel to Gongabu bus station.
Regular Bus transfer from Gongabu bus station in Kathmandu to Besisahar (sharing basis).
Local Bus/Jeep transfer from Besi Sahar – Chame village – Besi Sahar (on sharing basis).
5 Breakfast, 6 Lunch and 4 Dinner on Kajin Sara Lake hike.
2 Nights in double bedroom private accommodation in Lodge with attached toilet bathroom.
3 Nights accommodation in Tent (two person in a tent basis) with mattress, sleeping bag and pillows.
Fully escorted trek with English-speaking license holder local trekking guide.
Necessary porter (every 2 guests luggage = 1 Porter basis) because each porter carry maximum 24 kilos of Traveler's bagpack.
Kajin Sara Lake trek permit (Annapurna Conservation permit and TIMS permit fee).
Agency's duffel bag (50 liters) and Trekking poles if Necessary – return after the trek.
Food and accommodation and salary for Nepali trekking porters and guide.
Seasonal fruits like apples and pomegranates as a dessert after dinner on trek.
Security of accidental insurance of guide, cook and porters.
Kajin Sara Lake trek map and trek certificate of successful ascend – keep them as a souvenir.
First aid medical kit, Oximeter to check oxygen level and Pulse rate every day to save you from higher risk.
In a worst case, help with all Rescue and evacuation arrangements (but not the rescue bills).
Nepal Government Tax, VAT, and as well as Gokyo Treks Agency service charge.
Kajin Sara Lake Trekking Package Price Excludes:-
Lunch and Dinner on your staying in Kathmandu city.
Any kinds of battery charges, laundry service, phone calls, and hot showers along the route.
Personal trekking equipment's including clothing.
Expenses like personal nature, water, showers, and bar bills.
Travel Insurance which covers emergency Rescue and Evacuation.
Any donation and monument entrance fees.
Gratuities for guide and porters [Tip is a culture, so they expect highly].
Any other things which are not mentioned above
Group join
Your hike to Kajin Sara Lake is an off the beaten path hike in the Himalayas and marked the highest glacial lake in the World. We can organize a private Kajin Sara Lake Trek starting on any date that works for you. Please contact us for more information.
FAQ
Question: I am not a professional trekker. Do I need the experience to hike to Kajin Sara Lake?
Answer: Actually Kajin Sara Lake Trekking is suitable for enthusiastic walkers who can walk around 4 hours in a day, with a lightweight daypack. If you have little experience with carrying little day packs? better for going around the Annapurna trek.
Question: Can I store my luggage/stuff in Kathmandu?
Answer: Yes, you can leave your luggage at your hotel or at our agency office. Storing your stuff in the Gokyo Treks agency office is for a free.
Question: What kind of accommodation can I expect?.
Answer: We provide you lodge accommodation with a private attached toilet bathroom in Chame Village. Rooms at the guesthouse are clean with a comfortable bed with a nice mattress and blankets. Likewise, above the Chame Bazaar to Kajin Sara Lake, we provides two men tent base accommodation and foods accordingly. However we advise you to take your own sleeping bags if you have one with you otherwise, we can manage on rent them from the gears shop in Thamel.
Question: What kind of food can I expect?.
Answer: Our professional cook cooks a yummy range of mostly vegetarian meals such as Pasta, tuna bakes, noodles, potatoes, eggs, curry rice, bread, and soups. Dinner and breakfast are provided in the same place you spend the night and Lunch serves on the way to the next place where you hike.
Question: What opportunities will I have for a shower?.
Answer: We manage a bucket of warm water so you can take a bucket shower en route.
Question: How do I get drinking water?.
Answer: We advise you to buy Aqua tablets in Kathmandu before heading to Besi sahar to purify normal water to drink. Normal tap water is available often running out from rocks, stream and river.
Question: Can I re-charge my digital camera or mobile phone?
Answer: Its a camping trekking and guest houses are not available thus you should bring an extra pair in case.
Question: Are there any communication facilities?.
Answer: Hike above the Himalaya of Kajin Sara Lake often have not a good connection with a internet. However if you have a local SIM card (Namaste – Nepal Telecom) they works properly in a lower elevation. So, Tourists can purchase a local NTC sim card to get a internet phone call. It's a cheaper way to call your home rather than calling direct. You can also buy a DATA PACK to use high-speed Internet as per your requirements.
Question: When should I book my trip and what are the payment terms?
Answer: Because our trips book up months in advance, we recommend booking early to avoid any misunderstanding. We will, of course, make every effort to hold last-minute bookings.
And regarding the down payment, we prefer a 15% advance deposit of the total price of the trip in order to confirm your reservation before you arrive in Nepal. And the remaining part of the payment can pay upon your arrival in Nepal.
Question: Who will carry my luggage in the Kajin Sara Lake treks?.
Answer: We do provide porters to transfer your luggage. As we are a responsible trekking tour operator agency, each of our porters carries a maximum of 24 kilos of your backpack which means 2 guests (12 kg luggage of each guest): 1 porter basis.
Question: Is Kajin Sara lake hike is difficult?. Do I need hiking poles?
Answer: In terms of height and landscape the trek to Kajin Sara route is moderate difficult level however, it's better to trek with trekking poles. Before walking in Nepal, learn how to use trekking poles. It helps you balance and stability, whether on the sidewalk or on hiking trails. Walking poles can help prevent slips and falls. They are just recommended but not obligatory.
Question: How much additional money do I need per day?
Answer: You can allocate US$ 10 – 15 for a lunch/dinner in Kathmandu and it depends on your spending habits. US$ 7 to 10 US$ each day will be enough to buy bottles of water, chocolates, tea coffee, and some drinks while you are on your trek.
Highlights of Kajin Sara Lake Treks.
There are many things to see on your hikes which are still attracting travelers to visit the lake worthy. Kindly consider some of the best highlights as per given here, perhaps you never know before before.
Picturesque villages, turbulent river gorges with nice waterfalls.
Chame Hot Spring is one of the top side trips that tourists can cover on their holiday.
Bhratang Apple Farm covers 37.49 Hectares in total. Both the projects, Bhratang Apple Farm and Agro Manang are the same.
Kajin Sara Lake is one of the highest glacial lakes in the world that surrounded by the stunning Himalayan peaks and offers a breathtaking view.
Best time for Kajin Sara Lake trek
The best time to trek in the Kajin Sara Lake is during the autumn months starting from September to November and spring season from March to May. During these months, the weather is typically clear and dry, with moderate temperatures and low rainfall, making it ideal for trekking.
In the autumn season, the skies are usually clear with excellent visibility of the mountains, and the weather is generally stable. The temperatures are mild during the day but can get chilly at night, especially at higher elevations. This season is considered to be the best time for trekking in the Kajin Sara Lake as the weather is favorable, the skies are clear, and the scenery is at its best.
In the spring season, the temperatures are also mild, and the weather is stable. At this season is also a great time for Kajin Sara Lake trekking, as the Rhododendron forests along the trail are in full bloom, creating a colorful landscape.
While it's possible for Kajin Sara Lake trekking in the winter months from December to February, it's generally considered more challenging. Due to cold temperatures, snow-covered trails, and higher risk of avalanches en route.
Likewise, certain sections especially above Chame to Kajin Sara trail could be difficult to navigate. It's recommended to have prior trekking experience, appropriate hiking gears, and well preparation for the severe winter conditions if attempting the trek during the winters.
Additionally, Trekking the Kajin Sara Lake during the monsoon months from June to August presents challenges due to heavy rainfall and the risk of landslides. The trails can be muddy, slippery, and less visibility in a lower elevation. Often mountain views might be obscured by clouds, and there's a higher chance of leeches and insects.
Kajin Sara Lake trek difficulty
The Kajin Sara Lake trek is considered moderately challenging. It involves varied terrain, altitudes, and weather conditions, requiring a reasonable level of physical fitness and some hiking experience.
Usually it takes about 6-8 days to complete and reaches a maximum altitude of 5,220 meters the Lake. Often this trail covered with snow and ice in the wintertime therefore it's important to acclimatize properly and prepare well enough for changes in weather and trail conditions.
Notice for Kajin Sara Lake Trekkers:-
Solo travelers can join group tours or go privately at least by hiring a guide for a safe holiday in Annapurna. Hike the Kajin Sara Lake information stated above is just a standard template guideline. If you are a domestic tourist and searching for the Kajin Sara Lake trek cost for Nepali? ask us for the best deal.
Although, the nature trail is possible to customize at your request to accommodate your specific requirements. Local politics, landslides, cancellation of local flights, weather, transport, or a multitude of other factors that are beyond out of our control can result in a change of itinerary en route.
It is, however, very incredible that the itinerary would be extensively altered. If adjustment are essential the leader will decide the best alternative option, taking into consideration the best interests of the whole group. When a change does occur, we do everything we can to minimize its effect, but we cannot be responsible for the results of changes or delays.
What makes Kajin Sara Lake Trek special?
The Kajin Sara Lake hike is considered super special for several reasons, including its stunning mountain scenery, diverse landscapes ranging from lush forests to high-altitude terrain, unique cultural experiences with local communities, and the sense of accomplishment that comes from completing one of the world's most famous trekking routes.
We at Gokyo Treks and Expedition believe in quality services. First safety and success satisfaction is our prime concern. We are a team of experts, skilled, and licensed local guides who know the destination better than others and are also as well as very attentive. Not only this but also we give benefits to the local communities and help to conserve natural resources which reduced costs and consumption.
Kajin Sara Lake Trek Review
There are no reviews yet. Be the first one to write one.
From US$ 1047
5% Off
US$ 699
| | |
| --- | --- |
| No. of people | Price Per Person |
| 1 | USD 995 |
| 2 | USD 699 |
| 3 | USD 699 |
| 4 - 6 | USD 660 |
| 7 - 9 | USD 625 |
| 10 + | USD 598 |
Book Now
Customize Trip
Cost & Departures
Your Trip Your Style!
ITINERARY, COST, DEPARTURES, will adjusted according to your GROUP SIZE NEED TIME
Book with Confidence
Local Guides Company.
18 Years in Business.
Lowest Price Guaranteed.
100% Customizable Trips
Excellent Customer Service
Hassle Free Booking.
90 % Repeated customers
Highly Recommended agency
Private/group tour options