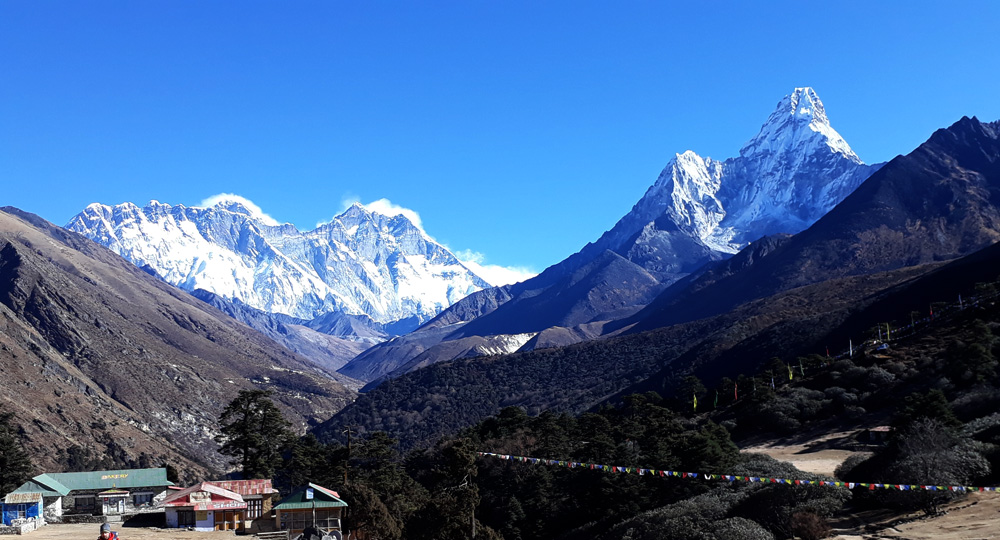 Everest Trekking in Nepal Himalayas !
Everest trekking region holds the brilliant trek routes. More than 30 % trekkers who are discovering Nepal are visiting this trek routes. Everest Trekking tour is mainly dominated of the most famous trek route what we call Kalapatthar and Everest Base Camp .
The prominent magnetism of this area are the majestic mountains, the high mountain villages, the isolated monasteries, and the local Sherpa peoples. This area includes the highest mountain in the world, The mountain, which is part of the Saipal Himalayan Renge, is located on the border between Nepal and Tibet, China and many of the world's 8000m peaks such as Lhotse, Cho Oyu, and Makalu.
Trek to Everest region offers varieties of trek route and some of them are given below as given sample trek packages. Most of the part of Everest trekking is within the boundary of Sagarmatha National Park is a protected area in the Himalayas of eastern Nepal that is dominated by Mount Everest.
It encompasses an area of 1,148 km2 (443 sq mi) in the Solukhumbu District and ranges in elevation from 2,845 m (9,334 ft) to 8,848 m (29,029 ft) at the summit of Mount Everest. In the north, it shares the international border with the Qomolangma National Nature Preserve of Tibet (china) and extends to the Dudh Kosi river in the south.
Adjacent to the east is the Makalu Barun National Park. Use Gokyo Treks and Expedition agency to design your ultimate experience, and receive hand-crafted trek packages built by local trek operator.
Everest Trekking seasonal fact during the whole year
December / January / February
Colder time but generally clear skies. But very a beautiful time to discover. Less trekkers along the trek routes, nice views of Himalaya, winter season, cold at night, fresh and beautiful.
Winter storms sometimes in high passes through January and February, but changing weather patterns.
March / April / May
Excellent weather. Best time to explore, not too cold high up, not too warm down below
Wonderful weather to trek, blooming colorful Rhododendron (Rhododendrons is the national flower of Nepal) and there are more than 30 species of rhododendron in Nepal) flowers in trek routes, the skies are blue and clear, all views of Himalayan peaks can be seen clearly.
June / July / August
Monsoon season in Nepal
Trek in Monsoon is not good ideas as it has a lot of grassy landscapes and there might be leeches. There are no possibilities to take Lukla flights, because of bad weather flight cancel often. So, it is not a good idea to trek in Moon soon time.
September / October / November
Monsoon is over around early of September, but some drops of rains still possible, a lot of new flowers along the trek, beautiful waterfalls, and nice landscapes makes your trip wonderful.
Top 9 reasons to choose Everest trek in Nepal.
Everest Base Camp trek is among the best trek in Nepal as well as in the world. The breathtaking sceneries, varying landscape and diverse culture of the region beautify the trek. There are many reasons to choose Everest trek route but the top 9 reasons are given here for your reference.
1). Top Mountain views of the tallest Himalayas
Everest region or the Khumbu Region of Nepal has the most stunning mountain vistas in the world. Thousands of trekkers visit this region just to catch a glimpse of snow-covered tallest mountains. The mountains include Mount Everest, Lhotse, Cho Oyu, Ama Dablam. The sunrise and the sunset view from Gokyo Ridge and Kalapatthar are breathtaking.
2). Everest experience flight
The Everest Base Camp trek starts from either Lukla airstrips or Phaplu. About 40 minutes flight from Kathmandu to Lukla is one of the most exciting adventure flights in the world. Fly feeling like a bird and get the Eastern Himalayan vistas including Sunrise over the Mountains.
3). Tourist standard to top quality lodges
As Everest trek is a most demanding trail, there is tourist standard to 5-star category lodges along the trek route. The lodges are host many small villages scattered around the region. On your Everest Base Camp, you will spend a night at the comfortable lodges. This is the best way to connect locals and meet other fellow trekkers.
4). Sagarmatha National Park (UNESCO heritage sites)
Most part of the Everest Trekking takes place in the Sagarmatha National Park. It is a UNESCO World Heritage Site, so you need to get permits (USD33) to enter the region in Monjo village. The park is rich in flora and fauna and unique Himalayan ecosystem. The park is a natural habitat of 118 species of birds in the world. Birch, juniper, blue pines, and rhododendron trees are also found in the park. Besides that, the park hosts exotic wildlife such as musk deer, snow leopard, Himalayan bear and red panda.
5). Kala Patthar hill station (5,550m/18,205 ft)
Kalapatthar known as mountain black stone offers almost the best Himalayan panorama of Khumbu valley. Kala Patthar offers a breathtaking view of the majestic Mount Everest combine with Nuptse, Amadablam, and Makalu in one row. It is the vantage point for the best and close views of Mt. Everest.
6). Everest Base Camp (Traveler's destination)
Mount Everest is the pinnacle of the grandest of the adventure. And reaching its base camp is a great achievement. Being at the base of the world's greatest peak is definitely a rewarding experience. The famous Everest Base Camp does not give you the grand view of Everest you were expecting. But it is a traveler's destination to catch up and make some photo shoots. A day tour from Gorekshep to Everest base camp is exciting to watch Khumbu icefall and glacier.
7). Old Monasteries
Khumbu Region is the home to beautiful Buddhist monasteries. You will encounter several sacred monasteries in Tengboche, Thame, Khumjung, and Pangboche. All of these colorful monasteries rest amid stunning views of Everest, Lhotse and Ama Dablam. It is also very popular as a spiritual trek in Nepal.
8). Colorful Rhododendron Trees
Everest trek in spring is better than an autumn season. Trek into the spring, Rhododendron forest turns the colorful forest. So, April to late May is the best time to visit. Red rhododendron is the national flower of Nepal. Enjoy the view of red rhododendron in contrast to snow-covered tallest mountains in the background.
9). Taste Local Food
Enjoy the taste of mouth-watering delicious local food while you receive the warm hospitality at local guesthouses.