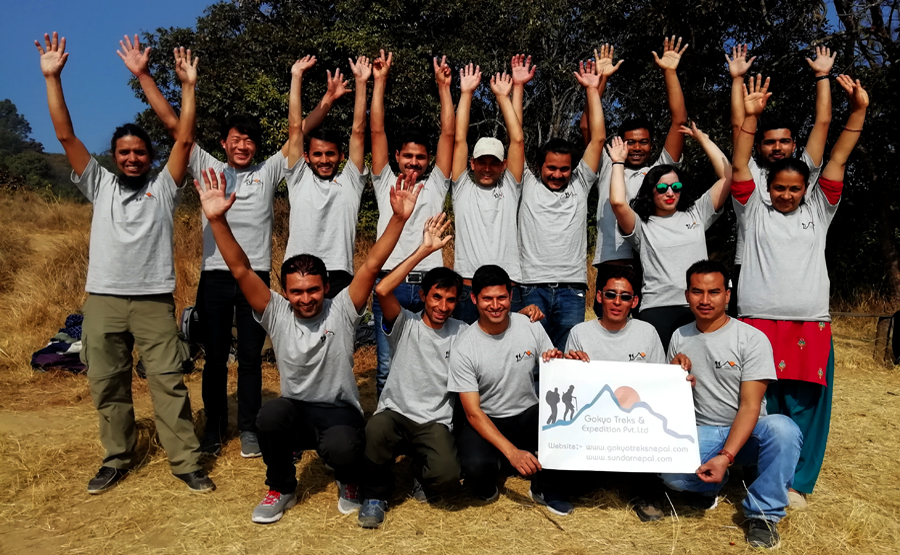 Why with gokyo treks Nepal tour agency?
Many people suprrise why with Gokyo treks agency to choose for your trek in Nepal? It is only because of a trust and fully Government registered trek tour operator agency recriting the local trek guides. Furthermore, the company always consider for the way of affecting the local community and environment in our operating areas. We support for local economy using local manpower and local product.
We all know travel is a demanding modern trade and over seventeen years of skill, we have led the way in creating the very best travel experiences throughout Nepal. When it comes to planning and arranging your holidays, there is no substitute for this technical knowledge and to understand how.
You are spending your hard-earned money to visit an unfamiliar country. And it would be irrational to take a risk by choosing a company with no knowledge and experience. So take a look the points to understand Why with Gokyo Treks?
Fully registered and trusted company
Gokyo Treks and Expedition Pvt Ltd is an authorized and accredited trekking tour operator agency with a number of government and private organizations. This includes:
Ministry of Tourism and Civil Aviation Department,
Nepal Tourism Board and Industry Department,
Company Registrations Office,
Nepal National Bank and Taxation Office,
Nepal Mountaineering Association (NMA),
Trekking Agencies'; Association of Nepal (TAAN)
Village Tourism Promotion Forum Nepal (VITOF)
Community Development Foundation (CDF).
Staffs trek Equipments
Our teams are fully equipped to handle the mountain condition, we never compromise on providing the best equipment for our trek, tour and climbing staff. Good and effective equipment underpins your successful and enjoyable life experience while you trek into the Himalayas.
Safety and insurance:
Safety is the main concern of our company. Gokyo Treks & Expedition provides full covered Insurance for all our staffs such as guide, porters, cook and sherpas to secure their job and to be responsible in their work. Before you leave home, we help you prepare, with concise information about the terrain, the climate, local customs, etc.
We are in constant communication with our field offices and monitor all aspects of government policy and whether that may affect your trip. In the unlikely event of an emergency, helicopter rescue or Horse Rescue is available during treks and expeditions.
Varieties in services:
We arrange varieties in services according to your wishes. If you are not interested to buy full package Trip or would like the trek in a tight budget then you can hire our professional guide and porters or partial trek service. Partial service means to guide, porters, trek route permit, transport service, flights, etc. All service what you book with Gokyo Treks, you will get the best deal.
Use Local specialist and production:
Our company use always involves the local experts in all necessary posts such as Guides, Cooks, Potter, and Sherpas. We serve local production, whereas available, the local organic fresh food support to your health in one hand and contributes to the rural economy another hand.
Economic responsibility:
The visitor visit in any region means bringing wealth into that region in any region means bringing wealth into that area. We never push you to use the over wealthy establishments unless we seek to offer our clients is likely to be compromised in their desire. Whatever the money we earn goes towards maintaining the quality of our operation including staff training regarding all aspects of tourism activates by Nepal tourism board.
Flexible travelers and their group size and Discounting Policy
There is no limitation of the participant. Our minimum requirement for operation is one person, so we are always happy to make trip and departure as yours time, budget and requirement. Considering the requirement and desire of travelers, we try to our best to range any kind of trip on your desire. So, if you want to travel alone, or as a couple, or with a family member, we organize as upon your wish. Special price packages are also available for student groups or groups of 10+ people.
Minimal Impact on Culture and Nature:
Gokyo Treks Nepal agency believes that the beauty of Nature and verities of the culture of Nepal are the main economy so we never undertake any activity that goes against nature and culture cause of the unregulated tourism activities. While on a Camping trek, we always use gas and kerosene instead of firewood to cook and rubbish is well disposed of by our well-trained staff.
Non-disposable rubbish is carried out with us for well disposed of. We use boiled water with purification tablets for a drink to minimize the rapid pollution growth of plastic in the Himalayas. This is a tiny example of our company for the minimal impact of tourism activities on nature.
Authorized, Experienced and Profession:
Gokyo Treks & Expedition is authorized trekking company from the government of Nepal. We arrange well trained – professional guide with first aid kits taken on every trips and oxygen is supplied on higher altitude trekking and expeditions group.
By long range working experienced in the Himalaya and related fields, our well trained team arrange different adventures activities such as Trekking, Peak Climbing, Expedition, Tour, Jungle Safari, Mountain Flight, Paragliding, Bungee Jump etc.. So we are waiting for your heartily welcome involving different activates in safety way.
Nepal base company and competitively priced:
Gokyo Treks & Expedition offers package program is unbeatable value for money compared to many global companies. Gokyo Treks & Expedition is registered under the law of Nepal and privately owned company. As we are a Destination Management Company (DMC) company we never resell programs. We are guided's owned company so the prices what we offer are unbelievably lowest.
Foods or Cuisine:
We provide fresh meals, prepared hygienically served by our professional cooks on a camping trek, expeditions & safaris trips. Most of our those foods are organic. You can have Chinese, Nepali, Italian and as well as Western meals on your trip. Beverages include Himalayan Arabica coffee (Locally produced organic coffee), hot chocolate, and Nepali Tea (Milk Tea).
98 % Success rates ! Very happy and repeated customers !
We are the winner of world's largest trusted travel site Trip Advisor's certificate of excellence award, 2015, 2016 & 2017 click here. This reward is the result of teamwork's constant hard work, great integration, and cooperation. Written reviews of the previous client's experience on Trip advisor can be checked out. Whereas in Youtube, you see the video describing feedback and response about our overall service by our valued clients from the trekking spot.
Lastly, you can see the official Gokyo Treks and Expedition pages uploading the current activities of photos, videos, in other social media including Facebook, Linked in, Twitter, Google +, Pinterest and many more.
Indoor/Outdoor Client Care:
When Client book trips, we take care all necessity of yours. From carefully designing itineraries for proper acclimatization to upholding the most scrupulous sanitary standards in food preparation our Client fell secure during the trekking.
Well trained long range experienced our guide gives details remote emergencies and well versed in local politics, culture, customs and condition. In the case of serious accidents or illness, we arrange an emergency horse or helicopter rescue paid by the insurance policy. We offer up-to-date pre-trip information, use only the best lodges, adapt itinerary to outfit your interests and provide to any dietary requirements.
Our fully staffed office in Kathmandu taking care of domestic flight, ticketing, transportation, permits, visas, and other services. Our team member welcomes you at the Tribhuwan International Airport in Kathmandu and sees all your needs. Our teams worry about these things, so you don't have to.
Social responsibility:
Being a responsible trekking tour agency in Nepal, all money generated remains in the country and we aim to make sure all of our staff are happy and well paid in their job. As our aimed provide much-needed health and educational facilities to the school children located in remote areas of Nepal, we involve Non-Government Organization to educate the school children. 10 % profit from the net income of Gokyo Treks & Expedition Pvt Ltd, every year have been supporting to the community school projects (charity …. http://www.cdfn.org.np) in remote parts of Nepal for school children, amenities, education and as well as on < their health care.