Top 12 Best Things To Do In Pokhara City
The majestic Pokhara city is ultimately travelers' dream, so we have created content about the Top 12 Best Things To Do In Pokhara City. Every morning Travelers can hikes at 'lakeside' for morning fresh air and respect the transcending tops ascending among the mists out yonder.
Most people only know about Pokhara as a gateway point for the famous Annapurna Trek. There are many additional facts about this precious town besides hiking and trekking. There are various epic activities in Pokhara, particularly for those pursuing adrenalin, with wilderness boating and the absolute best paragliding on earth all accessible here.
Extended along the shores of Phewa lake dabbed with vivid weaving paddle vessels, this little cut of serenity is one of the Tourist preferred spots in Nepal. For those looking for a spot to chill (and wash) following two-three weeks in Annapurna hikes or boring staying in Kathmandu town, Phewa lakeside, Pokhara city is an ideal place to stay.
Some way or another, notwithstanding the structures getting taller and the groups marginally busier lately, it despite everything figures out how to hold a desert garden-like feel; cheerful and loose however with all the recognizable voyager fundamentals.
In this post, I am going to share some of the selected Top 12 Best Things To Do In Pokhara City according to the traveler's demand and statistics. Travelers get an idea of where to find the best food and beverages. In addition, there are a few tips on where to shop.
1. Boating in Phewa Lake and reaching the island.
Rent a boat and row on the lake. It is the cheapest way to reach Tal Barahi temple. Renting a private boat costs an hourly basis, and possible to sail at any time until evening. A Tal Barahi temple is located on an island together with tall trees. The Tal Barahi Temple is a religious Hindu monument in Nepal. Mount Annapurna first and Dhaulagiri are top towering mountains above 8,000 meters high, possible to see a reflection image on Phewa lakeside. Early crisp morning, tourists can see amazing top towering peaks in a single line.
2. Explore the old Pokhara Tour on a bike
One of the best ways to explore this beautiful Pokhara town is to rent a motorbike as it will take you to many further places as compared to riding a bicycle. Visit Bindabasini temple and Seti George while visiting old Pokhara Town. You can go a little higher up to the hill station to get a better view. We advise you to wear a head buff/scarf to save yourself from dust.
3. Enjoy the sunset – sunrise at Sarangkot Viewpoint
Sarangkot is located on 5,250 feet above sea level. This viewpoint is probably only accessible if you rent a motorbike or a bicycle. It's a long way uphill and we wouldn't recommend walking up or riding a bicycle. However, the Annapurna Mountain View is absolutely stunning.
4. Visit World Peace Pagoda
Appreciate a private and customized tour in Pokhara town? World Peace Pagoda is another ideal place to go. Many Tourist speaks of this place as a Shanti Stupa. Try not to stress over creating the tiring climb up the slope, as you will be shipped in comfort. From the stupa ground, you can see all-encompassing perspectives on the snow-topped Annapurna Mountains including a holy Fish Tail.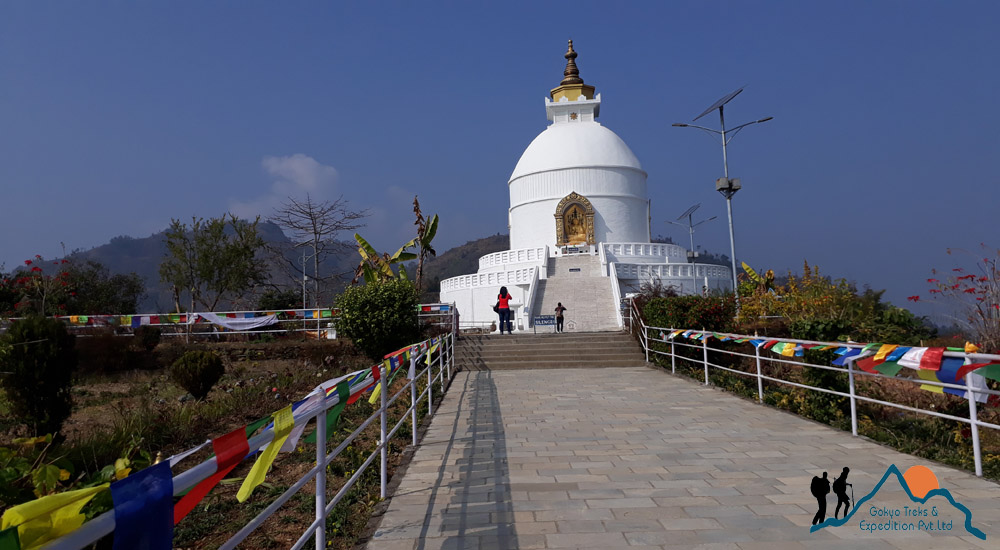 5. Davis Fall, Gupteswore Cave
The Davis fall and Gupteshwor cave is a must-see attraction located on the Phewa lake dam side. Visit the common attractions such as Davis Falls and Gupteshwor Mahadev Cave, and take in the breathtaking clearing perspectives on Annapurna Mountain.
6. Escape from the crowd and chill at Bejnas Lake
The Begnas Lake is a freshwater lake in Pokhara Lekhnath Metropolis of Kaski district of Nepal. It is located in the southeast Pokhara valley. The lake is the third-largest lake in Nepal and second-largest, after Phewa Lake, among the eight lakes in Pokhara valley. Although there are nice and superior comfort hotels, Begnas lake is often isolated as it has fewer tourists.
7. Come up close with bats at the Bat Cave
Bat Cave in Nepali means Chamere Gupha. Visit Bat Cave to see a great many bats sticking to the roof. As you go through the dangerous dim cavern, you'll see a lot of live organic product bats. Whenever frightened, you don't need to experience the entire cavern. However, it can adhere to more open spaces. Assuming, in any case, you like a touch of an adrenaline surge, follow the guide and creep through the minuscule opening prompting the surface.
8. Paragliding Fly as a bird
Pokhara is one the most famous spots in Nepal to appreciate paragliding flights. The background while flying is a terrific mountain view and down at Phewa lake. With this visit, take to the skies on a pair flight and experience the excitement of paragliding light as you coast over the tranquil scenes. The prices depend upon the tandem flight, cross-country flight, and Annapurna mountain flights.
9. The Annapurna Helicopter Tour
Have a short time in Pokhara? Why not try the Annapurna mountain flight by helicopter? Tourists can fly lasting through the year in the day and visit the Annapurna base camp by helicopter in the morning time in a clear sky. So winter and spring are the best months – seasons to get Annapurna Mountain's view. Monsoon months are not advisable to take a helicopter ride for Annapurna sightseeing however other than monsoon, we advise you to take helicopter flights.
10. Kahun Danda Sunrise and Day Hikes.
Kahun Danda is a newly open up tourist destination that is located at an altitude of 1,444m (4,738 feet). The local people called this place a Kahu Deaurali hill station. As it is a new tourist place – sport, there are always very few tourists even in peak season. As per our experience, the sunrise and the Mountain view are even better comparing other hilltops near Pokhara town. Tourists can reach the Kahun danda viewpoint with an overland drive which takes about 45 minutes. For more details about the place and the kahuna danda, hill tour contact us.
11. Zip flyer and Bungee Jumping
Zip flyers and Bungee Jumping in Pokhara are also new tourist activities for a couple of years. It could be another adventure experience staying in Pokhara Town. The thrilling experience with the Zip flyer and Bungee Jumping starting point is from Sarangkot view Tower. It goes all way down to Hemja, Kaski. Adventure Bungee Jumping and Zip flyer in Pokhara, the world's longest and highest. If you are an adventure sports lover try this out during your stay in Pokhara city.
12. Hiking in and around Pokhara Town
There are some hill stations near Pokhara town that are best for short hikes. According to the traveler's interest, we've recorded two top picks from Pokhara underneath.
Before you ribbon up the boots and take off, look at our total manual for moral journeying in Nepal, with all that you have to know to climb economically, and leave the mountains immaculate for people in the future to appreciate as well. The following two hikes will depend on your available time, budget, and fitness levels.
I. Poon Hill Hikes (Ghorepani Trek)
If you are staying in Pokhara to admire the famous Himalayan Range and experience Nepal's mountain culture, we recommend the Poon Hill Ghorepani hikes. The poon hill altitude is 3,220 meters above the sea and best to watch the Annapurna range including Dhaulagiri and Fishtail Mountain in a single line. It passes through quaint villages, to many, many stairs, between jungles, and over rivers. Sunrise for Poon hill hikes is possible with 2 nights 3 days for backpacker travelers. It really is the perfect way to ease yourself into trekking in Nepal Himalayas.
II. Mardi Himal Hikes
Mardi Himal is a short hike located nearby Pokhara town. It is possible to hike up to high camp and Mardi base camp for 3 nights and 4 days which offers a grand view of Mount Fish Tail and Annapurna Mountains less than a kilometer distance.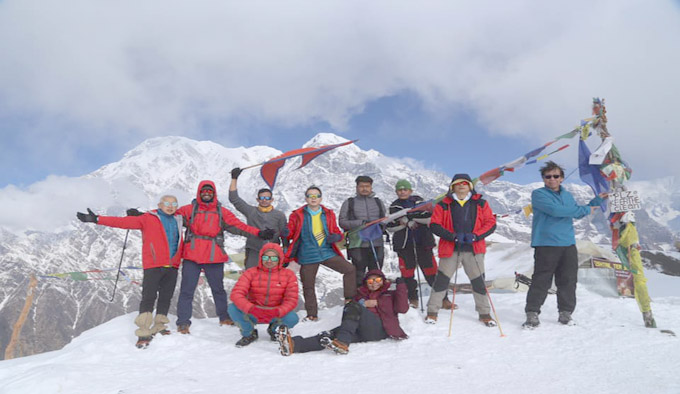 Conclusion
I've chosen the top 12 best this to do in Pokhara town that gives harmony between the different nature of tourist spots and entrancing Nepalese culture. From drifting on the quiet lake to paragliding over the city, a beginning stage for different traveling courses. In addition, Pokhara also offers each kind of courageous and soft tour depending on the guest.
---