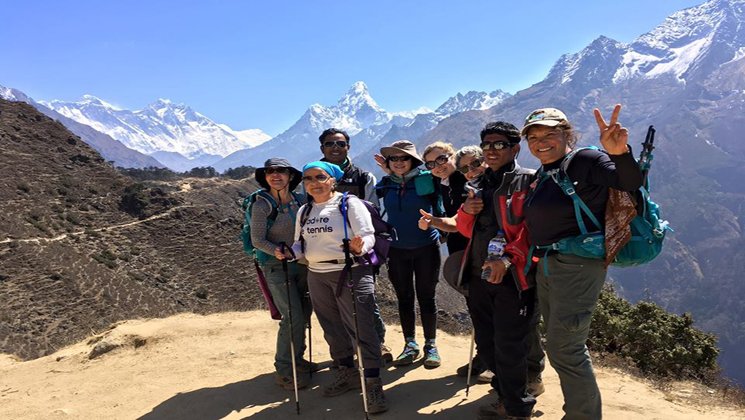 Group trek in Nepal Himalayas is the best choice for group travelers. Nepal group trek is a perfect choice for single travelers of any age, seeking to travel with like-minded people.
Furthermore, whether you are planning a family reunion, a bachelorette weekend, or a friends' getaway, group travel tours can help structure and simplify your vacation. Your passion is our passion for trekking Nepal . So, we always try to suit all of the needs of our customers and understand that some are more comfortable choosing Nepal trekking packages to travel in groups.
We take you personally. You can count on group trek travel consultants to design the perfect group trip itinerary for your group. …one that is filled with interesting and unique experiences that your group's members will remember for years to come. Gokyo Treks Nepal travel agency's particular focus is handling group treks or group trips of 10 or more participants.
Get your local guide booking your camping trekking in Nepal or any other related trekking adventures that are listed inside the gokyo lakes trek tour operator website. Most of the Nepal trekking companies are selling quite similar package trips. Some of them are selling Nepal trekking tours Annapurna and others are selling Everest region trek.
Besides that, you can also check your Nepal trekking tours on TripAdvisor, and book your desired tour Nepal trekking package with a trusted tour operator in Nepal. They are the best trekking agency, selling trek in Nepal Everest base camp frequently.
Our travel consultants personally escort many of our groups and handle all the details from start to finish including budget planning, marketing assistance, and on-site coordination, and offer continuous oversight to ensure a terrific and successful outcome.
Group holiday packages
A group holiday means you are traveling into a group to join the people. There are your own private groups or your friends, family, colleagues, or people. They share similar interests and you can add a wonderful new dimension to your travel experience. Join the group and traveling in a group enables you to know the culture and lifestyles of others. No matter the nationality, the Gokyo Trek agency can personalize your group's holiday with tailor-made specialists. We can help you to create the perfect travel experience by selecting specific hotels, resorts, airlines, and excursions. You choose all within your budget, time limitation, and your interest.
Want to design the perfect group trek itinerary for group trips in Nepal?
The Group treks in Nepal is a special and rewarding mountain holiday offers from Gokyo lakes Trek agency in Nepal. If you are traveling within a group, we welcome you to arrange your trip privately. If you have the time and energy to trek, don't miss the opportunity to leave Kathmandu and see the spectacular beauty and the unique culture of Nepal.
Weather facts for Trekking in the Nepal Himalayas
Trekking in the Nepal Himalayas is a popular adventure activity, and the weather plays a crucial role in making it a safe and enjoyable experience. Here are some facts about the weather conditions in the Nepal Himalayas:
Seasonal Variations:
The weather in the Nepal Himalayas is influenced by the monsoon season, which starts in June and lasts till September. During this time, heavy rainfall and thunderstorms are common, making trekking difficult and dangerous. The best time to trek in the Nepal Himalayas is during the dry season, which starts in October and lasts till May.
Temperature:
The temperature in the Himalayas varies depending on the altitude and the time of the year. In the lower elevations, the temperature ranges from 15 to 25°C during the day and drops to 5 to 10°C at night. At higher elevations, the temperature can drop below freezing point, especially during the winter months.
Altitude Sickness:
The Nepal Himalayas are known for their high altitude, and trekking at high altitudes can lead to altitude sickness. The risk of altitude sickness increases as you go higher, and it is essential to acclimatize properly to avoid any health issues.
Weather Forecasts:
It is essential to keep track of the weather forecasts before embarking on a trek in the Nepal Himalayas. The weather can be unpredictable, and sudden changes in weather conditions can be dangerous. It is always a good idea to carry appropriate gear and clothing to tackle any weather conditions.
Trekking Permits:
Trekking permits are required for most of the popular trekking routes in the Nepal Himalayas. The permits are issued based on the time of the year, and some trekking routes may be closed during the monsoon season due to safety concerns.
In conclusion, trekking in the Nepal Himalayas requires careful planning and preparation, taking into account the weather conditions, altitude, and safety concerns. With the right gear, acclimatization, and weather forecasts, you can enjoy a safe and memorable trekking experience in the Nepal Himalayas.