Langtang Trip Summary
Langtang Trek Duration: 7 Days
Langtang Trek Difficulty: Easy grade hike
High Altitude: 4,773m / 15,660 feet
Walk Hour: 6 Hours daily
Trekking Group-Size: 1 – 20 People
Trip Mode: Guest House
Best Time to visit: March, April, May, October, November and December
Foods on Trek routes: Breakfast, Lunch, and Dinner
Transport: Kerung bus / Private Jeep 4×4
Overview
The Langtang trek is one of the less demanding trek routes in Nepal that takes you so close to Langtang lirung. The Langtang trek is comparatively very easy, cheaper, and possibly complete in 5 days best for beginners hiking in Nepal.
Destination Langtang is easier to hike without big effort. Langtang hike is possible for experienced to novice trekkers who want to spend a week in the depth of Langtang nature. Furthermore, the Langtang trek 7 days 6 nights itinerary is the best option for all age trekkers to explore in any month. The Langtang hike is one of its kind of soft adventure nearby Kathmandu valley comprising an excellent blend of nature, culture, and magic Himalayas.
An ultimate guide to Langtang trek offers the closest eye-catching view of Mount Ganesh Himal family, mount langtang lirung (7,246m), mount Langtang-ri, mount Langsisa peak, Langtang Himal, mount Ganjala peak.
Tsergo Ri peak is the highest hill station of this journey. Roughly about 50% of Tourists of Langtang, visit Tserkuri ridge. Kyanjin Gompa to Tsergo Ri takes almost 7 to 8 hours. It's a full-day hike after Kyanjin gompa lodges, so you go with pack lunch. On your hikes, visit the Langtang iceberg, you might proceed with your journey to Kyanjin Ri the next morning for a sunrise view.
Langtang Trek Distance
Tourists can take a bus ride either to Dhunche or at Shyaprubesi to reach Langtang national park from Kathmandu. Basically, the distance from Kathmandu to Trishuli is approximately 72 kilometers and 50 kilometers further to Dhunche. However, the Langtang trek distance every day is roughly about 12 – 15 kilometers. The Bhote Koshi River flows down from Tibet and follows the Langtang river glacier. Moreover, the distance until Kyanjin gompa is roughly 25 kilometers. Thus, the final distance from Kathmandu to Langtang is 147 each way.
Return to langtang Nepal trek is an outstanding trek route that locates north of Kathmandu to the direction to the kerung boarder. A place to possibly identify Red Panda an endangered animal in Nepal. Get to know the langtang trek map as given here to prepare your travel better in detail.
National park of Langtang is residence to multiple varieties of wildlife animals. Monkeys, Himalayan black bears, musk deer, snow leopards, and Himalayan wild goats are mainly inhabitants of the nature park. Furthermore, it is also the best place to study plants, wildflowers, orchids, magnolia, and birds to research students. In spring the trails turn into multi-color because of thriving Rhododendrons.
Book your ultimate Langtang trek route within a professional service or book your Langtang valley trek in Nepal. You can definitely find the low cost even you solo travel, Langtang trek 7 days is most popular rather than 8 days.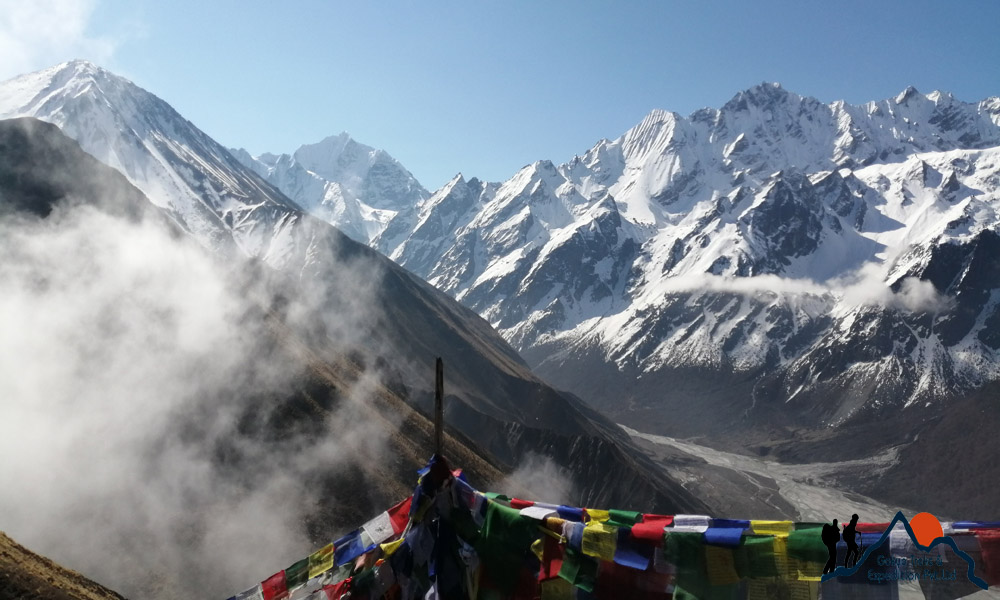 Our group trip is for all-age travelers. Visit the Langtang trek route either in March / April / May or October / November / December because the weather stays always great and the sun shining and the flowers make the path super phenomenal.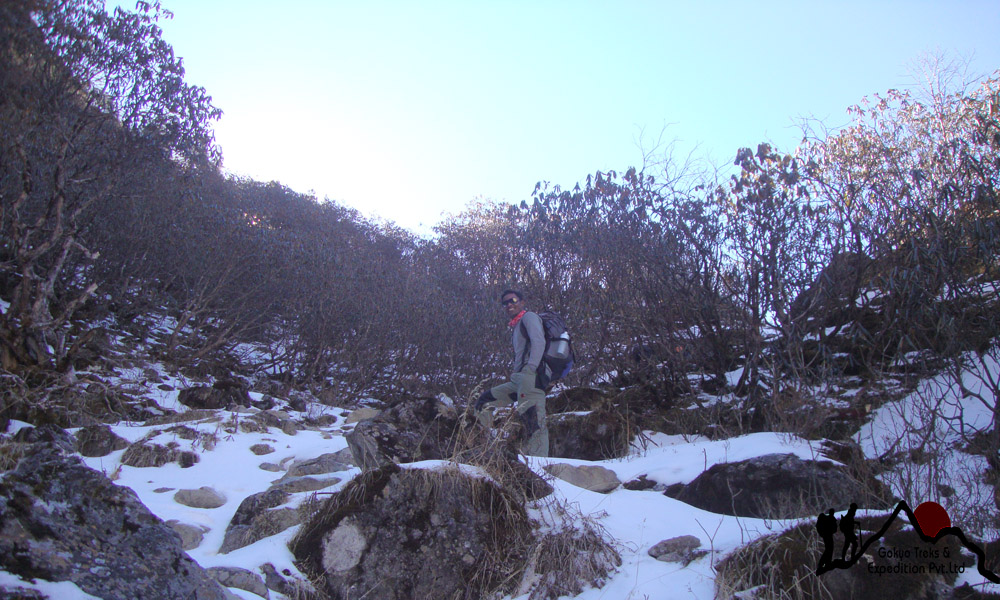 Add some days you're up for 70 glaciers and roughly about 108 high altitude lakes such as Gosainkunda, Parvatikunda, Bhairavkunda, and Dudhkunda. You can see Yak and sheepherders along the trek. No matter whether you go as an individual or as a group style, you can discover this valley at any time throughout the year. Thus, use our expertise to design your ultimate experience for the trekking Langtang route, and receive hand-crafted trek details built by our expert local guides.
How much does Langtang Trek Package Cost?
The cost of the Langtang trek package with a Gokyo Trek Agency (Guide's owned trekking agency in Nepal) ranges between US$ 398 to US$ 595. The Langtang valley trek cost totally depends upon the trekkers you are traveling to.
We have also a less busy season deal and also for group leader discounts for the Langtang base camp trek in Nepal. For example, if you could bring 10+ travelers (excluding you) to your trip, we treat you as a group leader. So you can hike Langtang for free of cost.
However, we often arrange private trips in order to avoid group tours with strangers. A private tour gives you a better experience on your hikes. If you value personalization, flexibility, and in-depth experiences, a private trip customized to your personal needs will be the best option.
If you wish to hike choosing the comfortable lodge in Langtang trekking route then the price goes slightly up likewise if you choose the budget trek, the cost remains the same. In addition, the Langtang trek cost for Nepali is a bit cheaper because of the hiking permit price.
It is the standard trip package price for 7 day Langtang trek. If you are 2 folks hiking the Langtang valley costs US$ 499 for 7 days trek according to the given trekking plan. We can modify the trek route and the prices according to your wishes also. Here is the price list for Langtang treks.
Price Per Person for 7 days hikes in Langtang mountain teritory.
| Number of Tourist | Price Per Person |
| --- | --- |
| 1 Person | US$ 595 |
| 2 Person | US$ 499 |
| 3 Person | US$ 490 |
| 4 to 6 person | US$ 450 |
| 7 to 9 Person | US$ 430 |
| 10 and more than 10 Person | US$ 398 |
If you're wondering to know about what is included and what is excluded on this trip price, kindly check on cost given on a tab button.
Itinerary
langtang trek itinerary details
Return to Langtang village combined with tserko ri and Kyanjin ridge with a new trail trek itinerary compared to most walks in Langtang territory. The particular Langtang glacier route is designed for world-explorer who wish to hike the Lirung Langtang glacial trail in a more relaxed manner? take a look at this itinerary. However, for travelers who wish to reach the Langtang trek quickly and walk within a limited time-wise then drop us an email for a special trek itinerary.
01 Day
Overland drive to Shyapru Besi Bazaar (1,460m/4,790 feet), 7/8 hours.
Meet and set up all hiking gears and ready to leave after breakfast. Drive with a private taxi to Macha Pokhari Bus Park near Gongabu Bus station. Catch up with the Kerung coach for Shyaprubesi with your Langtang trek guide and porters. Enjoy seven hours of a scenic drive through Trishuli highway with beautiful villages, and mountains. The bus stops roughly about 30 minutes on Trishuli highway restaurants for lunch at Trisuli Bazaar. After three hours of drive, we reach Syabrubesi. There is an optional drive that can take you only 5 hours express drive to Syaprubesi without passing the Dhunche bazaar.
02 Day
Lama hotel hikes (2,480m/8,137 feet), 6 hours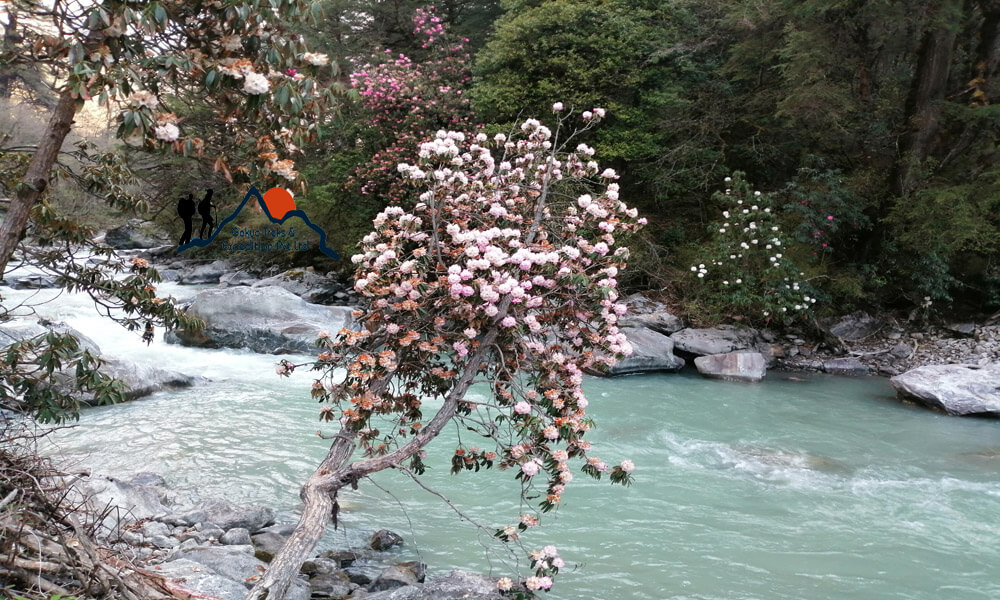 langtang hike at your own pace taking enough rest. The trailhead ascends for around two hours through the forest continued by a climb of about an hour to reach Bamboo village where you'll stop for lunch. The woods trail is nice and you follow the upstream and see birds life around the bushes. Besides, that wild Bee hives hanging on a cliff is another attraction for the visitors on walking. From here you will again steeply climb through the bamboo forest to reach Lama Hotel.
03 Day
langtang Trek (3,330m/10, 925 feet), 6 Hours
A pleasant walk through rhododendron and pine forest to reach Ghodatabela takes around 3 hours. Ghodatabela is equally popular as a Kyurpunesa situated at an altitude on 3,030 meters. Kyurpunesa/ghodatabela station is locating around of dense wild habitat and herbal vegetation. After lunch, you will walk along a scenic trail that takes you to Langtang village. Have in mind, Langtang village completely destroyed by a massive Earthquake disaster in April 2015 and rebuild already. Therefore, you will find the latest guest houses with modern facilities.
04 Day
Kyanjin Gompa trek (3,817m/12,523 feet). Langtang Glacier Sightseeing day tour, 3/4 hours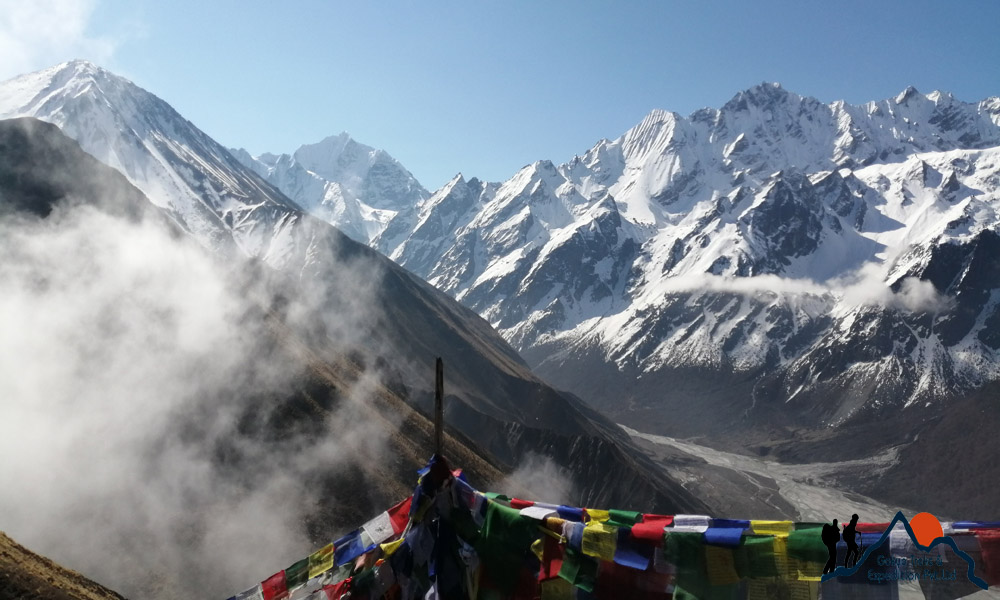 Kyanjin Gompa is the final human inhabitants of your trek located at an altitude of 12,519 feet above sea level. If weather permits, you can see the great view of Mount Ganchempo and well as Mount Langtang Lirung. Kyangin ri hike for a better mountain view or walk to visit Yak cheese factory, Kyanjin Monastery, and local homes. Hiking Kyanjin ridge is also popular as a Langtang panorama trek is equally popular as a Langtang circuit trek.
05 Day
kyanjin Ri hike (4,773m/15,660 feet). Descend Ghoda Tabala hikes (3,000m/9,810 feet), 5 hours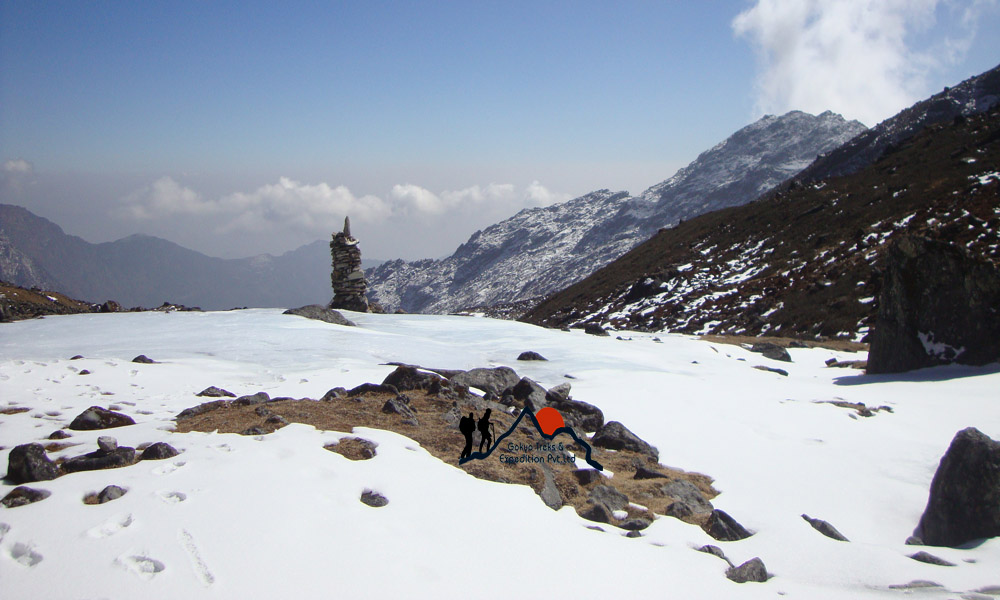 Kyanjin RI hikes is the best day hiking to get a super view of the Langtang Mountain range. It includes mount Langtang lirung, mount Langtang RI, Langsisa pass, Langsisa kharka, mount Langtang Ri, mount Ganjala peak, mount Yala peak, and many other border peaks.
In addition, before your Langtang trip begins, check about the kyanjin gompa weather forecast and prepare your hiking gear. Spend your precious time in Langtang valley hiking and gather some of the most amazing Langtang highlights.
Later Kyanjin Gompa hiking we return to lodge to pack our entire trekking gears and move. We trek downhill walking from Kyanjin Gompa to Ghoda Tabela passing numerous tiny houses and villages. Some of those tiny houses were completely destroyed while on Earthquake disaster in 2015. Read about Nepal earthquake 2015 facts or Nepal earthquake 2015 cause, you will know better and guess the trail situation. Because Nepal earthquake in 2015 affects a lot of Nepali citizens. Despite the fact that the walking journey of today takes you around 6 hours with pleasant and scenic landscapes.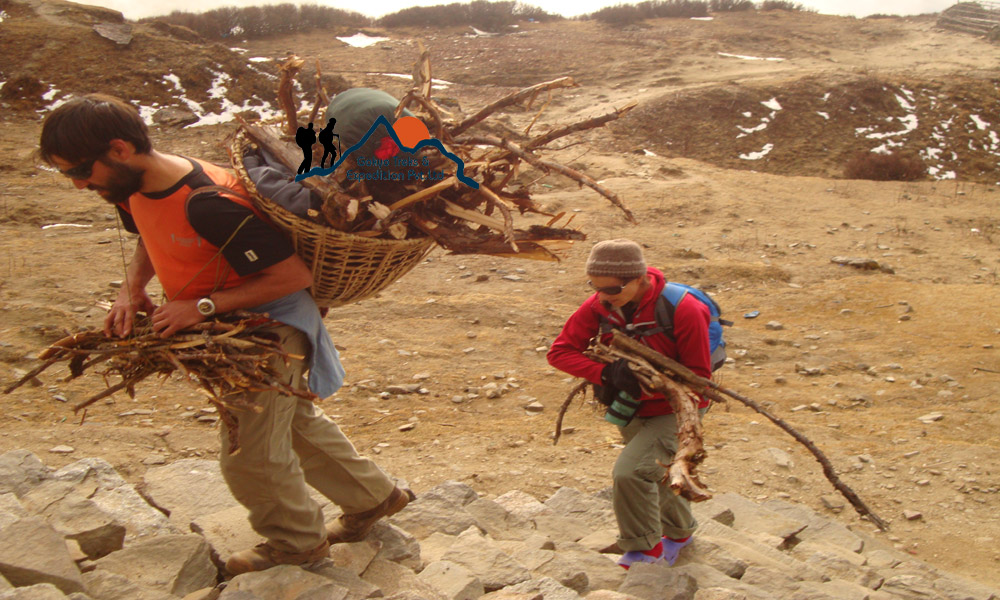 An optional climb to Tsherko Ri (5,150m/16,897 feet) hill
Besides that, your mountain trek guide will take you to climb Tsherko RI peak to experience even better views of the Langtang Mountain range. It's an optional day trip but it doesn't mean that you have to. The tsergo ri altitude or tsergo ri height is 5,150m /16,841 feet above sea level. You will have a clear view of the Yala peak also. Amazing Tser go ridge is the most demanding viewpoint to get an outstanding panorama of the Langtang range at a 360-degree including the Yala peak base camp.
06 Day
Descend downhill walk to Syabrubesi Bazaar, 7 hours
Descend downhill to reach Syabrubeshi passing via lama hotel and Bamboo through precious herbal plants along with Bhotekoshi river banks. Syabrubensi is a main downtown of Langtang area and main gateway to visit Kerung boarder. Today is a final day hiking in langtang teritory. Therefore, guest can invite thier porters for delicious meal together as from tomorrow they will go to thier home.
07 Day
Drive back to Kathmandu with same road adventure
After breakfast, catch the Kerung Bus to return Kathmandu valley. Arrive at Kathmandu Bus park, Guide will arrange a transfer to get to your hotel. Before evening, you can explore Thamel, the major tourist destination of Kathmandu. You may go for last-minute shopping for souvenirs for your family and relatives. In the evening, we drop you at the Kathmandu international airport for your further journey.
Not satisfied with above plan?
Are you interested on planning custom trip? this might take 2 to 3 minute.
Cost
How much does Langtang trek cost?
No droughts that exploring the Langtang trek price is US$ 499 per person is a minimum 2 travelers traveling together basis. This is the best Langtang trek itinerary for all ages tourists but better to add one more day in order to reach Tsergo ridgeline to get an outstanding view.
For the deluxe and luxury trekking tour plan, we add 3-star to 5-star category hotel deluxe air-conditioned room in Kathmandu (BB PLAN) and clean guest house accommodation (a private toilet inside a room) in Langtang valley trek routes. AND WE ARE OPEN TO CUSTOMIZING YOUR TOUR AND PACKAGES LANGTANG TREK PRICE AS PER YOUR REQUIREMENTS. International tour leaders are highly encouraged to get discounts and attractive complimentary.
The best of langtang trek package price includes:-
Single night double bed room accommodation in the Tourist standard hotel in Kathmandu.
6 breakfast, 7 lunch, and 6 Dinner at Langtang valley trek routes.
Clean Guest house accommodation while you are on trekking days.
Langtang National Park entrance permits and TIMS CARD permit fee.
Local Bus transfer: Kathmandu to Shyapru Besi and from Syapru besi to Kathmandu as a round trip.
Professional English speaking license holder mountain trekking guide for 7 days trek.
Experience and strong profesional porters (2 guest : 1 porter basis) because each porter carry maximum 24 kilogram.
Salary, food, accommodation and their travel insurances for all Nepali crew.
Seasonal fruits like apple and pomograntes as a deserts for langtang valley trek.
A First Aid medical kit bag.
Updated Langtang trek map 1 piece for each guest.
Agency's Certificate of appreciations after the successful langtang valley trekking
Nepal Government Tax, VAT and as well as Company service charge.
langtang mountain trek package price excludes:
Nepal entry visa fees US$ 40.
Lunch and Dinner during the staying in Kathmandu
Any kinds of battery charges, laundry service, phone calls and hot shower during the trek.
Tourist personal trekking equipments and Clothing.
Personal nature expenses, all types of drinks and bar bills.
Travel Insurance which covers emergency rescue, evacuation, personal loss or damage.
Any donation and monuments entrance fees.
Tips for the crew (Note : TIPS is not compulsory but highly expected)
Any other things which are not mentioned above
Group join
Langtang trek is easy treks that suits for all age people especially best for beginners. Visit langtang is a week long hikes and the hiking routes are cheaper rather then other hiking trails in the Himalayas. We can organize an express langtang trek privately starting at any date if that works for you. Please contact us for more information.
| Departure Date | Availbility | Price | Book |
| --- | --- | --- | --- |
| 10 Sept, 2022 – 17 Sept, 2022 | Avaiable | 499 | |
| 20 Sept, 2022 – 27 Sept, 2022 | Avaiable | 499 | |
| 05 Oct, 2022 – 12 Oct, 2022 | Avaiable | 499 | |
| 10 Oct, 2022 – 17 Oct, 2022 | Avaiable | 499 | |
| 20 Oct, 2022 – 27 Oct, 2022 | Avaiable | 499 | |
| 25 Oct, 2022 – 02 Nov, 2022 | Avaiable | 499 | |
| 05 Nov, 2022 – 12 Nov, 2022 | Avaiable | 499 | |
| 10 Nov, 2022 – 17 Nov, 2022 | Avaiable | 499 | |
| 20 Nov, 2022 – 27 Nov, 2022 | Avaiable | 499 | |
| 05 Dec, 2022 – 12 Dec, 2022 | Avaiable | 499 | |
| 20 Dec, 2022 – 27 Dec, 2022 | Avaiable | 499 | |
| 10 Feb, 2023 – 17 Feb, 2023 | Avaiable | 499 | |
| 20 Feb, 2023 – 27 Feb, 2023 | Avaiable | 499 | |
| 10 Mar, 2023 – 17 Mar, 2023 | Avaiable | 499 | |
| 20 Mar, 2023 – 27 Mar, 2023 | Avaiable | 499 | |
| 25 Mar, 2023 – 01 Apr, 2023 | Avaiable | 499 | |
| 05 Apr, 2023 – 12 Apr, 2023 | Avaiable | 499 | |
| 10 Apr, 2023 – 17 Apr, 2023 | Avaiable | 499 | |
| 20 Apr, 2023 – 27 Apr, 2023 | Avaiable | 499 | |
| 25 Apr, 2023 – 02 May, 2023 | Avaiable | 499 | |
| 10 May, 2023 – 17 May, 2023 | Avaiable | 499 | |
| 20 May, 2023 – 27 May, 2023 | Avaiable | 499 | |
Guaranteed – Trip is Guaranteed to run.
Available – Trip is available to run if minimum group size is filled
Limited – Only few space available
FAQ
Question: Do I need the experience to do express Langtang trek?
Answer: Langtang valley trek is one of the easiest trekking in Nepal, thus, the previous experience doesn't require. Hike to Langtang valley is suitable for keen hikers who can walk around 4-5 hours in a day, with a lightweight daypack.
Question: Is pick up service available on my arrival day in Kathmandu?
Answer: Yes sure. Provide us your flight details. Our representative will come to pick up you at Kathmandu international airport.
Question: Can I store my luggage/stuff in Kathmandu?
Answer: Yes, you can leave your luggage at your hotel or at our office. Store your stuff in the Gokyo Treks agency office is for free.
Question: Is the Langtang trekking Safe for the Solo Female Trekkers?
Answer: Absolutely. Nepal is a safe country to travel to for solo travelers; this trek is perfectly safe for solo female trekkers. We have been organizing the trek even for solo female travelers since its establishment.
Question: What kind of accommodation can I expect on the express Langtang tour package?
Answer: We do provide you tourist standard accommodation in Kathmandu and lodge accommodation on the hiking routes. Basically, each room will have 2 beds. The rooms en route are clean with a cozy bed with a nice mattress and blankets. Despite that we advise you to take your own sleeping bags if you have one with you otherwise, you may rent them while you are in Kathmandu gear's house.
Question: What kind of food can I expect in the private Langtang treks group?
Answer: All the guest houses on the Langtang trekking route, have attached restaurants. They cook a delicious range of mostly vegetarian such as Pasta, tuna bakes, noodles, potatoes, eggs, rice curry, bread, and soups. Likewise, dinner and breakfast are provided in the same lodge you spend the night every day and Lunch will be provided on the way to the next place where you are going.
Question: What about Langtang trek difficulty?
Answer: Langtang trek conducts an easy to soft adventure trekking route which is best for beginner trekkers in Nepal. Langtang trek difficulty is also an easy to moderate trek where you need to walk for 4 days with gradually increasing altitudes to reach Kyanjin Gompa. Hiking Tsergo RI hill station marks a top viewpoint to watch the Langtang mountain panorama in a range.
You will gain an altitude of about 800m to 900m every day walking 6-7 hours to reach the Langtang glacier. The trek route, the next day, continues to be uphill most of the time. We recommend you buy a Langtang route map before you depart and check the Langtang trek altitude seriously.
Question: Is Langtang trek without guide possible?
Answer: Basically, going to Langtang valley is an easy and soft adventure trekking in Nepal Himalaya. The landscape terrain is simply outstanding but most of the parts you walk through the forest. Many smaller YAK trails and rough paths are connected with the main trek route. Occasionally, it makes it confusing to find out the right trail while on Langtang hikes. Especially in the wintertime, the nature of trails is often dangerous and unsafe. Many traveller lost their lives in trekking history. Thus, book your trip with Gokyo treks Nepal because Langtang trek without a guide is not recommended.
Question: What opportunities will I have for a shower along with a Guide for the Langtang trek?
Answer: As you are staying at Langtang guesthouses along the trek, they have a shower which you can get often for free of cost.
Question: How do I get drinking water on an easy Langtang trek group?
Answer: You can buy mineral water along the trek routes. But we advise against buying mineral water in plastic bottles, as currently there are no provisions for disposing of these. Instead, manage your drinking water by buying some aqua purification tablets or chlorine tablets. Besides that, if you are on a camping trek, we provide boiled water or chlorine tablets to purify the normal water as the normal water is available at the campsite.
Question: Can I charge my digital camera or other batteries on my trip?
Answer: Hike Langtang is a lodge basis trek, which is an easier hiking route. Visitors can recharge the battery by paying an extra cost at the hotel directly. We advise you to bring an extra pair in case. Remember to bring your adapters!
Question: Are there any communication facilities on trek?
Answer: Yes! Buy a local Sim Card from Nepal Telecom. It's a national telecom in Nepal that has very coverage widely in Langtang territory. The cost of a local Sim card is about US$ 1 with some rupees of balance. Buy also a data pack, so you will have a telephone and as well as 4G internet services.
Question: Can I use credit cards in trekking?
Answer: No. You need to have cash Nepali rupees to cover your extra expenses.
Question: When should I book my trip and what are the payment terms?
Answer: Our hiking trips in Langtang territory book up months in advance, we recommend booking early to avoid any kind of misunderstanding. We will, of course, make every effort to accommodate last-minute bookings.
And regarding the deposit, we prefer 20% advance deposit of the total price of the trip in order to confirm your booking before you arrive in Nepal. And the rest of the payment can be made after your arrival in Nepal.
Question: Who will carry my luggage on the group Langtang trek?
Answer: We provide porters to transfer your luggage. As we are a responsible trekking tour operator agency, each of our porters carries a maximum of 25 kilos of your backpack which means 2 guests (12.5 kg luggage of each guest): 1 porter basis. If you wish to have a private porter, you might also get it by paying an extra cost.
Question: How long do I have to walk each day?
Answer: It depends upon the areas you are walking and the length of the distance you cover each day, but it can vary greatly due to a gradient, terrain, and altitude. Roughly, you have to be prepared to walk roughly about 5 or 6 hours each day.
Question: Do I need hiking poles to hike Langtang?
Answer: It is better to hike with hiking poles. Learn how to use trekking poles for balance and stability, whether on the sidewalk or on Langtang trails. Walking poles can help prevent slips and falls. They are just recommended but not compulsory.
Question: How to hire a private local guide for langtang lodge trek?
Answer: Yes. If you do not like to book the complete package trip, you can hire our Guide, porter or porterguide private trek guide to make your holiday best.
Question: How much additional money do I need per day?
Answer: You can allocate US$ 08 – 10 for a lunch/dinner in Kathmandu and it depends on your spending habits. US$ 7 to 10 US$ each day will be enough to buy bottles of water, chocolates, tea coffee, and some drinks while you are on your trek.
Langtang Trek Review
Langtang Trekking with Super Friendly Agency Gokyo Treks
We are a team of 4 Germans from Europe and we have just finished the Langtang trek with the professional guide Ram with Gokyo Treks & Expedition and everything went excellent! Our Guide Ram was extraordinary and our porters Dipendra and Manoj were just friendly.
We travel to Nepal 2 times already but we didn't have time for trekking this time we spend our 7 days Langtang Trek with a guide and porters. They were all very good people. No doughts, we are again planning our next trip to Annapurna with Gokyo Trek agency in coming October – November. If you are thinking or searching for a reliable company then this agency is the best for sure and their prices are competitive comparing others.

Response from Gokyo Treks Nepal
Thank you Herman for the experience to hike Langtang with our agency. We hope to serve you again.
Langtang trek highlights and recommended sidetrips
Trek to Lang tang is one of the easy and shortest trek in Nepal best for beginner hikers. It is also the best hiking route especially if you are traveling with family and kids. The wilderness trail is very beautiful in terms of flora and fauna. Although there are many things to see in the Langtang valley while on your hikes now we recommend 4 MUST SEE side trips for tourists.
Tsergo/Cherko Ri (4,985m/16,385 feet) offers great view of Langtang Himalayas within 360 deg angle.
Kyanjin Ri (4,773m/15,655 Ft) is marked as a popular hill station to get a beautiful valley, mountains etc.
Upper Langtang Valley is equally popular as a Lamgshisa Kharka (4,285m/14,054 feet), takes a day trip.
View of Kangja/Ganja La High Camp (4,930 m/16,137 feet) and trail to cross over the pass.
Walk through cultivated potatoes fields, colorful Rhododendron, conifers and oak trees.
Majestic view of Mt.Langtag lirung, Langtag-ri, Langsisa, Langtang Himal, Nayakanga peak – Ganjala peak
Sherpa Buddhism tradition combine with other ethnic groups people.
Langtang weather information
Winter weather in Langtang trek
There are often snowfalls and cruel breezes. The most reduced temperature is – 3°C (26.6°F) in January / February months. Despite the fact that the valley is staggering during the winter season, the chilly climate is challenging.
Autumn season Langtang trek weather
Hike Langtang, especially in the Autumn months, the days are sunny but short yet in the daytime, it is overall quite radiant. Around evening time, it gets colder about (5 °C/41°F), though. The temperature likewise goes between 10°C-20°C (50°F-68°F). You can see the unmistakable and astonishing mountain sees all through your journey.
Spring season hiking in Langtang weather
Spring season is the second most busy traveling season all over Nepal. Langtang valley trek's best season is spring. March, April, and May are the best months to hike the Langtang trail. The spring days are long and warm and the air is fresh. The daytime temperature ranges between 10°C-20°C (50°F-68°F) this season. You will track down the climate overall quite warm during the daytime yet evenings are a bit cold.
Monsoon Season / Summer treks in Langtang weather
In the Summer months, there is heavy rainfall all over the Himalayas. Langtang area encounters the warm late spring for a very long time in June, July, and August. Alongside the warmth, there is thunder and a wind storm. The daytime temperature might stay 30°C (86°F) on radiant days in the lower areas. Often a lot of floods and landslides en route. Thus, hiking in Langtang, especially in rainy months is not good in terms of safety and mountain scenery.
Why Langtang Trek is most popular epic trek especially after Earthquake 2015 in Nepal?
The Langtang Trek is very popular in terms of nature and cultural biodiversity. As most of the trek routes in Langtang entirely take place below 4,000 meters which are best for all ages folks. Typically, Tamang people are inhibited in the Langtang sector. They are Buddhist, so their tradition and culture are also other reasons for tourists to visit.
Sad to say that those all have changed in an instant at 11.56 am on Saturday, 25 April 2015. The large glacier and a frozen lake sit in a hanging valley right above Langtang village. When a 7.8-magnitude earthquake shook Nepal, a vast landslide fell off Langtang Lirung. An estimated 45 million tons of rock and ice were funneled down the couloir, straight onto the village. It produced a gust of wind so strong that the atmosphere pressure flattened every tree on the opposite side of the valley for many kilometers downstream.
Around 9,000 people died during the Nepal earthquake on 25 April 2015. This tiny village in the Langtang Valley accounted for 243 of them: 175 villagers, 27 local tourism staff (guides and porters), and 41 foreign trekkers. All of their names are now recorded on a memorial mani wall.
Besides that Langtang is a place to trek if you want a short trip with "all the excitement of the Himalayas". It is one of the most accessible trekking areas near the Kathmandu Valley offering short day hikes or week-long (or more) treks into the lake district.
Langtang trek notes for the visitor
The Langtang hiking information stated above or Langtang mountain trekking is just a guideline as a standard template that we provide you. If you are a solo trekker, you can still travel Langtang either privately or within a group join. Single/solo traveling to Langtang is not safe and expensive comparing costs.
However, the trip is possible to modify at your request to accommodate your specific requirements. Local politics, landslides, cancellation of local flights, weather, transport, or a multitude of other factors that are beyond our control can result in a change of itinerary en route.
It is, however, very incredible that the itinerary would be extensively altered. If modifications are necessary the leader will decide the best alternative option, taking into consideration the best interests of the whole group. Where a change does occur, we do everything we can to minimize its effect, but we cannot be liable for the outputs of changes or delays.
What makes Langtang trek special?
Opportunities for challenging trekking or hiking and pleasant excursions are disordered all over the planet. You just need to know where to find them. We believe in the quality of services. First safety and success is our prime concern.
We are a team of professionally trained and licensed local guides who know the destination much better than others. Not only this but also we give benefits to the local communities and help to conserve natural resources which deduct in costs and consumption.
From US$ 525
5% Off
US$ 499
| | |
| --- | --- |
| No. of people | Price Per Person |
| 1 | USD 595 |
| 2 | USD 499 |
| 3 | USD 490 |
| 4 - 6 | USD 450 |
| 7 - 9 | USD 430 |
| 10 + | USD 398 |
Book Now
Customize Trip
Cost & Departures
Your Trip Your Style!
ITINERARY, COST, DEPARTURES, will adjusted according to your GROUP SIZE NEED TIME
Book with Confidence
Lowest Price Guaranteed.
100% Customizable Trips
Excellent Customer Service
Hassle Free Booking.
90 % Repeated customers
Highly Recommended agency
Private/group tour options
Local Guides Company.