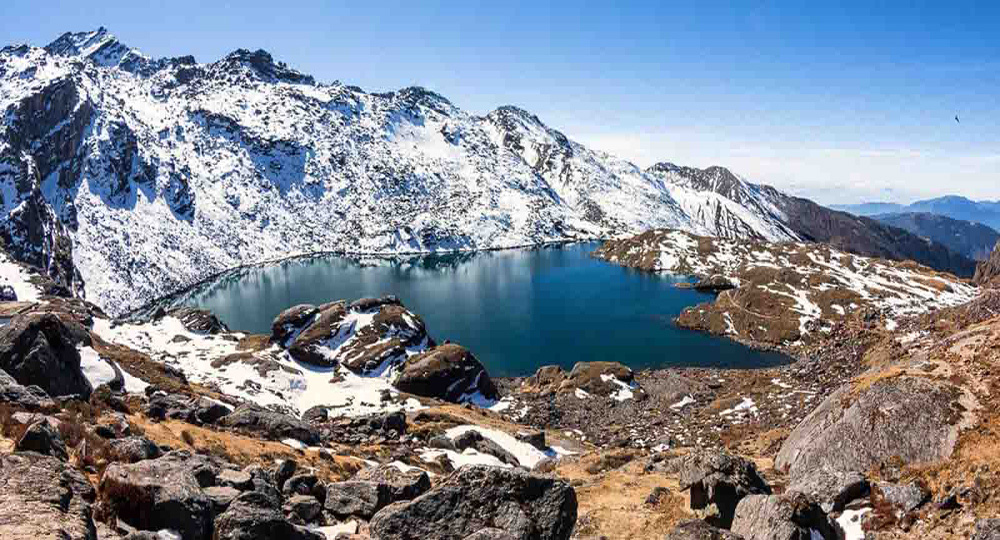 Langtang Trekking in Nepal Himalayas !
Langtang Trekking holds the brilliant trekking routes. More than 20 % trekkers of total Nepal visitors explore the langtang region yearly.
Langtang Trekking is considered one of the most popular narrow valleys at the base of central Himalaya, Located north of the Kathmandu Valley. A trek to Langtang has easy access and the trail goes through the beautiful traditional and ethnic villages and virgin forests on the way to the peaks of Mt.Langtang Lirung. Langtang Trek is spectacular in terms of Himalayan sights and as well as flora and fauna, and the treks are more adventurous as the area is visited by a few numbers of tourists however use our company gokyo treks and expedition (a local tour operator agency) to design your ultimate experience, and receive hand-made trips built by the team of local expert guides.
Langtang trekking goes to Perhaps first established as a national park for Himalayan wildlife, Langtang National Park trekking paths and mountaineering trails allowing visitors unparalleled accessibility. You will often see musk deer (Moschus chrysogaster) and Himalayan Tahr (Hemitragus jemlahicus), Himalayan black beer (selenarctos thibetanus), snow leopard (panthera uncia), wild god (cuon alpinus), ghoral (Nemorhedus goral) serow (Capricornis sumantrenis) and more than 250 species of birds.
The park is also renowned for its population of red panda (Ailurus fulgens). Langtang area in itself is a good choice for those trekkers who have limited time for trekking in Nepal. In one week to ten days, one can visit Langtang trekking. The Himalayan views overall are also spectacular as in the Annapurna or Everest areas however it remains unforgettably beautiful. Besides that return to discover Langtang trekking is less crowded and the people are friendly.
Langtang Trekking seasonal fact during the whole year
December / January / February
Colder time but generally clear skies. But very a beautiful time to discover this region trekking. Less trekkers along the trek routes, nice views of Himalaya, winter season, cold at night, fresh and beautiful.
Winter storms sometimes visit the Lauribina la pass through January and February, but changing weather patterns.
March / April / May
Excellent weather. Best time to explore, not too cold high up, not too warm down below
Wonderful weather to trek, blooming colorful Rhododendron (Rhododendrons is the national flower of Nepal) and there are more than 30 species of rhododendron in Nepal) flowers in trek routes, the skies are blue and clear, all views of Himalayan peaks can be seen clearly.
June / July / August
Monsoon season in Nepal
It is not good to trek in this region as it has a lot of grassy landscapes and there might be leeches. So, it is not a good idea to trek in Moon soon time.
September / October / November
Basically monsoon is finish around early of September, but some drops of rains still possible, alot of new flowers along the trek, beautiful waterfalls and nice landscapes.
Top 5 reasons to choose Langtang valley trek in Nepal
There are many reasons to choose Langtang trek but top 5 reasons are given here for your reference.
1)Top Mountain Views
On your journey to returned langtang valley, you can enjoy the top mountain view of Langtang Lirung (7,227m/23,705 ft), Langsisa Ri (6,427m/21,081 ft), Naya Kanga peak (5,844m/19,170 ft) and other mountains in a row. Reaching Langtang means you reach the top destination listed under 20 famous trek route in Nepal.
2) Good lodges and nice accommodation facility
Langtang trek stays very good lodges because some of the lodges collapsed due to the cause of massive Earthquake disaster in Nepal in 2015. Locals rebuilt tea houses installing modern rooms and toilets with hot-cold showers. Teahouses are comfortable with facilities of twin sharing beds with mobile charging is possible.
3) Best hike to Kyanjin Ridge or day tour to Tserkuri Ridge (5,000M).
Climbing Kyanjin Ridge (4,773m/15,655 ft) is easier rather than climbing Tserkuri ridge. Both of them are best day tours in Langtang, possible to complete within 4 to 5 hours. Both of these hill station hiking offers the outstanding view of the Langtang Mountain range including Langtang Lirung (7,227m/23,705 ft), Langsisa Ri (6,427m/21,081 ft). Likewise, you can touch the Langtang glacier moraine next to Kyanjin gomba.
4) Colorful Rhododendron Trees
Trek to Langtang in spring is better than the autumn season. Trek into the spring, Rhododendron forest turns the colorful forest. So, April to late May is the best time to visit. Red rhododendron is the national flower of Nepal. Enjoy the view of red rhododendron in contrast to snow-covered mountains in the background.
5) Taste Local product
Enjoy the taste of mouth-watering delicious local food while you receive the warm hospitality at local lodges.