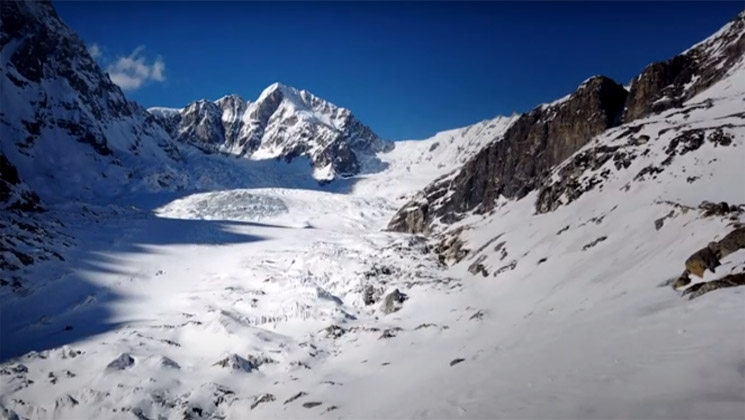 Jugal Himal Trek Summary
Jugal Peak Trek Duration: 14 Days
Trek Difficulty: Easy to Moderate Grade
High Altitude: 4,100 meters / 13,452 feet
Trek Hour: 6 Hours
Hiking Group – Size: 1 – 15 People
Best Time: March, April, May, October, November and December
Trip Mode: Tent camping Trek Trek
Foods: Breakfast, Lunch, and Dinner
Transportation: Car/bus/Jeep
Overview
The Jugal Himal trek is an epic adventure journey on an off the beaten path nature trail north of Kathmandu town. The camping journey takes you through the heart of the Langtang, Gaurishankar & Rolwaling Himalayan ranges. Jugal Himal lies in the Sindhupalchok district about 3,800m high from sea level.
The jugal Himal height – altitude is 6,095m Mountain Range frames the line between Nepal and Tibet. Five lakes at jugal Himal combo hiking trail is a soft adventure wilderness trekking in Nepal Himalayas. Likewise, Panch pokhari is commonly marked as 5 different holy lakes.
Each divine lake has a different name derived from Lord Shiva, the Hindu God. The Panch Pokhari trekking is sacred – pilgrimage trek often visited by Hindu people. Hiking jugal Himal from Kathmandu is an in-the-wilderness path with open trekking trails. It is situated the distance from Kathmandu to Jugal Himal is 70.9 km.
From holy Panch pokhari hikes, tourists will achieve an astonishing snow-capped mountain view as well as pristine lakes. Tourists can watch an amazing Dorje Lakpa (6,966m), Phurbi Chhyachu (6,637m), and Madiya (6,257m) mountains view including Rolwaling and Jugal mountain itself.
The Jugal Himal base camp trek's highest elevation has located an altitude of 3,800 meters above the sea. Furthermore, travelers can hike in a fantastic landscape and explore the mixed culture, Tibetian Monasteries, etc.
Likewise, lucky tourists can see various types of wild animals. Often, you can see a Musk deer, Himalayan black bear, Langur Monkeys, mountain goats, and particularly birds and wildflowers along the routes.
The journey ascends with the Indrawati river valley continuously up to the Five Holy Lakes (Panch sacred lakes). We arrive at a most extreme height of 14,000 feet at the Panch Pokhari. Impressive Jugal Himal Trek is an old shipping lane between Nepal and Tibet, and we will experience residents from the Tamang standing among others.
This excursion will give us important knowledge into the old and crude culture of this far-off locale of Nepal, where it might appear as though we ventured back as expected for many years. Later on, we finish the special Helambu cultural hikes at Timbu. However, Jugal Himal trekking is not very difficult & you can trek at any time throughout the year.
How much is the Jugal Himal Trek Package Cost?
The cost of the Jugal Himal trek package with a local travel company in Kathmandu Nepal ranges between US$ 1350 to US$ 1750. Typically the given package cost includes transportation, a guide, porters, hotels and food accommodation and hiking permits, facilities.
We also have a special travel deal for group leaders. For example, if you could bring 10+ travelers (except you) to your trek, you are treated as a group leader. So you can hike jugal himal for free of cost.
However, we often arrange private trips in order to avoid group tours with strangers. A private tour gives you a better experience on your hikes. If you value personalization, flexibility, and in-depth experiences, a private trip customized to your personal needs will be the best option.
It is the standard trip package price for 2 week's trek. If you are 2 people Jugal Himal trek cost US$ 1598 for 14 days trek as given the trekking plan. We can modify the trek route and the prices as per your wishes also. Here is the price list for the jugal base camp treks.
Price Per Person for 14 days of hikes in the jugal mountain territory.
| Number of Tourist | Price Per Person |
| --- | --- |
| 1 Person | US$ 1750 |
| 2 Person | US$ 1598 |
| 3 Person | US$ 1550 |
| 4 to 6 person | US$ 1398 |
| 7 to 9 Person | US$ 1425 |
| 10 and more than 10 Person | US$ 1350 |
If you're wondering to know about what is included and what is excluded from this trip price, kindly check on the cost given on a tab button.
Itinerary
Jugal Himal trek itinerary details
Hike at Jugal Himal is a classical trek itinerary compared to most walks in this region leading up to the jugal peak base camp. Impressive jugal Himal climbing itinerary combines holy Panch Pokhari – lakes are the 9th highest altitude wetland in the world. The particular jugal Himal hiking route is designed for world explorers who wish to trek in a normal travel plan.
1 Day
Arrival at Kathmandu valley. World Heritage sites of Kathmandu Sightseeing, 4/5 hours.
Upon arrival in Kathmandu, Tribhuwan International Airport, we will pick you up with a private car transfer to your hotel in Thamel. Around midday at 12:00, we start our day trip to visit world heritage sites located in Kathmandu city.
Heritage sites on the Kathmandu day tour include Boudhanath Stupa and Pashupatinath temple (holy shrine of Hindus) where the cremation takes place by the holy river Bagmati). Later on, we visit Kathmandu Durbar Square to see glorious temples and the divine Kumari Temple. In the evening, Ammar Guni, a tour operator, and a guide will brief you Jugal Himal trek package information.
2 Day
Kathmandu to Chautara Bus ride (1,450m), 6 hours & Hike to Syaule (1,500m/4,922 feet), 3 hours
After breakfast, get ready to drive together to Chautara Bazaar. Chautara is the district headquarter of Sindupalchok, Nepal. Meet up with the entire trekking team and begin the Jugal Himal journey as it's truly a child-friendly and budget camping trek in Nepal. An easy hike trail further at Syaule and spend our first overnight at a tent camp.
3 Day
Kami Kharka trek (2,810m/9,219 feet), 5 hours
We walk gradual uphill walking to Thulo Okhareni. From here we get into the steeper climb with some hours of walking through stunning, dense Rhododendron and pine forest. If we are lucky and observant, we might spot some wild animals such as mountain deer or langur monkeys and Nepal's national bird Impheant pheasant "Danfe". Tonight we camp on a summer pasture ground for nomadic cattle herders at Kami kharka danda.
4 Day
Trek to Chyocho Danda (3,160m/10,368 feet), 6 hours
Today's we have a gentle walk through oak, oak, pine, juniper, and rhododendron forest. On a lucky day, tourists can see some wildlife as well as wildflowers. Our camping crew search and set up a camping place in a nice camping ground.
5 Day
Hille Bhanjyang Trek (3,400m/11,155 feet), 6 hours
This morning we have a steep uphill to get top hill, we get our breath back on the steep downhill though as we descend for 90 minutes through the forest. We have some great mountain views on our way down into our camp at Hille Bhanjyang.
6 Day
Narsim Pati hikes (3,800m/12,467 feet), 4 hours
We take it easy on the steep uphill section to start the day, enjoying the gradual descent of about 3 hours through rocky hills and rhododendron forest into the Narsim Pati campsite. There is a small rest house for pilgrims on their way to the holy site of Panch Pokhari and we have great mountain views from our campsite.
7 Day
Panch Pokhari Trek (4,100m/13,452 feet), 7 hours
Today we walk some hours of gradual ascent through rocky hills to reach our destination of Panch Pokhari (panch means 'five' and Pokhari means 'lake'). This stunning setting is a secluded pilgrimage site where the Janai Purnima festival is held in August.
Many Hindu and Buddhist pilgrims visit pilgrimage sites each year. At the lakes, we can see two pilgrim houses and the temple dedicated to Lord Shiva.
8 Day
Panch Pokhari hills day hiking
Catch a stunning sunrise over the mountains. We have about 90 minutes uphill to see the beautiful sight of the sun rising over the Himalayas and our panoramic view includes Mt.Dorje Lakpa, Jugal Himal Range, Rolwaling Range, and Langtang Range.
After this incredible start to the morning, we head back down to Panch Pokhari to rest to pack up and start heading home. We walk downhill some steep trails through the rhododendron forest to Tupi Danda (danda means 'ridge') and our camp.
9 Day
Gaikharka Trekking (2,530m/8,300 feet), 6 hours
Pack the camping gears and ready to leave with hiking gears to Gai Kharka campsite. The trek is a soft adventure so it is not difficult hiking.
10 Day
Yangri village trek (1,360m/4,462 feet), 6 hours
After Gaikharka visit, we descend downhill at Yangri village situated at 1,360m through gorgeous forest and pass a tiny Yarsa village to the Panch Pokhari Khola (river). Cross the river bridge and trek climbs to the Yangri village to set campsite to stay overnight.
11 Day
Gangdwang village hiking (2,100m/6,890 feet), 6 hours
Today is an easy hike to get Gangdwang village however we need to climb up some hundreds of meters to set up campsite to stay overnight.
12 Day
Tarke Ghyang – Gompa trekking (2,560m/8,399 feet), 5 hours
Today you can walk with easy hiking to get Tarke Ghyang, situated opposite Melamchighyang on the east side of a river valley. Tarke Ghyang is destroyed by a massive earthquake disaster in 2015 but it's under construction yet. Other attractions like Buddhist culture and their lifestyles are still alive.
Likewise, Tarke Ghyang is a gateway to visiting Ama Yangri peak trekking in Helambu. The Ama Yangri is considered to be a deity that has turned into the protector of the Helambu region. It is a hill station to get to majestic mountains in a single line without trek difficulty. Interested travelers can hike for about 4 hours to reach Ama Yangri peak base camp and return to Tarke Ghyang lodge.
13 Day
Timbu trekking (1,580m/5,183 feet), 6 hours
Passing a series of Mani wall and a monastery, we continue our day hikes under rhododendron forest before crossing a tributary to reach Kakani, tiny Sherpa settlements. You will pass another row of Mani walls and a chorten entrance before descending to Timbu where we stay the final overnight.
This is the final day of jugal Himal camping trekking. Our hiking team prepares a special black forest cake for a successful trip to ascend. Guest can enjoy singing top hiking songs with the entire crew member. Resham first, Pan ko pat, Simsime Panima, Maachi Kadaile…etc. are typical Nepali folk songs. Campers can enjoy singing the top trekking songs in Nepal singing in mountain hiking.
14 Day
Drive back to Kathmandu, 5 hours
Early morning we take a local bus (private vehicle cost an extra) back to Kathmandu city through Ariniko highway. You can do some last-minute shopping for souvenirs in Thamel for your family and relatives. In the evening join a typical Nepali dinner with Gokyo Treks Nepal. Trip finish.
Not satisfied with above plan?
Are you interested in planning a custom trip? this might take 2 to 3 minutes.
Cost
How much does the Jugal Himal base camp trek package price?
Hike to Jugal Himal base camp package price US$ 1598 per person is the standard trek price on double occupancy basis. For the deluxe and luxury trekking tour plan, we add a 3 to 5-star category hotel deluxe air-conditioned room in Kathmandu with breakfast. AND WE ARE OPEN TO CUSTOMIZING YOUR TOUR AND PACKAGE PRICE AS PER YOUR REQUIREMENTS.
Epic Jugal Himal trekking package price includes:-
Kathmandu international airport transfer with a private vehicle car/van on your arrival day.
Single night double bedroom accommodation in a tourist standard hotel in Kathmandu city center.
World heritage sites tour guide and a private car transfer for your private tours in Kathmandu valley.
13 Breakfast, 13 lunch, 13 Dinner served with Tea/coffee during the trek and driving days.
Tent camping accommodation while you are on jugal trekking days.
Langtang National Park entrance permits and their fees
Trekkers Information Management System (TIMS) permit fee.
Kathmandu – Chautara and from Melamchi Bazaar to Kathmandu Bus transfer.
Overland grounded transportation as per the above itinerary.
English-speaking Professional certified trekking guide.
An assistant guide will provide for 7 plus group tourists.
Professional cook and other kitchen helpers according to the group size.
Experienced porters (2 guests: 1 porter basis) because each porter carries a maximum of 24 kilograms.
Salary, food, accommodation, and travel insurance for Nepali hiking crew.
Seasonal fresh fruits like apples and pomegranates as a dessert after dinner for Jugal Himal base camp trekking.
Agency's duffel bag (50 liters capacity), and trek poles if Necessary – return after the trek.
First aid medical kit including Oximeter to check your Oxygen level, Pulse rate every day to save from high altitude risk.
Updated Jugal Himal trek map and Trek completion Certificate – keep as a souvenir.
Nepal Government Tax, VAT, and as well as Company service charge.
Jugal Himal camping trek package excludes:
Nepal entry visa fees
Lunch and Dinner during the staying in Kathmandu
Any kinds of battery charges, laundry service, phone calls …etc.
Individual tourist personal trekking equipment .
-10 comfort fresh Sleeping bag rental cost per piece US$ 2 per day.
Personal nature expenses, all types of and bar bills.
Travel Insurance which covers emergency rescue, evacuation, personal loss, or damage.
Donation and monuments entrance fees.
Gratuities for guide, cook, kitchen helpers, and porters [Tip is a culture, so they expect highly].
Any other things which are not mentioned above
Group join
We can organize private Jugal Himal trekking starting on any date that works for you. Please contact us for more information.
FAQ
Question: Is pick-up service available on my arrival day in Kathmandu?.
Answer: Yes sure! provide us with your flight details. Our representative will come to pick up you at Kathmandu international airport.
Question: Can I store my luggage/stuff in Kathmandu?
Answer: Yes, you can leave your luggage at your hotel or at our office. Store your stuff in the Gokyo Treks agency office for free.
Question: Is jugal mountain trek Safe for Solo Female Trekkers?
Answer: Absolutely. Nepal is a safe country to travel to for solo travelers; this trek is perfectly safe for solo female trekkers. We have been organizing the trek even for solo female travelers since its establishment.
Question: What kind of accommodation can I expect on the jugal Himal base camp trek route?.
Answer: We provide you tourist standard accommodation in Kathmandu and you will have Tented camping accommodation along the routes. But you need to take your own sleeping bags if you have one with you otherwise, you may rent them while you are in Kathmandu.
Question: What kind of food can I expect on this trek?
Answer: Our professional cook cooks a delicious range of mostly vegetarian such as Pasta, tuna bakes, noodles, potatoes, eggs, curry rice, bread, soups, and fresh vegetable. Dinner and breakfast are provided in the same lodge you spend the night every day and Lunch provides on the way to the next place where you hike.
Question: What opportunities will I have for a shower along with the Jugal Himal camping trek?.
Answer: As we go in camping and trekking, we provide you with a hot water bucket for a shower.
Question: How do I get drinking water on express Jugal Himal trekking?
Answer: We provide you Aqua tablets to purify the normal water as the normal water is available at the campsite along with the hikes.
Question: Can I charge my digital camera or other batteries on my Jugal Himal base camp camping treks?.
Answer: In Tented camping trekking there is very very little chance to charge the battery. We recommend you bring an extra pair in case. Remember to bring your own adapters!
Question: Are there any communication facilities on Jugal trekking?.
Answer: Yes! Sometimes you can get telephone services as well as the internet, so buy a local SIM card.
Question: Can I use credit cards in Jugal treks?.
Answer: No!. To maintain your daily expenses on a trek you need to bring all in cash Nepali rupees because credit cards work only in the bigger cities.
Question: When should I book my trip and what are the payment terms?
Answer: Because our trips book up months in advance, we recommend booking early to avoid any kind of misunderstanding. We will, of course, make every effort to accommodate last moment bookings. And regarding the deposit, we prefer a 20% advance deposit of the total price of the trip in order to confirm your reservation before you arrive in Nepal. And the rest of the payment can be made after your arrival in Nepal.
Question: Who will carry my luggage on camping Jugal peak trekking?
Answer: We provide porters to transfer your luggage. As we are a responsible trekking tour operator agency, each of our porters carries a maximum of 25 kilos of your backpack which means 2 guests (12.5 kg luggage of each guest): 1 porter basis.
Question: How much distance do I walk each day?
Answer: When walking in the mountains, the distance you cover each day can vary greatly due to gradient, terrain, and altitude. As such it is very hard to give specific distances for each day, however, you have to be prepared to walk for roughly about 5 hours each day.
Question: Do I need walking poles?.
Answer: It is better to hike with walking poles. Learn how to use trekking poles for balance and stability, whether on the sidewalk or on trails. Walking poles can help prevent slips and falls. They are just recommended but not compulsory.
Question: How much additional money do I need per day?
Answer: You can allocate US$ 08 – 10 for a lunch/dinner in Kathmandu and it depends on your spending habits. US$ 7 to 10 US$ each day will be enough to buy bottles of water, chocolates, tea coffee, and some drinks while you are on your trek.
Jugal Himal base camp trek highlights
Discover some of the tallest Mountains and colorful rhododendron forests (Spring).
Walk through cultivated fields, colorful Rhododendron, conifers, and oak forest.
Best mountain view including Dorje Lakpa (6,966m), Phurbi Chhyachu (6,637m), Madiya (6,257m)
Experience the Local Sherpa and Tamang villages and their lifestyles.
Notes for Jugal Himal trekkers!
Trek to jugal Himal itinerary is subject to change due to a condition beyond our control. This is a Guideline showing tentative camp night stops. The physical, technical, and natural conditions may change the above itineraries.
What makes the jugal Himal trek special?
Opportunities for challenging trekking adventures are scattered all over this planet. You just need to know where to find them. We at Gokyo Treks and Expedition believe in quality services. Your safety and satisfaction is our concern. We are a team of professional, experienced, and licensed local guides who know the destination better.
Jugal Himal Trek Review
There are no reviews yet. Be the first one to write one.
From US$ 1682
5% Off
US$ 1598
| | |
| --- | --- |
| No. of people | Price Per Person |
| 1 | USD 1750 |
| 2 | USD 1598 |
| 3 | USD 1550 |
| 4 - 6 | USD 1398 |
| 7 - 9 | USD 1425 |
| 10 + | USD 1350 |
Book Now
Customize Trip
Cost & Departures
Your Trip Your Style!
ITINERARY, COST, DEPARTURES, will adjusted according to your GROUP SIZE NEED TIME
Book with Confidence
Lowest Price Guaranteed.
100% Customizable Trips
Excellent Customer Service
Hassle Free Booking.
90 % Repeated customers
Highly Recommended agency
Private/group tour options
Local Guides Company.