10 Unexpected Health Benefits of Hiking
You already know that hitting the trail can help condition the heart and tone the leg muscles, but there's so much more to hiking than that. Conquering a particularly challenging trek is a true full-body workout with benefits for the mind that improve your life beyond physical health. Here are a few of the besides-the-obvious health benefits you'll enjoy when you spend time outdoors on your favorite trail or path. Get to know the list of 10 Unexpected Health Benefits of Hiking.
1. A Stronger Core
Naturally, tackling rocky, uneven terrain and steep inclines will do wonders for your calves and thighs, but that's not where it ends. The fact is that hiking is a weight-bearing activity that requires full-body balance, which helps to build strength in your abs, obliques, glutes, pelvic floor, and other core muscles. A stronger core has some benefits of its own, including better balance and a reduced risk of injury.
2. A Reduced Risk of Osteoporosis and Arthritis
Because, as we mentioned, hiking is a weight-bearing exercise, it's also very good for your bones. Just like our muscles, our bones are living tissues that get stronger when we exercise, so any weight training activities will lead to stronger bones and a lower risk of osteoporosis and arthritis. Because older adults (age 50 and older) are at a much higher risk of developing these conditions, hiking is routinely recommended for this age group.
3. A Stronger Immune System
In order to ward off illnesses and allergies, your body needs to be exposed to them, and the only way to get exposed to them is to go outside. This applies during cold and flu season, too. Contrary to popular belief, it's not the cold weather that causes colds, but the close proximity to others due to constant time spent indoors. The experts say that going outside can reduce the risk of spreading infection because you're breathing fresh air rather than recirculating infected air.
4. More Creativity
Experiencing an impassable creative block? Head outside! It's no secret that nature spurs creative thought — just read Thoreau's "Walden" or take a gander through the works of Monet, Van Gogh, O'Keeffe, or Frank Lloyd Wright. Nature is the ultimate impetus for creation, and being creative can lead to overall happiness and reduced stress. Tips: Head out on the trail with your notebook or sketchbook early in the morning or at dusk for some solo self-expression (just make sure to pack a headlamp or a rechargeable flashlight in your backpack) and check out some of the Flora and Fauna on the trail.
5. A Happier Mood
Have you ever noticed that you feel a sense of pure joy after having conquered an especially tough trek? There's a scientific reason for that. First and foremost, it's the endorphins (think: runner's high). On top of that, though, there's exposure to vitamin D and fresh air, two things that are known to boost the mood and make you feel all-around happier. The calm surroundings, the break from your screen, and the connection with your hiking buddies also lead to a better overall mood.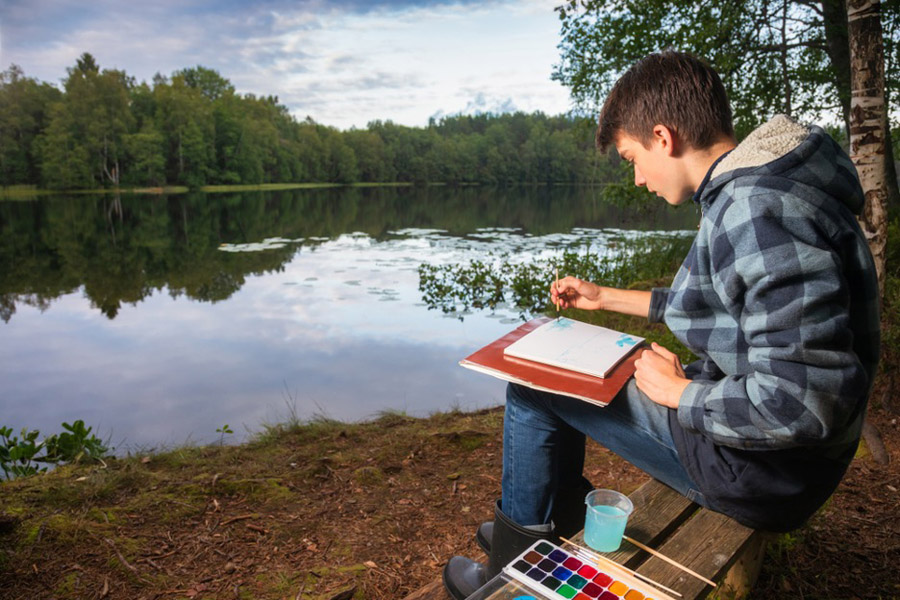 6. A Sharper Mind
Did you know that there's research suggesting that spending time outside makes you smarter? Indeed, exercise of any kind — hiking, sports, dance, running, etc. starts to affect cognitive function at an early age. In one ongoing study at Northeastern University, research indicates that children who run and play for 70 minutes a day have better cognitive skills than their peers who don't. Other studies suggest that routinely spending time outside causes increased creativity, attention, and memory.
7. Less Anxiety and Stress
Research shows that leisurely forest walks can lead to a significant decrease in the stress hormone cortisol and sympathetic nerve activity, which triggers the fight-or-flight response. It also helps lower blood pressure and heart rate. All of these decreases mean one important thing for your body less stress and anxiety. Interestingly, many cultures have capitalized on this data and implemented the findings into their health recommendations. For example, in Japan, "forest bathing" is a widely adopted form of outdoor therapy for stress and anxiety. Similar therapies are also gaining steam in Finland and South Korea.
8. A Reduced Risk of Hypertension
Hypertension (high blood pressure) occurs due to a variety of health and lifestyle factors, including smoking, poor diet, excessive alcohol consumption, and genetics. But, two of the most widely accepted ways to lower it are exercise and stress reduction, which you can accomplish with the occasional hike or two. If you have hypertension, though, it's best to avoid any high-altitude hikes and check your blood pressure before exercising in the mountains.
9. Better Relationships
Want to bond with friends, family, or a new love interest? Heading out for a scenic hike is one of the best ways to do it. This is because it's one of the few exercise activities that involves setting down the screen and enjoying distraction-free conversation for an hour or so. Additionally, it can even help you meet like-minded people if you're new to an area or looking to extend your social circle. There are a number of active hiking clubs throughout the U.S. that you can join to connect with others who enjoy spending some sweet social time in the fresh air.
10. A Clearer Conscience
Solitude in the wilderness is one of the original problem-solving hacks — got something on your mind you need to sort out? Hit the trail and stop at the summit to think hard and self-reflect. Spending time outdoors also allows you to connect with and respect nature, which will help you feel like a better citizen and a stalwart steward of the environment.
The Takeaway: A Hike is Never a Bad Thing
The truth is that happy, healthy, and well-balanced people spend more time outside in the parks, and the correlation is not a coincidence. Integrating some quality trial time into your routine — say, once or twice per week — is an excellent way to support your entire being, from the brain to the toe. So get outside, hike, and watch the benefits materialize right before your eyes!
---