Rapid Annapurna Trek summary
AC Trek Duration: 10 Days
AC Trek difficulty: Easy to Moderate
Maximum height: 17,710 feet Thorong la Pass
Average Hiking Hour: 6 hours daily
Group-Size: 1 – 20 People
Best Time: March, April, May, October, November and December.
Trip Mode: Guest House Basis
Meals on Trek: Breakfast, Lunch, and Dinner daily
Transport: Car/Bus/Plane
Overview
The rapid around Annapurna trek is a top most popular trek destination, rich in diverse culture, flora, and fauna. Thorong La, the world's widest pass has a moderate trek difficulty situated in a Tran Himalayan zone in the Himalayas.
Likewise, the Kaligandaki valley is the world's deepest canyon, sided by the giant Dhaulagiri and Annapurna mountain range. The total length of this walking journey starting from Dharapani until Jomsom airport is 77.7 kilometers.
Climbing Thorong la is a standout amongst the most incredibly wonderful, extraordinary encounters you can have on your movements, and we're almost certain that, similar to us, you'll be completely charmed by the zone from the absolute first day.
Twisting through a portion of the world's tallest mountains and various climatic zones (from tropical to solidifying high pinnacles), serious days spent on your feet, and getting a charge out of the wonderful neighborliness of the Nepalese individuals and their interesting mountain towns: the Annapurna circle short trek 10 days you'll spend on the trail are probably the most moving and testing you'll ever undergo.
Furthermore, you can observe the diverse community settlements such as Brahmin, Chhetri, Tibetian sherpa, Thakali, Magars, Tamang, and Gurung. You can see wild animals such as Himalayan Thar, Mountain Goat, Jackal, Leopards, Jackal, birds such as pheasant, long-tail birds among others.
The widest pass in the Himalayas is Thorong la, located over the rocky moraine. Annapurna circuit elevation profile says that Thorong La is the highest pass at 5,416m/17,710 feet above sea level. Due to Thorong la pass difficulty, it's usually roamed in a counterclockwise direction.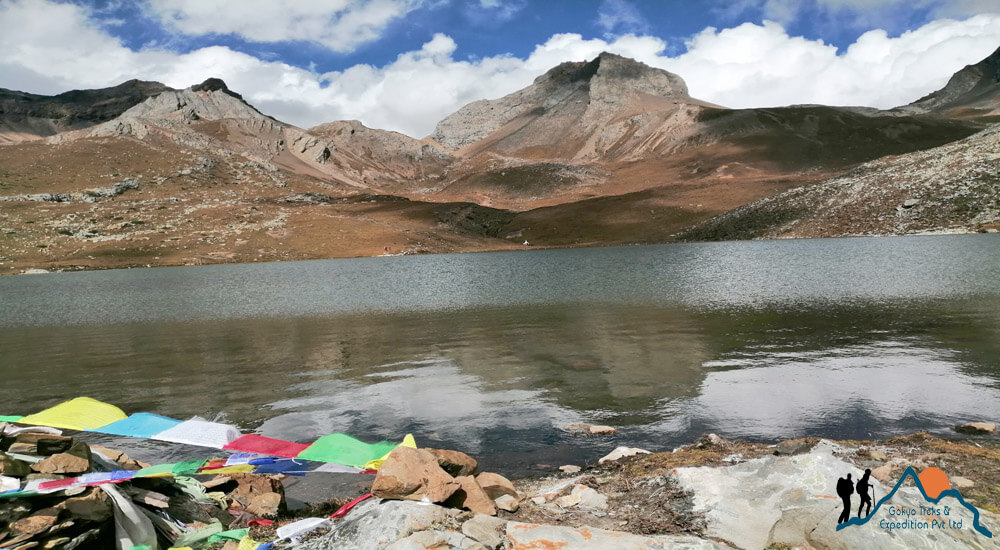 Why around Annapurna trek?
Fastest or quickest Ac trek is possible within 10 days. Furthermore, the short around the Annapurna trek is considered one of the most popular and classic trekking routes on earth. It will let you have enormous experiences of touring the Annapurna Himalaya region of Nepal. An exciting journey takes us to a wide range of fantastic panoramas of the Annapurna to the Dhaulagiri range.
Around annapurna trek map for trekkers
What are the mountains you see on your hikes?
On your journey exploring around the annapurna, Tourist can see mainly Annapurna mountains. They are majestic summits, located in the Annapurna region. Mount Manaslu (8,163 m), Mt.Annapurna II (7,937 m), Mt.Annapurna III (7,555m), Mt.Annapurna IV (7,525m), and Tilicho peak (7,134m) are simply impressive. Likewise, Tourists can perceive Mount Dhaulagiri (8,167m), Tukuche peak (6,920m), Mt.Annapurna south (7,219m), Mt.Nilgiri (7,041m) crossing the Thorong la. Furthermore, Mt.Annapurna Ist (8,091m) view is possible from the aircraft while you are flying from Jomsom to Pokhara airport.
Trekking in the Annapurna round in January and February is also possible but it totally depends upon the winter snowfall and changing the weather. Around the Annapurna, trek solo is also possible but not recommended. Traveling clockwise the longer ascent and shorter descent from west to east is too much for many people to manage in one day but the hike is possible at any time throughout the year.
How much does for around annapurna trek Package Trip Cost?
Around annapurna trek trek cost depends upon the month and the group size you are coming with. The cost of around annapurna trek package with a Gokyo Treks Agency in Nepal ranges between US$ 775 to 998. Typically, the Annapurna round trip price will vary according to group size and month you travel to.
For example, if you could bring 10+ travelers (except you) to your trip, you are treated as a group leader. So you can hike around Annapurna for free of cost. Besides that, around annapurna trek trek cost for nepali is cheaper than foreigners because of Annapurna permits. Taking flights to Pokhara and from Pokhara to kathmandu saves your time and riding the bus reduces the trip expenses.
It is the standard trip package price for 10 days trek. If you are 2 fellow want to hike round Annapurna privately costs US$ 845 for 10 days as per round Annapurna trekking plan. We can adjust the routes and the prices as per your wishes also. Here is the price list for rapid Thorong pass treks.
Price Per Person for 10 days for Thorong pass trekking
| Number of Tourist | Price Per Person |
| --- | --- |
| 1 Person | US$ 998 |
| 2 Person | US$ 845 |
| 3 Person | US$ 845 |
| 4 to 6 person | US$ 825 |
| 7 to 9 Person | US$ 799 |
| 10 and more than 10 Person | US$ 775 |
If you're wondering to know about what is included and what is excluded on this trip price, kindly check on cost given on a tab buttun.
Itinerary
Around Annapurna trek itinerary details
The 10 days Annapurna round trek itinerary is a classical hike compared to most walks in this region. The particular route is designed for globetrotters who wish to Thorong la pass hiking with an easy travel plan, take a look at this special itinerary on Annapurna Circuit Trek. However, if you travel with a limited time? follow the given travel plan.
01 Day
Bus drive to Besisahar (760m/2,494 feet) – Dharapani (1,810m/5,937 feet), 10 hours.
Early morning, guide will come at 7.00 am in the morning to pick you up. We have 7 hours of driving to Besishar, 185 kilometers far from Kathmandu valley. On arrival at Besisahar, you will witness stunning snow-caped mountain scenery. Besisahar is a gateway to exploring Annapurna where to start lodge basis Annapurna circle trekking.
Local jeep drive starts from Besisahar to Dharapani. It is a local jeep ride on a passenger collection basis. Want to rent a private jeep drive? (cost roughly USD 120 extra, but depends upon the traveling months, maximum 7 people). However, the driving distance between Besisahar to Dharapani is 330 km and takes about 5 hours roughly. The length of time is depending on the road condition and traffic. The day begins with the off-road drive with a local jeep following the Marsyandi Rivers steadily uphill. We make a trail verse crossing a wide, flat valley. The trek journey starts up and down to Dharapani at 1,890 meters.
02 Day
Trek to Chame (2,630m/8,629 feet), 5/6 hours.
Stone entrance Chorten typical of the Tibetan influenced villages. Bagarchhap is the typical flat-roofed stone houses of local Tibetans design along with the village surrounding with apple Orchards and maize fields.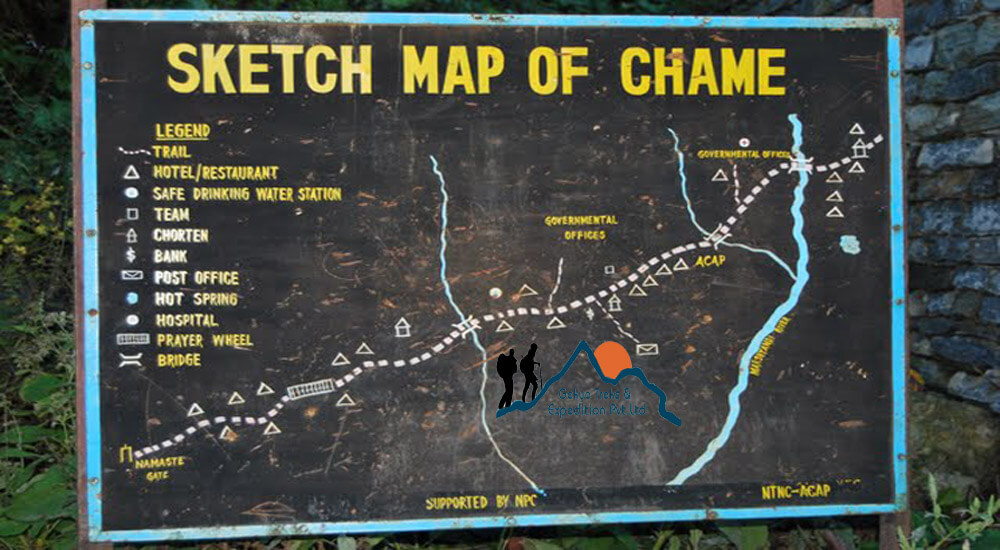 Continue hike further through the forest, we reach Kopar at 8,495 feet and Chame. The Chame is the headquarters of the entire Manang district, where the tripper can receive a fine view of Annapurna II. There are also two small hot springs across the river where tourists can enjoy a hot bath. Moreover, vacationers can introduce to a local community who migrated from Tibet a long time past.
03 Day
Pisang village trek (3,300m/10,827 feet), 6/7 hours.
The day starts through deep forest in a steep and narrow valley, crosses a river on a long bridge. Continuously cross another bridge at 9,971 feet, from where the view of the soaring Paungda Danda rock face really begins to appear. From there the trail joins to climb to Pisang, which sprawls between 3,200 to 3,300 meters. Undergo manangis lifestyles and tonight we stay at Upper Pisang.
04 Day
Braga village Trek (3,475m/11,401 feet), 6/7 hours.
The trail leads you through the drier upper part of the Manang district, cut off from the full effect of the monsoon by the Annapurna Range. People of the Manang territory herd the yaks and raise crops for part of the year. They also continue to enjoy special trading rights gained way back in 1784. Braga village of Manang is a popular resting point for climbers acclimatizing before attempting the Thorong La Pass (5415 meters). One night in Braga/Manang may turn into two or three. The village entices visitors with sights to see and places to explore.
Braga is a small Himalayan village where you can make out its characteristic monastery, which is one of the oldest in the territory. Inside are hundreds of Buddha statues, and the view from the roof is a highlight of the entire area. The monks attempt to Kathmandu in October for teaching, and local villagers look after the monastery. If you come at this time, you'll need to locate the key – which can take up to an hour and involves a lot of disturbance while the key-holder is found.
We have alternate pathways north and south of the Marsyandi River. The southern route goes to Humde airport at 3,325 meters which involves less climbing than the northern route via Ghyaru, though there are better views on the trace that follows the northern bank of the river. Hikes through the past the picturesque but partially hidden village of Braga at 3,475 meters near the center point of Manang.
05 Day
Manang Trekking (3,551m/11,650 feet), 1 hour (Acclimatization day).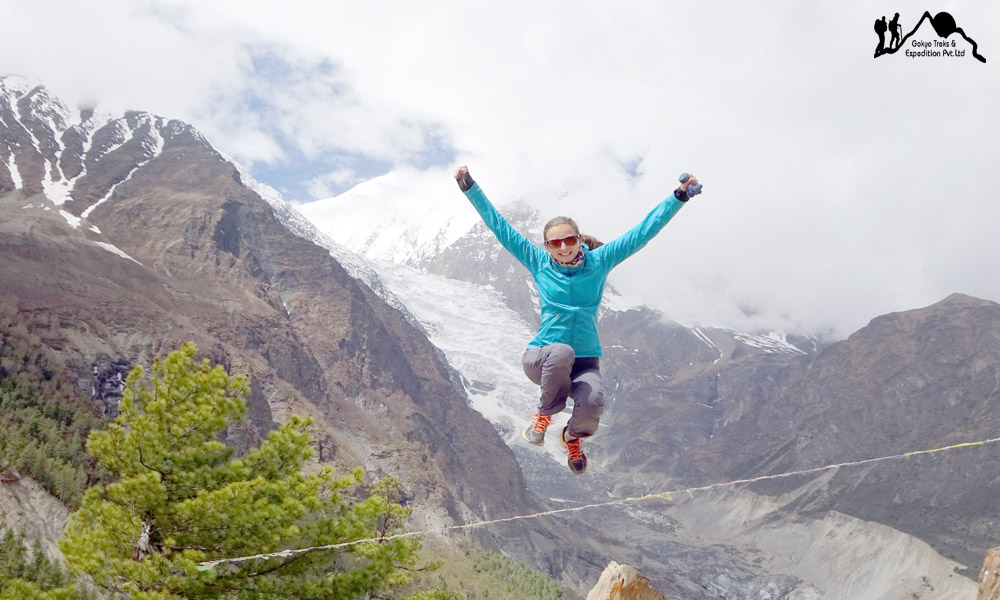 Hike about 1 hour to reach at the main downtown of Manang village. As today, is an acclimatized day, you can rest to save energy but we recommend you to spend doing some fine walks to Gangapurna viewpoint and Gangapurna glacier and return. That helps your body to acclimatize properly. There are many things to do in Manang trekking, you can also visit ice lake, Gangapurna Glacier lake, view point…etc.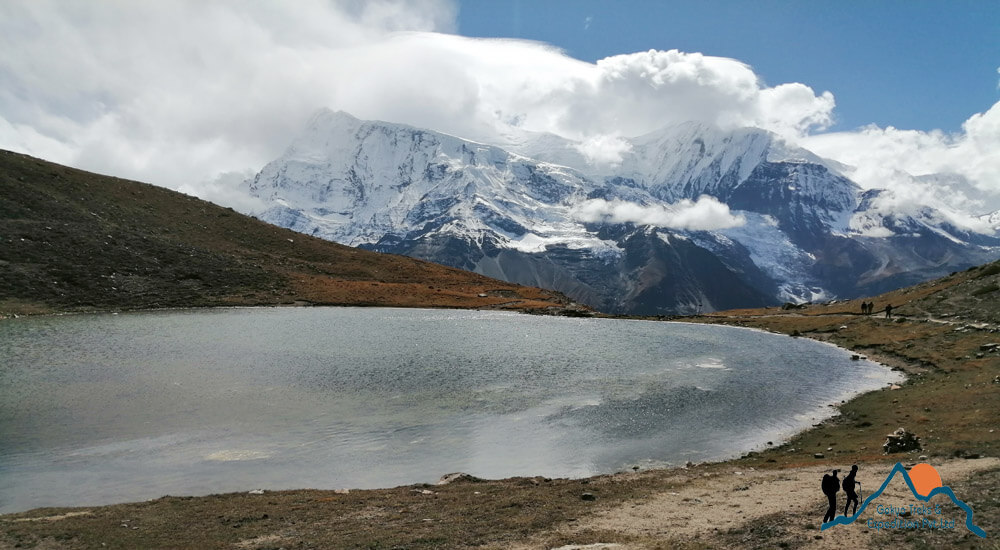 06 Day
Yak Kharka hiking (4,050m/13,288 feet), 3/4 hours.
Trek leads through cultivated potatoes land with majestic landscapes around Tanki Manang. Reaching at Gunsang lodges, trail makes an ascent of nearly 500 meters to the Yak Kharka. Yak Kharka lodge locating at an altitude in 4,000 meters where the many yaks and vegetation steadily more sparse.
07 Day
Thorong Phedi trek (4,450m/14,600 feet), 2/3 hours.
After ascending for two hours the trail descends to cross the river at 4,310 meters. Climb up to Thorong Phedi at 4,450 meters passing one of the most dangerous stone slides area. There are good guest houses and offers very good foods, Bakery, as well as Internet and telephone facilities. We advise you to stay at Thorong la high camp guest house as it's surrounding offers remarkable mountains sceneary. Staying at a high camp saves you energy to touch Thorong la pass almost one hour earlier on the next day.
08 Day
Thorong la pass (5,416m/17,770 feet) – Descend to Muktinath Temple, 8 hours.
Today is challenge day rather than others. We begin our trip very early in the morning. At sunrise, we need to set out early to complete the crossing of the Thorong la at 5,416 meters. The trail is steep right from the start, but with a slow and steady pace, we should reach the thorong la summit in 4 hours of hiking. Prayer flags and hot tea await you as we reach the highest point of our trek route.
From Thorong la to Muktinath trek takes another 4 hours downhill walk over the sands and stone payables. Be careful, especially while walking over steep downhill as the stone payables on Thorong la Annapurna mountain are very tiny and sleepy. Our descent to Muktinath is long, and also stressful because of walking over the snowy slopes. But the border Himalayas and the Dhaulagiri family are simply amazing. Muktinath Temple has a large settlement with several lodges installed in modern facilities.
09 Day
Jomsom Bazaar hiking (2,713m/8,901 feet.), 4 hours.
Majestic view with the mustang landscapes makes your journey just amazing. Descending from Muktinath to Jomsom is much easier to ascend. First, we climb to the Lubra Danda and walk down to the Lubra village, one of the picturesque Thakali villages. In addition, The journey offers a superb view of Dhaulagiri, Nilgiri, Tukuche, and other surrounding snow-capped peaks just next to you. The wide and flat sandy trail goes along the kali Gandaki riverbanks and leads to the district headquarters of Mustang. Jomsom bazaar stays with nice lodges and hotels within 24 hours of hot showers and a good meal will allow for a quick recovery after today's long and difficult excursion.
10 Day
Fly to Pokhara (25 minutes) & drive to Kathmandu valley, 7 hours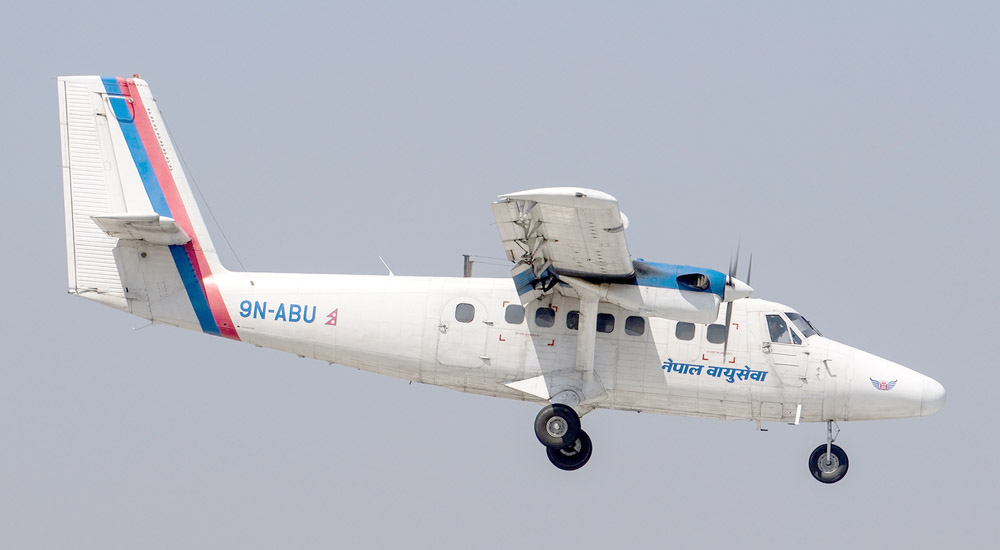 All the Jomsom flights are available during the morning time cause after 9 AM windstorm starts. A strong breeze blows during and after and frequent changes in the weather prevent flights from landing and taking off in the afternoon. The distance between Jomsom to Pokhara is 62 km, likewise, the road distance is 146.1 km.
In addition, Pokhara to Jomsom flight price Nrs 4,500 (Nepali), Nrs 5500 for Indian, and US$ 125 for other nationals. Kathmandu to Jomsom flight ticket price is Nrs 6,000 (Nepali), Nrs 9,000 for Indian, and US$ 210 for other nationals for a single way. And returning airfare from Jomsom to Kathmandu is also the same. During the flights in the morning, the skies look very clear which allows you to enjoy splendid views of different mountain peaks.
As soon as we land at Pokhara airport, then we can arrange a transfer for your accommodation on Phewa lake side if you wish to stay longer days, otherwise we take a bus back to Kathmandu. The bus drive takes about seven hours roughly. After a little refreshment, drop you at the international airport for your further flights.
Not satisfied with above plan?
Are you interested on planning custom trip? this might take 2 to 3 minute.
Cost
How much is around the Annapurna trek cost?
The cheap hikes at around Annapurna trek price USD 845 per person. Taking flights to and from Pokhara saves your time and riding buses reduces the trip expenses. Trek that starts from Dharapani to Jomsom is also popular as an Annapurna circuit trek 10 days.
For the deluxe and luxury trekking tour plan, we add Pokhara – Kathmandu trip airfare, 3-5 star category hotel deluxe air-conditioned room in Kathmandu and in Pokhara. Additionally, with attached bathroom while on trekking on possible places. AND WE ARE OPEN TO CUSTOMIZING YOUR TOUR AND PACKAGE PRICE AS PER YOUR REQUIREMENTS. International tour leaders are highly encouraged to get discounts and attractive complimentary.
Standard trek around the Annapurna Himalayas 10 days price includes:
9 Breakfast, 9 Lunch and 9 Dinner during the trekking and travelling days.
Guest house accommodation around the annapurna mountains tour.
Bus transfer from Kathmandu to Besisahar on a first day.
Bus from Pokhara to Kathmandu for guide and porters as describe above on travel plan.
Domestic flight : Jomsom to Pokhara airfare with applicable domestic airport departure tax.
Fully escorted trek with English speaking license holder local guide.
Professional porter (each 2 guest = 1 Porter basis) carry maximum 24 kilos of tourist bagpacks.
Annapurna Conservation permit and TIMS permits for Trekking tours.
Local jeep ride transportation Besisahar to Dharapani (passenger collection basis) as per itinerary.
Food, accommodation, Medical & travel acedential insurance and salary of Nepali trek Guide – Porters.
Seasonal fruits like apple and pomograntes as a deserts for round Annapurna trekking.
Agency's Certificate of appreciations after around the Annapurna successful treks.
Nepal Government Tax, VAT and as well as Company service charge.
Cheap Annapurna round trekking 10 days price excludes:
Nepal entry visa fee US$ 40.
Lunch and Dinner during the staying in Kathmandu and Pokhara city.
Any kinds of battery charges, laundry service, phone calls and hot shower during the trekking.
Personal trekking equipment and Clothing.
Personal nature expenses, all types of drinks and bar bills.
Travel Insurance which covers emergency Rescue and Evacuation.
Any types of donation and monuments entrance fees.
Tips for the crew (Note : TIPS is not compulsory but highly expected)
Any other things which are not mentioned above
Group join
We can organize private around annapurna trek starting at any date that works for you. Please contact us for more information.
| Departure Date | Availbility | Price | Book |
| --- | --- | --- | --- |
| 10 Sept, 2022 – 20 Sept, 2022 | Avaiable | 845 | |
| 20 Sept, 2022 – 30 Sept, 2022 | Avaiable | 845 | |
| 05 Oct, 2022 – 15 Oct, 2022 | Avaiable | 845 | |
| 10 Oct, 2022 – 20 Oct, 2022 | Avaiable | 845 | |
| 20 Oct, 2022 – 30 Oct, 2022 | Avaiable | 845 | |
| 25 Oct, 2022 – 04 Nov, 2022 | Avaiable | 845 | |
| 05 Nov, 2022 – 15 Nov, 2022 | Avaiable | 845 | |
| 10 Nov, 2022 – 20 Nov, 2022 | Avaiable | 845 | |
| 20 Nov, 2022 – 30 Nov, 2022 | Avaiable | 845 | |
| 05 Dec, 2022 – 15 Dec, 2022 | Avaiable | 845 | |
| 20 Dec, 2022 – 30 Dec, 2022 | Avaiable | 845 | |
| 10 Feb, 2023 – 20 Feb, 2023 | Avaiable | 845 | |
| 20 Feb, 2023 – 02 Mar, 2023 | Avaiable | 845 | |
| 10 Mar, 2023 – 20 Mar, 2023 | Avaiable | 845 | |
| 20 Mar, 2023 – 30 Mar, 2023 | Avaiable | 845 | |
| 25 Mar, 2023 – 04 Apr, 2023 | Avaiable | 845 | |
| 05 Apr, 2023 – 15 Apr, 2023 | Avaiable | 845 | |
| 10 Apr, 2023 – 20 Apr, 2023 | Avaiable | 845 | |
| 20 Apr, 2023 – 30 Apr, 2023 | Avaiable | 845 | |
| 25 Apr, 2023 – 05 May, 2023 | Avaiable | 845 | |
| 10 May, 2023 – 20 May, 2023 | Avaiable | 845 | |
| 20 May, 2023 – 30 May, 2023 | Avaiable | 845 | |
Guaranteed – Trip is Guaranteed to run.
Available – Trip is available to run if minimum group size is filled
Limited – Only few space available
FAQ
Question: Do I need the experience to do 10 days Annapurna round treks?
Answer: Actually Not ! But it is suitable for keen trekkers/walkers who are able to walk around 4 or 5 hours in a day, with a lightweight day pack. For this trekking, if you have about a little experience would be better.
Question: Is pick up service available on my arrival day in Kathmandu?
Answer: Yes sure. Provide us with your flight details. Our representative will come to pick you up at Kathmandu international airport on your arrival.
Question: Can I store my luggage/stuff in Kathmandu or in Pokhara?
Answer: Yes, you can leave your luggage at your hotel or at our office. Store your stuff in the Gokyo Treks agency office for free.
Question: Is this trekking Safe for the Solo Female Trekkers?
Answer: Absolutely. Nepal is a safe country to travel to for solo travelers; this trek is perfectly safe for solo female trekkers. We have been organizing the Annapurna base camp trek even for solo female travelers since its establishment.
Question: What kind of accommodation can I expect on express around Annapurna trekking 10 days?.
Answer: We provide you tourist standard accommodation in Kathmandu and during the trekking routes. the rooms along the routes are clean with a cozy bed with a nice mattress and blankets. However we recommend you take your own sleeping bags if you have one with you otherwise, you may rent them while you are in Kathmandu.
Question: What kind of food can I expect on the round Annapurna trek?.
Answer: All the guesthouses around the Annapurna trek route, have attached restaurants. They cook a delicious range of mostly vegetarian such as Pasta, tuna bakes, noodles, potatoes, eggs, curry rice, bread, soups, and fresh vegetables (variety depends on the season)
We provide dinner and breakfast in the same lodge you spend the night every day likewise, the Lunch provides en route to the next place where you are hiking.
Question: What opportunities will I have for a shower?.
Answer: There are many Guesthouses along with the trek routes, they have a shower which you can get somewhere paying and somewhere without paying.
Question: How do I get drinking water on AC express 14 days trek?
Answer: Around the Annapurna trek route there are all places hotel and shops where you can able to buy mineral water and you can buy it for drinking but however we advise against buying mineral water in plastic bottles, as currently there are no provisions for disposing of these. Instead, we advise you to buy either boiled water or bring aqua tablets to purify the normal water as the normal tap water is possible to find along the way.
Question: Can I charge my digital camera or other batteries on my trip?
Answer: During the lodge trekking there will be more chances to charge the battery. We recommend you bring an extra pair in case. Remember to bring your adapters! An extra battery will be recommended.
Question: Are there any communication facilities?
Answer: Around the Annapurna trekking route you can get telephone services as well as 3G internet. So we advise tourists to buy a local SIM Card and also buy a data pack to use high-speed internet.
Question: Can I use credit cards on Annapurna hike?.
Answer: No. You need to have cash Nepali rupees along the hikes to maintain your daily expenses. Because credit cards don't work in mountain lodges. You can use credit cards only in bigger cities like Pokhara and Kathmandu towns.
Question: When should I book my trip and what are the payment terms?
Answer: Because our trips book up months in advance, we recommend booking early to avoid any kind of misunderstanding. We will, of course, make every effort to accommodate last-minute reservations.
And regarding the deposit, we prefer a 20% advance deposit of the total price of the trip in order to confirm your reservation before you arrive in Nepal. And the rest of the payment can be made after your arrival in Nepal.
Question: Who will carry my luggage?.
Answer: We provide porters to transfer your luggage. As we are a responsible trekking tour operator agency, each of our porters carries a maximum of 25 kilos of your backpack which means 2 guests (12.5 kg luggage of each guest): 1 porter basis.
Question: How much distance do I walk each day?.
Answer: When walking in the mountains, the distance you cover each day can vary greatly due to gradient, terrain, and altitude. As such it is very hard to give specific distances for each day, however, you have to be prepared to walk roughly about 5 hours each day.
Question: Is it possible to rent a guide? how to hire a local trek guide for 12 days?.
Answer: Yes of course. If you are not happy to go with the complete around the Annapurna trek package trip, still you can hire our expert guide to make your holiday tour safer. However, visit a guide and porter hire or email us for your detail travel inquiry.
Question: What about hiking poles, do I need them?
Answer: Yes, it is better to hike with walking poles. Learn how to use trekking poles for balance and stability, whether on the sidewalk or on trails. Walking poles can help prevent slips and falls. They are just recommended but not compulsory. But if you are experienced hikers and have never used hiking poles before then it's okay.
Question: How much additional money do I need per day?.
Answer: You can allocate US$ 08 – 10 for lunch/dinner in Kathmandu and it depends on your spending habits. US$ 7 to 10 US$ each day will be enough to buy bottles of water, chocolates, tea coffee, and some drinks while you are on your hikes.
Around Annapurna Trek Review
Brilliant hospitality, service and organization
I returned home about 10 days ago from an amazing trip to beautiful Nepal! I booked trekking in Annapurna in advance with Gokyo Treks and Expedition and could not be happier about my decision. Ammar Guni, manager of the agency, offered me to stay at his house in Kathmandu before and after the commencement of the trekking.
Ammar and his family treated me as a friend, not as a client. They are very warm people who ensured I am well and safe and made me feel at home. The house is located about 25′ by taxi from the airport in a quiet neighborhood and is just a 20′ walk on foot from touristic Thamel, which makes it an excellent location to explore Kathmandu. Ammar organized the trekking to perfection. He was proactive in informing me prior to my departure about the weather conditions that could affect my trekking and suggested alternatives.
Ammar assigned me as porter-guide Kamal. I could not have been more content. Kamal is the best guide ever. He took care of me when I was sick and made sure that I eat properly and take my medicine, selected nice tea houses and bargained accommodation prices, motivated me when the altitude and exhaustion had taken a toll on me, in short, he was my guardian angel during the whole trekking. He is an experienced and knowledgeable guide and a beautiful soul. Judging from Kamal, I am 100% that all the guides, who work at Gokyo Treks, are experienced and reliable.
Apart from organizing the trekking, Ammar also informed me of sights I could visit during my stay at Kathmandu and even booked the taxis to and from the airport, always at the best prices. Moreover, his nephew accompanied me on the day of my arrival at the city center to manage trekking equipment.
With all these services Ammar went far beyond his role as a trekking agent. The professionalism, generosity, and hospitality of Ammar, his team, and his family are exceptional! He made my trip to Nepal a memorable experience. I could not have chosen a better agency. I will definitely be back! If you have doubts, about whether to book with Gokyo trekking or not, just BOOK
Thorong la Pass Trek
The first time I visited Nepal for the Annapurna Circuit was with my dad Dieter who visited Nepal two times earlier with the Gokyo Treks Agency. The Trek was very beautiful and mind-blowing.
Our Guide Ram was very professional, friendly, and easygoing. Porter Dependra was friendly and great caring during the trek.
Thanks to Ammar, leader, and founder-director of the Gokyo agency, and his whole team for the excellent work they have done for us to have a Trip to Nepal I will never forget.

Around the Annapurna Himalayas trek highlights
Although the hike around the Annapurna range is impressive but it's tough and challenges too. The high altitude terrain and unpredictable weather of the Annapurna Mountains can make crossing the Thorong La Pass often a dangerous task – particularly if you're not prepared. Our expert guide will suggest you the best way you hike to complete the trip without mental hassle.
We suggest you hike the side trips to make your holiday even more worthwhile because the side trips are out of the main track and take some hours to hike in nature. Get some interesting side trips and highlights of round Annapurna trekking.
Picturesque villages, turbulent river gorges with nice waterfalls en routes.
Visit old Buddhist monastery in Manang and Mustang territories.
Touch the Gangapurna foothill with impressive glacial Gangapurna lake.
Hike the Ice lake is another interesting place to walk in terms of the Annapurna mountain view and adjust to high altitude.
If you are a photographer, try to catch incredible shots from Thorong la high camp viewpoint.
Thorong La 5,416m is the highest and widest pass of this valley and offers an awesome view of the whole Annapurna massive.
Muktinath is a Vishnu temple, sacred to both Hindus and Buddhists. There are 108 Mutkidhara, faucets from the cast in the form of bulls' heads, pour fourth-sacred water.
Jharkot Gomba is another interesting place to see while on your trip.
Jomsom eco Museum, view of Dhaulagiri Icefall, the world's deepest Kali Gandaki gorge.
The best around the Annapurna trek note for traveler
The 10 days around the Annapurna trek information stated above is just a guideline. However, the trip is possible to customize at your request to accommodate your specific requirements. Local politics, landslides, cancellation of local flights, weather, transport, or a multitude of other factors that are beyond our control can result in a change of itinerary en route.
It is, however, very incredible that the itinerary would be extensively altered. If alterations are necessary the leader will decide the best alternative option, taking into consideration the best interests of the whole group. When a change does occur, we do everything we can to minimize its effect, but we cannot be responsible for the results of changes or delays.
What makes around annapurna trek special?
Opportunities for challenging trekking around the Annapurna mountain territory are absolutely pleasant. You just need to know where to find them. We at Gokyo Treks and Expedition believe in quality services. First safety and satisfaction is our prime concern.
We are a team of professional, experienced, well-trained, and licensed local guides who know the destination much better than others. Not only this but also we give benefits to the local communities and help to conserve natural resources which reduced costs and consumption.
From US$ 890
5% Off
US$ 845
| | |
| --- | --- |
| No. of people | Price Per Person |
| 1 | USD 998 |
| 2 | USD 845 |
| 3 | USD 845 |
| 4 - 6 | USD 825 |
| 7 - 9 | USD 799 |
| 10 + | USD 775 |
Book Now
Customize Trip
Cost & Departures
Your Trip Your Style!
ITINERARY, COST, DEPARTURES, will adjusted according to your GROUP SIZE NEED TIME
Book with Confidence
Lowest Price Guaranteed.
100% Customizable Trips
Excellent Customer Service
Hassle Free Booking.
90 % Repeated customers
Highly Recommended agency
Private/group tour options
Local Guides Company.