Helicopter Ride to Everest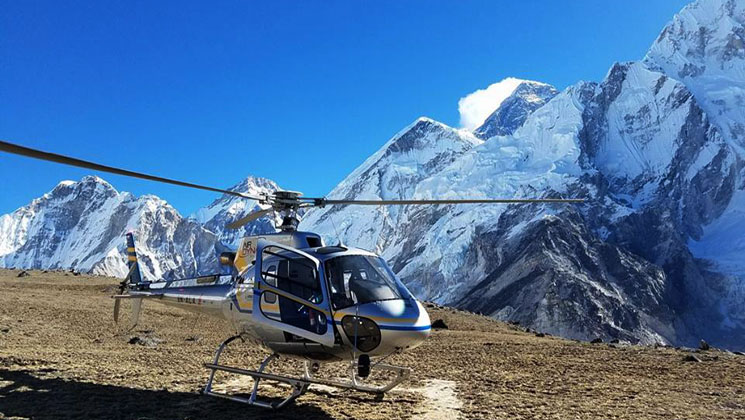 Helicopter Ride to Everest Tour Summary
Flight duration: 3 – 4 hours [depends on the weather and air traffic]
Group Size: 1 – 5 Tourist
Landing: 10 minutes on Kala Patthar & 30 Minutes at HEV.
Best time to Fly: Every Day
Helicopter Landing Altitude: 5,545 meters / 18,193 feet
Transportation: Helicopter Ride
The Helicopter Ride to Everest landing at Kala Patthar tour is a very popular touristic activity in Nepal Himalayas. The walk to reach the Everest base camp in Nepal takes more than a week but on this convenient helicopter tour, you can cut out all the hard work hikes and fly straight there.
As well as seeing the incredibly rocky and icy landscape, glacial moraine, and icy rivers surrounding Everest, you will enjoy the views of remote Sherpa villages and lush farmland along the way.
Not only this but also tourists can see the beautiful monastery at Tengboche, Pangboche, and Khumjung Monastery are also major attractions in the Everest region of Nepal. In addition, on your helicopter flight, you can feel and see the stunning beauty of nature.
Mt. Everest (8,848m), Nuptse (7,879 M), Lhotse (8,501 M), Cho Oyu (8,188 M), Makalu (8,475 M), and many other popular summits can be seen from the helicopter window. It's a short tour of life experience but very worth exploring within some hours touching the Everest foothills.
The easiest way to visit Everest base camp is by Helicopter is an impressive journey to enjoy the thrill of a helicopter ride through the highest mountains. After a relaxing stay, the helicopter takes off Tengboche to Everest Base Camp or Kala Patthar hill depending on the weather. After landing, the mighty Everest unveils itself along with the panoramic experience of the Himalayan range.
Why choose Everest base camp and Kala Patthar landing helicopter tour?.
Landing Kala Patthar – Everest base camp by helicopter is a day tour, ideal for those who don't have multi days time to trek for hours and hours. Similarly, physically disabled people who have a hunger for exploring the tallest peak in the world can do this tour within a few hours of time.
Flying with a chopper takes only a few hours to reach the base camp with a superior view, avoiding the crowded base camp trails. Choosing this tour makes your dream to touch the Everest foothills possible in reality.
Moreover, individuals with physical disabilities and, surprisingly, older people can take 3/4 hours of a helicopter ride to the Everest Base Camp in Nepal. During the outdoors, tourists can see superb mountains summits, glaciers, lakes, sherpa settlements, pristine rivers..etc.
Helicopter Ride to Everest in Nepal highlights ;-
The best panorama of Everest 8,848m, Lhotse (8,501 M), Cho Oyu (8,188 M), Makalu (8,475 M).
Best view of other popular mountains like Gauri Shankar 7,134m, Menlungtse 7,023m, Numbur 6956 m, Gyachungkang 7952m, Pumori 7,161m, Nuptse 7855m…etc.
Almost cover the most scenic places of the Khumbu Mountains and human settlements.
Everest Helicopter Tour with Landing in Kala Patthar is 3/4 hours of a single-day plan.
About ten minutes stop at Kala Patthar ground for the best photography.
30 – 40 minutes stop for Breakfast in a Hotel Everest View [HEV]
What is the Helicopter Ride to Everest base camp from Kathmandu schedule?.
If you are in Kathmandu Valley, do not miss this opportunity to experience touching the Everest foothills. It takes a few hours across the majestic 8k peaks. Get an amazing Helicopter Ride to Everest tour in the morning time departing from Kathmandu airport around 7 am.
The helicopter flight starts from TIA airport in Kathmandu (domestic terminal) and flies over Bhaktapur, Nagarkot, Dolkha, and land at Lukla. Lukla is a gateway to exploring Everest and more highest mountains on Earth. After that, we will again fly over Namche Bazaar, Tengboche Hill, Dingboche, Lobuche, Gorakshep, Everest Base Camp trek, and finally land at Kalapatthar ground.
You will fly over the same Sherpa settlement and land at Everest View Hotel for a hot breakfast during the return trip. Later breakfast and photoshoots, you will fly over Namche Bazaar, Lukla airport, and finally, land at Kathmandu domestic airport.
How much is a Helicopter Ride to Everest cost?.
Experience scenic and dramatic landscapes only viewed by air. The Mountain Everest Base Camp Helicopter tour cost US$ 1,150 per person if you take the group package of 5 pax travelling together. In a group, there will be a maximum of 5 people, that's why it is a shared helicopter tour.
Since the cost of a helicopter passenger is very high, there won't be a personal/private tour guide on your trip but we have a professional pilot who can tell you the places and the mountains that you see from helicopter windows.
Price Per Person for a Helicopter landing tour.
| Number of Passenger | Price Per Person |
| --- | --- |
| 1 Person | US$ 1225 |
| 2 Person | US$ 1210 |
| 3 Person | US$ 1190 |
| 4 to 6 person | US$ 1150 |
| 7 to 9 Person | US$ 1090 |
| 10 and more than 10 Person | US$ 925 |
Likewise, if you want to take the Everest Base Camp helicopter private tour; it would cost US$ 3999 per person. Want an even better deal? email us for a helicopter tour of Mt Everest, we have an open booking for 24 hours, every day.
Transportation from your hotel [inside Ringroad in Kathmandu] to Kathmandu domestic terminal and back to your hotel, we arrange a private car on your request. Kindly check Vehicle Rental service to Tribhuwan International – a domestic airport transfer on the given link and let us know.
Booking a travel package with Gokyo Treks & Expedition agency, you will get discounted prices which you don't get from others. Moreover, we also do very good customer care to make your trip unforgettable and hassle-free.
Pheriche to Kalapatthar shuttles Service management
The recorded expense is only for a limit of two shuttles and each van flight is a limit of as much as 240 kilograms moreover, 500 kilograms for a twofold. The last assessment of weight conveyance to make a gathering division and the number of shuttles required will occur in Pheriche.
While on booking, we exceptionally demand you to give us your precise weight so we can deal with the excursion likewise. We can likewise deal with the load with another visit gathering and get a good deal on your additional helicopter cost in overweight/extra-individual cases. For this situation, you will be charged US$ 500 for every additional Aircraft (which is shared by the group).
Assuming that you are a couple, you could need to part and fly independently to Kalapatthar because of the weight of the executives, however, we will give our all to oblige you so that doesn't need to occur. Assuming there are multiple buses, each extra transport cost will be extra.
In the event that the absolute number of weight/travelers surpasses the bundle subtleties, one more helicopter from Kathmandu can be added independently at an extra expense. Concerning the number of pax and the most extreme weight limit, the shuttle is maintained to fly above 14,570 feet.
Mount Everest Base Camp Helicopter Tour Itinerary
Basically, the helicopter starts with a short flight from Kathmandu taking five passengers roughly and fleets over the typical landscapes, river gorges, and mountains. As per their travel plan, they will have short stops in Lukla, Pheriche, Kala Patthar, and Sengboche Hilltop.
| Itinerary | Flight details |
| --- | --- |
| 05:15 AM: | Get ready at your hotel and drive to the TIA airport. |
| O6:30 AM: | Arrival at Domestic Air Terminal Hall [TIA]. |
| 07:30 AM: | Reach Lukla Air terminal [Tenzing Hillary Airport]. |
| 08:30 AM: | Lukla to Pheriche Flight [around 20 minutes] |
| 09:15 AM: | Pheriche [Weight management] to EBC/Kala Patthar |
| 09:45 AM: | Kala Patthar Landing [10 min] to Hotel Everest View [HEV] for 30 minutes for breakfast. |
| 09:45 AM: | Return Fly to Kathmandu |
What's included in the package price:-
Pickup from your hotel and drop you at Tribhuwan International Airport [domestic terminal] hall and return.
Charted helicopter service as per the travel plan.
Sightseeing the places by helicopter as per given plan
Passenger insurance as per the rules of the Helicopter companies in Nepal.
All government Taxes/VAT and Gokyo Treks Agency service charges.
What's not included in the package Price:-
Sagarmatha National Park entrance permit fee (Rs: 3,200 per person).
Domestic airport departure tax (Rs: 200 per person)
Hot Breakfast in an Everest View Hotel as per the given travel plan.
What to Pack – Packing List
Everest Base Camp Helicopter Tour requires appropriate dress depending on the climate. A down jacket, warm boots, Inner and outer layer gloves, a Water bottle, and warm trousers are also necessary while you are traveling during the warm season to keep yourself warm at the high altitude.
Likewise, you also need 100% UV rays protected sunglasses, snacks, a Camera with a memory card, and spare batteries. Because most of the time, the temperature is below the freezing level. Although, this helicopter tour won't need many packing things. You just need some good quality clothes to keep you warm at a high altitude.
Departure & Return Departure Point:
Have in mind that we pick up the travelers from inside the ring road such as your location in Thamel, Lazimpat, Darbar Marg, Boudha, etc.
What To expect?
Once you're in the air, helicopter flights feel a lot like an airplane. Even if you experience a bit of turbulence, these aircraft aren't at any greater risk and the turbulence should pass quickly for a smooth flight. Basically, the air is just too thin for most helicopters to generate enough lift to remain airborne. If the helicopter is equipped to reach that height, making the landing is still an incredibly delicate affair.
To be honest, some agencies are selling a similar package for helicopter landing on EBC but it's wrong. Helicopters can't land at the base camp because of the side of Khumbu Glacier. So that there will be not any chance to land the Helicopter due to a lack of space for Landing helicopters. Therefore, in terms of safety reasons, the helicopter company will land only 7-10 minutes in Kala Patthar and around 15 minutes at Hotel Everest View [HEV] on Sengboche Hilltop for a breakfast stop.
Additional Information (TIPS AND TRICKS)
Confirmation will be received at the time of booking
a wheelchair is also accessible entire the tours
A maximum of 25 people per booking
Old travelers with back pain are okay but not recommended for pregnant women.
It's a private/group tour activity [shared basis].
Cancellation Policy
You can cancel up to 48 hours in advance before the helicopter tour starts for a full refund. If you cancel less than 48 hours before the experience's start time, the deposited amount you paid will not be refunded.
Any changes made less than 48 hours before the experience's start time will not be accepted.
Likewise, in case of bad weather if the flight gets canceled then we refund your money. Cut-off times are based on the experience's local time.
Everest base camp Helicopter day tour notes:
Landing the mountain helicopter in Kala Patthar or at the Everest basecamp depends upon the wind and other types of weather factors therefore, the Pilot will check the weather while on landing and will do his best. And, the Covid-19 travel protocol might affect your travel plan, so please let us know on time if there are any changes that might occur.
"What makes Helicopter Landing on EBC day tour from Katmandu special?"
GTEPL agency run the Mount Everest helicopter flight throughout the year. October till May is the best time to experience this flight however June till September weather is nice too and we can run the Everest helicopter tour on a nice weather day.
We at Gokyo Treks and Expedition believe in quality services. The Mount Everest helicopter tour from Kathmandu is a very special and luxurious tour. The passenger should be a minimum of 1 – 5 in a single aircraft in a private or group-sharing flight and join our existing daily departure.
Landing Everest base camp by Helicopter day tour from Katmandu Review
The best Annapurna Circuit Trek
This past May (2016) I completed the Annapurna Circuit in 15 days, largely thanks to the guiding services provided by Gokyo Treks and Expedition. At the start of my trip, I had planned to hike Manaslu but due to an illness with my trekking partner, I had to change plans last minute. Fortunately, Ammar (owner of Gokyo) was able to help me and provide info, which ultimately led to me choosing Annapurna. During my 2 days in Kathmandu, Ammar and his family also provided a very nice and convenient homestay while helping me prepare for my trek (buying jackets, etc.).
The trek itself was everything I had imagined and more – my guide, Kamal (KC) was helpful and knowledgeable. He knew the best routes to take and provided me assurance, help, and motivation when necessary (i.e. when I had some stomach issues). KC was also more than just a guide – by the end, he became a friend. He's somebody I felt very comfortable around, and kept things interesting. I'd highly recommend not only Gokyo Treks but also KC as a guide. Additionally, the prices offered by Gokyo were the best I could find when compared to several other agencies. Finally, the services Gokyo provides to the community (schools, tutoring, etc) made it a no-brainer to choose them. Hopefully, this review will help others make their decision – having an experienced guide made everything so much easier (knowing what lodging, food places, etc.)
Short tour in Bhutan
We booked a Bhutan tour with Gokyo Treks Agency. Our Guide Miss Geeta a local representative organized our 4 days glimpse of the Bhutan Tour in an excellent way. Our cook Sonam and his entire kitchen staffs were just friendly and friendly staff is highly appreciated. Miss you all, will definitely explore more Bhutan tours with your awesome team. Thank you for giving us memorable hospitality in Bhutan.

Response from Gokyo Treks Nepal
Thank you for the review
Best Trek Operator
We have done 2 treks with Ammar and his crew. Our guide, Som, was fantastic and the porters were happy and reliable. Ammar is great to deal with. We are coming again next year and will use Gokyo Treks. Dr Rob H Australia

Response from Gokyo Treks Nepal
Thank you Robert Hilton for your feedback regarding Kali Gandaki valley trekking in Nepal.
Renjo la- Unbelievable Hike in the Everest
In November 2015, I made a long trek (24 days) in the Everest region of Nepal. Gokyo Treks support my individual and ambitious planned tour perfect with place a competent guide and organizes my Everest adventurous trek in a challenging environment (fuel crises).
I had a great time without worries about finding the right way or lodges with a good standard per price. Over my attender, I have interesting contacts with locals and concurrent always the flexibility and freedom to organize every day in my interest.
All organization work of the journey was uncomplicated done in a short time thanks to the fast and precise response of Ammar Guni (the owner of Goko Treks and Expedition), who understands and lives the customer focus. Hopefully, a lot of people can get the experience of this grandiose tour like I.

Mount Everest base camp helicopter tour with a Kala Patthar and HEV landing is a luxury way of travel. Book a helicopter ride to Everest base camp with us and save your special discounts.
From US$ 1250
2% Off
US$ 1210
| | |
| --- | --- |
| No. of people | Price Per Person |
| 1 | USD 1225 |
| 2 | USD 1210 |
| 3 | USD 1190 |
| 4 - 6 | USD 1150 |
| 7 - 9 | USD 1090 |
| 10 + | USD 925 |
Book Now
Customize Trip
Cost & Departures
Your Trip Your Style!
ITINERARY, COST, DEPARTURES, will adjusted according to your GROUP SIZE NEED TIME
Book with Confidence
Local Guides Company.
18 Years in Business.
Lowest Price Guaranteed.
100% Customizable Trips
Excellent Customer Service
Hassle Free Booking.
90 % Repeated customers
Highly Recommended agency
Private/group tour options