Top 10 Beautiful Spots in India For Camping
The Himalayas have always been a boundlessly inspiring destination for outdoor camping, inviting adventurers to explore the mesmerizing beauty of nature. India boasts a plethora of breathtaking spots that offer the perfect setting for camping enthusiasts.
Nature, an ancient and ingenious artist, has crafted a portfolio unlike any other in the universe. From cascading waterfalls and emerald meadows to snowy peaks and golden deserts, its masterpieces never fail to captivate the soul. Now, imagine yourself being serenaded by these natural wonders while nestled in a cozy retreat just meters away from the majestic landscapes.
How is this possible? The answer lies in the magic of outdoor camping. To embark on this extraordinary journey, take a moment to read through the list of the top 10 most beautiful spots in India for camping. Each location promises an unforgettable experience amidst the embrace of nature's most enchanting creations.
"Top 10 Beautiful Spots in India For Camping".
1. Rishikesh, Uttarakhand
Rishikesh nestled in the breathtaking state of Uttarakhand, India, is a captivating destination that exudes spirituality, adventure, and natural beauty. Situated at the foothills of the majestic Himalayas, this serene town is renowned as the "Yoga Capital of the World" and holds great significance in Hindu mythology. Its tranquil ambiance and scenic surroundings make it a favorite spot for those seeking solace and rejuvenation.
Visit to Rishikesh is a haven for spiritual seekers, drawing visitors from around the globe to its numerous ashrams, yoga centers, and meditation retreats. The Ganges River, flowing gracefully through the town, adds to its sanctity, with pilgrims coming to take a dip in its holy waters and seek blessings. At evening, Ganga Aarti is a mesmerizing ritual of worship with lamps and chants, a spectacle that touches the soul of every visitor.
Beyond its spiritual allure, Rishikesh is an adventurer's paradise. Boasts an array of thrilling outdoor activities, including white-water rafting on the Ganges, trekking along scenic trails, and bungee jumping from the iconic Mohan Chatti Bridge. Whether you're a thrill-seeker or a nature lover, Rishikesh offers a multitude of opportunities to connect with the great outdoors.
Surrounds with a lush forests and hills, Rishikesh's landscape is a sight to behold. Cool breeze carries the scent of fresh pine, and the sound of chirping birds creates a symphony that rejuvenates the senses. Multiple hanging bridges, like the iconic Lakshman Jhula and Ram Jhula, provide stunning panoramic views of the river and the mountains.
With a vibrant fusion of culture, adventure, and spirituality, Rishikesh leaves an indelible mark on every traveler fortunate enough to experience its charm. It remains an inviting destination for those seeking inner peace, seeking adventure, or simply wanting to immerse themselves in the enchanting beauty of the Himalayas and the divine aura of the Ganges.. Whether you are an adventure buff or a spiritual seeker, this place is a must-visit for you.
2. Kasbah, Pushkar
Kasbah, Pushkar, in India, is a hidden gem nestled amidst the arid landscapes of Rajasthan. This boutique resort offers a unique and unforgettable experience for travelers seeking a perfect blend of luxury, tranquility, and cultural immersion. Situated near the sacred Pushkar Lake and surrounded by sand dunes, Kasbah boasts awe-inspiring views of the desert and the picturesque town of Pushkar.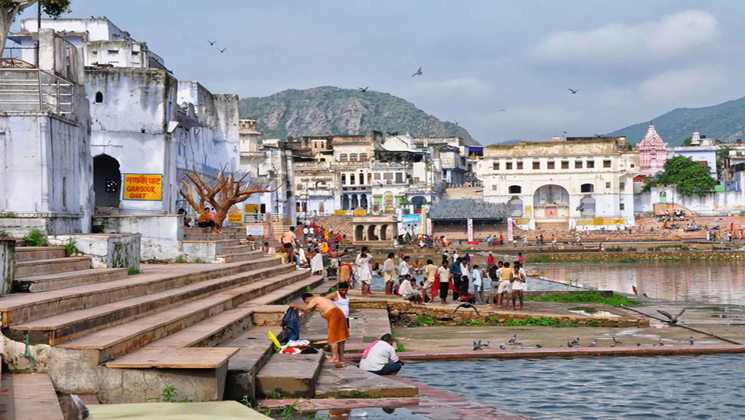 – Photo by Rod Waddington, CC BY-SA 2.0
The resort's architecture and design pay homage to the region's rich heritage, incorporating traditional Rajasthani elements with modern comforts. Guests are welcomed with warm hospitality and can indulge in opulent suites and tents that offer an authentic desert living experience.
Kasbah provides a sanctuary of serenity, making it an ideal retreat for relaxation and rejuvenation. Guests can unwind by the sparkling pool, enjoy spa treatments inspired by ancient Ayurvedic practices, or simply bask in the tranquility of the desert surroundings. As the sun sets over the dunes, the resort comes alive with cultural performances, traditional music, and dance, offering a glimpse into the vibrant cultural tapestry of Rajasthan.
Pushkar, a sacred town steeped in mythological significance, adds to the allure of Kasbah. Travelers can explore the bustling streets and vibrant markets, discovering a myriad of handicrafts, textiles, and souvenirs. Nearby Brahma Temple, one of the few temples dedicated to Lord Brahma, attracts devotees and curious explorers alike, while the Pushkar Lake holds a deep spiritual significance for Hindus, drawing pilgrims from all corners of the country.
With its unparalleled charm and luxurious offerings, Kasbah, Pushkar, invites travelers to experience the magic of Rajasthan and create lasting memories of a truly unforgettable stay. Whether seeking cultural immersion, spiritual solace, or simply a slice of desert paradise, this hidden oasis promises an enchanting and enriching journey through the heart of India's royal heritage.
3. Papikondalu, Godavari
Papikondalu, a mesmerizing destination located on the Godavari River in India, is a true natural wonder that captivates travelers with its breathtaking beauty and serene surroundings. This picturesque region is named after the Papikondalu mountain range, whose peaks resemble a woman's partitioned hair, earning it the nickname "Papikondalu" or "Papidi Kondalu" (Papidi meaning partitioned hair in Telugu).
The journey to Papikondalu is as enchanting as the destination itself. Travelers embark on a memorable boat ride that takes them through the meandering Godavari River, flanked by lush green hills and dense tropical forests. View is nothing short of spectacular, with each twist and turn of the river offering new vistas of nature's splendor.
As the boat glides along the tranquil waters, visitors are treated to a soothing ambiance and a sense of tranquility that is hard to find in the bustling urban life. The boat ride provides ample opportunities for birdwatching, as the region is home to a variety of avian species, including herons, eagles, and kingfishers.
One of the highlights of the Papikondalu experience is a visit to the quaint tribal village of Kolluru, nestled amidst the hills. This off-the-beaten-path village offers a glimpse into the traditional lifestyle of the tribal communities that call this area their home. Travelers can interact with the friendly locals, savor delicious regional cuisine, and learn about their unique customs and traditions.
The Papikondalu boat ride typically culminates at Perantalapalli, where a stunning waterfall awaits to enthrall visitors. Cascading waters amidst the lush greenery create a captivating setting, providing the perfect spot for a refreshing dip or a moment of meditation.
For nature enthusiasts and adventure seekers alike, Papikondalu is an absolute paradise. Untouched beauty of this region, coupled with the tranquil river cruise and the chance to connect with the indigenous communities, makes it an unforgettable experience that leaves a lasting imprint on the hearts of all who visit. Papikondalu stands as a testament to India's rich natural diversity and cultural heritage, inviting travelers to immerse themselves in its untouched splendor and create cherished memories that will endure a lifetime..
4. Sher Bagh, Ranthambore
Presenting to you another royal treat, miles away from humanization and minutes near to nature is the Sher Bagh campsite. Sher Bagh, nestled in the heart of Ranthambore, India, is an extraordinary luxury safari camp that offers an unparalleled wildlife experience amidst the rugged beauty of Rajasthan. Located just a stone's throw away from the world-renowned Ranthambore National Park, Sher Bagh provides an immersive and unforgettable opportunity to encounter the majestic Bengal tigers and an array of other exotic wildlife.
Tent camps are a seamless blend of opulence and traditional charm, designed with utmost care to ensure guests' comfort and a connection with nature. The luxurious canvas abodes are adorned with antique furniture, plush amenities, and modern comforts, offering a unique glamping experience that is both indulgent and adventurous.
Sher Bagh is not only a sanctuary for wildlife enthusiasts but also a place of conservation and eco-consciousness. The camp's dedicated team of naturalists and conservationists take visitors on expert-guided safaris into the Ranthambore National Park, sharing their knowledge about the region's diverse flora and fauna while promoting responsible and sustainable tourism practices.
The days at Sher Bagh are marked by thrilling jungle safaris, where travelers have a chance to witness the elusive tigers, leopards, deer, and a multitude of bird species in their natural habitat. As the sun sets over the horizon, the camp comes alive with traditional Rajasthani performances and delectable local cuisine, creating an enchanting atmosphere that reflects the region's rich heritage.
Beyond wildlife encounters, Sher Bagh offers an opportunity to explore the nearby historical sites, such as the Ranthambore Fort and the ancient Ganesh Temple, providing a glimpse into Rajasthan's illustrious past. Alternatively, guests can indulge in leisurely strolls through the camp's verdant gardens or unwind with a book in hand, soaking in the serenity of the wilderness.
Sher Bagh stands as a testament to sustainable luxury and responsible tourism, blending the thrill of a wildlife adventure with the comfort of a five-star retreat. For those seeking an authentic and intimate encounter with India's wild heart, Sher Bagh in Ranthambore is a haven that promises an unforgettable journey amidst the untamed beauty of the jungle.
5. Sonamarg, Jammu & Kashmir
– Photo by Adam Jones, CC BY-SA 2.0
Sonamarg, nestled in the picturesque landscapes of Jammu & Kashmir, is a breathtakingly beautiful hill station that epitomizes the ethereal charm of the region. Aptly called the "Meadow of Gold," Sonamarg dazzles visitors with its lush green meadows, snow-capped peaks, and glistening glaciers.
Located in the Sindh Valley, this tranquil paradise is surrounded by the mighty Himalayas, offering a haven of serenity and natural beauty. The pristine Sindh River flowing through the valley adds to the allure, providing opportunities for fishing and leisurely walks along its banks.
Sonamarg is also a gateway to the famous Amarnath Yatra, attracting pilgrims from around the world. Whether it's trekking amidst the breathtaking vistas, enjoying pony rides, or simply reveling in the tranquil ambiance, Sonamarg captivates the heart of every traveler, making it a must-visit destination in the enchanting land of Jammu & Kashmir.
6. Big Red Tent, Kolad
The Big Red Tent in Kolad is an enchanting riverside campsite that offers a perfect blend of adventure and relaxation in the lap of nature. Nestled along the banks of the Kundalika River, this unique camping destination beckons travelers with its vibrant red tents and serene surroundings.
Campsite provides a wonderful opportunity to escape the hustle and bustle of city life and immerse oneself in the tranquility of the outdoors. Visitors can indulge in thrilling water activities like river rafting, kayaking, and swimming, as the Kundalika River is known for its exhilarating rapids.
As the sun sets over the horizon, the campsite comes alive with bonfires, live music, and stargazing, creating an unforgettable experience under the night sky. Whether seeking adrenaline-pumping adventures or moments of serenity by the river, the Big Red Tent in Kolad promises an idyllic getaway that rejuvenates the mind, body, and soul.
7. Coorg, Karnataka
Coorg, officially known as Kodagu, is a captivating hill station nestled in the verdant Western Ghats of Karnataka, India. Renowned for its stunning landscapes, abundant coffee plantations, and lush greenery, Coorg is often referred to as the "Scotland of India." This picturesque destination exudes natural beauty and offers a serene retreat for travelers seeking solace amidst nature's bounty.
Coorg's charming valleys, mist-covered hills, and gushing waterfalls create a breathtaking backdrop that enchants visitors throughout the year. The region's pleasant climate makes it a popular destination to escape the scorching heat of the plains. The aroma of coffee and spices permeates the air, as Coorg is one of India's leading coffee-producing regions, offering delightful coffee plantation tours that provide insights into the art of coffee cultivation.
Adventure enthusiasts have plenty to look forward to in Coorg, as it offers a range of thrilling activities. From trekking through the lush forests to visiting the Abbey Falls and Iruppu Falls, the region's natural wonders beckon explorers. White-water rafting in the Barapole River's tumultuous waters is a must-try adventure that leaves adrenaline junkies exhilarated.
Coorg's cultural heritage is equally captivating, with its rich history and traditions reflected in the numerous ancient temples and historic sites scattered across the region. The locals, known as Kodavas, take pride in their unique customs and vibrant festivals, adding to the region's charm.
For those seeking spiritual rejuvenation, Coorg offers several meditation centers and homestays amidst tranquil surroundings, providing a perfect opportunity to unwind and connect with oneself.
The delectable Kodava cuisine, known for its flavorful spices and distinctive flavors, is a treat for food lovers. From traditional dishes like Pandi Curry and Kadumbuttu to the mouthwatering Noolputtu, Coorg's culinary offerings are a delightful blend of tradition and innovation.
Coorg's allure lies in its ability to cater to various interests, making it a destination that appeals to nature lovers, adventure enthusiasts, culture seekers, and those seeking a tranquil escape. With its abundant natural beauty and warm hospitality of the locals, Coorg is undoubtedly a must-visit destination for anyone exploring the charm of Southern India.
– Photo by Raman Virdi, CC BY 2.0
8. Solang Valley, Manali
Solang Valley, nestled amidst the snow-capped peaks of Manali, India, is a paradise for nature enthusiasts and adventure seekers alike. This stunning valley, located at a short distance from Manali town, is renowned for its breathtaking vistas of majestic mountains and lush green meadows.
During the winter months, Solang Valley transforms into a winter wonderland, offering a plethora of winter sports and activities like skiing, snowboarding, and snowmobiling. In the summer, the valley blooms with vibrant flowers and becomes a haven for trekking, paragliding, and zorbing enthusiasts.
Gushing Beas River adds to the valley's charm, providing a picturesque setting for relaxation and unwinding. Whether it's indulging in adrenaline-pumping adventures or simply soaking in the tranquility of nature, a visit to Solang Valley promises an unforgettable experience that captures the essence of the Himalayan beauty in all its glory.
9. Taj Banjar Tola, Madhya Pradesh
Taj Banjar Tola, located in Madhya Pradesh, India, is an exquisite luxury safari lodge that offers a remarkable experience amidst the stunning landscapes of Kanha National Park. Nestled in the heart of the Indian wilderness, this captivating retreat provides an unparalleled opportunity to encounter the diverse wildlife and pristine wilderness of the region.
The lodge's elegant and eco-friendly tented suites seamlessly blend with the natural surroundings, offering a perfect blend of luxury and sustainability. Guests are treated to a personalized and immersive safari experience, guided by expert naturalists, as they venture into the verdant forests of Kanha in search of the elusive tigers, leopards, and other unique wildlife species.
Taj Banjar Tola also stands as a conservation-conscious sanctuary, supporting local communities and wildlife protection efforts. After exhilarating safaris, guests can relax at the lodge, enjoying the serene ambiance, relishing delectable cuisine, and witnessing stunning sunsets over the Banjar River. Its harmonious blend of luxury and wildlife immersion, promises an unforgettable sojourn that celebrates the untamed beauty of Madhya Pradesh's natural heritage.
10. Bheemeshwari Jungle Lodges, Karnataka
Embarking on a tent camping trip at Bheemeshwari Jungle Lodges in Karnataka is an enchanting journey into the heart of nature's embrace. Nestled along the picturesque Cauvery River and surrounded by lush green forests, this idyllic destination offers a perfect retreat for those seeking to reconnect with the great outdoors.
Comfortable and well-equipped tents provide a delightful blend of rustic charm and modern amenities, allowing guests to immerse themselves in nature without compromising on comfort. From the moment of arrival, the air is filled with the delightful melodies of birds and the gentle rustling of leaves, offering a soothing escape from the chaos of city life.
Days are filled with thrilling activities, including coracle rides on the river, guided nature walks, and angling for the prized Mahseer fish. As the sun sets, the camp comes alive with campfires, storytelling sessions, and stargazing, creating cherished memories under the twinkling night sky.
Bheemeshwari Jungle Lodges promises an unforgettable tent camping experience that rekindles the spirit of adventure and leaves a lasting impression of the beauty and tranquility of Karnataka's wilderness.
If you enjoy living under a tent in the company of starry skies, shifting sands, and many more, it can't get any better. Put on your most comfortable khakis, pair them up with your favorite sneakers, and get going, for nature's calling.
---