Top 10 Beautiful Spots in India For Camping
Himalayas are always inspiring places for camping outdoors, so get a list of the top 10 Beautiful Spots in India For Camping. Nature is probably one of the most ancient and ingenious artists in the universe and has the best portfolio ever. Flowing waterfalls, emerald meadows, snowy peaks, and golden deserts; are just a few of its masterpieces. Now, picture yourself being serenaded by these beauties in a cozy retreat just meters away from the lofty landscapes themselves. How did you ask? outdoor camping is the answer, and take read the list given here.
"Top 10 Beautiful Spots in India For Camping".
1. Rishikesh, Uttarakhand
Cradled in the lap of the lofty Himalayas, Rishikesh is one of the most sought-after camping destinations. An exquisite setting on the banks of the river Ganges, it offers a wide range of adventure sports and is the closest you can get to the serpentine beauty. Whether you are an adventure buff or a spiritual seeker, this place is a must-visit for you.
2. Kasbah, Pushkar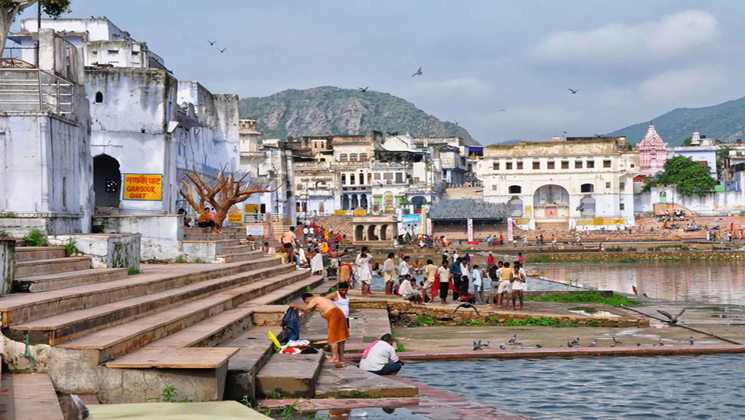 – Photo by Rod Waddington, CC BY-SA 2.0
Who doesn't wish to be treated like loyalty, well I'd say not many, and if you are like me; then Kasbah is the perfect trip for you. Located in the heart of the holy city Pushkar, Kasbah is one royal retreat furnished aesthetically, with large verandahs, cozy beds, and a lot more. Just a few minute's walks from the famous Bramha Temple, the campsite is assured to give you a royal feel. With swirling colors and swaying lehengas, watch out for traditional dances and bonfire nights.
3. Papikondalu, Godavari
Imagine being captivated by lush emerald hills, under a bamboo tent with the Godavari flowing just beside; that is exactly how it feels at Papikondalu. Originally called "Papidi (partition) Kondalu" for dividing the river Godavari into two parts, it is one of the most picturesque locations in India. There is almost no network available, so if you are ready for some alone time with no worldly worries then this is where you have to go.
4. Sher Bagh, Ranthambore
Presenting to you another royal treat, miles away from humanization and minutes near to nature is the Sher Bagh campsite. A luxury camp offers the most delicious and sumptuous food, all made from handpicked ingredients. Called by many a, "hedonist's delight", the indulging atmosphere here will leave you mesmerized for sure. Get on a safari trip to Ranthambore National Park and who knows you might even come face-to-face with a royal cat or two.
5. Sonamarg, Jammu & Kashmir
– Photo by Adam Jones, CC BY-SA 2.0
Wonder what's it like in the "Meadow of Gold", in Jammu & Kashmir? If you said snowcapped mountains and lush green valleys and flowing rivers, you are right but partially. One of the most beautiful campsites in India, Sonamarg is very much famous for being the base camp for many challenging and exhilarating expeditions. A beautiful vantage point, with many a green conifer this is every camper's paradise and that is enough reason for you to rush there.
6. Big Red Tent, Kolad
A quiet and serene campsite, with the Kundalika River being a good neighbor, Big Red Tent, Kolad is one of its kind. Whether you decide to go white water rafting or kayaking or just a night trail to explore the woods, your hosts Shyam and Sarita will be more than willing to give you their heartfelt company, for a wondrous trip. There is absolutely no mobile connectivity allowing you some precious time away from the buzz and tweets.
7. Coorg, Karnataka
Nestled in the heart of the Western Ghats, the hilly terrain of Coorg is often called "Scotland of India". Blessed with a rich collection of flora and fauna, the hill station is endowed with river streams and picturesque plantations. Nightlife is even more studded beside the bonfires and under the starry skies. If this is your idea of a star-studded escape, then Coorg is your ideal trip under the tent.
8. Solang Valley, Manali
– Photo by Raman Virdi, CC BY 2.0
A beautiful gorge in Himachal Pradesh, Solang is the most popular destination for adventure buffs. Paragliding, skiing, zip line river crossing, whatnot it is heaven for the adrenaline junkie. The best part doesn't end here though, there are sports to cater to all age groups and in all seasons, making it an all-year adventure abode. But even if you're not the daredevil kind, there is no room for disappointment, for the lush green mountains will not fail to impress you.
9. Taj Banjar Tola, Madhya Pradesh
The world is well acquainted with the opulence of the Taj; coming from the group is Taj Banjar Tola, a camping site on the banks of the Banjaar River. Designed completely with natural merchandise the site overlooks the heart of the Kanha National Park and is equipped with some of the most romantic ideas. It is your share of pampering away from the concrete jungle within an actual jungle.
10. Bheemeshwari Jungle Lodges, Karnataka
On the banks of River Cauvery, surrounded by greenery and hidden from the hustle of city life the Bheemeshwari jungle lodges. A haven for nature enthusiasts and adventure seekers alike, with many land and water-inspired activities; it is a slice of nature offered on the best platter available.
If you enjoy living under a tent in the company of starry skies, shifting sands, and many more, it can't get any better. Put on your most comfortable khakis, pair them up with your favorite sneakers, and get going, for nature's calling.
---