Tourist Guide information.
Tourist guides, or tour guides, are members of the Travel and hospitality industry who show visitors around places of interest. Tour guides may lead groups or individuals through historical sites, museums, geographic destinations, and outdoor excursions.
A tourist guide (European) or a tour guide (U.S.) is a person who provides assistance information on historical, cultural, and contemporary heritage to people on organized sightseeing and individual clients at educational establishments, religious and historical sites such as; world heritage sites, museums, and at various venues of tourist attraction resorts. Additionally, a tour guide takes the visitors on trips through an area and explains the interesting facts about it.
The prime role of a Tourist guide ensure that itineraries are met and that customers are being informed in an entertaining manner of the location they are touring. They are also responsible for ensuring the safety of the group and ensuring that tour groups remain together. Basically, tour guides are employed by tour companies in Nepal.
Likewise, for Nepal, a professional tourist guide, compelling eagerness, and passion for what we do. Typically, I have enough passion to learn the history of an area, naturally, tell the story, and explain our knowledge with enthusiasm to eager guests on guiding.
Background of Tourist Guide "Ammar Raj Guni"
I am Ammar Raj Guni. Born and grew up in the Nuwakot District located in the Langtang Himalayan region of Nepal. After SLC graduated, I moved to Kathmandu city for further university education.
Studied for Bachelor in Business Studies (BBS in Tourism + Marketing) in Public Youth Campus, Dhobichour, Kathmandu, Nepal. Likewise, I completed my Master in Business Studies (MBS) at Shankar Dev Campus, Putali Sadak, Kathmandu Nepal affiliated with Tribhuvan University in Kathmandu in 2009 AD. Nepali is my mother language besides that, I speak English and German.
Training Background
I started to work in tourism in 1998 AD as a porter, became a Trek guide training course from Nepal Tourism Training and Hotel Management (NATHM), and achieved a trek guide license in 2000 AD. Since then I have been leading travelers from all around the world from city tours to the high mountain base camp in Nepal. Kindly take a look my guiding training certificate
All those courses of time guiding tourists bring me a professional guide. Besides that, long years of my experience forced me to register a trekking tour agency. I and my brother register a trekking company "Gokyo Treks and Expedition Pvt Ltd" in 2006.
I am directing Gokyo Treks Company and also guiding the Tourist, especially for the day hiking tour. Luckily, I did an advanced Tourist Guide training course from NATHM (a government institute) in 2006. It was my aim for me to obtain a license to conduct a city tour privately. Since I have a local city tour guide license, I work often with tourists privately for city tours. Nowadays, tourists book me as a private tour guide in Nepal. Get a guide's training certificate.
Likewise, I participated in some climbing guide courses in 2007. Every year, Nepal Mountaineering Association arranges a climbing course to become Mountain Guide. Guiding Himalaya as a mountain guide was my passion too. Having a license from NMA, I can freely take climbers to the NMA Mountain summit listed under the NMA section. My dream is to serve every tourist from sea level to summit climb with single guidance.
Why Kathmandu valley sightseeing with local private tourist guides?
Touring Kathmandu's medieval city sightseeing with a local private tour guide is always awesome. As I am working 20 years span of the Guiding profession, I have a great experience. I am becoming more knowledgeable and can deliver you great information about Nepalese history, religion, culture, and people. In Addition, also the local's lifestyles, art, architecture, temples and monuments, as well as Buddhist stupa and monasteries.
At my university project work, I have published two travel guidebooks. They are useful for tourists to get in-depth information about "Mustang: The land of the hidden valley", and the "Attraction of Kathmandu valley". Both of them now are available on the internet to read for free.
As a private tour guide, I will answer all questions you might have about our city, region, and country. I am grateful for the many nice compliments and reviews that I have received from past guests. I am also proud of my past achievements in having helped my clients enjoy my beautiful country with its unique culture.
So, are you still confused to find the right tour guide in Nepal? or Kathmandu Tours with Local Private Tour Guides who can help you to show you around the majestic Kathmandu town? If so, just book me as your tour guide in Nepal and give me a chance to serve you.
I will take you to the world heritage sites listed under the UNESCO sites in Nepal. Because Nepal is a piece of Paradise full of Himalayan Heritage including an archaeological paradise with nine world heritage sites proven by UNESCO Nepal. They are the most demanding things to do for tourists.
Why Private Tour Guide is a most popular?.
Touring with a tour guide is one of the most important features for all age travelers. Nepal visitors can book a tourist guide easily via any travel website platform. It's easy to book and also easy to cancel. Guests can book the tour guide directly without paying middleman service fees. Therefore, tourists will get to know the guide's knowledge, his experience, heritage sites, and the places he guided.
How much is the cost/price for a Tourist Guide per day?
Besically, a tourist guide costs roughly US$ 35 per day. The daily cost totally depends upon the group members you are traveling with. However, if you are traveling within a tight budget, we can negotiate the price. Sightseeing in a low season, we can discount US$ 5 on each booking. Likewise, Guests should pay for a guide and all transportation if go out on Kathmandu city tours.
Local places for tour in Nepal.
There are many things to see in Nepal but I always try my best to guide you knowing your interest. You can visit Kathmandu city tour daily plan as given on the link. They are Kathmandu royal palaces, Basantapur Durbar square, and Hanuman dhoka Durbar square. Swayambhunath stupa or Monkey temple. Furthermore, Pashupati Nath temple, Boudhanath stupa, Kopan Monastery, and Budhanilkantha temple. They are the top highlights of tourist places to visit.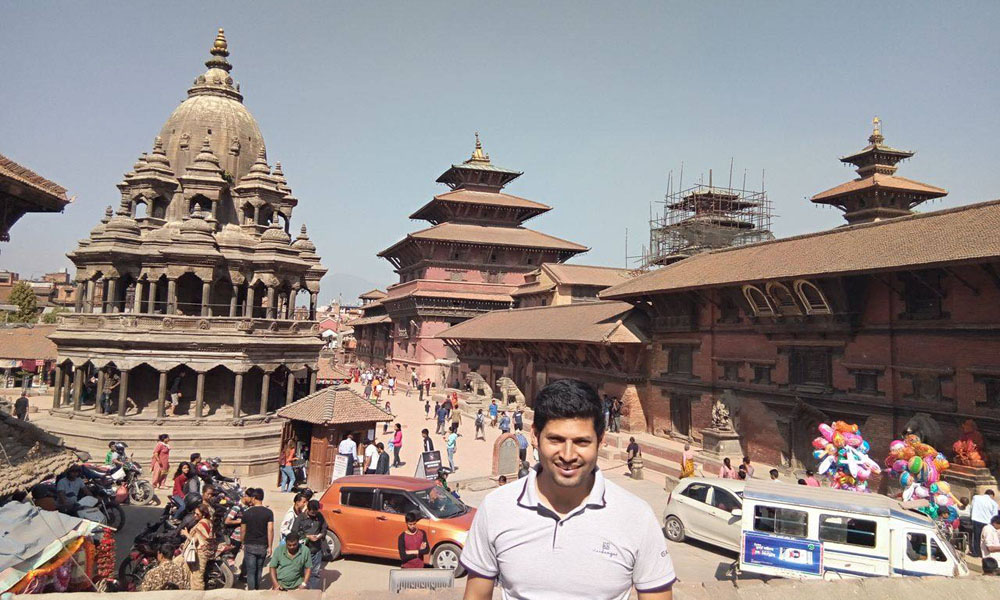 Likewise, Patan city tours include Patan durbar square, Golden temple, Mahaboudha Temple, and Kumbheswor temple). Moreover, Bhaktapur city Includes Bhaktapur's main durbar square, Nyetapole square, and Dattatreya square, with peacock window). Changu Nayaran temple locates on the hilltop. All those places are listed under the world heritage sites UNESCO monuments in 1979.
I can guide you to Pokhara city, Chitwan jungle safari, and as well as Lumbini, the birthplace of Lord Buddha. So, Feel free to book Kathmandu valley sightseeing with a local tour guide. The sightseeing duty begins around 9 am from your hotel.
Thus, I will take this opportunity to extend my hand in friendship to those who are interested in the Nepal experience. I look forward to the day that I may welcome you for Kathmandu valley sightseeing as a local tour guide.
How to book a tour guide in Nepal?.
If you are happy to book me as your tour guide in Kathmandu Nepal then kindly go for booking page as given here.