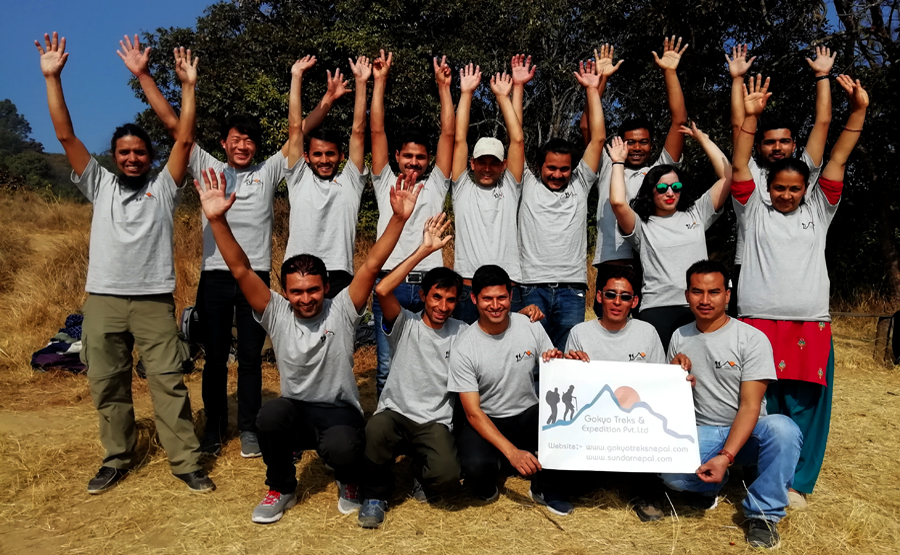 Join and start your careers with the Gokyo Treks Nepal Trekking Travel agency. Gokyo Treks Nepal is a leading trek operator registered with a team of local expert guides under the law of the Nepal Government.
We are a local expert that provides genuine professional guiding services for Nepal visitors. And managing travel continually better for the global travel and tourism industry. Come and be part of our mission to make sure that we share and care and help each other to grow.
We help individuals to travel keenly and accomplish more pay. We get this going with all individuals living locally. As a representative, you'll be joining the main trekking organization that thinks about its employees seriously.
We have aggressive compensation, advantages, preparation, and the correct improvement bundle for each individual. We commend our various foundations, changed encounters, and kind perspectives.
Some key points to know why work here?
Work with the Freedom
No matter where you work but we welcome you to make your own decision and bring your own assessment.
Ability to grow
We give mind-blowing chances to develop and grow so you can accomplish your own and expert goals.
Be part of something
greater than yourself
We are something beyond a movement, trekking, tour, and Himalaya expedition organization. We join creative business thoughts and social duty to rise above movement and upgrade local people, including yours.
Connect
We are a team of Nepalese travel, trek, tour, and mountain guides. Our office is located in Kathmandu, the capital of Nepal. We have no branch office worldwide. In addition, your employee experience is at the heart of everything we do and we create opportunities for meaningful connections with our travel community.
Culture of the company
We often celebrate our company culture. It's never been duplicated. At least once a year the company is arranging some hikes for our administrative staff, guides, and porters for refreshments training. At the heart of all the fun are great people, celebrating one another and the lives we're changing. See for yourself what that looks like all over the Nepal Himalayas.
We are always looking for passionate people to join our family
Try not to restrain yourself and go for one of our boundless career opportunities. If you are University Graduate and do have not much time to look after jobs in Nepal, still you can join Gokyo Treks Nepal to work partially.
Trekking Guide Jobs
A trekking guide should have basic knowledge of history, geography, and culture in Nepalese territory. To join with Gokyo Treks and Expedition agency, you need to have some experience of leading foreigners either trek guide or leader at least in Annapurna trek route or Langtang trek route for some years.
If you have some guiding experience already and want to join us, you are most welcome. Each candidate should have their trekking guide license with a valid date. If you are not talented like we mention above, still you can join us and can go trekking guide for beginners. The Salary per day is a negotiation on the basis of your capacity of knowledge and English speaking level.
Vacancy for tour guide Job
A Tourist guide commonly spells as a Tour Guide should have a huge knowledge of history, geography, religion and culture in Nepal. To join Gokyo Treks and Expedition agency, each tour guide must have experience guiding the tourist to the world heritage sites of Nepal.
Each candidate should be local and hold a tour guide license with a valid date. The Salary per day is a negotiation on the basis of your capacity of knowledge, extra languages, and English speaking level.
Vacancy for tour guide Job
We announced a vacancy to hire a professional writer. So, if you are a professional and skilled writer and have huge experience writing unique content about travel articles on our website, you are most welcome to join us. We count the unique word you created and pay you on the basis of pages.