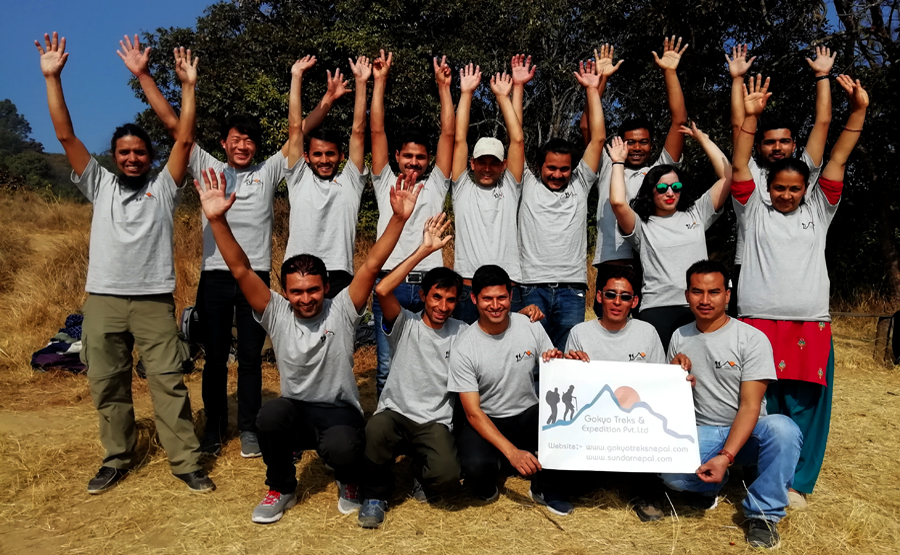 Discover Your Future Career with Gokyo Treks Nepal – A Leading Trekking Travel Agency!
Gokyo Treks Nepal is a leading Trekking & Travel agency is your gateway to an exciting career! We take immense pride in being a renowned trek operator, full registered with a team of local expert guides, under the Government Law of NEPAL.
As a local expert, we are loyal to provides genuine and professional guiding services to visitors exploring the beautiful landscapes of Nepal. Our commitment extends beyond just serving our clients; we strive to contribute positively to the global travel and tourism industry. Join us in our mission of sharing, caring, and fostering mutual growth.
At Gokyo Treks Nepal, we firmly believe in empowering individuals to explore their passions and achieve greater heights in their careers. We actively involve and support local communities, ensuring that the benefits of tourism are sharing by all. As an employee, you'll become an integral part of our trekking family, where we value each team member's health and growth.
We offer competitive compensation, attractive benefits, comprehensive training, and unique development packages for every individual. Embracing diversity, we cherish the richness of various backgrounds, diverse experiences, and kind perspectives that our team brings.
If you're eager to travel with purpose and achieve personal and financial fulfillment, Gokyo Treks Nepal is the ideal place for you. Join us and be a part of a trekking organization that genuinely cares for its employees and paves the way for remarkable adventures and achievements. Let's embark on this journey together towards a brighter and rewarding future!.
Unlock the Boundless Opportunities with Gokyo Treks & Expedition Agency
Freedom to Thrive:
At our organization, we value your individuality and respect your decision-making skills, no matter where you come from. We encourage you to bring your unique perspectives and assessments to the table.
Unleash Your Potential:
We believe in providing incredible opportunities for personal and professional growth, empowering you to achieve your goals and aspirations.
Be Part of a Purposeful Journey:
We are more than just a travel, trekking, and expedition agency; we are a force that combines innovative business ideas with social responsibility. Together, we aim to transcend the travel experience and positively impact local communities, including your own.
Join a Close-Knit Team:
As a team of passionate Nepalese travel, trek, tour, and mountain guides, our office is establish in Kathmandu, the heart of Nepal. We take immense pride in our tight-knit community, fostering meaningful connections with our travel community.
Embrace our Vibrant Culture:
Our company culture is vibrant and unique, and we celebrate it regularly. From organizing hikes and training for our administrative staff, guides, and porters to simply rejoicing in each other's company, we cherish the joy of changing lives throughout the Nepal Himalayas.
Opportunities Await:
If you're a university graduate with short time to search for jobs in Nepal, worry not! You can still be a part of Gokyo Treks Nepal and work on a partial basis. Because, we are always on the lookout for passionate individuals to join our team.
Trekking Guide Positions:
For trekking guide roles, a basic knowledge of Nepalese history, geography, and culture is essential. Experience in leading foreigners along popular routes like Annapurna or Langtang is preferred. If you already possess guiding experience, we welcome you with open arms.
Having a valid trekking guide license is a must. Don't worry if you're a beginner; we offer opportunities to become a trekking guide with negotiation-based salaries, depending on your knowledge and English-speaking abilities.
Tour Guide Openings:
As a tourist guide, you should have extensive knowledge of Nepal's history, geography, religion, and culture. Experience in guiding tourists to the country's world heritage sites is a requirement. Local candidates with valid tour guide licenses are preferred. Your compensation will be negotiated based on your knowledge, proficiency in additional languages, and English-speaking abilities.
Calling All Professional Writers:
Currently, we have an exciting vacancy for a skilled and experienced professional writer. If you can create unique and captivating travel articles for our website, we would love to have you on board. Your payment will determine on the base of the number of unique words you contribute and the number of pages you creates.
At Gokyo Treks Nepal, we value your passion and skills and we offer an array of fulfilling career paths. Join us sending your CV at gokyotreks@yahoo.de today and embark on a journey of endless possibilities!. We are busy and can't answer your message reply on what'sapp straightaway.