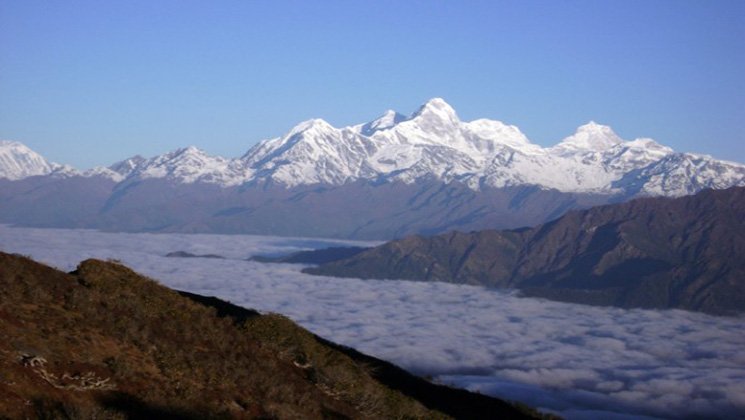 Ganesh Himal Base Camp Trek Summary
Ganesh Himal Hike Duration: 16 Days
Trek Grade: Easy to Moderate
Maximum Altitude: 4,600m/15,092 feet
Trekking Hour: 6 Hours
Group-Size: 1 – 12 People
Best Time: March, April, May, October, November and December
Trip Mode: Tent Trek
Meals on Trek: Breakfast, Lunch, and Dinner
Transportation: Bus (Sharing basis)
Overview
The Ganesh Himal trek is a beautiful trekking route that takes you through the remote and unexplored region of Nepal. The Ganesh Himal is a group of mountain peaks located in the central Himalayas and is named after the Hindu elephant-headed deity, Lord Ganesh.
A trek to Ganesh Himal base camp route offers an excellent view of Ganesh Himal I, Ganesh II, Ganesh III, Ganesh IV, Langtang, Mount Manaslu, and Annapurna. Mount Ganesh Himal's height is Yangra (Ganesh I), 7,422m/24,350 feet, and the mountain Ganesh is named after the elephant-headed God of Good Fortune. Moreover, it is untouched natural splendor "Great Himalayan Chain" forms the skyline.
From Kathmndu to Ganesh Himal base camp distance is 70 km north-northwest in the direction of the Tibet border. Follow by the dense forest with Spanish oak, and blue pine, and, in springtime, the blossoming of Rhododendrons sets the whole forest alight in a spectacular array of colors.
Pangsang La Pass (3,842m) and Singla Pass (4,045) are prime attraction of the entire journey that introduces the lives of diverse ethnic communities, cultures, and social lifestyles. Hike to Ganesh Himal base camp is a home to numerous wild animals such as Musk deer, Himalayan black bear, snow leopard, Himalayan wild goat, and particularly birds and wildflowers. A special and endangered animal "Red Panda" is also possible to explore in this territory.
How much does for Ganesh Himal Trek Package Cost?
The cost of the Ganesh Himal trek package with a local Gokyo Treks Agency in Nepal ranges between US$ 1350 to US$ 1995. Naturally, the Ganesh Himal trek cost will change as per the group members you are traveling with and the service you choose. Typically, the package includes transportation, a guide/porters, hotels, food and accommodation, and trek permits.
However, we basically arrange private trips in order to avoid group tours with strangers. Private tours give you a better experience on your hikes. If you value personalization, flexibility, and in-depth experiences, a private trip customized to your personal needs will be the best option.
It is the standard trip package price for 16 days trek. 2 vacationers for the Ganesh Himal Base Camp trek cost US$ 1575 for 16 days trek as given the trekking plan. We can revise the Ganesh Himal trek route and price as you wish also. Here is the price list for Ganesh Himal hikes.
Price Per Person for 16 days hikes in Ganesh Himal Territory.
| Number of Tourist | Price Per Person |
| --- | --- |
| 1 Person | US$ 1995 |
| 2 Person | US$ 1575 |
| 3 Person | US$ 1550 |
| 4 to 6 person | US$ 1499 |
| 7 to 9 Person | US$ 1425 |
| 10 and more than 10 Person | US$ 1350 |
If you're wondering to know about what is included and what is excluded from this trip price, kindly check on the cost given on a tab button.
Itinerary
Ganesh Himal Trek itinerary detail
Hike to Ganesh Himal is a classical trek itinerary compared to most walks in this region leading up to the glacier. Ganesh Himal Trek particular route is designed for world travelers who wish to hike but are walking in a more relaxed manner within a tent camping style than take a look at this itinerary.
01 Day
Arrival in Kathmandu valley. Transfer to hotel
Upon arrival in Kathmandu, Tribhuwan International Airport, we will receive you in a private vehicle and pass to a hotel in Kathmandu. The owner of the company "Ammar Raj Guni" will meet you and will brief you about Ganesh Himal base camp hike including camping crew information details.
02 Day
Drive from Kathmandu to Syapru Beshi Bazaar (1,503/4,931 feet), 8 hours
You will drive north of Kathmandu to Trishuli Bazaar for Lunch stop. The entire road journey to Syaprubesi today is often black top but it takes about eight hours by Bus. Therefore we spend first night in Syabrubesi to save energy. Syabrubesi, being the mid-point to treks and the border of China, has all equipment, gear, and clothing for the trip. Additionally, there is a natural hot spring where you can go to take a bath.
03 Day
Syapru Besi to Gatlang Village trekking (2,238m/7,343 feet), 5-6 hours
At the start of the day after breakfast, you continue with splash moves until Rongga Bhanjyang. The trail plunges to Goljung village, stopping for Lunch at the traveler's home. Continue again fragile up until accomplishing Traditional Tamang town in Gatlang. Tourists can visit Parbati Kund, which offers rich biodiversity for nature sweethearts. You can in like manner visit the old-fashioned old religious network.
04 Day
Trek to Parvati Kunda and to Somdang (3,271m/10,732 feet), 6 hours
Begin your hike to Parvati Kunda, a natural alpine fresh lake that named derived after the famous Hindu Goddess Parvati, the wife of Lord Shiva, therefore it considered as a sacred lake. Follow the nature trail through lush pine and rhododendron forest to Yuri Kharka.
We stop for a lunch at Yuri Kharka, and continue to walk towards the Somdang River via Khurphu Bhanjyang. In a few hours, you will see a mine which is now closed. Despite being out of function for years, we can observe the deep tunnel used to extract zinc, copper, tin, crystal with some rubies. They are still a kind of attractions for tourist to watch on hikes.
05 Day
Pangsang La Pass Trek (3,842m/12,605 feet). Descend to Pansang Kharka, 4 hours
Commence the journey southwest of Somdang Village to Pangsang Kharka via Pangsang la pass 3842 meters is super amazing. The trail provides a panoramic view of Mount Manaslu and the Ganesh Himal Range. Pangsang Kharka offers large plain grass field that makes your journey pleasant therefore trekkers wish to set their campsite. Hike to Pangsang la route has multiple series of medicinal herbs.
06 Day
Trek to Chalise Gaon (1,920m/6,300 feet) via Tipling (1,890/6,201 feet), 6 hours
For the first part of your hike, you will descend to Laptung village, passing through the dense woodlands with amazing fir and rhododendrons. Likewise, we take a lunch in Tipling and follow the journey to Shertun and Chalise Gaon.
There is an interesting history about Shertun that it's a a place of gold. Travelers will have more fun exploring the village with interacting with locals. Shertun or Chalise Gaon are in the wilderness areas of Nepal in fact the local village tourism committee ensure that the visitors can receive proper food and accommodations.
07 Day
Trek to Hinduin / Gomba Danda (2,048m/6,719 feet), 4 hours
Hinduin commonly known as a Gomba Danda where one can enjoy with a untouched beauty of majestic landscape. Furthermore, Hinduin is a small village of Tamang ethnic groups who harvest Yarsagumba in a high season.
Yarsagumba is a famous medicinal herb that can be seen in the surrounding highlands. It's a unique species to the Himalayan region found in the elevation of 2500-5000m, is regarded as one of the most valuable mushroom species in the world because of its medicinal properties.
08 Day
From Hindun hill to Thulo Dhunga trekking (3,337m/10,949 feet), 5 hours
Hike to Thulo Dhunga is a special as you will ascend higher varieties of floras and faunas are richer. In great weather days, campers see some exotic animals like wild musk deer, boars, Langur and rhesus monkeys, jharal, and leopards. Additionally, tourist can see a beautiful fountain on the way to Thulo Dunga where we set up our camping site to stay overnight.
09 Day
Ganesh Himal Base Camp Trek (3,691m/12,110 feet), 6 hours
Continue to hike to Nojet Kharka, commonly known as the Ganesh Himal Base Camp passing via green fields. Today's hiking trail is not an easy but offers amazing landscapes including snowy mountains. We set the Tent campsite at Nojet Kharka and enjoy the beauty of Nature rest of the time.
10 Day
Explore the Ganesh Himal Base Camp (Day tour)
Today is a rest day to explore the majestic base camp of Ganesh Himal however to get better scenery we hike to Dobra Danda ridgeline to get an outstanding view of Ganesh Himal range. The Ganesh Himal range is very close from Dobra ridge and looks stunningly dazzling.
Furthermore, travelers can see Kalo Kunda (Black Lake) and Seto Kunda (White Lake) are just incredible. Locals have told us that these sacred lakes considered to believe that the lake waters have spiritual powers.
11 Day
Descend to Hindun (2,048m/6,719 feet), 7 hours
Later exploring the impressive Base Camp, we continue our footsteps to Hindun village passing the stunning Himalayan sceneries with lush forest. Your hike today to Hinduin is a downhill but often takes a long journey because of rough terrain – trail conditions. In the late afternoon, we reach at Gomba Danda, where we stop for the overnight stay.
12 Day
Trek to Richet Gaon (1,500m/4,922 feet), 6 hours
Today we will have a relax day trekking as you will spend few hours in the hot spring at the bank of Riverside along the journey to Kapoor Gaon. The heat in hot springs envelopes and helps soothe aching muscles, and the minerals present in the water get soaked up by the skin, and stimulate certain bodily processes.
Likewise, we continue our footsteps ahead in the stone steps built by the Kadoorie Agri Aid Association and British Gurkhas of Nepal. You will then pass Tir and reach at Richet Gaon where we stay overnight.
13 Day
Trek to Singla Kharka (3,200m/10,499 feet), 7 hours
Your journey today to Sing la kharka is just impressive. We ascend through the Rhododendrons and blue pine trees all the way to Sing la Kharka however we take a lunch at Boran village. Later lunch, it's a long day ascend that we have to hike roughly 1,700 meters and we set up campsite on a beautiful place at Singla Kharka. Kharka is a a shepherd and cow herders place where Travelers can achieve the beautiful Mountains view.
14 Day
Singla Pass Trek (4,045m/13,272 feet). Descend to Rupchet (4,040m), 6 hours
Our footsteps to Singla pass today ascend about 845 meters is still too high therefore its usual to feel altitude and thin air. You will have great Himalayan view that stretches from Langtang – Ganesh – Manaslu and Annapurna Ranges. After the enjoying the dramatic Singla Pass, we walk to Rupchet passing beautiful wide meadows where we set our campsite to stay overnight.
15 Day
Rupchet to Thulo Chaur trekking (2,350m/7,710 feet), 6 hours
Today our trek is really pleasant so gradually downhills visiting a monastery and a gorgeous natural waterfall. It's a part of the Phikuri Danda trekking route. On the way, we visit the Tamang village to explore their culture and their daily way of life. Thulo Chaur commonly known as the big grounds where our campers set up camp site to stay overnight.
16 Day
Trek to Kispang (1,850m/6,070 feet) and further to and to Betrawati (700m), 6 hours
Continue downhill trail exploring the local settlement to reach Kispang village. Kispang village is interconnected with a Fikuri Trek route. Along the Fikuri hill trekking, you can experience the Phikuri hill top with some of the best stunning view of Langtang, Gosaikunda, Manaslu, Annapurna and Ganesh Mountain.
Continue walk further down to Betrwati, a religiously very important pilgrimage sites for Hindu devotees. It is also popular as a Uttar Gaya and famous for offering food i.e. rice ball (PINDA) to ancestors by the living sons and daughters along a spiritual performance called Shraddha. Some lodge, tea shops, school are available in Betrawati also famous for its magnificent views of the farming terrace.
Traveler's can go to river to swim or catch fishes. It's our final day hike of entire Ganesh Himal base camp trekking therefore the entire camping crew will have a party celebration with dance and singing songs at the evening.
17 Day
Overland drive from Betrawati Bazaar to Kathmandu by bus, 5-6 hours
The highway to Kathmndu is blacktop road but often traffic jam in between thus it takes about six hours roughly. However, it's believed that the Bus journey is the most scenic due to the beautiful views of rivers, hills, terraces, forests, and villages. Transfer to your hotel. Trip Finish.
Not satisfied with above plan?
Interested on planning a custom trip? this might take 2 to 3 minutes.
Cost
How much does Ganesh Himal Trek Package Price?
Impressive wilderness route at Ganesh Himal trek price USD 1575 per person is standard camping trek price on double occupancy basis.
For the deluxe and luxury trekking tour plan, we add a 3-5 star category hotel deluxe air-conditioned room in Kathmandu. AND WE ARE OPEN TO CUSTOMIZING YOUR TOUR AND PACKAGE PRICE AS PER YOUR REQUIREMENTS.
Ganesh Himal trek package price includes:-
Kathmandu international airport transfer with a private Car/Van (2 times).
Single night's double bed room accommodation in a tourist standard hotel in Kathmandu.
16 Breakfast, 16 lunch, and 15 Dinner served with hot drinks on a tent basis trek.
Tent accommodation while on Camping trekking days.
Langtang National Park entrance permit fee
Trekkers Information Management System (TIMS) permit fee.
Kathmandu – Syapru besi Bazaar & from Betrawati Bazaar to Kathmandu transfer by bus [sharing basis].
All grounded transportation as per given on itinerary.
English-speaking license holder mountain trekking guide.
A professional cook requires all camping pieces of equipment like tents, mattresses, pillows…etc.
Experienced porters (1 guest: 1 porter basis) because each porter carries a maximum of 24 kilograms.
Salary, food, accommodation, and travel insurance for all Nepali crew.
Seasonal fruits like apples and pomegranates as deserts [after dinner] for Ganesh Himal base camp trekking.
First aid medical kit including Oximeter to monitor oxygen level, and Pulse rate every day to save from Higher altitude risk.
Agency's duffel bag (50 liters capacity) and trek poles if Necessary – return after the trek.
Trek completion certificate and Ganesh Himal base camp trek map – keep them as a souvenir.
Nepal Government Tax, VAT, and as well as Company service charge.
Ganesh Himal package trek price not includes:-
Lunch and Dinner during your stay in Kathmandu
Guided sightseeing by a Tour Guide in Kathmandu valley with private vehicles if required.
Any kinds of battery charge, laundry service, phone calls during the trekking.
Visitor personal trekking equipment .
Personal nature expenses, all beverage drinks, and bar bills.
Your travel insurance (it is mandatory in case of emergency).
Any donation and monument entrance fees.
Gratuities for cook, mountain guide, and porters [Tip is a culture, so they expect highly].
Any other things which are not mentioned above
Group join
We can organize a private Ganesh Himal trek starting on any date that works for you. Please contact us for more information.
FAQ
Question: Do I need the experience to do Ganesh Himal trek?
Answer: It is suitable for keen trekkers/walkers who are able to walk around 4 or 5 hours a day, with a lightweight day-pack. For Ganesh Himal trekking, if you have a little experience would be better.
Question: Is pick up service available on my arrival day in Kathmandu?
Answer: Yes sure. If you provide us with your flight detail and request us then our representative will come to pick up you at Kathmandu international airport.
Question: Can I store my luggage/stuff in Kathmandu?
Answer: Yes, you can leave your luggage at your hotel or at our office. Store your stuff in the Gokyo Treks agency office for free.
Question: Is this wilderness trekking Safe for also Solo Female Trekkers?
Answer: Absolutely yes. It's a safe country to travel to for solo travelers; this type of Tent trek is perfectly safe for solo female trekkers also. We have been organizing the trek even for solo female travelers since its establishment.
Question: What kind of accommodation can I expect?
Answer: We provide you with tourist standard accommodation in Kathmandu. Likewise, full board meals on camping accommodations however we recommend you take your own sleeping bags if you have one with you otherwise, you may rent them while you are in Kathmandu.
Question: What kind of food can I expect on Ganesh Himal Hike?
Answer: Our professional cook cooks a delicious range of mostly vegetarian such as Pasta, tuna bakes, noodles, potatoes, eggs curry rice, bread, soups, and fresh vegetables.
Question: What opportunities will I have for a shower en route?
Answer: In a Ganesh Himal camping trekking, we provide you hot water bucket so you will take a bucket shower.
Question: How do I get drinking water on the Ganesh Himal trek route?
Answer: In some places, you can buy mineral water for drinking but we advise against buying mineral water in plastic bottles, as currently there are no provisions for disposing of these. Instead, we provide you Aqua tablets, so you can purify normal water to drink. Travelers can get water from local taps or streams easily.
Question: Can I charge my digital camera or other batteries on my trip?
Answer: Very little chance as you are hiking in a tent camping trip. But as you pass through the local house and homestay sometimes you can recharge the battery. We suggest you bring an extra pair in case. Remember to bring your own adapters!
Question: Are there any communication facilities for Ganesh Himal trek group?
Answer: You can get telephone services so buy a local either NTC or NCELL SIM card to get communication with your friends and family members.
Question: Can I use credit cards in Trek?
Answer: No! For trekking, you need to have cash Nepali rupees because credit cards do not accept there. You can use a credit card only in a city.
Question: When should I book my trip and what are the payment terms?
Answer: Because our trips book up months in advance, we recommend booking early to avoid any kind of misunderstanding. We will, of course, make every effort to accommodate last-minute bookings. And regarding the deposit, we prefer a 20% advance deposit of the total price of the trip in order to confirm your reservation before you arrive in Nepal. The rest of the payment can be made after your arrival in Nepal.
Question: Who will carry my luggage on Ganesh Himal trekking?
Answer: We provide porters to transfer your luggage. As we are a responsible trekking tour operator agency, each of our porters carries a maximum of 24 kilos of your backpack which means 2 guests (12 kg luggage of each guest): 1 porter basis. If you wish to have a private porter, you might get an extra cost.
Question: How much distance do I walk each day?
Answer: When walking in the mountains, the distance you cover each day can vary greatly due to gradient, terrain, and altitude. As such it is very hard to give specific distances for each day, however, you need to prepare to walk for roughly about 5 hours each day.
Question: Do I need walking poles?
Answer: It is better to hike safely with walking poles. Learn how to use trekking poles for balance and stability, whether on the sidewalk or on trails. Walking poles can help prevent slips and falls. They are just recommended but not compulsory.
Question: How much additional money do I need per day?
Answer: You can allocate US$ 08 – 10 for a lunch/dinner in Kathmandu and it depends on your spending habits. US$ 7 to 10 US$ each day will be enough to buy bottles of water, chocolates, tea coffee, and some drinks while you are on your trek.
Ganesh Himal Trek highlights
Discover Ganesh Himal with Langtang Mountains range.
Walking through cultivated potato fields, colorful Rhododendron, conifers, and oak trees.
Visit Parvati Kunda and bath at natural hot springs if you wish.
Pangsang La 3,842m and Sing la 4,045 pass and experience yourself.
Get to know about Yarsagumba, a famous medicinal herb.
Best view of Ganesh Himal range, Manasalu, Langtang, Annapurna South, and Great Himalayan chain
Experience the real Nepali hospitality, people, and their lifestyles.
Notes for Ganesh Himal Trekkers
Hike at Ganesh Himal is still a wilderness hiking route that is most demanding for a tent base trekking in the Himalayas. The trip to the Ganesh Himal route offers outstanding sceneries including flora and fauna in the depth of the Langtang Mountain area.
Still, the Ganesh Himal trek itinerary is subject to change due to a condition beyond our control. Hike the Ganesh Himal plan is a sample Guideline showing tentative camp night stops. The physical, technical, and natural conditions may change the above itineraries.
What makes Ganesh Himal Trek special?
Opportunities for challenging tent camping hiking and pleasant treks are scattered all over this planet. You just need to know where to find the right camping trips. First safety and success satisfaction is our prime concern.
We at Gokyo Treks and Expedition believe in quality services. We are a team of professional, well-trained, and licensed local guides who know the destination much better than others.
Ganesh Himal Trek Review
There are no reviews yet. Be the first one to write one.
From US$ 2035
2% Off
US$ 1575
| | |
| --- | --- |
| No. of people | Price Per Person |
| 1 | USD 1995 |
| 2 | USD 1575 |
| 3 | USD 1550 |
| 4 - 6 | USD 1499 |
| 7 - 9 | USD 1425 |
| 10 + | USD 1350 |
Book Now
Customize Trip
Cost & Departures
Your Trip Your Style!
ITINERARY, COST, DEPARTURES, will adjusted according to your GROUP SIZE NEED TIME
Book with Confidence
Local Guides Company.
18 Years in Business.
Lowest Price Guaranteed.
100% Customizable Trips
Excellent Customer Service
Hassle Free Booking.
90 % Repeated customers
Highly Recommended agency
Private/group tour options