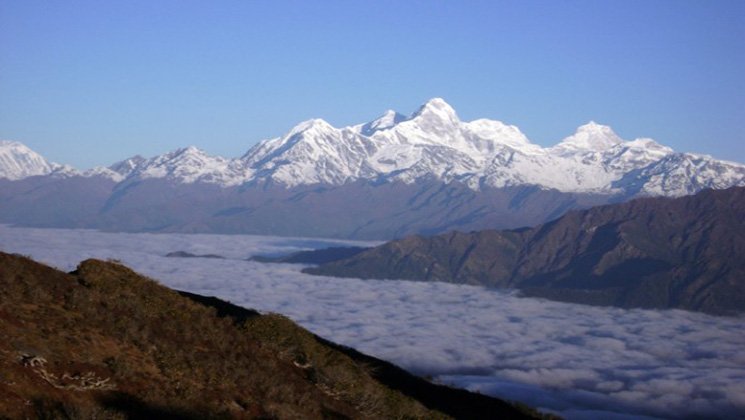 Trip Summary
Ganesh Himal Hike Duration: 13 Days
Trek Grade: Easy to Moderate
Maximum Altitude: 4,600m/15,042 feet
Trekking Hour: 6 Hours
Group-Size: 2-15 People
Best Time: October – May
Trip Mode: Tent Trek
Meals on Trek: Breakfast, Lunch, and Dinner
Transportation: Car/bus
Overview
The Ganesh Himal Trek lies in a central-eastern region of Nepal, one of the most isolated and least explored areas of Langtang Himalayas. An express Ganesh Himal Trek is very famous to explore Red Panda an endangered animal in Nepal.
Ganesh Himal Trek Tour offers an excellent view of Ganesh Himal I, Ganesh II, Ganesh III, Ganesh IV, Langtang, Mount Manaslu, and Annapurna. Mount Ganesh Himal height is Yangra (Ganesh I), 7,422 m (24,350 feet), and the mountain Ganesh is named after the elephant-headed God of Good Fortune. Moreover, it is untouched natural splendor "Great Himalayan Chain" forming the skyline.
Ganesh Himal Trekking goes along the dense forest with Spanish oak, blue pine, and, in springtime, the blossoming of Rhododendron sets the whole forest alight in a spectacular array of colors. Hot spas, gorges, glaciers, and magnificent scenery complete the picture. Likewise, Ganesh Himal from Kathmandu distance is 70 km north-northwest to the direction to Tibet border.
Singla pass Ganesh Himal trek
Majestic Ganesh Himal Singla Pass Trek is located at an altitude of 4,200 meters offers an extraordinary panorama of the Ganesh Himal Massif, Manaslu, and the Langtang range. Wilderness Singla pass Ganesh Himal trek is very famous to explore Red Panda an endangered animal of Nepal located north of Kathmandu, the capital of Nepal. Sigla pass combine with Ganesh Himal trek is designed to introduce you to the lives of diverse ethnic communities, whose cultural, social lifestyles, and customs are completely blended.
The Ganesh Himal treks is a home of several wild animals such as Musk deer, Himalayan black bear, snow leopard, Himalayan wild goat, and particularly birds and wildflowers. The Ganesh Himal trekking is possible to complete at any time (except winter) throughout the year.
Itinerary
Ganesh Himal Trek itinerary detail
It is a classical trek itinerary compared to most walks in this region leading up to the glacier. Ganesh Himal Trek particular route is designed for world travelers who wish to hike but are walking in a more relaxed manner than take a look at this itinerary.
01 Day
Arrival at Kathmandu valley. Transfer to hotel
Upon arrival in Kathmandu, Tribhuwan International Airport, we will receive you with private vehicle and transfer to hotel in Kathmandu with breakfast. The owner of the company "Ammar Raj Guni" will meet you and will brief you about Ganesh himal hiking information details.
02 Day
Overland drive from Kathmandu to Betrawati Bazaar, 6 hours
You will drive north of Kathmandu via Trishuli Bazaar (Shopping center for local people, mix caste people from different community. Tourist can pass famous hill station Kakani and Ranipauwa where you could see the langtang Himalayan range in close distance.
03 Day
Betrawati to Kispang hiking (1,850m/6,068 feet), 6 hours
Today our trail is uphills and we follow mostly the way gently up and we explore the local settlement and their tradition en route. Hike continue further to reach Kispang.
04 Day
Kispang to Thulo Chaur trekking (2,350m/7,708 feet), 5 hours
Today our trek is really pleasant so gradually uphills. On the way we will pass the Tamang village and their culture, some of the places we meet monastery and gorgeous natural waterfall and we stay in Thulo Chaur.
05 Day
Thulo Chaur – Gonga trekking (3,000m/9,840 feet), 4 hours
At the beginning uphill walk and gradual uphill through rhododendron forest which is the national flower of Nepal all the way to Gonga, which is our camp site. You could see Langtang Lirung and Gosainkunda mountain ranges from here.
06 Day:
Gonga to Rupchet trek (3,635m/11,886 feet), 7 hours
The journey takes steep up for about 4 hours through forest. Holidaymaker can achieve one of the beautiful Mountain views. We fix the camp in the alpine forest where the bushes are numerous in number.
07 Day
Shing La pass trek (4,400m/14,432 feet) or Sing La Top Hike (4,600m and Cherma (aprx. 2,900m), 8 hours
It is a long day trekking, but you see an amazing mountain views with sunrise when we reach on the crown. Singla pass is the highest hill top in this trekking and we decent down to Cherma.
08 Day
Meyghang hikes (2,300m/7,544 feet), 6 hours
On the way we follow the forest with juniper, pine trees and other many more. We meet the village with Tamang ethnic group with fabulous mountain views..
09 Day
Meyghang to Darkha trekking, 7 hours
Crossing landslide nearby Jharlang, you begin your trek through ascent path with views of Ganesh Himal, Manaslu, dense forest, waterfall, farming terraces and villages Darkha is the first Brahmin town on this hiking trail. From here you can enjoy the view of Aankhu stream at some distance.
10 Day
Khahare Bazaar Trekking, 6:30 hours
The early part of your trek is decent up to Darkha Phedi and your route moves along the river bank until you reach Khahare There is a big market at Khahare Bazaar with lodges, tea shops, big school, and other important buildings. This place is famous for its magnificent views of the farming terrace.
11 Day
Explore day at Khahare
There are many things to do for you today as there is school. You are welcome to visit the school and there is a river where we can go for swimming & fishing. Also we could explore the local market and and their lifestyle.
12 Day
Drive from Khahare Bazaar to Kathmandu by bus, 8 hours
The road till Dhading bensi moves through unpaved road and you drive along the well paved road until you reach Kathmandu. It can be best defined as scenic journey due to the beautiful views of rivers, hills, terraces, forests and villages.
13 Day
Final departure day
Drop you in Kathmandu International Airport onward your final destination and our trip ends. Wish you your wonderful journey.
Cost
How much does Ganesh Himal Trek cost?
Impressive wilderness route at Ganesh himal trek cost USD 1,099 per person is standard trek price on double occupancy basis. At this price, we offer you Tourist Standard accommodation in Tourist downtown Thamel, Kathmandu, and of course, Ganesh Himal hiking trip price will vary according to group size.
For the deluxe and luxury trekking tour plan, we add a 3-star category hotel deluxe air-conditioned room in Kathmandu (BB PLAN) and with an attached bathroom while trekking on possible places. AND WE ARE OPEN TO CUSTOMIZE YOUR TOUR AND PACKAGES PRICE AS PER YOUR REQUIREMENTS. International tour leaders are highly encouraged to get discounts and attractive complimentary.
Ganesh himal trek cost Includes:
Kathmandu international airport transfer by private vehicle car / van / jeep / bus according to group size.
2 night's twin sharing tourist standard accommodation in Kathmandu with breakfast plan.
Guided sightseeing by Tour Guide in Kathmandu valley with private vehicles.
Meals on full board (breakfast, lunch, Dinner) each day serve with hot drinks on trek
Guest house accommodation while you are on trekking days
Langtang National Park entrance permits and their fees
Trekkers Information Management System (TIMS) permits and fees
Kathmandu – Betrawoti Bazzar & from Khahare Bazaar to Kathmandu transfer by bus transfer.
All grounded transportation as per itinerary.
Professional English speaking license holder mountain trekking guide.
Experienced porters (2 guest : 1 porter basis) because each porter carry maximum 25 kilogram.
Salary, food, accommodation and their travel insurances for all Nepali crew.
A First Aid medical kit bag.
Updated Ganesh Himal base camp trek map 1 piece for each guest.
Nepal Government Tax, VAT and as well as Company service charge.
Ganesh Himal Trek Cost Exclude :
Nepal entry visa fee cost US$ 40.
Lunch and Dinner during the staying in Kathmandu
Any kinds of battery charges, laundry service, phone calls and hot shower during the trekking.
Visitor personal trekking equipments .
Personal nature expenses, any drinks and bar bills.
Your travel insurance (it is mandatory in case of emergency).
Any donation and monuments entrance fees.
Tips for the crew (Note : TIPS is not compulsory but highly expected)
Any other things which are not mentioned above
Group join
We can organize private Ganesh himal trek starting at any date that works for you. Please contact us for more information.
FAQ
Question: Is pick up service available on my arrival day in Kathmandu?
Answer: Yes sure. If you provide us your flight detail and request to us then our representative will come to pick up you at Kathmandu international airport.
Question: Do I need the experience to do Ganesh Himal trek?
Answer: It is suitable for keen trekkers/walkers who are able to walk around 4 or 5 hours in a day, with a lightweight day-pack. For this trekking, if you have about a little experience would be better.
Question: What kind of accommodation can I expect on the Ganesh Himal trek?
Answer: We provide you tourist standard accommodation in Kathmandu. Likewise, lodges and camping accommodation checking the situation and availabilities of guest houses en route. We recommend you take your own sleeping bags if you have one with you otherwise, you may rent them while you are in Kathmandu.
Question: What kind of food can I expect on Ganesh Himal Hike?
Answer: Our professional cook cooks a delicious range of mostly vegetarian such as Pasta, tuna bakes, noodles, potatoes, eggs, dhal bhat, bread, soups, fresh vegetables.
Question: What opportunities will I have for a shower along express Ganesh Himal Trek?
Answer: In a ganesh himal camping trekking, we provide you hot water bucket you will take a bucket shower.
Question: How do I get drinking water on Ganesh Himal trekking?
Answer: In some places, you can buy mineral water for drinking but we advise against buying mineral water in plastic bottles, as currently there are no provisions for disposing of these. Instead, we provide you with boiled water or Aqua tablets (purified water) to purify the normal water as the normal water is available at the campsite on the route.
Question: Can I charge my digital camera or other batteries on my trip?
Answer: Very little chance as you are hiking in a tent camping trip. But as you pass through the local house and homestay sometimes you can recharge the battery. We suggest you bring an extra pair in case. Remember to bring your own adapters!
Question: Are there any communication facilities on the Ganesh Himal trek group?
Answer: You can get telephone services so buy a local either NTC or NCELL SIM card.
Question: Can I use credit cards in Trek?
Answer: No!. For trekking, you need to have cash Nepali rupees because credit cards do not accept there. You can use a credit card only in a city.
Question: When should I book my trip and what are the payment terms?
Answer: Because our trips book up months in advance, we recommend booking early to avoid any kind of misunderstanding. We will, of course, make every effort to accommodate last-minute bookings. And regarding the deposit, we prefer a 20% advance deposit of the total price of the trip in order to confirm your reservation before you arrive in Nepal. The rest of the payment can be made after your arrival in Nepal.
Question: Who will carry my luggage on Ganesh Himal trekking?
Answer: We provide porters to transfer your luggage. As we are a responsible trekking tour operator agency, each of our porters carries a maximum 25 kilos of your backpack which means 2 guests (12.5 kg luggage of each guest): 1 porter basis. If you wish to have a private porter, you might also get it on paying an extra cost.
Question: How much distance do I walk each day?
Answer: When walking in the mountains, the distance you cover each day can vary greatly due to a gradient, terrain, and altitude. As such it is very hard to give specific distances on each day, however, you need to prepare to walk roughly about 5 hours each day.
Question: Do I need walking poles?
Answer: It is better to hike safely with walking poles. Learn how to use trekking poles for balance and stability, whether on the sidewalk or on trails. Walking poles can help prevent slips and falls. They are just recommended but not compulsory.
Question: How much additional money do I need per day?
Answer: You can allocate US$ 08 – 10 for a lunch/dinner in Kathmandu and it depends on your spending habits. US$ 7 to 10 US$ each day will be enough to buy bottles of water, chocolates, tea coffee, and some drinks while you are on trek.
Coming
Ganesh Himal Trek highlights
Discover Ganesh Himal with langtang Mountains range.
Walking through cultivated potatoes fields, colorful Rhododendron, conifers and oak trees.
Best view of Ganesh Himal range, Manasalu, Langtnag, Annapurna South and Great Himalayan chain
Experience the real Nepali hospitality, people and their life styles.
Ganesh Himal Trek Notes
About Ganesh Himal trek itinerary is subject to change due to a condition beyond our control. This is a Guideline showing tentative camp night stops. The physical, technical and natural condition may change this above itineraries.
What makes Ganesh Himal Trek special?
Opportunities for challenging trekking or hiking and pleasant strolls are scattered all over this planet. You just need to know where to find them. We at Gokyo Treks and Expedition believe in quality services. Your safety and satisfaction is our concern. We are a team of professional, well-trained, and licensed local guides who know the destination much better than others.
From US$ 1210
5% Off
US$ 1150
| | |
| --- | --- |
| No. of people | Price Per Person |
| 1 | USD 1498 |
| 2 | USD 1150 |
| 3 | USD 1265 |
| 4 - 6 | USD 1125 |
| 7 - 9 | USD 1099 |
| 10 + | USD 1075 |
Book Now
Customize Trip
Cost & Departures
Your Trip Your Style!
ITINERARY, COST, DEPARTURES, will adjusted according to your GROUP SIZE NEED TIME
Book with Confidence
Lowest Price Guaranteed.
Excellent Customer Service
Hassle Free Booking.
90 % Repeated customers
Travelers Recommended agency
Local Guide's owned company.
Reference person
Contact in Germany
Klaus Kummer : +49-367-2351-957
Martin Aigner: +49 7904 7428
Contact in USA
John Erwin: 212-222-6389
Beth Pekol, Chicago: +1 312-364-8924
Eve Quesnel, California: 530-5879-113
Contact in Australia
Mark Panico: +61 434 784 995
Contact in France
Anne Claire Srdoc: +33 683 549 096
Contact in Austria
Verena Laner: +43 650 7110 301
Dorothee Plunger:+43 512 565 255

Contact in Switzerland
Dominik Lee, Zürich: +41 079 3826 028