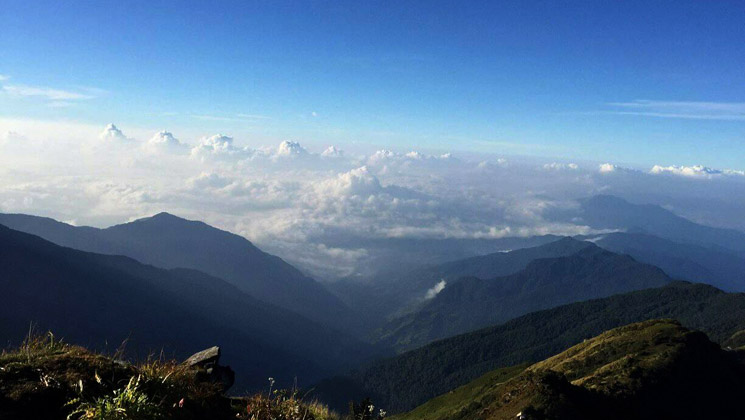 Guerrilla Trek Summary
Guerrilla Trek Duration: 14 Days
Guerrilla Trip Difficulty: Easy to Moderate Grade
Highest Altitude: 4,620m/15,158 feet
Trekking Hour: 6 Hours daily
Group-Size: 1 – 10 People
Best Time: March, April, May, October, November and December
Trip Mode: Guest House
Meals on hiking: Breakfast, Lunch, and Dinner
Transportation: Bus ride
Overview
Guerrilla Trek is a soft adventure trek route in a remote and unexplored part of Nepal. Nature is purely stunning at its best and regions where the history of Nepal's ten years of revolution sprung up.
Amazing Guerrilla trekking is one of the most exotic and interesting off-the-beaten-path trek routes in the Himalayas. It is a great alternative way to explore the hidden valleys, local cultures, scenic mountains range, Rhododendron forests, birds, and pristine rivers. Nepal Guerrilla travel goes through the vast Dhorpatan region, the only hunting reserve in Nepal.
Virgin hikes in Nepal – Guerrilla Trek is a totally isolated and newly promoted trek route best for all age trekkers to research about ten years of revolution history of the Maoists' People's Movement sprung up escaping from the crowded areas in Nepal.
Along the way, sightseers will have an incredible chance to find Magar Shamanism culture and different other ethnic gatherings. And ways of life as well as Maoist war history and spots, field lands, and heavenly in Dhorpatan districts.
Guerrilla trekking in Nepal is one of the best wilderness treks that take you into the heart of the Annapurna with the magnificent and incomparable views of the Dhaulagiri range and Dogra, putha Himal. The historical Guerrilla hike is not the hardest trek in Nepal, possible to explore at any time except during the rainy season throughout the year.
How much does Guerrilla Trek Package Cost?
The cost of a Guerrilla trek package with a Gokyo Trek Agency (a local agency in Kathmandu Nepal) ranges between US$ 1050 to US$ 1390. Of course, the Guerrilla package Trek cost will change as per the group size you are traveling to and the service you choose.
We also have special deals for group leaders. For example, if you could bring 10+ travelers (except you) on your trip, you are treated as a group leader. So you can hike the Guerrilla trek route free of cost.
However, we probably arrange private trips in order to avoid group tours with strangers. A private tour gives you a better experience on your hikes. If you value personalization, flexibility, and in-depth experiences, a private trip customized to your personal needs will be the best option.
It is the standard trip package price for 2 week's trek. If you are 2 hikers Guerrilla trek cost US$ 1090 for 14 days. We can modify the price and trek route as per your wish also. Here is the price list for the Guerrilla hike.
Price Per Person for 14 days hikes in the Himalayan Territory.
| Number of Tourist | Price Per Person |
| --- | --- |
| 1 Person | US$ 1390 |
| 2 Person | US$ 1090 |
| 3 Person | US$ 1090 |
| 4 to 6 person | US$ 1075 |
| 7 to 9 Person | US$ 1060 |
| 10 and more than 10 Person | US$ 1050 |
If you're wondering to know about what is included and what is excluded from this trip price, kindly check on the cost given on a tab button.
Itinerary
Guerrilla trek itinerary details
Now promoted guerrilla trek is a non-touristic trail is a historical off-beaten path trek route itinerary compared to most walks in the Himalayas. The particular route is designed for world explorers who wish to hike in a more relaxed manner. take a look at this itinerary. However for travelers who wish to do Guerrilla quickly but are walking with limited time wise then ask us for a tailor-made itinerary.
1 Day
Arrival at Kathmandu valley
Upon arrival in Kathmandu, Tribhuwan International Airport, we will receive you in a private vehicle and transfer you to a hotel in Kathmandu. Our representative will give you information about guerrilla trekking programs.
2 Day
Overland drive to Beni Bazaar (830m/2,723 feet), 8 hours
At morning after breakfast, a guide will come to pick you up at the hotel. You can drive to the Bus park – Bus station, and catch a coach to Beni. During your drive it takes roughly about eight hours to bus ride after Kathmandu.
3 Day
Takam hiking (1,665m/5,463 feet), 6 hours.
Beni Bazaar is located in Myagdi district in Nepal. You can ascend roughly about 24 kilometers from a rocky street to Darbang. Furthermore, hikes are about 3 hours continuous to Takam, away from the tallest hills.
4 Day
Lamsung trekking (2,250m/7,382 feet.), 6:30 hours.
Just magic day like the landscape begins getting significantly increasingly emotional. This is the thing that Nepal used to resemble before the trekkers arrived. Local people are not used to outsiders and have a ton of stories to tell about the war.
5 Day
Gurjaghat trek (3,020m/9,908 feet), 7 hours.
Walk along through thick pine woods, with musk deer shooting in the undergrowth. The meadows on the edge offer 180-degree perspectives on the Dhaulagiri mountain range up to Churen Himal on the west ridge.
6 Day
Dhorpatan trek (2,860m/9,383 feet), 5 hours.
You traverse from Myagdi to the Baglung region and trek into the previous Tibetan refugee camp. It was overhauled by a runway worked by the Swiss during the 1950s. This is additionally the passageway to Dhorpatan, a Hunting Reserve, where you can spot mountain goats and blue sheep.
7 Day
Dhorpatan to Nisi Dhor Trek, 5 hours.
This is a heaven for flying creatures. Watch dances pheasants and other transitory varieties that you have seen distinctly in fowl guides. Difficult to envision that individuals battled a war here. There are dairy animal sheds in the rainstorm, yet in the winter these high fields are betrayed.
8 Day
Nisi Dhorto to Tallo Sera hiking, 7 hours.
As you traverse from Baglung to Rukum, walk into the Magar community and enter the former Maoist base region. There are thick woodlands the whole distance, so it is more likely than not been anything but difficult to conceal here from the helicopter watches. The towns are beautiful and there is in every case some sort of Magar celebration going on.
9 Day
Tallo Sera to Rujhikhola hiking, 6 hours.
Hike to Lukum in Rukum, a town populated uniquely by Magars and Dalits (low cast). This is about more or less medieval Nepal these days.
10 Day
Rujhikhola to Thabang hikes, 5 hours.
Thabang is the support of the Maoist insurgency. As it has a dense forest, people can hide there easily from helicopter patrols. There has been some improvement in the framework after the war finished, and the individuals are excited and agreeable.
11 Day
Thabang to Jaljale trekking, 5 hours.
The most noteworthy point in Jaljale is Dharampani village. Dharapani is a nice place located at an altitude of 3,900 meters. In addition, there is an incredible view from Api Saipal in the west to Dhaulagiri in the east.
12 Day
Jajala to Jelbang hikes, 6 hours.
Presently we're descending from the high mountains and the town is ethnically blended.
13 Day
Jelbang to Suliochaur treks, 6 hours.
This is the place we at long last get to Rolpa district and the street head. Rolpa was likewise an agitator base zone and for a considerable lot of the ten years of war under absolute Maoist control. You can eat at one of the many collective cafés run by Maoist agreeable, where staffs are family members of the individuals who were executed in the fighting.
14 Day
Drive from Sulichaur to Kathmandu takes around 13 hours.
Presently, we're descending from the high mountains, and the town is ethnically blended.
15 Day
Final departure day.
Drop you in Kathmandu International Airport onward to your final destination and our trip ends. Wish you a wonderful journey back home.
Not satisfied with above plan?
Are you interested in planning a custom trip? this might take 2 to 3 minutes.
Cost
How much does the Guerrilla trek package price?
Nepal's historical Guerrilla trek package price US$ 1090 is the standard trek price on double occupancy basis. AND WE ARE OPEN TO CUSTOMIZING YOUR TOUR AND PACKAGE PRICE AS PER YOUR REQUIREMENTS.
Amazing Guerrilla trek package price includes:
Kathmandu international airport transfer by private vehicles.
2 nights double bedroom tourist standard hotel accommodation in Kathmandu.
Meals on full board (Breakfast, Lunch, and Dinner) each day serve with hot tea/coffee during the trek
Guest house basis trekking accommodation while on trekking days.
Bus transfer from Kathmandu – Beni and Return bus from Sulichaur to Kathmandu as a round trip.
Fully escorted trek with English-speaking license holder local guide and every 2 guests 1 Porter basis.
Required Conservation area permits and TIMS permits for Trek Tours.
Food and accommodation and salary of Nepali trekking staff.
Insurance of trekking guide, and porters.
Agency's duffel bag (50 liters capacity) and trek poles if Necessary – return after the trek.
First aid medical kit including Oximeter to check your Oxygen level, Pulse rate every day to save from high altitude risk.
Updated Guerrilla trek map & trek completion certificate – keep as a souvenir.
Nepal Government Tax, VAT, and as well as Company service charge.
Magic Guerrilla package trek price excludes:
Nepal entry visa fees
Lunch and Dinner during the staying in Kathmandu city.
Any kinds of battery charges, laundry service, phone calls, and hot showers during the trekking.
Tourist personal trekking equipment.
-10 comfort fresh Sleeping bag rental cost per piece US$ 2 per day.
Personal nature expenses, all types of drinks, and bar bills.
Tourist's travel insurance to cover helicopter rescue and evacuation in case of an emergency.
Donation and monuments entrance fees.
Gratuities for Cook, guide, and porters [Tip is a culture, so they expect highly].
Any other things which are not mentioned above
Group join
We can organize a private Guerrilla trek starting at any date that works for you. Please contact us for more information.
FAQ
Question: Do I need the experience to do the Guerrilla trek?
Answer: Actually not! but it is suitable for keen trekkers/walkers who are able to walk around 5 hours daily with a lightweight day pack. Nevertheless, if you have little experience with hikes, it's great.
Question: What kind of accommodation can I expect on the Guerrilla trek?
Answer: We provide you with tourist standard accommodation in Kathmandu and during the trekking routes. The rooms along the routes are clean with a cozy bed with a nice mattress and blankets. We recommend you take your own sleeping bags if you have one with you otherwise, you may rent them while you are in Kathmandu.
Question: Is pick-up service available on my arrival day in Kathmandu?
Answer: Yes sure. If you provide us with your flight details then you should do a request then our representative will come to pick up you at Kathmandu international airport.
Question: What kind of food can I expect on this trek?
Answer: As you are going into the remote areas in Nepal, you should either have a meal at a local homestay. However, if you are on a camping trek, our professional cook cooks a various delicious range of mostly vegetarian such as Pasta, tuna bakes, noodles, potatoes, egg curry rice, bread, soups, and fresh vegetables.
Question: What opportunities will I have for a shower along with guerrilla trekking?
Answer: You can take a warm or cold shower at local houses for free everywhere. In spite of the fact that, if you are on a camping trek – we provide you hot water bucket then you will take a bucket shower.
Question: How do I get drinking water on Guerrilla Lodge trekking?
Answer: We recommend you buy aqua tabs and chlorine tablets to purify the water to drink. We advise against buying mineral water in plastic bottles, as currently there are no provisions for disposing of these.
Question: Can I charge my digital camera or other batteries on my trip?
Answer: During the lodge trekking there will be more chances to charge the battery. We recommend you bring an extra pair in case. Remember to bring your adapters!
Question: Are there any communication facilities on the Guerrilla Lodge trek?
Answer: Yes, you can get telephone services as well as 3G internet services.
Question: Can I use credit cards in guerrilla trekking?
Answer: No credit card. Only cash is possible.
Question: When should I book my trip and what are the payment terms?
Answer: Because our trips book up months in advance, we recommend booking early to avoid any kind of misunderstanding. We will, of course, make every effort to adjust last-minute bookings.
And regarding the deposit, we prefer a 20% advance deposit of the total price of the trip in order to confirm your reservation before you arrive in Nepal. And the rest of the payment can be made after your arrival in Nepal.
Question: Who will carry my luggage on the Guerrilla trek?
Answer: We provide porters to transfer your luggage. As we are a responsible trekking tour operator agency, each of our porters carries a maximum of 25 kilos of your backpack which means 2 guests (12.5 kg luggage of each guest): 1 porter basis.
Question: How much distance do I walk each day?
Answer: When walking in the mountains, the distance you cover each day can vary greatly due to gradient, terrain, and altitude. As such it is very hard to give specific distances for each day, however, you have to be prepared to walk for roughly about 5 hours each day.
Question: Do I need walking poles?
Answer: It is better to hike with walking poles. Learn how to use trekking poles for balance and stability, whether on the sidewalk or on trails. Walking poles can help prevent slips and falls. They are just recommended but not compulsory.
Question: How much additional money do I need per day?
Answer: You can allocate US$ 08 – 10 for a lunch/dinner in Kathmandu and it depends on your spending habits. US$ 7 to 10 US$ each day will be enough to buy bottles of water, chocolates, tea coffee, and some drinks while you are on your trek.
Guerrilla trek highlights
Learn about the historical Maoist guerillas in Rolpa and Rukum.
Cultivated terrace, excellent views of Dhaulagiri to Gurja Himal 7,193m.
Experience the Gurung and other ethnic groups and their local lives.
Notes for Guerrilla route trekkers:
The Guerrilla Trek information stated above is just a guide and standard template that we provide tourists. The trip is possible to modify at your request to accommodate your specific needs. Local politics, landslides, cancellation of local flights, transport, weather, or a multitude of other factors that are beyond our control can result in a change of itinerary en route.
It is, however, very incredible that the itinerary would be extensively altered. If alterations are necessary the leader will decide the best alternative option, taking into consideration the best interests of the whole group. When a change does occur, we do everything we can to minimize its effect, but we cannot be responsible for the results of changes or delays.
What makes the Guerrilla trek special?
Trek route was once a stronghold for the Maoist guerrillas. It's important to note that some of these areas may still have remnants of the guerrilla activity and it's important to follow local rules and regulations for safety reasons.
We at Gokyo Treks and Expedition believe in quality services. Your safety and happiness are our concerns.
We are a team of professional, experienced, well-trained, and licensed local guides who know the destination much better than others. Not only this but also we give benefits to the local communities and help to conserve natural resources which reduced costs and consumption.
Traveller's Review
There are no reviews yet. Be the first one to write one.
From US$ 1147
5% Off
US$ 1090
| | |
| --- | --- |
| No. of people | Price Per Person |
| 1 | USD 1390 |
| 2 | USD 1090 |
| 3 | USD 1090 |
| 4 - 6 | USD 1075 |
| 7 - 9 | USD 1060 |
| 10 + | USD 1050 |
Book Now
Customize Trip
Cost & Departures
Your Trip Your Style!
ITINERARY, COST, DEPARTURES, will adjusted according to your GROUP SIZE NEED TIME
Book with Confidence
Lowest Price Guaranteed.
100% Customizable Trips
Excellent Customer Service
Hassle Free Booking.
90 % Repeated customers
Highly Recommended agency
Private/group tour options
Local Guides Company.