Kathmandu and Chitwan Tour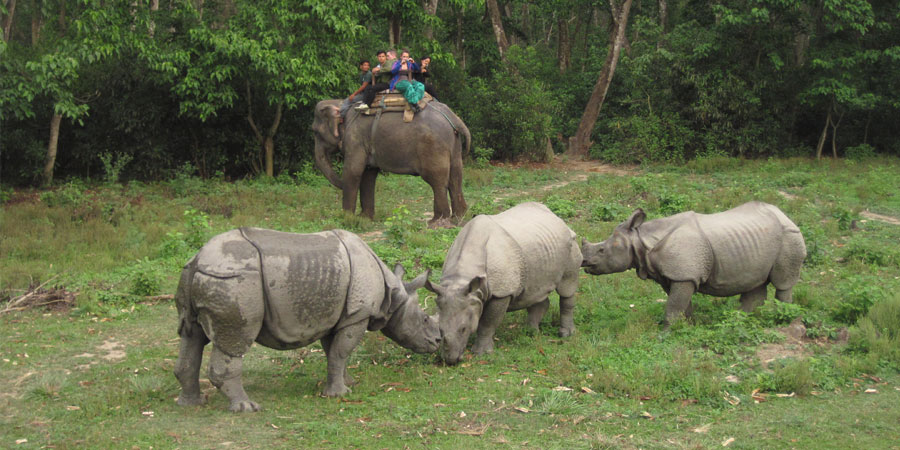 Kathmandu and Chitwan Tour Summary
Sightseeing duration: Multi Days
Touring Hours: 6/7 Hours Daily
Sightseeing Group-Size: 1 – 15 People
Best time for Tour: All months (except rainy months)
Transportation: Car / jeep / Hiace Van
The Kathmandu and Chitwan Tour is the most popular tourist activity in Nepal. Kathmandu is a historical and cultural town, a center of religious places and the people come to visit here on faith backgrounds. The Pashupatinath Temple, Krishna Mandir Temple, and Changunarayan Temple are considered the meaningful place for Hindu devotees while Swyambhunath Stupa and Boudhanath Stupa are very important sites for Buddhists (Buddhism).
In addition, Chitwan is one of the famous World Heritage sites for Jungle safari activities. Furthermore, the meaning of Chitwan is the heart of the jungle. In the Chitwan jungle, you can do Such as jeep safari , Bird Watching, canoe ride, Nature tour, Jungle walk, and jungle drive.
Besides that, Sauraha Chitwan is a gateway to visiting the National Park and is one of the most demanding wildlife safari tours in Nepal. It is a wonderful place of lush sub-tropical jungles and the home of several animals such as Elephants, tigers, wild boars, bears, 1 horned rhinoceros including many species of birds and reptiles.
Elephant back riding safari in Chitwan National Park provides an opportunity to get a closer view of the endangered one-horned rhinoceros. Moreover, you will have to familiarize yourself with the vibrant Tharu lifestyles, culture, and tradition. Remember us for the Chitwan jungle safari tour package at the lowest price comparing others.
Kathmandu and Chitwan 5 days tour weather fact
December / January / February (winter months)
Winter time in Nepal but generally clear skies. But still, a beautiful time to discover wildlife safari.
March / April / May (spring months)
The days are sunny, the weather gets excellent, and the best time to explore
June / July / August (rainy months)
Monsoon season in Nepal. So, it is not a good idea to do jungle safari tours because of the tall grasses, so the chance to see animals are very less.
September / October / November (autumn months)
Monsoon is over around early September, but some drops of rain are still possible in September but a still a very nice time to discover wildlife activities.
Kathmandu Chitwan Tour packages [5 days tour itinerary details].
---
Day 1
Arrival in the Kathmandu valley
Upon arrival in Kathmandu, Tribhuwan International Airport, we will receive you in a private vehicle and transfer you to a hotel in Kathmandu with a breakfast plan. Our representative will summarize your information about further programs.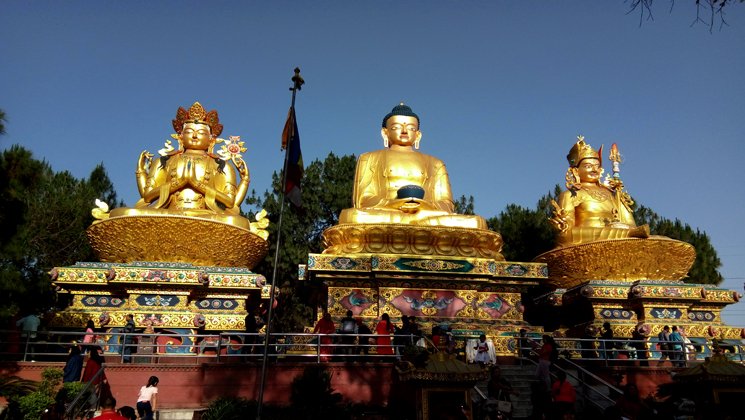 After refreshments, we can walk a little bit further to get to Kathmandu Durbar Square one of the heritage sites in Kathmandu city. Hanuman Dhoka Durbar Square is a complex of palaces, courtyards, and temples. They were built between the 12-18th century and are used by the Malla kings.
An intriguing piece here is the 17th-century stone inscription set into the wall of the palace with writings in 15 languages. Durbar Square is the social, religious, and urban focal point of the city.
Day 2
Pre-trip meeting and sightseeing around the Kathmandu valley.
Today, you will have a private vehicle and a professional tour guide for your city sightseeing trip that will start around 9am. The sightseeing places we cover today are Swoyambhunath Stupa – The Monkey Temple (World Heritage Site), Pashupatinath Temple (UNESCO World Heritage Site), Bouddhanath Stupa (World Heritage Site), and finally the oldest markets of Nepal, Asan tole in Kathmandu. Travelling those places are like a spiritual journey of your entire tours.
Day 3
Drive to Chitwan Sauraha. Arrival in Chitwan Villages.
Arrival at Sauraha Chitwan and transfer to Hotel. Reception with welcome drinks. Lunch, Tharu Village excursion, Museum and sunset tour, Dinner.
Day 4
Day tour in Chitwan Sauraha.
6 am wake up call for breakfast, Canoeing, Jungle walk, Visit Elephant breeding center. Subsequently, Lunch and go for a jeep safari (roughly for 3 hours) – Jungle drive. Evening at dinner then visit Tharu Cultural show program.
Day 5
Drive out to Kathmandu city.
Wake up at 6 am to walk for an hour for bird watching. In this way, we complete the Chitwan tours and back to the hotel for breakfast. Drive to Sauraha tourist bus park to get to Kathmandu city with Tourist Bus service. Trip finish.
Kathmandu and Chitwan tour in Nepal highlights
Discover the high mountains throughout the historical town.
Enjoy a mix of the ethnic groups and their culture and festivals.
Discover the Buddhist pilgrimage sites and Hindu pilgrimage sites including the Hindu cremation center.
Explore the amazing festival in Nepal on your favorite travel dates.
Scenic drive across the Trishuli river valley.
Visit the Elephant breeding center and watch the Birds in Chitwan.
canoe ride, jungle walk staying in the comfort resort in Chitwan with a swimming pool [with extra cost].
Visit Chitwan National park to experience the wildlife safari.
Tharu village walk, Museum, their culture, tradition…etc.
What's Included in the Price:
Kathmandu domestic and international airport transfer as per the given plan.
World heritage sites in Kathmandu tour with Air-condition car with fuel and driver as per the above plan.
2 Nights double bedroom accommodation in a 3-star hotel in Kathmandu with breakfast plan.
2 Nights double bedroom AC accommodation in Chitwan Resort [2 Breakfasts, 2 Lunch and 2 Dinner served with hot drinks].
Kathmandu to Sauraha Chitwan and return with a tourist bus transfer.
Arrival and welcome drinks in the Chitwan Resort.
Chitwan National Park entrance fees.
A Nature Guide during your National Park Tour.
Optional tour : Elephant ride safari / Jeep safari.
Certified English-speaking tour guide during the tours.
All government Taxes/VAT & Gokyo Treks Agency service charge.
What's not-includes in the Price
Pashupatinath Temple sightseeing entrance fee Rs 1,000.
Boudhnath stupa sightseeing entrance fee Rs 400.
Swayambhunath Stupa sightseeing entrance fee Rs 300.
Museums and Other monuments fees.
All types of bar bills
Kathmandu to Bharatpur and Return flights [If needed]
Bharatpur – Sauraha Hotel Resort – Bharatpur transfer by private vehicle cost.
Meals besides the above mentioned in the travel plan.
Your Lunch and dinner also on the traveling days (cost about US$ 5 to US$ 7 per meal depending upon what and where you prefer to eat).
Departure & Return Departure Point:
Have in mind that we pick up all the travelers from your hotel to the tourist spots and drop you back at the hotel on each day tour.
What To Expect
This is all about multi days sightseeing to cover the heritage sites of Kathmandu and Chitwan National Park. On your visit to Kathmandu, most people are Newars still abiding by its tradition as their significant part of the spirit. Nepal is socially rich and is home to numerous interesting nationalities, religions, dialects, customs, outfits, and celebrations.
Experience the cultural and historical heritage sites of Kathmandu valley and its home to Nepalese from all edges of the country. You will get to know the city's history and culture and watch out for the interesting Monuments in Kathmandu.
Likewise, Chitwan National park covers 932 square kilometers (360 sq miles) and declares a world heritage site by UNESCO in 1979. A huge number of travelers come to visit Chitwan national park for jungle safari activities every year. Moreover, Chitwan National Park is located in the central Terai lowlands and offers some of the best wildlife-nature sightseeing places in Asia. The Park stakes its eastern border with the Parsa wildlife reserve of Nepal.
Additional Information (TIPS AND TRICKS)
Confirmation will be received at the time of booking
A wheelchair is accessible during the tours.
A maximum of 15 people per booking
Old travelers, Travelers with back pain, and pregnant can join this tour also.
It's a private tour/activity.
Cancellation Policy
You can cancel up to 48 hours in advance of the experience for a full refund. For a full refund, you must cancel at least 48 hours before the experience's start time. If you cancel less than 48 hours before the experience's start time, the amount you paid as a deposit will not be refunded.
Any changes made less than 48 hours before the experience's start time will not be accepted. Cut-off times are based on the experience's local time.
Notes for Kathmandu and Chitwan visitors!
There are countless types of Kathmandu and Chitwan tourism activities in Nepal. Mainly the Kathmandu and Chitwan tourism activities are Hindu and Buddhist places to visit. The benefits of Kathmandu and Chitwan tourism are to create jobs and opportunities and strengthen the local economy.
Some places in Nepal offer top Kathmandu and Chitwan tourism destinations. The above itineraries are subject to change due to conditions beyond our control. This is a Guideline showing tentative camp night stops. The physical, technical, and natural conditions may change this above itinerary.
What makes Kathmandu and Chitwan tour package special?
You just need to know where to find them. We at Gokyo Treks agency are Kathmandu and Chitwan tour consultants and believe in quality services. Your safety and satisfaction is our concern. We are a team of professional, expert, and license local guides who know the destination better than others.
Kathmandu and Chitwan Tour Review
There are no reviews yet. Be the first one to write one.
To get Chitwan and Kathmandu tour package with a detailed travel plan and cost, email us.
From US$ 420
5% Off
US$ 315
| | |
| --- | --- |
| No. of people | Price Per Person |
| 1 | USD 399 |
| 2 | USD 315 |
| 3 | USD 315 |
| 4 - 6 | USD 285 |
| 7 - 9 | USD 265 |
| 10 + | USD 230 |
Book Now
Customize Trip
Cost & Departures
Your Trip Your Style!
ITINERARY, COST, DEPARTURES, will adjusted according to your GROUP SIZE NEED TIME
Book with Confidence
Local Guides Company.
18 Years in Business.
Lowest Price Guaranteed.
100% Customizable Trips
Excellent Customer Service
Hassle Free Booking.
90 % Repeated customers
Highly Recommended agency
Private/group tour options