Nepal Teahouse Trek – What to Pack
Nepal is an incredibly stunning country with a vibrant community and some of the most breathtaking landscapes you'll ever see. Any backpacker's bucket list should include a trip to this trekking destination.
The best way to explore the country is through teahouse treks, which means you'll end up at a simple lodge with basic rooms and a meal every night. The best part about guesthouse trekking is that you just need to bring a small amount of gear. Teahouse trekking entails spending each night of your trek in a cabin. Just about all of Nepal's major trekking routes are teahouse treks, allowing you to travel with the least amount of gear and equipment.
Teahouses differ somewhat from area to area, but the majority are basic stone and wood buildings or huts with a kitchen, a shared dining hall, and bathroom space. They also offer a variety of basic bedrooms, usually with two single beds and a table. Most teahouses are designed primarily for trekkers, but some can also act as family homes in Nepal's more isolated areas.
Just like any hiking trip, you are only as good as your gear and supplies. Here's a quick rundown of essentials when packing for a Nepal Teahouse Trek.
Durable Backpack
Potentially the most important gear for your trip, your backpack will hold together all your items. It will function as your mobile home when you are out and about.
You will be lugging around a lot of weight most of the time. So, your backpack needs to be light, comfortable, and practical. Choosing a backpack that fits you well is crucial as an oversize backpack may prove a challenge to carry for long periods.
Additionally, you want a backpack that can hold two water bottles. On walking days, you will have to carry two one-liter water bottles at all times as supplies can be challenging on certain trails.
To avoid body pains, the backpack should have an adjustable waist and shoulder straps. This allows you to adjust where the weight of the pack settles on your body.
Hiking Boots
Trekking entails long hours of exploring and hiking. Expect to be on your feet between three to twelve hours a day. As such, you need the perfect hiking boots. While it is possible to trek using sneakers, you will encounter snow, icy glaciers, and rocky trails, which are brutal to your feet if they are not properly protected.
When purchasing hiking boots, choose a pair with a bit of extra toe space. This provides room for thick socks. And, it will reduce the pressure on your toes, especially when you are going downhill.
If you are expecting wet conditions, it is best to consider waterproof or semi-waterproof boots. Nothing can ruin a great day of trekking than soaking wet feet.
Also, make sure that the boots have enough ankle support. You can even break into the boots by wearing them before your teahouse hiking trip.
Hiking Clothing
Avoid overpacking for your trip, especially hiking clothes . Try not to bring two garments that serve the same purpose. Here's a list of all the basic layers that you need to bring.
A rain jacket shell
A pair of rain pants
Down jacket or fleece jacket
Hiking pants and hiking shorts
At most, two hiking t-shirts
Around three pairs of underwear
Long john bottoms for nighttime
A long-sleeve shirt
Around three pairs of socks and a sock liner
A sun hat or a headband
Neck wrap or buff
Thin and thick gloves
Pharmacy
While you may have access to supplies in certain areas, you may find it difficult to purchase key items that you may need during your trek. As such, bring the following in cases of emergency.
Toilet paper and baby wipes
Toothbrush and toothpaste
Deodorant
Sunscreen
Paracetamol
Water purification tablets
Rehydration salts
Cough drops
Feminine products
First-aid kit supplies
Biodegradable soap and washing liquid
Hand sanitizer
Other Gear and Accessories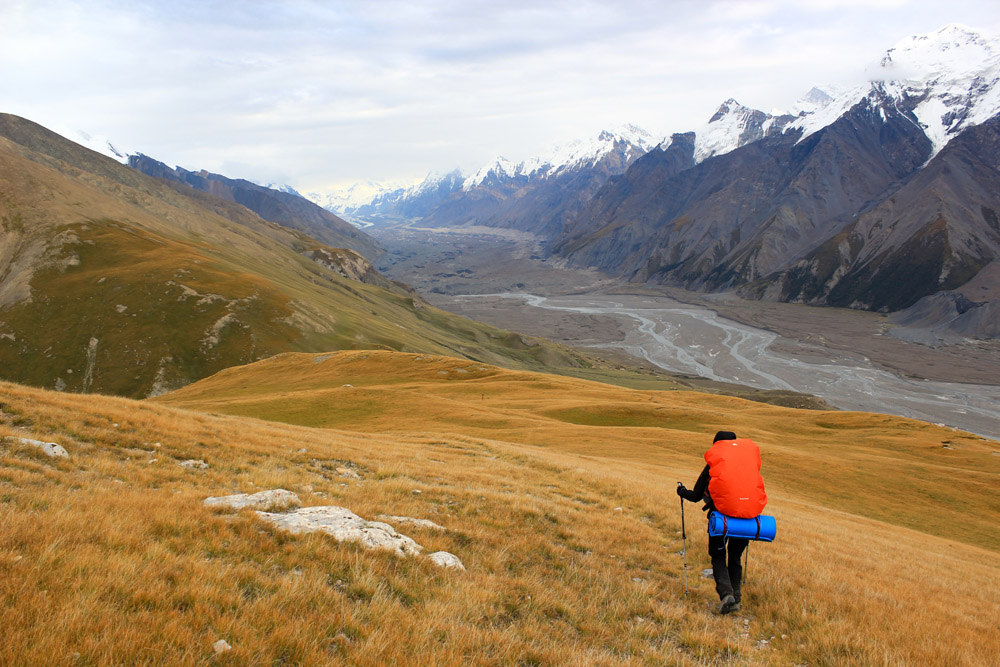 Planning out your route will definitely help you select items that you may need during your trek. Here are some potential accessories, gear, and supplies that you need depending on your chosen trail:
Hiking poles
Headlamp and extra batteries
Journals and pens
Compact camera
Reading materials or Kindle
Daypack for your light exploration around the teahouse
Small towels
Pocket knife
Duct tape
Conclusion
The list above is not an extensive list of your Nepal Teahouse Trekking supplies. However, these are great starting points to check off your essentials. Just like any adventure, having a clear plan of your trip and activities will help you pack the right supplies. The key is to never overpack, as a heavy backpack can easily ruin your hiking trip.
---