Phaplu To Everest Base Camp Trek
Phaplu to Everest Base Camp Trek Summary
Phaplu to EBC Trek Duration: 14 Days
Phaplu to EBC Trek Difficulty: Easy to moderate grade
Highest Elevation: 5,545 meters/18,193 feet
Trekking Hour: 6 hours daily
Trekking Group-Size: 1 – 15 People
Meals on Trekking: Breakfast, Lunch, and Dinner
Best Time: March, April, May, October, November and December
Trip Mode: Guest House
Transport: Car/Plane/bus
Overview
Phaplu to Everest Base Camp trek is a popular and challenging trekking route in the Everest region of Nepal. Phaplu is a small town in the Solukhumbu district and follows a trail through beautiful forests, Sherpa villages, and high-altitude landscapes before reaching the base camp of the world's highest mountain, Mount Everest.
Starting from Phaplu to EBC trek is usually around 14 to 16 days long, depending on the itinerary chosen, and covers a total distance of approximately 120 kilometers. The route is also known as the "alternative" Everest Base Camp trekking, as it is less crowded and offers a more authentic experience compared to the more popular route starting from Lukla.
Choosing adventure flying to Lukla Airport rated the most dangerous airport in the world, therefore, driving to Salleri and trekking to Everest base camp is another best option for outfitter travelers.
Moreover, the trek follows a trail that passes through several traditional Sherpa villages such as Ringmo, Junbesi, and Namche Bazaar. And offers stunning views of several world's 8,000m peaks such as Lhotse, Cho Oyu, and Mount Makalu.
Likewise, Salleri to Everest trek is considered to be moderately difficult, with some steep ascents and descents and several challenging sections. Despite that Everest region has it all, sheer beauty, striking massive mountains, friendly people, adventure trails, and an experience that will stay with you forever. However, driving to Phaplu and trekking to the Everest foothills is possible to explore in all months except monsoon.
Overall, the Phaplu to Everest Base Camp trek is a challenging and rewarding adventure that offers stunning views, cultural experiences, and a chance to see one of the world's most iconic mountains up close.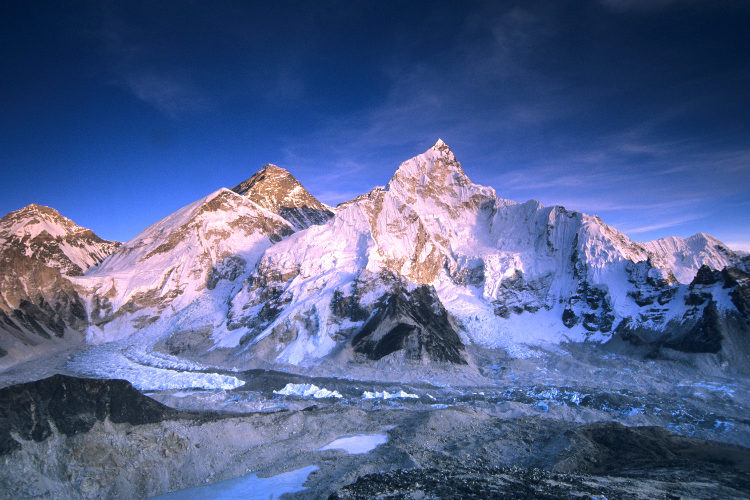 How much is Phaplu to Everest Base Camp Trek Package Cost/Price?
The cost of the Phaplu to Everest base camp trek package with a Gokyo Trek local guide's agency ranges between US$ 950 to US$ 1399. But certainly, Salleri/Phaplu to Everest base camp trekking cost varies according to the group size you are traveling to and the service you choose. However, the given package price includes transportation, a guide, porters, hotels and food accommodation and hiking permits, facilities.
We have also discount deals for group leaders. For example, if you could bring 10+ travelers (besides you) on your trip, you are treated as a group leader. So you can hike from Phaplu to base camp for 50% discounts.
However, we often arrange private trips in order to avoid group tours with strangers, especially after covid-19. A private tour gives you a better hiking experience. If you value personalization, flexibility, and in-depth experiences, a private trip customized to your personal needs is a great option.
Hike to Everest base camp by road is the standard trip package price for 14 days trek. If you are 2 people starting from Phaplu to Everest base camp trek by road cost US$ 1175 for 14 days as per the given trekking plan. We can modify the trek route and price according to your wishes also. Here is the price list for Salleri to Everest base camp treks.
Price Per Person for 14 days starting from Salleri to Everest base camp trekking route.
| Number of Tourist | Price Per Person |
| --- | --- |
| 1 Person | US$ 1399 |
| 2 Person | US$ 1175 |
| 3 Person | US$ 1170 |
| 4 to 6 person | US$ 1115 |
| 7 to 9 Person | US$ 1025 |
| 10 and more than 10 Person | US$ 950 |
If you're wondering to know about what is included and what is excluded from this trip price, kindly check on the cost given on a tab button.
Itinerary
Phaplu to Everest base camp trek itinerary details.
Conducting from Phaplu to Everest base camp trek by road is an express trek tour, 14 days itinerary leading up to the base camp. The particular trek route is designed for the world nomads who wish to hike to the spectacular mountain base camp in a restricted time-wise. Hikers who wish to reach the Everest base camp in a more relaxed manner can try this itinerary. However, if this itinerary doesn't fit? send us an inquiry for a custom itinerary.
Day 01
Arrival at Kathmandu valley drive. Transfer to Hotel.
Upon arrival in Kathmandu, Tribhuwan International Airport, we will receive you in a private vehicle to your hotel in Kathmandu. Ammar Guni, team leader of Gokyo Treks Agency will brief you package trip of a full-day drive from Kathmandu to Salleri Bazaar and to Tham Danda to Everest base camp route by road information.
Day 02
Overland Drive to Salleri Bazaar (2,309m/7,576 feet), 9-10 hours drive.
Salleri to Base camp hike Everest starts with an early morning at 5 am, drive from Kathmandu to Salleri by a local Jeep over the blacktopped road. It's a newly constructed Sindhuli Bardibas Highway road built by Japan's Hamja Company had carried out the road construction.
While driving by road, Nomadic travelers will have an impressive landscape, the tallest mountains, hills, and colorful valleys. Continue with the best panorama of Riverside, jungle, wonderful landscape, and scattered communities. We traverse the Sunkoshi River bridge and to Okhaldhunga Bazaar. Rumjatar and Okhaldungha are the top scenic places en route.
Incredible peaks such as Dudhkunda (Numbur Himal), Everest, and many other snowy peaks are seen from the highway road. Roughly about nine/ten hours road drive takes us to the Salleri Bazaar, district of Solu Khumbu.
Day 03
Drive to Tham Danda (2,780m/9,121 feet), 6-7 hours. Trek to Paiya (2,730m/8,957 feet), 1 hours
Nowadays, it is possible to drive to Tham Danda directly so we can skip 2/3 days to reach ebc by road quicker. The journey from Phaplu to Tham Danda is scenic passing via countryside, lush forests, tiny villages, hills and gorges, and small streams and rivers.
Have in mind that driving from Kathmandu to Thamdanda takes 14 hours roughly by Jeep and takes 2 days. But, sometimes it takes longer than this, as they are collecting other passengers in different hotels and places like you have picked up. And the journey from Salleri to Thamdanda takes around five hours off-road with a bolero jeep [sharing basis].
Likewise, Take lunch in a guest house and begin your footsteps to Everest base camp passing through the alpine forest and local hamlets to Paiya. Hike from Tham Danda to Paiya takes about two hours roughly and it's worth enough to stretch your body and legs.
Day 04
Trek to Phakding village (2,610m/8,563 feet), 6-7 hours.
The trail for about an hour after Puiyan to a ridge at 2800m, then up to another ridge. Pass across the below Lukla Airport runway and follow a gentle climb up the mountainside on the left bank of the Dudh Koshi River.
Follow the Dudhkoshi Valley across the traces and century-old Buddhist Chorten to the Chheplung (2,422m) village. At this point, you will touch the main classical trail of Everest Base Camp that starts from Lukla airport. Now, you will see a crowd of trekkers coming from the Lukla flight
Along the gentle walk through villages, you will have a view of Mount Nupla (5,885m), Kusum Kangaru (6,367m), and the Mount Kwongde Range. The rough and easy trail to Phakding, a Sherpa settlement in Solukhumbu offers tourist standards to comfort lodges as per the tourist demand.
Day 05
Namche Bazaar trekking (3,440m/11,286 feet) 4-5 hours
We continue along the trail with many ups and few steps down, cross the Sagarmatha National Park check post office at Monjo. Our guide will manage your national park entrance permit so you just keep going. There is a Dovan on the down of Hillary Bridge where the two prime rivers meet each other.
Cross the Hillary bridge, the trek begins the steep ascent to the viewpoint at Tupi Danda, we have excellent views of Everest (8,848m) and Lhotse (8,516m.). Namche village is a central hub of the area for selling food, trekking gear, and other necessary goods.
Discover Namche Bazaar and its surroundings!
In the afternoon after Lunch, We walk above the clouds to the Tengboche hilltop. We enjoy the splendid view of Mt. Everest, Ama Dablam, Thamserku, Nuptse, Lhotse, Tawche, and Kwangde with several other popular mountains within a row at a 360-degree angle. While descending to Namche, visit the National Park Museum (if you have enough time) just above the town that exhibits Sherpa culture.
Day 06
Tengboche trek (3,860m/12,665 feet), 5-6 hours
The trailhead to Tengboche Monastery leaves a steep cliff that drops down to the Dudh Kosi river. On the hikes, your will have a panoramic view of the Himalayas such as Ama Dablam (6,812m), Everest, Lhotse, Nuptse (7,855m), and Tawoche (6,501m). Tyangboche Danda offers a good view of sunrise and sunset at Everest, Lhotse, and Ama Dablam.
Day 07
Dingboche trek (4,410m/14,469 feet), 6-7 hours
Leaving Tyangboche as the backdrop, we descend through a rhododendron forest and enter Deboche. Crossing a suspension bridge at Imja Khola, we head towards Minlinggo and inter Imjatse Valley beneath the mighty peaks of Ama Dablam, Nuptse, and Lhotse. We finally come to Dingboche.
Day 08
Acclimatization at Dingboche village
Today, we acclimatize at Dingboche to be familiar with the local climate. Today, we hike to Nagarjuna Hill to get better acclimatization. Hike to Chhukung Ridge is optional but it provides a majestic view of Island Peak, Ama Dablam, Makalu, Tawoche Peak, and many others. Or travelers can hang out in Dingboche village and its surroundings.
Day 09
Dingboche to Lobuche trekking (4,910m/16,110 feet), 5-6 hours
Today the trail to Dughla is amazing, you will have perhaps the best panorama of entire mountains including Tawache, Ama Dablam, Pokalde, Cholatse, and the great wall of Nuptse with Cholatse glacial lakes.
Dughla pass at 4,830m is a sad place seeing the little gardens of tiny stupas of dead climbers of Mount Everest. From this place to Lobuche takes about 30 minutes roughly to walk on flat ground.
Day 10
Everest base camp trek (5,364m/17,599 feet), 7-8 hours
Our travel destination today is Gorakshep lodge at an elevation of 5,140m to eat and sleep but leaving our gears, we also walk to Everest base camp and return. It is the most rewarding section of the complete trekking route.
The base camp trail winds up through rocky paths and the Khumbu glacier. The view of Nuptse, Lho-La, and Khumbutse is at a close distance. The journey today to visit the Everest Base Camp and come return to Gorakshep is long and tiring.
Day 11
Gorakshep to Kala Patthar hike (5,550m/18,209 feet). Descend to Pheriche (4,240m/13,911 feet), 7-8 hours
We trek from Gorakshep to Kala Patthar (5,550m) as per your wish. If you are a photographer and want to capture Everest while rising the sun then better to go very early morning. Hike to the hill means the temperature is cold but you will enjoy the view of sunrise.
You can see the amazing views of the sun rising over Everest, Pumori, Mt. Lingtren, Mt. Khumbetse, Mt. Nuptse, Mt. Lhotse, Mt. Ama Dablam, Mt. Thamserku etc. Other than photographers, can hike the Kala Patthar summit after the sun rises as you feel better and warm. Kala Patthar is the best and top viewpoint in Nepal to see the Everest Mountain range.
Return to the Gorakshep guest house, take the breakfast, collect your backpacking stuff, and make your descend trail to Pheriche. Pheriche is situated at an elevation of 4,240 meters on the foothills of Tabuche mountain. Himalayan Rescue Association Aid Post is available at Pheriche health post where foreign volunteer doctors are providing medical treatment.
Day 12
Pheriche to Namche Bazaar hike (3,440m/11,286 feet), 7-8 hours.
For the first part from Pheriche to Tengboche hill at 3,867m is slightly downhill walking. Continue a downhill walk by passing through the rhododendron forest, we reach Phunki Thangka and ascend to Sanasa Lodge. From Sanasa to Namche Bazaar has an easy trail with the best splendid view of Ama Dablam, Everest, Lhotse, and the Yaks grazing green hills.
Day 13
Final day hike to get Lukla (2,840m/9,318 feet), 7 hours
Continue your journey downhill to Jora salle at an altitude on 8,990 feet. We trek to Lukla with the same trail like we use on our ascending. This is the typical final day of our trekking.
Stay overnight in a Buddha Lodge or similar category hotel in Lukla. Upon arrival at Lukla, Guide goes to the airline's ticket counter office to reconfirm your return flight for the next morning.
Day 14
Scenic mountain flight from Lukla to Kathmandu.
We board our early flight from Lukla to Kathmandu domestic terminal. Upon arrival at Tribhuvan International Airport, our representative will arrange a transfer to the hotel. In the afternoon, go shopping or request us to discover Kathmandu as a guided trip at extra cost.
Otherwise, the final departure day is to drop you at Kathmandu International Airport for your further destination flight and our trip ends. Wish you a wonderful journey.
Not satisfied with above plan?
Interested in planning a custom trip? this might take 2 to 3 minutes.
Cost
How much is the Phaplu to Everest base camp trekking package price?
The hike starts Salleri/Phaplu to Everest base camp price US$ 1175 per person is on a double occupancy basis. For the deluxe and luxury trekking tour plan, we add a 3-5 star category hotel deluxe air-conditioned room in Kathmandu with breakfast. And standard lodge accommodation with an attached bathroom/toilet in possible places en route. AND WE ARE OPEN TO CUSTOMIZING YOUR TOUR AND PACKAGE PRICE AS PER YOUR REQUIREMENTS.
Phaplu to Everest base camp trekking/hiking price includes:-
Kathmandu international airport (TIA) pick up on your arrival with a private Car/VAN.
Single Night double bedroom accommodation on tourist standard hotel in Kathmandu valley.
13 Breakfast serve with coffee/tea, 12 Lunch and 12 Dinner [main course] at Everest Mountain Lodge trekking by road.
12 Days guest house accommodation (common toilet) basis during the trekking days.
Local flight tickets from Lukla to Kathmandu single-way flight (one-way air tickets) with applicable airport departure taxes.
Sagarmatha National Park entrance permit fees.
Khumbu Pasang Lamu municipality entrance permit fees
Kathmandu to Salleri of Solu Khumbu district by local jeep (passenger shared basis) transfer.
Salleri or from Phaplu to Tham Danda by local jeep transfer (shared basis).
Professional, license holder Mountain Trekking Guide for trekking.
An assistant guide will provide for 7 plus group tourists.
Required number of porters during the trek (one porter = two guest basis) because every porter can carry a maximum of 24 kilograms of your bag pack.
Well-paid salary, food, accommodation, and insurance for trekking Guides and porters.
Agency's duffel bag (50 liters capacity), and trek poles if Necessary – return after the trek.
Phaplu to Everest base camp trek map, and trek completion certificate, keep them as a souvenir.
First aid medical kit including Oximeter to check heart rate and oxygen level every day to safe from high altitude risk.
In a worst case, help with all Helicopter Rescue and evacuation arrangements (but not the rescue bills).
Nepal Government Tax, VAT, and as well as Company service charge.
Phaplu to Everest base camp trek price excludes:-
Nepal entry visa fees.
Lunch and Dinner in Kathmandu city.
Any kinds of battery charges, laundry service, phone calls, and hot showers during the trekking.
Visitor personal trekking equipment .
Personal nature expenses, all types of beverage drinks.
Travel Insurance which covers emergency rescue, evacuation, personal loss, or damage.
Any donation and monument entrance fees.
Gratuities for guide and porters [Tip is a culture, so they expect highly].
Group join
We can organize your private trek from Sallari/Phaplu to Everest base camp trek starting on any date that works for you. Please contact us for more information.
FAQ
Question: Is pick-up service available on my arrival day in Kathmandu?.
Answer: Yes sure. Provide us with your flight details and request us to pick you up. Our representative will come to pick you up at Kathmandu's international airport.
Question: Do I need experience for Salleri to Everest base camp trek?.
Answer: A trek to the Everest foothills is the most popular trek route in Nepal Himalayas. It is an easy and shorter trek than other high mountain treks in Nepal Himalayas that incorporates diverse terrain, tradition, and wildlife. It is suitable for keen walkers who can walk around 4 hours roughly every day carrying a lightweight day pack about 3000 meters above sea level.
Question: Can I store my luggage/stuff in Kathmandu?
Answer: Yes, you can leave your luggage at your hotel or at our office. Store your stuff in the Gokyo Treks agency office for free.
Question: Is this trekking Safe for Solo Female Trekkers?
Answer: Absolutely. Nepal is a safe country to travel to for solo travelers; this trek is perfectly safe for solo female trekkers. We have been organizing the trek even for solo female travelers since its establishment.
Question: What kind of accommodation can I expect on Salleri to base camp Trek?
Answer: We provide you with tourist standard accommodation in Kathmandu and during the trekking routes. the rooms along the routes are clean with a cozy bed with a nice mattress and blankets. However we recommend you take your own sleeping bags if you have one with you otherwise, you may rent them while you are in Kathmandu.
Question: What kind of food can I expect on Sallari to Kala Patthar trek?.
Answer: All the guest houses in the trekking route have attached restaurants. They cook a delicious range of mostly vegetarian such as Pasta, tuna bakes, noodles, potatoes, eggs, bread, soups, rice, and fresh vegetables. Dinner and breakfast are provided in the same lodge you spend the night every day and Lunch will be provided on the way to the next place where you are going.
Question: What opportunities will I have for a shower from Phaplu to ebc trekking?.
Answer: Guest house trekking all the lodges have a shower which you can get somewhere paying and somewhere without paying however if you are camping trekking – we provide you hot water bucket then you will take a bucket bath.
Question: How do I get drinking water from Salleri to Everest base camp trekking routes?.
Answer: Tourists can buy bottled mineral water to drink. However, we advise against buying mineral water in plastic bottles, as currently there are no provisions for disposing of these. Instead, we advise you to buy either boiled water or bring aqua tablets to purify the normal water as the normal water is available at the campsite along the journey.
Question: Can I charge my digital camera or other batteries on my trip?
Answer: During the guest house basis hiking, there will be more chances to charge the battery. We recommend you bring an extra pair in case. Remember to bring your own adapters!
Question: Are there any communication facilities on Phaplu to Everest base camp trek?.
Answer: Everest Link is an internet service provider founded in 2014 that provides high-speed internet and Wi-Fi in the Everest Region. It is the only internet provider at the Phaplu to Base Camp Trail , making it the world's tallest internet service.
If you wish to stay connected with better WIFI to your family, friends, or business, we suggest you buy Everest Link Internet. It's better than other NETWORK connections and you can buy an Everest link card easily in the shops, hotels, or any small lodges in the Everest zone.
Question: Can I use credit cards in Trekking?.
Answer: No! So, for the outdoor trail routes, you need to have cash Nepali rupees because credit cards work only in the bigger city tours/city areas.
Question: When should I book my trip and what are the payment terms?.
Answer: Because our trips book up months in advance, we recommend booking early to avoid any kind of misunderstanding. We will, of course, make every effort to accommodate last-minute bookings.
And regarding the deposit, we prefer a 15% advance deposit of the total price of the trip in order to confirm your reservation before you arrive in Nepal. And the rest of the payment can be made after your arrival in Kathmandu.
Question: Who will carry my luggage on the Sallari to Everest foothill trek?
Answer: We provide porters to transfer your luggage. As we are a responsible trekking tour operator agency, every porter carries a maximum of 24 kilos of your backpack which means 2 guests (12 kilos luggage of each guest): 1 porter basis.
Question: How much distance do I walk each day?
Answer: When walking/trekking in the mountains, the distance you cover each day can vary greatly due to gradient, terrain, and altitude. As such it is very hard to give specific distances for each day, however, you have to be prepared to walk for roughly about 5 hours each day.
Question: Do I need walking poles for the Salleri to Everest base camp trekking?.
Answer: It is better to hike with walking poles. Learn how to use trekking poles for balance and stability, whether on the sidewalk or on trails. Walking poles can help prevent slips and falls. They are just recommended but not compulsory.
Question: How much additional money do I need per day?
Answer: You can allocate US$ 08 – 10 for a lunch/dinner in Kathmandu and it depends on your spending habits. US$ 7 to 10 US$ each day will be enough to buy bottles of water, chocolates, tea coffee, and some drinks while you are on your trek.
Phaplu to Everest base camp trek by road highlights.
Discover the best Himalayan view at 360 deg angles from Syangeboche hill and from Kalapatthar.
Amazing view of Mount Lhotse, Everest, Makalu, Nuptse, Amadablam, Thamserku, and many other mountains.
Sherpa Buddhism, tallest monastery, Local sherpa, and their lifestyles.
Best time to Hike from Phaplu to Everest Base Camp
The best time to hike from Phaplu to Everest Base Camp is during the spring and autumn seasons, which are considered the peak trekking seasons in Nepal.
The spring season (March to May) is the most popular time for trekking in the Everest region as the weather is generally clear and dry with mild temperatures, making it ideal for trekking. Rhododendrons and other wildflowers are also in full bloom during this time, making the scenery even more spectacular.
Likewise, the autumn season (September to November) is another great time to trek to the Everest foothills. Usually, the weather is stable and dry with clear blue skies and great visibility of the mountain peaks. The temperature is cooler than in spring, but still comfortable for trekking. This season also offers a chance to witness the Mani Rimdu festival, a traditional Sherpa festival celebrated in the Tengboche Monastery.
Both these seasons are the busiest times for trekking in Nepal, so expect to encounter more fellow trekkers on the trail and book your accommodations and flights well in advance.
It is also possible to trek to Everest during the winter and monsoon seasons, but these are generally not recommended due to the harsh weather conditions, slippery trails, and limited visibility of the mountain peaks.
When planning your trek into the Everest region you need to consider the months listed above. Do you want to be there when the base camp is very busy and alive with climbers aiming for the summit? Do you want to have a clearer sky for good photography? You need to consider this in your planning.
If you are upbeat to fly the Lukla helicopter, you may tweak spare your excursion by 2 days. From Phaplu bazaar to Everest base camp trek route plan is handmade by our expert tour operator Ammar Raj Guni. Climb to Hillary Everest is conceivable to do any month throughout the year.
Notes for Phaplu to Everest base camp trekkers!
Classical Phaplu to Everest base camp trek route information stated above is just a standard template guideline. Hike from Phaplu to Everest basecamp solo is possible either on a private trip or in a group join.
However, the trip starts from Salleri to Everest base camp trek is possible to modify at your request to accommodate your specific requirements. Local politics, landslides, cancellation of local flights, weather, transport, or a multitude of other factors that are beyond our control can result in a change of itinerary during one trip.
It is, however, very incredible that the itinerary would be extensively altered. If alterations are required the leader will decide the best alternative option, taking into consideration the best interests of the whole group. When a change does occur, we do everything we can to minimize its effect, but we cannot be responsible for the results of changes or delays.
What makes Phaplu to Everest base camp trek special?
Opportunities for challenging super popular trekking and hiking routes are scattered all over this planet. You need to know where to find them. We at Gokyo Treks and Expedition believe in quality services. Your safety and satisfaction is our concern.
We are a team of professional, experienced, and licensed local guides who know the destination much better than others. Not only this but also we give benefits to the local communities and help to conserve natural resources which reduced costs and consumption.
Phaplu to Everest base camp trek Review
Good time in the Mountains
Friends recommended me this agency! A good agency, good people and very helpful during all the trip! Thank you,see you next time!!
Response from Gokyo Treks Nepal
Thank you so much dear Andream Bros Pesaro for the great review.
From US$ 1427
2% Off
US$ 1175
| | |
| --- | --- |
| No. of people | Price Per Person |
| 1 | USD 1399 |
| 2 | USD 1175 |
| 3 | USD 1170 |
| 4 - 6 | USD 1115 |
| 7 - 9 | USD 1025 |
| 10 + | USD 950 |
Book Now
Customize Trip
Cost & Departures
Your Trip Your Style!
ITINERARY, COST, DEPARTURES, will adjusted according to your GROUP SIZE NEED TIME
Book with Confidence
Local Guides Company.
18 Years in Business.
Lowest Price Guaranteed.
100% Customizable Trips
Excellent Customer Service
Hassle Free Booking.
90 % Repeated customers
Highly Recommended agency
Private/group tour options