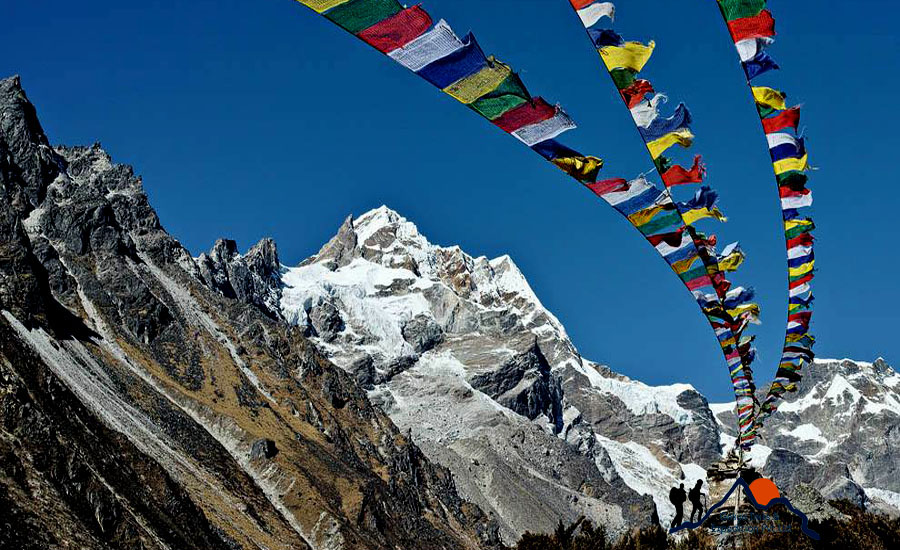 The Great Himalaya Trail (GHT) in Nepal is a tough adventure trek. In some sections, the trek goes over high passes above 5,000m. Roughly 120 days plus the journey is said to be far more difficult than climbing up any single mountain. However, technical climbing experience is not required to go.
Adventure Great Himalayan Trails "GHT" is a trekking route that traverses the Himalayas from end to end starting from Kanchenjunga in the Eastern part to Humla continuously to the Tibetan border in the Western part of Nepal. We have a GHT High route crossing high passes up to 6,146 meters and GHT Low route passing through the middle hills with the highest pass at 4,519 meters.
Besically, GHT High route takes the tallest advantageous trail along the spine of the Himalayas. It involves very tough and challenging trekking as well as several mountaineering sections over technical high passes.
A famous writer Boustead Robin has discovered the great Himalayan trail high route. Furthermore, he publishes an excellent guidebook about Nepal Trekking and the Great Himalayan Trail. To complete GHT will take approximately 3-4 months of non-stop trekking.
Likewise, National Geographic Adventure Magazine's James Vlahos observes, "Nepal's mountains are minimally developed. But they offer a wealth of trade and pilgrimage routes. The GHT elegantly connects these existing paths without blazing a single new trail."
What are the differences between joining a Great Himalayan trail trek from standard Himalayan treks?
The main significance of this trail (GHT) treks are adventurous expeditions passing through the remote and wild region of the Himalayas. It is often away from the main trails that have been constructed in the main trek routes. You need to prepare for route-finding challenges as in many places the GHT is rarely walked even by locals. And the trail might change every year if there have been landslides or growth of vegetation during the monsoon.
Therefore, we have a professional guide who already completed a GHT route. So if you choose us, we organized your trekking to great memories for your lifetime. The whole trek you can do as a full board camping trek or partial lodge trek. So please check the below information to do great Himalayan trails in Nepal.
The Great Himalayan trail map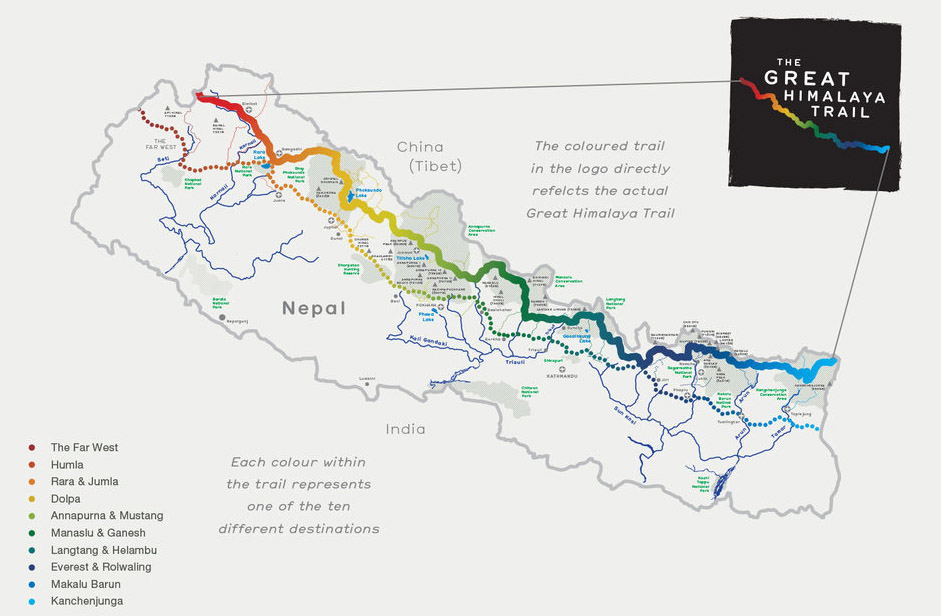 Photo Source: Alex Treadway (Google search)
Before you plan to go to The Great Himalaya Trail, better you should prepare yourself. Buy the latest and updated The Great Himalayan Trail map including The great Himalayan trail high route and a low route. And book your trip with a registered trek agency who have an expert guide and porters.
Adventure The Great Himalayan Trail (GHT) trek highlights.
All the tallest and most beautiful mountains of Nepal from east to west, north Nepal people cultures and traditions, all highest passes over 5100 meters of Nepal.
The Great Himalayan trail trek grades.
Remember trekking GHT is true adventure travel where the unexpected can and often does happen. Get ready for this doubt then you should consider attempting this complete trial or partially. However, GHT has been divided into ten sections to focus on organizing these sections one at a time rather than promoting the longest trial.
The advantage of this way is we can select the optimal time of year to trek each section. As an example, the best time to cross over Sherpani High Pass is in April/ May whereas the complete GHT one is likely to cross this pass in March. It will be very cold and snowy at this altitude. Our program includes rest days and builds up gradually, in order to acclimatize to the altitude.
Miraculous Great Himalayan trail trek covers
All the tallest / highest mountains of Nepal including Mt.Everest, Lhotse, Kanchenjunga, Cho Oyu, Makalu, Manaslu, Dhaulagiri, and Annapurna. Divers in flora and fauna and rich local lifestyles and their tradition.
The Great Himalaya trail cost
New publish great Himalayan trail – trails are the combination of several trek routes that mark some of the adventure treks in Nepal. We recommend this trek route only for experienced trekkers. The great Himalayan trail cost is totally depending upon the route you are going. Some of the routes stay with comfy lodges with modern amenities. Some trek route is totally wild where you can find almost nothing to eat and a sleeping place. So you need to go on camping treks.
Best season to explore the Great Himalayan trail trek (GHT).
March, April, May, June, September, October, and November.
The great Himalayan trail itinerary options.
01 – Section, starts from Taplejung to Tumlingtar via Milke Danda 3690m, Camping Trek 13 Days.
Check out the great Himalaya trail itinerary in each section to know what it covers Kanchenjunga base camp trek. Taplejung to Tumlingtar passing over Milke Danda 3,690m is the most scenic trek. This trek offers an impressive view of the mountains all the way to the Milke Danda area. Especially Milke Danda is a more prevalent area for diverse sorts of flowers including Nepal's finest trek destination.
02: Section, starts from Tumlingtar to Lukla via Salpa La 3565m, Camping Trek 10 Days.
In this section trekking Introduce Arun Valley and Salpa la pass trek. Salpa Pass trek route goes through an ancient trade route to Namche Bazaar to Tibet via the Nangpa La pass. Trek follows the Arun River, Irkhu Khola valley which is also renowned for its natural paper products to salpa la pass treks.
03 – Section, begins from Lukla to Barabise via Pike Peak 4065m, Lodge Trek.
In this section of trekking, you go through an easy to difficult trek difficulty over Everest to Rolwaling treks. From Lukla to Barabise via Pike Peak, 4065m takes about 16 days. From Lukla to Shivalaya through the lower Sherpa Land of Solokhumbhu is a classical trek. The trail entering the new Pikey peak trek route.
04 – Section starts from Barabise to Syabrubesi via Lauribina-La Pass 4610m, Trek 16 Days.
In this section covers especially Helambu and Langtang region. From Barabise to Syabrubesi via Lauribina-La Pass 4610m, alpine camping and lodge trek. Visit Helambu is a cultural trek. Two main villages Melamchi Gaon and Tarkeyghyang constitute the Helambu outfit.
05 – Section starts from Syabrubesi to Besisahar via Sing-La Pass 4040m, Camping Trek 19 Days.
In this section covers the Great Himalayan Viking Trail of the Ganesh Himal to Manaslu circuit. From Syabrubesi to Besisahar via Sing-La Pass 4040m, Camping Trek 19 Days. The Singla pass trek gives you the opportunity to walk through the remote and relatively unpopulated regions.
06 – Section starts from Besisahar to Jomsom via Mesokanto-La Pass 5120m, Camping Trek 13 Days.
In this section covers the Great Himalayan Trail of Annapurna to Mustang over Tilicho pass or Thorong la pass 5416m. Besisahar to Jomsom passing via Mesokanto-La Pass 5120m takes about 13 days. Tilicho Lake is the highest lake in the world.
07 – Section starts from Jomsom to Juphal via Sangda-La Pass 5195m, Camping Trek 16 Days.
Mustang to Dolpa trekking is also a part of the Great Himalayan Trail cross over Sangda-La Pass 5195m to reach Dolpo. The most adventure high pass camping trek destinations for travelers.
08 – Section starts from Juphal to Jumla via Maure Lagna 3895m, Camping Trek 11 Days.
From Juphal to Jumla via Maure Lagna 3895m camping trek, you can experience Nepal's Wild West. It is possibly one of the best long treks in the Himalayas. Peter Matthiessen choose this route and immortalized it in his famous book The Snow Leopard. The Dolpo area was also the area where Rodney Jackson speaks on his trip.
09 Section starts from Jumla to Simikot via Khari Lagna 3642m, Camping Trek 16 Days.
In this section covers the entire tallest Himalayan trails of Nepal. The great Himalayan trail trekking especially focuses to explore Humla – simikot over the Khari Lagna 3642m pass. Rara trek is one of the most common hikes in the far western part of Nepal. It is Nepal's smallest and most scenic National Park (1976 AD). It protects some of the most beautiful alpine and sub-alpine. See the below outline Itinerary for your reference.