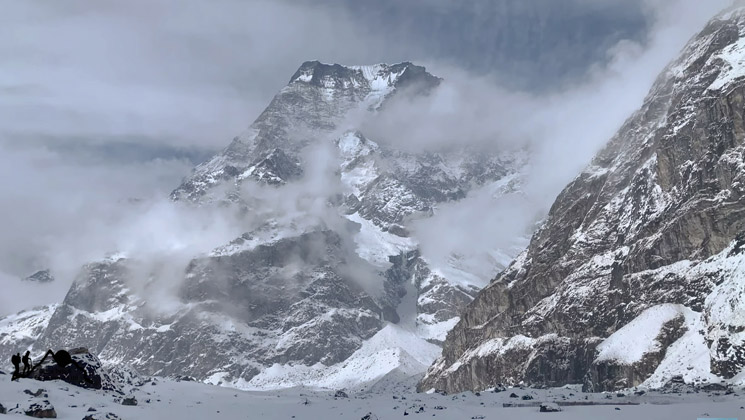 Api Base Camp Trek Summary
Api Himal Trek length: 14 Days
Api Base Camp Trek difficulty: Easy to Moderate
Highest Elevation: 3,861m/12,667 feet
Trekking Hour: 6 Hours daily
Group-Size: 1 – 14 People
Foods on Trek route: Breakfast, Lunch, and Dinner every day
Best Time for Camping: March, April, May, October, November and December
Trip Mode: Tent Trekking
Transportation: Car/bus/Jeep
Overview
The Api Base Camp Trek takes you to the untouched sacred pilgrimage site with pristine lakes and beautiful landscapes. Mount Api Himal is 7,132 meters and is the highest mountain in the Far-Western territory of Nepal. Likewise, the wilderness journey to Api Himal base camp is located in the extreme northwest corner of Nepal
Furthermore, the Api base camp trek offers an extensive view of snowcapped mountains. They are Rajama (6,537m), Kapchuli (6,850m), Thado Dhunga Tuppa (5,368m), Api Himal (7,132m), Nandadevi(7,817m) along with many other summits. And Travellers will get to witness the famous Kali Dhunga holy Lake. However API and Saipal are controlled hiking area, thus group trekking is only allowed and requires a special permit for trekking to base camp.
Best time to visit Api Himal trek route is in the spring and autumn seasons. Tourists can hike the base camp with a tent trekking because the lodges are unavailable en route. The trek passes through some beautiful and interesting typical unexplored communities. And you might see some of the different wild animals, particularly birds, and wildflowers along with the hikes.
Tent trek to Api Himal is tranquil immortality dotted by the colorful rhododendron forest, which is extremely spectacular in the spring season. September, October, November, March, April, and May are the best months to hike.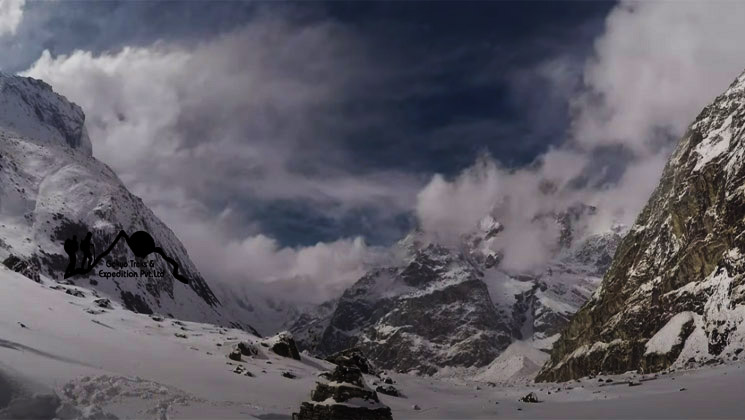 How much does for Api Base Camp Trek Package Cost?
The cost of the Api Base Camp Trek package with a Gokyo Treks Agency (a local trekking company in Nepal) ranges between US$ 1990 to 2480. But of course, the trip price varies as per the group size you are camping with and the service you choose. Typically the price includes transportation, a guide/porters, hotels, food and accommodation, and hiking permit facilities.
However, we basically arrange private trips in order to avoid group tours with strangers. A private hiking tour gives you a better experience on your hikes. If you value personalization, flexibility, and in-depth experiences, a private trip customized to your personal needs will be the best option.
It is the standard Api Base Camp Trek cost package for 2 week's trek. If you are 2 people Api Himal base camp trek cost US$ 2175 for 14 days trek as per the given trekking plan. We can modify the trek route and the price as per your wish. Here is the price list for the API Himal hike.
Price Per Person for 14 days Trekking
| Number of Tourist | Price Per Person |
| --- | --- |
| 1 Person | US$ 2480 |
| 2 Person | US$ 2175 |
| 3 Person | US$ 2150 |
| 4 to 6 person | US$ 2125 |
| 7 to 9 Person | US$ 2050 |
| 10 and more than 10 Person | US$ 1990 |
If you're wondering to know about what is included and what is excluded on this trip price, kindly check on cost given on a tab buttun.
Itinerary
Api Base Camp Trek itinerary details
An impressive journey to Api Himal climbing route is a classical trek itinerary compared to most walks in this territory. The particular hiking route is designed for globe trotters who wish to explore a far western Part of Nepal.
01 Day
Arrival at Kathmandu international airport. Transfer to hotel
Upon arrival in Kathmandu, Tribhuwan International Airport, we will receive you with a private vehicle. Transfer to hotel in Thamel, Kathmandu. Our representative will brief you about the Apil Himal hiking information.
02 Day
world heritage spots in Kathmandu Sightseeing.
In the morning after breakfast, we start our day trip visiting world heritage sites located in Kathmandu city. The Kathmandu city tour includes Boudhanath Stupa, a holy Pashupati temple, Kathmandu Durbar Square, and Syambhunath Stupa. In a Hindu temple Pashupati, Tourists can watch Hindu cremation takes place on the bank of the Bagmati river.
03 Day
Fly from Kathmandu to Dhangadhi (109m/357 feet) 75 minutes
After breakfast, drive together with a guide to the airport to board a flight to Dhangadhi. Dhangadhi is the capital of the Kailali District. Fly from Kathmandu to Dhangadi takes about seventy-five minutes on a clear day. Transfer to the tourist standard hotel (in a private vehicle) booked for you in Dhangadhi. As you stay in Dhangadi, you can explore Dhangadhi town, Jokhar Lake, Aircraft Museum, and Botanical Garden. Tourists can explore these attractions by bicycle. Exploring the entire town with a private car cost is extra.
04 Day
Drive from Dhangadhi to Gokuleshwar, 8 hours
Today we drive from Dhangadhi to Gokuleshwar via Mahakali Highway, takes about eight hours. Therefore, we start in the early morning to reach the destination before dark. We take a light breakfast and heavy lunch during the drive. About a 4-hour drive over the hills, we reach Dadeldhura, a town in the far western region of Nepal. Lunch at Dadeldhura and continue to drive over a winding road through the hills until we reach Gokuleshwor. Travelers can see the beautiful views of the Himalayas, Chamelyia Valley, and river gorges. As it is the first day of our drive, we stay at the local lodge in Gokuleshwar.
05 Day
Drive from Gokuleshwar to Latinath (1,004m/3,294 feet) 2 hours. Trek to Paribagar (1,770m/5,807 feet), 1 hour
After breakfast, we drive about 2 hours to reach Latinath, as it is the starting point of the API Himal climbing. The overland road journey to Latinath goes above the banks of the Chameliya River and also leads through the largest hydroelectric power plant in the Far West of Nepal. Right from Latinath, our hike to Api Base Camp will begin. We walk to Paribagar, a beautiful village with tiny local houses. We fix a campsite here to stay overnight.
06 Day
Paribagar to Makarigadi Trekking (1,470m/4,823 feet) 5 hours,
We trek to Makrigadi passing traditional stone houses, ancient farm terraces, and the untouched landscape of the Far West of Nepal. Continue walking along the Chameliya River through the subtropical forest and then through the subalpine-fir, oak, hemlock, and rhododendron forest to Makrigaad.
07 Day
Makrigaad to Siti Trekking (2,254m/7,395 feet), 8 hours
The day begins with a short steep climb to the Chameliya River. We cross the river, climb the gorge and continue to the Pato village. Lunch at Duck and climb in front of Duck was gentle but steady. We will continue on this hilly isolated path to the last mountain, where a rapid descent will take us to the beautiful seat of Siti.
08 Day
Siti to Domal (2,950m/9,679 feet) 7 hours
Recheck all hiking gears and begin your journey to our current destination Domal. From Siti, it was initially a descent to the village of Khayekot. A beautiful village that has located on the banks of the river Chameliya. The settlement of Khayekot is also mentioned as the last permanent settlement in the Chameliya Valley. We'll stop for lunch in Khayekot. After lunch, we slowly climbed to Domal. Domal is a crossroads of the Chameliya and Rokap rivers and is considered a very sacred place in the area.
09 Day
Domal to Dhaulo Odar Trekking (Lower Api Base Camp) (3,548m/ 11,640 feet), 5 hours
Today's walk begins with a steep climb. After reaching the top, the trail is fast and leads through forests and open meadows. Later about 5 hours of hikes, we reach an open grassy area surrounded by high mountains, and rhododendron forest, and several small caves. Enjoy the stunning scenery all around, spending the evening in a tent camp on Dhaulo Odar.
10 Day
Api Himal Base Camp Trek / Pilkandaha Base Camp Hike (3,861m/ 12,667 feet) and back to Daulo Odar.
Today was the most anticipated day of the whole camping trip. Today we arrived at base camp on mount Fire. After breakfast, Pack your lunch set and hike to Api base camp. In about 2 and a half hours Daulo Odar mountain will take us to a large open plain surrounded by mountains. This place is typically marked as an Api Himal Base Camp. As you are on the API mountain foothill, you will have the most beautiful view of Mt. Api (7,132 m) along with Mt. Kapchuli (6,850m), Thado Dhunga Tuppa (5,368m), Nandadevi(7,817m). We head further to the source of the Chameliya River and also visit a nearby small temple built by the locals. We will have lunch and then visit the holy lake Pilkandaha and return to Daulo Odar. In terms of landscapes and mountain views, Api Himal base camp is the best trek comparing other hikes in Nepal.
11 Day
Daulo Odar to Siti trek (2,258m/7,408 feet), 5/6 hours.
After an unforgettable scenic journey at Api Himal base camp, we return to Siti village with our entire crew. Along the journey, we pass agricultural terraces and beautiful green hills.
12 Day
Siti to Makrigaad trek (1,470m/4,822 feet), 5/6 hours
The trailhead now runs along Berm through forests, agricultural fields, and small human settlements to Makrigaad. Tourists will have a chance to enjoy the sights of the Himalayas. We will stop for lunch in Pato and a continuous walk down will take us to the Makarigaad village.
13 Day
Makarigadi to Latinath trek, 4 hours. And drive to Gokuleshwar, 2 hours
After breakfast in Makarigadi, we will go to Latinath. About 4 hours of the downhill hike takes us to Latinath, around Paribagar. The walk-in Latinath is less demanding and very picturesque. If time allows, upon arrival in Latinath we will also take a short walk to the Hindu temple located above Latinath. If time does not allow, we will immediately take a bus to Gokuleshwar, which takes 2 hour drive. We set up a camp at Gokuleshwar to stay overnight.
14 Day
Gokuleshwar to Dhangadhi Drive (109m/357 feet), 8/9 hours
Take a quick breakfast very early morning before the regular bus leaves. Pack the entire camping gear and move to the Gokuleshwar Bus Station to catch a bus to Dhangadhi town. The bus, which ran through beautiful green hills with terraced farms, villages, and a small tea house along the road, reached Dadeldhura in the afternoon. We will have lunch in Dadeldhura, rest for a while, and then continue to Dhangadhi along Mahakali Highway. After about 9 hours of the scenic drive, we reach Dhangadhi town at our hotel. Stay overnight in the Hotel.
15 Day
Dhangadhi to Kathmandu air travel (1350m/4,429 feet) [75 minutes], Trip Finish.
After breakfast in Dhangadhi, we move to the airport, where we will have a scheduled flight to Kathmandu. It's a scenic journey with aircraft that takes roughly 75 minutes to land at Kathmandu airport. Transfer to your hotel in Kathmandu. The campers can do some last-minute shopping for souvenirs for their family and relatives. Trip finish.
Not satisfied with above plan?
Interested on planning custom trip? this might take 2 to 3 minutes.
Cost
How much does Api Base Camp Trek Package Price?
Hike to Api Himal base camp climbing package price US$ 2175 per person is a standard trek price on double occupancy basis. For the deluxe and luxury trekking tour plan, we add a 3-5 star category hotel deluxe air-conditioned room in Kathmandu and Dhangadi with breakfast. Likewise, a comfort jeep drives from Dhangadi to Latinath and returns to Dhangadi round trip. WE ARE OPEN TO CUSTOMIZING YOUR TOUR PACKAGE PRICE AS PER YOUR REQUIREMENTS.
Api Base Camp Trek Package Price Includes:-
Kathmandu international airport transfer by private Car.
2 nights' double bedroom accommodation in a tourist standard hotel in Kathmandu City.
2 night's double bedroom accommodation in a tourist standard hotel in Dhangadi Town
Guided sightseeing with a professional Tour Guide in Kathmandu valley with a private vehicle.
14 breakfast, 12 lunch, and 12 Dinner serve with hot Tea/coffee on trek routes.
Tent camping accommodation while you are on trekking days
Domestic flight: Kathmandu to Dhangadi airport and Return Kathmandu round trip airfare.
All grounded transportation with a local Bus as per the given tour itinerary.
Api Nampa Conservation Area entrance permits and their fees
Api and Saipal Rural Municipality entrance permits cost US$ 90 per person/ week.
Professional English-speaking license holder mountain trekking guide.
Experienced cook, and kitchen helper according to the group size.
Strong porters (2 guests: 1 porter basis) because each porter carries a maximum of 25 kilograms.
Agency's duffel bag (50 liters capacity) and trekking poles if Necessary – return after the trek.
Seasonal fruits like apples and pomegranates as deserts after dinner for Api Himal base camp trekking.
Salary, food, accommodation, and travel insurance for all Nepali crew.
Api Himal trek map and trek completion certificate – keep them as a souvenir.
First aid medical kit including Oximeter to check oxygen level and Pulse rate every day to save you from higher AMS risk.
In a worst case, help with all Rescue and evacuation arrangements (but not the rescue bills).
Nepal Government Tax, VAT, and as well as Company service charge.
Api Base Camp hiking package price excludes:-
Lunch and Dinner on your staying in Dhangadi and in Kathmandu town.
Any kinds of battery charges, laundry service, phone calls, etc.
Personal trekking gears and Clothing.
-10 comfort fresh Sleeping bag rental cost per piece US$ 2 per day.
Personal nature expenses, beverage drinks, and bar bills.
Travel insurance to cover Helicopter rescue evacuation in case of emergency.
Donation and Kathmandu City Monuments entrance fees on your heritage sites tour.
Gratuities for camping crew [guide, cook, and porters] [Tip is a culture, so they expect highly].
Other things which are not mentioned above
Group join
We can organize your private Api Base Camp hiking starting on any date that works for you. Please contact us for more information.
FAQ
Question: Do I need the experience to do the API Himal Trekking?.
Answer: No. But if you can walk about 3 hours each day with a lightweight daypack would be easier.
Question: Is pick up service available on my arrival in Kathmandu?
Answer: Yes sure. If you provide us with your flight details and request us, our representative will come to pick up you at Kathmandu international airport.
Question: Can I store my luggage/stuff in Kathmandu?
Answer: Yes, you can leave your luggage at your hotel or at our office. Store your stuff in the Gokyo Treks agency office for free.
Question: Is this trekking Safe for Solo Female Trekkers?
Answer: Absolutely. Nepal is a safe country to travel to for solo travelers; this Api trek is perfectly safe for solo female trekkers. We have been organizing the Annapurna base camp trek even for solo female travelers since its establishment.
Question: What kind of accommodation can I expect on the Api Himal basecamp tent trek?.
Answer: We do allow you tourist standard accommodation in Kathmandu. Likewise, tourists will have Tent camping accommodations along the hiking routes. You need to take your own sleeping bags if you have them with you otherwise, you can rent them in Kathmandu.
Question: What kind of food can I expect on the Api Himal trek?.
Answer: Our professional cook cooks a delicious range of vegetarian cuisine. Mainly he cooks Pasta, tuna bake, noodles, potatoes, eggs, curry rice, bread, soups, and fresh vegetables.
Question: What opportunities will I have for a shower along with Api Base Camp Trekking?
Answer: As you are doing camping trekking, we provide you with a hot water bucket, and you will take a bucket shower.
Question: How do I get drinking water on Api Base Camp Trek?.
Answer: We provide you aqua tablets to purify the normal water as the normal water is available at the campsite/along the way.
Question: Can I charge my digital camera or other batteries on my trip?
Answer: Very few chances to charge the battery. We recommend you bring an extra pair in case. Remember to bring your adapters!
Question: Is there any communication facilities?.
Answer: You can get telephone services only some days.
Question: Can I use credit cards in trekking?.
Answer: No! There are totally wilderness trek routes and not possible to use a credit card.
Question: When should I book my trip and what are the payment terms?.
Answer: Our camping trips book up months in advance, we recommend booking early to avoid any kind of confusion. We will, of course, make every effort to accommodate last-minute bookings.
And regarding the deposit, we prefer a 20% advance deposit [not refundable] of the total price of the trip in order to confirm your reservation before you arrive in Nepal. And the rest of the payment can be made after your arrival in Nepal.
Question: Who will carry my luggage on Api Base Camp Trekking?
Answer: We provide porters to transfer your luggage. As we are a responsible trekking tour operator agency, each of our porters carries a maximum of 25 kilos of your backpack which means 2 guests (12.5 kg luggage of each guest): 1 porter basis. However, the API Himal hike is a challenging trek so each of our porters can carry a maximum of 22 kg of your belongings. If you wish to hire an additional private porter, you will get it by paying an extra cost.
Question: How much distance do I walk each day?
Answer: When walking in the mountains, the distance you cover each day can vary greatly due to gradient, terrain, and altitude. As such it is very hard to give specific distances for each day, however, you have to be prepared to walk for roughly about 5 hours each day.
Question: Do I need trek poles on my hikes?
Answer: It is better to hike with walking poles. Learn how to use trekking poles for balance and stability, whether on the sidewalk or on trails. Walking poles can help prevent slips and falls. They are just recommended but not compulsory.
Question: How much additional money do I need per day?
Answer: You can allocate US$ 08 – 10 for lunch/dinner in Kathmandu and it depends on your spending habits. US$ 7 to 10 US$ each day will be enough to buy bottles of water, chocolates, tea coffee, and some drinks while you are on your trek.
Magical Api Base Camp Trek highlights
Explore the far western off-the-beaten track in Nepal
Learn some of the tallest Mountains and colorful rhododendron timberland (Spring).
Hike through cultured fields, colorful Rhododendron, conifers, and oak forest.
Best view of Himalayan scenery including Api Himal (7,132m), and Nandadevi mountain summit (7,817m).
Experience the unexplored landscapes, traditional villages, and their lifestyles.
Notice for Api Himal Base Camp Trekkers
This treasure in the Far-Western region of Nepal is protected by the Api Nampa Conservation Area. Peaceful route and is a super hike for wilderness trekkers. The hike to Api Base Camp itinerary is subject to change due to a condition out of our control. This is a Guideline showing tentative camp night stops. A physical, technical, and natural condition may change the above itineraries.
What makes Api Base Camp Trek special?
Solo touring isn't always allowed in this location of Nepal, because of diverse protection issues. Therefore, all solo travelers can join our existing groups. If you join the group, you will be paired in a double bedroom or multi-share accommodation for the accommodation, during the stumble. This will save you a lot of money. Also, joining a group is a very good idea as it will keep you safe, during the entire camping climbing tour.
Opportunities for challenging trekking or popular camping hiking are scattered all over the planet Earth. We at Gokyo Treks and Expedition believe in quality services. Your safety and satisfaction is our concern. We are a team of professional, experienced, well-trained, and licensed local guides who know the destination much better than others.
Api Base Camp Trek Review
There are no reviews yet. Be the first one to write one.
From US$ 2219
2% Off
US$ 2175
| | |
| --- | --- |
| No. of people | Price Per Person |
| 1 | USD 2480 |
| 2 | USD 2175 |
| 3 | USD 2150 |
| 4 - 6 | USD 2125 |
| 7 - 9 | USD 2050 |
| 10 + | USD 1990 |
Book Now
Customize Trip
Cost & Departures
Your Trip Your Style!
ITINERARY, COST, DEPARTURES, will adjusted according to your GROUP SIZE NEED TIME
Book with Confidence
Local Guides Company.
18 Years in Business.
Lowest Price Guaranteed.
100% Customizable Trips
Excellent Customer Service
Hassle Free Booking.
90 % Repeated customers
Highly Recommended agency
Private/group tour options