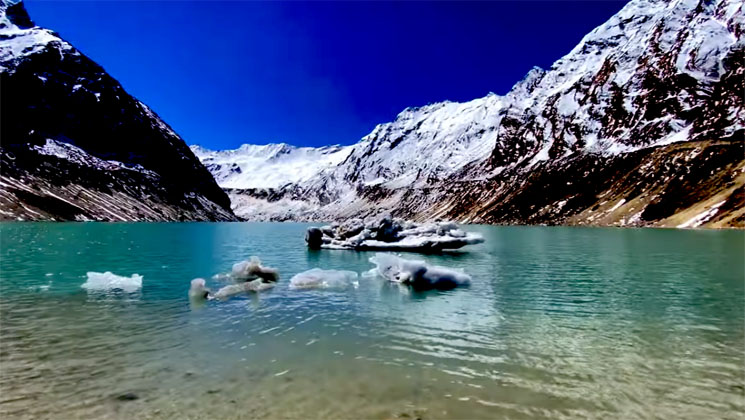 Dona Lake Trip Summary
Dona Lake Trek Duration: 8 Days
Dona Lake Trek Difficulty: Easy to moderate
Dona Lake High Altitude: 4,250 meters
Trekking Hour: 6 hours daily
Dona Lake Group-Size: 1-15 People
Best Time: March to November
Trip Mode: Home stay lodge + Tent Camping
Foods on hiking trail: Breakfast, Lunch, and Dinner
Transport: Car/Jeep/bus
Overview
The Dona Lake trek is located at an altitude of 4250m, undoubtedly provides some of the world's superior outlook. Trek at Dona lake route offers a great diversity of culture, the finest valley, and high mountains encompassing the giant Annapurna descent.
Hike to Dona Lake is totally located in the lower Annapurna territory in Nepal. At, Dona Lake Treks, you can perceive the settlements of diverse communities such as Brahmin, Chhetri, Thakali, Magars, Tamang, Gurung, and Tibetian sherpa.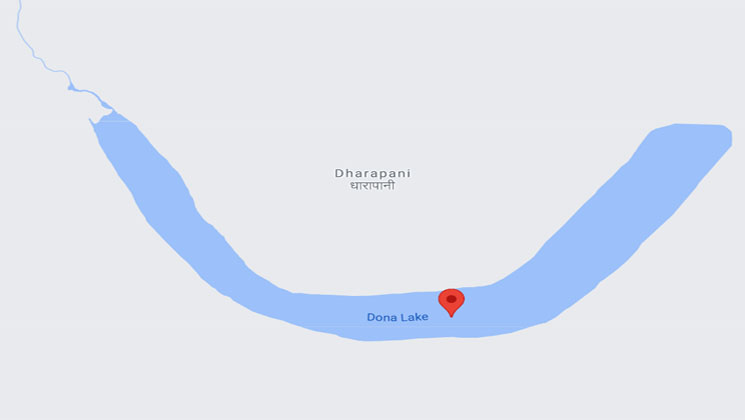 Discovering Dona Lake is the top first most popular wilderness hike in Nepal. The hike rich in diverse culture and flora and faunas offers a grand view of Mt.Manaslu (8,163 m), Annapurna II (7,937 m), and Lamjung Himal (6,986m).
Moreover, the Dona Lake trek cost for Nepali and for foreigners are almost similar but only the differences are about the conservation fees. Roughly from Besisahar to Dona Lake distance is about 53.3 kilometers and possibly to reach in 3 hiking days.
Hike in April is remarkable because of the blooming multicolored Rhododendrons. Annapurna Dona Lake weather is not stable because of high mountain landscapes.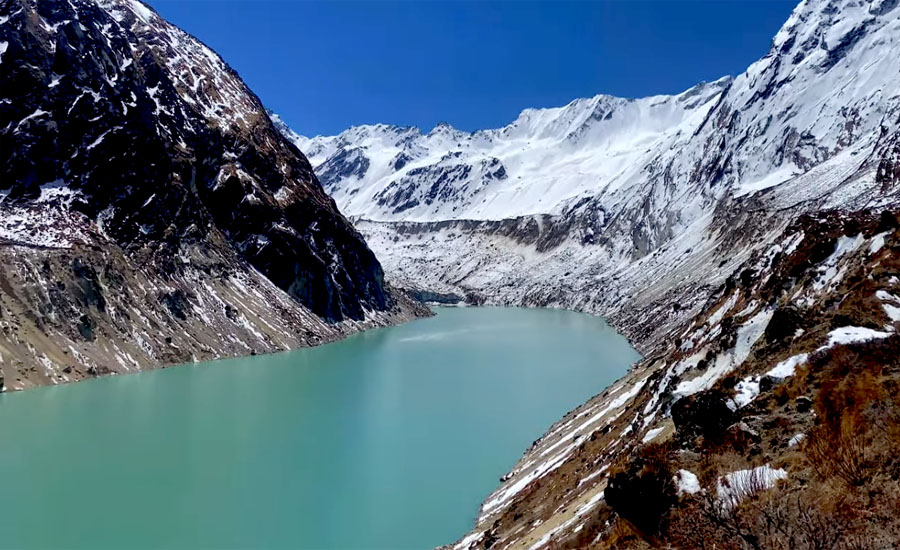 Splendid hike at Dona lake in the winter season is not feasible because of an icy trail and the lake is frozen but the scenery is superb. Likewise, monsoon months hiking on the lake is also not a good idea because of clouds, thus, the wayfarers will have not a great view. Except for monsoon months in Nepal that starts from mid-June to mid-September, expert trekkers can hike Dona pond in other months.
How much is the Dona Lake Trek Package Cost/Price?
The cost of Dona Lake trek package with a Gokyo Treks Agency (a local trek operator agency in Nepal) ranges between US$ 598 to 790. Certainly, the Dona Lake trek cost will vary according to group size you are coming with.
However, we basically arranges a private trips in order avoid group tours with strangers. A private hiking tour gives you better experience on your hikes. If you value personalization, flexibility, and in-depth experiences, a private trip customized to your personal needs will be the best option.
It is the standard trip package price for 3 weeks trek in the Annapurna teritory. If you are 2 person and want to hike? it costs US$ 675 for 21 days trek according to the given trekking plan. We can modify the trek route and the prices according to your wishes also. Here is the price list for the Dona Lake hike.
Price Per Person for 20 days hikes in Annapurna
| Number of Tourist | Price Per Person |
| --- | --- |
| 1 Person | US$ 790 |
| 2 Person | US$ 675 |
| 3 Person | US$ 699 |
| 4 to 6 person | US$ 650 |
| 7 to 9 Person | US$ 725 |
| 10 and more than 10 Person | US$ 598 |
If you're wondering to know about what is included and what is excluded on this trip price, kindly check on cost given on a tab buttun.
Itinerary
Dona Lake Trek itinerary detail
The Dona Lake hike itinerary of 8 days is a relatively easier hike comparing other hiking nature trails in the Annapurna section. Travelers who have wishes to cross over Thorong la pass hiking right after Dona lake then try for Around Annapurna short trek – 10 Days this link to get an appropriate choice.
1 Day
Arrival at Kathmandu valley
Upon arrival in Tribhuwan International Airport, receive you with a private vehicle and transfer to hotel in Thamel. The accommodation is on bed with breakfast plan. Our representative will brief you Dona lake trekking program.
2 Day
Overland Bus drive to Besi Sahar (760m) and Local jeep drive to Chamje (1,400m/4,578 feet), 6 hours.
Early morning, guide will come to pick you up at your hotel on 6.00 am in the morning. Taxi ride to Gongabu Bus station to catch a coach to Besi Sahar. Kathmandu to Besisahar distance is 185-kilo meters and takes about 7 hours bus ride. En route, you can pass across the majestic hills and the valleys including the view of the impressive mountains.
Later Lunch at Besi Sahar, we take a local jeep (passenger collection basis) to Chamje passing Syange waterfall. While riding the Jeep, tourists can see a waterfall and hot spring on Marsyangdi Riverside. Jagat is another bigger village that offers basic to comfort lodges but we continue our journey to Chamje.
3 Day
Nache village trekking (2200m/7,216 feet), 6 hours.
The trail today continues countering the hill after crossing the small bridge all the while getting a glimpse of a jeep passing on the other end across the Marshyangdi River. We choose to hike using the classical trail to reach Tal. Tal is a beautiful village situated at the bank of Marshyangdi River stays with trekkers lodges. Spending roughly 2 hours, the mountain trail leads us to Kroto village. Ascending some other hours, we reach Nache village. Nache is a village situated on a hilltop with around only 40 households and a few homestays.
4 Day
Trek to Kromtong village (2975m/9,758 feet), 6 hours.
Wake early morning to capture the glimpse of Annapurna and Manaslu. Later breakfast, descend towards Alubari passing Pine trees and tiny YAK trails that are made by the local shepherds.
5 Day
Trek to Dharmasala (3665m/12,025 feet), 6 hours.
We began the journey by following the Dona river, and which ascends the two steep cliffs as we continue up to Dharmasala. Lucky Tourists can see wild mammals such as Himalayan Langur monkeys, Ghoral, Thar, and Himalaya Griffon. In addition, Wayfarers can watch impressive mount Manaslu's super view on their staying here. Dharmasala is a truly amazing inhabitant of the pasturelands of Dona valley.
6 Day
Dona Lake Trek (4250m/12,021 feet) and Back to Kromtong, 6 hours.
After multiple days of hiking in the Annapurna section, we walk to Dona Lake today within the myriad colorful rhododendron forest. Hike the arctic Dona Lake is the highlight of the day tour with added mount Manaslu finest view and a large cave. Retrace your steps to Kromtong that we took as we ascended up to Dona.
7 Day
Return to Tal village (1675m/5,494 feet), 6 hours.
We return to Tal retracing our steps back from Namche where we spent overnight. Lunch at Nache and continue our trek to Tal via Khotro and spend our last night of trek at the small Gurung village.
8 Day
Drive to Kathmandu via Besisahar, 10 hours roughly.
Take a private jeep to return to Besisahar right after breakfast. The road is bumpy but later Besisahar to Kathmandu, the road is nice. We leave the Jeep at Besisahar and we take a microbus return to Kathmandu. The drive from Besi Sahar to Kathmandu is an adventure journey but much better than earlier as you drive over the blacktop highway. Finally, the drive back to Kathmandu takes around 5 to 6 hours depending on the traffic jam. Transfer to hotel
9 Day
Final departure day
Drop you in Kathmandu International Airport for your further destination flight. Trip ends. Wish you your wonderful journey back to home.
Not satisfied with above plan?
Are you interested on planning custom trip? this might take 2 to 3 minute.
Cost
How much does the Dona Lake Trek cost?
Hike to Dona Lake trek cost is USD 675 per person. Of course, the trip price will vary according to group size. For the deluxe and luxury trekking tour plan, we add 5-star hotel category on your stay in Kathmandu and with an attached bathroom while trekking on possible places, so let us know. AND WE ARE OPEN TO CUSTOMIZE YOUR TOUR AND PACKAGES PRICE AS PER YOUR REQUIREMENTS. International tour leaders are highly encouraged to get discounts and attractive complimentary.
Dona Lake Trek Package Price Includes:-
Kathmandu international airport transfer by private vehicles.
2 nights Twin sharing Tourist standard accommodation in Kathmandu with Breakfast plan
Meals on full board: Breakfast, Lunch and Dinner each day on camping.
Fully escorted trek with English speaking license holder local guide and each 1 guest 1 Porter basis.
Annapurna Conservation Area permits and TIMS permits for Trek tours
Micro Bus transfer from Kathmandu – Besisahar and from Besisahar – Kathmandu.
Private Jeep transfer from Besisahar – Chamje village – Besisahar as per above plan.
Food and accommodation and salary of Nepali camping trekking staffs.
Insurance of guide, cook and porters.
Latest updated Dona Lake trek map for each person, you keep this map as a soveneur.
Nepal Government Tax, VAT and as well as Company service charge.
Dona lake Trek Package Excludes :
Nepal entry visa fee US$ 40.
Lunch and Dinner during the staying in Kathmandu and Pokhara city.
Any kinds of battery charges, laundry service, phone calls and hot shower during the trekking.
Tourist personal trekking equipments and clothes.
Personal nature expenses, all types of drinks and bar bills.
Hikers travel insurance to cover helicopter rescue evacuation in case of an emergency.
Any donation and monuments entrance fees.
Tips for the crew (Note : TIPS is not compulsory but highly expected)
Any other things which are not mentioned above
Group join
We can organize private trip to Dona Lake Trek starting at any date that works for you. Please contact us for more information.
FAQ
Question: Is pick up service available on my arrival day in Kathmandu?
Answer: Yes sure. Provide us with your flight details and request to pick up from TIA. Our representative will come to pick up you at Kathmandu international airport.
Question: Do I need the experience to do the Dona Lake trek route?.
Answer: It is an easy hike suitable for keen hikers who can walk around 4 hours daily with a lightweight daypack. Donna Lake trekking route is doable for everyone if they can walk about four hours in the daylight. If hikers have some basic hiking experience before this trip will help you to complete the trip plan easily.
Question: What kind of accommodation can I expect on Dona Lake hiking?.
Answer: We do provide you tourist standard accommodation in Kathmandu and during the trekking routes. The rooms along the routes are clean with a cozy bed, nice mattress, and blanket. Nevertheless, we recommend you take your own sleeping bags if you have one with you otherwise, you may rent a sleeping bag in the Thamel gear store in Kathmandu.
Question: What kind of food can I expect in Donna Lake lodge Trek?.
Answer: Dona Lake Trek solo is also possible using basic homestay accommodation en route. However, in camping outdoor, our professional cook cooks a delicious range of mostly vegetarian such as Pasta, tuna bakes, noodles, potatoes, eggs, bread, soups, vegetable rice. In addition, Dinner, and breakfast we provide in the same lodge you spend the night every day and Lunch will serve on the way to the next place where tourist hikes.
Question: What opportunities will I have for shower along with express Dona lake trek?.
Answer: If you choose a guest house style trekking, you will have a shower at guest houses. Likewise, if you choose camping trekking – we do provide you hot water bucket then you will take a bucket shower.
Question: How do I get drinking water on Dona Lake Trekking group?.
Answer: Holidaymakers can buy mineral water en route. But we advise against buying mineral water in plastic bottles, as currently there are no rules for disposing of these. So please buy a metal bottle and fill the normal water along the route.
Question: Can I charge my digital camera or other batteries on my trip?.
Answer: At lodge hiking routes, you can recharge the battery. We recommend you bring an extra pair in case. Remember to bring your adapters! An extra battery will be recommended.
Question: Are there any communication facilities on Dona Lake lodge Trek?.
Answer: In donner lake hike route, you can get telephone services as well as 3G internet service.
Question: Is it possible to rent a guide? how to hire a local trek guide?.
Answer: Yes of course. If you are not happy to go with the complete full board Dona Lake package trip, still you can hire our expert guide to make your holiday tour safer. However, visit a guide and porter hire or email us for your detail travel inquiry.
Question: Can I use credit cards in Trekking?.
Answer: No! So, for the nature trail, you need to have cash Nepali rupees because credit cards work only in the bigger city areas.
Question: When should I book my trip and what are the payment terms?.
Answer: Because our trips book up months in advance, we recommend booking early to avoid any kind of misunderstanding. We will, of course, make every effort to accommodate last-minute bookings. And regarding the deposit, we prefer a 20% advance deposit of the total price of the trip in order to confirm your reservation before you arrive in Nepal. And the rest of the payment, you can pay us on your arrival in Kathmandu, Nepal.
Question: Who will carry my luggage on Dona Lake express trek?.
Answer: We provide porters to transfer your luggage. As we are a responsible trekking tour operator agency, each of our porter carries a maximum of 25 kilos of your backpack which means 2 guests (12.5 kg luggage of each guest): 1 porter basis.
Question: How much distance do I walk each day?.
Answer: When walking in the mountains, the distance you cover each day can vary greatly due to a gradient, terrain, and altitude. As such it is very hard to give specific distances on each day, however, you can prepare to walk roughly about 5 hours each day.
Question: Do I need walking poles?.
Answer: It is better to hike with walking poles. Learn how to use trekking poles for balance and permanence, whether on the sidewalk or on trails. Walking sticks can help prevent slips and falls. They are just recommended but not compulsory.
Question: How much additional money do I need per day?.
Answer: You can allocate US$ 08 – 10 for a lunch/dinner in Kathmandu and it depends on your spending habits. US$ 7 to 10 US$ each day will be enough to buy bottles of water, chocolates, tea coffee, and some drinks while you are on trek.

Dona Lake plus Annapurna Trekking Experience
100%
5
star based on –
208
Based on TripAdvisor Reviews
Ammar Raj Guni is a perfect and very reliable agent for arranging your trekking. He has also much experience as a guide, so he always knows where he is talking about. His prices are really competitive.
His calculations were transparent, our trek was some days longer than arranged, but in the end, we got no unexpected costs. He works with local people from the small villages and he treats them very socially. So during the two days, we stayed at his house, we felt very comfortable. I strongly recommend his agency if you're visiting Nepal. – Janthima Chotis, Bangkok, Thailand.
Dona lake trek Highlights
Glacial Dona Lake, offers turbulent river gorges with nice waterfalls.
The best impressive view of Mount Manaslu and its surroundings.
Majestic waterfalls and Marshyangdi River valley.
Notice for Dona Lake visitors
Hiking at Dona Lake Annapurna Trekking itinerary is subject to change due to a condition beyond our control. This is a Guideline showing tentative camp night stops. Physical, technical and natural condition may change this above itineraries.
"What makes Dona trek special?"
Opportunities for challenging trekking or hiking and pleasant strolls are scattered all over the world. You just need to know where to find them. We believe in quality services. Your safety and satisfaction is our concern. We are a team of professional, experienced, well-trained, and licensed local guides who know the destination much better than others.
From US$ 710
5% Off
US$ 675
| | |
| --- | --- |
| No. of people | Price Per Person |
| 1 | USD 790 |
| 2 | USD 675 |
| 3 | USD 699 |
| 4 - 6 | USD 650 |
| 7 - 9 | USD 725 |
| 10 + | USD 598 |
Book Now
Customize Trip
Cost & Departures
Your Trip Your Style!
ITINERARY, COST, DEPARTURES, will adjusted according to your GROUP SIZE NEED TIME
Book with Confidence
Lowest Price Guaranteed.
100% Customizable Trips
No extra booking fees
Excellent Customer Service
Hassle Free Booking.
90 % Repeated customers
Highly Recommended agency
Private/group tour options
Local Guides Company.