Is Everest base camp trek 8 days possible?
The 8 days Everest Base Camp trek is a classical venture that is great suits for the professional trekkers who travel for a week-long. Many tour operators are selling either Everest base camp 8 days or 9 days base camp Everest treks but both of them are tough.
Short or express Everest base camp is possible options for adventure lovers, so we skipped the acclimatization days en route. Although it is difficult and rushes, many experienced trekkers want to choose these options. So, within a limited time, tourists catch the most scenic parts of the ebc tours including unique Sherpa tradition.
About 10% of total Everest visitors, ask possible options for ebc trek 8 days. Other trekkers make a plan to reach base camp smoothly taking enough rest and acclimatization journey and make trip completion without any altitude sickness. Additionally, the Everest backpackers choose a simple plan to reach basecamp with a strong plan. They choose either 8 days basecamp or 9 days base camp tour.
They simply think that within the 12 days Everest base camp trek normal plan, they want to see more places of it's surrounding. The 8-day Everest Base Camp is perfect for trekkers with a limited time schedule. The beginning point is Lukla, and to get to Lukla you can take a direct flight from Kathmandu. It is a picturesque 35 minutes flight to Lukla airport.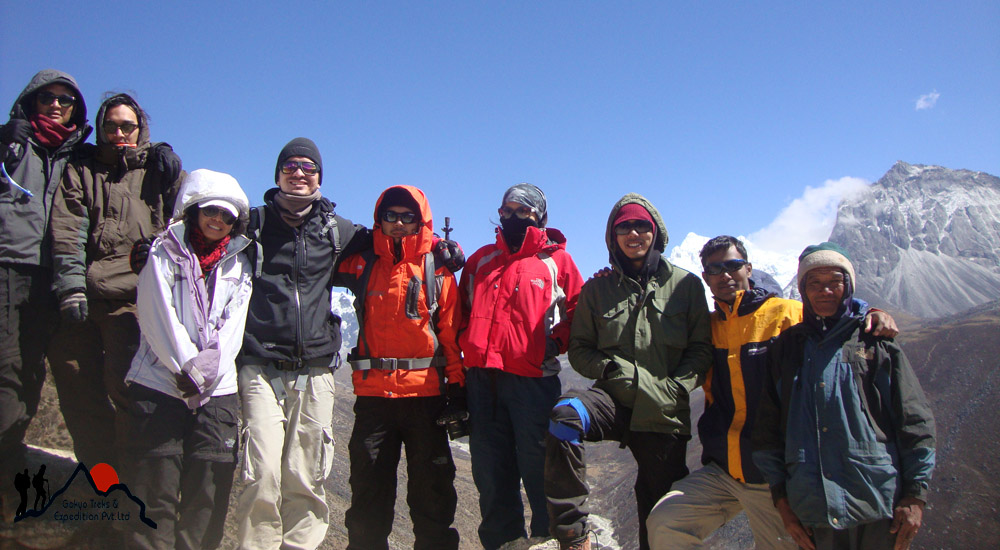 Signing up at ebc treks, it allows Tourists to get higher and closer to the top highest mountain in the world "Everest" to achieve a life-changing experience. As you hike, your foot steeps rise over 2,780 feet every day on average. And reaching Dughla – Lobuche pass, you can see some of the memorial statues of Everest climbers who died on the Everest Expedition.
Luxury Everest base camp trek trip
The luxury travelers make Everest base camp trek 8 days only for ascending up to base camp taking enough acclimatization. Later on, they choose the Everest base camp helicopter tour to return. Few luxury tourists pick Kathmandu to Everest either exploring with mountain flight or Everest base camp heli trek, both of them are the most outstanding trip. Indeed, Everest Base Camp is very cold. Therefore, in the winter months, it's not possible to reach there. The average temperature is -17 degrees Celsius, which is considered the coldest during the year mostly from mid-December to the end of January.
8 Days Everest Base Camp Trek itinerary detail.
01 Day: Kathmandu to Lukla flight and Trek to Phakding village.
02 Day: Namche Bazaar excursion.
03 Day: Pangboche Trek.
04 Day: Dughla Trek.
05 Day: Hike ebc and return at Pheriche village.
06 Day: Return at Namche Bazaar.
07 Day: Descend to Lukla airport.
08 Day: Flyout to Kathmandu.
Can Tourists see the Mount Everest summit from its base camp?
8 days journey to get basecamp especially from Dughla hill is very tough. The trail goes through rocky mountains, moraine with some crevasse on the path. While you can't see Mount Everest summit from Base Camp – there are other deadly tall mountains blocking your view. Just before the glacier walking, you can see a real view of Everest. But before, you have the impressive Everest mountain view several times, so you'll have lots of snaps of Mount Everest from other parts of the hike.
How much does Everest Base Camp cost?
An average hike at Everest Base Camp cost usually takes 8 – 12 days, and costs depend upon the service you choose. Generally, the full board package trip cost starts from $1,000 to $1,400 USD per person. That cost includes your Kathmandu to Lukla and returns domestic airfare. In addition, guide, meals, porters, permits, and lodge along with the base camp hiking.
---