Is Everest base camp trek 8 days possible?
The 8 days Everest Base Camp trek is a classical venture that is a great suit for professional trekkers who travel for a week-long. Many tour operators are selling a similar tour Everest base camp 8 days or 9 days but both of them are tough and are not very suitable for beginner hikers.
A Short hike to Everest base camp is a possible option for adventure lovers who want to skip the acclimatization days en route. Although it is difficult and rushes, many experienced trekkers want to choose this option to get Everest foothills quickly ascending. However, on those rapid treks, tourists will catch the most scenic parts of the Everest landscapes and its unique Sherpa tradition.
About 10% of total Everest visitors, ask about possible options for ebc trek 8 days. Other trekkers make a plan to reach base camp smoothly taking enough rest and acclimatization journey and making the trip complete without any altitude sickness. Additionally, the Everest backpackers choose a simple plan to reach base camp with a strong plan. They choose either 8 days basecamp or 9 days base camp tour.
They simply think that within the 12 days Everest base camp trek normal plan, they want to see more places of its surrounding. The 8-day Everest Base Camp is perfect for trekkers with a limited time schedule. The beginning point is Lukla, and to get to Lukla you can take a direct flight from Kathmandu. It is a picturesque 35 minutes flight to Lukla airport.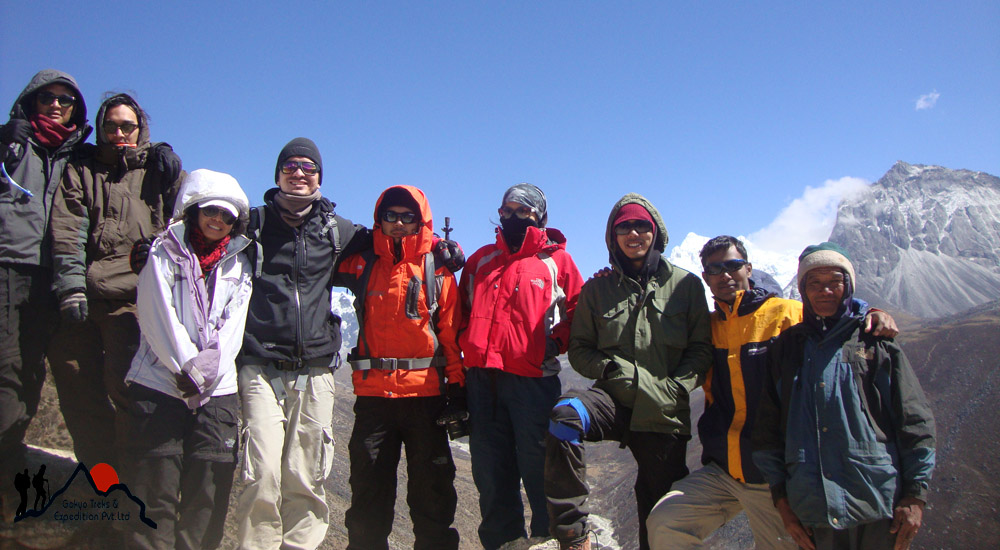 Signing up at ebc treks, allows Tourists to get higher and closer to the top highest mountain in the world "Everest" to achieve a life-changing experience. As you hike, your foot steeps rise over 2,780 feet every day on average. When reaching Dughla – Lobuche pass, you can see some Everest climber's memorial statues who died on the Everest Expedition.
Luxury Everest base camp trek trip
The luxury travelers make the Everest base camp trek for 8 days only for ascending up to base camp taking enough acclimatization. Later on, they choose the Everest base camp helicopter tour to return. Few luxury tourists pick Kathmandu to Everest either exploring with mountain flight or Everest base camp heli trek, both are the most outstanding trip. Indeed, Everest Base Camp is very cold. Therefore, in the winter months, it's not possible to reach there. The average temperature is -17 degrees Celsius, which is considered the coldest during the year mostly from mid-December to the end of January.
8 Days Everest Base Camp Trek itinerary detail.
01 Day: Kathmandu to Lukla flight and Trek to Phakding village.
02 Day: Namche Bazaar excursion.
03 Day: Pangboche Trek.
04 Day: Dughla Trek.
05 Day: Hike the base camp and return to Pheriche village.
06 Day: Return to Namche Bazaar.
07 Day: Descend to Lukla airport.
08 Day: Fly out to Kathmandu.
Can Tourists see Mount Everest summit from its base camp?
8 days journey to get basecamp, especially from Dughla Hill is very tough. The trail goes through rocky mountains and moraine with some crevasses on the path. While you can't see Mount Everest summit from Base Camp – there are other deadly tall mountains blocking your view. Just before the glacier walks, you can see a real view of Everest. But before, you have the impressive Everest mountain view several times, so you'll have lots of snaps of Mount Everest from other hikes.
Mount Everest base camp height is 5,364 meters (17,598 feet). Many curious holidaymakers ask us how long to get to base camp Mount Everest after taking a rest day in Name Bazaar. Everyone can guess it depends upon the length of your holiday. Some backpackers trek to Everest without stopping for 2 nights in Namche hotels. Other visitors ask the Everest base camp how many days. As we experience 11 nights and 12 days is a basic plan but if you don't want to stop in the same place for 2 nights then each trip is possible in 8 days.
How hard is it to climb Everest base camp?
Hiking route from Kathmandu to Everest base camp is not a difficult trek one can undertake. Basically, you can fly to Lukla and begin the base camp journey. A Base Camp Trek requires no technical expertise or mountaineering skills as it is basically a long hike at altitude. The Everest base camp walk is a fine journey that passes over tiny villages with beautiful flowers. Hike Everest base camp is a little bit difficult for beginners and easy for professional trekkers. Beginners can exercise and know little tips that how to hike to Everest base camp before proceeding to go. However, the trekking route to Mt Everest base camp is easier with short camps every day compared to other treks in Nepal.
How to get to the Everest base camp trek? or how to trek to Everest base camp?
Climbing Mt. Everest begins with a trek to base camp. Often visitors to the Everest base camp hike start from landing in Lukla. Meeting the entire trekking crew, they start the Everest base camp hike. Basically, the Lukla hike to base camp takes about 5 days without acclimatization day in Namche lodges. Hiking to base camp or trekking to Everest base camp is an easy way to get a glimpse of the tallest mountain scenery of Khumbu Valley. Visiting Everest base camp is the most popular tour in Nepal that visits around 90% of Everest trekkers every year.
Can I go to Everest base camp?
Some guests are asking can you go just to Everest base camp or can I go to Everest base camp without a guide?. Base Camp Everest hovering on the Khumbu Glacier at the foothill of Mount Everest. As you hike Everest's basecamp height of 5,364 meters (17,598 feet) which is reached over a period of five days without rest days en route is tough. So you need to be physically fit to explore this base camp trip. In terms of acclimation profile, it is very feasible as long as you don't go too fast. The first thing is safety and then success!
How much does Everest Base Camp cost?
An average hike at Everest Base Camp cost usually takes 8 – 12 days, and costs depend upon the service you choose. Generally, the full board package trip cost starts from $1,000 to $1,400 USD per person which will be depending upon the group size that you traveling together on twin sharing basis. That cost includes your Kathmandu to Lukla and returns domestic airfare. In addition, guide, meals, porters, permits, and a lodge along with the base camp hiking.
8 Trips and tricks if you ascend and descend to base camp trek to quick
If a tourist is planning to walk very quickly to Everest Base Camp, there are some important notes to keep in mind:
1. Acclimatization:
Acclimatization is critical when traveling to high altitudes. To avoid altitude sickness, it is recommended that you spend at least two days acclimatizing in Namche Bazaar (3440m) and another rest day in Dingboche (4410m) before heading to the base camp. Rushing this process increases the risk of altitude sickness.
2. Physical Fitness:
Walking quickly to Everest Base Camp requires a high level of physical fitness. Therefore, it is recommended that you start a physical training program well in advance of your trip. The program should include aerobic exercise, strength training, and endurance training.
3. Proper Gear:
It is important to have the proper gear for the journey, including warm clothing, waterproof gear, sturdy hiking boots, and a good-quality backpack. You should also carry enough water and snacks to keep yourself hydrated and energized.
4. Weather Conditions:
The weather in the Everest region can be unpredictable, so it is important to check the weather forecast regularly and be prepared for changing conditions. Always carry extra warm layers and rain gear.
5. Respect the Culture:
The Everest region is home to the Sherpa people, who have their own unique culture and traditions. It is important to respect their customs and way of life.
6. Permits to hike:
To trek to Everest Base Camp, you need to obtain the necessary permits from the Nepal government. Make sure you have all the required permits before starting your journey.
7. Environmental Responsibility:
It is important to leave the environment as you found it. Do not litter and always dispose of waste properly.
8. Trekking Agency:
If you plan to trek to Everest Base Camp, it is recommended to book your trip through a reputable trekking agency. They can arrange all necessary permits, accommodation, and transportation, as well as provide experienced guides and porters who can help ensure a safe and enjoyable trek.
Remember, walking quickly to Everest Base Camp is a challenging adventure that requires proper planning, preparation, and physical fitness. By following these notes, you can increase your chances of a successful and safe journey.
---