Nepal Honeymoon Tour Package Summary
Duration of Holiday: 8 Nights 9 days
Level of Difficulty: Easy Holidays
Highest Elevation: feet
Walk Hour: 2 Hours roughly daily
Group – Size: 2 People [A COUPLE]
Meals: Breakfast serve with Tea/Coffee
Best Months to Explore: A months (except monsoon months)
Trip Mode: Hotel Basis
Transportation: Car/Plane/bus
The honeymoon tour package in Nepal typically includes travel, accommodation, and romantic experiences for newlyweds. It can include activities such as scenic tours, spa treatments, candlelit dinners, and other experiences that cater to the interests and preferences of the couple.
The exact offerings may vary depending on the time of year, and the destination you go however, we can customize to create a unique and memorable experience for couples.
Experience the beauty of Nepal with our Honeymoon Tour Package, which focuses on the multi cities of Kathmandu Valley Pokhara and Chitwan. Explore the rich cultural heritage of Kathmandu by visiting its numerous temples, stupas, and palaces. In Pokhara, enjoy the serene lakes, stunning mountain views, and adventurous activities such as paragliding and short trekking. Our package offers comfortable accommodation, private transportation, and a personalized itinerary to make your honeymoon a memorable one.
A scenic flight to Mount Everest and a visit to the famous Himalayan mountain range can also be included. For relaxation, couples can enjoy a traditional Nepalese spa treatment or visit one of the many peaceful parks and gardens. Additionally, there are plenty of opportunities for shopping, dining, and nightlife in the bustling city.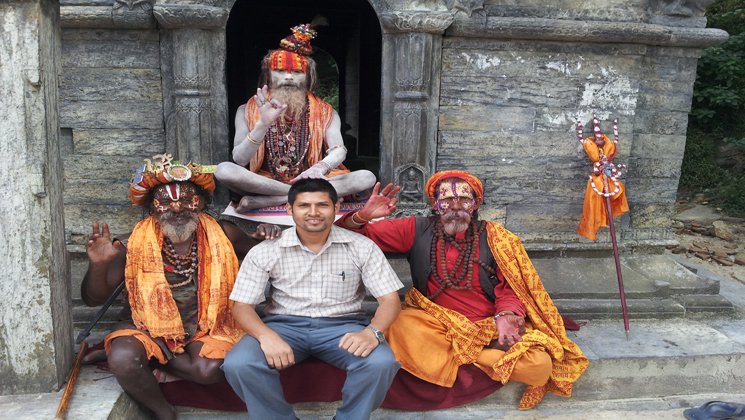 Highlights what you can see on your honeymoon tours in Nepal
Varieties of art, history and cultural town of Kathmandu city.
Buddhist pilgrimage sites Boudhanath, Swayambhunath, Pashupatinath temple.
Explore the Hindu temple at Pashupati Nath and watch out how Hindu cremates.
Wildlife safari in Chitwan National Park.
Impressive sightseeing places of majestic Pokhara City Tour.
Amazing Mountains view from aircraft window while flying from Pokhara to Kathmandu.
Ancient temples of Patan Durbar Square – "City of Fine Arts".
Nepal honeymoon tour package itinerary details.
01 Day
Arrival in Kathmandu city. Sightseeing around the Kathmandu valley, 5/6 hours
Landing at Kathmandu international airport and transferring with a private car to your hotel in Thamel. Ammar Guni, a leader of Gokyo Treks Agency will meet you to brief the honeymoon tour information and further tour plan.
Your sightseeing trip will just begin from the tourist hub Thamel at around 11:30 am. Professional and certified private tour guide will pick you up from your hotel and escort the city tour.
Today, we visit the Pashupatinath Temple to see the Hindu Shrines with the Bagmati River where the cremation takes place. Secondly, we visit Bouddhanath Stupa, and thirdly Swayambhunath Stupa, known as a Monkey Temple. Lastly, we visit Kathmandu Durbar Square including Kal Bhairav Temple, Hanuman Dhoka, Kastamandapa Temple, Telaju Temple, and Kumari Temple (living Goddess), and see its entire sights.
02 Day
Drive to Nagarkot hill (32 km). Visit Changu Narayan Temple, 7/8 hours
Early in the morning, get ready for an overland drive to Nagarkot hill station to get the best sunrise view over the skyline. Nagarkot Hill offers a sweeping view of the Himalayas at a 120 deg angle where you can see five of the world's 10 highest mountains including Mount Everest.
Hiking Nagarkot is a superior place to get real sunrise-sunset over the highest mountain horizon. After Nagarkot sightseeing, drive to Telkot and also drive to Changu Narayan Temple. Couples can also hike for two hours to the holy temple passing over the ridgeline is another scenic tour to observe Bhaktapur farmlands, houses, fertile fields, and brick factories.
Furthermore, Changunarayan Temple is a pagoda architecture built in 323 AD by King Hari Dutta Verma. It is listed under the UNESCO World Heritage Site in Nepal, dedicated to the Hindu God Vishnu.
Likewise, we straight drive downhill to Bhaktapur Durbar Square where you can experience the collection of pagoda-style and shikhara-style temples grouped around a 55-window palace. Bhaktapur's royal palace includes the Lion Gate, the Golden Gate, the 55-window palace, the art gallery, and the statue of King Bhupatindra Malla. Continue to walk further to Siddha Pokhari and return to Kathmandu.
03 Day
Drive to Sauraha, Chitwan (150m/492 feet), 3/4 hours
We organize a tourist bus transfer from Kathmandu to Chitwan Sauraha for Jungle safari tour. Our agent will pick you up from Sauhara Tourist Bus Park and take you to the resort where you get refreshed with a welcome drink and brief you about its facilities and safari activities.
After being given your programs, an introduction to your room and lunch follows. Cultural Tour (visit Tharu Village), Tourist Visitor Center, and riverside sunset view. Likewise, we serve delicious Dinners and visit Tharu cultural activities including stick dance. Return and sleep at resorts.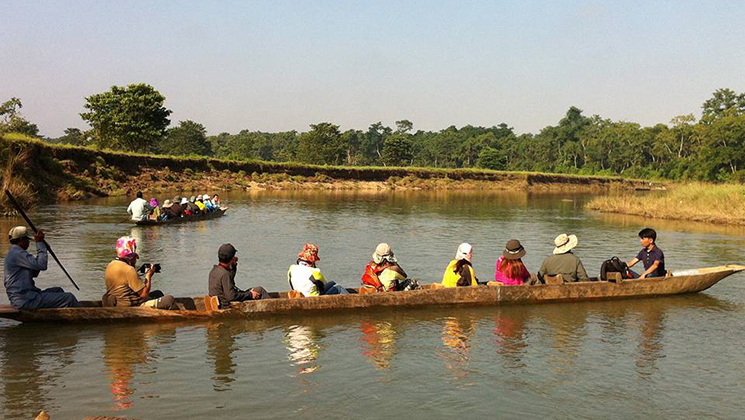 04 Day
Chitwan Jungle Safari Tour Activities.
Wake up call for Breakfast, Canoeing ride, and on return with a short jungle walk and Elephant breeding center visit. Lunch will serve at the hotel and proceed for a Jungle drive instead of an Elephant back safari. In addition, Dinner in the resort and sleep.
05 Day
Drive from Sauraha, Chitwan to Pokhara Phewa Lakeside (900m/2,953 feet), 5/6 hours
Roughly wake up at 6:00 am for Tea/coffee and a short excursion for Bird watching. Return to the hotel for a delicious Breakfast and pack your belongings to proceed to Sauraha Tourist Bus station to catch a tourist bus to Pokhara.
Tourist buses are a popular mode of transportation for tourists traveling from Chitwan to Pokhara. The journey takes around 5 to 6 hours, depending on road conditions and traffic. Tourist buses are comfortable, and air-conditioned, and provide scenic views of the Nepalese countryside. They are a cost-effective option for those on a budget, and there are frequent departures throughout the day.
06 Day
Sarangkot for sunrise. Pokhara City Sightseeing day.
Sarangkot is a popular destination for sunrise viewing near Pokhara, Nepal. The viewpoint is located on a hilltop and offers panoramic views of the Annapurna mountain range and the Pokhara valley. Many tourists choose to drive to Sarangkot early in the morning to catch the sunrise and enjoy the peaceful atmosphere before the crowds arrive.
The drive from Pokhara to Sarangkot usually takes around 30 minutes to an hour, depending on traffic. Tourists will have amazing mountains ie. Dhaulagiri (8,167m), Annapurna Mountains inclusive of Annapurna I (8,091m), Manaslu Range (8,163m), Lamjung Himal…etc.
However, it's recommended to bring warm clothing, as the temperature can be chilly at the viewpoint, and to bring a camera to capture the stunning views. Visitors should also be aware that there are steps to climb to reach the viewpoint, so comfortable footwear is advisable.
After taking in the sunrise, tourists can return to Pokhara for a delicious breakfast or continue their travels to other destinations in the region to visit Seti Gorge, Bindabisini temple, Devi's Fall, Tibetan Refugee Camp, and Tal Barahi temple at Phewa lake via boating. In the evening a short excursion on the lakeside to catch the reflection of the Annapurna Himalayas on Phewa Lake before dinner. At night, couples can have delicious local cuisine and enjoy the vibrant ethnic group's cultural dance at lakeside restaurants.
07 Day
Majestic Pokhara city day tour with a Private Tourist Guide.
Pokhara is a scenic town and a gateway to exploring Annapurna Trails. It consists of a drive or hikes to several viewpoints like World Peace Stupa. Continue to explore the Mountain Museum in Pokhara.
You might also extend your sightseeing either for Cable car rides or Zipline or Paragliding travel (extra cost). Alternatively, you can extend your holiday by going to Begnas Lake.
Begnas Lake is a popular tourist destination located near Pokhara, Nepal. The lake is surrounded by lush green forests and hills and is a peaceful and serene place to relax and enjoy the beauty of nature.
Visitors to Begnas Lake can enjoy activities such as boating, fishing, and hiking in the surrounding areas at extra cost. The lake is also a popular spot for birdwatching, with many species of birds found in the area.
08 Day
Fly from Pokhara to Kathmandu. Visit Patan Durbar Square, 2/3 hours
Flying from Pokhara to Kathmandu is a quick and convenient option for travelers. The flight takes around 25 to 30 minutes and offers stunning views of the Himalayas. There are several domestic airlines that operate flights between the two cities, with several flights departing daily.
The Pokhara international airport is located about 7.2 kilometers away from Phewa Lakeside. Therefore, after breakfast, we take a private car to the airport to fly back to Kathmandu. The journey by air takes 25 minutes to land in Kathmandu.
Drive to Patan Durbar Square. It's a UNESCO World Heritage site and one of the main tourist attractions in Patan, Nepal. It is a historic palace complex surrounded by temples, shrines, and courtyards that date back to the 17th century. Visitors can admire the intricate carvings and architecture of the palace buildings and temples, including the Golden Temple, which is considered to be one of the most beautiful temples in Nepal. The square is also known for its traditional Newari architecture and its collection of bronze, stone, and wood sculptures. A visit to Patan Durbar Square provides a glimpse into the rich cultural heritage of Nepal and is a must-visit for anyone interested in history and architecture.
09 Day
Some last-minute shoping in Kathmandu before departure to Airport.
Kathmandu is a great place for last-minute shopping, as the city is renowned for its diverse array of traditional and modern souvenirs. Some popular items to purchase include handmade paper products, pashmina shawls, Buddhist prayer flags, and silver jewelry.
There are many bustling markets in the city, including Ason Tole, Indra Chowk, and New Road, where visitors can find a wide selection of goods. When it's time to head to the airport, We arrange a private car/taxi to drop you at Kathmandu International Airport onward to your final destination. Trip ends. Wish you a wonderful journey.
What's Includes in the Price
Kathmandu domestic and international airport transfer as per the given plan.
City tours with Air-conditioned private car as per the above plan inside the city.
3 Nights in 3-star hotel double bedroom accommodation in Kathmandu with breakfast plan.
3 Nights in 3-star hotel double bedroom accommodation in Pokhara with breakfast plan.
2 Nights in a 3-star hotel (CHT) Air Condition double bedroom accommodation in Sauraha, Chitwan.
Chitwan National Park entrance fees
Tour activity in Chitwan as described on day 3 and day 4.
Full Board Meals for Chitwan: 2 Breakfast, 2 Lunch, and 2 Dinner served with Tea/Coffee.
Tourist Bus Transfer Kathmandu – Chitwan – Pokhara as per tour plan.
Pokhara to Kathmandu domestic flight airfare as per plan
Kathmandu, Nagarkot, and Pokhara City tour as mentioned above.
Certified English-speaking tour guide during the tour.
All government Taxes/VAT & Gokyo Treks Agency service charge.
What's not-includes in the Price
Drinks are not included in this package tour plan.
Pashupatinath Temple sightseeing entrance fee Rs 1,000.
Boudhnath stupa sightseeing entrance fee Rs 400.
Swayambhunath Stupa sightseeing entrance fee Rs 300.
Museums and Other monuments fees.
Pokhara city tourist places entrance fees [Boating on Phewa Lake, Devi's Fall, gupteshwor cave, seti george].
Your Lunch and dinner beside your stay in Chitwan (cost about US$ 5 to US$ 7 per meal depending upon what and where you prefer to eat).
Best months for Honeymoon Tours in Nepal
Tour in Nepal is the most popular tourist activity and basically, it's good to visit all months except monsoon. June, July, and August marked the monsoon months in Nepal and not a perfect time to visit. January, February, March, April, and May in the Spring season or September, October, November, and December in the autumn months are the best time to visit Nepal.
Departure & Return Departure Point:
Have in mind that we pick you up from your hotel to the tourist spots and drop you back at the hotel on each day's tour as per giving above plan.
What To Expect
It's multiple sites day tour in Nepal that goes for 6 to 8 hours daily. See Hindu and Buddhist pilgrimage places, see people, their culture- way of life, and the amazing view of mountains from the popular hill stations. A honeymoon tour in Nepal can be an exciting and romantic experience.
You can expect the Scenic beauty of stunning mountain ranges, and lush valleys, making it a popular destination for nature lovers. Likewise, culture and history, and visitors can explore historic temples, palaces, and markets to learn more about the local way of life.
In addition, a taste of Nepalese cuisine features delicious dishes made with fresh ingredients, such as momos (dumplings), dal bhat (lentil soup and rice), and chow mein (stir-fried noodles). Remember, a honeymoon is a time for you and your partner to spend quality time together and make lasting memories. Choose activities and experiences that are meaningful to both of you, and have a great time!
Additional Information (TIPS AND TRICKS)
Confirmation will be received at the time of tour booking
Minimum one couple for honeymoon tour per booking
It's a private tour activity.
Cancellation Policy
You can cancel up to 10 days in advance of the experience for a full refund. For a full refund, you must cancel at least 10 days before the experience's start time. If you cancel less than 10 days before the experience's start time, the amount you paid as a deposit will not be refunded.
Any changes made less than 24 hours before the experience's start time will not be accepted. Cut-off times are based on the experience's local time.
Notes for Honeymoon travelers in Nepal:-
No matter whether you travel luxury or a comfortable holiday, you can keep a travel journal to document of your special moments taking plenty of photos to cherish your honeymoon memories. And have a wonderful and unforgettable luxury honeymoon in Nepal!
The best place in Nepal for honeymoon tour itinerary is a multi-day tour in and out of Kathmandu town is subject to change due to Travel conditions. Covid-19 travel protocol might affect your travel plan, so please let us know on time if there are any changes that might occur.
What makes the honeymoon tour package special?
A honeymoon tour package in Nepal holds a special allure for couples due to its unique blend of breathtaking natural beauty, rich cultural experiences, and opportunities for intimate adventures. The majestic Himalayas provide a romantic backdrop, while the serene lakes, lush valleys, and charming towns create a perfect atmosphere for couples to celebrate their love.
From luxury accommodations and spa treatments to private treks and romantic dinners, Nepal offers an array of exclusive experiences that cater to the desires of honeymooning couples. The blend of adventure, relaxation, and cultural immersion makes a honeymoon in Nepal truly exceptional, leaving couples with cherished memories that last a lifetime.
We at Gokyo Treks and Expedition believe in quality services and your safety and satisfaction is our concern. We are a team of professionals and experienced and licensed local guides who know the destination better.
Honeymoon Traveller's Review
Excellent honest service
Ammar was very kind in answering all our questions regarding our trekking in Nepal. We wanted to arrange a guide and porter + permits and plan the trek ourselves which was no problem. Even when we suddenly had to change our trip because of an injury Ammar helped us with making other bookings and refunded all the money that we had paid in advance for transportation tickets. Thanks again Ammar.
Response from Gokyo Treks Nepal
Thank you for the great review.
Colours of Nepal - Short Solo Trip (7 Days / 6 Nights)
My solo trip to Nepal was a pretty last-minute decision. I decided to go ahead to book the flight and then hunt a guide. Ammar was the first guide I wrote to, and I picked him as my guide for this trip.
My few days trip with Ammar was great and relaxing. He's always on time, with a smile 🙂 In a short few days time, he showed & explained to me Nepal culture, history, and beliefs and always patiently answered my questions (I can ask a lot of questions sometimes ).
I am grateful to have him as a guide. He made my trip hassle-free (just follow him 🙂 ), navigating through historical buildings, lanes, and multiple busy streets. It was a good experience for me to get a glimpse of how the local lives, the food they eat, and the prayer rituals they do daily while visiting tourist places.
Also, I got to hear many stories from Ammar. If you want to hear ghost stories from him, ASK HIM!! 🙂 Overall, it was a simple yet satisfying trip, am sure will leave a lasting memory for me. I hope to visit Nepal again in near future. Nepalese people are generally friendly. I feel safe all the time while exploring this country.
Should you wish to engage Ammar as your guide, you should without hesitation. He has been a guide year He is good at planning your site in Nepal – you can leave it to him. I'll sign off now. Sending greetings to Ammar. "cheers,

Response from Gokyo Treks Nepal
Thank you dear Wendy Tran for the time to review the tour in Kathmandu. I will be very much looking forward to serve you again.
To book the honeymoon tour package, send to us your inquiry to get the best deal.
From US$ 841
5% Off
US$ 799
| | |
| --- | --- |
| No. of people | Price Per Person |
| 1 | USD |
| 2 | USD 799 |
| 3 | USD |
| 4 - 6 | USD 750 |
| 7 - 9 | USD 710 |
| 10 + | USD 680 |
Book Now
Customize Trip
Cost & Departures
Your Trip Your Style!
ITINERARY, COST, DEPARTURES, will adjusted according to your GROUP SIZE NEED TIME
Book with Confidence
Local Guides Company.
18 Years in Business.
Lowest Price Guaranteed.
100% Customizable Trips
Excellent Customer Service
Hassle Free Booking.
90 % Repeated customers
Highly Recommended agency
Private/group tour options